2008 I.O.: Asia/Pacific Region


The biggest sports story in the Asia/Pacific region for 2008 has already been determined, and the new year hasn't even arrived yet.

When the Summer Olympics open in Beijing in August (following Seoul's stint as host in '88 and Sydney's in '00, the Australian Open's recent designation as "the grand slam of Asia/Pacific" and the ATP tour's increased presence in Asia), years of preparation for the region's growing sports boom, and specifically China's plan to use the Games as a springboard for the nation's emergence as a true, multiple-front superpower this millennium, will be on full display on the world stage.

It will be an important moment, both athletically as well as politically and socially, for the world's most populous nation.

Right in step with the rest of the planning for the Beijing Games that began as soon as they were awarded in 2001, China's tennis fortunes have changed over the last few years, too. With the intention of being competitive on an Olympic level, money and talent were funneled into the Chinese Tennis Association (CTA) with the goal of producing current and future champions.




But as 2008 arrives, China's tennis fortunes will be asked to rebound from a very disappointing '07 season that saw zero Chinese women win or reach tour singles finals for the first time since 2003.

Is the Chinese tennis plan still on schedule, or is the lack of a true home-grown tennis star (not to mention the '07 Fed Cup rules snafu) eight months before Beijing a sign that China, despite having such a large pool of potential players to choose from, will not become the tennis power that everyone thought it would eventually become a few years ago?

Characteristically, China will take a long-term view on things, but it's apparent that the road traveled so far has been a bit rockier than anticipated.


CAN AUSTRALIA IMPORT A WOMEN'S TENNIS CHAMPION?
Cash. Rafter. Philippoussis. Hewitt. The list of Aussie men's slam finalists, champions and contenders is a long and varied one over the last twenty years. But what of the women? Where are the Sheilas?

The last Australian women's slam singles champ was Evonne Goolagong at Wimbledon in 1980, and the most recent finalist was Wendy Turnbull at the Australian later that year. The last Aussie slam champ in Melbourne? Try Chris O'Neil in 1978, at a very sparsely attended (by top players) Australian Open tournament. 113 slams have been played since Goolagong's victory and, quite frankly, no legitimate Australian woman has emerged as realistic slam threat during that time.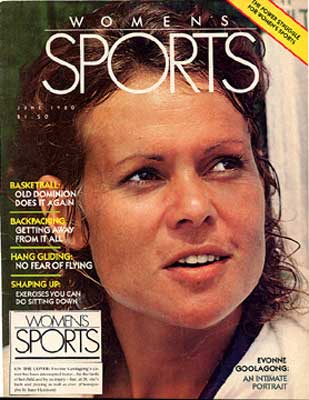 The best Australian women's player of the last decade was Jelena Dokic, born in the former Yugoslavia, but developed Down Under before leaving in a huff with her fuming father not long after reaching the Wimbledon SF in 2000, bound for her previous homeland. The Ex-Debutante still holds the most Tier I singles titles (two) of any Australian player of recent vintage, but she won those titles while playing for Yugoslavia in 2001.

Hard-hitting, Adelaide-born Alicia Molik looked the part of a potential star for a while, becoming the first player to ever defeat Maria Sharapova in a tour final (winning Tier I Zurich in 2004 after claiming a Bronze in the Sydney Olympics), then becoming the first Australian to reach the Top 10 since Turnbull in 1985. But the Steamer's career was nearly ended by an inner ear infection that played havoc with her balance and gutted large portions of her 2005 and '06 seasons. At nearly age 26, Molik is on the comeback trail, and made enough strides to climb back to #56 in the rankings in '07. Meanwhile, Brisbane's Samantha Stosur broke into the Top 30 at the end of '06, then went through her own health travails with a viral illness last season that helped dropped her ranking to #46.

Are the Aussies cursed? (Hey, don't look at Pierre Cantin or me... though he DID begin that Jelena Dokic website years ago, didn't he? Hmmm...)




Well, if it worked once, why not try it again? As 2008 beckons, Dokic is back in Australia at age 24 grasping at a last-ditch effort to reclaim her fallen career. She's joined in the upcoming Australian Open wild card playoff tournament by 20-year old former-Slovak/future-Sheila Jarmila Gajdosova, maybe the most promising young player to represent the country since 15-year old Dokic was the top-ranked junior in the world in 1998. Russian Anastassia Rodionova, too, desires to be playing under an Aussie flag in the near future.

First it was Britain, then Australia and the U.S.. English-speaking nations who used to dominate the sport's history books who are now struggling to discover home-grown female tennis stars even in an era when there are more opportunities than ever for female athletes (though most of them are coming in team sports... which might speak to the dearth of tennis talent) and current teenaged stars (Maria, Nicole, etc.) are more visible on television and endorsement-rich than ever.

What goes around comes around, I suppose, and while Britain and America are importing coaching talent and reassessing their organizational/developmental deficiencies, Australia is going in the other direction (the men's talent shows the setup SHOULD work, after all) and bringing in the players themselves. Or, in the case of Dokic, being willing to open its arms yet again to a player who's turned her back on the tennis establishment more than once. Whether it's desperation or genius, only time will tell.

First English-speaking nation to field a female teen-aged potential slam champion isn't a rotten egg. On your mark, get set... go!

NATION LOOKING UP:
Taiwan
While China's fortunes sagged in 2007, those of players from Chinese Tapei (Taiwan) soared. The doubles team of Yung-Jan Chan & Chia-Jung Chuang were the revelations of 2007, reaching the year-ending championships, winning three titles as well as playing in the finals of the Australian and US Opens. 18-year old Chan, for her part, was the only player from the Asia/Pacific region to reach her first tour-level singles final (in Bangkok) and won four tournaments on the ITF circuit last season. Kai-Chen Chang is also a highly-ranked junior.

It could be that the biggest Asian threat for a medal in Beijing will be this pair, rather than any of the Chinese players upon which much pressure will surely be heaped come August.
NATION SLIPPING DOWN?:
Japan
A few years ago, the likes of Ai Sugiyama, Saori Obata, Shinobu Asagoe and Akiko Morigami were bouncing around the tour, showing that players from Asia could maintain a strong presence in women's tennis. But while Sugiyama is still a force in doubles (a winner at Tier I Toronto, and RU at Wimbledon, Roland Garros and the YEC), and 27-year old Morigami finally won her first tour singles title in 2007, the aging Japanese veterans have yet to be threatened to be replaced by a new generation of Japanese stars.

Aiko Nakamura, 23, showed promise in 2006, but found her game stuck in neutral in 2007 as she failed to rise any higher than #47 after ending '06 at #58. 17-year old Ayumi Morita is probably the most promising of the young Rising Sunners (Kurumi Naga is also in the junior Top 10), with two wins over Sugiyama and two tour QF being amongst her highlights last season. But without any other youngsters breaking through in recent seasons she might have to shoulder an undue burden in trying to keep Japan's fortunes afloat all by her lonesome... or hope that the veterans stick around long enough to at least keep the Fed Cup team viable until reinforcements are discovered.

PIVOTAL MOMENTS:


China gave support to the CTA on the belief that it would foster national glory in the Olympics, and after Ting Li & Tiantian Sun won the Doubles Gold in Athens in '04 it looked to be a safe bet. Na Li became the first Chinese Top 20 player in 2004, and over the next three seasons four different Chinese women claimed six tour singles titles while the group combined to reach four additional finals.

But was it all a tease?

In 2007, no Chinese women reached a tour-level singles final, as players went 0-6 in SF. A misinterpretation of the Fed Cup/Olympic eligibility rules caused the CTA to sit Na Li and Jie Zheng during the country's first-ever Group I 1st Round action, leading the team to be shut out 5-0 by Italy (after Shuai Peng was injured during play). An injured Zheng didn't play after Roland Garros in May, and Li's season ended after Birmingham in June. The most surprising results amongst the Cookies probably came from Zi Yan, the 23-year old who reached two tour SF and raised her ranking over 100 spots as the season progressed. Still, no one player broke out, and if the hope was that at least one of the Chinese players would become a star before Beijing, the clock is ticking.

If things don't pan out yet again in '08, and China is kept off the Beijing tennis medal stand, what does it mean for the continued governmental support of the sport?

==The NextGen Stars?==
1. Yung-Jan Chan, 18 / TPE
2. Jarmila Gajdosova, 20 / AUS (SVK)
3. Meng Yuan, 21 / CHN
4. Shuai Zhang, 18 /CHN
5. Zi-Miao Zhou, 16 / CHN
6. Casey Dellacqua, 22 / AUS
7. Chin-Wei Chan, 22 / TPE
8. Sophie Ferguson, 21 / AUS
9. Sacha Jones, 17 / NZL
10. Ling Zhang, 18 / HKO
11. Yi-Fan Xu, 19 / CHN
12. Jessica Moore, 17 / AUS
13. Tyra Calderwood, 17 / AUS
14. Shengnan Sun, 20 / CHN
15. Jing Ren, 20 / CHN
HM- Sunitha Rao, 22 / IND (ex-USA)
THE NEW/OLD SENSATION?:
If Li is the most talented of the first generation of Chinese players, and Zheng the most underrated (she's won three titles, more than any other Cookie), then Peng, 21, might have the most potential. She has caused waves off the court in the past with her struggles with the CTA's tight reigns, but she's also shown some big-time ability on it, most notably when she was the only player to defeat Kim Clijsters during her North American roughshod run over the field on the way to her only slam win at the US Open in '05. But Peng has struggled with her consistency, only finding some measure of it last season while working with Chinese-American slam winner Michael Chang. She ended the season at #45, second behind only Li amongst Chinese players, but two years past having achieved her career-high rank in '05.

But Chang, unwilling to meet the CTA's demands for travel (and possibly miffed by difficult dealings between the association and his own new tennis academy in southern China, not to mention Peng's rumored unwillingness to train as hard as he'd like), won't be coaching Peng in '08. So, one wonders if she'll continue to be that untapped potential star the Chinese are looking to emerge (but will continue to be unable to break free) from the pack.
VETERAN STABILITY:
With Martina Navratilova retired, a pair of Aussies now trade places being the "oldest" to accomplish this or that in doubles competition on tour. Rennae Stubbs, 36, won three titles in '07, but won't likely challenge any of Martina's age records what with the future TV commentating career staring her in the face. 33-year old Nicole Pratt, too, is still bouncing around... and even had singles wins over Dinara Safina, Maria Kirilenko, Vera Dushevina & Flavia Pennetta to her credit last season.

==YUMMY TIM TAMS FOR YOU, or disgusting Vegemite (though, if you're Australian, I SUPPOSE both could be good things... but not from this corner of the world)==
...the ol' Backspinner's heart would like to say that Dokic will find some sweetness in her '08 season, but that nagging little voice in the back of my head is worrisome enough for me to believe that Jelena's latest comeback will probably stall as soon as a few discouraging results are recorded, then end in bitterness all over again. I HOPE not, but as anyone familiar with the Ex-Debutante's career knows, it's better to expect little and be surprised than to go about things the other way around.

From this vantage point on the horizon, a strong comeback season in singles from Slingin' Sammy Stosur is far more likely an occurrence. And, who knows, maybe Alicia will actually remind us even more of the old Molik in '08 than she seemed to finally begin to do in '07.

=BACKSPIN PREDICTIONS=
FIRST TITLES:
Yung-Jan Chan, Samantha Stosur (sorry, Shuai Peng)
FIRST FINAL:
Jarmila Gajdosova
FIRST SEMIFINALS:
Jarmila Gajdosova, Ayumi Morita, Meng Yuan
FIRST QUARTERFINALS:
Casey Dellacqua, Shuai Zhang
1. Sania Mirza, IND:

No, I didn't forget about the Indian Princess. Actually, of all the Asia/Pacific players, she might be the most ready to jump back into the fray. In 2007, she improved her fitness as well as her ranking (by over 30 spots... which is probably no coincidence, huh?), reached four SF and was RU in Stanford (during her great North American run when she went 15-6, compared to a 15-13 mark the rest of the season). After not winning a singles title since 2005, Mirza will win two in 2008.


=============================




2. Chinese Fed Cup team:

don't expect the same mistake to be made in the 2008 1st Round, but that doesn't mean the team will advance as far as the CTA might have been hoping it would a few years ago.


=============================




3. Chan/Chuang, TPE:

none of the Chinese stars will win medals in Beijing, but this pair will... and it might even be Gold.


=============================




4. Jelena Dokic, AUS:




It's now or never. Hope for the former, but prepare for the latter.


=============================




5. Alicia Molik, AUS:

the Steamer's wins late in the season over both Alona Bondarenko and A-Rad in Linz might have been her best singles moment in her comeback, and her post-US Open singles record of 12-5 was certainly encouraging. She still has time to be the star of the women's version of a James Blake-like comeback story.


=============================




6. Shuai Peng, CHN:

she's like a troubled ballplayer with great talent, but destined to have a career that never seems to live up to it. If she can pull it together, with the backing of a partisan crowd, she could still be China's best shot at singles success in Beijing...


=============================




7. Zheng/Yan, CHN:

...while this great '06 doubles pair, which still won Charleston in '07 before Zheng's season ended in May, might be the host nation's best chance at a tennis medal of any kind (unless Peng swoops in to replace Zheng, as she and Yan combined to win one title in Guangzhou and reach the Beijing SF after Zheng went down).


=============================




8. Asia/Pacific Doubles:

five of the Top 10 (and ten of the Top 20) doubles players in the world are from the region. As a group, they claimed parts of six of the ten Tier I titles last season (and Molik won in Roland Garros).


=============================




9. Na Li, CHN:

she was the only Asia/Pacific player to reach the Round of 16 at a slam in '07 (Australian), and is still the highest-ranked player from the region even after missing the second half of last season. If she's healthy, she's always a wild card who could upset a top player... but things just never seem to fall her way.


=============================




10. Jarmila Gajdosova, SVK/AUS:

the new Dokic, without the crazy dad?


=============================




HM- Tamarine Tanasugarn, THA:

the best Thailand has ever produced, and the next highest-ranked Thai behind her #117 ranking is slotted in at #331.


=============================




All for now.



NEXT UP:
Africa/Middle East