2006 Intriguing Answers: Maria the Bear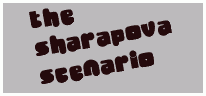 Maybe this "Sharapova Scenario" thing really DOES have legs... and not just the long Russian kind, either.


Backspin's spinning eyes of intrigue are still hesitant to declare the Scenario's present-day existence as the 2006 season comes to a close, but they could be convinced otherwise this coming week in Madrid.

I promised to beat this idea into submission until it either becomes a reality or dies a natural death, so I thought it'd be relevant to look back at the inception of the very notion that the Scenario could take place. It began last December, in Intriguing Question #5, as the Russian backslide of '05 was the subject of the day:

5.IS THE RUSSIAN REVOLUTION AS DEAD AS LENIN?

As the 2004 season came to a close, everything seemed to be coming easily for the Russians. Throughout the first half of the 2000's, the Horde had been breezing along, each year playing better than the last, placing more members in the Top 100, Top 50, Top 20 and Top 10. The WTA tour seemed a bottomless pot of gold as shiny as a pair of Sharapova's SW19 shoes. That "dream season" included three different Russians being crowned slam champions, new worldwide superstar Sharapova taking the year-end WTA championships, and Team Russia claiming the Fed Cup.

The bigger they are, the harder they fall. I guess everyone should have been expecting what happened in 2005. After all, Russian writers have been penning tales of tragedy for generations. There's a reason the phrase "Russian winter" is designed to have a shuddering effect on the senses. Well, last year the Horde had nothing on Anton Chekhov.

The dip in Russian tennis fortunes wasn't just a matter of numbers, though they may show the stark contrast between 2004 and 2005 better than anything, as the total counts of Russians in the Top 10 fell from 4 to 3, in WTA singles finals dropped from 33 to 17, and as WTA singles titlists shrunk from 15 to 9.

In the end, though, as Sharapova goes, so goes the Revolution.

In 2006, the Russians stormed back into the forefront of women's (and men's, too, for that matter) tennis, winning eight of the ten Tier I titles, not to mention surging back from 2005's lull with 34 WTA singles finalists and 19 titles spread out amongst 6 different Hordettes.

And, not surprisingly, Sharapova led the way again.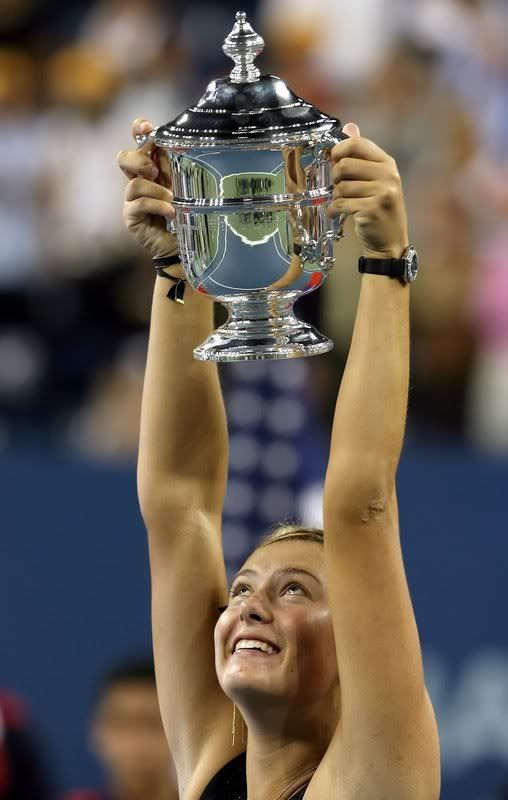 After seeing the big points that she always seemed to win a year earlier often elude her in '05, beginning when she blew match points against Serena Williams in the Australian Open SF, hitting a nadir with the double-bagel loss to Lindsay Davenport and continuing until the final day of a season which ended with her being hampered by chest and back injuries, the Supernova was reborn in New York in September. At the U.S. Open, she broke free of her major SF slump and won her second slam while simply being "Exquisite in the City."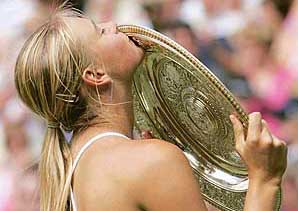 It wasn't a surprising turn of events, but as with her Wimbledon title in 2004, the moment of truth came just a tad earlier than expected...



Injuries will likely continue to be a lingering problem in '06 goes as Sharapova might still be in the process of strengthening and conditioning a physique that's changed (she's grown several inches) since she won Wimbledon as a 17-year old. Sharapova will be trying to implement a more aggressive net game into match play this year, something which will likely take some time to perfect. With so much change taking place, 2006 might be an even less successful year for Sharapova than her "quiet" 2005. Oh, she'll still be a solid Top 10 player, maybe even Top 5. But her 2004 slam success won't be replicated in 2006.



Okay, I "kinda" missed the boat on that one... and would have missed the water, too, if the notion of the Scenario (preceded by a YEC title at the end of '06) wasn't lurking in the shadows of the near future:

But could it be that the next eleven months will only be the calm before the storm? There's certainly precedent for such a theory, played out a few years ago by none other than Serena Williams. During the 2005 season, I made this same comparison... and nothing that's occurred has made me think it still isn't a somewhat likely scenario. Here it is:

Serena won her first slam title earlier than anyone ever expected, as a 17-year old at the 1999 U.S. Open. Sharapova won her first slam title earlier than anyone ever expected, as a 17-year old at the 2004 Wimbledon... Serena went through the next two seasons (2000-01) without winning another slam, as her body and game took some time to get in sync. Sharapova is already half-way through the two-year "drought" period, and might duplicate it as her body and game get into sync over the next year... In the season in which she turned 20 (2002), Serena saw everything come together as she put together one of the sweetest extended runs in tennis history, starting with the U.S. Open that year, she won four straight (for her "Serena Slam") and five of the next six slam championships. In 2007, Sharapova will turn 20 years old.

Could Sharapova, who not ironically defeated Serena to claim her '04 Wimbledon crown, be about to trace directly over the pattern that Serena drew from 1999-03? Will 2007-08 see a new catchy alliterative phrase enter the tennis lexicon as the Supernova shoots for her own chapter in history?

Think about it, come 2007-08, Davenport will likely be out of the sport. Mary Pierce may be, as well. Clijsters, too, if her comments about retirement are to be believed. Amelie Mauresmo will be pushing 30. Venus and Serena? They'll be young enough to be contending for slam titles, but one never knows which version of either will show up from season to season. It could be that, by then, Sharapova could be battling Justine Henin-Hardenne, a few Russians and the current group of up-and-coming teenagers for all the big titles. It'd be hard not to like her chances in those conditions (at every slam other than Roland Garros, at least). 2006 won't be Sharapova's year, but her best could be right around the corner.

At this point, it's possible to say that the Scenario might already be in full swing. In 2006, Sharapova expanded her game with better net play and an improved comfort level with her own body. Her strength and fitness work, combined and helping with her on-court movement, have seen the Supernova go from a nearly bare Russian (in February)...




to a Russian bear (in November)...




stalking world #1 Amelie Mauresmo and maybe something greater, even possibly historic.

Sharapova may not want or desire to play the most matches or even win the most titles in a given season (though she's one YEC crown away from getting #6 and doing just that), but she knows that building a superstar champion's resume begins and ends with the slams (unlike a Kim Clijsters, who foolishly terminated her own U.S. Open defense because she wouldn't get out of her own way in Montreal). She doesn't do things small. None of her five titles in '06 have been anything less than a Tier I. She said she doesn't necessarily think it's important, but the year-end #1 is within her grasp, as well, if she can win in Madrid next weekend (in a final against anyone other than JHH).

If the Scenario is to potentially become a reality (naturally, as is usually the case with Sharapova) a year earlier than anticipated, a title in Madrid would usher in the possibility that "IT" has already begun. A U.S. Open title leading to a Tier I win leading to a YEC crown leading to the role of favorite in Melbourne in January would certainly qualify as a good opening chapter for a 12-18 month period of dominance in the major events of the season (save for Roland Garros, where even a Supernova in elite form would be something of a long shot to win on the clay) for Sharapova. And if she were to actually follow up a second YEC win with a third slam title in Australia? Well, then we could consider ourselves in the passionate throes of the Scenario with nary a naysayer in sight... not even the spinning eyes of intrigue.

Will the Scenario come true? Is it already a reality? Hmmm, I sense an Intriguing Question coming on.


All for now.

=============================

2006 SEASON REVIEW EDITIONS OF WTA BACKSPIN:
...Revolving Doors
...Intriguing Answers: A Swiss Miss, a Near-Miss & a Big Hit
...How Smart We Were, How Dumb We Were

STILL TO COME:
...More Intriguing Answers: starring Amelie & Justine
...2006 Backspin Awards
...2006 Miss Backspin
...2006 WTA Yearbook