2006 Intriguing Answers: A Tale of Two Champions
2006. It was the best of times. It was the worst of times.




"If people say we're unfeminine, well, I say screw 'em."



That was Rosie Casals, one of the trailblazing women's players of the 1970's talking about people who considered female athletes "unladylike"... but, hey, the sentiment remains the same as far as Justine Henin-Hardenne is concerned (and Amelie Mauresmo, too, if you remember when she first burst onto the scene in Melbourne in '99). Maria Sharapova may have stolen the stage from the two in the latter stages of 2006, but this season has no doubt pivoted on the ups and downs of Henin-Hardenne and Mauresmo.




Rarely has a player done so much in a season to less fanfare, love, respect or, in the end, major trophies as JHH this year. She's tied for the most '06 titles (five), won her fifth grand slam crown and was the first woman in a decade to reach the finals of all four slams... but she was 0-2 against Mauresmo in the Australian Open and Wimbledon finals, and her retirement in Melbourne caused a firestorm fueled by absurdist rants that it would define her career. It won't, but many of the Henin-Hardenne haters won't likely ever let her forget about it, or any of her other single-minded actions invariably perceived as being "unsportsman-like" rather than borne of desire.

In the end, JHH proved that her body could still hold up to the rigors of a full schedule (she'd played 63 matches going into the YEC, and had the highest winning percentage of anyone in the Top 10), something that wasn't thought to be the case eleven months ago. Indeed, Henin-Hardenne could still be the season-ending #1-ranked player, not that she'd get much credit for it. It'd be far from a booby prize after a season that came up just short of being brilliant, but one figures she'd trade it in in an instant for another shot at those three lost slam finals.

Henin-Hardenne will never be beloved, but in a sport that plays best when all stages of the personality spectrum are represented, sometimes a "villain" is a requirement. Ironically, JHH's one extended injury layoff this season came because of her displaying some sense of duty during Fed Cup when she took to the court despite a knee injury that ultimately led to another final match retirement. She's been out of action since September 17, not playing again until opening Round Robin action in the YEC. One wonders how much her decision to push herself too far in the FC final was something of a delayed reaction to the criticism she endured because of Melbourne. If it played any role, she might have learned her lesson. She's not Kim Clijsters, and thank the tennis gods for that. She knows how her continuing career legacy will be constructed, and no apologies are necessary for her recognition of that fact of athletic life.

If JHH's role is to often don the black hat of the anti-hero who twirls an imaginary handle-bar mustache, then so be it. I say embrace it, and use all that potential power to intimidate and infuriate to her advantage. After all, in the movies, isn't it always the villain who's the most interesting aspect of the story? As far as world-class athletics is concerned, "respected" beats "nice" in all the categories that count.

Henin-Hardenne has already accomplished much in her career, but in sharp contrast to her fellow Belgian, she's hardly satisfied, or finished.

Amelie Maureso's career, though, could be considered complete no matter what she does from here on out (it's a good thing, too, after her listless debut match in the YEC). But we'll have to wait until 2007 to see if she's content with that notion.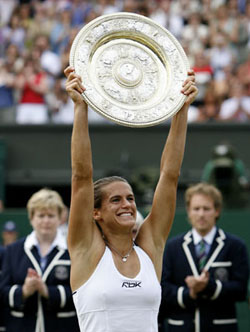 Good things come to those who wait. This season, Mauresmo proved that axiom to sometimes actually be correct. For all the hullabaloo (including in this space) over Sharapova's exquisite trip to New York, and the rollercoaster aspects of JHH's season, 2006 was Mauresmo's year. Even her second half absences and lackluster post-SW19 performances (which will likely cost her her #1 ranking) can't change that.

Before this year, Mauresmo was a former #1 with a beautiful game that was never going to be fully appreciated by future tennis generations because her career had one humungous hole right down its center -- the lack of a grand slam title. She made up for that fault two times over in 2006. First in Melbourne, where the list of unfinished matches by her opponents left a nagging question about her mental metal, then unquestionably at the All-England Club, where she once and for all proved that she could in fact raise her game on the biggest stage rather than crumble at her opponent's feet.

Sure, a case could be made that her slam accomplishments in the season's first half has led to a decided lack of focus during the season's back half, but so what? That's a subject to be debated later if Mauresmo's post-Wimbledon hangover carries over into '07. Although SI.com's Jon Wertheim recently stated that he'd pick Henin-Hardenne as the season MVP because of her prowess in the slams, I'd go with Mauresmo for precisely the same reason. According to my math, two slam titles bests four finals with just one win. 2006 has been the lefty's career year, and that's impossible to disregard, at least in a season in which Mauresmo cemented her Hall of Fame credentials and forever placed herself in the discussion of the most elegantly gifted players to ever pick up a racket. Not bad, I'd say.

For Justine and Amelie, 2006 was the best of times and the worst of times... but, when the dust settled, they both emerged as champions.

All for now.

=============================

2006 SEASON REVIEW EDITIONS OF WTA BACKSPIN:
...Revolving Doors
...Intriguing Answers: A Swiss Miss, a Near-Miss & a Big Hit
...How Smart We Were, How Dumb We Were
...Intriguing Answers: Maria the Bear

STILL TO COME:
...2006 Backspin Awards
...2006 Miss Backspin
...2006 WTA Yearbook