#2: Will It Be Amelie vs. Justine, Part Deux?
Martina vs. Chrissie was the real thing. Venus vs. Serena was little more than a novelty. But what about Amelie vs. Justine?


Well, an epic rivalry may not have been forged a season ago, but the anticipation of the pair's meetings did have something of a WWE-styled hype to them.

Unkind words. Grudges to be settled. Retribution and redemption to be gained.

Certainly, at the very least, few players have tied themselves together quite so intricately as Amelie Mauresmo and Justine Henin-Hardenne did in 2006. The season's signposts invariably included one or both of them as a tale of two champions was written over the course of eleven months.

The push and pull started between the two in Melbourne just over a year ago when JHH's retirement in the final handed Mauresmo her first grand slam title, leading to the absurd Greek chorus of catcalls that accused the Belgian of everything from intentionally robbing the Frenchwoman of her moment of glory to poisoning that ex-Soviet spy (all right, that incident didn't happen until the end of the 2006, but had it happened around Oz Open time, I'm sure someone would have found a way to implicate JHH if they could -- the anger thrown her way was just that ridiculous). Their odd dance -- sometimes on the court, sometimes off it -- didn't end until four meetings later in the final of the YEC in Madrid, when Henin-Hardenne defeated Mauresmo and ended the season as the #1-ranked woman in the world.

In between, the two were simply the best players on tour in '06. Maria Sharapova, as is her wont, may have been the star of women's tennis a season ago, but Amelie and Justine were the tour's cornerstones. They met in two slam finals (Mauresmo winning both, adding Wimbledon five months after the Australian), won three of the four slam singles titles (JHH took Roland Garros, and was the first woman in a decade to play in all four slam finals in a season), claimed ten titles between them (JHH with 6, Mauresmo 4), and controlled the #1 ranking from March until today (Mauresmo was #1 from March until November, when JHH overtook her following the final week of the season).

After Mauresmo and Henin-Hardenne's amazing journeys through 2006, will they both be able to bounce back like superballs and resume their tete-a-tete for a second straight year in 2007? Will they be spurred on by their results of last season, or will what happens next turn out to be more anticlimatic than exultant? Well, the new season isn't even out of diapers yet, and the two are already in the news again. Mauresmo prepared for her first ever slam title defense by being upset by Jelena Jankovic in the QF of Sydney, going out in straight sets with another love set... continuing her odd practice of being bageled several times in the latter stages of her just-concluded career year. Meanwhile, Henin-Hardenne wasn't in Sydney. She won't be in Melbourne, either, having pulled out of both events due to "personal reasons" widely believed to be code for marital difficulties (which goes to further highlight the career dichotomy between the careers of JHH and fellow Belgian Kim Clijsters, who is preparing to be married in July).

While '06 was Mauresmo's year, considering her previous struggles in slams, some might wonder if her grand success was something of an aberration, a single season when neither her head nor sometimes-fragile body got in the way. Does she need to replicate at least part of her '06 success in '07 to fully legitimize what she accomplished? At this time last season, she needed Melbourne to solidify her career's legacy... and after winning three matches out of seven through retirements at the Australian, she needed Wimbledon to back up her first slam crown. She came through both times. After three consecutive seasons in the Top 3, four straight in the Top 4 and seven of eight in the Top 10, what does she need now? Nothing, really. And that could be a problem.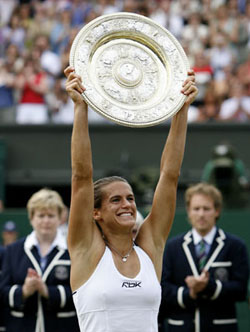 Mauresmo's beautiful game is no longer in danger of not being appreciated by tennis history. She has nothing left to prove, and it's difficult to not think a little of Jana Novotna in relation to where Mauresmo now finds herself. After years of struggling to get over the grand slam hump, Novotna finally won Wimbledon in 1998 at age 29. She played one more season, just long enough to return to SW19 as defending champ... then walked away from the sport by the end of the season. Mauresmo will turn 28 less than a week after this year's Wimbledon. She seemed to have a reserve of will at the YEC in Madrid, overcoming a post-Wimbledon drift, some injury difficulty and a listless start in the Round Robin to reach the final. But that was a last minute push to close out her best-ever season, and really offers no evidence that she'll be up to laying everything on the line an ENTIRE season after putting so much in the bank last year. It would be oh-so-easy to simply coast through the rest of her career.

Mauresmo may have to be hell bent to prove '06 wasn't an aberration to even come close to duplicating even a little of what she did last season. Whether the fire in her belly has been stoked or doused could be apparent before the end of play in Melbourne. If she gets back to the final, or even the SF, she might just have another push left in her... which means she and Henin-Hardenne could cross each other's paths on the sport's biggest stages yet again. If Mauresmo can remain healthy, it's hard to see her falling away from contention for deep second week action in the slams, but from here there's a nagging sense that the zenith of her career that made everything before it worthwhile might have also made everything after it a little unnecessary.

Henin-Hardenne, on the other hand, is such an adrenaline junkie -- how else can her taking up of skydiving in the middle of her tennis career be otherwise explained? -- that it's hard to see her backing down from anything. That's why her absence from Melbourne, where she could have put to rest any lingering scent of the brouhaha of last year, is such a stunner. Of course, part of her decision could be because her off-the-court distractions have prevented her from undertaking the training she deems necessary for her to fully throw herself into contention at a grand slam... especially one where there would be so many ancillary issues to deal with. Thing is, Melbourne holds so many good memories for JHH, too. For her 2003 QF comeback victory over Lindsay Davenport despite the intense heat and leg cramps that put her on her back is generally looked upon as the moment when she elevated her mental game to a level that allowed her to compete for grand slam titles and the #1 ranking. Obviously, if Henin-Hardenne had shown up in Melbourne, she felt she'd have been a hollow imitation of the one we've come to know as "Le Petit Taureau."




Rest assured, Henin-Hardenne will return... even if it eventually turns out to be as just "Henin." Who knows, maybe her personal difficulties will even allow her to feel the warmth of sympathy rather than the ire of resentment that hounded her throughout last season. While it's been said here before that she should embrace the "black hat" role, a little change of course would be an unexpectedly interesting situation to see JHH attempt to adapt to. Of course, that's probably an unreasonably unrealistic scenario, since if something new to rile the masses doesn't occur sometime in '07 I'm sure someone will utter, "What WON'T she do to make people feel sorry for her?" in response to the potential decline of her marriage. It's just the response that Henin-Hardenne tends to elicit from some people. C'est la vie.

If that DOES occur, then all the better. It would likely just allow Justine the opportunity to focus on her game, which has never been a problem. Her body may sometimes fail her, but her game has proven to be fatal to Big Babes and Little Babes alike. She'll likely sacrifice her #1 ranking with the late start to her season, but the WTA year is a long haul. And, in the end, not playing in January could make Henin-Hardenne all that much stronger in June, July and September when the other slam crowns will be decided.

All things considered, it would be more surprising if Henin-Hardenne DOESN'T add a triumphant '07 postscript to her '06 campaign than if Mauresmo DOES. Melbourne aside, marital difficulty or not, it'll be hard to wring the big competitor out of Justine's little body... and that desire will keep her at or near the top of the game for as long as she cares to play it.

By the end of this year, Henin-Hardenne may be Henin again. Mauresmo might be an "almost" slam champion again, as well. Their fates won't likely ever be tied together in the same way they were in' 06. But the unique storyline they created for tennis WILL link "Amelie & Justine" in tennis lore... or at least one exceedingly interesting chapter of it.

But how often do sequels live up to the original, anyway?



PREDICTION DART BOARD: Amelie Mauresmo will reach two slam SF, but no slam final... Justine Henin-Hardenne will win at least one slam title... Mauresmo will reach the YEC final



All for now.

=============================

STILL TO COME...

Intriguing Question #1: WHAT IF... Kim Clijsters had won Roland Garros in 2001?