BACKSPIN TIME CAPSULE: 1991 U.S. Open
(fourth in a series)
Sometimes, you just never know.


In 1991, 38-year old Jimmy Connors' time in the tennis spotlight had seemingly past. He played just three matches in 1990 (going 0-3), and the eight-time slam champion saw his ranking fall to #936. Wrist surgery followed. As the '91 season advanced, he started to stir... if only a bit. He entered the U.S. Open that year with a 9-9 record on the year, but with a pair of respectable 3rd Round finishes at Roland Garros (where he was even with #10-ranked Michael Chang after four sets before retiring) and Wimbledon.

At least Connors wasn't going to leave as a total shadow of his former. That was the prevailing opinion as the summer inched toward its conclusion. With his ranking up to #174, Connors was granted a wild card into the Open main draw. For the man who had personified what the tournament represented and had become, it was a nice, understandable gesture by the USTA.

Little did we know that in two weeks time we'd be able to ruminate over a prolonged display of tennis theater never seen before or since, all produced by the greatest showman the sport has ever known.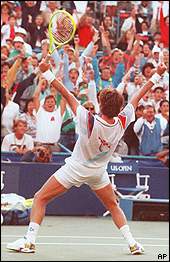 Seventeen years and countless classic U.S. Open moments later, nothing has ever matched Connors' remarkable, unexpected and inspiring run. Here's what I said about it all in the aftermath:





"An Open for the Ages... especially 39" (September 1991)

Just call it The Jimmy Connors Open. Jimbo Does New York. The Ageless Wonder Finds the Fountain of Youth. King Jimmy and His Faithful Court.

Whatever you want to say about this U.S. Open, possibly the best ever thanks to the stories galore it provided (Jimbo, Martina, Capriati vs. Seles in the semifinals, etc.), you cannot discuss it unless you begin and end the festivities with a mention of the 39-year old who turned on crowds, a tournament, a nation and the entire world (even "Nightline" had a special show devoted to Connors).

What Jimmy Connors did here will never be forgotten. His first U.S. Open was twenty-one years ago. He's won it five times, but his last title was eight years ago. And he's still, and will forever be, the only player to win the Open on three different surfaces. But what he did this year may top all the other years combined.

Connors didn't play here in 1990 thanks to wrist surgery which seemed to have ended his career. But he returned and gutted it out at the French Open before retiring against Michael Chang, and was competitive at Wimbledon as the first ever play on the middle Sunday only served to bring out the "juice" and enthusiasm that would epitomize "the Jimbo way" at this U.S. Open.

But what Connors did earlier this season pales in comparison. He entered this tournament via a wild card berth ranked #174 in the world. With his neon racket in hand (or was it his magic wand?), he led the nation on a magical mystery tour from which it may never fully recover. Or want to.




Out of the heat and in primetime, Jimbo worked his magic. In the 1st Round, he was down 4-6/6-7/0-3, love-40 to Patrick McEnroe. Then, it happened. It was like a sleeping giant being woken from a long nap. A giant who could inspire millions. A giant who could move mountains. A giant who made dreams come true. Connors came back, fist-pumping, wind-milling, gyrating and crowd-thrilling to whip McEnroe in five sets after four and a half hours of play. The clock read 1:35am. Amazing.

But it didn't end there, even though it could have and the world would have been happy. Thanks to a nice draw and schedule of play that took the sun out of the equation and moved the big show under the lights, Connors defeated Michiel Schapers (2nd Rd.) and Karel Novacek (3rd) for the right to face Aaron Krickstein on Jimbo's 39th birthday -- Labor Day. How fitting.

In front of a national television audience, he did it again.

Against the younger Krickstein (who isn't?), Connors came back from 2-5 down in the 5th set to win the match in a tie-break at 7-4 after four hours and forty-one minutes more in the hot sun. Even more incredible.

Next came Paul Haarhuis in the Round of 16, where Jimbo found himself a set and a break down. And BAM! Jimmy Connors... 39-year old Jimmy Connors... was a U.S. Open semifinalist. The nation was enthralled. The sports world was amazed. Connors was just having fun. Hurting, but having fun.




By now, Jimbo was a national figure of youth in the face of marching time. Enthusiasm in the face of spoiled athletic superstars. Everyone, EVERYONE, wanted to see how Jimbo was doing. Everyone wanted him to win. We even started to believe (gasp!) that he COULD.

When the stronger and nearly twenty years younger Jim Courier defeated him in the semifinals, the Open was essentially over. Sure, Stefan Edberg would breeze to his first U.S. Open title, but the tournament's heartbeat ceased once Jimbo had lost. No one really cared after that. How could we? We had lived and died point-by-point with Connors for two weeks. Losing hope one moment, only to be astonished once again soon afterward... and again, and again, and again, trying to tell ourselves that we couldn't believe it -- even if we all wanted desperately to do just that.

Courier brought everyone down to earth once again. But it didn't matter. Jimbo had sucked us in with his fire, and there was no way any of us could get burned. His smile and guts wouldn't let us.

In the span of two weeks, the Jimbo with bad manners from the past was gone. The Jimbo that so many loved to hate was gone, too. It's all forgotten, even if we all were reminded of how he used to be once in a while in an occasional foul-mouthed blowup. Jimbo is a hero now. He's everyone's favorite. He's us. He's Mr. Tennis. He's Elvis. He's Madonna. He's Houdini. You name it, he's it.

Unfortunately, he's also 39 and doesn't have too many years left (yes, years -- he says he could make it to 45). Then what does tennis do? John McEnroe is going to go before Jimbo does. Where is the personality and success and fire all rolled up into one going to come from? Where will the emotional heart of men's tennis be?

When told of Pete Sampras saying he was relieved that "the ton of bricks" was off his back after he lost while defending his '90 U.S. Open crown, Connors said, ""What? Don't tell me that! That's the biggest crock of dump! Being the U.S. Open champion is what I've lived for. If these guys are relieved at LOSING, something is wrong with the game -- and wrong with them."

Only Courier seems to come close to Connors in spirit. He called Jimbo "unbelievable," but he, too, fights, hustles, grits out wins and has "the fire." Does Courier remind you of yourself, Jimmy?

"Nobody reminds me of me," said Jimbo.

Is that arrogance? Maybe. But it's also the truth. Too bad. But, then again, could anyone EVER remind us of Connors?

Thanks, Jimbo. You gave us a ride that we'll never forget.







*MOST CAREER ATP TITLES*


109...JIMMY CONNORS
94...Ivan Lendl
77...John McEnroe
64...Pete Sampras
62...Bjorn Borg
62...Guillermo Vilas
60...Andre Agassi



*WEEKS AT #1*


286...Pete Sampras
270...Ivan Lendl
268...JIMMY CONNORS
237...Roger Federer



*CONSECUTIVE WEEKS AT #1*


237...Roger Federer
160...JIMMY CONNORS



*U.S. OPEN SINGLES WINS*


98...JIMMY CONNORS
79...Andre Agassi
73...Ivan Lendl



*U.S. OPEN NIGHTTIME WINS*


28...Andre Agassi
24...JIMMY CONNORS
20...Pete Sampras



No Open since the one that hosted Connors' 1991 exploits has gone by without the memory of what he did seventeen years ago being resurrected, reminisced about or longed for again on some level. Just seeing the short clip of him celebrating one of those remarkable wins in the CBS coverage's opening montage of past U.S. Open images is enough to elicit a grin.

If Mother Nature complies, we'll usually get to see a bit of that birthday comeback against Krickstein via replay, as well. By now, it's probably the most re-watched moment in slam history this side of the fabled Borg-McEnroe Wimbledon tie-break in 1980.
"[T]here's always somebody out there who's willing to push it that extra inch, or mile, and that was me. (Laughter) I didn't care if it took me thirty minutes or five hours. If you beat me, you had to be the best, or the best you had that day. But that was my passion for the game. If I won, I won, and if I lost, well, I didn't take it so well."
In all, Connors won eight slam titles in his career (all but Roland Garros, where he reached the SF four times). He's one of three men to win slam titles on hard court, grass and clay (when the Open was played on green clay), along with Mats Wilander and Andre Agassi. His 109 tour titles, 1337 wins, 1622 matches, 401 tournaments and 233 slam match wins are all all-time records. No man had more Top 10 finishes -- sixteen, tied with Agassi -- in his career. The year-end #1-ranked player from 1974-78, Connors held the top spot for 160 consecutive weeks, a record that stood until it was broken by Roger Federer. In 2005, Tennis magazine's list of the "Forty Greatest Players" placed him at #7, the highest-rated man behind only Pete Sampras and Bjorn Borg.

Still, even with all that, Connors is now maybe best remembered for the tournament he DIDN'T win than for all of them that he did. Of course, consuming the biggest event in the sport like no player ever did before or since has a tendency to be a visceral memory that shoves all the rest out of the picture... sort of like Connors might have tried to do with an opponent at his fiery best. By the time his final greatest role on the court was complete, the former brash renegade has become a carnival barker ("Step right up and see the most fan-tabulous spectacle in all of humanity right before your eyes...) who doubles as the main attraction that fans and on-lookers traveled from far and wide to see pull one more rabbit out of his hat before sunset (or sunrise, whichever came first).

It's sort of difficult to forget something like that.

Personally, I was too young to remember much detail about Borg's career other than the Swede's silent aura, and how McEnroe cracked it -- at least in Borg's mind -- of the course of two summers in 1980-81. Boris Becker was the player who made me love the sport, but it was a late-in-career (well, as it turned out, not REALLY late) Connors who was the first champion that I truly remember. His Wimbledon and U.S. Open title runs in the early 1980's were where I first saw all the flat groundstrokes, the lefty two-handed backhand and maybe the greatest return of serve in the sport's history. His famous steel Wilson T2000 racket was what I had in mind when I got my own first racket -- a steel Wilson Rebel that I cherished (and still own) because it looked like Connors' weapon of choice... or at least was close enough. I even had a bit of a temper back then, and have the one and only mangled racket of my "career" tucked away in a closet to prove it.

Hey, with Connors and McEnroe the American stars of the day, I guess I figured I was SUPPOSED to get supremely, destructively angry when a forehand shot hit the net. I've since learned otherwise.




Connors' role as the "People's Champion" in '91 was soaked with the subtext of what Jimbo had been over the previous twenty years. Raised in Belleville, Illinois by a mother and grandmother who'd decided to groom him to be a tennis star at an early age, "the one and only James Scott Connors" burst onto the tennis scene with an anti-establishment bent, making his U.S. Open debut at age 17 in 1970. He quickly made his way to the top, making enemies at every turn with vulgar on-court comments and squabbling with officials, opponents and fans along the path to greatness.

In 1974, Connors was banned from playing Roland Garros after he's broken the rules and agreed to play World Team Tennis. He became #1 that summer, and ended up winning the other three slams that season while compiling a 93-4 record. His personal rebellion against the ATP possibly cost him the best chance any man has had to sweep all four slams in a season since Rod Laver last did it in 1969. In the late 1970's, he was booed at Wimbledon. He even incurred a ten-week suspension and $20K fine after being defaulted from a match for being his regular belligerent on-court self.

But, by the late 1980's, he'd become a loved and respected elder of the sport, albeit one with a sly smile and the propensity to still occasionally say something that might cause a mother sitting in the front row to cover her child's ears for fear that the tyke might be forever corrupted. As things happened, John McEnroe had come along and "bad boy" Connors' antics had been made to look tame in comparison. Johnny Mac became "the brat" capable of being scolded for his disrespectful behavior by the "adult" Connors... as difficult as it would have been to imagine years earlier.

In the 1988 U.S. Open quarterfinals, Connors met an 18-year old "image is everything" superstar named Agassi, leading one voice in the crowd to shout out to Jimbo, "You're a legend and he's a punk." And no one disagreed. Agassi won the match in straight sets, and the rumor was that he'd bragged about how he was going to do it to the "old" Connors before the match. A year later, the two met again at the Open in a match that went the distance, with Agassi winning the first five-setter of his career.

In 1990, the 'new" Connors was cheered wildly at Wimbledon during his on-court warm-up on the first-ever middle Sunday play after a week that had seen the All-England Club grounds drenched with rain. With "the real people" being allowed to attend matches on that unique day, the roar of the fans cheering each pre-match shot that traveled over the net even made Jimbo himself laugh... and set the stage for the thrilling ride that would occur one season later.

In 1991, Connors was already two years past what would be his final pro title. Though he played fourteen events that season, and didn't effectively "retire" until 1993 (he actually played a match as late as 1996, and appeared in the ATP rankings at #1304 at age 44), he only made one more "victory lap" tour of three of the four grand slams in 1992, failing to win a match in Paris or London, but getting a 1st Round win at the Open as an encore to his performance the prior year.

He entered the Tennis Hall of Fame in 1998, but pretty much disappeared from the tennis scene after that. He re-emerged in 2006 and for nineteen months attempted to coach Andy Roddick back into contention with the likes of Federer and Rafael Nadal. It didn't work out, but it was great to have Connors' presence back in the game, even if it was for just a brief period.
"I want to bring the crowd into the match; in short, turn it into a football game."
It's not really a surprise that he couldn't mold Roddick into a modern day version of himself. The great ones with the untouchable heart for battle rarely are able to teach other athletes to emulate them. Actually, no player has been able to fully clear the crowd-thrilling, one-of-a-kind bar that Connors set in 1991 and throughout his career.

Aussie Lleyton Hewitt had the temperament, as well as the grinding game. He even seemed to be following in Connors' footsteps when he fell for and became engaged to "good girl" Kim Clijsters (just had been the case with Connors and "America's Sweetheart" Chris Evert), but Hewitt's standing has faded, he's yet to put together a late-career act of note and is having hip surgery. The demonstrative Hewitt never really had the the ability to laugh at himself and have "fun" on the court. With a stable family life and young child, though, maybe Hewitt WILL one day re-emerge in a different form... but without losing his trademark intensity that made him successful. It should be noted that the "veteran" Hewitt is still only 27, a full dozen years younger than Connors when he made his '91 run.

Actually, the closest performance that I've seen to what Connors did seventeen years ago might have been young Jo-Wilfried Tsonga's journey to the Australian Open final in January. The excitement the Muhammad Ali-resembling Frenchman brought to every match he played, the dynamic reactions to his accomplishments and the feeling that the fans were with him on every point were very Jimbo-esque. Of course, at just 22, Tsonga didn't have the backstory to go with what the American pulled off.

In the end, the last twenty years have only produced one player whose career/personal arc even remotely resembles that of Connors -- the "punk" of 1988 himself, Andre Agassi. Both went from rebels to revered elders over the course of two-decades long careers, going from a loud youngster whose antics some though brought disrepute to the game to aging vets who found a way to appeal to every fan on one level or another. In a sense, those two U.S. Open QF meetings in 1988-89 were like two nearly-identical ships passing in the night through some sci-fi rift in time. More than any other player since Connors, Agassi came to symbolize the entertaining spirit of the Open until he finally called it a career in 2006 (but not until after a run to the final a year before as an aching 35-year old that brought to mind Connors' trek fourteen years prior).

In the span of seventeen years, Connors' career came full circle that summer of '91. The same gritty 21-year old floppy-haired, loud-mouthed top player with an intense desire to destroy his opponent and buck whatever trend was at hand who smacked down a 39-year old Ken Rosewall in the Wimbledon and U.S. Open finals in 1974 had transformed into a gritty, shorter-haired, loud-mouthed aging star who'd grown out of his need to rebel against the world. Well, not REALLY... just by the time he was nearing the end the world was with him in the fight rather than on the other side of the net.

Even before 1991, Connors embodied the Open heart and soul. But those two weeks are what cemented his legacy in the mind of every tennis fan and non-fan alike who watched him play... and maybe even a few who didn't.
Connors, to the camera after another thrilling point that had brought the crowd to its feet -- (Shrugging his shoulders and holding up his hands, with a wry smile) "This is what they want."
Yes, it was... and still is.

All for now.





PREVIOUS TIME CAPSULES:

1987 Roland Garros (Graf), 1990 Wimbledon (Navratilova), 1990 Wimbledon (Edberg/Becker)



NEXT UP IN 2009:

1993 Australian Open - Monica Rules