Wk.8- Saving the February Dramas for Their Mamas (especially Jada's)
The drama that percolated throughout the two weeks of the Australian Open in January wasn't exactly carried over into February on the WTA tour.


Of course, since the likes of Serena, Barbie and the still-unranked Justine didn't play in a match that mattered during the month, while Maria and Caroline both played just one tournament, Ana had more swimsuit issue pages in Sports Illustrated devoted to her than she had tennis match wins, and Svetlana has seemed to be virtually "on strike" in everything BUT Fed Cup play in '10, such an occurrence is to be expected.

Then again, a lot of things happened in February that WERE worth talking about, too. Venus shut a few people mouths... at least until her winning streak ends or she loses in a slam, whichever comes first. Yanina Wickmayer is still the top-ranked Belgian. Liezel Huber is still atop the doubles rankings, but now she's there ALONE. Li Na remains a Top 10 player, while Shahar Peer is now a Top 20 one. And, oh yeah, there was that story about the plastic likeness of a flesh-and-blood tour player... or was it the life-like replication of a plastic tour player? Either way? Oh, such a conundrum.

Anyhoo, here's a quick snapshot of the past month:



*February Awards - Wk.5-8*




**TOP PLAYERS**


1.

Venus Williams, USA


...if winning Dubai and Acapulco in back-to-back weeks a year ago was the season's most underrated accomplishment, how do you rate Venus defending BOTH titles again this year?


=============================


2.

Elena Dementieva, RUS


...just like in '09, she's been in mostly top 1Q form everywhere but in the slams. It's sort of the story of her career, really.


=============================


3.

Flavia Pennetta, ITA


...Madame Butterfly is still the Queen of the Fed Cup courts. And unlike the Russian who has been the other recent contender for the title, Pennetta doesn't have to be guilted into playing.


=============================


4.

Alisa Kleybanova, RUS


...Russia's latest WTA star, after nearly taking out Henin in Melbourne, teamed with Kuznetsova in Russia's Fed Cup 1st Round deciding doubles match and then won her first career title in Kuala Lumpur.


=============================


5.

Maria Sharapova, RUS


...quietly, Sharapova put her Melbourne debacle behind her by whipping through the field in Memphis the same week that Venus and Peer were getting headlines in Dubai.


=============================


HM-

Vera Zvonareva/RUS, Llagostera-Vives & Martinez-Sanchez/ESP, Mariana Duque-Marino/COL





**RISERS**


1. Alisa Kleybanova, RUS
2. Vera Zvonareva, RUS
3. Victoria Azarenka, BLR
4. Shahar Peer, ISR
5. Yanina Wickmayer, BEL
6. Agnieszka Radwanska, POL
7. Lucie Safarova, CZE
8. Kaia Kanepi, EST
9. Petra Kvitova, CZE
10. Yaroslava Shvedova, KAZ
HM- Anastasia Rodionova/Arina Rodionova, AUS/RUS



**FRESH FACES**


1. Mariana Duque-Marino, COL
2. Regina Kulikova, RUS
3. Melanie Oudin, USA
4. Polona Hercog, SLO
5. Chang Kai-Chen, TPE
6. Arina Rodionova, RUS
7. Sharon Fichman, CAN
8. Kristina Antoniychuk, UKR
9. Ayumi Morita, JPN
10. Tatjana Malek, GER
HM- Anastasia Pavlyuchenkova, RUS



**JUNIORS**


1. Jana Cepelova, SVK
2. Agustina Sol Eskinazi, ARG
3. Grace Min, USA



**SURPRISES**


1. Lucie Hradecka, CZE
2. Angelique Kerber, GER
3. Chanelle Scheepers, RSA
4. Johanna Larsson, SWE
5. Laura Pous Tio, ESP
HM- Yurika Sema, JPN & Anna Gerasimou, GRE



**VETERANS**


1. Venus Williams, USA
2. Elena Dementieva, RUS
3. Flavia Pennetta, ITA
4. Nuria Llagostera-Vives/Marie Jose Martinez-Sanchez, ESP
5. Liezel Huber, USA
HM- Edina Gallovits, ROU & Kveta Peschke, CZE



**COMEBACKS**


1. Sesil Karatantcheva, KAZ
2. Sofia Arvidsson, SWE
3. Anne Keothavong, GBR
4. Laura Pous Tio, ESP
5. Arantxa Parra-Santonja, ESP
HM- Betthanie Mattek-Sands, USA & Meghann Shaughnessy, USA



**DOWN**


1. Chinese Fed Cup team
2. Ana Ivanovic, SRB
3. Li Na, CHN
4. Sabine Lisicki, GER
5. Zheng Jie, CHN
HM- Francesca Schiavone, ITA & Svetlana Kuznetsova, RUS



**DOUBLES**


1. Nuria Llagostera-Vives/Maria Jose Martinez-Sanchez, ESP
2. Barbora Zahlavova-Strycova, CZE
3. Liezel Huber, USA
4. Kveta Peschke/Katarina Srebotnik, CZE/SLO
5. Lucie Hradecka/Kveta Peschke, CZE



**ITF PLAYERS**


1. Elena Baltacha, GBR
2. Olivia Sanchez, FRA
3. Abigail Spears, USA
4. Elena Bovina, RUS
5. Andrea Hlavackova, CZE
HM- Polona Hercog, SLO & Arina Rodionova, AUS



**TOP STORY**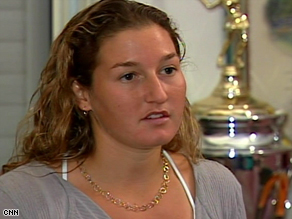 Shahar Peer makes her triumphant debut in the U.A.E. one year after the "Dubai Debacle," turning a potentially too-political moment into a heart-thumping SF run that included wins over the tour's hottest player (Wickmayer), the '09 runner-up (Razzano), the #1 seed (Wozniacki) and an Australian Open semifinalist (Li) before she finally went down against two-time champion Venus Williams.



**TOP PERFORMANCE**


Venus Williams wins on two surfaces and two continents in back-to-back weeks in Dubai and Acapulco... again


[Fed Cup]


Flavia Pennetta leads the '09 champions past the 2010 1st Round in Team Italia's first step toward a title defense



*TOP MATCH*


Paris SF - Dementieva def. Oudin
...4-6/6-3/6-3. The "minor match of the year," so far? It wasn't the best played, but it said a great deal of good about both players as Oudin showed that her North America/Fed Cup no-back-down personality can carry over elsewhere and Dementieva pulled out a clutch match against a grinding opponent. Maybe next time she faces Henin, she'll forget the Oz loss and remember this win?



*COMEBACKS*


Dubai 1st Rd - Peer def. Wickmayer
...3-6/6-2/7-5. Peer's Dubai storyline would have been nice, but somewhat lessened, had she not managed to dig out of the 6-3/4-2 (and a point from 5-2) hole she found herself in here against a player with a tour season's best eleven-match winning streak.


=============================


Acapulco QF - V.Williams def. Pous Tio
...4-6/6-3/7-5. If Venus had managed to display against Li in Melbourne the same steady veteran play she showed here while coming back from a 5-1 3rd set deficit a very different AO script may have been written.


=============================





*UPSET*


Dubai 3rd Rd - Kulikova def. Kuznetsova
...5-7/7-6/6-4. A whole set of Russians different from the usual suspects -- from Kulikova to Kleybanova to Kirilenko and a few others whose names don't begin with "K" -- have flashed in the opening months of 2010.



=THINGS THAT MAKE YOU GO "Hmmmm..."=


I didn't predict a year-end WTA singles #1 in order to avoid yet another case of the "Kuznetsova Curse" derailing someone's season... and then Kuznetsova herself seemingly returns to her lackluster between-slam titles form. Coincidence? Maybe it all comes full circle in 2010.


=============================


After Chinese players rose up in Melbourne and filled two semifinal spots, China's star-less Fed Cup team went down and out in the opening FC weekend yet again and then Li Na and Zheng Jie -- both in the Oz final four -- stumbled badly (or were injured) in singles play on tour. Good thing the Chinese tennis federation has long-range goals.


=============================


Suddenly, Mary Joe Fernandez's Sisters-less Bannerettes aren't so "B"-teamish. Of course, that doesn't mean they'll knock off Russia in the SF this spring. Still, if Oudin can find her old Russian-pounding racket in the bottom of her tennis bag...


=============================


Martina Hingis will return in WTT play. Didn't Barbie announce such a stint before the "real thing," too? Maybe we'll get a "Spice Girls" reunion... even if the Swiss Miss and Citizen Anna are on opposite sides of the net.


=============================


More than a year back from suspension, Sesil Karatantcheva finally reached her first career WTA singles SF in Pattaya. Formerly-banned Laura Pous Tio reached her first tour QF in four years in Acapulco. Isn't Yanina Wickmayer glad she probably won't have to face a similar bright career-bludgeoning hurdle in 2012?


=============================


Of course, Kimiko Date-Krumm was gone for more than a decade but still managed to be the star of the Japanese Fed Cup team this month in her first FC action since 1996.


=============================





=THINGS THAT MAKE YOU GO "Grrrr..."=


AnaIvo is a hit as a swimsuit model, but her tennis play continues to be lacking. Now it looks like one-time Steffi Graf coach Heinz Gunthardt will take a crack at changing that. Pity Ana's no Steffi in any way that matters for a tennis player.




=============================


Maybe Ricardo Sanchez will soon be able to switch Serbian pupils? Somehow, though, that match wouldn't seem to be so chaotically appropriate as the one with his recent-and-still-current-the-last-time-I-checked charge.


=============================


Sania Mirza is no longer engaged, so her tennis career isn't scheduled to end anytime soon. Of course, her body isn't doing her any favors.


=============================


So long, Cara Black's uninterrupted 31-month stay atop the doubles rankings. She might one day catch Martina Navratilova's career number for total weeks in the #1 position, but the more impressive (since the doubles rankings didn't become official until part-way through Martina's career) continuous streak no longer has legs.


=============================



Oh, and, of course...



=THE THING THAT OFFICIALLY AND IRREPARABLY SULLIED THAT PRE-SEASON "TABULA RASA"=





...I'm already getting my list together for hoped-for Christmas stocking stuffers and Barbie accessories. I really really really want the Barbie Fila Fed Cup tennis outfit (never worn by any doll), Jada-sized champagne bottle, off-hand wrist wrap, official U.S. Open squeegee, halo, "Kiss Me I'm Me (and not Justine)" homemade t-shirt kit, and a "Honk If You Love Me, Applaud Because One Day You Surely Will, If It's the Last Thing I Do" bumper sticker for the Barbie Dream Car. I'd add the Basketball Brian doll to the list, too... but I somehow think that the creation of that one is nothing but a pipe dream.

You know, maybe February wasn't so vacant of drama, after all.




*WEEK 8 CHAMPIONS*






ACAPULCO, MEXICO (Int'l $220K/red clay outdoor)


S: Venus Williams def. Polona Hercog 6-2/6-3
D: Hercog/Zahlavova-Strycova d. Errani/Vinci



KUALA LUMPUR, MAS (Int'l $220K/hard court outdoor)


S: Alisa Kleybanova def. Elena Dementieva 6-3/6-2
D: Y-J.Chan/Zheng d. Rodionova/Rodionova


PLAYER OF THE WEEK: Venus Williams/USA
...to throw in a boxing reference, Venus knows how to answer the bell in the 12th Round when everyone is doubting her (or maybe I should say she knows how to rise up in O.T. in the Gold Medal Game, to be more relevant?). It wasn't easy to pull off the double-defense of her Dubai and Acapulco titles, though. She had to go three sets in her last three matches in Mexico, coming back from a set down in the final and a 5-1 3rd set deficit in the QF. Her wins over Mathilde Johansson, Kaia Kanepi, Laura Pous Tio, Edina Gallovits and Polona Hercog paved her way to her fourth straight season with multiple tour singles titles (behind only Dementieva's five-year streak) and ran her season record to 14-1. Her ten-match winning streak is just one behind Yanina Wickmayer's season-best eleven-match run.


=============================


RISER: Alisa Kleybanova/RUS
...Kleybanova has been inching into the spotlight for a while now. A year ago, she nearly took out Jelena Dokic in the 4th Round of the Australian Open, a loss she avenged in Melbourne one year later in the 1st Round. At this year's AO, she nearly took out Justine Henin. In reaching her first career tour final this weekend in Kuala Lumpur, Kleybanova ran off wins over a Russian, former Russian-turned-Aussie and Aussie-dominated string of opponents that included the likes of Alicia Molik, Alla Kudryavtseva, Anastasia Rodionova, Ayuma Morita (JPN) and Elena Dementieva in the final. At 20, the Russian's first career title comes a few years later than the maiden crowns won by the most successful Hordettes, but a year earlier than Dementieva when she won her first in '03. Watch out, La Petit Taureau in 2011?


=============================


SURPRISE: Chanelle Scheepers/RSA
...the South African has maintained a presence on the challenger circuit for a number of years, but recently she's been making moves at the WTA level, as well. Last year, she qualified for both the Australian Open and Roland Garros. She did the same in Sydney in January. Last week in Kuala Lumpur she got good wins over Stefanie Voegele and Tatjana Malek to reach her first career tour QF.


=============================


COMEBACK: Laura Pous Tio/ESP
...before Wickmayer, there was Pous Tio... only a Belgian court didn't have her back. Back in 2008, the Spaniard was suspended after she'd tested positive in late '07 for a banned substance found in a medication she admitted to taking. After having been a Top 100 player in 2005 and '06, she was out of commission for nearly two years. By the end of '09, her ranking was #721. Now 25, she went into Acapulco with a ranking of #399 and nearly pulled off arguably the biggest upset of this young season. Wins over Patricia Mayr and Roberta Vinci got her into her first tour QF since 2006 (also in Acapulco, her WTA best result other than a pair of SF in '05), and she even led Venus Williams 5-1 in the 3rd set before the American seized the moment and pushed her aside while winning the final six games of the match. Still, Pous Tio's now #268 and has thrown her hat into the "Comeback Player of the Year Not Named Justine" ring. Ah, another boxing reference... so I guess I should keep up the alternate Olympic hockey theme and say she's tossed her puck onto the ice.


=============================


VETERANS: Elena Dementieva/RUS & Edina Gallovits/ROU
...Dementieva didn't get her third title of '10 on a third different continent (in Asia, after winning in Australia and Europe), but she reached her tour-leading third final of the season before losing in Kuala Lumpur to fellow Hordette Kleybanova. Gallovits notched Acapulco wins over Sara Errani and Sharon Fichman before extending Venus to three sets in the SF, giving her the best tour result by any of the Romanians so far this year.


=============================


FRESH FACES: Polona Hercog/SLO & Sharon Fichman/CAN
...I don't know what went on during the Week 6 final of the $75K challenger in Cali, Colombia when Hercog defeated Mariana Duque-Marino, but it must have been very inspiring. In Week 7, Duque-Marino won her first tour-level singles crown in Bogota; then in Week 8, Hercog reached her first WTA singles final in Acapulco. She lost there in three sets to Venus, but she won the doubles title with Barbora Zahlavova-Strycova. The 19-year old from Slovenia also got victories over Rossana de los Rios, Alize Cornet, Agnes Szavay and Carla Suarez-Navarro. Meanwhile, after questioning her future in the sport not that long ago, Fichman has managed to gradually improve as the months have gone by since she decided that she did indeed have the desire to play professional tennis. In Acapulco, the 19-year old Canadian defeated Sorana Cirstea and Mariya Koryttseva to reach her first career tour QF. Now ranked #115, Fichman is just fourteen ranking points away from moving into the second-highest ranked Canadian slot behind Aleksandra Wozniak (and past Valerie Tetreault & Stephanie Dubois).


=============================


DOWN: Li Na & Zheng Jie, CHN
...the two "Golden Flower" Chinese Australian Open semifinalists haven't exactly been lighting things up in the weeks since. Last week in Kuala Lumpur, Li, who retired in Dubai with back spasms, lost her 1st Round to Tatjana Malek, while Zheng went down in the 2nd Round to Chang Kai-Chen. At least Zheng DID go on to share the doubles title with Chan Yung-Jan.


=============================


ITF PLAYER: Johanna Larsson/SWE
...a week ago, Swede Sofia Arvidsson reached the Memphis final. Last week, her countrywoman Larsson, who starred in Zone Fed Cup action at the start of the month, continued her good play by winning the $50K challenger in Biberach, Germany with victories over Simona Halep, Evgeniya Rodina and Romina Oprandi in a 4-6/6-2/6-2 final.


=============================


JUNIOR STAR: Chanelle Van Nguyen/USA
...the 16-year old American defeated Argentina's Paula Ormaechea 6-1/7-5 in the final of the G2 Argentina Cup. And, hey, I do believe this marks the first time EVER that two players named Chanelle have ever been honored with awards in the same week, too.


=============================






1. Acap QF - V.Williams d. Pous Tio
...4-6/6-3/7-5. Pous Tio led 5-1 in the 3rd set, but Williams charged back and punctuated her win with an ace on match point.


=============================


2. Acap Final - V.Williams d. Hercog
...2-6/6-2/6-3. Venus' 43rd career title ties her with Martina Hingis for 10th on the all-time WTA list, ten behind #9 Monica Seles.


=============================


3. Kuala 1st Rd - Malek d. Li
...6-1/5-7/6-2. When it comes to Li and the back injury she carried into Malaysia, it was correct to assume the worst result... at least for this tournament.


=============================


4. Kuala Final - Kleybanova d. Dementieva
...6-3/6-2. This was 2010's first all-Russian final. There have been twenty-three such finals on tour since the first occurred back in 2003, and Dementieva has been a part of a Hordette-best twelve of them. With this loss, she's 6-6.


=============================


5. Acap QF - Suarez-Navarro d. Dulko
...6-1/7-6. See, a few weeks ago I was right to think that CSN might knock off Dulko if they both met. CSN's still title-less, though.


=============================


6. Kuala 2nd Rd - Chang d. Zheng
...6-2/6-3. Chang has been piling up an impressive list of upset victims over the last six months.


=============================


7. Kuala 1st Rd - Lertcheewakarn d. Pervak
...6-1/6-4. The Thai junior star, 18, got a wild card into the draw and walked off with her first career main draw tour win with this victory over the Russian qualifier.


=============================


8. Acap 1st Rd - Koryttseva d. Kerber
...5-7/7-5/6-4. Unfortunately for Kerber, first-time appearances in a WTA final are often followed up by an immediate early round loss the next time out.


=============================


HM- Monterrey Q2 - Antoniychuk d. Dokic
...6-2/6-2. Without her Australian Open points buffer keeping her afloat in '10, Dokic has now slipped outside the Top 100 to #101. Antoniychuk is up to #167.


=============================








**MOST 2010 FINALS**


3...ELENA DEMENTIEVA (2-1)
2...VENUS WILLIAMS (2-0)
2...Serena Williams (1-1)
2...Justine Henin (0-2)



**2010 TOP 10ers - WTA MATCH RECORDS**




[Week 1-8]


14-1...Venus Williams, USA
14-3...Elena Dementieva, RUS
11-3...Vera Zvonareva, RUS
11-3...Victoria Azarenka, BLR
10-1...Serena Williams, USA
8-5...Li Na, CHN
6-3...Agnieszka Radwanska, POL
4-2...Dinara Safina, RUS
4-3...Svetlana Kuznetsova, RUS
4-3...Caroline Wozniacki, DEN
3-3...Jelena Jankovic, SRB



**DEFEATED TOP SEED, WON TITLE**


Auckland - Yanina Wickmayer, BEL (def. Pennetta in Final)
Sydney - Elena Dementieva, RUS (def. S.Williams in Final)
Hobart - Alona Bondarenko, UKR (def. Medina-Garrigues in SF)
KUALA LUMPUR - ALISA KLEYBANOVA, RUS (def. DEMENTIEVA in Final)



**SINGLES/DOUBLES FINAL IN SAME EVENT**


Australian Open - Serena Williams (won both)
Pattaya - Tamarine Tanasugarn (won doubles)
ACAPULCO - POLONA HERCOG (won doubles)



**2010 FINALISTS BY NATION**




[24 F's = 13 nations, 5 winning nations]


6...Russia (5 wins)
4...United States (3)
4...Belgium (2)
1...Colombia (1)
1...Ukraine (1)
1...Belarus, Czech Republic, Germany, Israel, Italy, Slovenia, Sweden, Thailand (all 0)



**2010 SEMIFINALISTS BY NATION**




[48 SF's = 24 nations]


6...Russia
5...United States
4...Belgium
4...Italy
3...Israel
3...Spain
2...Belarus
2...China
2...Czech Republic
2...Germany
2...Kazakhstan
1...Argentina
1...Austria
1...Colombia
1...France
1...Great Britain
1...Japan
1...Poland
1...Romania
1...Serbia
1...Slovenia
1...Sweden
1...Thailand
1...Ukraine



**AGE AT HORDETTES' FIRST TITLES**


16...Dinara Safina (2002)
16...Maria Sharapova (2003)
17...Svetlana Kuznetsova (2002)
18...Elena Likhovtseva (1993)
18...Anastasia Myskina (1999)
18...Vera Zvonareva (2003)
18...Maria Kirilenko (2005)
19...Elena Bovina (2002)
19...Anna Chakvetadze (2006)
20...ALISA KLEYBANOVA (2010)
21...Elena Dementieva (2003)
22...Vera Dushevina (2009)
23...Nadia Petrova (2005)




MONTERREY, MEXICO (Int'l $220K/red clay outdoor)
09 Final: Bartoli d. Li
10 Top Seeds: Jankovic/Hantuchova
=============================


=SF=


Jankovic d. Pavlyuchenkova
Errani d. Kanepi


=FINAL=


Pavlyuchenkova d. Errani

...it's a battle between the notion of the #1-seeds being thoroughly dominant thus far in the 2010 season vs. the recent uprisings of first-time finalists/champions. Since neither Venus, Kevin Martin, Kim Yu-Na, Shani Davis, Marit Bjoergen, Shaun White nor either the women's or men's Canadian Olympic Ice Hockey teams are here, I'll go with an "it-has-to-happen-sometime-so-why-not-now?" Russian first-time titlist prediction.



ALSO:




MONDAY, MARCH 1:




BILLIE JEAN KING CUP; Madison Square Garden, New York (Exhibition)
09 Final Result: S.Williams d. V.Williams
=============================


=FINAL=


V.Williams d. Barbie

...come now, you didn't think Jada's mama had earned her name back quite yet, did you? Honestly, it's going to take a lot now that I've given myself permission to return to my Barbie-bending viewpoint of yore.


All for now. I'm on a horse.