Wk.2- Bare Bones Backspin
Backspin is bare-boned.
*WEEK 2 CHAMPIONS*
SYDNEY, AUSTRALIA (Premier $618K/hard outdoor)
S: Li Na def. Kim Clijsters 7-6/6-3
D: Benesova/Zahlavova-Strycova d. Peschke/Srebotnik
HOBART, AUSTRALIA (Int'l $220K/hard outdoor)
S: Jarmila Groth def. Bethanie Mattek-Sands 6-4/6-3
D: Errani/Vinci d. K.Bondarenko/Dekmeijere

PLAYER OF THE WEEK: Li Na/CHN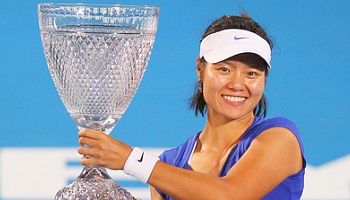 ...might the 2010 Australian Open semifinalist be at it again, peaking at precisely the right time (and before she can get injured)? Maybe. But it's hard to believe that anyone not named Serena could continue to safely dance on the proverbial ledge as Li did last week in Sydney for too long. Twice, she seemed well on her way to defeat, only to fight her way back and notch wins over two players with five slam titles to their names. In the QF, Svetlana Kuznetsova was one game from a win at 6-3/5-3. She lost. In the final, Kim Clijsters jumped to a 5-0 1st set lead, only to drop the set and the match in straights. Li also got a nice SF win over Bojana Jovanovski en route to her fourth career tour title (and her first at a Premier level event), as she assumes the sole lead for the most WTA singles crowns ever won by a Chinese woman. I figured the streaky Li would never have a better chance at reaching a slam final than the one she had a year ago in Melbourne. Maybe I was wrong. Of course, this doesn't mean she won't go out in the AO 1st Round... with Li, you never know.


=============================


RISERS: Jarmila Groth/AUS & Bethanie Mattek-Sands/USA
...after their meeting in the Hobart final, Groth might be 2-0, while Mattek-Sands is 0-3, in career tour singles finals, but the runs of both amanaged to continue what are TWO of the better stories in this young season. A week ago, Groth notched a win over countrywoman Sam Stosur in Brisbane, then followed up by grabbing her second career title just days before she'll have to open up her Australian Open campaign against Yanina Wickmayer in the opening match of Night 1 in Melbourne. Meanwhile, after taking the Hopman Cup title and pushing Justine Henin in Perth in Week 1, Mattek-Sands proved she wasn't a one-week wonder. In Hobart, after Anastasia Pavlyuchenkova retired in their 1st Round match, the American grabbed wins over Ayumi Morita and Peng Shuai en route to her second career final. That elusive maiden title is still out there for her to seek, but if she continues at this pace she'll be chasing title #2 sometime later this season.


=============================


SURPRISES: Peng Shuai/CHN & Sara Errani/Roberta Vinci (ITA/ITA)
...the long underachieving Peng seemed to finally hit her stride after the WTA season concluded last year. She reached a career high point by winning the Asian Games title, and has carried over her momentum into 2011. Her SF run in Hobart was her second such result in two events this season. Is it possible that potentially the "most talented" of the first wave of Chinese women is about to begin to prove it? Meanwhile, Team Italia's most overlooked Fed Cup-winning members once again showed that they've become a force as a duo on the regular tour, as well. Their Hobart title is their third as a team over the last season and two weeks. Could THEY be forces to contend in the wide open AO Doubles draw, too?


=============================


VETERANS: Kim Clijsters/BEL & Iveta Benesova/Barbora Zahlavova-Strycova (CZE/CZE)
...well, it LOOKED as if Clijsters was going to sail through to a pre-AO title that was going to make her's the name that would be on everyone's lips as play began. She'd breezed through the likes of Alexandra Dulgheru and Victoria Azarenka, and came back from a 4-2 3rd set deficit against Alisa Kleybanova to advance to her third final in her last three events, beginning with the '10 U.S. Open. In the final, she grabbed a 5-0 led on Li Na. Then everything went haywire. Clijsters lost thirteen of the final seventeen games of the match, further fumbling away a 3-1 lead in the opening set tie-break. Now, it's easy to wonder if the memory of that near double-bagel at the hands of Nadia Petrova last year in Melbourne could be nipping at her heels next week. I hestitate to wonder, though, since she IS now 6-1 in finals during her comeback. Also in Sydney, the all-Czech team of Benesova & Zahlavova-Strycova combined to grab their sixth career tour title as a team.


=============================


FRESH FACE: Bojana Jovanovski/SRB
...hmmm, which woman is REALLY the best player from Serbia? Jovanovski is starting to make an argument that it might be her. So far, I'm liking that prediction that BoJo will be 2011's "Most Surprising" player. Late last season, she got a win over countrywoman Jelena Jankovic. This week in Sydney, the 19-year old world #76 made it through qualifying, then upset Kaia Kanepi, Aravane Rezai (who'd beaten JJ in the 1st Round) and Flavia Pennetta. After having never reached a tour QF before, she got to the SF this time. The next step is logical, and don't be surprised if she "skips a grade" again soon, as in ignoring '"finalist" and going straight to "champion."


=============================


DOWN: Caroline Wozniacki/DEN & Gisela Dulko/Flavia Pennetta (ARG/ITA)
...Wozniacki didn't immediately rebound from her Hong Kong obliteration by Vera Zvonareva, dropping her first match in Sydney to Dominika Cibulkova in straight sets. Once again, she didn't seem troubled by her performance, and displayed confidence that she'll be back on her game soon enough. "Last year I had the same start (losing 1st Rd. in Sydney, then 4th Rd. at the AO). So, hopefully, slow start good finish," she said. All right, but actions will need to speak louder than words in Melbourne. While the slam-less world singles #1 enters next week with no momentum, the same can be said for the slam-less world doubles team #1's. In Sydney, Gisela Dulko & Flavia Pennetta lost their opening match to Klaudia Jans and Alijca Rosolska. Fittingly, world #1 Wozniacki will face off with world #1 Dulko in the 1st Round in Melbourne.


=============================






1. Sydney Final - Li d. Clijsters
...7-6(3)/6-3. Not only was KC up 5-0 in the 1st set, but she let 3-1 in the tie-break, too. It's probably giving Kim way too much credit to think she might be trying to pysche out her AO opponents by making them think she's vulnerable, right? Yeah, I figured as much.


=============================


2. Sydney 2nd Rd - Cibulkova d. Wozniacki
...6-3/6-3. Said Cibulkova, "The most important thing today was I went on the court and saw myself like a winner from the first point until the last point. So it wasn't a surprise for me." Yeah, I guess Wozniacki hasn't exactly yet earned a Serena-esque pre-match aura that would make such thought akin to crazy naivete.


=============================


3. Sydney QF - Clijsters d. Kleybanova
...4-6/6-3/7-6(1). Stop me if you've heard this one before. Kleybanova brushes up against a huge win against a top player, only to tire and be outclassed in the closing stages of the match. Yeah, the Russian really needs to stop this. In this one, one round after a long three-set win over Cibulkova, Kleybanova endured two medical time-outs (for blisters and a lower back issue), but still found herself up a break at 4-2 in the 3rd set. She even managed to hold serve to take 5-4 and 6-5 leads, only to see the Belgian blow her out in the tie-break by a 7-1 score.


=============================


4. Hobart Final - Groth d. Mattek-Sands
...6-4/6-3. The sixth-seeded Groth's win over the unseeded Mattek-Sands ended the season-opening streak of three consecutive tour singles finals won by the lower-ranked player.


=============================


5. Sydney QF - Li d. Kuznetsova
...3-6/7-6/6-3. Kuznetsova got wins over Aussies Dokic and Stosur, but you've got to wonder how much blowing a 6-3/5-3 lead here will by playing on her mind next week. And she opens up with Alison Riske... so she'd better have her mind on the match at hand.


=============================


HM- Sydney 2nd Rd - Pennetta d. Zvonareva
...7-5/7-5. I guess we'll see next week whether or not this is simply a "shrug-it-off" loss by Zvonareva that occurred just days after she nearly double-bageled the #1-ranked player in the world. I suspect it is.


=============================








**MOST CAREER WTA TITLES - CHINA**


4...LI NA (2004, 2008, 2010-11)
3...Zheng Jie (2005-06)
1...Sun Tiantian (2006)
1...Yan Zi (2005)



**MOST WTA FINALS - ACTIVE, 2009-11**


16...Caroline Wozniacki (9-7)
9...Venus Williams (4-5)
8...Dinara Safina (3-5)
8...Vera Zvonareva (3-5)
7...KIM CLIJSTERS (6-1)
7...Serena Williams (5-2)
7...Victoria Azarenka (5-2)
7...Maria Sharapova (3-4)



**FOUR CAREER WTA TITLES - ACTIVE PLAYERS**




(w/ year of most recent title)


LI NA, CHN (2011)
Agnieszka Radwanska, POL (2008)
Lisa Raymond, USA (2003)
Aravane Rezai, FRA (2010)
Lucie Safarova, CZE (2008)
Francesca Schiavone, ITA (2010)
Katarina Srebotnik, SLO (2005)
Tamarine Tanasguarn, THA (2010)


Part 2 of the Australian Open Preview is next. All for now.