Wk.7- Caroline Wears Sensible Shoes
In 2010, we learned that "
real champions wear combat boots
." Last week in Dubai, though, Caroline Wozniacki continued her progression toward one day proving the notion that a champion can still be carved from a block of clay by a young woman with a preference for "sensible shoes."


One day, when her aging legs are no longer as cooperative, maybe the #1-once-again Dane's footwear of choice will totally change, but it isn't likely to happen anytime soon. Instead, she'll simply choose to continue to naturally upgrade her collection, rather than toss out an entire closet on a whim. Wozniacki believes that she can win a grand slam title while not having to subject herself to wearing the clunky combat boots that are preferred by so many other major title-winning women. Truthfully, they probably wouldn't fit her all that well. Just ask Jelena Jankovic about splurging on such items when some cross-trainers and a little extra serving practice would have been a better alternative.

After winning her thirteenth career title last week without dropping a set, ending her seven-day exile from the #1 ranking and evicting Kim Clijsters from the premises (though Amelie Mauresmo wasn't around this time to mark the occasion), Wozniacki provided some renewed hope that she really DOES know what she's doing, after a few early-season results made one wonder... not a great deal, but just a teeny-tiny bit. Showing the sort of offensive/defensive mix that propelled her through the pre-U.S. Open summer circuit in North America last year, Wozniacki looks to be right back on course toward her ultimate goals.

The 20-year old will always be a defensive-minded player a heart, but while fashion consultants might tell her to look in the mirror and remove one accessory before she walks out the front door in the morning, quite the opposite rings true when it comes to her tennis. The more the better. In Dubai, she proved that Stella McCartney isn't the only stylish individual within the Wozniacki circle of influence. In sweeping through five matches without dropping a set, including a commanding 6-1/6-3 win in the final over Svetlana Kuznetsova, the Dane modeled some good serving, well-timed net approaches and much-appreciated (certainly by me) occasionally-step-in-and-whack-one winners to emphatically end a few well-constructed rallies. It's THOSE extra eye-catching charms for her bracelet that have the ability to turn her on-court ensemble from one of the #1-ranked player to that of a grand slam champion.




Oh, she'll "throw a shoe" now and again (as she did during her trip to the soccer field last week). She's human. But there continues to lurk a fierce determination beneath the sunny surface of the Princess of Charm, and that's more than a good thing.

No matter what one might think of Wozniacki's ability to remain patient and confident that her (and her dad's) sensible plan will work, you've got to admire her unwavering ability to shrug off any negative comments without a second thought and simply go about her work. It might be natural, and possibly refreshing, "naivete" that fosters the belief that she has "all the time in the world" to become the player that her ranking "demands" (in the eyes of many, at least) she immediately be, but if her current journey ends in success (whether it be in '11, or '12 or beyond) then history will say it was something close to "genius" that got her there. Remember, many thought Richard Williams was "crazy" way back when... you know, before he turned out to actually be a whole lot closer to the smartest, most sane human in the conversation.

Wozniacki might not exactly look like a tortoise, but in her friendly competition against so many other WTA hares she might end up winning the race in the long run.



*WEEK 7 CHAMPIONS*




DUBAI, UAE (Premier $2.05m/hard outdoor)


S:

Caroline Wozniacki def. Svetlana Kuznetsova 6-1/6-3


D:

Liezel Huber/Maria Jose Martinez-Sanchez d. Kveta Peschke/Katarina Srebotnik




MEMPHIS, TENNESSEE USA (Int'l $220K/hard indoor)


S:

Magdalena Rybarikova def. Rebecca Marino 6-2 ret.


D:

Olga Govortsova/Alla Kudryavtseva d. Andrea Hlavackova/Lucie Hradecka




BOGOTA, COLOMBIA (Int'l $220K/red clay outdoor)


S:

Lourdes Dominguez-Lino def. Mathilde Johansson 2-6/6-3/6-2


D:

Edina Gallovits-Hall/Anabel Medina-Garrigues d. Sharon Fichman/Laura Pous-Tio





PLAYER OF THE WEEK:
Caroline Wozniacki/DEN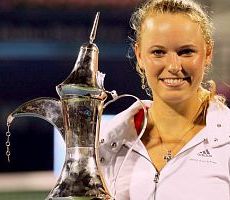 ...Anna Chakvetadze wasn't physically upright long enough to take a set off the Dane (see below), and Jankovic simply wasn't able to when she had the chance. Ayumi Morita, Shahar Peer and Kuznetsova weren't given much room to dream. Back at #1 with the first 1st Quarter title of her career, Wozniacki is now 13-8 in career tour finals after winning her seventh career Premier level event (more than anyone else on tour since the institution of the new schedule in '09) in Dubai. With her career's work seemingly back on schedule, it should be wondered aloud now whether Wozniacki consistently uses her time BETWEEN tournaments better than any other player on the planet, male or female. Invariably, on the rare occasion when she takes a few weeks off during the season, she returns in significantly better form than when she left, having used her time wisely and not become a couch potato (as Fernando Verdasco essentially said about his post-AO training regimen the other week). After her loss at Wimbledon, she emerged from a few weeks off as a fully-armed player who looked capable of winning the U.S. Open. After a short break (aside from a few Fed Cup matches) after Melbourne, something similar to last summer's C-Woz showed up in Dubai. It speaks very well for the potential for ultimate success of the "mission statement" of The Wozniacki Group.


=============================




RISERS:

Mathilde Johansson/FRA & Alisa Kleybanova/RUS


...at 25, Johansson was the second of two (Rebecca Marino was the first) women to play in their first tour singles final over the weekend. Both of them lost, but at least the Pastry -- who notched wins over Simona Halep, Yvonne Meusburger and Carla Suarez-Navarro -- got to finish her final match against Lourdes Dominguez-Lino. Unfortunately, that's more than Marino was able to say (see below). Meanwhile, Kleybanova has been a tough nut to crack this season. She got off to a slow start in January, but finally flashed in Dubai with victories over Anastasia Pavlyuchenkova, Jarmila Groth and Vera Zvonareva. But then she went out love & two to Flavia Pennetta in the QF, then lost today in the Doha 1st Round to Marion Bartoli. Two steps forward, one step back. It seems like that's always the case with her.


=============================




SURPRISES:

Lourdes Dominguez-Lino/ESP & Han Xinyun/CHN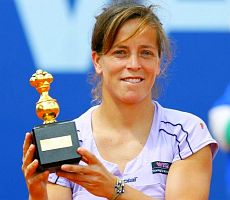 ...a long while ago, Dominguez-Lino was a junior achiever. In 1999, she was the Roland Garros Girls champion. Over the last twelve years, though, she hasn't really been a name you hear very often. But in Bogota, she's a S-T-A-R. In her career, LDL has reached four total singles finals, and three of those have been in Bogota, with the most recent coming this weekend. In winning her second career WTA title, the 29-year old '06 Bogota champion celebrated the five-year anniversary of her maiden title by winning her second. After getting a walkover in the SF past Petra Martic, LDL defeated first-time tour finalist Johansson in the final in three sets. Han, 20, made a whole lot of noise in Bogota, but still didn't get to experience her first career SF result. Still, there's no doubt that Han -- a qualifier at the Australian Open last year -- has now added her name to the list of Chinese players with "street cred." In the 1st Round, she knocked off defending Bogota champ Mariana Duque-Marino, then in the 2nd she offed #1-seeded Julia Goerges. She lost in the QF to Suarez-Navarro, then fell in Acapulco qualifying to Madalina Gojnea, but the winning flavor of her second career QF (Guangzhou last September) last week more than outweighs any potentially bitter aftertaste.


=============================




COMEBACKS:

Svetlana Kuznetsova/RUS & Alexandra Stevenson/USA


...at her best, Kuznetsova is often the great player no one sees coming at the season's biggest tournaments. Amongst casual fans, most probably would leave her name off the list of the active multiple slam-winning players. Of course, the main reason the super-talented Russian is sometimes lost in the shuffle is that she tends to "go away" for large chunks of some seasons and is just as likely to lose big as win even bigger. 2010 was one of "those seasons," and she rarely seemed too engaged by what went on on the court. Kuznetsova has surged back in '11, though. She looks fitter than she has in ages, and had one of her best results last week in Dubai since she won Roland Garros in '09. She got wins over Flavia Pennetta and Agnieszka Radwanska, and won a rematch of that AO thriller with Francesca Schiavone. Her trip to the final wasn't without its rocky, error-strewn moments, though. In the final against Wozniacki, she wasn't in top form, either. But, on the whole, it was a good week (she even reached the doubles SF with Vera Zvonareva), and it was heartening to hear that she wasn't all that excited about her recent surge back into the Top 20, since she knows that she SHOULD be in the Top 10. Kuznetsova seems to care again, and that probably means her talent will eventually win out to produce a fine season over the next nine months. While Kuznetsova, even with all she's done, hasn't exactly lived up to her early promise (Is she a Hall of Famer if her career ended tomorrow? You'd have to say no.), Stevenson has quietly moved into the "whatever happened to her?" close-to-the-end phase of her career, now a dozen years beyond her shocking run from qualifier to semifinalist at Wimbledon in 1999. Occasionally, though, the now 30-year old American spits out a result that makes you think it all might not have been a TOTAL mirage. Last week was one of those moments. In Memphis, she made it through qualifying (she got a win over young Sally Peers) and pulled a 1st Round upset over '11 #2-seed/'10 runner-up/'06 champion Sofia Arvidsson before losing in the 2nd Round to one of the latest young American upstarts, Coco Vandeweghe. Hmmm, I wonder what Coco's career will look like come 2023 when the next "Susie Jo America" stands before HER on the other side of a net?


=============================




VETERANS:

Flavia Pennetta/ITA & Liezel Huber/USA


...one never quite knows what a tournament holds in store for Pennetta on a week-by-week basis, but it was a mostly good Valentine the Italian vet received in Dubai. Wins over Jelena Dokic, Klara Zakopalova, Victoria Azarenka and Alisa Kleybanova got her to the semifinals, where she couldn't get her first career win in five match-ups against Kuznetsova. Meanwhile, Huber finally earned her first doubles title of the season, her 44th career crown (third amongst active players), as she teamed up with Maria Jose Martinez-Sanchez in Dubai. MJMS is the twelfth different woman with which Huber has combined to win a tour doubles title.


=============================




FRESH FACES:

Magdalena Rybarikova/SVK & Rebecca Marino/CAN


...Marino served up forty aces in Memphis and reached her first career tour singles final, but left town with an "unfinished business" taste in her mouth after having to retire after one set in the championship match due to an abdominal injury that occurred in her SF meeting with Evgeniya Rodina. Still, the 20-year old Canadian managed to propel her career forward yet another step last week, while preserving her ability to conitnue her upward climb over the next few months since her retirement prevented a more serious injury and longer time away from the action. She got additional wins over Jamie Hampton, Sorana Cirstea and Coco Vandeweghe.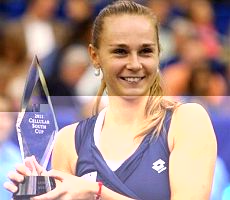 Marino's loss was Rybarikova's gain, as the 22-year old Slovak won her second career title ('09 Birmingham) when her Memphis opponent ended the final after just one set. After having seen her ranking fall out of the Top 100, this title, which also included wins over Vania King, Anne Keothavong, Alexa Glatch and Lucie Hradecka, could be the boost that puts Rybarikova back into the discussion about the growing group of young players making their presence felt on tour this season.


=============================




DOWN:

Maria Kirilenko/RUS


...a year ago, Kirilenko was sporting a 6-3 record en route to ending the season in the Top 20 for the first time in her career. Through seven weeks in 2011, after her 1st Round loss in Dubai to Chanelle Scheepers, she's just 2-4. She was a late scratch from this week's Doha draw.


=============================




ITF PLAYER:

Iryna Kuryanovich/BLR


...Kuryanovich, 26, swept the singles and doubles titles in a $25K event in Mallorca, defeating Sofiya Kovalets in the final. Her week runs her 2011 record to 11-4.


=============================




JUNIOR STAR:

Monica Puig/PUR


...the 17-year old Puerto Rican, the #3-ranked junior and recent AO Girls runner-up, won a pro $25K challenger in Surprise, Arizona, defeating Lenka Wienerova in the final.


=============================






1. Dubai Final - Wozniacki d. Kuznetsova
...6-1/6-3. Even with Kuznetsova's incredibly-slow entry into this match (her last shot at making something out of it probably came when she was immediately broken in the second game of the 2nd set after grabbing a 1-0 lead), this was one of Wozniacki's best-ever performances against a top opponent in a big match. As things turned out, last week was another in the occasional "status reports" concerning the Dane's progress. And at this particular check-up, all seems well. The patient is still the same patient, well-adjusted one she was a year ago, and the "treatment" appears to be doing its job.


=============================


2. Dubai 3rd Rd - Kuznetsova d. Schiavone
...1-6/6-0/7-5. Who says sequels never come close to the original? Well, of course, this rematch didn't reach the dramatic levels of the pair's 4:44 marathon classic in Melbourne, but a 7-5 3rd set in which Schiavone saved six more match points before finally losing wasn't a bad follow-up. Look out, though, we could see a 2011 trilogy become reality in Doha if these two make it into a QF match-up this week.


=============================


3. Dubai SF - Wozniacki d. Jankovic
...7-5/6-3. Although JJ lost a 5-2 1st set lead here, she had an encouraging week, getting wins over Kaia Kanepi and Sam Stosur to get to this match. Her draw looks a little better in Doha, too... well, at least it did before her fellow Serb, qualifier Bojana Jovanovski (who beat QC in '10), was placed into the draw and could be her first opponent in the 2nd Round. Of note, a bit of the "old" Jelena emerged in one post-match interview in Dubai when she noted that when she saw Snezana drinking a clear liquid from a cup on the edge of the court during the action she couldn't help but wonder if the beverage in question might be vodka and that her hold-on-for-dear-life style of tennis had driven her mother to drink.


=============================


4. Dubai Doubles 1st Rd - Pennetta/Schiavone d. Errani/Vinci
...6-4/4-6/10-6. So, everyone went to the United Arab Emirates and an Italian Fed Cup practice broke out.


=============================


5. Bogota Final - Dominguez-Lino d. Johansson
...2-6/6-3/6-2. Oh, if only LDL could only play in Bogota EVERY week.


=============================




6. The Early-Round Bloodbath




[Week 6 champs]


Dubai 1st Rd - Chakvetadze d. Hantuchova (Pattaya)
Dubai 1st Rd - Morita d. Kvitova (Paris)


[#1 seeds]


Memph 1st Rd - Krajicek d. #1 Zahlavova-Strycova
Bogota 2nd Rd - Han d. #1 Goerges


[2010 Champions]


DNP - Maria Sharapova (Memphis), Venus Williams (Dubai)
Bogota 1st Rd - Han d. Duque-Marino


[2010 Runners-Up]


Memph 1st Rd - Stevenson d. Arvidsson
Dubai 3rd Rd - Pennetta d. Azarenka
Dubai 1st Rd - Petkovic d. Kerber (Bogota '10 RU)
...unless your name was Caroline, if you went into Week 7 with any sort of momentum, high standing or good feelings about your last trip to town you ended up leaving disappointed.


=============================


7. Dubai QF - Wozniacki d. Peer
...6-2/6-4. This was the match that officially grabbed back the #1 ranking for Wozniacki, but because of security issues surrounding Israeli Peer's presence it took place on an outside court and there was no post-match celebration ala the one that took place when Clijsters was ushered into her one-week stay back atop the WTA rankings. So, Caroline didn't get a camel as a gift... though I did see some photos of her holding the same -- probably not the EXACT same one, though it'd been a worthy act of re-gifting -- flowery #1 shaped-thingee that KC received in Paris.


=============================


8. Memph Final - Rybarikova d. Marino
...6-2 ret. Not likely the sort of tears Becky envisioned herself shedding in her dreams about her first career tour singles final appearance. But it shouldn't be her last.


=============================


9. Dubai 2nd Rd - Wozniacki d. Chakvetadze


...6-1/3-5 ret. Although she fainted because of the effects of an illness, and not a pre-match concussion, the image of Chakvetadze prone on the court in Dubai might actually top the one of Azarenka at last year's U.S. Open for "shock value." Thing is, since the Russian was serving for the 2nd set when it happened, this moment (when she retired one point later, to be exact) actually ended up cutting short maybe the best chance anyone (other than JJ) had to take a set off Wozniacki the entire tournament.


=============================


10. Dubai 2nd Rd - Kuznetsova d. Pironkova
...5-7/6-2/6-4. Aha! A Tsvetana sighting! The '10 Wimbledon semifinalist finally showed signs of life in Dubai, getting a win over Ekaterina Makarova and taking Kuznetsova to three sets.


=============================


11. Dubai 1st Rd - Schnyder d. Ivanovic
...4-6/7-6/6-2. AnaIvo's out of Doha with that lingering abdominal muscle that first threw her '11 season into chaos in Week 1 in Perth before the Hopman Cup final. She's still searching for a coach, too. Elsewhere, another Serb is having better luck...


=============================


12. Dubai 1st Rd - Wickmayer d. Jovanovski
...7-5/3-6/6-2. Sure, BoJo lost this intriguing early-round match-up in Dubai. But she didn't let it get her down. She just went to Doha and made it through qualifying by racking up three more good wins against Chang Kai-Chen, Urszula Radwanska and Kateryna Bondarenko.


=============================








**MOST WEEKS AT #1 - ACTIVE**


122 weeks...Serena Williams
26 weeks...Dinara Safina
20 weeks...Kim Clijsters
19 weeks...CAROLINE WOZNIACKI
18 weeks...Jelena Jankovic
17 weeks...Maria Sharapova
12 weeks...Ana Ivanovic
11 weeks...Venus Williams



**MOST WTA FINALS - 2009-current**


17...CAROLINE WOZNIACKI (10-7)
9...Kim Clijsters (7-2)
9...Venus Williams (4-5)
8...Elena Dementieva (5-3)-retired
8...Dinara Safina (3-5)
8...Vera Zvonareva (3-5)
7...Serena Williams (5-2)
7...Victoria Azarenka (5-2)
7...Maria Sharapova (3-4)
6...SVETLANA KUZNETSOVA (4-2)
6...Flavia Pennetta (3-3)



**MOST "PREMIER" TITLES - 2009-current**




[$4.5m+ / $2m+ / $600K-$1m]


7...CAROLINE WOZNIACKI [1/3/3]
4...Elena Dementieva [0/1/3]-retired
3...Svetlana Kuznetsova [1/0/2]
3...Victoria Azarenka [1/0/2]
2...Kim Clijsters [1/1/0]
2...Jelena Jankovic [1/1/0]
2...Dinara Safina [1/1/0]
2...Venus Williams [0/2/0]
2...Maria Sharapova [0/1/1]



**CAREER TITLES - ACTIVE**




[overall]


43...Venus Williams, USA
41...Kim Clijsters, BEL
37...Serena Williams, USA
22...Maria Sharapova, RUS
13...CAROLINE WOZNIACKI, DEN
13...Svetlana Kuznetsova, RUS


[TWO TITLES, w/ last title year]


Greta Arn, HUN [2011]
Sybille Bammer, AUT [2009]
Iveta Benesova, CZE [2010]
Alona Bondarenko, UKR [2010]
LOURDES DOMINGUEZ-LINO, ESP [2011]
Alexandra Dulgheru, ROU [2010]
Sara Errani, ITA [2008]
Jarmila Groth, AUS [2011]
Alisa Kleybanova, RUS [2010]
Anne Kremer, LUX [2000]
Nuria Llagostera-Vives, ESP [2008]
Mirjana Lucic, CRO [1998]
Pauline Parmentier, FRA [2008]
Tamira Paszek, AUT [2010]
Anastasia Pavlyuchenkova, RUS [2010]
Virginie Razzano, FRA [2007]
MAGDALENA RYBARIKOVA, SVK [2011]
Samantha Stosur, AUS [2010]
Klara Zakopalova, CZE [2005]



**2011 - LOW-RANKED SEMIFINALISTS**


#119 - Petra Martic, CRO - Bogota (SF)
#105 - Magdalena Rybarikova, SVK - Memphis (W)
#102 - Lucie Hradecka, CZE - Memphis (SF)



**CAREER DOUBLES TITLES - ACTIVE**


70...Lisa Raymond, USA
54...Cara Black, ZIM
44...LIEZEL HUBER, USA



**LIEZEL HUBER, PARTNERS (12) FOR WTA TITLES**




[w/ title years]


29...Cara Black [2001,2005,2007-10]
3...Sania Mirza [2004,2006]
2...Maggie Maleeva [2003]
2...Martina Navratilova [2003,2006]
1...Nicole Arendt [2002]
1...Jill Craybas [2003]
1...Lindsay Davenport [2010]
1...Maria Jose Martinez-Sanchez [2011]
1...Rachel McQuillan [2001]
1...Lenka Nemeckova [2001]
1...Nadia Petrova [2010]
1...Ai Sugiyama [2003]




DOHA, QATAR (Premier $721K/hardcourt outdoors)
10 Final: [new event]
11 Top Seeds: Wozniacki/Zvonareva
=============================


=QF=


#1 Wozniacki d. Pennetta
Kuznetsova d. Kanepi
(Q) Jovanovski d. #4 Li
#6 Azarenka d. (Q) Groth


=SF=


#1 Wozniacki d. Kuznetsova
#6 Azaranka d. (Q) Jovanovski


=FINAL=


#1 Wozniacki d. #6 Azarenka

...some intriguing qualifiers -- Groth, Jovanovski, Peng -- are in the draw, and I wanted to pick at least one of them to go deep. I'll go with two, at the expense of JJ (vs. BoJo in 2nd Rd.?) and Zvonareva (Groth). I probably should pick Li to reach the SF, and maybe Final, but... nah. So, hmmm, maybe I should go ahead and congratulate Na now on her upcoming title in Doha?



ACAPULCO, MEXICO (Int'l $220K/red clay outdoors)
10 Final: V.Williams d. Hercog
11 Top Seeds: Goerges/Hercog
=============================


=SF=


#1 Goerges d. #4 Dulko
Gallovits-Hall d. #6 Parra-Santonja


=FINAL=


#1 Goerges d. Gallovits-Hall

...it's red clay, so my prediction bracket is all scratched up with a load of marked-out names and replacements for my original SF picks, then my "on second thought" selections after that, and the "then again" edits after that. So far, I've had eight different players in my final four, and four in my final. I'll just go with my most recent chicken-scratchings and expect nothing of the sort to actually happen.


All for now.






Juump

is a free online community that makes it easy to meet people and play more tennis – right in your neighborhood. . With Juump, you can

FIND

players and groups who play at your favorite courts,

MEET

players with similar skill levels, interests and schedules, and

PLAY

more tennis.