Wk.9- Jelena Corner
After such a great February, I wondered the other day just what surprise the tour could possibly have in store next. As it turned out, it was an unexpected gift from an old friend.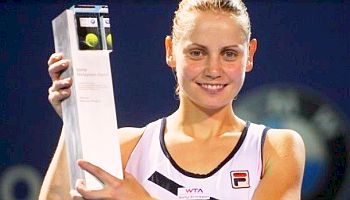 In a week where we were thankfully not sucker-punched by some sort of tragedy involving Serena Williams, while we were once again disappointed and dismayed but -- if we're lucky -- aren't watching another progressive step toward the end of the career of the best player of her generation, we DID manage to catch another triumphant sight of the WTA's version of a firefly... with an Aussie accent and an oft-altered passport.

Much like the nocturnal beetle, Jelena Dokic's sometimes-luminous traits are often obscured by the cover of darkness -- some of her own making over the years, some not, but when her presence IS felt it tends to produce a few heart-skipping instances of revelation... even if previous encounters SHOULD have trained observers to know that such moments are possible, usually with little, and usually NO, prior warning. Over the course of the past week in Kuala Lumpur, Dokic, now 27 and having only recently pulled herself, after much effort once again, back into the Top 100, plucked yet another rabbit of a tournament out of her occasionally-magical tennis bag, winning her sixth career tour singles title, but her first in nearly nine years (the third-longest time span between titles in WTA history).

As I've noted a few times before in this space, the Aussie is pretty much the face carved onto the front of Backspin's coin (if such a thing existed), as I chronicled her exploits and results in a weekly "Jelena Corner" column from 2001-04 (and occasionally for a few more seasons after that) to the tune of about 170 editions over the years, including when she last won a tour title back in 2002, completing a "career surface slam" by winning crowns on every surface over a 13-month span. She's my unquestioned Most Favored Player (sorry, LPT, we're talking a different language here). Probably ever, in fact. Not only that, but the template for WTA Backspin was born within and evolved from those Jelena Corner days, so getting a chance to talk about her here is always a special, though rare, treat. She made doing this a labor of love, and when, after all these years, she does the sort of things she did in Malaysia, it's enough to make a Backspinner a little giddy. And proud.

You see, Dokic, for all the personal difficulties she's had both before and after she reached the Top 5 in the early 2000's, has managed to never completely pull herself out of the game. She's persevered through several bouts of nation-hopping, familial nightmares, injuries, long losing streaks and what she later termed a battle with depression. She surely had every reason to turn her back on a sport that both made her a star at age 16 and very nearly led to her destruction from the inside out at the same time. But she didn't. If for every half-dozen Nicole Vaidisovas the tour can have just one Dokic with a still-lingering "if you think I'm done, well, you'd be wrong because I'm not finished until I say I am" attitude deepened through experience peppered with disappointment, well, then the tour would surely be blessed indeed. Maybe one day we'll get there, if she wish hard enough.

During Dokic's story-of-the-tournament wild card run to the Australian Open quarterfinals in '09, I was realistic about the situation, figuring that the unexpected occurrence might end up serving as a "last hurrah" in The Fair One's (my old Jelena Corner nickname for her -- see, even all that stuff started with her) career, so I was bound and determined to enjoy it for the singular, extended series of kinetic tennis moments that it produced. One year later, I used that reasoning as an excuse to look back at all my old commentary on her AO history in a Time Capsule offering titled "Dokic Down Under". After she fell out of the Top 100 again at the end of 2010, even after winning three straight ITF challenger titles during the summer, the thought that Dokic might never climb back into the spotlight again was still a valid one. But there she was before this season began, speaking about hoping for a healthy and successful '11 campaign because she had plans to play another six years, a period after which she'd be 33-years old. It was a rare example of long-term thinking on her part, but I'd learned over the years to never expect TOO much from her, avoiding disappointment while being ready to enjoy the moment should she manage to carve out something for herself in yet another comeback run. Somewhere. Someday. Maybe. Or not. Just that she still wasn't prepared to give up was enough for me.

"Momentum and the raging confidence it breeds are especially great for a go-for-it-game like Jelena's."

That's what I wrote back in '02 after Dokic won that title in Birmingham. And more than eight years later, it still holds true for Kuala Lumpur, a tournament that was just the latest crystalization of the sort of successful pattern that she can find herself in when she's "feeling" her risky game and going for winners, believing that every shot is going to land within the lines and not deterred when a few don't. As has so often been the case in the best moments of her career, Dokic improved as the week went on in Malaysia. As the tournament began, she was shaky, having come off successive thumpings in the Middle East to toss in fifteen double faults in the 1st Round against #1-seeded Francesca Schiavone. But the Italian's ankle injury, and a well-time rain delay, worked in Dokic's favor as she battled back from a set down to clock her first win over a Top 5 player (as well as #1-seed in a tour event) since topping Kim Clijsters back in 2003. Then, as so many of the other non slam-winning players on tour tend NOT to do, Dokic found a way to feed off her big win to climb to even greater heights (really, it's been her pattern ever since she knocked off Martina Hingis on that fateful day at Wimbledon back in 1999, and why I think only the sight of a screaming Serena's rush to victory has ever managed to top a surging Dokic over the last decade on tour when it comes to flat-out visceral excitement on a tennis court).

In the 2nd Round, Kurumi Nara took the first set off Dokic, and then served for the match at 6-5 in the 2nd. For the second straight match, though, the Aussie forced a 2nd set tie-break, won it 8-6, then took the match in three. After taking down Bojana Jovanovski (reaching her first tour SF since '04) and Michaella Krajicek in straight sets, Dokic found herself in her first WTA final since '03. There, against Lucie Safarova, Dokic yet again dropped the 1st set and was faced with winning a 2nd set tie-break to avoid defeat. In the tie-break, Safarova held two match points, but couldn't put the championship away. Dokic won the tie-break 11-9 to force a 3rd set. There, she fell behind 3-1. Come on, it's almost as if she was showing off at this point. Of course, she came back yet again, ending her week by winning by the same 2-6/7-6/6-4 score as she had against Schiavone at the start of it all, only while sporting a "luminescence" that wasn't in evidence when she arrived in Kuala Lumpur. While still dropping in eleven double-faults in the final, Dokic covered her errors by hitting thirteen aces. With Jelena, it's always been about the good finding a way to outweigh the bad.

Back in Birmingham in 2002, Dokic was the #1 seed and the eighth-ranked player in the world. Last week, she was unseeded and ranked #91. A few weeks ago, she defeated Safarova and Nadia Petrova in Paris before losing 3 & love to Clijsters in the QF match that assured the Belgian's brief return to the #1 ranking. She'd lost to Flavia Pennetta (2 & 2) and Jarmila Groth (2 & 1) since then, but one wonders if those early games against Clijsters, in which she played even while KC was forced to adjust to the power of her shots, actually managed to prepare Dokic for what happened this past week. After seeing what was passing for #1 on tour these days (or, at least seven of them), and realizing that she still could compete against it if she could only up her game a bit more, the notion that the Aussie could find a way through large chunks of the WTA field really isn't all that far-fetched. Even back in "the old days," while her "no Plan B" attack often came up short against the very BEST players on tour (she lost finals to the likes of Seles, Davenport, Venus and Henin) she COULD occasionally beat one or two, and was generally the favorite against everyone else as long as her game didn't fly off the handle and her shots couldn't find the broad side of a barn.

A player with that sort of talent, and a lot of heart, will often have her day. Kuala Lumpur was an indication that THAT, at least, hasn't changed. That's worth a satisfied smile, no matter what happens tomorrow, and the next day, and the one after that. I'm still realistic, though. Once again, I know that this, too, could prove to be a "last hurrah" for Dokic. At this point, I remain content that there's still a light hanging on the corner of "Jelena & 6th" (updated from that '02 column, don't ya know). That it's able to blink "green" on occasion is nothing if not a remarkable thrill. I've long since given up dreaming of HUGE things for The Fair One, after for so many years being seemingly disappointed that things couldn't even be "normal"-sized. And that's okay... she's already provided this Backspinner with too many good memories to count.

Like the firefly that she's become, Dokic once again has seen fit to put on a brief-but-brilliant display in the middle of the night. She may now escape to the shadows once more, or she may live to shine yet again. As was the case two years ago in Melbourne, I have no idea when or if this moment will ever have an equal, let alone a better. But if it does, it'll be another great day on the Corner.

Just like today. Thanks, Jelena.



*WEEK 9 CHAMPIONS*




KUALA LUMPUR, MALAYSIA (Int'l $221K/hard outdoor)


S:

Jelena Dokic def. Lucie Safarova 2-6/7-6(9)/6-4


D:

Dinara Safina/Galina Voskoboeva d. Noppawan Lertcheewakarn/Jessica Moore




MONTERREY, MEXICO (Int'l $220K/hard court outdoor)


S:

Anastasia Pavlyuchenkova def. Jelena Jankovic 2-6/6-2/6-3


D:

Iveta Benesova/Barbora Zahlavova-Strycova d. Anna-Lena Groenefeld/Vania King








PLAYER OF THE WEEK:

Jelena Dokic/AUS


...even with all her issues, both real and/or imagined (and sometimes both, depending on the day of the week and her mindset at the moment), over the years, Dokic has managed to accomplish quite a bit and, at age 27, is still young enough to add a few more highlight-worthy lines to a tennis biography that already includes a Junior #1 ranking and Girls U.S. Open championship, Wimbledon semifinal, Top 5 rank, six tour titles, and victory-based historical footnotes spanning from age 16 to her late twenties. In Malaysia, she managed to string together five wins, a run that included three matches in which she dropped the 1st set and was forced to win a 2nd set tie-break just to survive (her four tie-break wins last week were as many as she had in all her tour matches from 2004-10), one match in which her opponent served for the match, and another in which she faced two match points AND a 3-1 3rd set deficit. It says something about Dokic that, even when it seemingly comes out of nowhere, such a week of consistent heroics isn't really all that surprising. I mean, it was only two years ago that we witnessed similar dramatics in Melbourne after she'd had an even longer absence from tour winning circles than the fairly short one she's waded through since her AO QF run in '09. Just to put her reclaiming-the-past week in Kuala Lumpur into further perspective, though, it's of interest to mention in succession that Dokic hadn't had a Top 5 win or a victory over a #1 seed in a tour event since '03, hadn't reached a WTA SF since '04, a tour final since '03 and had been without a WTA title since '02. If Kuala Lumpur had taken place a week or so later than it did, only Kimiko Date-Krumm's 13-year title-less span (after a decade-plus retirement) would stand out over Dokic's in tour history, as Barbara Rittner's drought was about a week longer. Her last Top 10 finish came in the same year she won Birmingham, and her last Top 20 year-end ranking was a season later. A look back at the Top 20 when she completed that "career surface slam" on the grass in England is like a trip down memory lane:

1. Venus Williams
2. Serena Williams
3. Jennifer Capriati
4. Monica Seles
5. Kim Clijsters
6. Lindsay Davenport
7. Justine Henin
8. JELENA DOKIC
9. Martina Hingis
10. Sandrine Testud
11. Amelie Mauresmo
12. Silvia Farina Elia
13. Daniela Hantuchova
14. Elena Dementieva
15. Meghann Shaughnessy
16. Iroda Tulyaganova
17. Anna Smashnova
18. Patty Schnyder
19. Anastasia Myskina
20. Maggie Maleeva

Most of those players are either long gone, recently out of the game and/or retired, now playing only doubles, retired and back, retired and back and retired again or barely holding on. Think about it, the last time Dokic lifted a tour singles title trophy it was still almost two years before the first Russian woman was to win a grand slam title, and nearly a year before the first Belgian would do so. Serena was only one title into her "Serena Slam," and Jennifer Capriati had just recently won her third slam in twelve months. Talk about being more than a few tennis lifetimes ago. If nothing else, this past week only proved once again that while Dokic is akin to a firefly, she's also very much like a cat... and only time will eventually tell how many more WTA lives she might still have left to live.


=============================




RISERS:

Anastasia Pavlyuchenkova/RUS & Lucie Safarova/CZE




...Pavlyuchenkova was a dominant junior player, and she's slowly-but-surely coming along on the WTA tour, too. Still not quite ready to make a BIG run, she's still managed to secure at Top 20 ranking, and the successful defense of her '10 title in Monterrey gives the 19-year old Russian three titles in three finals appearances over the last year. In Mexico, wins over Eleni Daniilidou, Melanie Oudin, Greta Arn and Gisela Dulko (the last two already WTA title winners in '11) led into her three-set win over Jelena Jankovic in the final. You never know what to expect from Safarova, but "good Lucie" was around for most of the week in Kuala Lumpur. The Czech notched wins over Zarina Diyas, Dinara Safina, Marion Bartoli and Jarmila Groth to reach her ninth career final, and held those two match points against Dokic in the final (and led 3-1 in the 3rd). Truth is, though, what happened on Sunday in the final speaks to why, while Dokic and Safarova have similar career totals when it comes to finals (JD 13, LS 9) and titles (6 to 4), the perception of the Aussie's career is quite a bit brighter than the Czech's. After her comeback against Safarova, Dokic said she really wasn't sure how she managed to pull it off... yet it is precisely that long-held ability to pull off such a feat, in contrast's to Safarova's not-exactly-surprising squandering of a title she nearly had wrapped up, that explains how one, even after drifting in and out of the Top 200 for most of the last decade, still has managed to leave a more indelible mark on the game than the player who's been a consistent Top 50 player for the last seven seasons.


=============================




SURPRISES:

Lu Jing-Jing/CHN


...Lu is tied for the circuit lead with two ITF singles titles to her credit so far this season, and last week she made it through qualifying in Kuala Lumpur, getting a win over Jessica Moore to do it. She lost in the 1st Round to defending champion Alisa Kleybanova, but rebounded to reach the doubles SF with countrywoman Xu Yi-Fan. Their conquerors there? Well, Noppawan Lertcheewakarn and... Moore, getting some measure of revenge on Lu before the week was through. Payback is a you-know-what, I guess.


=============================




COMEBACKS:

Michaella Krajicek/NED & Dinara Safina/RUS


...Krajicek, sister of former Wimbledon champ Richard, was seemingly a rising star a few years ago, but her fortunes haven't really played out as planned. She DID have a nice week in Kuala Lumpur, though, reaching the semifinals with wins over Tatjana Malek, defending champ Alisa Kleybanova and Anne Kremer. Meanwhile, Safina's 1st Round win in Malaysia over Han Xin-yun finally ended a six-match losing streak that stretched back to September (she now has ten total wins over a twelve-month period where back problems have severely hampered her game). She lost in her next match to Safarova, but went on to win the doubles title with Galina Voskoboeva. It's Safina's ninth career title with eight different women since '04, but her first since '08.


=============================




VETERANS:

Anne Kremer/LUX & Iveta Benesova/Barbora Zahlavova-Strycova, CZE/CZE


...Luxembourg's Kremer made it through qualifying in Kuala Lumpur, getting a win over eventual doubles champion Voskoboeva, then put some main draw hurt on players from both ends of the WTA age spectrum with victories over 40-year old Date-Krumm and teenager Lertcheewakarn en route to the QF. Meanwhile, Czechs Benesova and Zahlavova-Strycova won the doubles title in Monterrey, getting their second crown of the season and their seventh overall as a duo.


=============================




FRESH FACES:

Ksenia Pervak/RUS & Noppawan Lertcheewakarn/THA


...19-year old Hordette Pervak's QF in Monterrey, courtesy of wins over Julia Goerges and Lucie Hradecka, is her third such result this season. She's still looking for her second career tour SF, though. Meanwhile, another 19-year old, Lertcheewakarn, got a main draw win over Alberta Brianti in Kuala Lumpur before reaching the doubles final with Jessica Moore.


=============================




DOWN:

Serena Williams/USA


...Serena has seemingly been the unluckiest player in the world since she won her thirteenth slam title at Wimbledon last July and immediately declared "13" to be her "lucky number." Apparently, she "crossed the line" with that comment, and things haven't been too pretty ever since. One lacerated foot and several surgeries later she entered '10 as a question mark hoping to make it back onto the court by the spring. Now, after finally getting her cast removed a few weeks ago, she's suffered through a blood clot in her lungs (likely linked on some level to complications with the foot injury) and then emergency surgery last week after suffering an embolism. Now on blood thinning medication and back at home, with some reports saying she could be out an additional six months, one year or even longer, it's clear that she WAS very lucky last week. In a statement, she said, "This has been extremely hard, scary and disappointing. I know I will be OK but am praying and hoping this will all be behind me soon. While I can't make any promises now on my return, I hope to be back early summer. That said, my main goal is to make sure I get there safely." Always one to put an optimistic spin on her predicament, Serena seems to want to point toward a WTA return in time for the North American hard court season. But a more conservative assessment of the situation would probably seek to pin cautious (but more realistic???) hopes on seeing her again come 2012, and crossing fingers that her remarkable career isn't teetering on the edge of its completion after so many far-from-run-of-the-mill health issues over the past nine months. If anyone can make a FULL comeback from all this, smart money would say it's Serena. But, as last week proved, even sometimes-unstoppable forces are all-too-human and fragile. Williams will say all the right things about her future intentions, but the "make sure I get there safely" portion of her comments could end up being the most important one when it comes to how things eventually play out. As should be the case.


=============================




ITF PLAYER:

Yurika Sema/JPN


...the 24-year old from Japan was able to rejoice a bit with her title at the $25K in Sydney, Australia with a win in the final over Rika Fujiwara. It wasn't JUST a title, though. Get this -- before last week, Sema hadn't won as many as two matches in ANY event since she reached the final at this very same Sydney challenger last year, losing then in the deciding match to Jarmila Groth. Between then and now, she'd struggled through twenty-one events with very little to show for her efforts.


=============================




"JUNIOR" STAR:

Cristina Dinu/ROU


...all right, all right. So 18-year old Dinu isn't really a "junior" anymore, but since she's still currently ranked #14 in the Girls rankings based on her '10 results I'm going to go with her here in a week where there weren't too many other great choices. She won the $10K challenger event in Antalya, Turkey with a victory in the final over fellow Swarmette Diana Enache. It's Dinu's third straight title in Antalya, including two titles she won their last season. In fact, it's her third challenger win there, since she also won a $10K there in '09, as well.


=============================






1. Kuala Lumpur Final - Dokic d. Safarova
...2-6/7-6/6-4. Nothing against Safarova, but I am so thankful that she couldn't put away this match (while I'm realistic when it comes to Dokic, I really have little interest in feigning a lack of bias). Plus, if the Czech had won this match, I might have had to resort to a "Backward Backspin" edition this week since she's one of the hardest players to devise any sort of "book" on that would give anything said about her any legitimate footing. No matter what might be uttered about her performance in any single match or tournament, in contrast to the feeding-off-big-wins Dokic, Safarova will usually take whatever is said about her -- positive or negative -- and turn it on its ear the next time out by putting up a result that will immediately contradict any thought someone might have on her current form based on a recent good/bad result. Oddly enough (or maybe not), the same can often be said about longtime boyfriend Tomas Berdych. Interesting.


=============================


2. Kuala Lumpur 1st Rd - Dokic d. Schiavone
...2-6/7-6/6-4. Even while knocking off the #1 seed, Dokic set her bar somewhat low in the early going in Kuala Lumpur, winning in spite of fifteen double-faults to keep her record against the Italian vet spotless. She's now 3-0 against Schiavone in WTA action, and recorded a win over her in the Australian Open Girls competition in 1998, as well.


=============================


3. Monterrey Final - Pavlyuchenkova d. Jankovic
...2-6/6-2/6-3. Well, the OTHER Jelena has seen her '11 results advance from 1st Round to 2nd Round to back-to-back Semifinals to Runner-up. There's something to be said for going in the desired direction... especially when you're right up against attempting to defend the only title you currently own later this week in Indian Wells.


=============================


4. Kuala Lumpur 2nd Rd - Dokic d. Nara
...3-6/7-6/6-2. With the game on Nara's serving racket at 6-5 in the 2nd, Dokic had her right where she wanted her.


=============================


5. Kuala Lumpur 1st Rd - Kremer d. Date-Krumm
...4-6/6-2/7-6. It's not often that 35-year old Kremer gets to play a woman who's older than she is, but this was one of those rare occasions.


=============================


6. Kuala Lumpur 1st Rd - Safina d. Han
...6-2/6-0. Although Dinara's week wasn't nearly as fun a Dokic's, she did book end her trip to Malaysia with some long-overdue (though on a smaller scale than in her #1-ranked past) success. First here in singles, and then on Sunday in doubles.


=============================


7. Kuala Lumpur 2nd Rd - Jovanovski d. U.Radwanska
...1-6/7-5/6-4. For the second event in a row, Bojo foiled U-Rad's grand plans by coming back from a set down to win. After winning in Doha qualifying a week earlier in a 13-11 3rd set tie-break, the 19-year old Serb saved seven of eleven break points in the final two sets in Malaysia.


=============================


8. Sydney $25K Doubles Final - Dellacqua/Rogowska d. Fujiwara/Iijima
...3-6/7-6/10-4. Dellacqua's comeback continues, as she wins her second straight doubles title with Rogowska.


=============================








**LONGEST SPAN BETWEEN WTA TITLES**




[all-time]


13 years, 1 month - Kimiko Date-Krumm, JPN ('96 San Diego > '09 Seoul)
8 years, 8 months, 3 weeks - Barbara Rittner, GER ('92 Schenectady > '01 Antwerp)
8 years, 8 months, 2 weeks - JELENA DOKIC, AUS ('02 Birmingham > '11 Kuala Lumpur)
7 years, 7 months - Elena Likhovtseva, RUS ('97 Gold Coast > '04 Forest Hills)


[2011 season]


8 years, 8 months, 2 weeks - JELENA DOKIC, AUS ('02 Birmingham > '11 Kuala Lumpur)
5 years - Lourdes Dominguez-Lino, ESP ('06 Bogota > '11 Bogota)
3 years, 8 months - Greta Arn, HUN ('07 Estoril > '11 Auckland)
3 years, 3 months, 2 weeks - Daniela Hantuchova, SVK ('07 Linz > '11 Pattaya City)



**DOKIC DEFEATED #1 SEED in PRO EVENTS**


'98 Saga $25K 2nd Round - Shinobu Asagoe (to Final)
'99 Wimbledon 1st Round - Martina Hingis (to QF)
'01 Tokyo SF - Kim Clijsters (won title)
'03 Zurich SF - Kim Clijsters (to Final)
'08 Caserta $25K 1st Round - Jorgelina Cravero (won title)
'11 KUALA LUMPUR 1st ROUND - FRANCESCA SCHIAVONE (won title)



**DOKIC CAREER WTA SINGLES FINALS**




[W]


2001 Rome (Tier I) - def. Amelie Mauresmo
2001 Tokyo (Tier II) - def. Arantxa Sanchez-Vicario
2001 Moscow (Tier I) - def. Elena Dementieva
2002 Sarasota (Tier IV) - def. Tatiana Panova
2002 Birmingham (Tier III) - def. Anastasia Myskina
2011 Kuala Lulmpur (Int'l) - def. Lucie Safarova


[L]


2001 Bahia (Tier II) - lost to Monica Seles
2001 Zurich (Tier I) - lost to Lindsay Davenport
2001 Linz (Tier II) - lost to Lindsay Davenport
2002 Paris (Tier II) - walkover loss to Venus Williams
2002 Strasbourg (Tier III) - lost to Silvia Farina Elia
2002 San Diego (Tier II) - lost to Venus Williams
2003 Zurich (Tier I) - lost to Justine Henin-Hardenne


[other titles of note]


Hopman Cup, 1999 (w/ Mark Philippoussis)
Hong Kong exhibition, 2001 (def. Anna Kournikova)
8 Challenger events (2008-10)


[other runner-up results of note, plus Olympics]


3 Challenger events (1998, 2009-10)
4th place - 2000 Sydney Olympics (lost Bronze Medal Match to Monica Seles)



**MOST CAREER WTA TITLES - AUSTRALIANS**


92...Margaret Smith-Court, 1968-76
68...Evonne Goolagong-Cawley, 1970-80
17...Kerry Melville-Reid, 1968-79
15...Dianne Fromholtz-Balestrat, 1973-79
9...Wendy Turnbull, 1976-83
6...JELENA DOKIC, 2001-11
5...Alicia Molik, 2003-05



**1998 JUNIOR YEAR-END RANKS**




[Girls]


1. Jelena Dokic, AUS
2. Katarina Srebotnik, SLO
3. Nadia Petrova, RUS
4. Elena Dementieva, RUS


[Boys]


1. Roger Federer, SUI
2. Julien Jeanpierre, FRA
3. David Nalbandian, ARG
4. Fernando Gonzalez, CHI



**UNDEFEATED IN MULTIPLE WTA FINALS, 2009-11**


4-0...Aravane Rezai, FRA
3-0...Maria Jose Martinez-Sanchez, ESP
3-0...ANASTASIA PAVLYUCHENKOVA, RUS
3-0...Agnes Szavay, HUN
2-0...Alexandra Dulgheru, ROU
2-0...Jarmila Groth, AUS
2-0...Magdalena Rybarikova, SVK



**WOMEN RANKED #1 in DOUBLES**




[26, chronologically by first #1 ranking]


Martina Navratilova
Pam Shriver
Helena Sukova
Jana Novotna
Gigi Fernandez
Natasha Zvereva
Larisa Neiland
Arantxa Sanchez-Vicario
Lindsay Davenport
Martina Hingis
Anna Kournikova
Corina Morariu
Lisa Raymond
Rennae Stubbs
Julie Halard-Decugis
Ai Sugiyama
Paola Suarez
Kim Clijsters
Virginia Ruano Pascual
Cara Black
Samantha Stosur
Liezel Huber
Serena Williams
Venus Williams
Gisela Dulko (current co-#1)
FLAVIA PENNETTA (current co-#1)


With Indian Wells being a a two-week event, everything is pushed back a few days at the start of the coming week. So, as I've done the last few seasons, I'll post my picks in a couple of days, then have another mid-tournament "Random Musings" post next Monday or Tuesday, as well.

All for now.






Juump

is a free online community that makes it easy to meet people and play more tennis – right in your neighborhood. . With Juump, you can

FIND

players and groups who play at your favorite courts,

MEET

players with similar skill levels, interests and schedules, and

PLAY

more tennis.