Wk.8- To Err is Human, Caroline
Maybe it was her sensible shoes. Oh, and Vera, too.


Whatever --or whoever -- it was, the Caroline Wozniacki who faced off with Vera Zvonareva in the Doha final this weekend very rarely resembled the one who'd breezed through Dubai without losing a set and surrended just nine total games in three more matches last week. But against the world #3, THAT Dane was seemingly left behind in the lockerroom before her 6-4/6-4 loss to the Russian.

Of course, a large portion of the credit for that should go to Zvonareva, who was steady and level-headed throughout, playing big points far better than her opponent. But Wozniacki was not as aggressive in her play as she was while winning her most recent title. She didn't more forward with as much conviction, either, nor serve nearly as well and, most importantly, was far more error-prone than normal. Without her admirable consistency intact, the Dane's effectiveness drops several notches, and that was surely the case in the Doha final. While she didn't exactly play "poorly" in the somewhat windy conditions in Qatar, C-Woz would have been chased from the court by herself if she'd faced off in some alternate, "Fringe"-worthy universe-crossing match with the Wozniacki who won in the U.A.E. last week.

The match began with three consecutive breaks of serve, with Wozniacki dropping her's twice, but it was the brief lulls in her play later that would tell the story of the match. Down 4-3, she went up 40/love on Zvonareva's serve, but failed to secure the set-leveling break and instead soon found herself just one game from losing her first set since the Australian Open semifinals. In dropping the opening set at 6-4, the Dane was just 1-for-4 on break point attempts and was on the wrong end of a very uncharacteristic 7/8 winners to unforced errors stat.

In the 2nd, she surged early, getting a break for 2-0 and going up 40/love on serve in Game #3. But Zvonareva got the important break of serve there, then reeled off the next two games to take a 3-2 lead. Wozniacki had a break point in Game #6, but again wasn't able to convert it. Zvonareva held serve the rest of the way to take the 2nd at 6-4 to secure the match, while the Dane ended the day with eighteen winners against a high (for her) twenty-four error total. With the loss, Wozniacki is now just 5-14 against Top 5 players. To err is human, and to win is (usually) Caroline... but it wasn't on this particular day.

Thus, the progession continues... but with another reminder that nothing is ever a given. Meanwhile, welcome to the 2011 season, Vera.



*WEEK 8 CHAMPIONS*




DOHA, QATAR (Premier $721K/hard outdoor)


S:

Vera Zvonareva def. Caroline Wozniacki 6-4/6-4


D:

Kveta Peschke/Katarina Srebotnik d. Liezel Huber/Nadia Petrova




ACAPULCO/ MEXICO (Int'l $220K/red clay outdoor)


S:

Gisela Dulko def. Arantxa Parra-Santonja 6-3/7-6


D:

Mariya Koryttseva/Ioana-Raluca Olaru d. Lourdes Dominguez-Lino/Arantxa Parra-Santonja





PLAYER OF THE WEEK:
Vera Zvonareva/RUS

...finally, the Russian moved her chess piece forward on the WTA's 2011 game board. After having lost five straight finals since she last claimed a tour singles final in Pattaya City last February, Zvonareva battled through some tight spots and played big points very well en route to career title #11 in Doha. Wins over Dominika Cibulkova, Daniela Hantuchova, Jelena Jankovic and Wozniacki officially puts the world #3's name back into the mix when it comes to contenders for the top ranking this season. Plus, she finally broke the ice and gave Russia its first champion of the new year.


=============================




RISERS:

Marion Bartoli/FRA & Johanna Larsson/SWE


...Bartoli's saga in Doha ended rather rudely when she lost 6-1/6-1 in the SF to Wozniacki, but her work prior to that loss -- which included impressive wins over Alisa Kleybanova, Shahar Peer and Peng Shuai -- was more than enough for the now-long time Top 20er to be included here. In Acapulco, Larsson notched wins over Yvonne Meusburger, Mathilde Johansson (Bogota RU) and Greta Arn (Auckland champ in Week 1) on her way to the semifinals, her best result since reaching the final in Portoroz last year.


=============================




SURPRISES:

Arantxa Parra-Santonja/ESP & Silvia Soler-Espinosa/ESP


...Parra-Santonja didn't reach her first tour final until age 27 last year in Estoril. It took her less than a year to get to her second, as she slipped through the draw in Acapulco with wins over Lourdes Dominguez-Lino (a Week 7 champion) and Larsson. She's still looking for her first title, though. Meanwhile, after making some noise in recent seasons on the ITF challenger circuit (she's won three titles), 23-year old Soler-Espinosa has been popping up in WTA draws in '11. In Acapulco, she started to win matches, too. The Spaniard qualified with wins over Olivia Sanchez and Sally Peers, then knocked off veteran Jill Craybas in the main draw. After getting a win over Olga Savchuk this weekend in Monterrey qualifying, she lost on Sunday to Alison Riske.


=============================




COMEBACKS:

Anabel Medina-Garrigues/ESP & Casey Dellacqua/AUS


...hmmm, maybe AMG IS still in contention for that tenth career title, after all (once again -- altogether now -- it'd tie her with Anna Smashnova as the only players in WTA history with double-digit singles titles but no slam QF appearances). In Week 7 in Bogota, she won a doubles title. Last week in Acapulco, coming in ranked #92 after being at a career-high in the Top 20 less than two years ago, the 28-year old got wins over Karolina Pliskova, #1-seeded Julia Goerges and Carla Suarez-Navarro en route to the SF, her third such result in the last two seasons (Hobart & Strasbourg '10). Meanwhile, Dellacqua finally returned to action in a $25K challenger in Mildura, Australia. In her first singles action since last year's Wimbledon, she lost in the 1st Round to Olivia Rogowska. Ultimately, things turned out pretty good for her, though, as she and Rogowska then teamed up to win the doubles title.


=============================




VETERANS:

Gisela Dulko/ARG & Kveta Peschke/Katarina Srebotnik, CZE/SLO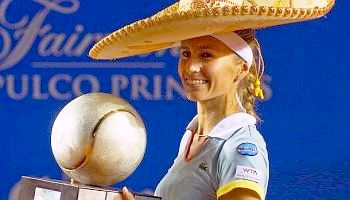 ...Dulko is one of those players who never seems to win as often as you think she SHOULD. But in Acapulco, the world doubles #1 DID manage to achieve on the singles court. With an opening round win over Anna Tatishvili, following by victories over four straight Spaniards -- Silvia Soler-Espinosa, Laura Pous-Tio, Anabel Medina-Garrigues and Arantxa Parra-Santonja -- the Argentine claimed her fourth career title in her eighth final appearance. But it's her first in nearly three years, having last won in Fes in 2008. Peschke & Srebotnik teamed for their second title of 2011, and fourth overall as a duo, in Doha. It's Srebotnik's twenty-eighth tour doubles title, and Peschke's eighteenth. Peschke, at 35, is the oldest champion on tour so far this season.


=============================




FRESH FACE:

Bojana Jovanovski/SRB


...all right, so all of BoJo's wins in Doha actually came before LAST week's Backspin, before she lost her 1st Round match to Sania Mirza. But since no once else really stepped up over the last week seven days to earn this award, I'll give the Serb the honor now that there wasn't room to give her for Week 7. So, those qualifying wins over Chang Kai-Chen, Urszula Radwanska and Kateryna Bondarenko actually WILL count for something in this space, after all.


=============================




DOWN:

Li Na/CHN


...Na, I don't think we're in Melbourne anymore. Nope. With the AO getting smaller in her rear view mirror, Li is now left to surf the hazardous waves of the rest of the season. Surely, she'll coast on the crest of something good again soon. But, after her 1 & 2 loss to Klara Zakopalova last week in Doha, the Chinese veteran is currently riding a three-match losing streak since she came back from match point down against Wozniacki to become the first Asian to reach a grand slam final.


=============================




ITF PLAYER:

Hsieh Su-Wei/TPE


...the 25-year old from Taiwan, a one-time Top 100 player who is currently setting up shop outside the Top 350 (but maintains a fairly consistent presence in tour doubles play), won her eighteenth career challenger title at the $25K (grasscourt!) event in Mildura, Australia in her first singles action since last November. She defeated Brit Katie O'Brien in the final. Hsieh's first ITF crown came all the way back in January 2001, and this is her first since September '09.


=============================




JUNIOR STAR:

Alison van Uytvanck/BEL


...well, while we lost one Belgian star in January, we've picked up two junior Waffles to fill the void. First, An-Sophie Mestach won the AO Girls title, and now 16-year old van Uytvanck is making a name for herself. The #26th-ranked junior, she's on an 18-0 tear in singles play in 2011. Last week, she won the Aivaras Balzekas Memorial Cup in Lithuania (she also reached the doubles final) to go with her title at the Czech International Junior Indoors in January, giving her a 10-0 junior record this year, with a spotless 20-for-20 mark in sets. But she hasn't confined herself to junior events. A week ago, she wrapped up a $10K challenger title in Vale Do Lobo, Portugal, making it through qualifying and extending her '11 pro event record to 8-0.


=============================






1. Doha 1st Rd - Cibulkova d. Groth
...6-4/4-6/7-6. Groth held quadruple match point at 6-2 in the 3rd set tie-break, but couldn't put away another point in the match, losing the breaker -- and the match -- 8-6. Not surpringly, though, Cibulkova failed to capitalize on her good fortune here, losing in her next match. Sure, it was against eventual champ Zvonareva, but it still speaks to the inconsistency that continues to keep the Slovak -- a one-time grand slam semifinalist -- title-less for her career.


=============================


2. Doha Final - Zvonareva d. Wozniacki
...6-4/6-4. At least it was closer than that exhibition match in Hong Kong in Week 1. In "real" matches, they're now tied at 4-4.


=============================


3. Doha QF - Zvonareva d. Hantuchova
...7-5/6-7/7-5. Down 5-3 in the 3rd set, Zvonareva fights back to win in 3:09 to avenge her loss to Hantuchova in the Pattaya SF two weeks ago. One wonders how differently Wozniacki's weekend might have turned out had the Slovak been the one who came out on top in this one.


=============================


4. Acapulco Final - Dulko d. Parra-Santonja
...6-3/7-6. Five of the eight quarterfinalists in Acapulco were Spanish, so of course an Argentine ended up being crowned champion. Down three set points in the 2nd, Dulko won in straights to make it ten different nations in the winner's circle at the tour's twelve tournaments so far in 2011. Quick Backspin Pop Quiz! What's the only nation to have TWO different champions this season? (Answer is below.)


=============================


5. Doha QF - Wozniacki d. Pennetta
...6-2/6-0. A week after failing to get her first career win over Kuznetsova, Pennetta was unable to do so against Wozniacki, as well, falling to 0-5 against the Dane.


=============================


HM- Kuala Lumpur Q - Karatantcheva d. Duque-Marino
...6-2/7-5. Having finally gotten the extra "s" kicked into her, apparently, Sessil finally surfaced this weekend in Kuala Lumpur qualifying, getting nice wins ove Lesya Tsurenko and Duque-Marino.


=============================


HM- Kuala Lumpur 1st Rd - Dokic d. Schiavone
...2-6/7-6/6-4. A very nice win for Jelena. Could the draw suddenly open wide up for her now?


=============================



Answer: Slovak Republic -- Hantuchova (Pattaya City) & Rybarikova (Memphis)






**CAREER TITLES**




[Russians, w/ title years span]


22...Maria Sharapova, 2003-10
16...Elena Dementieva, 2003-10
13...Svetlana Kuznetsova, 2002-10
12...Dinara Safina, 2002-09
11...VERA ZVONAREVA, 2003-11
10...Anastasia Myskina, 1999-05


[active WTA players, last three seasons]


10...Caroline Wozniacki, DEN
7...Kim Clijsters, BEL
5...Serena Williams, USA
5...Victoria Azarenka, BLR
4...VERA ZVONAREVA, RUS
4...Svetlana Kuznetsova, RUS
4...Venus Williams, USA
4...Aravane Rezai, FRA



**2011 - MOST CONSECUTIVE FINALS**


3...Kim Clijsters, Sydney/Australian Open/Paris (active) #
2...Li Na, Sydney/Australian Open
2...CAROLINE WOZNIACKI, DUBAI/DOHA (active)
--
#- Clijsters has reached 5 consecutive finals dating back to 2010



**2011 WTA SEMIFINALS**


3...Kim Clijsters (3-0)
3...CAROLINE WOZNIACKI (2-1)
3...VERA ZVONAREVA (1-2)
2...MARION BARTOLI (0-2)
2...JELENA JANKOVIC (0-2)
2...Petra Kvitova (2-0)
2...Bethanie Mattek-Sands (1-1)
2...Peng Shuai (0-2)



**2011 - DEFEATED TOP SEED, WON TITLE**


Auckland - Greta Arn, HUN (QF-def. #1 Sharapova)
Paris - Petra Kvitova, CZE (F-def. #1 Clijsters)
Pattaya City - Daniela Hantuchova, SVK (SF-def. #1 Zvonareva)
DOHA - VERA ZVONAREVA, RUS (F-def. #1 Wozniacki)



**2011 - SINGLES/DOUBLES FINAL IN SAME EVENT**


Pattaya - Sara Errani, ITA (L/W)
ACAPULCO - ARANTXA PARRA-SANTONJA, ESP (L/L)



**MOST 2011 DOUBLES TITLES + MIXED**


3...KATARINA SREBOTNIK, SLO (2+1 AO Mixed)
2...Sara Errani, ITA
2...KVETA PESCHKE, CZE
2...Roberta Vinci, ITA




KUALA LUMPUR, MALAYSIA (Int'l $220K/hardcourt outdoors)
10 Final: Kleybanova d. Dementieva
11 Top Seeds: Schiavone/Bartoli
=============================


=SF=


#3 Kleybanova d. #8 Jovanovski
#5 Safarova d. #4 Groth


=FINAL=


#3 Kleybanova d. #5 Safarova

...this week, Zvonareva became the first Russian finalist and champion of 2011. A year ago, the Hordettes swept the singles titles (and filled three of four finalist slots) at both the events being contested once again this week. Did Vera kick off something in Doha? Well, I'll at least walk part-way onto the limb and go with Kleybanova to defend her Kuala Lumpur championship, though trying to guess whether or not her results will pop up or flame out on a week-to-week basis can, admittedly, cause whiplash.



MONTERREY, MEXICO (Int'l $220K/red clay outdoors)
10 Final: Pavlyuchenkova d. Hantuchova
11 Top Seeds: Jankovic/Pavlyuchenkova
=============================


=SF=


#1 Jankovic d. Kerber
#6 Errani d. #7 Benesova


=FINAL=


#1 Jankovic d. #7 Benesova

...riding a back-to-back run of SF results, JJ is playing for (at least) a third in three weeks in Monterrey. Why, it almost feels like old times. With no Wozniacki or Zvonareva -- the players who knocked off QC in those semis -- in sight in Monterrey, I'll go with her to finally hold up a trophy for the first time since last March. Plus, she deserves to have SOMETHING go right for her in Mexico after that offseason training fiasco that occurred there at the end of '08, don't you think?


All for now. February Awards later on Monday.






Juump

is a free online community that makes it easy to meet people and play more tennis – right in your neighborhood. . With Juump, you can

FIND

players and groups who play at your favorite courts,

MEET

players with similar skill levels, interests and schedules, and

PLAY

more tennis.