The Calm Before the Storm
Shoes are tied. Wristbands are pulled on. Racket handles are affixed with extra glue (
Agnieszka Radwanska only
). Yep, the 2012 season is ready to begin.


BRISBANE, AUSTRALIA (Premier $655K/hard outdoor)
11 Final: Kvitova d. Petkovic
11 Doubles Champions: Kleybanova/Pavlyuchenkova
12 Top Seeds: Stosur/Petkovic
=============================


=SF=


#5 Clijsters d. #4 S.Williams
#2 Petkovic d. Voskoboeva


=FINAL=


#5 Clijsters d. #2 Petkovic

...talk about an unbalanced draw -- Stosur, Clijsters and Serena are all in the top half. On the bright side, a few of the very interesting potential opening week matches seem to stand a good chance of happening -- including Clijsters/Ivanovic, Cibulkova/Hantuchova, Pervak/Voskoboeva (hi, new countrywoman!), Jankovic/Schiavone, Clijsters/Stosur and either Stosur/Serena or Clijsters/Serena. And all of those would happen BEFORE the final, which might turn out to be a bit anticlimactic.



AUCKLAND, NEW ZEALAND (Int't $220K/hard outdoor)
11 Final: Arn d. Wickmayer
11 Doubles Champions: Peschke/Srebotnik
12 Top Seeds: Lisicki/Peng
=============================


=SF=


#1 Lisicki d. #4 Pennetta
#7 Wickmayer d. #8 Niculescu


=FINAL=


#1 Lisicki d. #7 Wickmayer

...so, here's the first reality check on whether or not Lisicki is going to have any shot to carry over her '11 success. Whether she can stay healthy might not be addressed this week, but whether she can continue to win WILL get its first test. That said, I can't say I wouldn't do a few backflips (well, at least wish I COULD do a few backflips) if a certain member of the Dokic family (possibly facing Lisicki in the 2nd Round) got a very welcome upset win to begin her season to allow her to head to Melbourne with visions of 2009 dancing in her head.



HOPMAN CUP; PERTH, AUS (Exhibition/hard indoor)
11 Final: United States d. Belgium (Serbia w/d from final)
12 Top Group Seeds: Czech Republic (A), France (B)
=============================


=FINAL=


Czech Republic (Kvitova/Berdych) d. France (Bartoli/Gasquet)

...come on, how could I not go with Kvitova here? Err, I mean Kvitova AND Berdych. Speaking of which, with Kvitova coming into this event off a 21-0 indoor record in '11, Lucie's boyfriend had better not drop the ball. Of note here, world #2 Kvitova is set to face world #1 Wozniacki on the final day of Round Robin play.

All, but that's not all. Carl has managed to convince me (maybe it was our Christmastime truce?) to let him make picks every week. So, here he is:






BRISBANE




=SF=


stosur def. serena
petkovic def. jankovic


=FINAL=


stosur d. petkovic

...Carl want to pick Kim, but Todd do. Carl no pick with Todd. Christmas over.



AUCKLAND




=SF=


pennetta d. dokic
mchale d. peng


=FINAL=


pennetta d. mchale

...Todd take Carl's Kim. Carl take Todd's Jelena. And keep Flavia from him, too.



HOPMAN CUP


france d. united states

...Berdych let Kvitova down. Carl will laugh at sullen Todd. Marion dance like Petko. Carl, too. This just start of Carl defeating Todd in picks over whole 2012 season.







**HOPMAN CUP CHAMPIONS**




[since 1999]


1999 Australia (Dokic/Philippoussis)
2000 South Africa (Coetzer/W.Ferreira)
2001 Switzerland (Hingis/Federer)
2002 Spain (Sanchez-Vicario/Robredo)
2003 United States (S.Williams/Blake)
2004 United States (Davenport/Blake)
2005 Slovak Republic (Hantuchova/Hrbaty)
2006 United States (Raymond/Dent)
2007 Russia (Petrova/Tursunov)
2008 United States (S.Williams-Shaughnessy/Fish)
2009 Slovak Republic (Cibulkova/Hrbaty)
2010 Spain (Martinez-Sanchez/Robredo)
2011 United States (Mattek-Sands/Isner)


[most titles]


6 - United States
3 - Slovak Republic, Spain
2 - Germany, Switzerland
1 - Australia, Croatia, Czechoslovakia, Czech Republic, Russia, South Africa, Yugoslavia



**MOST "DOROTHY TOUR" TITLES**




[active players; Wk.1 titles in parenthesis]


5 - Kim Clijsters (1), Serera Williams (0)
3 - Eleni Daniilidou (2)
2 - Petra Kvitova (1), Li Na (1), Alicia Molik (0)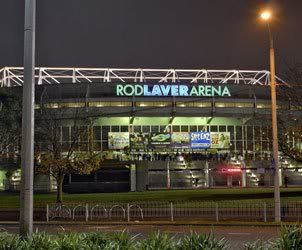 =AUSTRALIAN OPEN - POWER RANKINGS... from two-plus weeks out=




1.

Kim Clijsters:

the defending champ, and in likely her last AO appearance in the nation that "adopted" her even after she broke up with its native son Lleyton


2.

Serena Williams:

a five-time champ at historically her "best" slam, and with something to prove


3.

Petra Kvitova:

her first "year after" test


4.

Samantha Stosur:

ditto


5.

Li Na:

back to the final or bust, with neither option more likely than the other


6.

Caroline Wozniacki:

Oz might be her best '12 chance to get the 'roo -- err, I mean monkey -- off her back


7.

Victoria Azarenka:

she's come close to conquering the moment in Melbourne in the past, but the heat and/or Serena has usually conquered her (think she'll be searching her draw for someone?)


8.

Agnieszka Radwanska:

can A-Rad 2.0 work in 2012, or has the new her already been corrupted by dad?


9.

Maria Sharapova:

it's been four years since she won slam #3 at the AO in '08, and she comes in dragging an injured ankle


10.

Vera Zvonareva:

holding on


Wild Card-

Andrea Petkovic:

Ms. Consistency in the slams


Wild Wild Card-

Sabine Lisicki:

if not, the countdown to Wimbledon begins


Just Because-

Jelena Dokic:

no player has recently ridden an emotional wave in Melbourne better (well, maybe one... a few times)


Until we have our first champions of 2012. All for now.







==2012 PREVIEW SERIES==


* - Grand Slam Master List
* - 'Twas the Backspin Before Christmas: The Search for Caroline's Roo
* - The Intriguing 100
* - Prediction Blowout
* - 2012 Week 1 Picks & AO Power Rankings (you are here)