Wk.18- .now for All
[
Helpful Hint:
It might be easier to read this week's edition of Backspin from the bottom up
]



.now for All

Stupid Todd. Left Vika for Carl to pick. Carl make up for Carla errors last week and once again put Todd in place where belongs. Squished under Carl foot!!!!!!!!...

1 azarenka d. 2 sharapova


=FINAL=


2 sharapova d. 3 kvitova
1 azarenka d. 4 radwanska


=SF=




MADRID




Carl go away for one week and Carla screw things up! Carl beating Todd 2-0 past few weeks, then Carl go on important Northern trek and Carla let Todd win 1-0 last week! Why must Carl always clean up mess? Sigh. Carl work never done. But Carl still find way to do it.









Maybe the "ridiculous" (Serena's words) blue clay court will make Williams think she's on hard courts in Australia or North America. Under the right circumstances, Serena could face off with Sharapova, Kvitova AND Azarenka. If she runs the table against such competition, watch the field take a very big, nervous gulp less than a month away from Paris...

#9 S.Williams d. #1 Azarenka


=FINAL=


#9 S.Williams d. #3 Kvitova
#1 Azarenka d. #4 A.Radwanska


=SF=


=============================
Azarenka & Kirilenko :11 Doubles Champions
Azarenka/Sharapova :12 Top Seeds
Kvitova d. Azarenka :11 Final
(blue clay outdoor/$3.755m Premier) SPAIN, MADRID





2...Alexandra Panova, RUS
2...CHUANG CHIA-JUNG, TPE
2...Lucie Hradecka, CZE
2...Andrea Hlavackova, CZE
3...Roberta Vinci, ITA
3...Sara Errani, ITA
4...Lisa Raymond, USA
4...Liezel Huber, USA


**2012 DOUBLES TITLES - INDIVIDUALS**



BUDAPEST - SARA ERRANI, ITA (def. Vesnina)
Indian Wells - Victoria Azarenka, BLR (def. Sharapova)
Doha - Victoria Azarenka, BLR (def. Stosur)


**TOP SEED WON TITLE**



* - active streak
-
2...SARA ERRANI (Barcelona/Budapest) *
4...Victoria Azarenka (Sydney/Australian Open/Doha/Indian Wells)


**CONSECUTIVE 2012 WTA TITLES**



2...APR-current - SARA ERRANI
3...MAR-current - Maria Sharapova
4...JAN-MAR - Victoria Azarenka


**CONSECUTIVE 2012 WTA FINALS**



2...Agnieszka Radwanska, POL
2...Angelique Kerber, GER
2...KAIA KANEPI, EST
3...SARA ERRANI, ITA
4...Victoria Azarenka, BLR


**2012 WTA SINGLES TITLES**








=============================


Defeating two sisters WAS ultimately the key to success for eventual Budapest doubles champs Husarova and Rybarikova, though.


...6-7/6-2/10-5 Husarova/Rybarikova (SVK/SVK) d. Hsieh/Hsieh (TPE/TPE)- 1st Rd. Budapest Doubles

- HM


=============================


So, even though they went 0-2 against Yang in singles, the Lu family ended up with more titles than their Chinese countrywoman in Jakarta.


...6-4/6-4 Lu/Lu (CHN/CHN) d. Fitzpatrick/Windley (GBR/GBR) - Final Doubles Jakarta $10K

.3


=============================


Yang was 2-0 against the Lu sisters, but lost in the final to another Chinese woman.
...4-6/6-1/6-3 Yang Zi/CHN d. Lu Jia-Jing/CHN - QF Jakarta $10K
6-0/6-2 Yang Zi/CHN d. Lu Jia-Xiang/CHN - 1st Rd. Jakarta $10K .2


=============================


One 19-year old Floridian sibling beats her 16-year old Floridian sibling.


...6-3/6-2 Chichi Scholl/USA d. Chalena Scholl/USA - 1st Rd. Indian Harbour Beach $50K

.1






=============================


Hmmm, where exactly did Alexandra go wrong? Probably precisely where Aleksandra went right.


...6-7/6-0/6-0 Wozniak d. Cadantu - 2nd Rd. Budapest

.7


=============================


These two met in the Estoril final a year ago, with the same result. It ended here, though, as AMG lost her next match.


...6-4/6-1 Medina-Garrigues d. Barrois - 1st Rd. Estoril

.6


=============================


Another great win from Barthel. Her next opponent? Someone from Denmark.


...6-4/6-1 Barthel d. Goerges - 1st Rd. Madrid

.5


=============================


A ridiculously tough 1st Round match for a top seed, but Vika didn't break a nail.


...7-6/6-4 Azarenka d. Kuznetsova - 1st Rd. Madrid

.4


=============================


"Disaster" averted.


...7-6/3-6/6-4 Wozniacki d. Pervak - 1st Rd. Madrid

.3


=============================


If a WHOLE lot of things work out, Kanepi could face Kvitova (the new world #4, as A-Rad moved past her in the new rankings) in the Madrid SF. Every one of their five meetings has gone three sets, including that particularly memorable QF meeting in Wimbledon two years ago.


...3-6/7-6/6-4 Kanepi d. Suarez-Navarro - Final Estoril

.2


=============================


Hordettes are now 1-6 in 2012 tour singles finals. Which is still a better mark than Vesnina's career final record.


...7-5/6-4 Errani d. Vesnina - Final Budapest

.1






=============================


The 16-year old from Belarus, as the #8 seed, won the G4 Daytona Beach girls title with a win in the final over Jessica Ho, via a 3rd set tie-break, to claim her first career ITF junior crown. And, yes, this Sharapova IS related to THAT Sharapova. She's her cousin...


BLR/Daria Sharapova

:JUNIOR STAR




=============================


18-year old Min, the '11 U.S. Open Girls champ, won her second ITF challenger title of the season at the $50K event in Indian Harbour Beach, Florida. Along the way, she knocked off top-seeded Irina Falconi, Shelby Rogers, Allie Kiick and Krista Hardebeck before defeating 22-year old, former USC player, Maria Sanchez (USA) in the final. Wild card Sanchez, who'd defeated the likes of Sharon Fichman, Coco Vadeweghe, Heidi El Tabakh and Lauren Davis during the tournament, had managed to get herself within a final victory over Min from clinching a main draw wild card at Roland Garros, but failed to close things out in the 6-4/7-6 loss...


USA/Grace Min

:ITF PLAYER




=============================


How does a player who reaches a tour singles final -- and who's not also named Caroline -- manage to win the Down award, you ask? Well, it's not that difficult when you're Elena Vesnina. The Russian's loss in the Budapest final makes her 0-6 in career WTA singles finals. She's not negatively partial to any one surface, either. She's 0-4 on hard court, 0-1 on green clay and 0-1 on red clay. In those six finals, she's dropped twelve of thirteen sets. But, wait. I'm not finished. Vesnina has been remarkably consistent when it's come to reaching finals, as she's one of only ten women who've managed to reach at least one final in each of the last four seasons. But, of those ten women, only she and Lucie Safarova (0-5) have failed to win at least one of those finals, and ONLY Vesnina from the group has NEVER been able to win a tour singles title in her career. Anway, THAT'S how you reach a tour final and still end up a Down award winner. But if you're looking for a more traditional winner/loser for this spot, let's go with Vera Zvonareva, a 1st Round loser in Madrid to Petra Cetkovska. She's now 7-7 for the season. I'll toss in Francesca Schiavone, too. She dropped her Madrid opener to Varvara Lepchenko to see her '12 mark fall to 8-13. She's going to have to do some major work over the next few weeks for a third straight trip to the RG final to even be worthy of wild consideration...


RUS/Elena Vesnina, RUS/Vera Zvonareva & ITA/Francesca Schiavone

:DOWN




=============================


Watson made last week's Monday Backspin "Matches of the Week" section thanks to her qualifying wins over Caroline Garcia and Sloane Stephens. She only notched an additional main draw win in Estoril over Lucie Hradecka, but, in the absence of a deep run by another young up-and-comer, her week's work is enough for official award consideration this time around. Meanwhile, on the ITF circuit, 16-year old Kazakh Anna Danilina, the world's #4-ranked junior and Banana Bowl Girls champion a few weeks ago, claimed her first pro title at the $10K challenger in Wiesbaden, Germany. She claimed the victory in the final with a 7-6/7-6 win over Laura Siegemund...


GBR/Heather Watson & KAZ/Anna Danilina

:FRESH FACES




=============================


Back in 2008, Karin Knapp was a Top 40 player. Times have been lean over the last four years for the now-24 year old, though. But she made it through qualifying in Estoril, then pulled off wins over Eleni Daniilidou, Maria Kirilenko and Galina Voskoboeva to reach her first tour SF since that same '08 season...


ITA/Karin Knapp

:COMEBACK




=============================


Husarova, 37, has been winning titles on the WTA tour since way back in 1996, but her Budapest doubles win was her first since 2008 (also in Budapest). Career title #25 came with Magdalena Rybarikova (it's HER first tour doubles title!), the Slovak vet's sixteenth different partner in a winning effort. Thus, the young Slovak joins the pack of Husarova's successful partners, a virtual "Who's Who" list of champions that includes Paola Suarez, Arantxa Sanchez-Vicario, Elena Dementieva, Kim Clijsters and Conchita Martinez. It's her eighth victory in her last nine tour doubles finals. Normally, a 37-year old would be the senior honoree in a week's award, but not with Date-Krumm around. The 41-year old added to her long list of accomplishments with her second ITF singles title of the season. Her title run in the $50K Gifu, Japan challenger was highlighted by wins over a pair of 20-year olds, Kurumi Nara and Noppawan Lertcheewakarn in the final. Naturally, it MUST be pointed out that KDK is older than the COMBINED age of both those opponents...


SVK/Janette Husarova & JPN/Kimiko Date-Krumm

:VETERANS




=============================


SSE is a Spanish woman on the move. A few weeks ago, she got a big upset win over Daniela Hantuchova in Spain's eventual losing Fed Cup effort against the Slovaks. Last week in Estoril, she notched wins over Sorana Cirstea and defending champ Anabel Medina-Garrigues en route to the QF. Over the weekend in Madrid, she opened up her next tournament with a win over Tamira Paszek. The 24-year old broke into the Top 60 for the first time in her career in the new rankings...


ESP/Silvia Soler-Espinosa

:SURPRISE




=============================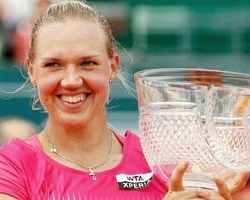 After her Week 1 win in Brisbane, Kanepi's season seemed to get lost somewhere along the way. She's found it, though. Career title #3 came this weekend in Estoril, as she raced through a series of opponents that included Sloane Stephens, Vania King, Petra Cetkovska, Roberta Vinci & Carla Suarez-Navarro. Meanwhile, CSN is still looking for HER first career tour singles titles. She continues to give herself opportunities, though, especially on red clay. Her Estoril wins over Olga Govortsova, Polona Hercog, Silvia Soler-Espinosa and Karin Knapp helped her reach the final, the third such result of her career. Though she's 0-3 in those matches, each of them has gone the full three sets...


EST/Kaia Kanepi & ESP/Carla Suarez-Navarro

:RISERS




=============================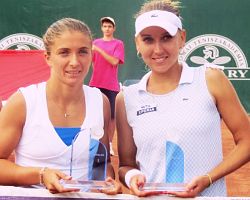 So far in 2012, there are no players not nicknamed Vika who've won more tour singles titles than Errani's three. All have come on red clay, as the Italian's win in the Budapest final over Elena Vesnina was her fifteenth consecutive victory on the surface. Her fifth career title -- with additional wins over Mandy Minella, Melinda Czink, Alberta Brianti and Anna Tatishvili -- moved her to a new career-high of #24 in the latest singles rankings...


ITA/Sara Errani

:PLAYER OF THE WEEK




(CHN/CHN) Chuang/Zhang d. (KAZ/KAZ) Shvedova/Voskoboeva

:D


3-6/7-6/6-4 EST/Kaia Kanepi def. ESP/Carla Suarez-Navarro

:S
(red clay outdoors/$220K Int'l) PORTUGAL, ESTORIL
(SVK/SVK) Husarova/Rybarikova d. (CZE/NED) Birnernova/Krajicek

:D


7-5/6-4 ITA/Sara Errani def. RUS/Elena Vesnina

:S


(red clay outdoors/$220K Int'l) HUNGARY, BUDAPEST
*CHAMPIONS 18 WEEK*



We shall see. But I suspect you're right. He's such a caveman.

:ANSWER



Hmm, I guess you're right. I should apologize to Carla. Although, Carl was likely going to use his segment this week to blame her anyway.

:QUESTION



Oh, I wasn't going to bring that up. Especially since it'd just give Carl the chance to knock Carla's 0-for-2 week. She hasn't been able to do as well as Carl in the picks segment, but I know that it's not as easy as it looks. Carl will probably simply blame her for "ruining" his record. He should remember that he's lucky to have her. If the day ever comes, he'll be marrying WAY up.

:ANSWER



Speaking of opportunity, here's your chance to nudge Carl a little about getting your Errani-in-Budapest pick right last week while he was away doing whatever it is that he does when he's away.

:QUESTION



Oh, clean up your dirty mind. I mean she's not going to be wearing her now-customary shorts in Paris. Nike has her wearing a dress instead. It probably means nothing, but you'd think the world #1 would be able to wield a little of her new power to get her sponsor to come up with some sort of unique outfit that would allow her to wear shorts, since they've sort of become her "good luck charm" and personal trademark in 2012. You know, maybe something like that Bjorn Borg-styled shirt-and-shorts look that a few female players donned a couple of years ago. It just seems like a wasted opportunity.

:ANSWER



What!?!?!

:QUESTION



Well, I wonder whether it's a good thing for Victoria Azarenka to be going shorts-less in Paris in a few weeks?

:ANSWER



That it would. Speaking of Paris, any wild notions about the upcoming second slam of 2012?

:QUESTION



Oh, and I should note that there is precisely ONE green clay event on tour, and now precisely ONE blue clay event on tour, as well. As a result, if Charleston champion Serena Williams can also win in Madrid, she'll have a shot by the time Roland Garros rolls around in a few weeks to become the very first player EVER to win green, blue AND red clay events in a single season. It'd be an interesting feat to add to her career resume.

:ANSWER



Yeah, that was pretty good.

:QUESTION:



Umm, I like that Milos Raonic called it "the smurf court."

:ANSWER






So, you don't have anything to say about the blue court?

:QUESTION



Good question, nameless Backspin aficionado most definitely not also named Todd. I always do the "Backwards" edition (in its eighth big, brain-frying, annual appearance) somewhere around this time of the season. It actually says a great deal about the overall quality of play this year that it was never even under consideration until Week 18. With Roland Garros a month away, though, the usual early spring WTA "lull" has fully taken shape the last few weeks. Some things just cannot be avoided. Sort of like the recent phenomenon that seems to occur around HQ whenever some sports network sees fit to show video of Miss Wozniacki and Mr. McIlroy. The eye-rolling all over the office can actually be heard THROUGH THE WALLS, as the interoffice message system heats up with snide comments about how the Dane probably told Rory on Monday night that his losing in that tournament playoff on Sunday wasn't a "disaster" since he still managed to return to the #1 golf ranking even with his loss. After all, Caro knows all about being ranked #1 after failing to win a title. Not that I participated in such nonsense. I'm just saying that I know it's going on, and I can't do anything to stop it. Only you-know-who has that sort of "disaster-averting" power.

:ANSWER



So, Todd, why are you once again using this gimmicky "Backwards Backspin" trick? Isn't it getting old? As usual when you do this, it seems as if you're not giving this week's tour singles champions -- especially three-time '12 champ Sara Errani -- the proper attention compared to the "Players of the Week" the rest of the season. Didn't the results in Budapest and Estoril qualify for attention, or would you, like everyone else, rather just talk about that blue clay court in Madrid?

:QUESTION





2012, 6 May, Sunday