RG.8- Never Bet Against The Radwanska When Death is On the Line

Don't make The Radwanska angry. You wouldn't like It when It's angry. Just ask Sveta and Vika.
As Day 8 began, there was a foreboding sense of trepidation at Roland Garros. You could see it in the overcast sky, and a forecast that called for inclement weather. The rain was coming, it was said. The rain was coming. But if anyone had bothered to consult Ms. Sharapova on HER opinion, she would have set everyone straight. SHE knew that feeling of dread that permeated Paris at the start of the day. SHE could have looked into the distance, with gray and black clouds approaching the grounds, then turned back to face us all with an all-too-familiar sober expression on her face.

"No," she'd have said. "It's not the rain. It's far worse than that."

But, apparently, no one asked Maria. Thus, after the exit from the women's draw of not one, but two, Radwanska sisters over the last few days, no one was thinking about the long shadow of The Radwanska, still capable of overturning this tournament on a deadly whim. As the day began to unfold, one couldn't help but wonder, "Oh, holy hell. What is happening?"

That was an easy one. The Radwanska was angry.

Two days ago, Svetlana Kuznetsova destroyed Agnieszka Radwanska in the 3rd Round. The thought was that maybe Sveta was finally back in form at her favorite slam. Her arm read, "Pain doesn't kill me. I kill the pain." And was that confidence spewing from her mouth when she said that she's back to playing "Russian tennis, not Spanish tennis?" Then, in the blink of an eye, she'd lost the 1st set at love to Sara Errani. After hanging around for a bit in the 2nd, she lost 6-0/7-5.

Now, for sure, Kuznetsova needs no sinister assistance when it comes to burning hot and cold on a moment's notice on the court. But when it comes to The Radwanska, there is no such thing as coincidence. By shutting down A-Rad so thoroughly, the Russian had made herself an easy target for The Dark One. Kuznetsova's stats -- a 43% 1st serve percentage, and 38 errors in the match's 18 games -- could attest to that.

Kuznetsova killed the pain, but she couldn't keep The Radwanska from getting her. And she was just the appetizer.

Having found a way for A-Rad's most recent conqueror to be dispatched with lethal efficiency, The Rad next focused Its sights on the player that has been Its most dangerous foe -- winning seven of seven battles -- in 2012.

Even as Victoria Azarenka has slowly slid back into some old habits since winning that "26 the Hard Way" match over Dominika Cibulkova in Miami, nothing since had compared to what we saw from her in Paris. From the moment she first stepped onto the court, she just wasn't "right." The clothes (literally) never fit the Belarusian, but, unfortunately, her often negative responses to adversity did... only they were the sort of things she did before she had her "aha moment" last season and rode it all the way to her first slam title in Australia. The same player, in name only, who stepped on the neck of the field in Melbourne -- and more than enjoyed it -- narrowly avoided the earliest exit ever by a woman's #1 seed at Roland Garros six days ago. Even as she advanced to the 4th Round, she flashed glimpses of the old bubbling anger that used to hold her back. For a while, she was able to control it and win. That wasn't the case today.

Just as The Radwanska wanted.

Top seed Azarenka came into today with a 7-1 career mark against Cibulkova, but their last five matches had each gone three sets. One of the matches saw the Slovak take a set and 3-1 lead, but eventually lose, while in Vika's win in Miami in March, Cibulkova had lost a set and 5-2 advantage. Since then, Vika's had to battle against the re-emergence of her "old" self. She hasn't won a tournament since arriving in Key Biscayne, was blitzed by Sharapova (Stuttgart) and Serena (Madrid) in finals, and fell back on her nasty penchant for withdrawing from a tournament (Rome) in the middle of the week. Azarenka's 1st Round win over Alberta Brianti, in which, in Zombie Queen fashion, she erased a 7-6/4-0 deficit, was a fine bit of theatre, but it was a Miami-esque drama not meant to be repeated so soon after the original performance.

After all, one can't allow ALL the kids in the pool to sit on your head. Eventually, you'll get one hefty enough that you won't be able to simply pop your head back up through the water's surface whenever you like. On Day 8, that hefty kid was named Dominika.

Again, Cibulkova jumped on Azarenka from the start. She won the 1st set 6-2, and grabbed a 4-2 lead in the 2nd. It looked like a replay of Miami. But there, the Slovak had pulled off just enough to allow the Belarusian back into the match. Initially, she did the same thing here. A Cibulkova double-fault broke her own serve and put things back on serve at 4-3. At 4-4, Azarenka went up 30/15 on the Slovak's serve, but then dumped a second serve return backhand into the net and couldn't take the lead in the set. Finally, at 5-5, Vika broke to take a 6-5 lead. But after having a hard time consolidating her breaks in Miami -- she broke Cibulkova three times there in the final set, only to immediately give it back one game later on each occasion -- the same thing happened in Paris. Cibulkova broke to force a tie-break.

In Miami's 2nd set tie-break, Azarenka went up 6-3 and held on for dear life as Cibukova saved set point after set point before Vika finally claimed the set. In that battle, the Slovak had five times come within two points of winning the match, but never held a match point. In one of those five moments, Cibulkova had attempted to pass Azarenka at the net, only to barely miss on a winner that would have given her an elusive MP. In Paris, Cibulkova was intent on not allowing history to repeat itself.

After Azarenka had retrieved a drop shot, Cibulkova passed her to take a mini-break lead at 4-2. When an Azarenka forehand flew wide after a long rally, this time it was Cibulkova who led the tie-break by a 6-3 score. And this time she had two match points. On the first, the Belarusian slipped a passing shot by Cibulkova to extend the match. On #2, Cibulkova again executed a drop shot. Azarenka got to it, flipping it back over the net into the Slovak's backhand power zone. This time, Cibulkova passed a frozen Vika at the net, taking the match 6-2/7-6(4).

Somewhere, The Radwanska smiled with dark satisfaction.

This is Cibulkova's third career win over a reigning world #1. She had just a 47% 1st serve percentage, but managed to win 50% of her 2nd serve points. Azarenka won only 36% of her's. In the end, Cibulkova's aggressiveness closed the deal, not just on the final shot, but throughout the match. She had more winners (28) than errors (20), almost a prerequisite if a player is going to take down Azarenka these days, even a lesser version of the one that won in Melbourne four months ago.

In Miami, it was easy to attribute Vika's comeback to the fact that, while one could see volcanic activity taking place just under the surface, she was able to keep her frustrations under control and not explode and let loose with the histrionics common for the talented-but-too-on-the-edge version of herself. As if almost trying to shine a big, bright spotlight on her differences between now and then, there was Azarenka positively pulverizing a racket during one changeover today, then being noticeably bothered and complaining at another when the celebratory noise coming from the Cibulkova camp in the stands caused her nerves to fray.

Yep, that's "old" Vika, all right.

Afteward, in her post-match press conference, Azarenka was asked what she was going to do next. With her voice dripping with dark sarcasm, she blurted back, ""I'm going to kill myself." Meanwhile, now Sharapova only has to "just" (and it's no given, not with a potential SF match with Li or Kvitova possibly looming) reach the final to take away the Belarusian's #1 ranking.

So, as Day 9 beckons, as the most vocal critic of all things Radwanska, Sharapova should be smart enough to heed this one simple message: Be afraid. Be very afraid. Though you might want to (and everyone will now surely tell you that you shouldn't fret), Maria, don't say, "Don't worry. I got this."

Because, as you already know, THAT's precisely when The Radwanska will strike.


=DAY 8 NOTES=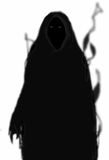 ...all over Day 8, after having seen such influence fade away on Day 7 (I guess we SHOULD have known), the "invisible hand" of The Radwanska was in evidence. Its appetite for upheaval seemed far from satiated. For a bit, in fact, it looked as if NO ONE was safe from Its wrath. Not the guilty. Not the innocent. Not even Novak and Roger.

As women's #1 Azarenka was losing, men's #1 Novak Djokovic was, as well. He dropped the first two sets to #22-seed Andreas Seppi. The Serb's 24-match slam winning streak looked in more-than-serious jeopardy, let alone his "NoleSlam" attempt. As Djokovic was fighting for his RG life, Roger Federer was going up against a "lucky loser," 21-year old, #109-ranked Belgian David Goffin, an avowed FedFan (as in, "I had your posters on my bedroom wall"). Surely, it'd normally be a mismatch. But not today. Goffin actually won the 1st set over his idol, and was tied at 5-5 in the 2nd. Suddenly, visions of Peter Doohan upsetting Boris Becker at Wimbledon in 1987 were flashing into the collective subconscious.

June 3rd seemed destined to be forever known not for Queen Elizabeth's Diamond Jubilee, but for the "St. Radwanska Day Massacre," a festival of tennis death that would be "celebrated" in all its gory details from here to eternity.

But before everyone at Roland Garros could begin to speak in forked, Polish-tinged tongues, the Tennis Gods said, "Enough is enough," and stepped in to save us all. It happened when the sun finally came out in the early afternoon, pushing aside the dark clouds that had lingered over Paris all morning. The TG's quickly put the craziness to rest as Djokovic claimed the 4th set to knot his match with Seppi, then cruised to a 4-6/6-7/6-3/7-5/6-3 victory, and Federer put away Goffin in four sets not long afterward, extending his ATP record streak of slam quarterfinal results to 32.

Finally, we could all take a breath again without looking over our shoulder to see if The Radwanska would steal our breath away before we could exhale. Well, until tomorrow, that is.

...Angelique Kerber, who was ranked outside the Top 100 at this point last year but will be firmly inside the Top 10 after this RG, advanced to her second slam QF in the last three events. A-Rad's doubles partner at this slam (aha, didn't think I'd forgotten about that, did you?), the German took out Petra Martic in straight sets. Meanwhile, in the other Round of 16 match, everything centered around the matter of experience.

Sam Stosur, 28, knows exactly where 19-year old Sloane Stephens finds herself -- living the life of a player looking for a big breakout slam performance who finds herself with an actual opportunity to pull it off, only to fall short by failing to win the match's biggest points when doing so could have put her in a commanding position. Stosur's been there before, and failed to take advantage of HER moment, just as Stephens did today. At 3-3 in the 1st set, a Stosur double-fault and error gave Stephens a break lead at 4-3. The American served for the set at 5-4, only to be broken. Down 6-5, Stephens double-faulted on set point and handed the match lead to Stosur. It was a huge opportunity lost.

Fighting through all sorts of tense situations against the likes of Maria Kirilenko and Nadia Petrova, and then successfully staring down Serena in the final, at last year's U.S. Open has served Stosur well at this Roland Garros. The other day, once more against Petrova, Stosur maneuvered her way past a sticky moment that, had she not held her nerve, might have turned the match in favor of her opponent. After finding a way to steady herself and avoid dropping the 1st set to Stephens, Stosur was once again called upon to use the experience gleaned from her recent big match success. She went up 5-1 and served for the match, only to be broken by Stephens. She then served at 5-3, saw a double-fault give Stephens a 40/love lead, and lost her serve again.

At that point, Stosur's anger with herself was apparent. She was putting about two quarts of extra mustard on some of her shots at the net, as if she was trying to LITERALLY pound a ball a couple inches into the terre battue (you know, like that Andy Roddick commercial from a few years ago). She wasn't playin' anymore. In a matter of seconds, she was up 40/love on Stephens' serve, grabbing the situation by the scruff of the neck just as she did in a potentially harrowing moment in her match with Petrova. Stosur broke serve to take the match 7-5/6-4, and now arguably now finds herself the favorite in the top half of the draw. She's the only ex-slam finalist left there. I guess she'll now have to call upon that experience yet again.

...after Stephen's loss, Varvara Lepchenko now has the chance to have the best result of any American, naturalized or otherwise, at this RG. Even if she ends up sharing the same 4th Round result with Stephens, it'll mark just the second time in the last twenty-three slams that, even with all their injuries and absences, that neither of the Williams Sisters at least shared the best result by any U.S. woman at a slam. The only other times it's happened -- since Shenay Perry was the surprise Last American Standing at Wimbledon in '06 -- was also at Roland Garros, just last year when Vania King and Bethanie Mattek-Sands were the last Bannerettes in the draw.

...with the quarterfinals now set in all doubles competition, two woman are still alive in both the singles and doubles: Sara Errani (Doubles, where she and Roberta Vinci have won 16 straight, and 24 in a row on clay) & Yaroslava Shvedova (w/ King). Three women are still in contention for TWO doubles titles: Kveta Peschke, Elena Vesnina and Nuria Llagostera-Vives.

...in junior play, the recent surge of results from players from Mexico continued. Marcela Zacarius, the teenager who got a win over Aravane Rezai in Acapulco back in February and led Team Mexico to an Americas Zone II win in Fed Cup play, today knocked off #3 Girls seed Elizaveta Kulichkova (RUS) in straight sets.

Also, another young German put up a result to take notice of, as Antonia Lottner defeated #4-seed Irina Khromacheva.

...LIKES FROM DAY 8:

-- that the Tennis Gods, aside from saving all our souls as the day wore on, also STILL have an amazing sense of humor. The Draw Gods Division has been working overtime at the slams this year.

Remember that Doubles QF in Melbourne in January? Liezel Huber refused to admit a ball double-bounced on her and Lisa Raymond's side of the court on Sania Mirza & Elena Vesnina's match point. The pair had already started to celebrate. Ultimately, Mirza and Vesnina converted on their eighth match point attempt. The whole thing elicited a not-out-of-character, Vesuvius-like response from Vesnina and, later, the parting words, "We won the match, like, twice!" as the Russian walked out of sight following an in-your-face confrontation with Huber. Later that AO, in the Mixed Doubles, Vesnina & Leander Paes took out Raymond & Rohan Bopanna in the QF, while Mirza & Mahesh Bhupathi knocked off Huber & Colin Fleming in the same round.

Well, here we go again. In the RG Mixed QF, Huber & Max Mirnyi will face Vesnina & Paes. And guess who's still alive in the other half of the Mixed Doubles draw. Yep, Mirza and Bhupathi, who could possibly be waiting for Huber down the road if both teams reach the final.

So, thanks again, Tennis Gods. You always have our best interests at heart.

...and, finally, why make a choice when you can have it all? At least that must have been Ian Eagle's thoughts today on Tennis Channel when it came to Djokovic's attempt at four straight slam titles. He called it a "NovakSlam," then a "DjokerSlam." Though I didn't hear it, I'm sure he probably called it a "NoleSlam," too. Trust me, I understand the difficulty here, as none are GREAT choices.

But, come on, in this game of "Djokovic Musical Chairs," you have to pick ONE seat when the music stops. It almost did for the Serb today. So, let's all do OUR part, too.


*WOMEN'S SINGLES ROUND OF 16*
#15 Dominika Cibulkova/SVK def. #1 Victoria Azarenka/BLR
#6 Samantha Stosur/AUS def. Sloane Stephens/USA
#21 Sara Errani/ITA def. #26 Svetlana Kuznetsova/RUS
#10 Angelique Kerber/GER def. Petra Martic/CRO
#7 Li Na/CHN vs. (Q) Yaroslava Shvedova/KAZ
Varvara Lepchenko/USA vs. #4 Petra Kvitova/CZE
#23 Kaia Kanepi/EST vs. Arantxa Rus/NED
Klara Zakopalova/CZE vs. #2 Maria Sharapova/RUS
*MEN'S SINGLES ROUND OF 16*
#1 Novak Djokovic/SRB def. #22 Andreas Seppi/ITA
#18 Stanislas Wawrinka/SUI vs. #5 Jo-Wilfried Tsonga/FRA
#3 Roger Federer/SUI def. (LL) David Goffin/BEL
#9 Juan Martin del Potro/ARG vs. #7 Tomas Berdych/CZE
#6 David Ferrer/ESP vs. #20 Marcel Granollers/ESP
#17 Richard Gasquet/FRA vs. #4 Andy Murray/GBR
#8 Janko Tipsarevic/SRB vs. #12 Nicolas Almagro/ESP
#13 Juan Monaco/ARG vs. #2 Rafael Nadal/ESP
*WOMEN'S DOUBLES QF*
#14 Gajdosova/Rodionova (AUS/AUS) vs. #12 Llagostera-Vives/Martinez-Sanchez (ESP/ESP)
#4 Errani/Vinci (ITA/ITA) vs. #6 Makarova/Vesnina (RUS/RUS)
#7 Kirilenko/Petrova (RUS/RUS) vs. #3 King/Shvedova (USA/KAZ)
#5 Hlavackova/Hradecka (CZE/CZE) vs. #2 Peschke/Srebotnik (CZE/SLO)
*MEN'S DOUBLES QF*
#1 Mirnyi/Nestor (BLR/CAN) vs. Ebden/Harrison (AUS/USA)
#14 Bracciali/Starace (ITA/ITA) vs. Dodig/M.Melo (CRO/BRA)
#10 Qureshi/Rojer (PAK/FRA) vs. #3 Llodra/Zimonjic (FRA/SRB)
Marach/Zeballos (POL/ARG) vs. #2 Bryan/Bryan (USA/USA)
*MIXED DOUBLES QF*
#1 Huber/Mirnyi (USA/BLR) vs. #5 Vesnina/Paes (RUS/IND)
Grandin/Hanley (RSA/AUS) vs. Jans-Ignacik/S.Gonzalez (POL/MEX)
Voskoboeva/Bracciali (KAZ/ITA) vs. Llagostera-Vives/Marach (ESP/POL)
#7 Mirza/Bhupathi (IND/IND) vs. #2 Peschke/M.Bryan (SLO/USA)




*RECENT BEST AMERICAN WOMEN'S SLAM RESULTS*




=2010=


WI: Serena Williams (W)
US: Venus Williams (SF)


=2011=


AO: Venus Williams (3rd)
RG: Vania King & Bethanie Mattek-Sands (3rd)
WI: Serena Williams (4th)
US: Serena Williams (RU)


=2012=


AO: Serena Williams (4th)
RG: Sloane Stephens (4th) & Varvara Lepchenko (to play 4th)





TOP QUALIFIER:

Kiki Bertens/NED




TOP EARLY-ROUND (1r-2r):

#2 Maria Sharapova/RUS




TOP MIDDLE-ROUND (3r-QF):

xx


TOP LATE-ROUND (SF-F):

xx


TOP QUALIFYING MATCH:

Q1: #1q Kiki Bertens/NED d. Annika Beck/GER 6-1/4-6/9-7




TOP EARLY-RD. MATCH (1r-2r):

1st Rd. - Virginie Razzano/FRA d. #5 Serena Williams/USA 4-6/7-6(5)/6-3




TOP MIDDLE-RD. MATCH (3r-QF):

xx


TOP LATE-RD. MATCH (SF-F/Jr.):

xx


=============================




FIRST WINNER:

#6 Samantha Stosur/AUS (def. Baltacha/GBR)




FIRST SEED OUT:

#30 Mona Barthel/GER (lost 1st Rd. to Lauren Davis/USA)




UPSET QUEENS:

United States




REVELATION LADIES:

France




NATION OF POOR SOULS:

Romania (1-5 in 1st Rd; A.Cadantu double-bageled & 18 total points)




LAST QUALIFIER STANDING:

Yaroslava Shvedova/KAZ (in 4th Rd.)




LAST WILD CARDS STANDING:

Claire Feuerstein/FRA, Melanie Oudin/USA & Irena Pavlovic/FRA (all 2nd Rd.)




LAST PASTRY STANDING:

Mathilde Johansson/FRA (3rd Rd.)




IT:

Nominee: A.Rus/NED, D.Cibulkova/SVK & V.Lepchenko/USA
MADEMOISELLE/MADAM OPPORTUNITY: xx


COMEBACK PLAYER:

Nominees: Spanish women, Y.Shvedova/KAZ & M.Sharapova/RUS


CRASH & BURN:

#5 Serena Williams/USA (lost 1st Rd. to Razzano/FRA; led 6-4 & 5-1 in 2nd set tie-break; was 46-0 in career slam 1st Rd. matches)




ZOMBIE QUEEN:

Nominee: #1 Azarenka (down 7-6/4-0, BPs for 5-0 to Brianti in 1st Rd.; avoided earliest exit ever by RG women's #1 seed)
JOIE DE VIVRE:

Virginie Razzano/FRA




DOUBLES STAR

Nominees: Errani/Vinci (ITA/ITA), Y.Shvedova/KAZ, K.Peschke/CZE, N.Llagostera-Vives/ESP & E.Vesnina/RUS


JUNIOR BREAKOUT:

xx





All for Day 8. More tomorrow.