Wk.20- Gods Only Know
All right. What exactly are the Tennis Gods trying to do to us?


For most of 2012, the WTA season felt new and refreshed. But it seemingly had some sort of orderliness to it. Petra Kvitova has simply refused to be dominant (unless she's wearing "CZE" on her sleeve), but Victoria Azarenka had utterly no problem with the prospect becoming a reality when it came to her. Right under the surface, The Radwanska lurked, with only Vika having the ability to defeat her. Italians (only with a "Sara" taking the lead rather than a "Francesca") loved the dirt, and then Serena Williams made it HER domain as well, rather it be colored green, blue or red. With Roland Garros approaching, the prospects of a series of top-flight performers all coming together for one two-week stretch made the possibilities seem endless.

And there came Rome. There, all the "order" of 2012 was splintered into a millions shards. Just a week before the start of play in Paris, too.

Many of the top players who showed up in Rome left without actually losing a match. Azarenka, Serena and Caroline Wozniacki all either retired or withdrew mid-tournament due to injury (real or imagined, as Maria Sharapova reminded us). Kvitova probably should have been on that list, but she played on after being injury, potentially putting a negative spin not only on her Parisian endeavors, but raising a possible future eyebrow about London, as well. Agnieszka Radwanska lost, but it wasn't Azarenka who put her down.

And then there was the women's final. There, the Tennis Gods seemed to revel in twisting the knife just a little bit more, causing the tour to not really be able to determine WHAT has happening. The crazy meeting between Sharapova, the '11 Rome champ, and Li Na, the '11 RG winner, included fireworks, helicopters, planes, sirens, cheering soccer fans and rain delays. But what was actually happening ON the court, though, was even nuttier.

Li, always known for her ability to slip in and out of potent play, reeled off six straight games to take a 6-4/4-0 lead, winning 21 of 27 points during one stretch. But the match was far from over. The Chinese vet double-faulted to break herself, and the battle for survival was on. An animated courtside session with her husband/coach followed, but so did another double-fault on game point in Game #9 of the 2nd set. Another came on break point, and Li found herself down a break at 5-4. In all, Sharapova followed Li's six-game run by an eight-game winning streak of her own. The Russian knotted the match, then took a 2-0 3rd set lead that soon turned into 4-1. She even held game point for 5-1, only to see Li break back to get to 4-2.

Then it was Sharapova's turn to suffer through a case of nerves and iffy play. She was clearly rattled as her play slipped and the rain became more and more steady on Sunday after a previously sun-filled week. Li broke again to get to 4-4, then a foreshadowing blink-and-you-missed it rain delay arrived at 5-5, 30/30. Once play resumed, down 6-5, Sharapova won a long, dragging-Li-from-side-to-side rally to avoid going down match point. As the rainfall started to become a downpour, umpire Kader Nouni offered the players an "out" to escape the becoming-slippery conditions, but both decided to play on. Then Sharapova missed on a high bouncing overhead attempt into the rain, and was forced to save a match point. Moments later, she double-faulted on her first attempt at securing a game point opportunity and forcing a deciding tie-break. But then Li slipped on the worsening court behind the baseline, and Nouni decided that the clay was going to have to be covered after one more point. Sharapova won it to hold for 6-6, and out came the tarp.

It would be two hours before the players returned to the court.

Sharapova quickly grabbed a 3-0 tie-break advantage, but Li bounced back to get back on serve at 4-3. A Li shot skidded off the baseline and Sharapova framed her shot. It was 5-5, and still more drama seemed fated. It never really came, though. Sharapova won the next point to get her first match point, then Li fired a shot wide to give Sharapova a 4-6/6-4/7-6(5) victory. After 2:52 of action, the actually five-hours-in-real-time contest resulted in a successful defense attempt of the Russian's '11 Rome title. The constantly-shifting nature of the contest was evident in the final stats, as the pair combined for 41 winners, but 115 errors.

Still, after surviving-with-a-smile, BOTH players might be able to now head to Paris claiming that fortune might be ready to smile on them. For Li, she'll return to the scene of her greatest career moment hoping to catch another, Schiavone-esque wave. Her chances seem better now than they did a week ago. For Sharapova, the attempt at a Career Grand Slam that failed one year ago might not be nearly as out-of-the-question as it might have seemed a few years back. With all her recent success on the dirt, suddenly, Sharapova is something of a clay court "specialist." Well, not really... but who's to say what the Tennis Gods have in their bag of tricks? Surely, it'd now be no shock to see Sharapova and Li meet up again in three weeks, perhaps with an even bigger title at stake.

Rome managed to raise new questions about some players, while answering a few about a couple of others. The result? Yet another post-La Petit Taureau version of Roland Garros which will begin without anything resembling a consensus choice for which player should be declared the true "favorite" to lift the Coupe Suzanne Lenglen. But I guess that's how it should be. After all, it's been the case in Paris for decades, as more than a third of the Roland Garros champions crowned in the past forty years have been first-time slam champions, including three of the past four.

And if last week was any indicator, yet another wild two weeks in Paris awaits. Gods willing, we should hope so.



*WEEK 20 CHAMPIONS*
ROME, ITALY (Premier $2.168m/RCO)


S:

Maria Sharapova/RUS def. Li Na/CHN 4-6/6-4/7-6(5)


D:

Errani/Vinci (ITA/ITA) d. Makarova/Vesnina (RUS/RUS)

PLAYER OF THE WEEK:
Maria Sharapova/RUS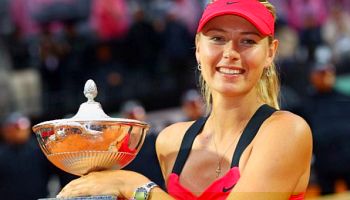 ...hmmm, maybe many of those long-held notions about Sharapova aren't as valid as they used to be? Formerly a "cow on ice" on clay, the Russian has worked very hard over the last few years to improve her footwork on the dirt. It's worked. Her win in Rome, her second red clay title of '12, makes her 5-0 in clay court finals in her career. Four of her last five titles have come on clay. Her last grass court title? That was all the way back in 2005. Rome wins over Christina McHale, Ana Ivanovic, Venus Williams (her first win over VW since 2007), Angelique Kerber and Li Na got her her 26th career title, exactly double the next highest total (Kuznetova's 13) by an active Russian woman. And as the season's second slam approaches this weekend, one has to think that world #1 Victoria Azarenka has Sharapova on her mind, too. And not just because the Russian questioned the seriousness of Vika's many "injuries," either. Azarenka only played one match in Rome, getting a win and 3rd Round points before withdrawing with a sore shoulder, and said afterward that she showed up and briefly played because she needed the ranking points. One of her eyes has to be on #2 Sharapova, who's now just 630 points behind and might have a shot to overtake her for #1 after Roland Garros with the right combination of results.


=============================




RISERS:

Sara Errani/Roberta Vinci (ITA/ITA) & Angelique Kerber/GER


...nobody beats Errani & Vinci on clay. Really... NOBODY. Not in a long time, anyway. The Italian duo won their tour-leading fifth 2012 title in Rome without dropping a set, taking out top-seeded Huber/Raymond in the semifinals, then defeating Makarova/Vesnina in the final (one week after outdistancing the Russian pair in the Madrid final). Overall, Errani & Vinci have won thirteen straight matches and three consecutive titles. But, on clay, they've become even more lethal opponents than that. Going back to last season, they're on a 25-match clay court winning streak. Kerber didn't win a title in Rome, but she continued to flex her muscles as 2012's best German player. Her sixth semifinal run of the season included wins over Vania King, Julia Goerges and Petra Kvitova, the latter of which being her sixth Top 10 victory of the season. Fittingly, Kerber today climbed into the Top 10 herself for the very first time, becoming the seventh German woman to do so in WTA history.


=============================




SURPRISES:

Margarita Gasparyan/RUS & Ana Sofia Sanchez/MEX


...this week's honors go to a pair of movers-and-shakers on the ITF circuit. Gasparyan, 17, has won more challenger titles than any other Hordette in '12, taking her third consecutive title (spread out over the last three months) this weekend in the Moscow $25K. After getting an earlier win over Olga Puchkova, Gasparyan took out Daria Gavrilova in the final by the exact same score -- 4-6/6-4/7-6 -- by which Sharapova won in Rome. Weird. Meanwhile, the unexpected march of the Mexicans continues, as 18-year old Sanchez claimed her second ITF crown of the season. She won the $10K event in Rosario, Argentina with a win in the final over Argentine Guadalupe Moreno.


=============================




VETERANS:

Venus Williams/USA & Flavia Pennetta/ITA


...Venus received a wild card entry into Rome, and she made good use of it. She got wins over Simona Halep (it was a bit easier affair than her win over the Romanian in Madrid), Ekaterina Makarova and '11 Rome runner-up Samantha Stosur en route to the quarterfinals. Williams isn't a likely contender in Paris, but, come on, we know anything Venus is doing right now is fine-tuning for her two trips to the All-England Club this summer. So far, so good, too. Meanwhile, Pennetta had a bittersweet week back home in Italy. She got good wins over Maria Kirilenko, Sloane Stephens and Petra Cetkovska (0 & 1) to reach the quarterfinals. It was enough to lift her back into the Top 20 for the first time since before the Australian Open (she's one of only three players -- with Kirilenko and Roberta Vinci -- ranked in the Top 20 in both singles and doubles), but her week ended with a retirement due to a wrist injury in her match with Serena Williams.


=============================




COMEBACK:

Li Na/CHN


...even before her run to the final in Rome, Li had quietly put together an 18-7 season record. But no one was talking about the '11 Roland Garros champion as a possible frontline contender in Paris for this season. With her best result since a singles final in Week 2, and her near-miss loss to Sharapova on Sunday, though, Li is back in the mix. Of course, where Li is concerned, maybe she'd have been in a better position if she'd remained under the radar for a while longer. Oh, well. I guess we'll soon find out. After Francesca Schiavone followed up her '10 RG title with a spot in the final a year later, maybe Li can follow in the Italian's footsteps. Of course, we are talking about Li. So who really knows?


=============================




FRESH FACES:

Donna Vekic/CRO & Lauren Davis/USA


...Vekic won her second ITF challenger title of the season at the $25K in Fergana, Uzbekistan. The Osijek-born (just like Jelena Dokic, by the way) 15-year old defeated Cagla Buyukakcay, Sabina Sharipova and Nadiya Kichenok in the final. Meanwhile, 18-year old Bannerette Davis managed to place herself into a WTA main draw based on performance for the first time, rather than through her previous wild card entries. In Strasbourg, she qualified with a trio of victories over Chang Kai-Chen, Caroline Garcia and Mandy Minella.


=============================




DOWN:

Jelena Jankovic/SRB & Agnieszka Radwanska/POL


...well, at least JJ still has November's Fed Cup final to look forward to. Since leading the Serbs into the FC final, though, Jankovic is STILL looking for her first follow-up match win. In Rome, she dropped a 1st Rounder to Sorana Cirstea in a 3rd set tie-break. Today in Brussels, she lost another 1st Round match in a 3rd set breaker to Simona Halep. Worse yet, last week's early exit, along with Pennetta's good pre-wrist injury performance, managed to drop Queen Chaos from Top 20 status. It ends JJ's tour-best string of 300 consecutive weeks in the Top 20. Marion Bartoli (259), welcome to the spotlight. The next longest current Top 20 streak? Radwanska's 223. Yet here she is, too. The Pole's longstanding 2012 I'll-take-out-anyone-but-Vika run finally ended in Rome after 36 matches, as she dropped her first non-Azarenka match to Petra Cetkovska despite holding a 4-1 lead in the 3rd. The loss, combined with her nursing of a sore back (and there's probably still that old shoulder injury, too), surely raises some red flags about A-Rad's chances in Paris, no matter how far away from Azarenka in the draw she might be. Radwanska, already sporting a not-anything-to-get-excited-about slam history, is also scheduled to play this week in Brussels. Even a win there wouldn't exactly be a great precursor to success in Paris, as (Azarenka in Oz excluded) it's now a super rare occasion for an eventual slam champ to also win a tour title the week leading into a major. Just ask a certain Dane (who won Brussels in '11, by the way). And, considering their friendship, Aga surely could.


=============================




ITF PLAYER:

Lucie Safarova/CZE


...taking a rare turn "off WTA book" in the $100K Prague challenger back in the Czech Republic, nearly-Top 20er Safarova (since I did it with JD, I'll mention that Safarova was born in Brno, just like Jana Novotna) claimed the singles title with wins over Alize Cornet, Ayumi Morita, Karolina Pliskova and countrywoman Klara Zakopalova in the final. Safarova has lost six straight tour singles finals over the last four seasons, including this year in Charleston, so this is her first singles title (WTA or ITF) since she won the tiny, now-defunct pre-U.S. Open Forest Hills event (which was actually only a $74,800 tournament) in 2008.


=============================




JUNIOR STAR:

Ana Konjuh/CRO


...the 14-year old Croat won her first career Grade 1 Girls event at the Santa Croce Sull'arno in Italy. The #102 junior reached the final without dropping a set, getting wins over #2-seed Montserrat Gonzalez and #6 Ilka Csoregi. In the decider, Konjuh faced off with #3-ranked junior Ashleigh Barty, the '11 Wimbledon Girls champ who was playing her first junior-level event of the season prior to heading to Paris, where she's received a wild card into the women's main draw. Barty, 16, won the 1st set, then retired after falling behind 5-2 in the 2nd, handing the title to Konjuh.


=============================






1. Rome Final - Sharapova d. Li
...4-6/6-4/7-6. Really, even with the sometimes-iffy play and conditions, we could do far worse (and often have, especially if a non-slam winning Hordette was involved) if we got a version of this one in Paris in a few weeks, preferably one round later than when the two met at RG a year ago. Grit, craziness and drama can make for a memorable big match, after all.


=============================


2. Rome 2nd Rd - Cetkovska d. A.Radwanska
...6-4/4-6/6-1. Make it 36-1 against everyone but Vika in 2012. Then again, Cetkovska is a sort of "mini-Azarenka" when it comes to A-Rad. Her career mark against her is 4-0.


=============================


3. Rome 2nd Rd - S.Williams d. Petrova 4-6/6-2/6-3
Rome SF - Li walkover S.Williams
...hmmm, was the three-setter against Nadia a sign that something was/will be bothering Serena? Her withdrawal in the semis with a lower back injury at least put a finger on an issue. Williams will still head to Paris having won her last seventeen clay court matches, but she was on a similar hard court run heading into the U.S. Open last summer and it didn't translate to a title. Something always seems to eventually bedevil Serena in Paris. But she's only won there once (ten years ago), and reached at least the semis one other time (2003). Here's to thinking that this relatively minor-seeming blip probably foreshadows something once again, as the prospect of not wanting to jeopardize her double dose of action at the All-England Club might play on her mind.


=============================


4. Rome 2nd Rd - Medina-Garrigues d. Wozniacki
...6-4/4-0 ret. This time it was a respiratory illness that preceded Wozniacki's latest defeat, and slipping yet another spot in the rankings to #9.


=============================


5. Rome 3rd Rd - Cibulkova walkover Azarenka
...15 the easy way. Or, at least this would have been the Slovak's 15th win of the season if the WTA actually counted walkovers as "wins." Either way, Azarenka's exit with a "shoulder injury" robbed us of a rematch of that "26 the Hard Way" win by Vika over Cibulkova from earlier this season. As things stand, Azarenka will still be the eighth consecutive different woman to be seeded #1 at Roland Garros (go ahead, see if you can remember all eight), and tenth in the last twelve years. (The answer is in the Lists section.)


=============================


6. Rome QF - Kerber d. Kvitova
...7-6/1-6/6-1. Despite an abdominal injury, Kvitova played on and lost. She didn't crack wise about being only 20% of herself afterward, but there DOES come a time when a player has to make the selfish decision between being "sporting" to an opponent and taking "unnecessary risk" a week before a slam (and barely a month before a slam title defense attempt). If Kvitova's injury lingers in Paris and beyond, she'll have done HERSELF a disservice.


=============================


7. $25K Caserta ITA Final - Bianca Botto/PER d. Alexandra Krunic/SRB
...6-1/6-0. Even though Serbian Girl Wonder Krunic got spanked pretty thoroughly by qualifier Botto, this is still the best singles result by any member of the Serb FC team since the upset of the Russians in Moscow.


=============================


8. $25K Casablanca MAR Final - Parra-Santonja/ESP d. Savchuk/UKR
...6-4/6-1. Parra-Santonja defeated both Olga Savchuk and Renata Voracova en route to the singles title. But Savchuk & Voracova pooled their resources and joined Parra-Santonja in the winner's circle, taking the doubles crown. No word about whether the duo mugged the Spaniard after the trophy ceremony and stole her winner's check, though.


=============================


9. $50K Saint-Gaudens FRA SF - Duque-Marino/COL d. Rezai/FRA
...6-1/7-6. The events get smaller, but Rezai's results don't get any less disappointing.


=============================


10. Strasbourg 1st - Parmentier d. #1 Lisicki
...6-4/6-4. Lisicki has been the Invisible German in 2012.


=============================


HM- Brussels Q3 - Mirza d. Tsurenko
...6-0/6-0. Please, Sania. Don't hurt her!


=============================






1. $25K Fergana QF - Nadiya Kichenok/UKR d. Lyudmyla Kichenok/UKR
...3-3 ret. The twins didn't whine, Radwanska-style, about having to play each other. Of course, they didn't finish the match, either.


=============================


2. $25K Fergana Doubles F - Kichenok/Kichenok (UKR/UKR) d. Khabibulina/Vasylyeva (UZB/UKR)
...6-4/6-1. The Kichenoks then set things right and won their 6th career title as a duo. In the end, it alleviated the burn that Nadiya felt after losing in the singles final, too.


=============================


3. $100K Prague Doubles 1st Rd - Cornet/Razzano (FRA/FRA) d. Pliskova/Pliskova (CZE/CZE)
...6-2/4-6/10-8. The path to the doubles crown went through the Pliskovas, as the all-Pastry entry went on to win the title.


=============================


HM- $100K Prague 1st Rd - U.Radwanska/POL d. Kr.Pliskova/CZE
...6-3/6-3. The same couldn't be said for the singles, though, as U-Rad DIDN'T go on to take the title.


=============================








**LONGEST ACTIVE TOP 20 STREAKS**


259 weeks...Marion Bartoli, FRA
223 weeks...Agnieszka Radwanska, POL
211 weeks...Victoria Azarenka, BLR
196 weeks...Caroline Wozniacki, DEN



**2012 WTA FINALS**


6...Victoria Azarenka (4-2)
5...MARIA SHARAPOVA (2-3)
3...Sara Errani (3-0)



**2012 WTA SF**


6...Victoria Azarenka (6-0)
6...Agnieszka Radwanska (2-4)
6...ANGELIQUE KERBER (2-4)
5...MARIA SHARAPOVA (5-0)
4...Sara Errani (3-1)



**GERMANS IN WTA TOP 10**




[by year first reached]


1981...Sylvia Hanika
1981...Bettina Bunge
1984...Claudia Kohde-Kilsch
1985...Steffi Graf
1992...Anke Huber
2011...Andrea Petkovic
2012...Angelique Kerber



**CAREER WTA TITLES - ACTIVE**


43...Venus Williams, USA
41...Serena Williams, USA
41...Kim Clijsters, BEL
26...MARIA SHARAPOVA, RUS
18...Caroline Wozniacki, DEN



**CONSECUTIVE SEASONS w/ 2+ WTA TITLES - ACTIVE**


6...Serena Williams, 2007-12
4...Victoria Azarenka, 2009-12
3...MARIA SHARAPOVA, 2010-12
2...Agnieszka Radwanska, 2011-12
--
NOTE: Caroline Wozniacki has won 2+ four straight seasons (2008-11), but has won no titles in '12



**MOST TIER I/$2m+ PREMIER TITLES**




[all-time]


31...Martina Navratilova
30...Steffi Graf
17...Martina Hingis
12...Serena Williams *
11...Chris Evert
11...Lindsay Davenport
11...Gabriela Sabatini
10...Justine Henin
10...MARIA SHARAPOVA *


[active]


12...Serena Williams, USA
10...MARIA SHARAPOVA, RUS
8...Venus Williams, USA
7...Kim Clijsters, BEL
6...Jelena Jankovic, SRB



**2012 ITF TITLES - NORTH AMERICANS**


3...Grace Min, USA
2...Eugenie Bouchard, CAN (Wk.20 winner)
2...Jennifer Elie, USA
2...Heidi El Tabakh, CAN
2...Nicole Melichar, USA
2...Ana Sofia Sanchez, MEX (Wk.20 winner)



**ROLAND GARROS #1 SEEDS SINCE 2001**


2001 Martina Hingis, SUI
2002 Jennifer Capriati, USA
2003 Serena Williams, USA
2004 Justine Henin-Hardenne, BEL
2005 Lindsay Davenport, USA
2006 Amelie Mauresmo, FRA
2007 Justine Henin, BEL
2008 Maria Sharapova, RUS
2009 Dinara Safina, RUS
2010 Serena Williams, USA
2011 Caroline Wozniacki, DEN
2012 Victoria Azarenka, BLR





BRUSSELS, BELGIUM (Premier $637K/red clay outdoor)
11 Final: Wozniacki d. Peng
11 Doubles Champions: Hlavackova/Voskoboeva
12 Top Seeds: A.Radwanska/Bartoli
=============================


=SF=


#8 Kanepi d. #1 A.Radwanska
#2 Bartoli d. #4 Cibulkova


=FINAL=


#8 Kanepi d. #2 Bartoli

...I'm banking on A-Rad "somehow" finding a way to not have to play this entire tournament. Thing is, her not-scary draw might make it difficult. She might get an "out" in the semis, though, so I'll pick her to bow out and get herself to France at that point. Maybe Bartoil can get some momentum heading into Roland Garros?



STRASBOURG, FRANCE (Int'l $220K/red clay outdoor)
11 Final: Petkovic d. Bartoli
11 Doubles Champions: Amanmuradova/Chuang
12 Top Seeds: Lisicki/Schiavone
=============================


=SF=


#5 Barthel d. #4 Medina-Garrigues
#6 Erakovic d. #2 Schiavone


=FINAL=


#5 Barthel d. #6 Erakovic

...Schiavone desperately needs to get something going heading into her year-after-the-year-after trip to Paris. Lisicki has already been dumped out, but I'll go with Barthel to keep the title in the German "family" following Petkovic's '11 win.




ALSO:

ROLAND GARROS QUALIFYING




Meanwhile, Carl (are those some of his relatives in the '12 RG poster art?) is protesting this week and has decided not to provide us with his picks for Week 21. I suspect he's pouting because I told him I wasn't going to have him do a "Bare Bones Backspin" this weekend because of the messed-up -- my words -- early start on Sunday for Roland Garros. So, while the Week 21 recap this weekend will be "bare," it won't be "boned"... or something like that.

Anyway, I suspect Carl is just revving up to try to smite me with this Roland Garros picks (which will come in the RG Preview, before the rollout of RG's Daily Backspin after Sunday's Day 1 action), as he did email me a gloating message about how both Carla's and my Rome picks exited the draw with "injuries," while HIS pick came from a 6-4/4-0 hole and match point down to win the title. I figure he thinks he had something to do with all that. Of course, who knows what's going on behind the scenes after matches and during rain delays. Maybe Carl DOES wield a little more influence than we'd like to imagine.

After all, the ability to squish is a powerful thing.


All for now.