Wk.21- Bare (but-not-Boned) Backspin
No Carl. Just the facts.
*WEEK 21 CHAMPIONS*
BRUSSELS, BELGIUM (Premier $637K/RCO)


S:

Agnieszka Radwanska/POL def. Simona Halep/ROU 7-5/6-0


D:

Mattek-Sands/Mirza (USA/IND) d. Rosolska/J.Zheng (POL/CHN)
STRASBOURG, FRANCE (Int'l $220K/RCO)


S:

Francesca Schiavone/ITA def. Alize Cornet/FRA 6-4/6-4


D:

Govortsova/Jans-Ignacik (BLR/POL) d. Grandin/Uhlirova (RSA/CZE)

PLAYER OF THE WEEK:
Agnieszka Radwanska/POL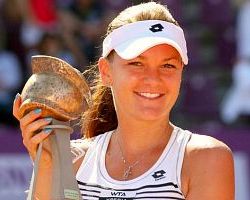 ...no Vika? No problem. Unlike with, say, Schiavone, who really NEEDED to get herself going by playing the week before the start of RG, one can argue whether Brussels will hurt or help Radwanska. But, nevertheless, she won the title, edging herself closer to #1 Azarenka and #2 Sharapova. If she doesn't do well in Paris, at least she'll be able to say that. This was her tenth career title, but, more impressively, it was her sixth title since she turned her career around after Wimbledon and surged to that title in Carlsbad last August. So, who's the only woman with more titles than Radwanska since then? Aha! Trick question. NO woman has won more often than she has over the last ten months.


=============================




RISER:

Simona Halep/ROU


...Halep is getting herself into finals, but she's having a hard time taking that next step. Her final run in Brussels -- after wins over Jankovic, Niculescu, Cibulkova and Arvidsson -- makes this the third straight season she's gotten to within one victory of her maiden tour title. But, after losing to Radwanska, she's now 0-3 in her attempts to get it.


=============================




SURPRISES:

Urszula Radwanska/POL & Alexandra Panova/RUS


...A-Rad won the title in Brussels, but U-Rad had some nice moments, too. She qualified (defeating Alexa Glatch, who then went on to qualify for RG), then knocked off Lepchenko and Bartoli to reach the QF. Meanwhile, in Strasbourg, Panova qualified, then notched even bigger wins over Barthel and Hradecka to get to the final eight.


=============================




VETERAN:

Francesca Schiavone/ITA



...I noted last week that Francesca was seemingly desperate to get something going before Roland Garros. She came to Strasbourg with a 8-14 record on the season, and was just 2-10 in her last twelve matches. It looked like she might be -- and how awful would this be? -- irrelevant in Paris this time around after back-to-back runs to the final and that memorable win two seasons ago. Hmmm, maybe she caught the whiff of Paris in Strasbourg and it's changed everything? Whatever it was, the Italian was five matches last week, and her title has now made her a legit topic of discussion for RG. So, we'll likely get to hear her gush all over again about how much she loves the season's second slam for at least a few rounds. She has a right to do it. Her career has essentially revolved around Roland Garros the last two years. This was her fifth career title, but her first since winning RG in 2010. She also hadn't reached a final since doing so in Paris in 2011. This story COULD get much more interesting VERY soon.


=============================




COMEBACKS:

Alize Cornet/FRA & Pauline Parmentier/FRA


...a pair of Pastries, both having slipped back into the bottom half of the Top 100, turned back the clock last week in France, to 2008. Hmmm, 2008... will this bode well over the next two weeks for a certain Russian, who hasn't won a slam since that season? Anyway, Cornet got a wild card into the Strasbourg draw, and ran off wins over Govortsova, Peer, Medina-Garrigues and (yes) countrywoman Parmentier to reach her first tour final in four years (it was also the season she won her only WTA singles title). Parmentier, with wins over Lisicki, Foretz-Gacon and Panova, reached her first tour SF since that same '08 season. That year, she won the second of her two career titles and climbed to a career-best ranking of #40.


=============================




FRESH FACES:

Sloane Stephens/USA & Alison van Uytvanck/BEL


...two teenaged NextGen stars set new career achievement bars last week. Stephens, with Strasbourg wins over Kirilenko, Babos and Morita, reached her first tour semifinal. In Brussels, wild card Waffle van Uytvanck reached her first tour QF after getting wins over the likes of Pervak and Scheepers. The two victories were twice the number of career WTA main draw wins the Belgian had before arriving in Brussels last week. AVU's only other win came one year ago, also in Brussels, when she upset Patty Schnyder. It turned out to be the penultimate match of the Swiss vet's career, as she retired after her next event. As it is, though, van Uytvanck WAS the last player against whom Schnyder ever won a set.


=============================




DOWN:

Marion Bartoli/FRA


...a year ago, Bartoli rode a wave of emotion (and non-stop movement) to the Roland Garros semis. It wasn't exactly an expected run of success. But if she does it again over the next two weeks, though, now THAT will be shocking. Her opening match loss to U-Rad in Brussels means she's now lost four straight matches, and won just one match during the EuroClay season this spring.


=============================




ITF PLAYER:

Lyudmyla Kichenok/UKR


...the Kichenkok sisters have finally won a 2012 ITF singles title. After Nadiya had gone 0-2 in finals this season, Lyudmyla claimed the $25K challenger in Astana with a win in the final over Brit Lisa Whybourne.


=============================




AMATEUR STAR:

Lauren Embree/USA (Univ. of Florida)


...20-year old Florida native Embree, playing for the Gators, was named Most Outstanding Player as Florida defended its NCAA Women's Team Championship with a win in the final over top-seeded UCLA. For the second straight year, it was Embree who provided the title-clinching point.


=============================






1. Stras Final - Schiavone d. Cornet
...6-4/6-4. Francesca wins in France. Hmmm... that sounds familiar.


=============================


2. Bruss Final - A.Radwanska d. Halep
...7-5/6-0. Make it 40-1 against everyone but Vika in 2012.


=============================


3. Bruss SF - A.Radwanska d. Kanepi
...7-6/6-3. One wonders how much Brussels took out of Radwanska, especially if she goes up against Venus in the 2nd Round in Paris. Here, Kanepi was up two breaks in the 1st set, and held set point.


=============================


4. Bruss Q3 - Mirza d. Tsurenko 6-0/6-0
Bruss 2nd Rd - A.Radwanska d. Tsurenko 6-1/6-0
...Tsurenko made the draw as a Lucky Loser, and actually lasted longer than the woman -- Mirza -- who beat her in qualifying. But, still, taking two lopsided losses like this in a matter of a few days can't do much good for the pysche.


=============================


5. Bruss Doubles Final - Mattek-Sands/Mirza d. Rosolska/J.Zheng
...6-3/6-2. Bethanie and Sania have won together in doubles once before -- back in 2007.


=============================


HM- Stras Doubles Final - Govortsova/Jans-Ignacik d. Grandin/Uhlirova
...6-7/6-3/10-3. After going 0-10 in tour doubles finals, Grandin (w/ Uhlirova) finally won her first title late last year in Seoul. Well, let a new streak begin. She's now 1-11.


=============================






1. Brussels 2nd Rd - Urszula Radwanska d. Marion Bartoli
...6-4/6-2. A-Rad was the #1 seed, with Bartoli #2. So, U-Rad was as far away from her sister as possible in the main draw. So, no complaints from Agnieszka.


=============================


2. NCAA Women's 1st Rd - Sabina Santamaria (USC) d. Chelsey Gullickson (Ga.)
...6-3/6-2. Chelsey, Carly's sister, was the 2010 NCAA Women's champ.


=============================


3. $25K Astana 2nd Rd - Lisa Whybourne/GBR d. Nadiya Kichenok/UKR
...3-6/6-4/3-2 ret.. No worries as, as is strangely often the case, one sister eventually got revenge on the player who knocked out her sibling. Lyudmyla took down Whybourne in the final. Of note, the previous week it was Lyudmyla who retired in a singles match against Nadiya... so maybe SHE'LL win her first ITF singles title of the season next week?


=============================








**2012 WTA TITLES**


4...Victoria Azarenka, BLR
3...AGNIESZKA RADWANSKA, POL
3...Sara Errani, ITA
2...Maria Sharapova, RUS
2...Serena Williams, USA
2...Angelique Kerber, GER
2...Kaia Kanepi, EST



**WTA TITLES SINCE AUGUST 2011**




[since Radwanska won Carlsbad in Week 31]


6...AGNIESZKA RADWANSKA, POL
5...Victoria Azarenka, BLR
4...Serena Williams, USA
3...Maria Sharapova, RUS
3...Sara Errani, ITA



**WORST RECORDS IN FINALS SINCE 2009**


0-6...Elena Vesnina, RUS
0-5...Lucie Safarova, CZE
0-3...SIMONA HALEP, ROU
0-3...Lucie Hradecka, CZE
0-3...Maria Kirilenko, RUS
0-3...Carla Suarez-Navarro, ESP



**OLDEST 2012 CHAMPIONS**


31y,11m,1wk - FRANCESCA SCHIAVONE, ITA (Strasbourg)
30y,7m,3w - Serena Williams, USA (Madrid)
30y,6m,2w - Serena Williams, USA (Charleston)
28y,9m,3w Daniela Hantuchova, SVK (Pattaya)
28y,6m - Zheng Jie, CHN (Auckland)
28y,1w - Sofia Arvidsson, SWE (Memphis)



**2012 - TOP SEED WON TITLE**


Doha - Victoria Azarenka, BLR
Indian Wells - Victoria Azarenka, BLR
Budapest - Sara Errani, ITA
Brussels - AGNIESZKA RADWANSKA, POL



**2012 ITF TITLES**


4...Ana Savic, CRO
4...ANNA SCHMIEDLOVA, SVK (Wk.21 winner)
4...Maryna Zanevska, UKR


All for now. RG tomorrow.