Great Golden Scot!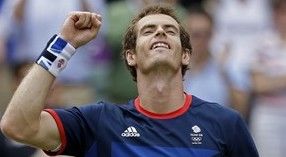 Every Scot has his day. William Wallace. Sean Connery. Heck, even Ewan "Obi-Wan" McGregor. Well, for Andy Murray, that day came on the 5th of August in the year 2012, in London.
For now, anyway.


Before the start of the Olympic Gold Match in men's singles, the Centre Court roof was opened after a rainy morning at SW19. But Roger Federer, looking to claim the only major singles title missing from his lengthy career resume, has never before looked quite the way he did today on that hallowed tennis ground. For the most part, he was a shadow of his usual self, so recently made "great" again by his exploits at Wimbledon last month.

But, to be fair, Andy Murray has never quite looked the way he has over the past week, either.

As part of the huge British Olympic team, playing in a (technically) non-Wimbledon event, for once, the entire world was never on Murray's shoulders every time he stepped onto a court at the All-England Club this week. With so many others assuming at least some of the burden usually heaped upon only him during (normally) the most important fortnight of the British sports year, the Scot was a virtual "face in the crowd." A very recognizable one, for sure. But, still, a face among many sporting the host nation's colors. His new status served him well throughout this Olympic event, and that was especially so in the final. Against Federer, as he has throughout in an atmosphere he's admitted is more "like a concert than a tennis match," Murray showed not a hint of nerves, nor all the emotional barnacles that have annually prevented him from being at his best in the biggest moments during slam season.

With Federer a notch below normal, and perhaps mentally and physically still fatigued from his marathon semifinal win over Juan Martin del Potro, and Murray at least one notch above and with a boisterous crowd on his side, the Gold Medal Match, except for a few tense moments, played out like the (partial) cleansing of the collective British tennis soul after nearly eighty years of male tennis stars (when there have been any that could be called as such, that is) coming up well short of success on the lawns of London.

After having much difficulty converting break points (2-of-13) against del Potro, but winning anyway, Federer's semifinal demons came home to roost against Murray. The signs were there right out of the gate, as Federer failed to put away two break points in the first game of the match. Murray held, avoiding a slow start. In a seeming blink of an eye, the Scot broke Federer for a 4-2 lead and took the opening set at 6-2. In the 2nd set, Murray got a break for a 2-0 lead after back-to-back net cord bounces went his way. The first caused a ball to fall short and out of the reach of Federer, while the second skipped over the Swiss #1's racket at the net, where he'd been positioned for an easy put-away volley.

In Game #3, Federer, already 0-for-6 in break point attempts found his way to two more. He converted neither. Murray held for a 3-0 lead and, after the match, admitted that that was where he knew he could win. He took the 2nd set at 6-1, then went up a break at 3-2 in the 3rd. While Murray had broken Federer's serve, such a big weapon all week in London (especially during the 36-game final set vs. del Potro), five times, Federer was 0-for-9 in BP attempts. In Game #7, Federer saved two break points to hold for 3-4, but it was no where near enough to allow him to get a foothold in the match.

At 5-4, Murray served an ace to get to match point, then put away another ace to seal a 6-2/6-1/6-4 win, making him the first man to win tennis singles Gold on home soil since Andre Agassi in 1996. And while Fred Perry still looms as a spectre over British men's tennis, Josiah Ritchie no longer does. Murray is the first Brit to claim Olympic singles Gold since Edith Hannam's women's indoor win in 1912, but he's the first British man to do it since Ritchie in 1908. Well, at least he is until (if-and-when) Scotland manages to successfully complete its desired secession from Great Britain, I guess... but that's a wonderfully strange discussion for another day, isn't it? I mean, would Murray still be as much of a "favored son" if his place of origin was no longer, actually, British? Stay tuned.

After his win, Murray performed the regular post-final ritual of climbing into the stands to the Players Box. But as he did, a number of odd occurrences went up there with him. Aussie Pat Cash was the player who began the annual series of treks following his win in the 1987 Wimbledon final. Murray was born in that same year, and wasn't even two months old when Cash set the tone for every champion that would follow. And guess who it was that Cash defeated in that '87 final -- Ivan Lendl, Murray's coach. Wimbledon was the only slam the great Czech champion never won. Coincidental, yes. But still a little spooky on this day.





It's with that knowledge that it seems good and right to mention what happened as Murray was leaving the stands. It was then that a breathless little boy rushed up to the edge of the wall behind Murray and called out to him. Murray turned and gave him a hug. As the Scot headed back to the court, the boy ran back to his seat, still breathless, but now filled to the brim with a memory he'll never forget. Hopefully, somebody got his name... you know, just in case that moment lives on in British tennis history for more than one reason a couple of decades down the road. One never knows. Future grand slam champions have been inspired to greatness by far less.

So, does Murray's Gold run wipe away all his past inabilities to win on the grand slam stage? Well, in a word, no. But it surely lessens the overwhelming weight of expectation that four times a season pulls the Scot below the surface. Specifically, it gives him time, extending the grace period before his lack of a slam title effectively serves to define his career. A Gold Medal is a great accomplishment, but it's no grand slam. The Olympics, as Murray has learned over the past week, is no where near the same pressure-cooker that a major is. One just need look at the incredible joy on the faces of the third-place finishers to know that something is very different here. And, remember, Elena Dementieva defeated Serena Williams en route to her Gold Medal in '08, and didn't do it while enjoying the distinct home court advantage that the Scot had in London. Did that win totally change the perception of the Russian as a player, and of her entire career? A teeny tiny bit, but not in any game-changing sort of way. She still didn't win the BIG prize, and neither has Murray.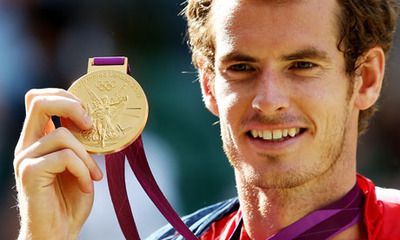 For him, the most important thing to watch will be to see what he does with this accomplishment from this day forward. Following on the heels of an appearance in the Wimbledon final that showed he COULD overcome much in the most difficult two weeks of his season, this victory over Federer on the very same court is another huge step toward his ultimate goals. While Murray may have apparently made comments before the Games about a Gold Medal being "bigger" than a slam, I think it was a good sign that immediately after the match Murray wasn't following along the it's-easy-to-say-if-you-only-have-one line of Dementieva from four years ago, when she said winning the Gold was better than taking a grand slam would ever be. He didn't take the bait offered him by John McEnroe on NBC to say such a thing. Instead, Murray said this was surely the biggest win of his career, but then talked about his goal of winning a U.S. Open crown. Lendl finally seems to be getting through to Murray. After some growing pains, the budding mindset of a player who could become a true champion seems to have taken hold.

I'll admit that Murray's work this week has torn down some of the walls that a certain Backspinner has put up between himself and the Scot. My main issue with him has always been about his inability -- and sometimes stubborn unwillingness -- to do what was necessary to reach his potential. With his work on the grass over the past month or so, he's made great strides toward taking care of that. Hey, if I can come to a "truce" with Kim Clijsters, doing so with Murray is a no-brainer, who's never bent over backwards to be beloved like the aforementioned Belgian did throughout her first career (sorry, old habits die hard, I suppose -- at least for a little while longer). But the work toward world peace with the Scot has only just begun. But it IS now possible.

Now, for the most important question coming from this Olympic men's tennis event: Where can I get me a pair of those Team GB wristbands that Murray has been wearing? Those things are awesome!





...also incredibly impressive today was Juan Martin del Potro. Two days after that potentially-destructive 4:26, 19-17 final set loss to Federer, it would have been natural for him to have a big letdown (see Anastasia Myskina in '04) and walk away with no hardware. But, instead, he took out Novak Djokovic 7-5/6-4. Mind you, if you look at all the stats -- save one important one -- you'd think the Serb must have won his second consecutive Olympic Bronze in singles. Djokovic hit more winners (28-21) and aces (10-5), was fairly even in unforced errors (15-13) and had a better 1st serve win percentage (74%-64%). But Djokovic was 0-for-6 on break point attempts, while del Potro was 2-for-6. And that was the match.

As great as this event might be for Murray, it might be even bigger for del Potro. He's already proven he can withstand the pressure of a slam, having won the U.S. Open in '09 at age 20. After wrist surgery, he's spent most of the past two years trying to rediscover his form. He'd find it in fits and starts, then fall back a step, then have to fight to get it back again. In London he looked as good as he's looked in three years, pounding those thundering groundstrokes that he used to take down both Federer and Nadal in Flushing Meadows. If he can maintain this form, the only men's champion not named Roger, Rafa or Novak in the last thirty slams could re-insert his name into the mix for majors come NYC.

...earlier in the day, under the Centre Court roof, Serena & Venus Williams defended their '08 Olympic Doubles Gold, defeating Andrea Hlavackova & Lucie Hradecka 6-4/6-4 to claim their fourth career overall Golds (a shared Olympic tennis record). The Sisters are still undefeated at 15-0 in their Olympic doubles career. Meanwhile, Serena becomes the first woman since Venus in '00 to sweep the singles and doubles at an Olympics.

In the Doubles Bronze match, Maria Kirilenko & Nadia Petrova defeated Liezel Huber & Lisa Raymond in three sets. It puts another bent in the already-disappointing summer for the top-ranked Americans, while Kirilenko deservedly gets something tangible -- an actual medal, rather than just memories -- to take home with her as a keepsake from her great week in London. Plus, it looked like Alex Ovechkin got a great deal of video captured on his phone of the post-match celebration... so there's that, too.

And, of course, what can I say other than... oh, Nadia! Third place never felt so good.

...a day after taking singles Bronze, Victoria Azarenka claimed Mixed Doubles Gold with Max Mirnyi. The Belarusians defeated Brits Murray and Laura Robson in a 10-8 3rd set tie-break. Thankfully, Murray already had one Gold in hand, so maybe the Brits at Wimbledon won't hold this against Vika next summer.

In the Mixed Bronze match, under the roof late in the day, Raymond bounced back to get her first career Olympic medal, as she and Mike Bryan (who got his third, and second at this Games) defeated Sabine Lisicki & Christopher Kas in a 10-4 3rd set tie-break.



*MOST OLYMPIC TENNIS MEDALS - since 1988*




[G-S-B]


4...Serena Williams, USA [4-0-0] *
4...Venus Williams, USA [4-0-0] *
4...Arantxa Sanchez-Vicario, ESP [0-2-2]
3...Fernando Gonzalez, CHI [2-1-0]
3...Mary Joe Fernandez, USA [2-0-1]
3...Steffi Graf, GER [1-1-1]
3...Mike Bryan, USA [1-0-2] *
3...Conchita Martinez, ESP [0-2-1]
3...Jana Novotna, CZE [0-2-1]

Oh, and another thing to keep an eye on over the next few years: Azarenka's Mixed Doubles Gold means she's three-fifths of the way to a Career Golden Mixed Slam, with titles at the U.S. Open and Roland Garros already in her column. With this Olympics' Mixed competition being the first at a Games since 1924, it's no real surprise that no player has ever accomplished that particular feat. Although, if Raymond (or Venus or Serena, if they'd entered) had won the Mixed Doubles Gold rather than Bronze, she could have become the first woman to do it.







*WOMEN'S SINGLES*




GOLD:

Serena Williams, USA




SILVER:

Maria Sharapova, RUS




BRONZE:

Victoria Azarenka, BLR


4th PLACE: Maria Kirilenko, RUS



*MEN'S SINGLES*




GOLD:

Andy Murray, GBR




SILVER:

Roger Federer, SUI




BRONZE:

Juan Martin del Potro, ARG


4th PLACE: Novak Djokovic, SRB



*WOMEN'S DOUBLES*




GOLD:

Williams/Williams, USA




SILVER:

Hlavackova/Hradecka, CZE




BRONZE:

Kirilenko/Petrova, RUS


4th PLACE: Huber/Raymond, USA



*MEN'S DOUBLES*




GOLD:

Bryan/Bryan, USA




SILVER:

Llodra/Tsonga, FRA




BRONZE:

Benneteau/Gasquet, FRA


4th PLACE: Ferrer/F.Lopez, ESP



*MIXED DOUBLES*




GOLD:

Azarenka/Mirnyi, BLR




SILVER:

Robson/Murray, GBR




BRONZE:

Raymond/M.Bryan, USA


4th PLACE: Lisicki/Kas, GER


All for now.