Wk.29- Picking up Hardware on All-Olympics Eve
The Olympics are almost here. I wonder if The Radwanska is counting down the days?


With London calling, not many of the top players were in action in Week 29. Sara Errani had been scheduled to go in the season's final clay court event in Bastad, but pulled out late with a shoulder injury. As a result, the only Top 10 player in action was Marion Bartoli -- who's not going to be participating in the Olympics -- in Carlsbad.

But I'm not going to write an opening for anything that happened in those two events, although very deserving winners picked up some hardware there. Instead, I'll just post one of Maria Jose Martinez-Sanchez's recent wedding photos, as she makes a very lovely bride. Who'd ever guess that that's the same person Serena was calling a "cheater" in Paris three years ago?




Now, onward with Week 29.



*WEEK 29 CHAMPIONS*
CARLSBAD, CALIFORNIA (Premier $740K/HCO)


S:

Dominika Cibulkova/SVK def. Marion Bartoli/FRA 6-1/7-5


D:

Kops-Jones/Spears (USA/USA) d. Petrova/King (RUS/USA)
BASTAD, SWEDEN (Int'l $220K/RCO)


S:

Polona Hercog/SLO def. Mathilde Johansson/FRA 0-6/6-4/7-5


D:

Castano/Duque-Marino (COL/COL) d. Hrdinova/Jugic-Salkic (CZE/BIH)

PLAYER OF THE WEEK:
Dominika Cibulkova/SVK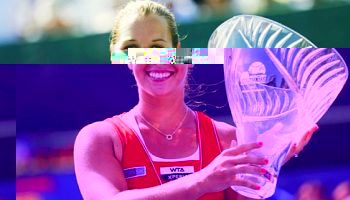 ...as 2012 began, there was some curiosity in this space about what Cibulkova's long-overdue maiden tour title in Moscow late last season might do for her confidence this year. So far, so good. She nearly ended Victoria Azarenka's long winning streak in Miami, then finally did beat the #1-ranked Belarusian at Roland Garros. This weekend in Carlsbad, Cibulkova got her second career title, never dropping a set en route and getting victories over Marina Erakovic, Urszula Radwanska, Nadia Petrova and Marion Bartoli. Up to #13 in the rankings, Cibulkova is now just one spot away from tying her career-high ranking (#12 in '09) and might be in the Top 10 by the end of the summer. Hmmm, could it be that the Slovak is actually immune to any sort of "Kuznetsova Curse," as I actually picked her for one of my season-ending Top 10er slots at the start of this season? Of course, maybe Cibulkova WAS immune, huh? Until I mentioned it.


=============================




RISERS:

Polona Hercog/SLO & Mathilde Johansson/FRA




...a year after claiming her first career tour title in Bastad, 21-year old Hercog defended the crown for WTA title #2. Wins over Alexandra Panova, Julia Goerges, Tsvetana Pironkova, Mona Barthel and Johansson allowed her to celebrate mightily on the court with a big bottle of champagne. Meanwhile, Johansson took advantage of the hole in the top half of the draw that was created by top seed Errani's absence. With her previous best '12 result being a SF result in Fes -- another good week after a fortunate start, as she was a lucky loser in Morocco -- MoJo knocked off Jill Craybas, Shahar Peer, Anastasia Pavlyuchenkova and Johanna Larsson. Mojo is now 0-2 in career finals. One interesting note: Johansson's semifinal win over Larsson prevented the Swede from making the '12 Bastad decider a rematch of the '11 final in which Hercog took out Larsson.


=============================




SURPRISES:

Chan Yung-Jan/TPE & Raquel Kops-Jones/Abigail Spears (USA/USA)


...when she was a teenager, Chan had nice success on the WTA tour. She reached the Top 50 back in '07, and made a tour final in Bangkok. But she came into Carlsbad ranked #161, and had to make it through qualifying. She did, then pulled off upsets of Yanina Wickmayer (who retired), Heather Watson and Jelena Jankovic to reach her first tour SF since 2008 in Strasbourg. She pushed Bartoli to three sets in the semi, too. The result bumped her ranking up to #115. Kops-Jones & Spears are far from the most publicized American doubles pair, but they're popping up in the latter stages of tournaments more and more these days. Both climbed into the Top 20 in doubles recently, and are threatening to qualifying for the WTA Championships doubles field (they're currently #5 in the race, with the top four teams qualifying). In Carlsbad, the veteran pair (RKJ is 29, and Spears 31) won their third -- and biggest -- title yet as a duo (but first in '12). They took down some pretty big trees along the way, too. As in Huber & Raymond in the semis, then King and Petrova in the final... two of the four teams that are currently ahead of them in the Race to the Championships standings.


=============================




VETERANS:

Marion Bartoli/FRA & Nadia Petrova/RUS


...only one of these players are going to the Olympics, but they had something in common this weekend -- neither went home with titles. Still, they had good weeks. Bartoli reached the Carlsbad singles final, her first since the Paris Indoors in Week 6. But it was wild, JJ-like ride getting there, as it included three long three-setters against Vania King, Christina McHale and Chan Yung-Jan, and another mid-match ejection (by Marion) of her parents from the stands. For her part, Petrova reached the singles semifinals (boosting her new ranking into the Top 20 at #19) and doubles final (she's now into the Top 10 at #9).


=============================




COMEBACKS:

Aravane Rezai/FRA & Mona Barthel/GER


...no, it is NOT a misprint. Rezai DID win a tournament this weekend. At the $50K challenger in Contrexville, France, the Pastry defeated Yvonne Meusburger in the final to claim her first singles title of any kind since winning the WTA event in Bastad in 2010. It's her first ITF win since 2007. Her five wins last week shaped up her season totals, as well, as she went from being under .500 for 2012 to a respectable 21-17. Barthel has been on an unfortunate slide lately, too. She came into Bastad on a six-match losing streak, and with a 1-7 mark in her last eight matches. A 1st Round win over Kiki Bertens broke the string, and she followed it up with victories over Kateryna Bondarenko and Sofia Arvidsson to reach her first SF since she won Hobart back in Week 2. As it turned out, everything is suddenly turning back in the Mona's favor, as Andrea Petkovic's continued injury woes means that Barthel will now be on the German team in London for the Olympics.


=============================




FRESH FACES:

Mallory Burdette/USA & Eugenie Bouchard/CAN


...Burdette, the Stanford Cardinal who recently reached the NCAA women's singles final and claimed the doubles championship honors, won her first professional event over the weekend. Claiming the $10K event in Evansville, Indiana, she handed Duan Ying-Ying (she'd been 4-0) her first loss in a '12 final. Although, the Chinese player DID end up being part of the team that defeated Burdette in the doubles final. Bouchard, the 18-year old who just became the first-ever Canadian junior slam winner at this year's Wimbledon, grabbed her third ITF title of the year in the $25K Granby event in Canada, triumphing over a Canadian-heavy field (which is actually a good thing these days) and getting wins over Sharon Fichman, Francoise Abanda, Alison Riske (USA), Julie Coin (FRA) and countrywoman Stephanie Dubois in the final.


=============================




DOWN:

Liezel Huber/Lisa Raymond (USA/USA) & Sloane Stephens/USA


...while they're still co-#1's in the doubles rankings, on and off court, Huber & Raymond haven't been coming out on top quite as much of late. The American pair's loss to Kops-Jones & Spears in the Carlsbad SF means that they've lost to a tournament's eventual title-winning duo at four straight events, and five of six. Meanwhile, THEY haven't won a title since Indian Wells in mid-March, a crown which was the duo's fourth straight back when they were dominating the 1Q of the season. Elsewhere, maybe Stephens should begin to wonder, from Twitter to promotional visits to air craft carriers and all sorts of other things, if she's spreading herself a little too thin. In Carlsbad, she was dumped out in the 1st Round by Melanie Oudin, who'd entered the draw as a lucky loser, despite holding two match points at 6-4 in a 2nd set tie-break. Stephens dropped four straight points to drop the TB 8-6, then lost the 3rd set at love. Such inability to close out matches has been dogging Stephens for a while now. She won't be playing in London next week, but maybe that's a good thing. The Olympics would offer still more distractions, and her 2-4 record in her last six matches is demanding a little some attention.


=============================




ITF PLAYER:

Maria-Teresa Torro-Flor/ESP


...Torro-Flor has been pretty lethal on the ITF circuit this year. Five times she's reached finals, and all five times she's won, giving her enough titles to currently be in a tie for the circuit lead this season. This weekend, in an all-Spaniard final, Torro-Flor defeated Garbine Muguruza (who, based on her WTA site bio, apparently is no longer attaching her mother's maiden name -- Blanco -- to her own) to win a $100K challenger in Bucharest. She also notched wins over Alexandra Cadantu, Lara Arruabbarena-Vecino, Raluca Olaru and Bibiane Schoofs.


=============================




JUNIOR STAR:

Danielle Collins/USA


...Collins, coming back after five months off due to "senior activities" in high school and knee tendinitis, ended Jamie Loeb's 31-match winning streak in the final of the USTA's Clay Court Championships in Memphis. Last year, the now 18-year old Collins lost in the semifinals of this event to Gaby Andrews, who went on to win the title. Badly cramping, Collins ended up having to go to the hospital. This year, Collins won her rematch with defending champ and #1-seeded Andrews, again, in the semis. Colette Lewis has a great recap of the final at Zoo Tennis.


=============================






1. Carlsbad Final - Cibulkova d. Bartoli
...6-1/7-5. With Cibulkova cruising to the final, and Bartoli having to work overtime -- multiple times -- to get there, this was a pretty predictable result.


=============================


2. Bastad Final - Hercog d. Johansson
...0-6/6-4/7-5. MoJo had sixteen double-faults.


=============================


3. Carlsbad 1st Rd - Oudin (LL) d. Stephens
...1-6/7-6/6-0. "Future Sloane" is not going to be happy about this one. But "Current Sloane" at least got to play tennis with Christina McHale on the deck of the USS Midway on this particular Cali trip. So there's that.


=============================


4. Carlsbad 1st Rd - Scheepers d. Vandeweghe
...6-2/7-6. Heavy weighs the almost-crown of a lucky loser... one week later.


=============================


5. Carlsbad Doubles SF - Kops-Jones/Spears d. Huber/Raymond
...7-5/4-6/14-12. And Elena Vesnina smiled.


=============================


HM- $10K Istanbul Final - Barak Eraydin/TUR d. Yuliya Kalabina/RUS
...6-3/6-0. The 18-year old Turk is tied for the ITF circuit lead with five titles in 2012.


=============================






1. Carlsbad 1st Rd - U.Radwanska d. Hantuchova
...6-4/7-5. Since she started to get dinged up, Hantuchova has gone six events without a QF-or-better result.


=============================


2. Carlsbad Doubles 1st Rd - Chan/Chan d. Mattek-Sands/Mirza
...5-7/6-4/10-5. While she and her sister eventually lost to Huber/Raymond, Chan Yung-Jan had more than just a singles presence in Carlsbad.


=============================


3. $50K Donetsk Doubles Final - Kichenok/Kichenok d. Ivakhenko/Kozlova
...6-2/7-5. For the second time in '12, Ivakhenko defeated Lyudmyla in singles, only to see her come back with her sister and defeat her in the doubles final. Ivakhenko has faced the sisters six times in singles and doubles this season, going 2-4.


=============================








**2012 SUCCESSFULLY DEFENDED TITLES**


Pattaya - Daniela Hantuchova, SVK
Rome - Maria Sharapova, RUS
Stanford - Serena Williams, USA
Bastad - POLONA HERCOG, SLO


[lost in final in defense attempt]


Sydney - Li Na, CHN
Copenhagen - Caroline Wozniacki, DEN



**WTA FINALS - since 2009**


25...Caroline Wozniacki (8/8/8/1 = 15-10)
18...Victoria Azarenka (3/4/5/6 = 12-6)
17...Maria Sharapova (2/5/4/6 = 8-9)
14...Serena Williams (4/3/3/4 = 10-4)
12...Vera Zvonareva (2/6/4/0 = 5-7)
10...Samantha Stosur (2/3/4/1 = 3-7)
10...Marion Bartoli (3/0/5/2 = 3-7)



**NATIONS WITH MULTIPLE 2012 CHAMPIONS**


2...Germany (Barthel & Kerber)
2...Italy (Errani & Schiavone)
2...Russia (Petrova & Sharapova)
2...SLOVAK REPUBLIC (Hantuchova & Cibulkova)
2...United States (S.Williams & Oudin)



**2012 WORST FINAL WIN PCT. - 2+ FINALS**


.000 - MARION BARTOLI (0-2)
.000 - Flavia Pennetta (0-2)
.000 - Li Na (0-2)
.000 - Yanina Wickmayer (0-2)



**LOW-RANKED 2012 SEMIFINALISTS**


#262 - Kirsten Flipkens/BEL - 's-Hertogenbosch (SF)
#208 - Melanie Oudin/USA - Birmingham (W)
#174 - Lara Arruabarrena-Vecino/ESP - Bogota (W)
#161 - CHAN YUNG-JAN/TPE - Carlsbad (SF)
#159 - Hsieh Su-Wei/TPE - Pattaya (SF)



**2012 ALL-UNSEEDED FINALS**


Brisbane - Kaia Kanepi/EST def. Daniela Hantuchova/SVK
Bogota - Lara Arruabarrena-Vecino/ESP def. Alexandra Panova/RUS
Memphis - Sofia Arvidsson/SWE def. Marina Erakovic/NZL
Monterrey - Timea Babos/HUN def. Alexandra Cadantu/ROU
Fes - Kiki Bertens/NED (Q) def. Laura Pous-Tio/ESP
BASTAD - Polona Hercog/SLO def. Mathilde Johansson/FRA



**2012 ITF TITLES - NORTH AMERICANS**


3...EUGENIE BOUCHARD, CAN
3...Grace Min, USA
2...Jennifer Elie, USA
2...Heidi El Tabakh, CAN
2...Nicole Melichar, USA
2...Ana Sofia Sanchez, MEX





BAKU, AZERBAIJAN (Int'l $220K/hard outdoor)
11 Final: Zvonareva d. Pervak
11 Doubles Champions: Koryttseva/Poutchek
12 Top Seeds: Pervak/Panova
=============================


=SF=


#1 Pervak d. #7 Amanmuradova
#6 Bratchikova d. #5 Jovanovski


=FINAL=


#1 Pervak d. #6 Bratchikova

...after picking Carlsbad correctly last week, Carl thinks picking this small pre-Olympic event is "beneath" him. But I'll go with Pervak, a RU here last year, finally becoming the first player representing Kazakhstan to lift a tour singles trophy.



London Olympics (grasscourt)
08 Gold/s: Dementieva d. Safina
08 Bronze/s: Zvonareva d. Li
08 Gold/d: Williams/Williams d. Medina-Garrigues/Ruano Pascual
08 Bronze/d: Yan/Zheng d. Bondarenko/Bondarenko
12 Top Seeds: Azarenka/A.Radwanska
=============================

...the Olympic draw won't be released until Thursday, with the week of action beginning on Saturday. I'll post a mini-preview later this week.


All for now.







UPCOMING:

Olympic Time Capsule