Wk.30- Where in the World is Bojana Jovanovski? (and other things we learned)
Treachery is eventually reciprocated...
even if you're The Radwanska.




*A FEW THINGS WE LEARNED OVER THE PAST WEEK*


While The Radwanska's powers are indeed lethal and to be respected, they are apparently no match for the "magic" of the Games. After reaching the Wimbledon final earlier this months, Aga didn't make it out of the 1st Round at the Olympics. Oh, well... at least she'll always have the opening ceremonies.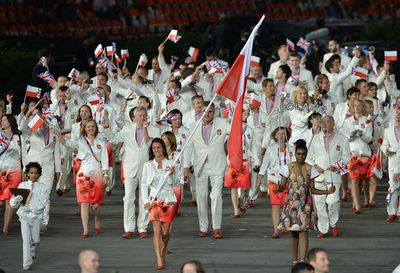 Agnieszka (with flag)... leading some of The Radwanska's Minions?




=============================


Tsvetana Pironkova has a very well-tuned sense of place


=============================


Tamira Paszek... maybe not as much


=============================


Aravane Rezai is -- so far -- curse-free (umm... oops?)


=============================


Bannerette success is apparently contagious


=============================


"Wrong-Way" Bojana Jovanovski, who famously showed up in Carlsbad, New Mexico for a tournament in Carlsbad, California last year, then was involved in a courtesy car fender-bender en route from her hotel to the tournament grounds earlier this season in Sydney, apparently CAN find Baku, Azerbaijan on a map, and show up on time, and without incident, bodily harm or embarrassing turn of events. Good for her... and look what happens when she can get all her proverbial ducks in order, too.


=============================


They can take Wimbledon (mostly) out of June (starting in 2015), but you can't take the rain out of London... not even in July, or during the Olympic tennis tournament


=============================



And that Olympic mascot is, well, rather strange-looking. But the Centre Court roof is divine. So it's something of a wash... even if The Radwanska might have a dissenting opinion.







*WEEK 30 CHAMPIONS*
BAKU, AZERBAIJAN (Int'l $220K/HCO)


S:

Bojana Jovanovski/SRB def. Julia Cohen/USA 6-3/6-1


D:

Buryachok/Solovieva (UKR/RUS) d. Birnerova/Brianti (CZE/ITA)

PLAYER OF THE WEEK:
Bojana Jovanovski/SRB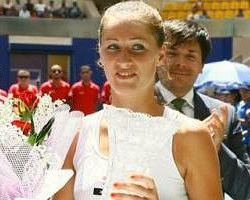 ...Backspin has been keeping an eye on Jovanovski for a couple of seasons now, reveling in predicting her first career QF, then SF in 2011. It was also great to see her, with the absence of AnaIvo and an injured JJ, put the Serbia Fed Cup team on her back last season and get the ball rolling toward what eventually became her nation's first-ever birth this year in the FC final. Naturally, I failed to include her in my preseason "first-time finalist" or "first-time champion" predictions for '12, after having done so last season, but I was surely still happy to see BoJo finally come through with those two career milestones this week in Baku. Of course, that doesn't mean I won't still have a little more fun with her directionally-challenged, transportation-wary traits -- hey, it's part of Backspin's wacky Serbian-related tradition. Coming in as the world #97, Jovanovski put up wins over Lesia Tsurenko, Valeria Solovieva, countrywoman Aleksandra Krunic, Alexandra Panova and Julia Cohen to win her first career tour title.


=============================




RISERS:

Tsvetana Pironkova/BUL & Julia Goerges/GER


...the 1st Round has yet to be completed at the London Olympics, but both Goerges and Pironkova surely made their presence felt this weekend. Pironkova, the former SW19 semifinalist who was denied a Top 32 seed and then drew the short straw last month at Wimbledon when she had to face Maria Sharapova early, didn't let her lack of a seed trip her up this time. Even with all the color on the walls and on either side of the net at the All-England Club, Pironkova didn't forget where she was. It was still Wimbledon, and Pironkova is better there than she is anywhere else. Pity poor #12 seed Dominika Cibulkova, hot off her Carlsbad title, who was unlucky enough to draw -- and lost to -- the Bulgarian in the 1st Round. One day later, Julia Goerges took her first steps ever onto Centre Court. Facing off there with #2 seed and Wimbledon runner-up Agnieszka Radwanska, the German took it to the Pole, never letting her alter ego get a foothold in the battle. Racking up over twenty aces, she out-hit A-Rad and put her out of the tournament. Her win opens up the bottom quarter of the draw for a potentially unseeded semifinalist who might, at the very least, get a shot to play for a Bronze Medal. Of course, #6 seed Petra Kvitova is still the favorite to reach the semis from that section of the draw, but if she has can't pull herself out of her next set-long, then big-point funk (which she did in HER 1st Rounder against Kateryna Bondarenko after dropping the 2nd set, then failing to serve out the match in her first opportunity in the 3rd) the door would swing WIDE open. In fact, these two might end up meeting in the QF to fight for that semifinal berth.


=============================




SURPRISE:

Valeria Solovieva/RUS


...the "Pocket Hordette," 19, had a career week in Baku. In singles, the world #225 qualified and got a main draw win over Olga Savchuk. But it was in doubles that Solovieva made her mark, teaming with Ukraine's Irina Buryachok to claim her first career tour doubles crown. It was 26-year old Buryachok's first career title, as well.


=============================




VETERAN:

Severine Beltrame/FRA


...the 32-year old Pastry won her second ITF title of the season in Les Contamines-Montjoie, France, defeating Croatia's Tereza Mrdeza in the final to claim the $25K challenger. The last time Beltrame won two ITF titles in a single season was 2003.


=============================




COMEBACK:

Olga Puchkova/RUS


...back when she was a teen sensation, Puchkova was a face to watch. Sure, her status was partly self-anointed, but there was also some talent there, too. She reached two tour finals in '06 in Kolkata (losing to Hingis) and Quebec City (double-bageled by Bartoli... ouch), and climbed as high as #32 in the rankings in '07. Now 24, and with a ranking of #174, Puchkova went to Baku and put up her best WTA result since that loss in Canada nearly six years ago, reaching the semifinals after knocking off Akgul Amanmuradova, Alberta Brianti and Mandy Minella.


=============================




FRESH FACES:

Julia Cohen/USA & Aleksandra Krunic/SRB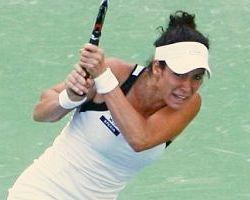 ...Cohen, at 23, might be a tad over-aged for a "Fresh Face" award, but the world #134 has come a long way, so who am I to deny her? After previously having gone 0-for-34 in her attempts to qualifying for tour events before finally breaking through in February, Baku was only Cohen's third main draw WTA event. And the five-time ITF champion made the most of it, outlasting top-seeded Ksenia Pervak in the 1st Round (the Kazakh was carried off on a stretcher due to heat exhaustion), then following up with victories over Alla Kudryavtseva, Magdalena Rybarikova and Olga Puchkova en route to, naturally, her first career tour final. Meanwhile, Krunic, 19, who's come up big in important doubles matches for the Serbian Fed Cup team the past two years, made some music on her own in the same Baku event. After getting through qualifying, she got wins over Andrea Hlavackova and Laura Pous-Tio to reach her first career tour QF.


=============================




DOWN:

Agnieszka Radwanska/POL & Ksenia Pervak/KAZ


...maybe The Radwanska tried to bully a few too many Tennis Gods this summer? If so, They surely got back at It -- at Aga's expense -- on Sunday. In something of a match with a very PRE-Rad look to it, Aga was out-hit by Goerges under the Centre Court roof, and just committed too many (21) errors than she could find a way to overcome. Not that she didn't have a chance as, at 4-4 in the 3rd, she was one point away from getting the chance to serve for the match. But Goerges played the biggest points better. Needless to say, although carrying the flag in the opening ceremonies will be a great memory, A-Rad probably won't call THIS week in London the "best" in her life. But, hey, at least the lives of a few more innocent melons will now be spared. In Baku, Pervak came in as the #1 seed one year after having reached the final. Unfortunately, she ended up suffering from heat illness in her first match and exited in a very Lisicki-like way... on a stretcher. Thus, the wait for the first WTA champion representing Kazakhstan (whether she was born there or, as in most cases, wasn't) continues.


=============================




ITF PLAYER:

Maria-Teresa Torro-Flor/ESP


...Torro-Flor continues to cut a wide swatch through the ITF in '12. Her win in Olomouc, Czech Republic gives her back-to-back $100K challenger titles, and her 6-0 record in season finals leads the circuit. In Olomouc, MTTF took out Barbora Zahlavova-Strycova, Elena Bovina, Tatjana Malek, Yvonne Meusburger and Alexandra Cadantu (who she also beat en route to her other $100K win in Bucharest) in the final. After neglecting to give the Spaniard an "ITF Player of the Week" award for much of this season, she's now convinced me to hand her the honor three times in the past five weeks.


=============================




JUNIOR STAR:

Petra Uberalova/SVK


...at the European Junior Championships in Switzerland, the 17-year old Slovak upset #1-seeded Margarita Gasparyan (RUS) and then knocked off Turkey's Basek Eraydin (5-0 in ITF challengers finals this season) to take the title.


=============================






1. Olympics 1st Rd. - Cornet d. Paszek
...7-6/6-4. This grass court season, Paszek went 0-2, then 9-0, then 0-2. The Tennis Gods just think they are SOOOOO clever. Which they are, of course.


=============================


2. Baku 1st Rd. - Cohen d. Pervak
...6-4/3-6/3-2 ret. I picked Pervak to win the title in Baku last week. Sorry, Ksenia.


=============================


3. Olympics 1st Rd. - Suarez-Navarro d. Stosur
...3-6/7-5/10-8. At Wimbledon, Stosur said that she felt a little better on grass than she had in her previous unsuccessful forays at Wimbledon. That notion may have swung back the other way after this weekend.


=============================


4. Baku QF - Jovanovski d. Krunic
...5-7/7-6/6-3. Don't worry, BoJo and the Serbian Girl Wonder will be back to being on the same side in the Czech Republic in a few months. Speaking of...


=============================


5. Olympics 1st Rd. - S.Williams d. Jankovic
...6-3/6-1. JJ still has that Fed Cup final on her long-range radar. And for most of the last few months, it's a good thing, too. Really, though... this draw was just "unfair."


=============================


6. Baku Final - Jovanovski d. Cohen
...6-3/6-1. Cohen is the third first-time American finalist this season, after there'd been just one (Mattek in '08) in the previous five seasons. BoJo is the eighth first-time tour champion in '12, after there were just six in the entire 2011 season.


=============================


7. Olympics 1st Rd. - Pironkova d. Cibulkova
...7-6/6-2. Tsvetana was no Tamira this weekend. New grass or not, it was still Wimbledon grass.


=============================


8. College Park Q: Aravane Rezai d. Tornado Alicia Black
...6-1/6-2. The Opinionated Pasty's good times continue. Maybe she'll even get the chance to offer up some opinions, too. Quick, Aravane -- shouldn't the D.C. area WTA event be part of the U.S. Open Series, just like this week's ATP event nearby?


=============================


9. $100K Astana KAZ Final - Maria Joao Koehler/POR d. Marta Sirotkina/RUS
...7-5/6-2. The 19-year old from Portugal gets her first ITF title since 2009, and by far her biggest yet. After two previous $10K wins, she skipped over those "meaningless" $15K, $25K, $50K and $75K events.


=============================


10. $25K Wrexham GBR Final - Carina Witthoeft/GER d. Donna Vekic/CRO
...6-2/6-7/6-2. In an all-NextGen match-up, the 17-year old takes down the 16-year old.


=============================


HM- $10 Palic SRB Final - Victoria Kan/RUS d. Doroteja Eric/SRB
...6-1/6-4. The 16-year old Uzbeki-born Hordette grabs her second challenger title of 2012.


=============================






1. Olympics 1st Rd. - U.Radwanska d. Barthel
...6-4/6-3. Maybe Ula used up all that was left of the Radwanska "juice" at the All-England Club for his summer, considering what happened on Day 2 (and #2). Of course, U-Rad gets Serena next.


=============================


2. Olympics 1st Rd. - Goerges d. A.Radwanska
...7-5/6-7/6-4. During Bravo's coverage, Rennae Stubbs went all Backspinner on us, talking about the vast difference between off-court Aga and on-court Radwanska. She's almost "bipolar," she said. Between the lines, A-Rad has a "machine-like personality," described Stubbs, adding, "She's a little killer." Awwwl, Stubbsy... I think I love you. Thanks for that.


=============================


3. $10K Bad Waltersdorf AUT - Julia Mayr/ITA d. Zuzana Zalabska/CZE
...6-3/6-3. And in the semifinals, Julia defeated Reka-Luca Jani. (Altogether now, with pep.) "Reka-Luca Jani! Reka-Luca Jani! Reka-Luca Jani! Ah, that feels so good.


=============================








**2012 FINALS w/ TWO TITLE-LESS PLAYERS**


Bogota - Lara Arruabarrena-Vecino/ESP def. Alexandra Panova/RUS
Monterrey - Timea Babos/HUN def. Alexandra Cadantu/ROU
Kuala Lumpur - Hsieh Su-Wei/TPE def. Petra Martic/CRO
Fes - Kiki Bertens/NED def. Laura Pous-Tio/ESP
BAKU - BOJANA JOVANOVSKI/SRB def. JULIA COHEN/USA



**LOW-RANKED FINALISTS IN 2012**


#208 Melanie Oudin, USA - Birmingham (def. Jankovic)
#174 Lara Arruabarrena-Vecino, ESP - Bogota (def. Panova)
#149 Kiki Bertens, NED - Fes (def. Pous-Tio)
#134 JULIA COHEN, USA - Baku (lost to Jovanovski)
#124 Hsieh Su-Wei, TPE - Kuala Lumpur (def. Martic)
#120 Coco Vandweghe, USA - Stanford (lost to S.Williams)



**2012 SEMIFINALISTS - BY NATION**


16...RUSSIA
14...Italy
11...Germany
10...France
9...Poland, Romania, UNITED STATES



**LOW-RANKED 2012 SEMIFINALISTS**


#262 - Kirsten Flipkens/BEL - 's-Hertogenbosch (SF)
#208 - Melanie Oudin/USA - Birmingham (W)
#174 - Lara Arruabarrena-Vecino/ESP - Bogota (W)
#174 - OLGA PUCHKOVA/RUS - Baku (SF)
#161 - Chan Yung-Jan/TPE - Carlsbad (SF)
#159 - Hsieh Su-Wei/TPE - Pattaya (SF)





COLLEGE PARK, MARYLAND (Int'l $220K/hard outdoor)
11 Final: Petrova d. Peer
11 Doubles Champions: Mirza/Shvedova
12 Top Seeds: Pavlyuchenkova/Scheepers
=============================


=SF=


#7/WC Vandeweghe d. Jovanovski
#3 Stephens d. #5 Zahlavova-Strycova


=FINAL=


#7/WC Vandeweghe d. #3 Stephens

..."Future Sloane" keeps sending me messages to pick her to do well. So far, either I'm hearing her wrong or she's a secret minion of The Radwanska. Either way, I'll go with two Bannerettes to continue the American momentum.





London Olympics (grass/Wimbledon)



...the Olympic mixed doubles draw won't be released until Tuesday. I figure the pick will be a team with a Williams on it.


All for now.







THIS WEEK:

Olympic Time Capsule