The Big Sis & the Copycat: A Documentary
Sometimes a "copycat" is so good that she ends up being viewed as an absolute "original." And, make no bones about it, there have never been two tennis personalities nearly as original as Venus and Serena Williams. In fact, the only player that really compares to either is her sister. No other players in the game could be the subject of a feature-length movie, of which the Sisters are in the new film "Venus and Serena." Yet, even when a full viewing of the just-available documentary is complete, one can't help but anxiously anticipate what will be included one day in the SEQUEL to this latest original. Let the countdown begin.


This isn't meant to be any sort of traditional movie review. Anyway, I think you can pretty well guess a great deal of what you get in "Venus and Serena" -- examples of the life-long interdependent relationship of the Sisters, including Serena's admittance of only really playing tennis in the first place because she wanted to "copycat" her beloved big sis, as well as old archival footage of training with their father Richard Williams on a Compton, California court, the story of their unlikely-but-now-hard-to-imagine-not-happening rise, Richard's seemingly far-out claims that turned out, in retrospect, to have actually been understatements (something the Williams patriarch has never been accused of, I'm sure), as not only both rose to #1 and won slams, but have taken their rightful place in the pantheon of all-time greats as they've revolutionized the women's game and proceeded to inspire female (and male) athletes around the world in ways still felt today, and in ways still yet to be felt.

As Venus and Serena play into their late thirties -- and they say they intend to -- who knows what will come next?

The filmmakers' cameras followed the Williams family during 2011 season. You remember it, right? It was the same year that Serena found herself hospitalized (we see gurney-side footage) with a potentally life-threatening blood clot and embolism, AND Venus went public with her struggle with the autoimmune disease Sjogren's Syndrome (we see her meet with doctors at U.S. Open and declare her intention to withdrawal from the tournament). Oh, yeah, and 2011 was also the season in which Serena's post-hospitalization comeback found her reaching the final of the U.S. Open, losing to Sam Stosur, as well as losing her cool with the chair umpire two years after she'd threatened to shove a ball down the throat of a lineswoman after being charged with a foot fault during the '09 U.S. Open final.

Needless to say, it was an eventful year in a pair of historic careers. As a result, the doc -- released in theaters in May, but available for viewing now on iTunes and On Demand -- is really a must-see not just for Williams fans, but the followers of women's tennis, and sports, in general. It's hard to imagine someone like Roger Federer or Rafael Nadal offering up such up-close views of their lives off the court, so any unique look at the behind-the-scenes lives of all-time greats can't help but be fascinating, even if you always know that the Sisters always know the cameras are there. Well, except for maybe when Serena upbraids hitting partner Sascha Bajin for not preparing her correctly following a difficult U.S. Open win over Victoria Azarenka, then reacts badly when he jokes with Ana Ivanovic by asking the Serb when she's going to hire him (she calls him an "a**hole" and passive-aggressively tosses a racket face full of tennis balls onto his side of court before a hitting session).

Recently, there were problems between the Sisters and filmmakers over how Richard was portrayed, including talk of his many other children, some of which, apparently, neither Serena nor Venus even know about, and mother Oracene Price's blunt advice -- "run" -- to Richard's new wife. But the Sisters are supporting the film now, so I suspect either things were toned down in the final edit, or they came to the conclusion that showing a few family warts needn't be a deal breaker. As it is, the film has some interesting moments involving Richard outside of the not-really-relevant "other family" sidetrack, including the scar on his shin and how the story behind it possibly helps to understand not only the Sisters' decade-long boycott of the Indian Wells event after booing and racist epithets greeted Serena on court in the final following Venus' withdrawal from the event the day before (which had been declared to be all Richard's doing in tabloidy newspaper headlines), but also the Williams father's intention to never be put down or "in his place" again. Of course, such a mindset might also have something to do with the total lack of any speck of credit the family seems to give pro coach Rich Macci for his work, begun at Richard's request, with Venus and Serena during their formulative years prior to turning pro. As things are shown in the doc, Richard eventually gets annoyed by all the cameras and appears less and less as the chronological tale moves along.

As with any documentary, there are certain moments that stand out, and that's the case with "Venus and Serena," too. A few:



* -

My favorite moment in the entire doc is probably the one in which Oracene politely answers a reporter's way-too-seriously-toned questions about grunting, and then walks away afterward, grumbling to herself about "goddamn questions about stupid grunting." Ah, as usual, she's great! But there are other memorable moments, too.



* -

Serena talking about how a single forehand return of a Martina Hingis serve in the '99 U.S. Open final set the tone for her entire career



* -

Venus admitting to learning something as she watched that final from the stands, her stoic face wrapped in a hoodie, as her little sister became a slam champion before she did... and how Serena reverted back to her previous "student/younger sibling" role by learning from her big sister as Venus racked up multiple slams while she searched for a few seasons for slam #2



* -

Before going out on court, Serena grabbing Oracene's hand, kissing it and saying, "I love you." Then Oracene giving her a suspicious look, and saying, "You'd BETTER love me." Oh, I love Oracene, too!



* -

Serena dancing in the rain



* -

Serena pole dancing (in training -- get your mind out of the gutter, haha) and becoming a big fan of karaoke when she was house-ridden for two weeks after her hospitalization, as well as her welling up with tears when she finally got the okay from her doctor to resume playing tennis, a prelude to the oft-emotional responses she's had in winning moments ever since. And this comes from a woman who says she "hates to lose more than she loves to win."



* -

Serena's "multiple personalities," including "Psycho Serena," who's such a beastly competitor on the courts; "Summer Diaz," who moved to England and has the accent to prove it; "Megan," who's mean and most definitely someone you don't want to play tetherball with; and of course, Teqwanda, who's rough and tough and "from the hood," and who Serena now says made a much-publicized appearance in that '09 U.S. Open final when she threatened to feed a tennis ball to that lineswoman.

The footage of her tirade in that match includes comments from John McEnroe, who believes that Serena maybe even topped HIS legendarily "bad behavior" on that night. And, needless to say, video of an 11-year old Serena expressing her desire to be like McEnroe, including admitting to "maybe" one day acting like him on the court, is more than a bit prophetic. Later we hear a bit of the "private" conversation Mac had with Serena behind a closed rest room door in which he tried to get her to apologize for her actions in the '11 U.S. final in which she accused chair umpire Eva Asderaki of being "unattractive on the inside." For the record, while she refused to apologize ("taking the Malcolm X approach") Serena IS embarrassed by that comment, but it's because it made her sound "like a nerd."



* -

And, of course, on a "selfish" note, I couldn't help but chuckle when, after that '11 match with Azarenka, Oracene compliments the Belarusian's "moxie." As always, Oracene tells it like it is.

By the end of the film, we get Venus talking about the Sisters' desire to continue to have "untraditional careers," expressing a plan to continue to play doubles even after they aren't good enough to win in singles anymore. Hmmm, maybe those age-related records that a nearly-50 year old Martina Navratilova set a few years back AREN'T as safe as they once seemed certain to be? We shall see.

Really, though, why should Venus and Serena's tennis future be any different from their tennis past? While it's one of those let's-choose-not-to-think-about-it aspects about women's tennis, the idea of a WTA without any trace of the Sisters seems a reality so foreign at this point that it feels like a bad April Fool's Day joke. Putting it off for as long as possible seems like a pretty good idea. And maybe, just maybe, that dreaded day is a lot farther down the road than we've ever imagined.

Yeah, if we're lucky. Of course, with Venus and Serena, "lucky" has very rarely had anything to do it.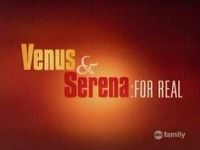 Of course, "behind-the-scenes" access is nothing new for the Sisters, if you remember their short-lived "Venus & Serena: For Real" reality series on ABC Family back in 2005. It was really there where we first got to see some of the sister-to-sister (between V&S, of course, but also their other siblings) interaction that we'd never know about before. Oh, and that series was also where Oracene's no-sugarcoating-anything approach was glimpsed -- winning me over for, well, forever -- and we were introduced to Jackie. The dog, not the Williams sister... though she was in there, too.

Anyway, at least I saw it all as great fun back then.

Here are the links to the editions of Backspin that included my episode recaps of the "For Real" series (Ha! I knew I'd use those things EVENTUALLY -- it just took eight years!):

Episode 1
Episode 2
Episode 3
Episode 4
Episodes 5 & 6


All for now.