W.4- The Radwanska Cometh... and Wimbledon Cowers in Fear

They've only been playing matches for four days in southwest London but, don't worry, it's all right if you feel a bit "battle-tired" after all the mayhem and chaos that have occurred under the watchful eye of You Know What.


Here's a recap of some of what's happened:






=EARLY-ROUND AWARDS - 1st/2nd Rounds (Days 1-4)=




**TOP PLAYERS**


1.

Serena Williams, USA


...dominant, as expected. Sure, The Rad lurks in the shadows... but we're talking about Serena at Wimbledon, and the Alter Ego surely knows what that means. Right?


=============================


2.

Agnieszka Radwanska, POL


...while The Rad distracts, Aga wins, accepts Andy Murray's compliments and waits to see if the entity clears a path for her to the Ladies final. But has the Alter Ego used up so much of Its energies creating havoc elsewhere that It might not be able to help Its namesake as much as during last year's final run?


=============================


3.

Sabine Lisicki, GER


...Sabine should just marry the All-England Club and get it over with.


=============================


4.

Tsvetana Pironkova, BUL


...as of now, the Monster Movie Special -- "The Radwanska vs. The Pironkova" -- is still scheduled for the Round of 16.


=============================


5.

Li Na, CHN


...other than Sara Errani, Li was the easy pre-tournament pick for the highest seed most likely to lose early. But she easily took out grass court proficient Michaella Krajicek, and then ended Simona Halep's eleven match winning streak.


=============================


HM-

Samantha Stosur, AUS


...of course, this won't last for long, considering Sammy will surely soon realize that this is only the second time EVER that she's reached the SW19 3rd Round. And that will be that.


=============================




"The whole day has been bizarre. I don't know what's going on."

-

Sloane Stephens, one of the few top players to survive the Radwanskian massacre that occurred on Day 3, which saw seven former WTA/ATP singles #1's exit, and seven matches decided by a walkover or mid-match retirement



RISERS:

Ekaterina Makarova, RUS & Laura Robson, GBR


...the top-ranked Hordette still standing in the draw, and the only British woman who won. At all.


SURPRISES:

Eva Birnerova, CZE & Vesna Dolonc, SRB


...the qualifier is the least-known of the Czech Maidens, while "Serbian Bad Luck Charm" Dolonc lived up to her moniker, proving to be the bane of countrywoman Jelena Jankovic's Wimbledon existence in a 2nd Round upset on Black Wednesday.


VETERANS:

Kimiko Date-Krumm, JPN & Marion Bartoli, FRA


...KDK, at 42, is the oldest to reach the Wimbledon 3rd Round in the Open era, while La Trufflette could be poised to inherit the desolate landscape left behind by The Rad's evil whimsy in the bottom half of the draw.


COMEBACKS:

Petra Cetkovska, CZE & Flavia Pennetta, ITA


...if Kvitova takes another dive, Cetkovka might be the "Only Petra" rather than the "Other" one. Sure, it took a walkover from Vika to get there, but Flavia now stands one victory away from her best slam result since 2011.


FRESH FACES

Michelle Larcher de Brito, POR & the North American/Atlantic youngsters




...whatever the 20-year old Portuguese qualifier does from here on out, her place in Wimbledon lore is now secure. Meanwhile, the names of the likes of Sloane Stephens, Madison Keys, Monica Puig and Eugenie Bouchard are becoming more and more familiar for more than a few days at the slams. Keys, in her Wimbledon debut, is next up on the "Save the World" docket against A-Rad in the 3rd Round.


DOWN:

The Hordettes


...none of the Top 5-ranked Russians -- Maria Sharapova, Maria Kirilenko, Nadia Petrova, Anastasia Pavlyuchenkova and Elena Vesnina -- lasted beyond the 2nd Round.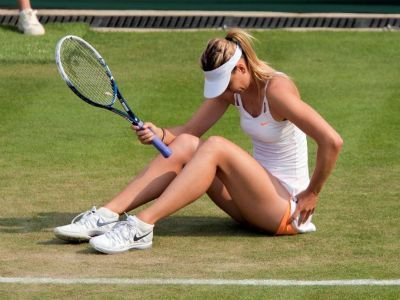 "I don't think I've even fallen three times in a match before in my career, so that was a little strange."

- Maria Sharapova. Hmmm, not really.




Love/Love...

"Zombie Queen" Eugenie Bouchard, the '12 Wimbledon Girls champ, managed to avoid the carnage of the early rounds, overcoming a 7-5/5-4 deficit, with opponent Galina Voskoboeva serving, in the 1st Round


=============================




Love/15...

Serena Williams' current winning streak is now at thirty-three matches, tying her for fourteenth on the all-time single-season WTA list with Chris Evert, who put together three separate streaks in 1975, 1981 and 1982. To get to the 13th spot, Serena will need two more wins, giving her a thirty-five match run that would equal her sister Venus' streak in 2000.


=============================






Love/30...

if you looked at the draw before the tournament and were told that ONE woman would be wearing Google Glass on court, the odds were likely pretty good that you'd have said it'd be Bethanie Mattek-Sands. And, of course, it was.


=============================




15/30...

the "Revelation Ladies" -- a combination-entry of the Aussies and Kiwis -- are still undefeated at this Wimbledon. Of course, the only Aussie in the draw to begin with was Stosur, who has matched her career-best 3rd Round result at SW19 from 2009; while New Zealander Marina Erakovic, also the only woman from her country, has reached her third Wimbledon Final 32 in four appearances in the main draw.


=============================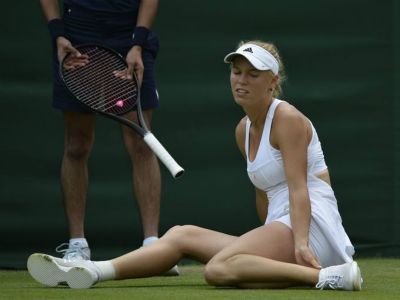 15/40...

the five former WTA #1's whose Wimbledons ended on Day 3: Victoria Azarenka, Maria Sharapova, Caroline Wozniacki, Ana Ivanovic and Jelena Jankovic (and the ATP's Roger Federer and Lleyton Hewitt made it seven).


=============================




30/40...

Anabel Medina-Garrigues. Now 0-for-45 in her attempts to reach a slam QF. The good/bad legacy of Anna Smashnova continues to be joined with AMG at the hip.


=============================




Deuce...

Kimiko Date-Krumm reached the Wimbledon semifinals seventeen years ago, in 1996.


=============================




Ad...

the Brits went 1-6 in the 1st Round, but Laura Robson's win over Maria Kirilenko was the first by a British woman over a Top 10 player at Wimbledon since 1998.


=============================




Deuce...

Monica Puig made #5 Sara Errani the "First Seed Out" at this Wimbledon, equaling her feat from Paris when she defeated Nadia Petrova to make her the "FSO." Speaking of Nadia, she's now lost in the 1st Round of all three slams in 2013.


=============================




Ad...

So has AMG, by the way. In fact, she's pulled off a unnatural "unGrand Slam" with four consecutive 1st Round slam losses, extending her current slam losing streak to five.


=============================




Game...

Arantxa Rus' 1st Round exit gives her seventeen straight main draw losses on tour, tying a WTA record.


=============================



And if that wasn't bad enough...


"..."

-

The Radwanska, when asked for a comment on the proceedings at this Wimbledon (For the record, a creepy chill filled the silence... and then, poof, It was gone.)














=DAY 4 NOTES=


...hmmm, what else happened on Day 4 that's worth talking about?

Well, the one thing this Wimbledon hadn't yet had to deal with was rain. So, of course, it finally came today. And, naturally, it happened while Agnieszka Radwanska was on Centre Court playing Mathilde Johansson late in the day, meaning she was the only player who might not have completed an in-progress match who was allowed to continue once the roof was closed. The rain came with Aga up 6-1/4-2, and she completed her 2nd Round victory by closing out the 2nd set at 6-3 shortly afterward.

Of course, that did nothing for the likes of six other women, including Laura Robson and -- yikes! -- Ula Radwanska who didn't even get to start their 2nd Round matches. Hmmm... does this mean there is some sort of internal struggle going on within The Rad?

Does it mean there's hope for The Cause?

...elsewhere, Roberta Vinci won a 9-7 3rd set over Jana Cepelova, while Li's three-set win over Halep had the sort of swings you'd expect from one of her matches. The Chinese vet took the 1st set 6-2, saw the Romanian emerge from off the court after treatment on her back to win five straight games en route to claiming the 2nd 6-1. But Li surged back to take the 3rd at love. (Rolls eyes.)

Lisicki's win today over Eastbourne champ Vesnina means that none of the grass court tune-up winners reached the 3rd Round at Wimbledon. Halep had won a title in the Netherlands, while Daniela Hantuchova (the Birmingham champ) lost in the 1st Round.

Oh, yeah. And Serena eliminated Pastry Caroline Garcia 6-3/6-2 on Court 1, the same stadium where Vika fell and Rafa lost. The dark aura had no negative effect on Williams. But maybe we should be as quiet about that as possible. After all, there's no need to poke The Rad with a pointy stick, is there?

...in doubles, in a match-up of young players who've made much noise in singles, Bouchard & Petra Martic defeated Puig & Lara Arruabarrena-Vecino, while Dolonc was once again a "Serbian Bad Luck Charm," this time for countrywoman Bojana Jovanovski, as the pair lost to Vania King & Zheng Jie.

...SOMEONE-SHOULD-TELL-CHRIS (because I can't call a grown woman Chrissie, even if I CAN call a grown woman Pammy) FROM DAY 4:

-- while Evert was understandably over the moon today on ESPN about the fact that 42-year old Date-Krumm is still winning grand slam matches, she should be reminded that it's not technically accurate to credit her "for playing so long." After all, the Japanese vet did have a 12-year retirement before returning to the tour a few years ago, so it's not as if she's been playing year in and year out for the past twenty-four seasons. In fact, while 3rd Round opponent Serena is eleven years younger than KDK, Williams, who has missed bunches of time during her career, has actually played 100+ more WTA singles matches than Date-Krumm, and has had more seasons (16, all in the Top 100) in which she played enough to have a year-end ranking than Kimiko (13) has.

...I'M-JUST-SAYIN' FROM DAY 4:

-- still no further sign of L.Z. Granderson on the ESPN telecast since that odd appearance during the Serena interview two days ago (and a recap of her 1st Round match a short time later).

...and, finally, maybe The Rad has shifted some of Its attention to the junior event at Roehampton, as half the draw there resembles the one at Wimbledon -- with the SF in the top half including the #1 (Belinda Bencic) and #3 (Taylor Townsend) seeds, but with the survivors in the bottom half (Brit Harriet Day & Belarusian Iryna Shymanovich) both being unseeded.

Could The Rad be spreading Itself a little TOO thin? Maybe hubris will be Its downfall at this Wimbledon.
















**WIMBLEDON "EARLY-ROUND TOP PLAYER" WINNERS**


2002 (Week 1 POW) Venus Williams, USA
2003 (Week 1 POW) Venus Williams, USA
2004 (Week 1 POW) Lindsay Davenport, USA
2005 (Week 1 co-POW) Lindsay Davenport, USA & Maria Sharapova, RUS
2006 Justine Henin-Hardenne, BEL
2007 Amelie Mauresmo, FRA
2008 Serena Williams, USA
2009 Venus Williams, USA
2010 Venus Williams, USA & Serena Williams, USA *
2011 Petra Kvitova, CZE *
2012 Agnieszka Radwanska, POL
2013 Serena Williams, USA
--
* - won title



*WIMBLEDON "REVELATION LADIES" NATIONS*


2006 Serbia
2007 France
2008 Russia
2009 Italy (veterans)
2010 Romania
2011 Great Britain
2012 Netherlands
2013 Australia/New Zealand



*WIMBLEDON "ZOMBIE QUEEN" WINNERS*


2007 Venus Williams, USA
2008 Nicole Vaidisova, CZE
2009 Dinara Safina, RUS
2010 Petra Kvitova, CZE
2011 Marion Bartoli, FRA
2012 Tamira Paszek, AUT
2013 Eugenie Bouchard, CAN







TOP QUALIFIER:

Petra Cetkovska/CZE




TOP EARLY-ROUND (1r-2r):

#1 Serena Williams/USA




TOP MIDDLE-ROUND (3r-QF):

xx


TOP LATE-ROUND (SF-F):

xx


TOP QUALIFYING MATCH:

Q3: #11q Mariana Duque-Marino/COL d. An-Sophie Mestach/BEL 6-7/6-3/8-6




TOP EARLY-RD. MATCH (1r-2r):

2nd Rd. - (Q) Michelle Larcher de Brito/POR d. #3 Maria Sharapova/RUS 6-3/6-4




TOP MIDDLE-RD. MATCH (3r-QF):

xx


TOP LATE-RD. MATCH (SF-F/Jr.):

xx


TOP UNDER-THE-ROOF MATCH:

xx


=============================




FIRST WINNER:

Lesia Tsurenko/UKR (def. Arruabarrena-Vecino/ESP)




FIRST SEED OUT:

#5 Sara Errani/ITA (lost to Puig/1st Rd.)




UPSET QUEENS:

Czech Republic




REVELATION LADIES:

Australia/New Zealand




NATION OF POOR SOULS:

Great Britain (1-6 in 1st Rd.)




LAST QUALIFIER STANDING:

1st Rd. wins (w/2nd): Birnerova/CZE(W), Cetkovska/CZE(W), Duque-Marino/COL, Garcia/FRA(L), Larcher de Brito/POR(W), Zahlavova-Strycova/CZE(L)


LAST WILD CARD STANDING:

1st Rd. wins (w/ 2nd): Petkovic/GER(L), Riske/USA


LAST BRIT STANDING:

Laura Robson/GBR (in 2nd Rd.)




IT ("Upstart"):

Michelle Larcher de Brito, POR (def. #3 Sharapova/2nd Rd.)




Ms.OPPORTUNITY:

xx


COMEBACK PLAYER:

xx


CRASH & BURN:

#13 Nadia Petrova/RUS (1st Rd./Ka.Pliskova; third straight 1st Round slam loss)




ZOMBIE QUEEN:

Eugenie Bouchard/CAN (escaped early-round carnage, winning after being down 7-5/5-4 vs. G.Voskoboeva, with Kazakh serving for match, in 1st Rd.)




DOUBLES STAR

xx


JUNIOR BREAKOUT:

xx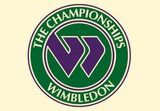 All for Day 4. More tomorrow.