The Master List, version 3.0
Time for some quick mid-offseason value judgments... again.


For the past two seasons, I've looked at the Backspin "Grand Slam Master List" rankings as something of a "viability chart" when it came to the possibility of figuring out which players might have the ability to rise to the highest positions -- well, at least as far as the QF) -- in the upcoming season's four very biggest events. Well, that and, a couple of years ago, it seemed like a half-decent way of passing the time between WTA seasons.

As it's turned out, of the 107 players included on the 2012-13 Master Lists (54 in '12, 53 in '13), seven of the eight slam winners were listed in the Top 6 (only Marion Bartoli, #11 on last year's list, was lower), as have been fourteen of the sixteen slam finalists (Bartoli, and her opponent in the '13 Wimbledon final, #14 Sabine Lisicki, being the exceptions). Fifty-eight of the sixty-four slam quarterfinalists from the last two seasons were included on their season's Master Lists, with Kirsten Flipkens (another Radwanskian Massacre survivor at SW19 last season) and Carla Suarez-Navarro's QF runs in '13 joining with those of Sara Errani (3) and Yaroslava Shvedova in '12 as the only Final 8ers who rose from unlisted positions.




A few ML numbers from 2013:



Slam Winners (4):

#1, #1, #3, #11


Runners-up (4):

#2, #3, #5, #14


Semifinalists (8):

#2, #3, #5, #6, #17, #25, #30, unlisted (Flipkens)


Quarterfinalists (16):

#1, #4, #5, #6, #6, #18, #19, #22, #22, #26, #28, #28, #30, #37, #44, unlisted (Suarez-Navarro)

Attempting to do it all again nearly a month before the first ball will be struck in 2014 competition is, as always, an inexact "science." So, this is just an of-the-moment, "most likely to seriously contend," anything-but-objective ranking, of course. Still, as it has been interesting in the past to try to "crunch the numbers" and put together a list, the additional intrigue in compiling a follow-up is comparing how the perception of some players has changed in twelve months time. For example, while one Top 10 ML player from last year has fallen out of the Top 40 on this list, two young North Americans are climbing the list in leaps and bounds.

This year's list is a bit longer (jumping from the low 50's the last two years to 69 in an attempt to plug any possible holes), but it's still a toss-up when it comes to which "lower-ranked" players will put up surprise 4th Round or QF results in the slams, not to mention who'll be the "unlisted" names who'll find their way onto the fourth version of this list one year from now because of deep slam runs in '14. We'll begin to get some idea of who those people will be, oh, starting just a few weeks from now.

So, let's begin the 2014 Master List (with last year's # in parenthesis):

1.

Serena Williams (1)



...once again, green is for "go." But after having this top tier of the list consist of a handful of worthy slam contenders in the past, I'm going with only Serena -- topping the ML for a third straight year -- this time around because, quite simply, it's nearly impossible to imagine that she won't win at least one major title in '14, while it's no certainty that any other specific woman will win any, or even reach a final, in a very competitive field. Am I predicting a four-for-four slam season for Williams, a true Grand Slam? Well, that wouldn't come until a few weeks from now in the "Prediction Blowout," but I am throwing it out there as a possibility. Serena herself noted at the end of this past season that she wouldn't concede that 2013 had been her "best" ever, because she hopes to do as well or better in future campaigns. With most players that'd simply be the "right thing to say." But when it comes to Williams, while it may not be considered a promise, it might be looked at as threat. And Serena's "threats" often end up becoming realities.

2.

Victoria Azarenka (3)


3.

Li Na (5)


4.

Maria Sharapova (2)


5.

Samantha Stosur (9)



...the "second tier" is pretty power-packed this year, huh? In fact, all but one officially active woman not named Serena who has won a slam crown over the last three and a half seasons is right here. Again, in all likelihood, any slams not won by Williams in '14 will be claimed by someone on this short list. Still, none of them are locks. Vika (up to #2, after coming in at #5 and #3 the last two ML preseasons) is the two-time defending Australian Open champ, but it's been fifteen years since there was a three-peat in Melbourne... and getting past Serena in NYC has proven to be a tough nut to crack for the Belarusian. Li, while showing flashes, has still only won one minor singles title since joining forces with Carlos Rodriguez at the end of 2012. The Chinese vet seems to get better with age, though, as far as the ML is concerned -- she's gone from #11 to #5 to her current #3. Sharapova's shoulder is once again a question mark, but if she's healthy she's surely in line for a possible slam final (most likely in Paris). Stosur's return to a Top 5 spot on the Master List is a case of her quite possibly taking well to a coaching change. She had her best run in two years late in '13 after splitting with David Taylor and temporarily working with Alicia Molik. Now with Miles Maclagan, the Aussie might just be able to catch a "breath of fresh air" wave to a second slam win. Or not. Right now, though, the optimism overrides Stosur's other longtime "issues."

6.

Sabine Lisicki (14)


7.

Agnieszka Radwanska (6)


8.

Petra Kvitova (4)


9.

Angelique Kerber (7)


10.

Sara Errani (17)


11.

Sloane Stephens (30)



...yet again, it's all about the-right-place-at-the-right-time with the "pinkies." There's one former slam champ here, but five of the six women have never won majors. Three more have reached finals, while the other two have been in slam semis. For the most part, the chances of TRUE slam contending runs from this group is centered around a particular major. Lisicki and Radwanska are threats at Wimbledon, but probably nowhere else. Kvitova, falling down this list yet again after being listed at #2 and #4 the past two years, is also a potential monster at SW19, where she won in '11. If "Good Petra" were more present than "Bad Petra," the Czech might have a shot in Melbourne or maybe even New York, but her health issues -- especially her asthma -- have so far pulled her down as much as her inconsistent game. Errani is a former finalist at Roland Garros (w/ a semi in '13), and can't be counted out to reach that level again assuming her head is right after laboring under the pressure of her '13 season. Kerber played through injuries for much of last season, but once she got healthy was more of a force in the 4th Quarter of the year. She's reached semis at two different slams (WI/US). Stephens is an intriguing add here, as she continues her rise up the ML from #48 to #30 to #11. She rose to the occasion in all the slams in '13, but hardly at all anywhere else. Still, she's a threat to do so again, especially in a return to the AO where she'll be able to draw upon quite a few confidence-building moments following her offseason of training work with Paul Annacone.

12.

Simona Halep (--)


13.

Jelena Jankovic (26)


14.

Flavia Pennetta (25)


15.

Roberta Vinci (37)


16.

Caroline Wozniacki (16)


17.

Marion Bartoli (11)

(retired)

...all here have some (orange, get it?) zest of their own. Whether or not they can be deep slam contenders in ' 14, though, is an open question. Halep was the breakout star of the year, but still has to prove her worth at the majors. One Round of 16 last season showed promise, but was it a "one-off" result or just scratching the surface? The vets -- JJ, Pennetta & Vinci -- have admirably surged as they've neared/surpassed age 30, or recovered from a downturn or injury-related absence. Can they take the huge step that would mean something more than a slam QF in '14? Pennetta reached a semi at the U.S. Open last summer, but can any of them match such a result in the back ends of their careers? That's the question. Wozniacki repeats at #16 on the ML (she was #7 in 1.0 in what seems like another lifetime), but does at least seem to be showing some upward mobility with her taking on of Thomas Hogstedt as coach. The Dane could jump a tier on the '15 list. And, yes, I'm including La Trufflette here, too... just in case.

18.

Carla Suarez-Navarro (--)


19.

Ekaterina Makarova (28)


20.

Eugenie Bouchard (53)


21.

Svetlana Kuznetsova (22)


22.

Kirsten Flipkens (--)


23.

Maria Kirilenko (19)


24.

Kaia Kanepi (18)


25.

Elena Vesnina (--)


26.

Camila Giorgi (45)


27.

Dominika Cibulkova (24)


28.

Anastasia Pavlyuchenkova (38)


29.

Francesca Schiavone (20)


30.

Jamie Hampton (--)


31.

Madison Keys (--)


32.

Ana Ivanovic (12)



...now begins the process of filling out this third Master List. Any of these "red zone" players have, could or will eventually make deep Final 8 or better runs at slams. But all have strikes against them, too, in the coming season. Age (Schiavone), youth (Keys), inconsistency (Pavlyuchenkova, Kirilenko, Ivanovic, Kuznetsova, etc.) or injuries (Kanepi, Hampton) could hold them back and make their inclusion at this point on the ML seem humorous by the end of the season. But their talent says they might make their placement seem low, too. Maybe the most intriguing player here is Bouchard, making a huge leap from her (nicely-timed, I think, in her first year as a pro) inclusion on last year's list at #53 by jumping up to the Top 20. The Canadian could very well have one of the sort of slam showcases this year that propelled Stephens onto the overall sports radar last year. If nothing else, it'll be interesting to begin to compare Team Sloane and Team Genie, as well as the object of their affection's progress, as the slam season moves along.

33.

Venus Williams (8)


34.

Annika Beck (--)


35.

Vera Zvonareva (23)


36.

Andrea Petkovic (15)


37.

Laura Robson (13)


38.

Alisa Kleybanova (--)


39.

Karin Knapp (--)


40.

Andrea Hlavackova (48)


41.

Nadia Petrova (10)


42.

Yaroslava Shvedova (21)


43.

Alison Riske (--)


44.

Alize Cornet (--)


45.

Sorana Cirstea (42)


46.

Peng Shuai (--)


47.

Lucie Safarova (27)


48.

Daniela Hantuchova (44)


49.

Elina Svitolina (--)



...while increasing the number of players on this overall list, it seemed natural to also add a tier. There's a whole lot on interesting second week slam prospects here, from promising youngsters (Beck) to longtime vets (Venus, down from #34, as the likelihood of her body allowing her to go deep into a slam seemingly slim at this point) and players on the comeback trail (Zvonareva & Kleybanova).

Ah, and Miss Petrova is here, too, completing the biggest fall of any player on this list over the past year, from #10 to #41 as the injury-riddled Russian re-established her career-long reputation as the WTA's "star-crossed Russian." Oh, Nadia.

50. Julia Goerges (32)
51. Zheng Jie (29)
52. Garbine Muguruza (--)
53. Bojana Jovanovski (--)
54. Monica Niculescu (--)
55. Donna Vekic (--)
56. Petra Cetkovska (39)
57. Stefanie Voegele (--)
58. Mandy Minella (--)
59. Monica Puig (--)
60. Ayumi Morita (--)
61. Zhang Shuai (--)
62. Vicky Duval (--)
63. Jelena Dokic (47)
64. Lauren Davis (--)
65. Ashleigh Barty (--)
66. Tamira Paszek (31)
67. Romina Oprandi (--)
68. Paula Ormaechea (--)
69. Kristina Mladenovic (--)

...all right, the list might have ended at #49, but it doesn't. This group is here as something of a catch-all to attempt to have NO unlisted slam quarterfinalists in 2014. Not that any of these woman will reach a Final 8. I mean, what are the odds that Jelena Dokic can pull off one final big run, or even play much at all this coming season? But, hey, a Backspinner can hope, right? Muguruza is this year's version of Camila Giorgi on this list. The then-mostly-off-the-radar Italian was at #45 in '12, and her U.S. Open run ultimately legitimized her inclusion. This year, I'll take a shot with the young Spaniard, who missed time with injury in '13 after a very promising start to her season.



PLAYERS RETURNING TO THE LIST AFTER A ONE YEAR ABSENCE:

Monica Niculescu (#34 in '12), Peng Shuai (#40 in '12)



PLAYERS REMOVED FROM THE LIST SINCE LAST YEAR:

#33 Tsvetana Pironkova, #34 Christina McHale, #35 Urszula Radwanska, #36 Lucie Hradecka, #40 Varvara Lepchenko, #41 Petra Martic, #43 Irina-Camelia Begu, #46 Yanina Wickmayer, #49 Mona Barthel, #50 Arantxa Rus, #51 Klara Zakopalova, #52 Heather Watson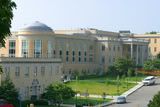 So, the third official Grand Slam Master List will now be filed away in a cabinet somewhere deep in the bowels of the Navratilova Library of Records on the grounds of Backspin Academy, along with 2012's now-even-more-rare, already-fading copy of the original list. Naturally, this little "gem" will be pulled out on at least four occasions over the course of the next year, just to see who is exceeding their offseason expectations, or failing to come close to living up to them. Next December, the names will be taken down and reshuffled once more... and, as we stand today, even Citizen Anna doesn't know which players will have suddenly risen close to near the top of the list by then. Well, at least I don't THINK she knows.

All for now.