AO 1 - Then and Now, and Petra Goes Bzzzzt

In similar, but contrasting, moments that represented what was once the law of the WTA landscape, and what serves as that
now
, Day 1 of the 102nd edition of the Australian Open began with a Williams winning a point. A little more than eleven hours later, it ended the same way.


We used to watch Venus Williams expecting something great. Nowadays, we watch for the moments that remind us of the ones that we used to expect. On occasion, Venus still delivers thumbnail versions of those moments, but in the back of our minds, we know that they'll really only be fleeting glimpses of what once was, even when she arrives at a slam in good form.

Personally, I'm fine with that. While the ESPNers lament the state of Venus EVERY time she loses a slam match, I choose to enter with humble expectations of her potential, and usually find at least one memory worth preserving, even if -- and maybe especially when -- she exits early. It's not a bad deal, really. Hopefully, Venus, ever mature when it comes to things like this, sees things the same way. If so, we've got at least a season or two beyond the current one to watch the perpetual dance between the Venus of Then and the Venus of Now. The Rio Olympics are in 2016... hopefully she can hold out until then, just as she's so often stated she desires to do.

Thing is, though, Venus WAS in good form as play began in Melbourne on Monday, having reached the Auckland final in Week 1, being in good spirits, and even showing a willingness to make changes in her practice habits -- for the first time ever, she's playing practice matches between actual ones... and she recently defeated both Madison Keys and Varvara Lepchenko in such "non-exhibition, private exhibitions" -- in order to compensate for the natural deficiencies that come with age, as well as the specifically fatigue-based issues associated with Venus' Sjogren's syndrome.

Against #22 seed Ekaterina Makarova today on the newly-renovated Margaret Court Arena, Venus, for a while, looked like her "old self," not an "old" version of herself. She took a 4-2 lead with a break in the 1st set, then won it 6-2, converting all three of her break point attempts. In the 2nd, she held two break points in Game #6 for a 4-2 lead there, but she failed to put them away. Soon, Venus was broken for 4-3, only to battle back to 4-4 by getting the break back (on BP #5) in a nearly 15-minute game. But three straight double-faults one game late made it all for naught. Makarova held to take the set 6-4, only to fall down a break at 3-0 in the 3rd. From there, Venus' game continued to slip, as she was inconsistent and didn't more forward nearly as much as she knew she needed to. Meanwhile, the Russian's play progressively picked up. The Hordette got the break back, then ultimately won five straight games to conclude the match, winning 2-6/6-4/6-4.

Venus had fifty-six errors to her fifty winners, and hit eight double-faults. In the last eight slams, Venus has played in seven, three times losing in the 1st Round, and only once advancing as far as the 3rd.

While 33-year old Venus' slam-winning days are long gone, 32-year old Serena is still in the prime of her career. The world #1's night-concluding match with 17-year old Aussie Ashleigh Barty in no way resembled Venus' loss to Makarova.

Poor Barty. Australian women's tennis' best hope for the future (and not just in doubles, where she reached a trio of slam finals last year with Casey Dellacqua while setting up camp just outside the doubles Top 10) began this season with wins over Daniela Hantuchova and Kiki Bertens, but she then suffered an abductor injury that forced her to pull out of Brisbane. Then, after getting a wild card (her seventh at the last nine slams) into the AO, her name was the first one that popped up when the draw was held on Friday. So, she got Serena. Sigh.

While Barty didn't implode, ala some past young Americans on Ashe in late August, and become overwhelmed by the moment when she helped close out the first night session on Laver against Serena, really, the finely-tuned younger of the two Williams Sisters was never in danger of being challenged in any meaningful way. Not here. Not yet. Williams handled the Aussie, winning 6-2/6-1.

Naturally, ESPN2 liberally used the all-time slam titles graphic throughout Day 1 when it came to talking about Serena, who's going for major #18 at this AO (interestingly, Chris Evert, who Williams would tie on that list with a win, will be handing out the trophy after the women's final). The talk of the pre-game commentators roundtable was about whether or it's possible for Williams to approach Margaret Court's all-time mark of twenty-four. The conclusion was that it'd be a "tough get." Hmmm, I wonder if that thought would change if Serena were to arrive in Melbourne one year from now with twenty-one slam trophies in her back pocket? Just something to think about.

Oh, well. Better luck next time, Ash. At least Barty still has the doubles.

As for the Williams Sisters, while their past is still great... the future still might just turn out to be better than the present. And that's saying something.







=DAY 1 NOTES=
...while Venus' time in singles is over at this AO, she was a last minute entry in doubles with Serena. Of course, the Sisters could also give a go at a little more cricket, as they did a few days ago: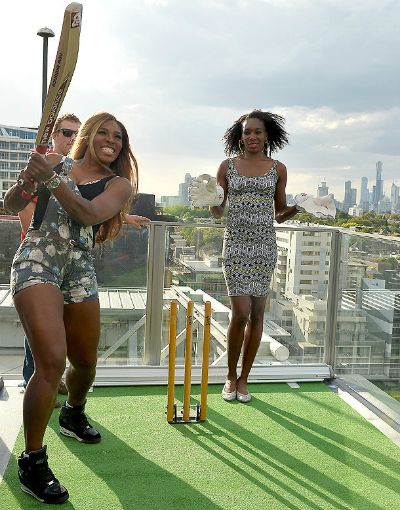 ...with the soon-to-be-REALLY-Extreme Heat of Melbourne only nipping at the heels of the less-prepared players today (though a beet-red Kiki Bertens looked like she might burst into flames at one point today), expect all sorts of non-JJ chaos over the next few days as players are likely to physically drop like flies buzzing into those blue light things people hang in their backyards.

Bzzzzzt. There goes one. Bzzzzzt. There goes another.

Oh, and there goes Petra, too.

At first, it seemed a stroke of luck for the asthma-suffering Petra Kvitova that she at least got to play her scheduled 1st Rounder on Monday rather than later when the REAL heat is supposed to arrive. Of course, we're talking about Petra... heat can come in many forms, on any day, at any time.

On Day 1 it came in the form of Luksika Kumkhum, the crafty little Thai 20-year old (world #88) with the sometimes-seemingly-unfathomable game (at least to a certain Czech), complete with a bag of tricks that includes angled, nearly-Selesian two-handed shots from both sides and a pair of quick feet to get her where she wants to go.

Kumkhum, an ITF regular who's made many an appearance in this space the last couple of years (sometimes because of her results, sometimes because of her name, especially when she has epic clashes with countrywoman Nungnadda Wannasuk), put Kvitova on her heels, breaking the Czech's serve three times and serving out the set at 6-2. Kvitova's play improved greatly in the 2nd, as she won it 6-1. But, again, the 3rd set brought back the sort of vexing (Kumkhumian?) moments that often saw Kvitova lurching unsuccessfully for low shots off the baseline. Kvitova saved three break points through the first two games of the final set, but didn't see her own opportunity to break Kumkhum until game #7.

Kvitova failed to convert her break point, though, then saw the Thai woman break HER for a fourth time to take a 5-3 lead and get the chance to serve for the match. In a wonderfully competitive game, Kumkhum got to within two points of the match, only to twice double-fault, at 30/30 and deuce. On her second attempt in the game, Kvitova broke her to get back on serve at 5-4. But, wouldn't you know it, it STILL wasn't meant to be.

While Kumkhum had failed to put away the match in that game, and even had the double-faults, she didn't really suffer from a bout with nerves. After the second double-fault, she even managed to "pull a semi-Na," laughing at herself and "taking a bite" out of a tennis ball. How lacking in nervousness, at least in her play, she was was evident one game later, too.

Kumkhum quickly got the better of Kvitova in rallies one game later, going up 40/15 and then breaking the Czech yet again, this time for the match. When Kvitova was forced to run down the baseline in an attempt to retrieve a Kumkhum shot, stretching and returning her shot long, the Thai had knocked out the biggest seed (#6) of this slam on Day 1, winning 6-2/1-6/6-4 to defeat the first Top 10 player she's ever faced, and raise her career mark against Top 100 players to a very good 6-7.

Is it too early to start to talk about the Curse of Stepanek? You know, Czech-born female tennis players SHOULD heed the warnings and always be afraid of it, considering its destructive history over the past decade or so... but they never do.

...right out of the gate on Day 1, we had drama. Not your normal sort of drama, mind you... but, at least at Backspin HQ, it WAS a tense race to the finish line in the battle to see who'd get the "First Victory" honors for this AO.

For most of the early-going, it looked like Karolina Pliskova was going to take out Pauline Parmentier so quickly that she'd be the first woman to advance to the 2nd Round. She led 6-0/5-0 and seemed on her way to 2014 AO honors. But wait! On another court, #18-seeded Kirsten Flipkens suddenly won another game to take a 6-3/5-0 lead over Laura Robson! Still, the Pliskova/Parmentier match's progress was slightly ahead, and the Czech held a match point for a breezy double-bagel win. But she failed to put it away, and Parmentier held serve for 5-1! Moments later, Flipkens held a match point of her own! And she put it away! Flipkens defeated Robson 6-3/6-0 in fifty minutes, becoming the first player to win a main draw match at this AO. Soon afterward, Pliskova finished up a 6-0/6-1 win on her third match point attempt, but she was only the SECOND to advance.

Robson's loss is no shocker, and it's not just because she was playing a player who reached the Wimbledon semis last year, either. A season ago, remember, the Brit upset Petra Kvitova in Melbourne. But a wrist injury has wrecked Robson's opening weeks of 2014, and this was not a match to remember on Day 1. She converted at just a 26% clip on her 2nd serves, had just twelve winners to thirty-two errors, and never held a break point on Flipkens' serve. Meanwhile, the Waffle broke the Brit on five of six opportunities, and her winner-to-error ratio was 14/4.

...of course, after all the havoc caused in last year's final on Laver when #4 Li Na could barely keep her feet, the first women's match played there THIS year featured a player tripping over the invisible gremlins living inside the court, as well. Aussie Jarmila Gajdosova injured her ankle in the 1st game of the 2nd set against #9 Angelique Kerber. After a long injury timeout that at first seemed as if it might end the match, Gajdosova came back out on court and found that the German was seemingly still in a time-out. Unable to regain her bearing, Kerber dropped the set at love and the contest went to a 3rd. Kerber righted things there, though, taking the match 6-3/0-6/6-2. Gajdosova, at one time a Top 30 player, is now 0-9 in AO main draw matches.

...later in the day, #7-seeded Sara Errani became the "First Seed Out" of this slam, falling in straight sets, 6-3/6-2, to Julia Goerges. Not only is this the Italian's third 1st Round slam exit since the start of last season, this is her second "FSO" crash in the last three, having gone out quicker than any seed at Wimbledon last year, as well. Of course, in between that slam and this one was her 2nd Round loss at the U.S. Open, which was followed by that confessional post-match press conference in which she talked about all the pressure she was under, and how she was having a hard time enjoying the sport now that her expectations have risen to such a high level.

I'm sure this loss will help with that. Or not.

Maybe Errani's ennui is contagious. Her doubles partner, #12 seed Roberta Vinci's horrid start to '14 continued a short time later when she lost to veteran Zheng Jie 6-4/6-3.

...while 33-year old Venus went out in one of the first matches played today, so did the only woman in the draw older than Williams, 43-year old Kimiko Date-Krumm. KDK lost in three sets to Swiss qualifier Belinda Bencic. At 16, there was a twenty-seven year age difference between the two players... a gap large enough that a whole Pironkova could snugly fit into it.

Speaking of Tsvetana... the Sydney champ won her ninth straight match, defeating Silvia Soler-Espinosa in straight sets, never once losing her serve.

Sure, Vera Zvonareva's cameo in this AO didn't last long -- she lost to Aussie wild card Casey Dellacqua -- but, due to a shoulder injury, this was the Hordette's first appearance in a slam since Wimbledon 2012. So it's still a reason to feel good! While I'm on that subject, one of Day 1's MOST "feel-good" winners was #28 Flavia Pennetta, who gave everyone a scare by retiring with a wrist injury last week (after missing a huge chunk of time in '13 after wrist surgery). She took out Swarmette Alexandra Cadantu 6-0/6-2. Actually, Pennetta held three match points for a double-bagel victory, but the Romanian held serve, then broke the Italian to get her only games of the day. Pennetta then broke to take the match, winning on MP #5.

19-year old Annika Beck didn't miss out on serving some bagels to her opponent today, though. The German eliminated Petra Martic 6-0/6-0 in fifty-three minutes. 2013 runner-up Li Na was a little more generous, allowing '13 Girls champ Ana Konjuh two games in a 6-2/6-0 victory.

...in one section of the draw, young North Americans overcame. #30 Genie Bouchard overcame a slow start -- wild card Tang Haochen led 5-3 and served for the 1st set, holding 2 SP -- to win 7-5/6-1. Madison Keys overcame herself, avoiding what might have been a memorable loss to Patricia Mayr-Achleitner. The American took the opening set, then erased a 5-2 2nd set deficit. She held three match points in a 2nd set tie-break that could have ended things in straight sets, but dropped the TB at 10-8. She fell down a break in the 3rd, regained the lead, then failed to convert MP #4 before finally winning 6-2/6-7(8)/9-7 on MP #5. The whole battle took over two and a half hours to complete. If this had taken place in the heat that is coming soon to Melbourne, one wonders whether they might have needed a stretcher or two when it was all over.

Bouchard and Keys are still, barely, on course for a potentially super-intriguing Round of 16 match-up.

Elsewhere, #31 Daniela Hantuchova needed three sets to defeat the other Brit in the draw, qualifier Heather Watson, 7-5/3-6/6-3, Alison Riske took out #23 Elena Vesnina 6-2/6-2, and young American Lauren Davis took out her even younger fellow Bannerette, wild card Sachia Vickery, 6-2/6-2.



DAY 1 QUALIFIER WINS:

Belinda Bencic, Lucie Hradecka, Alla Kudryavtseva



DAY 1 WILD CARD WINS:

Casey Dellacqua



DAY 1 LUCKY LOSER WIN:

Irina Falconi



DAY 1 AUSSIE WINS:

Casey Dellacqua, Samantha Stosur

...now, since I don't know how many chances I'll have to use this at this tournament, as we ARE talking about Sam Stosur playing in Australia: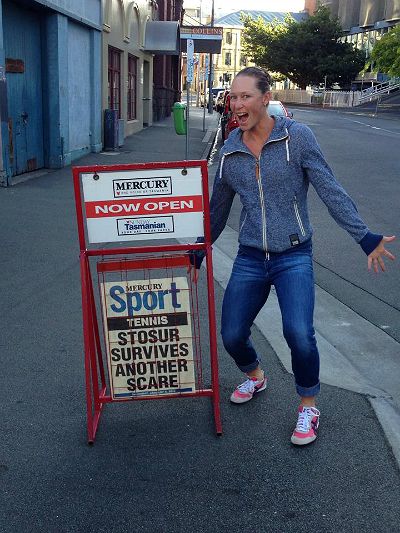 In a rare display of concentration and grit on Aussie soil, #17 Stosur dispensed with Czech Klara Zakopalova, who beat her a few days ago in the Hobart semis, by a 6-3/6-4 score. After winning the 1st set, Stosur dropped her first three service games in the 2nd, falling behind 4-1 and causing everyone to brace for impact. But it never happened. When everyone opened their eyes, Stosur had managed to erase the two-break disadvantage and grab one for herself, taking the match by winning the final five games.

Good on ya, Sam.

...meanwhile, La Trufflette may be gone (even, as of last week, in the WTA singles rankings), but she's never REALLY gone. Especially when she's designing "shoe wings"... or, actually "Shwings."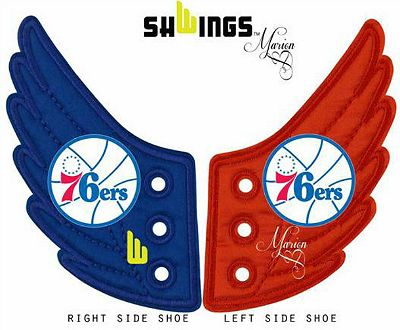 The Wimbledon champion has designed wings meant to be worn on shoes, with the laces tying them to the top surface of the foot, making the flaps appear to be "wings." Above is the design being used for the NBA's Philadelphia 76ers basketball sneakers, and Serena is expected to don similar things on her shoes while in Melbourne.

By the way, I love the simple "Marion" in the promotional photo.

...wrapping up some Week 2 business, the "ITF Player of the Week" is Germany's Laura Siegemund. The 25-year old won her ninth career circuit title in Vero Beach, Florida, taking the $25K event with wins over Heidi El Tabakh, Samantha Crawford, Allie Kiick (ret.) and Gabriela Dabrowski in a 6-3/7-6 final. Siegemund has won in her last four appearances in ITF finals and is 7-1 in such contests since the middle of the 2012 season.

...DAY 1 "LIKE":

-- the refreshing capacity of naps and, THE necessary staple during this tournament: caffeine.



...DAY 1

EVIL

"LIKE":

-- that so many people are going to have to say aloud the name of the player who defeated Kvitova with both a straight face, as well as while avoiding slipping into shock radio jock form and saying something that might get them fired.

...DAY 1 "DISLIKE":

-- Patrick McEnroe, apparently getting an in-need-of-spellcheck drawsheet, introducing some early ESPN2 coverage of the Keys/Mayr-Achleitner match by calling the Austrian "Patrica" (sounding like "Patricka"), without the second "i." Worse yet, Pam Shriver, who really should know better, immediately followed up by calling her "Patrica," too.

Thankfully, someone got a correctly-spelled drawsheet later on and everyone starting calling her "Patricia."

...DAY 1 PET PEEVE:

-- that the WTA website has fallen into the habit of updating the "Rankings as of (insert date)" line at the top of the full rankings page, but not actually updating the rankings. (I should note, this isn't the case with the singles/doubles Top 10's that appear when you click on the rankings page -- they are usually updated early, and the updated date never conflicts with the information.)

Last year, after the tour had its site redesigned, while the Top 10 page would sometimes be updated early, the full rankings would not be until a short time later. But when that happened, those pages didn't say, for example, "Rankings as of 13 January 2014," as they did early in the day on Sunday, when in fact they were the "Rankings as of 6 January 2014" (the same thing occurred last Sunday, as well). I'm just sayin'. It gives me a headache!

All right, rant over.

...and, no, this isn't photoshopped. The racket that Vika is playing with in this shot really is THAT big.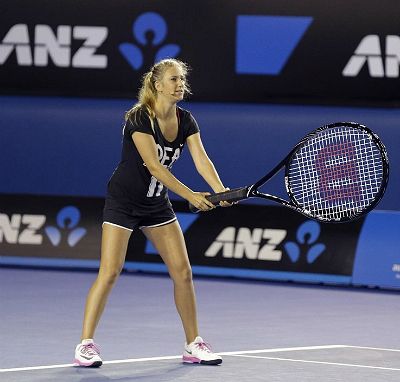 Hmmm, maybe she's discovered the true key to getting past Serena in a grand slam? But before she can deal with that... hydrate, hydrate, hydrate! We don't want a repeat of that past match in Melbourne that ended with a Vika retirement due to heat illness.

...and, finally, as always at the slams, Anabel Medina-Garrigues' time in the draw has an expiration date stamped on its forehead. At the 2014 edition of the Australian Open, that date was today.

A year ago, the Spaniard lost in the 1st Round in Melbourne to #11 seed Marion Bartoli, kicking off the first 0-4 slam year (an "unGrand Slam?") of her long career. Today's exit at the hands of "Lucky Loser' Irina Falconi (AMG had been slated to face a qualifier before the Bannerette was inserted into the draw because of the withdrawal of another American, #27-seed Jamie Hampton) was Medina-Garrigues' sixth straight 1st Round loss at a major, and her seventh straight overall stretching back to her 2nd Round loss at the Wimbledon in 2012. It's her twenty-second opening round exit in forty-seven slam appearances. Eight of them have come at the AO, more than at any other slam, though two of her three career slam Round of 16 results (2002 & '09) have come there.

Okay, now here's where I'm obliged to once again note that AMG is STILL linked in history with Anna Smashnova as the only players to ever win double-digit WTA singles titles but never reach a slam Final 8. There, that's another Daily Backspin slam ritual checked off the list. Medina-Garrigues, 31, now has a career slam match record of 43-47 (even with her current seven-match slam losing streak, it's still far better than Smashnova's record, see below). She's 12-14 at Melbourne for her career.

Oh, well... keep on fighting the good fight, AMG.









*RECENT AO "FIRST SEED OUT"*


2005 #16 Ai Sugiyama, JPN (lost to Sucha)
2006 #9 Elena Dementieva, RUS (lost to Schruff)
2007 #25 Anabel Medina-Garrigues, ESP (lost to Vesnina)
2008 #32 Julia Vakulenko, UKR (lost to Vesnina)
2009 #23 Agnes Szavay, HUN (lost to Voskoboeva)
2010 #14 Maria Sharapova, RUS (lost to Kirilenko)
2011 #28 Daniela Hantuchova, SVK (lost to Kulikova)
2012 #19 Flavia Pennetta, ITA (lost to Bratchikova)
2013 #32 Mona Barthel, GER (lost to Pervak)
2014 #7 Sara Errani, ITA (lost to Goerges)



*RECENT AO "FIRST VICTORY" HONORS*


2009 Patricia Mayr, AUS (def. Schruff)
2010 Dinara Safina, RUS (def. Rybarikova)
2011 Evgeniya Rodina, RUS (def. Rogowska)
2012 Victoria Azarenka, BLR (def. Watson)
2013 Maria Sharapova, RUS (def. Puchkova)
2014 Kirsten Flipkens, BEL (def. Robson



*RECENT "LUCKY LOSER" 1st Rd. SLAM WINS*


2006 RG - Kirsten Flipkens, BEL
2006 US - Nicole Pratt, AUS
2007 WI - Alize Cornet, FRA
2008 US - Mariana Duque-Marino, COL
2009 RG - Mariana Duque-Marino, COL
2009 WI - Kristina Kucova, SVK
2010 RG - Bethanie Mattek-Sands, USA
2011 WI - Stephanie Dubois, CAN
2012 RG - Sesil Karatantcheva, KAZ
2013 US - Patricia Mayr-Achleitner, AUT
2014 AO - Irina Falconi, USA



*MEDINA-GARRIGUES' CAREER SLAM RESULTS*


0 - W
0 - RU
0 - SF
0 - QF
3 - 4th Rd.
12 - 3rd Rd.
10 - 2nd Rd.
22 - 1st Rd.
==
AMG SLAM W/L TOTAL: 43-47 - 6 con. 1st Rd., 7 con. losses overall
AMG CAREER WTA SINGLES TITLES: 11


[Anna Smashnova's Slam Results]


0 - W
0 - RU
0 - SF
0 - QF
2 - 4th Rd.
7 - 3rd Rd.
10 - 2nd Rd.
30 - 1st Rd.
==
SMASHNOVA SLAM W/L TOTAL: 30-49
SMASHNOVA CAREER WTA SINGLES TITLES: 12






TOP QUALIFIER:

Belinda Bencic/SUI




TOP EARLY ROUND (1r-2r):

xx


TOP MIDDLE-ROUND (3r-QF):

xx


TOP LATE ROUND (SF-F):

xx


TOP QUALIFYING MATCH:

Q1: Cristina Mitu/ROU def. #4 Anna-Lena Friedsam/GER 3-6/6-4/9-7




TOP EARLY RD. MATCH (1r-2r):

xx


TOP MIDDLE-RD. MATCH (3r-QF):

xx


TOP LATE RD. MATCH (SF-F/Jr.):

xx


TOP LAVER NIGHT MATCH:

xx


=============================




FIRST VICTORY:

#18 Kirsten Flipkens/BEL (def. Laura Robson/GBR)




FIRST SEED OUT:

#7 Sara Errani/ITA (lost 1st Rd. to Julia Goerges, GER)




UPSET QUEENS:

xx


REVELATION LADIES:

xx


NATION OF POOR SOULS:

xx


LAST QUALIFIER STANDING:

1st Rd. wins: Bencic/SUI, Hradecka/CZE, Kudryavtseva/RUS (also LL: Falconi/USA)


LAST WILD CARD STANDING:

1st Rd. wins: Dellacqua/AUS


LAST AUSSIE STANDING:

1st Rd. wins: Dellacqua, Stosur


Ms. OPPORTUNITY:

xx
IT (TBD): xx


COMEBACK PLAYER:

xx


CRASH & BURN:

Nominees: #7 Errani (1r) & #12 Vinci (1r), #6 Kvitova (1r)


ZOMBIE QUEEN:

xx


AMG SLAM FUTILITY UPDATE:

lost 1st Rd. to (LL) Falconi/USA, once again failing to reach a slam QF in her career (so Anna Smashnova still has a buddy); 7 con. slam losses; 22 1st Round exits in 47 slams


LADY OF THE EVENING:

xx


DOUBLES STAR:

xx


JUNIOR BREAKOUT:

xx






All for Day 1. More tomorrow.