Backtalk VII - December 22

One Radwanska on the town is lethal enough...
but two?


Yikes!






Love/Love...

while it says something about the state of Hordette tennis that so many players are in the position of having to make comebacks, it may say just as much that so many have pulled them off or are in the so-far-so-good stage of doing so.

So, to the list of names that already includes Sharapova, Kleybanova and Zvonareva, we now add Diatchenko. Vitalia Diatchenko.




The 23-year old Russian won five straight matches to claim the $50K challenger in Ankara, Turkey, notching victories over Basak Eraydin, Magda Linette, Victoria Kan and Amandine Hesse before taking out #2-seeded countrywoman Marta Sirotkina in the final. Diatchenko is now 6-1 in career ITF finals, but this is her first title since 2011. It's not because of a career slump, though.

The Sochi-born Diatchenko's name might have some vague familiarity, and if that's so it's because a few years ago she was one of the young Russians making progress as she toiled in the shadows of her big-name countrywomen. In 2009, she was ranked just outside the Top 100. She ruptured ligaments in her right knee that season, then tore up the same knee again at the Kremlin Cup in October 2011.

Before this past week, Diatchenko had played just five singles matches in the twenty-six months since her injury in Moscow, all of them coming in 2012 when she returned after an eight-month break. Still, one of those matches was a win on the grass courts of Nottingham over Madison Keys. Alas, her short return was soon followed by another thirteen-month absence, and she last played a singles match in September of 2012.

But then she got those aforementioned wins over Eraydin, Linette, Kan, Hesse and Sirotkina -- a group who have combined to win eight ITF titles this past season -- last week. Suddenly, after her ranking was nonexistent a week ago, her personal tennis story has changed for the better. Diatchenko should now be a Top 500 player when 2014 begins.

Who says nothing good ever happens in tennis in December?


=============================




Love/15...

2014 is nearly here, but the ITF challenger schedule for 2013 still breathes a bit of life. There were five events held this past week, and there will be a single $50K tournament next week in Istanbul which will eventually overlap with "official" '14 action, as well.

In the other most recent events, 15-year old Chinese Xu Shilin, a Top 20 junior, won her second straight title in the $10K held in Hong Kong. She defeated countrywoman Tang Haochen, the winner of Asia's Australian Open wild card playoff tournament, in the final.

18-year old Bannerette Allie Kiick came back from a 6-3/4-2 (and a point for 5-2) deficit to defeat Croat Ajla Tomljanovic in the $25K Merida, Mexico final, while Swarmette Patricia Maria Tig defeated Swiss Connie Perrin in the $10K final in Antalya, after having lost to her earlier in the doubles final. Elsewhere, Aleksandra Krunic wasn't a Good Luck Charm for Eleni Daniilidou in the doubles final of the $50K in Ankara. The pair lost the deciding match in straight sets to Yuliya Beygelzimer and Cagla Buyukakcay.

Also, at the Dutch Indoor Masters in Rotterdam, Kiki Bertens outlasted a field of her countrywomen, winning her second straight title after having been runner-up in both '09 and '11. And Laura Pous-Tio defeated Anabel Medina-Garrigues, erasing a 4-2 3rd set disadvantage, in Spain's national championship.


=============================




15/15...



THEN: Maria Sharapova and who?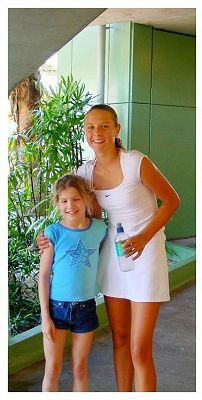 =============================




15/30...

the USTA's Wild Card Playoff for a berth in the upcoming Australian Open main draw was held over the last few days at the Life Time Athletic club at Peachtree Corners in Norcross, Georgia.

The 1st Round of the eight-woman field was all about come-from-behind wins. #4 Vicky Duval climbed out of 4-1 and 5-2 holes in the opening set to defeat Maria Sanchez 7-5/7-5, while #3 Grace Min (def. Nicole Gibbs) and Sachia Vickery (def. #4 Madison Brengle) both came back from a set down to advance. The semis saw Duval knock out #1 seed Shelby Rogers in straight sets, while Vickey again went three to defeat Min.

In a final that pitted the two 18-year olds who've won the past two Girls 18s U.S. national championships, Vickery put up a surprisingly lopsided 6-2/6-3 victory over Duval, who'd trained at the club just a few years ago.


=============================




30/30...

the year-ending junior rankings are official, and two-time 2013 girls slam winner Belinda Bencic is the first Swiss to end the season at #1 since Martina Hingis in 1994.

A few ranking notes:



*

- two-time '13 slam winner Ana Konjuh is #2, up from #4 a year ago



*

- Hordette Varvara Flink's #3 finish means a Russian has been ranked in the year-ending Top 3 three times in the last four years. Daria Gavrilova (2010) and Irina Khromacheva (2011) were both year-end #1's.



*

- Barbora Krejickova came in at #4. It's the second consecutive year -- #2 Katerina Siniakova in '12 -- a Czech has finished in the Top 4



*

- #5 Ivana Jorovic is the first Top 10 Serbian girl since Bojana Jovanovski finished at #9 in 2008



*

- #10-Waffle Elise Mertens gives Belgium two Top 10ers (An-Sophie Mestach in '11) in the last three years



*

- the rise/comeback of North America proceeds. The continent continues to produce Top 10 juniors. Some recent high-rankers:



=2010=


#3 Lauren Davis/USA


=2011=


#3 Eugenie Bouchard/CAN, #4 Grace Min/USA


=2012=


#1 Taylor Townsend/USA, #3 Eugenie Bouchard/CAN, #6 Francoise Abanda/CAN, #7 Marcela Zacarius/MEX


=2013=


#7 Tornado Alicia Black/USA, #9 Louisa Chirico/USA

Mexico's Alejandra Cisneros, the recent winner of the Yucatan Cup, finished at #20.


=============================




30/40...








**2013 TOP 20 JUNIORS**


1. Belinda Bencic, SUI
2. Ana Konjuh, CRO
3. Varvara Flink, RUS
4. Barbora Krejcikova, CZE
5. Ivana Jorovic, SRB
6. Katerina Siniakova, CZE
7. Tornado Alicia Black, USA
8. Darya Kasatkina, RUS
9. Louisa Chirico, USA
10. Elise Mertens, BEL
11. Antonia Lottner, GER
12. Camila Giangreco Campiz, PAR
13. Anhelina Kalinina, UKR
14. Iryan Shymanovich, BLR
15. Xu Shilin, CHN
16. Jelena Ostapenko, LAT
17. Ipek Soyly, TUR
18. Ioana Ducu, ROU
19. Nina Stojanovic, SRB
20. Alejandra Cisneros, MEX



**RECENT JUNIORS #1's**


1994 Martina Hingis, SUI
1995 Anna Kournikova, RUS
1996 Amelie Mauresmo, FRA
1997 Cara Black, ZIM
1998 Jelena Dokic, AUS
1999 Lina Krasnoroutskaya, RUS
2000 Maria-Emilia Salerni, ARG
2001 Svetlana Kuznetsova, RUS
2002 Barbora Strycova, CZE
2003 Kirsten Flipkens, BEL
2004 Michaella Krajicek, NED
2005 Victoria Azarenka, BLR
2006 Anastasia Pavlyuchenkova, RUS
2007 Urszula Radwanska, POL
2008 Noppawan Lertcheewakarn, THA
2009 Kristina Mladenovic, FRA
2010 Daria Gavrilova, RUS
2011 Irina Khromacheva, RUS
2012 Taylor Townsend, USA
2013 Belinda Bencic, SUI



**U.S. AO WILD CARD PO WINNERS**


2007 Madison Brengle
2008 Madison Brengle
2009 Christina McHale
2010 Coco Vandeweghe
2011 Lauren Davis
2012 Madison Keys
2013 Madison Keys
2014 Sachia Vickery



=============================




Deuce...



THEN, AND NOW: Maria Sharapova and... Genie Bouchard!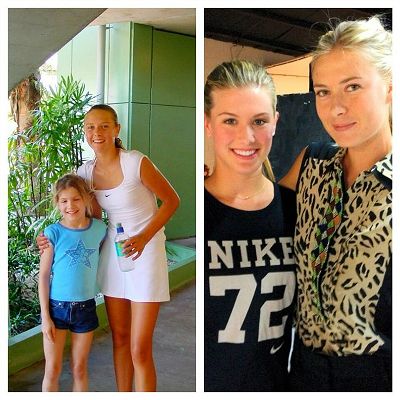 Hmm, I wonder if that baby that Maria lifted in Paris in '12 will one day have a similar photo comparison?




=============================


Advantage, "Did someone say something about Hordettes on the comeback trail?... let it be known, Vera Z. is rested and ready to remind everyone just who she is... just in case anyone forgot.


Week 1 will be her first action since the 2012 Olympics! Sheesh... has it been that long?


=============================




Deuce...

so, on the heels of Andy Murray's success under the coaching eye of former slam winner and world #1 Ivan Lendl, Novak Djokovic last week turned to six-time slam winner and former #1 Boris Becker, announcing him as the "head coach" of his coaching team for 2014.

Wouldn't it be nice if the stars on the women's tour chose to utilize the experience of former women's slam winners and/or #1-ranked players as THEIR personal coaches a bit more often? There are many such woman who serve as Fed Cup coaches, but precious few who fill the role of lead coach for individual players. Wouldn't it be great if, some day, that all changed?

Yeah, I know... I realize that might be akin to wishing for a Christmas miracle.


=============================




Advantage, "I wonder what's their favorite topping, and is it the same for both of them?...

the Radwanskas and their slices (and I don't mean one of Aga's trick shots) are not soon parted.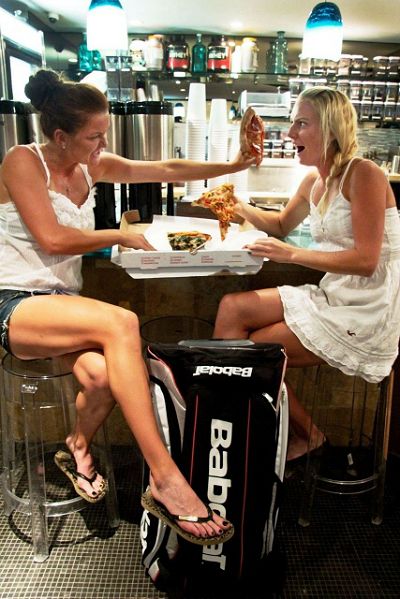 =============================




Deuce...

Vika looking supercool early in the morning:




=============================




Advantage, Team Sloane?

...I hope Miss Stephens is working as hard in the gym as her hitting partner.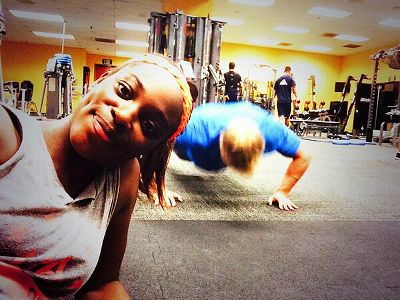 The pressure to succeed may never be higher for her than it will be in Melbourne next month, one year after her semifinal run. Uh-oh.


=============================




Match...

and, finally, Chapter 1 of the latest "Citizen Anna" Backspin tale arrives before Christmas, and will play out in serialized form over the opening weeks of the new season.

Meanwhile, the 2014 campaign will have officially begun by this time next week. So, late in the week I'll have one final "Pre-Game Post" where I'll make my Week 1 picks. I'm coming off my best year ever, as far as predicting champions is concerned (31-out-of-70 picks)... so I'm guessing -- odds being as they are -- I'll be on the pointy end of the sword a bit more often this coming season.

But I shall still endeavor to improve upon the numbers! Yesterday, today and forever.


=============================



Oh, and Kate McKinnon's Billie Jean King bit on last night's "Saturday Night Live" is funny and worth a look if you haven't already seen it.




All for now.