Pre-Game Backtalk VIII: December 29

Shhhh... 2014 is almost here.


The new year is still a few days away, but the early results of the new WTA season are already beginning to trickle in.

Kimiko Date-Krumm is still doing her thing, becoming the first official main draw match winner of 2014 with a win over Olivia Rogowska this Sunday in the first match up in Brisbane. Meanwhile, at the Hopman Cup in Perth, some results have been immediately eye-opening (or at least opinion-affirming), such as Genie Bouchard digging out from a set down to defeat Sam Stosur in round robin play, while others give one a slight bit of pause. Case in point, Aga Radwanska, just days after losing her injured partner (Jerzy Janowicz, whose teaming with A-Rad had given Poland a #1 seed in the team event), easily downed Flavia Pennetta 6-2/6-2 and then saw Italy's Andreas Seppi retire from his match with Aga's new partner -- Grzegorz Panfil (yeah, I wasn't really familiar with him, either) -- to give the suddenly-underdog Polish team the win.

A situation like this just looks like it has The Rad's dirty little "fingerprints" all over it, doesn't it? Yep, Citizen Anna had better get crackin'.



AFTER-POST NOTE:

On Sunday, Poland also defeated Canada, with A-Rad defeating Bouchard in there sets, and Panfil upsetting Milos Raonic in two. So... yeah.

Thus, with (possibly) little time to spare...






Love/Love...

it's nice to know that Vika had a lovely Christmas.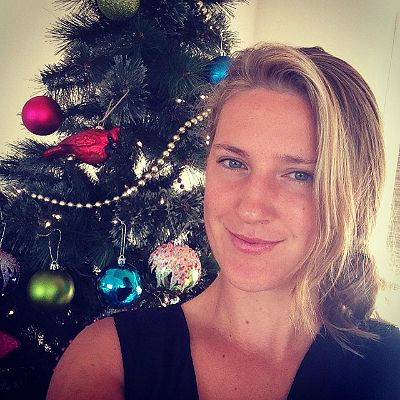 Whew!


=============================




Love/15...

and even while doing a fashion shoot for the Chinese version of Cosmo, Na managed to got some shut-eye.


Awwwl.


=============================




15/15...

back on the courts, who is the last official title-winner of the 2013 season? Elise Mertens, that's who.

The 18-year old Waffle took the $10K Istanbul challenger this weekend, defeating the Dane -- Karen Barbat, not you-know-who -- in the final to claim her fourth ITF crown of both the calendar year, as well as her career. Same goes for the third doubles crown she picked up in Turkey.


=============================




30/15...

some predictions for 2014's Top 10 (+1) on the ATP side of the equation, alphabetically:

Tomas Berdych, CZE
Juan Martin del Potro, ARG
Novak Djokovic, SRB
Roger Federer, SUI
David Ferrer, ESP
Tommy Haas, GER
Jerzy Janowicz, POL
Andy Murray, GBR
Rafael Nadal, ESP
Milos Raonic, CAN
Jo-Wilfried Tsonga, FRA

And some early slam crystal ball peeks:



AO:

Djokovic d. Nadal (alt.finalists: Raonic, Tsonga)


RG:

Nadal d. Djokovic (alt: Ferrer, Federer)


WI:

Djokovic d. Murray (alt: del Potro, Janowicz)


US:

Djokovic d. Federer (alt: del Potro, Nadal)



=============================




30/30...








**HOPMAN CUP CHAMPIONS - since 1999**


1999 Australia (Dokic/Philippoussis)
2000 South Africa (Coetzer/W.Ferreira)
2001 Switzerland (Hingis/Federer)
2002 Spain (Sanchez-Vicario/Robredo)
2003 United States (S.Williams/Blake)
2004 United States (Davenport/Blake)
2005 Slovak Republic (Hantuchova/Hrbaty)
2006 United States (Raymond/Dent)
2007 Russia (Petrova/Tursunov)
2008 United States (S.Williams-Shaughnessy/Fish)
2009 Slovak Republic (Cibulkova/Hrbaty)
2010 Spain (Martinez-Sanchez/Robredo)
2011 United States (Mattek-Sands/Isner)
2012 Czech Republic (Kvitova/Berdych)
2013 Spain (Medina-Garrigues/Verdasco)



**BACKSPIN WEEK 1 PLAYERS-OF-THE-WEEK**


2002 Venus Williams, USA
2003 Serena Williams, USA
2004 Lindsay Davenport/USA, Eleni Daniilidou/GRE (co-PoW)
2005 Elena Dementieva, RUS
2006 Lucie Safarova, CZE
2007 Dinara Safina, RUS
2008 Li Na, CHN
2009 Victoria Azarenka, BLR
2010 Kim Clijsters, BEL
2011 Vera Zvonareva, RUS
2012 Petra Kvitova, CZE
2013 Serena Williams, USA



=============================




30/40...

Are we good, Na?


Swell!


=============================




Deuce...

I hope Vika has been training as vigorously as some of her recent photo posts suggest.


For she might be placed squarely in the middle of the new season's fire in the opening week...


=============================


Advantage, "well, here we go with another year of weekly picks" (crossing fingers)...




BRISBANE, AUSTRALIA (Premier $1m/hard outdoor)
13 Singles Final: S.Williams d. Pavlyuchenkova
13 Doubles Final: Mattek-Sands/Mirza d. Groenefeld/Peschke
14 Top Seeds: S.Williams/Azarenka
=============================


=SF=


#1 S.Williams d. #3 Sharapova
#2 Azarenka d. #5 Kerber


=FINAL=


#1 S.Williams d. #2 Azarenka

...Serena has a chance to immediately put into their place two of the players who might be among her few challengers in '14, with Sharapova and Azarenka both in line for match-ups if things fall right. Williams enters on an 18-match winning streak she's carrying over from the end of 2013. Of course, that doesn't count her straight sets "loss" this weekend to Vika in an exhibition in Thailand. We know that probably just made Williams chuckle.



SHENZHEN, CHINA (Int'l $500K/hard outdoor)
13 Singles Final: Li d. Zakopalova
13 Doubles Final: Chan/Chan d. Buryachok/Solovyeva
14 Top Seeds: Li/Errani
=============================


=SF=


#1 Li d. #8 Beck
#5 Peng d. #2 Errani


=FINAL=


#1 Li d. #5 Peng

...a defense of her '13 crown (her only title so far with Carlos Rodriguez, by the way) would give Li three career Week 1 titles, more than any other active player.



AUCKLAND, NEW ZEALAND (Int'l $250Khard outdoor)
13 Singles Final: A.Radwanska d. Wickmayer
13 Doubles Final: C.Black/An.Rodionova d. Goerges/Shvedova
14 Top Seeds: Vinci/Ivanovic
=============================


=SF=


V.Williams d. #5 Hampton
Ka.Pliskova d. #6 Safarova


=FINAL=


V.Williams d. Ka.Pliskova

...Venus says she's excited and ready for 2014. That won't likely mean much later in the season, but it might in Week 1. So, in a field that's taken a few withdrawal hits (the latest, after Petrova and Vesnina, being Laura Robson, out with a wrist), I'll take a flier on big sister.



HOPMAN CUP; PERTH, AUS (team exhibition/indoor)
13 Final: Spain d. Serbia
GROUP A: POL,CAN,ITA,AUS
GROUP B: USA,FRA,CZE,ESP
=============================


=FINAL=


CZE d. CAN

...Canada has already gained an early advantage in Group A with a win over Australia, which included Genie Bouchard's three-set take down of Sam Stosur. The romantic Czech duo (Kvitova & Stepanek) are still the favorites, though. No matter who wins, it'll be interesting to see what happens with some of the women's singles match-ups, with the likes of Kvitova/Stephens, Radwanska/Bouchard, Stosur/Pennetta and Radwanska/Stosur still to come.



=============================




Match...

and, finally, Chapter 2 of the latest Citizen Anna tale will arrive this coming week, leading the way for my "Act 1, Scene 1" take on all of Week 1's action.

Buckle in, it's all about to start all over again.


=============================




All for now.