Wk.7- The Pride of Romania
Before the start of the 2014 season, when asked what player was going to "slip back" over the course of the upcoming year, the name that crossed the lips of many was the winner of the WTA's "Most Improved Player" award in 2013, Simona Halep.
One has to wonder if those doubters might be wishing for a second chance right about now.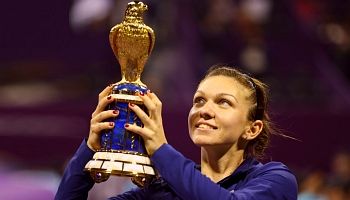 After a '13 season the saw the Romanian win six titles, both indoors and outdoors, and on hard, clay and grass courts, the lingering question was whether or not she could put things together in the biggest events on the calendar. Well, so far this season the 22-year old Halep reached her first slam quarterfinal in Melbourne, and now walked off with her biggest title yet at the $2.4 million dollar event this weekend in Doha in a performance that saw her defeat three Top 10 players (a career best) to run her winning streak vs. Top 10ers to six matches (ditto) and raise her ranking to #9 (ditto again) in the newest WTA singles rankings.

Fresh off leading the Swarmettes out of Europe/Africa I Fed Cup zone play, Halep arrived on Qatar having to quickly make the switch from indoor tennis to outdoor. It almost didn't happen, as she found herself in a tussle with Kaia Kanepi. The Estonian led 5-3 in the 3rd set, and served for the match at 5-4. But Halep, boosted by a final set conversation with her coach, got the break of serve, won in 2:30 and gradually saw her confidence grow, along with the effectiveness of her serve, with each passing round. In the semifinals, she fairly matter-of-factly came back from 5-2 in the opening set to take down Agnieszka Radwanska in straights and then handled Angelique Kerber with even more ease in the final.

Unlike at least one "current" player "on the rise," the aggressive Halep doesn't seem to be scared of or disinterested in winning. Her understated reaction to defeating Radwanska in the semis to advance to the biggest final of her career said a great deal about her overall career goals. Halep, armed with a new coach and great attitude, has committed herself -- in both mind and body -- to winning and making the most of her tennis career. And, if she so chooses to be, she just might turn out to be the emotional leader -- both on court and off -- of what could eventually become a long-awaited Swarmette WTA charge, too. Such things would naturally come to a player giving all the indications of one day being acknowledged as the best women's tennis player her nation has ever produced.

After her work over the the past week, she's now more than half-way there.



*WEEK 7 CHAMPIONS*
DOHA, QATAR (Premier $2.4m/HCO)
S:

Simona Halep/ROU def. Angelique Kerber/GER 6-2/6-3


D:

Hsieh/Peng (TPE/CHN) d. Peschke/Srebotnik (CZE/SLO)




PLAYER OF THE WEEK:

Simona Halep/ROU


...title #7 came with wins over Kaia Kanepi, Annika Beck, Sara Errani, Aga Radwanska and Angelique Kerber, all but one match of which ended in straight sets. In the final against Kerber, Halep, who has acknowledged that her serve must improve for her overall game to do the same, opened with a love break of serve against the German, but was never broken herself in the entire match. Up to #9, Halep, already the first Top 10 Romanian in eighteen years, is now eyeing a few other Romanian tennis records: highest-ranking (#7 - Spirlea) and most titles (12 - Virginia Ruzici). At this point, how many still, with a straight face, can doubt that Halep will get there?


=============================




RISERS:

Hsieh Su-Wei & Peng Shuai (TPE/CHN) and Angelique Kerber/GER




...what has seemed inevitable for a few weeks now finally became a reality when Peng became the 31st WTA doubles #1 -- and the first-ever top-ranked Chinese. She was assured of rising to the top spot late in the week in Doha, but she and longtime friend/doubles partner Hsieh pushed past that invisible barrier and took the title, their tenth as a duo, as well. Hsieh, as the two playfully acknowledged in their post-match photo, is now the #2-ranked player in the world thanks to Peng's slight advantage due to her Hsieh-less title in Pattaya two weeks ago. Meanwhile, Kerber reached the Doha singles final, her second of '14, but failed to pick up career title #4 in her tenth appearance in a final. Her wins over Karolina Pliskova, Klara Zakopalova, Petra Cetkovska and Jelena Jankovic did run her season win total to a tour-best sixteen matches, though, and her semifinal with JJ produced a point that Kerber is hoping will withstand the test of time and appear on some "Best Shot" lists at the end of the season.



=============================




SURPRISES:

Zhang Ling/Varatchaya Wongteanchai (HKG/THA)


...a week after leading the Hong Kong Fed Cup team out of zone play, Zhang turned back the clock and teamed up with a former doubles partner to take the title in the $10K Nonthaburi, Thailand challenger, defeating Tang Haochen and Tian Ran in the final, 2-6/6-2/12-10. She and Wongteanchai have only played together three times, and not since 2010, but they've now won two titles. The other came in a $25K in Pune, India in 2007.


=============================




VETERAN:

Jelena Jankovic/SRB


...before going down in her second semifinal of the season, accompanied by the usual on-court arguments with her coach, JJ had put together a rather nice week, complete with victories of Karin Knapp, Alisa Kleybanova and Petra Kvitova (6-1/6-3). She couldn't put down a fourth "K"-player, though, losing to Angelique Kerber.


=============================




COMEBACKS:

Nadia Petrova/RUS & Tamira Paszek/AUT


...Petrova got work in with both her doubles AND singles in Doha. She qualified in singles before losing in the 1st Round to Peng Shuai, as she's still seeking her first main draw win since last last May following an injury-strewn '13 campaign that saw her play just 22 matches. In doubles, teaming with Anastasia Pavlyuchenkova one year after reaching the final with Katarina Srebotnik, Petrova reached the semis before losing again to Peng, with partner Hsieh Su-Wei. Meanwhile, last February Tamira Paszek was ranked a career-best #26. Heading into the $25K challenger in Rancho Santa Fe, California last week as the #5 seed, the Austrian was ranked #217. The good news, though, is that she won the title, defeating Shuko Aoyama in a 6-1/6-1 final to win her first crown of any kind since her exciting title run in Eastbourne in 2012 prior to her QF result at Wimbledon.


=============================




FRESH FACES:

Annika Beck/GER & Jana Cepelova/SVK


...Beck, 20, knocked off Mona Barthel and Tsvetana Pironkova in Doha before losing to eventual champ Simona Halep in the 3rd Round. She then went to Dubai and has made it through to the final qualifying round after notching an impressive win over Karin Knapp. Beck is up to #50 in the rankings, and faces Genie Bouchard in an interesting contest on Monday to reach the main draw. Unlike countrywoman Cibulkova and Hantuchova, 20-year old Cepelova didn't dig herself a hole even farther below the surface following the Slovak Fed Cup team's latest debacle. Instead, she went to Doha and knocked off Kristina Mladenovic and Samantha Stosur, raising her ranking to #67, just a shade off her career-best of #61 last summer.


=============================




DOWN:

Sloane Stephens/USA & Caroline Wozniacki/DEN


...at one time, Stephens seemed on an express train to the Top 10, but she continues to hit significant detours. She's currently down at #18, nearly 2000 points behind the #10-player in the world (now Sara Errani, who took a tumble in singles as well as doubles) on the heels of her latest early exit from a "regular" tour event via a straight sets loss to Petra Cetkovska in Doha. Stephens hasn't won a match at a non-slam event since last October. Meanwhile, Paul Annacone is seen more and more often on Tennis Channel. Speaking of coaches and underachieving players, I hope Michael Mortensen is keeping his options open... since we know that Caroline Wozniacki surely is. Her opening match, straight sets loss to Yanina Wickmayer in Doha leaves the Dane, ranked #11, at 3-3 on the season and some 1190 points outside the Top 10.


=============================




ITF PLAYER:

Heather Watson/GBR


...after her 2013 illness-marred season saw Watson's ranking go from Top 50 to outside the Top 100, the Brit is working her way back. She took a rather nice step up by claiming the first $100K ITF challenger of the season in Midland, Michigan, polishing off a better group of players -- Eleni Daniilidou, Anna Tatishvili, Olga Govortsova, Sofia Arvidsson & Ksenia Pervak -- than this coming week's winner in Rio might end up having to face. Her win jumps her up nearly forty spots to #122 in the rankings. She even won the doubles title with Tatishvili.


=============================




JUNIOR STAR:

Paula Badosa Gibert/ESP


...the 16-year old Spaniard qualified and then won her first Grade 1 junior crown in Casablanca. Her triumphant road through Morocco included victories over four seeded players, including #3 Kristina Schmiedlova in the semis and #2 Sandra Samir in the final.


=============================






1. Dona 2nd Rd. - Kvitova d. V.Williams
...6-2/2-6/7-6(7). Oddly enough, even while they're aged ten years apart, both of these players sort of find themselves in a similar place. Both are capable of a great performance that can spring forth from their own muscle memory -- producing matches like this one in which Venus saved a match point at 5-4 in the 2nd, then both swapped MP in the deciding tie-break before Kvitova finally won on her third -- but neither, often because of their own health issues, can be counted on to be able to last as entire tournament without ultimately going out with something resembling a whimper after having put up such a great effort to survive earlier in the week. Right on cue, Kvitova went out in two quick sets two matches after this one. Such a current reality doesn't discredit matches like this one for what they are, but it does make you long for and wonder if it's not only Williams whose best tennis-playing self will forever reside on a court at the All-England Club. In the past.


=============================


2. Doha 2nd Rd. - Halep d. Kanepi
...6-4/3-6/7-6(5). Halep does her best Li Na impression, surviving an 2:30 early scare as Kanepi serves for the match at 5-4 in the 3rd set, then goes on to win the title.


=============================


3. Doha Final - Halep d. Kerber
...6-2/6-3. Kerber is 3-7 in career finals, while Halep is 7-3. However, the Romanian (for now) is still 55 points behind the German in the rankings.


=============================


4. Doha Doubles Final - Hsieh/Peng d. Peschke/Srebotnik
...6-4/6-0. Peschke & Srebotnik, back as a team after winning nine titles from 2010-12, eliminated Errani/Vinci in the semifinals to prevent what would have been a supremely tasty final between the new best doubles team in the world vs. the former, dethroned best doubles team in the world. Serves them right that they got served a bagel on their way out, I'd say... right?


=============================


5. Doha 1st Rd. - Cetkovska d. Stephens 7-5/6-1
Doha 3rd Rd. - Cetkovska d. Li 7-6/2-6/6-4
...Cetkovska ended new world #2 Li's 13-match winning streak. That wasn't the case with Sloane since, you know, Stephens would actually have to win a title to have a streak like that. It doesn't look like that's happening anytime soon.


=============================


6. Doha 1st Rd. - Pironkova d. Vinci
...6-3/6-3. Meanwhile, Vinci (0-5 in '14) is STILL looking for her first singles victory since winning that spectacular Fed Cup match against Alexandra Panova last season. Meanwhile, Vinci and Errani's doubles co-ranking falls from #1 all the way down to #6 in the new rankings.


=============================


7. Doha 1st Rd. - Kleybanova d. Cibulkova 5-5 ret.
Doha 1st Rd. - Ivanovic d. Hantuchova 7-5/1-0 ret.
...Fed Cup aftereffects? Speaking of...


=============================


8. Doha 3rd Rd. - Kvitova d. Safarova
...7-6/5-7/6-2. Safarova, who emerged from illness to get a big FC win for the Czechs, held a 4-2 1st set lead here against Kvitova, who outlasted her countrywoman after having stayed away from Fed Cup with her own illness. Hmmm.


=============================


9. Doha Doubles 1st Rd. - Niculescu/Zakopalova d. Mladenovic/Pennetta
...4-6/6-4/12-10. Pennetta is the only doubles partner that Mladenovic hasn't at least reached a final with in 2014.


=============================


10. Doha 1st Rd. - Mattek-Sands d. Bouchard
...7-5/6-1. Bouchard has rebounded well in Dubai, reaching Monday's final qualifying round. BMS failed in her bid to do the same.


=============================


11. Doha 2nd Rd. - Lucic d. Pavlyuchenkova
...6-4/6-1. Inconsistency, thy name is Anastasia.


=============================


12. $10K Antalya Final - Patricia Maria Tig d. Alyona Sotnikova
...6-3/6-2. The 19-year old Romanian wins her second Antalya challenger is an many weeks.


=============================






1. Doha SF - Halep d. A.Radwanska
...7-5/6-2. Fed Cup leadership aside, Aga is still looking for that version of herself that left Vika in a puddle in Melbourne. Still, she's managed to move past Azarenka to #3 in the new singles rankings.


=============================


2. $100K Midland QF - Fichman d. U.Radwanska
...6-3/7-5. And, hey, Ula is close to being back. She was the #1 seed in this Michigan challenger event.


=============================


3. Doha Q1 - Martic d. Ar.Rodionova 6-4/7-6
Doha Q2 - Martic d. Kr.Pliskova 5-7/6-4/6-4
...I'm guessing Petra was hoping she'd get to play Aga next in the main draw.


=============================


HM- $10K Stockholm Final - Olga Ianchuk d. Katerina Vankova
...6-0/6-0. Elizaveta's 18-year old sisters puts a Radwanskian hurtin' on Vankova for her sixth career ITF title.


=============================





...VikaFoo & VikaDo. Hey, anything to overlook the fact that Azarenka's failure to defend her Doha title has dropped her ranking to #4.






**WTA LEADERS - 2012-14**




[titles]


19 - Serena Williams (7-11-1)
9 - Victoria Azarenka (6-3-0)
7 - SIMONA HALEP (0-6-1)
6 - Agnieszka Radwanska (3-3-0)
5 - Maria Sharapova (3-2-0)
5 - Sara Errani (4-1-0)


[finals]


21...Serena Williams (19-2)
16...Victoria Azarenka (9-7)
14...Maria Sharapova (5-9)
10...Sara Errani (5-5)
10...Li Na (4-6)
9...Agnieszka Radwanska (6-3)
9...ANGELIQUE KERBER (3-6)
8...SIMONA HALEP (7-1)



**CAREER WTA TITLES - ROMANIANS**


12...Virginia Ruzici (1975-85)
7...SIMONA HALEP (2013-14)
4...Irina Spirlea (1994-98)
4...Ruxandra Dragomir (1996-97)


[high ranking]


#7 - Irina Spirlea
#8 - Virginia Ruzici
#9 - SIMONA HALEP



**MOST 2014 DOUBLES TITLES**


2...Monica Niculescu, ROU
2...PENG SHUAI, CHN
2...Klara Zakopalova, CZE



**MLADENOVIC - 2014 DOUBLES PARTNERS/RESULTS**


Timea Babos (1) - Paris RU
Daniel Nestor (1) - AO Mixed Champions
Flavia Pennetta (2) - AO 2nd Rd., Doha 1st Rd.
Galina Voskoboeva (1) - Brisbane RU



**ALL-TIME WTA DOUBLES #1 - w/ year first held #1**


Martina Navratilova (1984)
Pam Shriver (1985)
Helena Sukova (1990)
Jana Novotna (1990)
Gigi Fernandez (1991)
Natalia Zvereva (1991)
Larisa Neiland (1992)
Arantxa Sanchez Vicario (1995)
Lindsay Davenport (1997)
Martina Hingis (1998)
Anna Kournikova (1999)
Corina Morariu (2000)
Lisa Raymond (2000)
Rennae Stubbs (2000)
Julie Halard-Decugis (2000)
Ai Sugiyama (2000)
Paola Suarez (2002)
Kim Clijsters (2003)
Virginia Ruano Pascual (2003)
Cara Black (2005)
Samantha Stosur (2006)
Liezel Huber (2007)
Serena Williams (2010)
Venus Williams (2010)
Gisela Dulko (2010)
Flavia Pennetta (2011)
Kveta Peschke (2011)
Katarina Srebotnik (2011)
Sara Errani (2012)
Roberta Vinci (2012)
Peng Shuai (2014)



**2014 ITF TITLES**


2...Timea Bacsinszky, SUI
2...Laura Pous-Tio, ESP
2...Patricia Maria Tig, ROU







DUBAI, UAE (Premier $2m/hard outdoor)


13 Final: Kvitova d. Errani
13 Doubles Final: Mattek-Sands/Mirza d. Petrova/Srebotnik
14 Top Seeds: S.Williams/A.Radwanska
=============================


=SF=


#1 S.Williams d. #7 Halep
Stosur d. #2 A.Radwanska


=FINAL=


#1 S.Williams d. Stosur

...until given reason otherwise, I suppose it's a good way to go.





RIO de JANEIRO, BRAZIL (Int'l $250K/red clay outdoor)


13 Final: =new event=
13 Doubles Final: =new event=
14 Top Seeds: Zakopalova/Schiavone
=============================


=SF=


Pereira d. #1 Zakopalova
Bertens d. #5 Nara


=FINAL=


Bertens d. Pereira

...not exactly a stellar draw for a tour event, but Bertens was in good form during Fed Cup week, and Pereira is the best player in Brazil.


All for now.