Fed Cup II Preview: Is That History Calling?
Yes, they're contesting a (cutting-off-their-nose-to-spite-their-collective-face) tour-level event in Kuala Lumpur this week, but the real action of Week 16 will be taking place on Fed Cup weekend.
For whom will history come calling?


Will it be the Italians or Czechs who'll give themselves a chance to add to a rich FC history? Will 2014's Cinderella-Rumpelstiltskin hybrid speak with an Aussie or German accent? Will Aga be golden, and The Kid put up results far beyond her years once more? Will the so recently trod-upon Serbs rise up, or be the next logical stepping stone for the reaching-for-their-dreams Romanians? Oh, and can Current Sloane lead the American team... haha... to... haha, sorry ... vic-. No, I just can't say it.

I SUPPOSE the Future could arrive this weekend. But don't hold your breath.






*SEMIFINALS*




Italy at Czech Republic - Ostrava/HCI


CZE: Kvitova, Safarova, Koukalova, Hlavackova
ITA: Errani, Vinci, Knapp, Giorgi
...these two can't seem to get out of each others way. And when they do meet, to the victory usually goes ALL the spoils. Italy and the Czech Republic have already met three times since 2010, with the home nation prevailing each time and eventually being crowned Fed Cup champion. Whoever wins here will be the favorite in this year's final, too. So many of these players have been FC heroes. Kvitova was a dominant force in the Czechs' 2011 title run, and Lucie Safarova stepped in for a barely-over-bronchitis Petra en route to the '12 crown. Roberta Vinci was the Team Italia leader in the '13 final, while Karin Knapp stepped in to fill the role in February vs. the U.S. team (interestingly, both woman have barely been shadows of their FC selves ever since). Someone will take control here, and it's easy to think it'll be Kvitova on the indoor hard court. But, remember, Vinci defeated Kvitova in back-to-back matches last spring, first in Katowice and then in the FC semis (where she also defeated Safarova, though it was on red clay). In that same tie, Errani lost to Kvitova, while also defeating Safarova. Kvitova, Errani and Vinci have all had poor 2014 seasons, while Safarova had a match point against eventual Australian Open champ Li Na in Melbourne. All these things would seem to make this a nip-and-tuck affair, but the last three FC ties between these nations have ended with 5-0, 4-1 and 3-1 scores. Usually, one team dominates, so it'll probably happen again. All things being equal, I'd go with it being the Czechs. They'd better be the ones, because, even while they can put up a good duo (even without Barbora Zahlavova-Strycova not on this roster after teaming with Andrea Hlavackova in the deciding doubles match vs. Spain in February) should this come down to a single match, one wouldn't want to HAVE to defeat the doubles duo of Errani/Vinci with everything on the line. Remember, while the Italians haven't had a particularly fine overall season, they DID defend their title at the Australian Open. Bad form aside, they can still rise to the occasion... and few things have been more of an occasion in recent years than Italian FC weekends. Meanwhile, if the faltering Kvitova can't get her health and game together here, it WILL be time to fret.


PICK:

CZECH REPUBLIC 3-1 (but if it goes to match #5...)



Germany at Australia - Brisbane/HCO


AUS: Stosur, Dellacqua, Barty, Sanders
GER: Kerber, Petkovic, Goerges, Groenefeld
...these two teams couldn't have had more different entries into what is a rare (now, but not in the "old days') semifinal appearance for both nations. Australia ran roughshod over a "pre-school" Team Russia, while Germany had to battle back (from match point, by Andrea Petkovic, in match #1 vs. Dominika Cibulkova) to win a close one on the road against the Slovaks. This time, the Germans, trying to reach their first FC final since '92, have to travel all the way back Down Under to face an Aussie team looking for a first final since '93. This could be a real knuckle-cruncher. Well, unless the Sam Stosur-in-Australia maxim rears its ugly head in full force in Brisbane. Stosur ended her six-match World Group losing streak in February, but she did it against fully inexperienced competition. Angelique Kerber and Petkovic won't likely be such pushovers. In fact, it wouldn't be shocking to see Casey Dellacqua (as she did in Melbourne) outshine Stosur altogether, or at least be called upon to pull off a loss-averting singles win to get the tie to the doubles, where she and regular partner Ashleigh Barty would face off with whomever Barbara Rittner decides to pair with Anna-Lena Groenefeld. This generation of Aussies won't likely have a better chance to reach a FC final, but...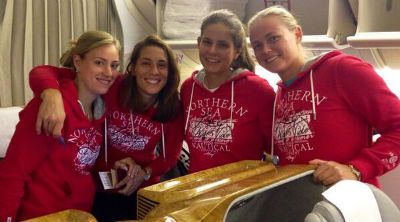 PICK:

GERMANY 3-2 (barely... now everybody does the Petko dance)



*WORLD GROUP PLAYOFFS*




Argentina at Russia - Sochi/RCI


RUS: Makarova, Vesnina, Solovyeva, Kasatkina
ARG: Ormaechea, Irigoyen, Bosio, Podoroska
...hmmm, after slipping down the Fed Cup scale after a decade of success, fielding a "B" and "C" teams in FC play since winning in last year's semifinals, the Hordette squad finally has some big names back on board in Ekaterina Makarova and Elena Vesnina. The pair had starring FC roles in 2013, twice winning deciding doubles matches, and Makarova led the way on Day 2 as Russia overcame a 2-0 deficit against the Slovaks to reach the final. All that's nice, but one might quibble with the decision to play the Argentines on clay, their best surface and on which they've won seven of their last eight ties. The unquestioned team leader is Paula Ormaechea, 11-1 in her last twelve FC matches and the reason the Argentine team is here in the first place. She'll have to have the best weekend of her career to carry Argentina back to the World Group for 2015, but even if she does shine brighter than ever it still might not matter, as defending Roland Garros doubles champions Makarova & Vesnina would be hard to pick against if it comes down to one final match on Sunday.


PICK:

RUSSIA 3-1 (going back to Square One smells pretty sweet... at least until February '15)



Slovak Republic at Canada - Quebec City/HCI


CAN: Bouchard, Fichman, Wozniak, Dabrowski
SVK: Rybarikova, Cepelova, A.Schmiedlova, Honcova


...the Canadians try to reach a twenty-year FC high by climbing over a Slovak team that was a 2-0 lead in the semifinals against Russia from playing for the Fed Cup title one year ago. Well, that's not totally true -- that team included both Dominika Cibulkova and Daniela Hantuchova, both noticeably absent from the roster this weekend. Not that the Slovak cupboard is bare. Four-time WTA title winner Magdalena Rybarikova is the highest-ranked member, though she hasn't won a FC singles match since 2010. Jana Cepelova, who put on a spirited run to the Charleston final just two weeks ago, is an even more intriguing wild card in this mix. She replaced an injured Cibulkova on Day 2 and got a huge win over Bojana Jovanovski in last year's tie with Serbia, coming back from a set down to win 11-9 in the 3rd. Genie Bouchard, bringing her Army back home for the first time since her Melbourne semifinal run, is the star of this tie, though. After a post-AO slump, she righted herself with a Charleston semifinal and will be called upon to go 2-0 in singles in Quebec City. That still might not be enough to clinch, but Team Canada has already won several big doubles matches en route to this position. With a fired up crowd on their side, they might be called upon to do it again here.


PICK:

CANADA 3-2 (will Genie's fans throw stuffed animals to the entire team?)



France at United States - St.Louis/HCI


USA: Stephens, Keys, Lepchenko, McHale
FRA: Cornet, Garcia, Razzano, Feuerstein
...well, let Mary Joe Fernandez's grand Fed Cup experiment commence. Current Sloane, in the words of the USTA, is set to "lead" the Williams-less U.S. team into another FC tie on home soil. We'll see if it's as embarrassing an American efforts as the one that took place in Cleveland back in February against Italy's "B" team. For all intents and purposes, this is France's "A" squad, though most of this same group barely nosed past a Swiss team led by a 16-year old making her FC singles debut in Paris two months ago. Amelie Mauresmo made all the right calls then -- putting vet Virginie Razzano up first while holding back back Kristina Mladenovic for doubles, moves that played into the ex-#1's knowledge of both players' psyches and what they could give the team, no matter their rankings. She likely will be on target again, and with Alize Cornet and Caroline Garcia coming in hot off Week 15 singles titles, AM will have her work cut out for her trying to judge whether either has momentum on her side, or might be ripe for a flat, "week after" sort of performance and with doubles "specialist" Mladenovic out with an arm injury. But what about MJF? The U.S. team's Cleveland fiasco was a comedy of errors, not just on the court, but off it, as Fernandez put unproven FC newbies in bad, pressurized situations that overwhelmed them from the jump. If she depends on Stephens to lead the way here in the #1 singles position, we could see a repeat. Stephens has one FC singles appearance to her credit, and it was a squandered match against Sofia Arvidsson last year that led MJF to sit her in favor of Venus Williams on Day 2. Truthfully, the better option would probably be to rely on Varvara Lepchenko, 2-0 in FC play with wins over Roberta Vinci and Sara Errani last year in Italy's 3-2 1st Round victory over the Bannerettes. The streaky McHale could go either way, but she's fiery and might be able to light a bunsun burner under the (one would think) partisan crowd, even if her only significant FC win is over Elina Svitolina... two years ago, before a win over the Ukrainian teen was considered noteworthy. Keys made her FC debut in February in a suddenly-unenviable #2 slot on Day 1 immediately after McHale had lost a three-setter vs. Karin Knapp, and it wasn't pretty. She might be a great FC player one day, but it's probably not going to occur this weekend. If Fernandez swallows hard, risks ruffling feathers, and puts Lepchenko and McHale in lead roles, an upset possibility might exist. But if she follows the company line and plays the higher-ranked and eventually more promising Stephens and Keys, one has to wonder what a Fed Cup coach has to do to be replaced these days. Needless to say, I don't have much faith in the decision-making process. Thus...




PICK:

FRANCE 4-0 (the future is now, but it's that of the Pastries)



Poland at Spain - Barcelona/RCO


ESP: Torro-Flor, Cabeza-Candela, Soler-Espinosa, Medina-Garrigues
POL: A.Radwanska, U.Radwanska, Kania, Rosolska
...the Spaniards are hosting a Fed Cup tie in Barcelona on red clay. Good deal, right? Yet they're the underdogs. Welcome to the Radwanskian world of the Polish Fed Cup team, now two Rads strong once again. Of course, while Aga and her twelve-match FC singles winning streak (11 straight in singles/doubles, including the deciding doubles match that got Poland here) are key components to this tie, so is the fact that Spanish #1 Carla Suarez-Navarro won't be present. The CSN-less Spanish team is capable, though, and Maria-Teresa Torro-Flor might just manage to end Radwanska's winning streak, especially if the Alterna-Rad that has shown up on occasion in winnable matches since Aga's Wimbledon semifinal loss puts in another appearance in Barcelona. Even with the possibility, though, while Poland's chances of reaching the World Group for the first time in twenty years won't be easy, there are few players seemingly more trustworthy to place everything on her shoulders in this situation than Radwanska, who's an impressive 31-6 in FC singles (7-1 in doubles) in her career.


PICK:

POLAND 3-1 (can Aga ride this high all the way to SW19, and take care of unfinished business there this summer?)



*WORLD GROUP II PLAYOFFS*




Serbia at Romania - Bucharest/RCO


ROU: Halep, Cirstea, Niculescu, Begu
SRB: Ivanvoic, Jovanovski, Jaksic, Stojanovic

...outside of the semifinals, this is the most intriguing, starry-eyed battle of the weekend. After losing four straight ties since reaching the 2012 final, Serbia is trying to stop a ridiculously swift fall back down the FC ladder. Ivanovic has been called upon to set things straight, but even with AnaIvo around it's going to take a bear of an effort to take down this Swarmette squad in Bucharest. The Romanians have the talent to WIN the Fed Cup in 2016, and advancing here is the next key step. Generally, I judge the likelihood of a Serbian victory based on the presence (or absence) of the Serbian Good Luck (Aleksandra Krunic, pictured) or Bad Luck (Vesna Dolonc) Charms. Well, neither are on the roster for this weekend. Though, it should be noted, Krunic DID lose early in Kuala Lumpur, so maybe she'll replace youngster Stojanovic by the weekend? If so, that could give Serbia the karmic edge if things go to the doubles. Still, the Swarmette trend arrow is pointing up, and Simona Halep is coming in rested and (hopefully) healthy.


PICK:

ROMANIA 3-2 (with the best still yet to come)



Japan at Netherlands - 's-Hertogenbosch/RCI


NED: Bertens, Rus, Hogenkamp, Krajicek
JPN: Nara, Doi, Ozaki, Aoyama
...in seasons past, facing the Japanese on clay would be a safe route to success. But they put up a great fight on the dirt in February against Argentina, with Kurumi Nara (who has since won her first tour-level singles title) putting up at 3:39 fight in match #1. Plus, it's probably a good thing that Ayumi Morita, with less-than-thrilling clay results, isn't on the roster. Kiki Bertens (and Richel Hogenkamp, too, against non-#1 singles players) has been a solid FC player in the Dutch team's rise to this playoff, but Arantxa Rus has once again slipped after righting her long slump last year. My gut feeling on this one is to go with Japan, though I'm not sure why. So I will, but I'm thinking I may regret it. Oh, well... into the breach.


PICK:

JAPAN 3-2 (hmmm, is it too late to switch?)



Thailand at Sweden - Lidkoping/HCI


SWE: Larsson, Arvidsson, Peterson, Milander
THA: Kumkhum, Lertcheewakarn, Tanasugarn, Varat.Wongteanchai
...at home with stalwarts Johanna Larsson and Sofia Arvidsson leading the way, the Swedes are the solid favorites. But the Luksika Kumkhum-led Thai team has been a little engine that very often can and does succeed the last two seasons. She, with the assistance of vet Tammy Tanasugarn in doubles, pulled Thailand past Kazakhstan on the road in pool play in February, and I wouldn't be shocked to see it happen again here, even if it were to come down to a huge deciding doubles battle against the veteran Swedish pair. Still, the Thai are a long way from home, and Arvidsson and Larsson have played a combined 80+ ties and notched sixty singles victories.


PICK:

SWE (-dish experience) 3-1



Switzerland at Brazil - Catanduva/RCO


BRA: Pereira, Pigossi, Ce, Goncalves
SUI: Bencic, Golubic, Bacsinszky, Sadikovic
...the Brazilians, a rising squad the last two seasons as the Rio Olympics grow ever closer, are trying to pull themselves out of zone play after a 23-year long relegation. Playing at home on red clay would seem to give them a good shot. But, wait. There's the not-unsubstantial obstacle known as Belinda Bencic standing in their way. In her FC singles debut, all the teenager did in February was nearly single-handedly lift the Swiss team over the favored French in Paris, taking things to the deciding doubles where the duo led by BB had an early advantage. She's done nothing to make you think she won't rise to the occasion once again. So...




PICK:

The Kid... err, I mean SWITZERLAND 3-2



*ZONE PLAYOFFS - EUROPE/AFRICA II - Siauliai, Lithuania*




POOL A:

Finland, Liechtenstein, Lithuania, Montenegro


POOL B:

Bosnia & Herzegovina, Egypt, Georgia, South Africa
...looking for promotion to Zone I for '15, the wishes of two nations will come true. The best squads in the zone are South Africa (Chanel Simmonds, doubles vet Natalie Grandin), Georgia (Sofia Shapatava, Oksana Kalashnikova), Liechenstein (Stephanie Vogt, Kathinka Von Deichmann) and maybe Egypt (Mayar Sherif, Sandra Samir), while Lithuania hosts. Thing is, three of the four top teams are in the same pool. I'll go with Liechtenstein and the Emma Laine-coached Fin squad reaching the promotional playoffs from Pool A, with South Africa and Georgia advancing to face them from Pool B. The two best individual players in action in Siauliai are Simmonds and Vogt, so I'll go with them to carry their teams through.


PICKS TO ADVANCE:

South Africa & Liechtenstein


I'll update my picks before the weekend if late injuries/withdrawals warrant changes, and I'll be back with the FC Day 1 Update on Saturday.

All for now.