Wk.11- The Art of Being Flavia
No one perseveres like Flavia Pennetta.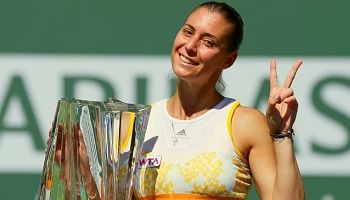 Over the years, it's often been a not-so-secret maxim that the Italian veteran is at her most dangerous when things seem the darkest. In 2009, Vera Zvonareva learned the lesson the hard way that holding six match points against Pennetta at the U.S. Open doesn't ensure victory. Two years later at Flushing Meadows, Peng Shuai felt a similar sting. Pennetta served at 6-4/6-5, 30/love and held a match point before seemingly faltering to the point of no return, suffering from an illness and near vomiting on the court. Down 5-0 and 6-2 in the ensuing 2nd set tie-break, Pennetta nonetheless saved four set points and won the TB 8-6 to take the match.

In Indian Wells, the Italian had to face foes of the flesh and bone variety, but also survived a bout with Mother Nature on her way to the biggest singles title of her career.

Of late, it's been par for the course for Pennetta, who followed up a very public romantic break-up with former player Carlos Moya, a jail sentence for her mother back home in Italy, and wrist surgery in 2012 that left her, at 31, contemplating retirement last summer as her ranking stood at #166 and her comeback wasn't advancing as easily as she'd hoped it would. But Pennetta's subsequent runs to the Wimbledon Round of 16 and U.S. Open semifinals (a career best slam result) showed that she was far from finished. Just like old times.

Her rebound has continued into 2014. She came to Indian Wells already with wins this season over Aga Radwanska and Angelique Kerber, and had an Australian Open quarterfinal result (her best result in Melbourne) under her belt. Throughout the two weeks in California, she was consistently overlooked as the draw seemed to "open up" for other players as a result of upsets. But it was Pennetta, who'd never met an obstacle she couldn't overcome, who never found one big enough to take her down and out in the desert.

In the QF against Sloane Stephens, Pennetta seemed to be ready to crack when her forehand broke down after having gotten to within two points of a straights sets win, then being forced to a 3rd set in which she fell behind 3-0. But she weathered the sudden windstorm that befell the area better than the American and advanced. In the SF, against top-seeded and fellow 32-year old Li Na, who'd defeated her on the way to her AO title, Pennetta failed to back up a break lead four times in the opening set and had a first serve percentage hovering around 40%, as the players exchanged in a consecutive service break string that lasted eight games. Still, good second serve numbers pulled her through, as did a less error-prone game compared to that of Li.

In the biggest final of her career, Pennetta didn't have to battle against the elements, nor an opponent who was able to push her back against the wall yet again. Aga Radwanska, battling a lingering knee injury that no one even knew was a serious issue until it suddenly was in this match, wasn't able to physically put up a fight, and it caused her to lose her mental edge. After winning eleven of the final twelve games of the match in her previous' 14 win over A-Rad, Pennetta took twelve of the fifteen games played on Sunday in a 6-2/6-1 victory.

The first-ever Top 10 player to hail from the Italy, and the first woman from her nation to rise to the #1 doubles ranking, Pennetta's victory raises her ranking from #21 to #12. In the rare position of having no reason to not have a smile plastered on her face, and with her tennis-playing nose pointed directly upward, who knows where Flavia will end up next?

But we do know that everyone will be cheering her on.



*WEEK 11 CHAMPIONS*
INDIAN WELLS, CALIFORNIA USA (Premier $5.947m/HCO)
S:

Flavia Pennetta/ITA def. Agnieszka Radwanska/POL 6-2/6-1


D:

Hsieh/Peng (TPE/CHN) d. Black/Mirza (ZIM/IND) 7-6(5)/6-2




PLAYER OF THE WEEK:

Flavia Pennetta/ITA


...Pennetta's run in Indian Wells included three-set victories over a game Taylor Townsend and Sam Stosur, as well as straight setters over Camila Giorgi, Sloane Stephens, Li Na and Aga Radwanska. In all, that's two Top 5 wins, and four over players ranked in the Top 20 from a player who came into town on the outside looking in at #21 after having already raised her ranking 145 spots since last summer. In her first final since 2012, this was Pennetta's first title in nearly four years. As the third-oldest singles champion ever in Indian Wells -- and the oldest not named Navratilova -- one has to wonder if maybe the liquid that a celebratory Fabio Fognini was dousing Pennetta with in the player's box following the final might have been holy water.


=============================




RISERS:

Agnieszka Radwanska/POL & Simona Halep/ROU




...once again in a big event, Aga came up far short in the end after a fine lead-up to her first Indian Wells final. Celebrating her birthday week at The Cheesecake Factory (when, as you can see, things were going well), and signing on as an official endorser of her longtime favorite place to chow down, Radwanska was riding high -- with wins over Heather Watson, Annika Beck (0 & 0), Alize Cornet, Jelena Jankovic and Simona Halep -- until a knee injury that has apparently lingered since occurring after the Australian Open caused the sort of day that causes nightmares for a player trying to win a big event final... especially when a win would have meant she'd have replaced Li Na as the #2-ranked player in the world. Tentative and second-guessing her shots, A-Rad first loaded up on errors (an astronomical, for her, 18 in the 1st set alone), then, after multiple medical timeouts proved unable to relieve the pain in her already-bandaged knee, Radwanska was unable to move throughout the 2nd, which proved to be just a prelude to her tearful post-match comments to the fans which began with, "I'm sorry I couldn't run after the balls." Halep came to Indian Wells targeting a QF result, so she seemed pretty happy to have reached the semis in the season's second high-level Premier event after having won the first in Doha a few weeks ago. Her wins over Kurumi Nara, Lucie Safarova and Eugenie Bouchard were enough to raise her ranking to a brand-new all-time Romanian high of #5. The Pride continues.


=============================




SURPRISE:

Casey Dellacqua/AUS


...Dellacqua's return to singles relevance continues, as she once again outlasted countrywoman Sam Stosur in a big-time event. While Stosur went out in three sets to Pennetta in the 3rd Round, Dellacqua qualified and lasted until the QF, getting wins over Christina McHale, Kirsten Flipkens and Roberta Vinci before advancing to the final eight via Lauren Davis' 4th Round walkover. Since the start of the season, Dellacqua has raised her ranking from #130 to the current #56.


=============================




VETERANS:

Hsieh Su-Wei/Peng Shuai (TPE/CHN) & Jelena Jankovic/SRB


...while they came up well short (2nd Rd.) in Melbourne, Hsieh & Peng have gotten right back into the pattern of big event success that they had over the back half of '13, a run which SHOULD have caused them to be named Doubles Team of the Year last season. Oh, well, no matter... they're well on their way to such honors for 2014. In Indian Wells, the 28-year old friends since childhood who were born just four days apart in 1986, followed up their title run in Doha with their second of the year (it's Peng's third straight, having won a title in Pattaya without Hsieh to move into the #1 doubles ranking), and eleventh overall as a duo. Along the way, they knocked off Barty/Dellacqua, Kuznetsova/Stosur and Black/Mirza in the final, joining the team of Huber/Raymond (2012) as the only pair since 2007 to open the season by winning the first two contested Tier I/Premier Mandatory/Premier 5 tournaments of the year. Meanwhile, even as she battled a back injury, Jankovic still showed the heart and drive that has propelled her somewhat unlikely climb BACK up the rankings. Wins over Yvonne Meusburger and Magdalena Rybarikova, along with her coach-killing destruction of Caroline Wozniacki, pushed JJ into the QF of the event she won four years ago. There, she pushed Aga Radwanska to three sets, and very nearly completed a betcha-didn't-see-that-coming return to the Top 5 in the new rankings. As it is, she's up to #6.


=============================




COMEBACKS:

Sloane Stephens/USA & Alisa Kleybanova/RUS


...well, Sloane ultimately finds a soft place to land in these awards despite tripping over the finish line in a windstorm in her QF match with Pennetta, simply because for the first time in the past year there were actually signs of Current Sloane possibly -- maybe -- finally being challenged for dominance by Future Sloane on a somewhat meaningful level. While Stephens will likely point to her time in Indian Wells as what happened before she celebrated her 21st birthday -- she registered for "wedding" gifts at Target with her mom, and look what Diane found for her at Women Who Serve -- it might turn out to be much more. Or not. We'll see. In IW, Stephens seemed to take to coach Paul Annacone's words to heart -- even if sometimes almost "accidentally" -- and found a way to not give up in close matches. Things mostly worked in her favor with wins over Ajla Tomljanovic, Ana Ivanovic and Alisa Kleybanova, the latter two of which she surely would have lost over the past year, considering her Current Sloane form since she last reached a tour level SF at the Australian Open in 2013. Was it her first real step toward allowing Future Sloane to join the present? Only time will tell. She did at least move up from #18 to #16 in the new rankings, and that sort of upward progression hasn't happened in a while. Kleybanova was Stephen's last IW victim, but the Hordette's return from Hodgkin's lymphoma, which already garnered her Comeback Player honors from the tour last season, continues to get a more and more stable footing. Wins over Vicky Duval, Garbine Muguruza and Maria-Teresa Torro-Flor are just the latest victories in '14 that are causing Kleybanova's results to more and more resemble those in her previous career. She now has three Top 50 wins this season, equaling the pre-2014 total number she's had since her diagnosis in the spring of 2011 (she'd had nine Top 50 wins in that season's first five months). With this one result, Kleybanova's ranking jumps from #142 to #112.


=============================




FRESH FACES:

Camila Giorgi/ITA & Lauren Davis/USA


...after making a splash in a big hard court event in the U.S. (the Open last summer, where she reached the Round of 16 as a qualifier) before, Giorgi was in familiar territory in Indian Wells. Once again a qualifier, the Italian notched victories over Andrea Petkovic, Sorana Cirstea and Maria Sharapova en route to another Round of 16 appearance. The Italian lost there to countrywoman and eventual champ Pennetta. Davis, on the other hand, rose to great heights in California, only to close out her run in Indian Wells in anticlimactic fashion. The Bannerette was one of the stars of the first week of the event, getting wins over Chan Yung-Jan, an injury compromised Vika Azarenka (for her first career Top 25 win) and Varvara Lepchenko. Unfortunately, Davis never got to play her 4th Round match with Casey Dellacqua, pulling out after suffering from food poisoning.


=============================




DOWN:

Maria Sharapova/RUS, Petra Kvitova/CZE & Caroline Wozniacki/DEN


...Sharapova came to Miami as the defending champ, but left it as the 3rd Round upset victim of Camila Giorgi. The loss drops the Russian out of the Top 5 in the new rankings. Kvitova, after getting past Svetlana Kuznetsova with a love 3rd set, lost in her next match out -- 3 & 2 vs. Dominika Cibulkova -- in the 4th Round, flaming out yet again with illness and breathing issues. She's still ranked in the Top 10, and even managed to bump up one spot to #8 this week, but with the likes of #11 Cibulkova and #12 Pennetta charging, she might be challenged for that position soon. Meanwhile, last but not least (in theory), defending IW runner-up Wozniacki was taken out rather easily (3 & 1) by Jelena Jankovic in the 4th Round, then did what comes naturally to her -- she split with her coach. So, following in the footsteps of Ricardo Sanchez, Thomas Johansson and Thomas Hogstedt, Michael Mortensen joins the long and growing list of well-regarded coaches who have come up against a Danish brick wall when it comes to attempting to change Midge's game so that she can improve her standing (she falls from the Top 15 to #18 in the new rankings). Mortensen -- with a straight face, somehow, I'm guessing -- said that Wozniacki wants to get back to the game that got her to #1 in 2010 rather than do the things that he suggested in order to change it... because ultra-defensive games in which a player consistently sets up six feet behind the baseline and never ventures forward is the wave of the future, don't you know. In the words of Ms. Azarenka, "Good luck with that." Hmmm, I wonder if anyone is taking bets on how many more seasons before Caro is retired and pregnant, and rumors of a comeback begin to swirl?


=============================




ITF PLAYER:

Irina-Camelia Begu/ROU


...Halep wasn't able to win her second WTA title of 2014 in Indian Wells, but countrywoman Begu was able to claim her second ITF challenger of the year in Week 11. The 23-year old Swarmette, a week after defeating Alexandra Panova in the Campinas final in Brazil, moved on to Sao Paulo and defeated the Russian once again in a $25K final there. There aren't any hard feelings, though, as the pair teamed up to win the doubles title.


=============================




JUNIOR STAR:

Fanny Stollar/HUN


...I guess there's nothing like an Hungarian Fanny. Well, you know what I mean. 15-year old Stollar took the title on the clay at the Ascuncion Bowl in Paraguay, winning her first career Grade 1 title with wins over Bannerette Usue Arconada in the semis and Mexico's Constanza Gorches in the final.


=============================








[Week 11]


1. IW 4th Rd. - Li d. Wozniak
...6-1/6-4. Disaster finally caught up to Li in the semifinals vs. Pennetta, but her battle with her still lingering tennis demons was a crazy one in the final game of this match. The contest lasted just 1:33, but twenty minutes were taken up by the final game alone. Li took a 40/love lead on serve and it seemed as if it would all be a breeze from there, but she ended up having to save two break points, survive a bad call from the umpire on a shot that Wozniak couldn't reach and blow four MP via double-faults before she finally put things away on the ELEVENTH MP of the game. Afterward, Li told the crowd, in typically charming fashion, "Welcome to the crazy women's tennis tour."


=============================


2. IW 3rd Rd. - Stephens d. Ivanovic 7-6/6-4
IW 4th Rd. - Stephens d. Kleybanova 6-3/7-5
...against AnaIvo, Stephens blew a lead in the 1st set after being just two points from the set, but still pulled out the tie-break. In the 2nd, she was nearly down a double-break, but managed to win in straights. Against Kleybanova, she squandered a 4-2 lead in the 2nd and saw the Russian serve for the set. But Stephens broke her, then did it again to claim the match two games later. She might not have been Future Sloane, but she sure didn't look like Current Sloane, either.


=============================


3. IW QF - Pennetta d. Stephens
...6-4/5-7/6-4. Annacone seemed to talk a frustrated Stephens out of giving up on the match in the 2nd set, and things appeared to turn in her favor, as she pulled out the set and went up 3-0 in the 3rd. Who knows what would have happened if not for the windstorm that confronted both players the rest of the way. Of course, Flavia being Flavia, one gets the sense that she probably would have found a way to win no matter what.


=============================


4. IW 3rd Rd. - Giorgi d. Sharapova
...6-3/4-6/7-5. Sharapova has lost three-set matches in '14 to Cibulkova, Pavlyuchenkova and now this fightin' Italian.


=============================


5. IW 4th Rd. - Halep d. Bouchard
...6-2/1-6/6-4. Bouchard had a hard time starting (she fell down 5-0) and finishing (after being broken for 4-4 in the 3rd, a few errant tosses in the breeze, a very poor swinging volley attempt and some bad groundstroke errors in the final game brought down the curtain on the Canadian's trip to California) this one.


=============================


6. IW QF - Li d. Cibulkova 6-3/4-6/6-3
IW SF - Pennetta d. Li 7-6(5)/6-3
...Li wins one AO rematch, but not a second. Still, she's 17-2 on the season... though she and Carlos Rodriguez had better get working on that serve.


=============================


7. IW 3rd Rd. - Kvitova d. Kuznetsova
...6-3/2-6/6-0. Was anyone surprised that this match-up would end in a 3rd set bagel for the winner?


=============================


8. IW 4th Rd. - Cibulkova d. Kvitova
....6-3/6-2. Of course, this Kvitova follow-up was even less surprising.


=============================


9. $10K Antalya Final - Shymanovich/BLR d. Ponomar/GER
...6-2/6-3. The 16-year old Belarusian wins her second challenger of '14.


=============================


10. IW 4th Rd. - Jankovic d. Wozniacki
...6-3/6-1. Neeeeeeeext. Oh, the irony that Wozniacki fell from the Top 15 and ditched yet another coach in the same week that Halep reached the semifinals and entered the Top 5. Remember, the Romanian, a player with a defensive game that has become super-successful because of a willingness to step into the court and go for winning shots when they're available to her, engineered her rise last season while working without a coach before finally picking one and sticking with him. The result: her rise has continued. Oh, well. At least Caro is consistent, albeit unfortunately so.


=============================








[Week 11]


1. IW Final - Pennetta d. Agnieszka Radwanska
...6-2/6-1. Aga fails to become the eighth woman to win both Indian Wells and Miami. She'd have been the only one of the group to have never been ranked #1, sort of like she IS the only Miami champ who's never been a slam champion.


=============================


2. IW Doubles Final - Hsieh Su-Wei/Peng d. Black/Mirza
...7-6/6-2. They're 2-for-2 in big '14 Premier titles. Raymond/Stosur went 3-for-3 in '07, and 4-for-4 in '06. Raymond went 4-for-4 with Stubbs in '02, as well.


=============================


3. IW QF - Agnieszka Radwanska d. Jankovic
...7-5/2-6/6-4. Aga led 3-0 in the 1st, JJ 4-0 in the 2nd and Aga 4-0 in the 3rd. Jankovic called for a replay challenge while sitting in the splits position behind the baseline, and became a wildlife advocate by rescuing a gigantic moth. Yep, it was a typical Queen Chaos match... and, from both sides of the court, probably the most entertaining match of the entire tournament.


=============================


4. IW SF - Agnieszka Radwanska d. Halep
...6-3/6-4. This one maybe didn't turn out to be as great as we'd hoped, but the 25-shot rally was a thing of beauty.



=============================


5. $10K Orando Final - Stewart/USA d. Elizaveta Ianchuk/UKR
...6-1/6-1. On the scoreboard in the final, Ianchuk was more like Radwanska than Hsieh. But this was her '14 debut after playing just twelve matches last season, and she came in ranked #910 before getting wins over Evgeniya Rodina (QF) and Aliaksandra Sasnovich (SF). So it was still a pretty good week.


=============================





...ah, remember when. Sure, Vika was ranked #10 in 2010. But it's the names of many of the women ranked ahead of her back then that make you realize just how long four years is in the life of the tennis tour.






**OLDEST 2014 WTA SINGLES CHAMPIONS**


33y8m1w - Venus Williams (Dubai)
32y3m1w - Serena Williams (Brisbane)
32y3w - FLAVIA PENNETTA (INDIAN WELLS)
32y1w - Klara Zakopalova (Florianopolis)
31y11m - Li Na (Australian Open)
31y10m1w - Li Na (Shenzhen)



**OLDEST INDIAN WELLS CHAMPIONS**


34 - Martina Navratilova (1991)
33 - Martina Navratilova (1990)
32 - FLAVIA PENNETTA (2014)



**LONGEST SINCE LAST TITLE - 2014 WTA CHAMPS**


8yr,5m,1w - Klara Zakopalova, CZE (Sept.'05 - March '14)
3yr,11m - FLAVIA PENNETTA, ITA (April '10 - March '14)
3yr,7m,2w - Ekaterina Makarova, RUS (June '10 - February '14)
2y2m - Ana Ivanovic, SRB (Oct.'11 - January '14)



**2014 CONSECUTIVE FINALS**




[singles]


2...Li Na (January / 2-0)
2...Klara Zakopalova (February-March / 1-1)


[doubles]


3...PENG SHUAI (Febuary-March / 3-0)
2...Errani/Vinci (January / 1-1)
2...Kveta Peschke (February / 1-1)
2...HSEIH/PENG (February-March / 2-0)



**2014 DOUBLES TITLES**


3 - PENG SHUAI, CHN
2 - HSIEH SU-WEI, TPE
2 - Alla Kudryavtseva, RUS
2 - Monica Niculescu, ROU
2 - Anastasia Rodionova, AUS
2 - Klara Zakopalova, CZE
2 - Kristina Mladenovic, FRA (w/ 1 Mixed)



**RECENT INDIAN WELLS DOUBLES CHAMPS**


2006 Lisa Raymond & Samantha Stosur
2007 Lisa Raymond & Samantha Stosur
2008 Dinara Safina & Elena Vesnina
2009 Victoria Azarenka & Vera Zvonareva
2010 Kveta Peschke & Katarina Srebotnik
2011 Sania Mirza & Elena Vesnina
2012 Liezel Huber & Lisa Raymond
2013 Ekaterina Makarova & Elena Vesnina
2014 Hsieh Su-Wei & Peng Shuai


I'll be back with my picks for Miami once the draw is made.

All for now.