Wk.15- French Twists
It was a weekend for pastries. French Pastries... with a twist.


Going in, Week 15 seemed like a "chalk" walk where the expected was likely to occur. Jelena Jankovic, one year after stoking the flames of a nearly-fading career by winning a small event in Bogota, was back in Colombia as the #1 seed up against a field that wasn't exactly sterling. Surely, it seemed, she'd defend her title. Meanwhile, top-seeded Aga Radwanska, so often playing the part of bridesmaid on tour since last summer, was in Katowice looking to win a first-ever tour level title in her native Poland one week before attempting to lead the nation's Fed Cup squad to it's greatest victory yet. Surely, the cracks that have shown in the steely exterior of the sport's greatest magician wouldn't be visible with so many supportive faces living and dying by her every move. Radwanska's first title of 2014, even against a tougher field than the one in Bogota, seemed like a fait accompli.

But when Li Na spoke recently of the "crazy women's tennis tour," she wasn't joking. Well, she was... but, as is often the case, the Australian Open champ was also telling the truth. And that's a great compliment to the WTA.

As it turned out, while Jankovic advanced to the final without dropping a set, she was out-played and out-hit once she got there by a tour final neophyte who earlier this season found herself on a ten-match losing streak (something JJ is familiar with, it should be noted) and she'd never been to a tour quarterfinal in her career. Caroline Garcia's career week not only included her maiden title run in singles, it also featured her first doubles crown as she became the first woman to pull off a singles/doubles sweep in a WTA-level event since Serena Williams at the 2012 Olympics. In Katowice, Radwanska flamed out once again, going from holding a 3-0 (and point for 4-0) 3rd set lead to once more coming up just a bit short in the semifinals. As things stand, she's still looking for her first appearance in a tour final in Poland, let alone her first title. Her last title-winning celebration in front of her home fans? Well, that'd be back in 2005, when she claimed one singles and two doubles crowns in ITF challengers on home soil. Why, Aga was just a mini-Rad back then.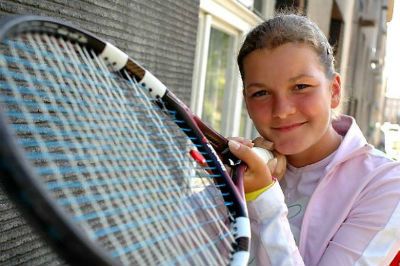 The player who defeated Radwanska, like Garcia, is also French. Alize Cornet had never beaten A-Rad until Saturday, and while she's been one of the best just-under-the-surface stories of 2014, the Pasty was still looking for her first singles title since her pre-Roland Garros title run in Strasbourg last May. She got it in the final against first-time finalist Camila Giorgi, but not until she was forced to save a match point.

Both French champs will be in action under the wing of Fed Cup coach Amelie Mauresmo next weekend against the U.S. team in St.Louis. But what might be more interesting to ponder is the future of both Pastries later this spring in Paris. Remember, despite her success on hard court and indoors this season, red clay has always been Cornet's best surface, while Garcia's first bubble-up came at Roland Garros in 2011 when she led Maria Sharapova 6-3/4-1 in the 2nd Round before losing in three sets.

Oh, by the power vested in them by the lingering spirit of La Trufflette, could the Tennis Gods only be preparing us for even more fun beginning in about a month and a half? Hmmm.



*WEEK 15 CHAMPIONS*
KATOWICE, POLAND (Int'l $250K/HCI)
S:

Alize Cornet/FRA def. Camila Giorgi/ITA 7-6(3)/5-7/7-5


D:

Beygelzimer/Savchuk (UKR/UKR) d. Koukalova/Niculescu (CZE/ROU)
BOGOTA, COLOMBIA (Int'l $250K/RCO)
S:

Caroline Garcia/FRA def. Jelena Jankovic/SRB 6-3/6-4


D:

Arruabarrena/Garcia (ESP/FRA) d. King/Scheepers (USA/RSA)
Fed Cup Americas Zone Group II Playoffs (Humacao, PUR)
Bolivia def. Dominican Republic 2-1
Chile def. Costa Rica 2-0

PLAYER OF THE WEEK:
Alize Cornet/FRA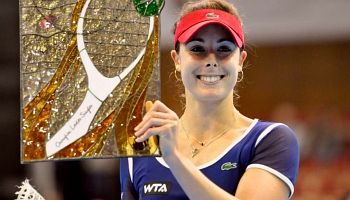 ...Cornet's battle with Dominika Cibulkova for "Most Improved Player" honors continues. Indoors, where the Pastry has already won the Hopman Cup and reached the Paris final this season, Cornet reached still greater heights in Katowice as she won career title #4 in with a string of wins over Vesna Dolonc, Kristina Kucova, Klara Koukalova, Aga Radwanska and Camila Giorgi. In the semis against A-Rad, Cornet overcame a 3-0 3rd set deficit to notch her second Top 4 win of the season (she'd been 0-17 prior to '14), then in the final against Giorgi she managed to reverse course after blowing 3-0 leads in the both the 2nd and 3rd sets, and saving a match point, to run her consecutive seasons with a title to three after having gone without a crown from 2009-11.


=============================




RISERS:

Caroline Garcia/FRA & Vania King/USA




...Garcia, 20, knows how to turn things around. Earlier this year, the Pastry was riding a ten match losing streak. Actually, it might be more correct to say the streak was riding her. She broke the bad run in two in Acapulco, coming back from a set and break down against Genie Bouchard to reach her first career semifinal. In Miami, she took Serena Williams to three sets. But that was nothing to compared to what she did in Bogota, where she strung together wins over Florencia Molinero, Danka Kovinic, Romina Oprandi and Vania King to reach her first tour singles final. There, she took out defending champ and top seed Jelena Jankovic in straights, showing a distinct lack of nerves down the stretch while getting her first Top 10 win after having previously been 0-7 in such situations. But that wasn't all. Garcia also grabbed her first career doubles title, winning the crown with Lara Arruabarrena. Also in Bogota, King continued her under-the-radar move up the rankings some eight years after she was a surprise singles champion in Bangalore in 2006. King's final in Guangzhou last year was her first since her title run, and her semi this past week in Colombia after wins over South Americans Maria Irigoyen and Mariana Duque-Marino was already her second final four result this season. She's up to #62 in the new rankings, within shouting (or in warbler Vania's case, singing distance) of the career mark of #50 she set in '06 in the wake of her singles title. That's still her only Top 50 season, but if she continues to inch upward it might soon be her "first." King, who's made more of a mark in recent years in doubles, also reached the Bogota final with Chanelle Scheepers, but failed to get her first tour title since her gone-but-not-forgotten great teaming with Yaroslava Shvedova, who combined with the Bannerette to win Wimbledon, the U.S. Open, Cincinnati and Moscow crowns over a short fifteen-month stretch in 2010-11.


=============================




SURPRISES:

Yuliya Beygelzimer/Olga Savchuk (UKR/UKR)


...the Ukrainian pair broke a long WTA title drought for both with their doubles championship in Katowice, after having faced down three match points in the semifinals. Beygelzimer, 30, claimed her third tour title with the win, but her most recent came back in 2005, and she hadn't reached a tour final since 2009. 26-year old Savchuk now has two career crowns, but her other came six years ago in the first of three well-spaced out appearances in finals in '08, '10 and '14. Their win in the final over Klara Koukalova & Monica Niculescu prevented the Czech/Romanian duo from claiming their third title of the 2014 season.


=============================




VETERANS:

Jelena Jankovic/SRB & Chanelle Scheepers/RSA


...well, now that she's no longer the reigning champ at any event, maybe a case can be made that JJ's continued presence in the Top 10 is even MORE impressive. Well, at least a case COULD be made. I'm sure she'd rather have defended her Bogota title instead of losing in straights sets to a first-time finalist. As it is, while JJ isn't quite in top form as the tour shifts to the EuroClay section of the schedule a week from now, she can take something from having reached this weekend's final without having dropped a set against opponents Mathilde Johansson, Sofia Shapatava, Lara Arruabarrena and Chanelle Scheepers. Meanwhile, 30-year old Scheepers notched singles wins over Karin Knapp, Alexandra Panova and Lourdes Dominguez-Lino to reach the semifinals, as well as reaching the doubles final with Vania King.


=============================




COMEBACK:

Shahar Peer/ISR


...how can it be that Peer is STILL only 26? Oh, well. No matter her age, the Israeli's QF run in Katowice had to feel good. While she did win the WTA 125 Challenger in Suzhou last September, her two wins in Poland were her first main draw tour match wins in nine months. Her victories over Petra Martic and Tsvetana Pironkova ended a 0-9 WTA MD run that stretched back to Peer's loss in the Baku final last July.


=============================




FRESH FACES:

Camila Giorgi/ITA & Jelena Ostapenko/LAT


...here she goes again. Giorgi, who's had up a pair of slam Round of 16 appearances the last two seasons, continues to put up results that show that the Italian presence on tour won't end once the "old guard" of Pennetta, Schiavone, Vinci (and even the younger Errani) drift away. The 22-year old grabbed her second '14 win (Sharapova - Indian Wells) over a defending champion when she took out compatriot Vinci in the Katowice 2nd Round then, after having never before reached a tour QF, rode the momentum all the way to the final with additional wins over Shahar Peer and Carla Suarez-Navarro (incidentally, CSN is the only other player with two wins over DC's this season). In the final, Giorgi came back from a break down to force a 3rd set against Alize Cornet, then did it again in the deciding set, holding a match point at 5-4. She sailed a return long, and the opportunity was lost. Still, she's up to a career-high #54. 16-year old Latvian Ostapenko, who lost in the AO girls QF to eventual champ Elizaveta Kulichkova, has proven to be far more unbeatable in crunch time on the ITF circuit. In fact, she's never lost a final in a pro event, winning her ninth and tenth overall titles this weekend in the $10K challenger in Santa Margherita di Pula, Italy. Her win in the singles final over Pastry Jade Suvriyn got her her first career clay title, giving her a 4-0 mark in ITF singles finals the last three seasons, and her doubles title makes her 6-0 there over the same time span.


=============================




DOWN:

Sloane Stephens/USA & Roberta Vinci/ITA




...since her encouraging work while reaching the Indian Wells QF, Stephens' trajectory has reversed course, as she's gone from 3rd to 2nd to 1st Round (this past week in Bogota, losing to. Maria Duque-Marino) exits in her last three events. While Sloane has made strides in saying something close to the right thing most of the time, stressing -- unlike some players -- an understanding that it takes patience to transform hard work into victories, it's sometimes difficult to forget her "so what?" comments after her windy IW loss to Flavia Pennetta, and her stating how, looking at all the successful vets on tour, she can win well into her career, so it's not essential that she do so now. While it's intriguing that, oddly enough, Current Sloane actually does seem to be buying into the notion of a "Future Sloane" with such comments, it makes one wonder if a player can find her way to that future if she has no outright urgency to get there as swiftly as possible. As the recent urgent rises of such players as Bouchard, Bencic and Svitolina (and, now, even 20-year old Garcia) show, there are players out there the same age or younger who no one would mistakenly question their desire to win NOW, not ten years from today. You know, when they find the time. Maybe it's unfair to view Stephens' post-match comments as flippant, especially since few players can sound as flippant -- even when she's not particularly trying to be -- as Current Sloane. It's sort of a default perception to see her that way, it seems. Maybe it's a Twitter thing, as it's hard to be TOO serious when you're limited to 140 characters a comment. Oh, well. I guess we'll see. As it is, the USTA announced in a press release this past week that Stephens would "lead" the U.S. Fed Cup team next weekend against France, citing that she's in "good form" and noting her Fed Cup "experience." Well, her "good" form is debatable, and should we get into how she squandered a lead in her FC singles debut last year -- so far her only FC singles experience -- and was yanked from the lineup on Day 2 by Mary Joe Fernandez in favor of Venus Williams? Of course, considering recent non-Williams FC performances, maybe just having been on the same team as Venus DOES qualify as a feather in Sloane's cap compared to the rest of the team. Meanwhile, Vinci came to Katowice as the defending champion from last year's event, when it was held on indoor red clay. On indoor hard courts this year, Vinci, as she has been so often this season, was once more bounced early, losing in poor form (a 6-0 3rd!) when faced with the challenge of defeating a fellow Italian. In this case, Camila Giorgi... playing the role of Flavia Pennetta from last year's U.S. Open quarterfinal match. Vinci is 2-9 so far this year since leading Italy to the Fed Cup title to end '13. Heck, even "good/bad form" Sloane is 7-7 this season.


=============================




ITF PLAYER:

Laura Siegemund/GER


...the 26-year old German won her second challenger of the season at the $25K in Pelham, Alabama. Siegemund went three sets four straight times en route to the final while defeating the likes Madison Brengle and Samantha Crawford. In the final, she claimed her tenth career ITF crown with a straight sets win over Kazakh Yulia Putintseva.


=============================




JUNIOR STAR:

Paula Badosa Gibert/ESP


...the 16-year old Spaniard swept the singles and doubles titles at the Grade 1 Trofea Juan Carlos Ferrero event in Villena, Spain. In February, Gibert won another Grade 1 in Casablanca after putting up wins over Kristina Schmiedlova and Sandra Samir. Here, as the #14 seed, she defeated the #2, #4 and #7 seeds to reach the final, then knocked off #3-seeded Ioana Loredana Rosca in the final. Gibert had lost to the Swarmette last week in the final of a Grade 2 event.


=============================




FED CUP MVPs:

Maria-Fernanda Alvarez-Teran/BOL & Maria Koch-Benvenuto/CHI


...the Americas II zone group playoffs got an early start on Fed Cup action last week, as Bolivia and Chile advanced to the Americas I group after advancing out of pool play and winning promotional playoff rounds. Alvarez-Teran, 25, went 3-0 in singles and 1-0 in doubles while leading the Bolivians, while 28-year old Maria Koch-Benvenuto, in her 39th career FC tie, went 3-0 in singles. Although, a case could also be made for Daniela Seguel & Cecilia Costa-Melgar, who won the deciding doubles match over Puerto Rico's Monica Puig & Ariana Rodriguez to advance the Chileans out of pool play and into the promotional playoffs, as co-MVP contenders, as well. Of course, such a situation occurred when Seguel, Chile's highest-ranked player who was participating in her first FC tie in singles, lost to Puig in the second singles match in the deciding pool play tie vs. PUR, making the all-stakes doubles contest necessary, so I'll stick with MKB.


=============================




Now, a Caro the Caddie break...



Pinky!



Caroleezza!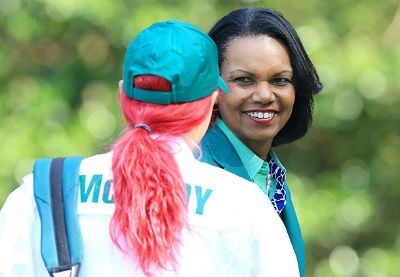 Missed her true calling?


1. Kato Final - Cornet d. Giorgi
...7-6(3)/5-7/7-5. Cornet pulls off something of a Houdini-esque escape, as she twice blew 3-0 leads in both the 2nd (where she also led 5-3) and 3rd sets. Giorgi erased the first deficit to take the 2nd and force a 3rd, then got to match point at 5-4 before the ever-scrambling Pastry pulled one final comeback of her own to win in 3:11.


=============================


2. Bogota 1st Rd. - Duque-Marino d. Stephens
...6-3/6-3. Stephens is 1-3 since reaching the IW quarterfinals, and a combined 1-5 in the events immediately before and after her 3-1 run in the desert. But, have no fear, Sloane is ready to lead the U.S. into Fed Cup play against the Pastries. Sure, it might be in 2024... but, still.


=============================


3. Bogota Final - Garcia d. Jankovic
...6-3/6-4. A sign of good intentions? Garcia ended the match with an ace, ace, forehand winner combination to wrap up the greatest week of her career. The Pastry had held match points against JJ in two previous meetings, only to see the Serbian vet win out in the end. Not this time... with emphasis.


=============================


4. Bogota 1st Rd. - Scheepers d. Knapp
...6-3/7-6(4). The Italian is 2-5 since leading Team Italia in FC play back in February (a Vinci Curse?!?). This was her fifth straight loss.


=============================


5. Kato 2nd Rd. - Giorgi d. Vinci
...6-3/6-7(7)/6-0. Vinci managed to erase 4-2 and Giorgi-serving-at-5-4 deficits to force a 3rd. Considering what happened next, though, she might have been better off losing in two respectable sets.


=============================


6. Kato 1st Rd. - Beck d. Barthel
...6-1/6-4. Even heading indoors did nothing for 2013 Paris Indoors champ Barthel, who hasn't had a main draw tour win since taking down Luksika Kumkhum at the Australian Open.


=============================


7. Kato 2nd Rd. - Lucic d. Jaksic
...6-3/6-4. Jovana learns about "the week after."


=============================


8. Bogota 1st Rd. - Fichman/Panova d. Hesse/Mladenovic
...6-0/7-6(3). While Mladenovic has reached four doubles/mixed finals this season, winning two, she's also gone out in the 1st or 2nd Round six times.


=============================


HM- Easter Bowl Final - CiCi Bellis d. Katie Swan
...6-3/6-1. A week after winning the Grade 1 USTA Spring Championships in Carson, Bellis takes the Grade B1 Easter Bowl in Indian Wells. She's 18-0 this season.


=============================






1. Kato SF - Cornet d. Agnieszka Radwanska
...0-6/6-2/6-4. Save for her Fed Cup play and late-season win in Seoul, Aga just hasn't been the same since she lost that Wimbledon semifinal to Sabine Lisicki last summer and failed to take advantage of the fortnight's ongoing Radwanskian Massacre that had seemingly set the stage for her to finally pick up her first slam crown. She still has great moments (i.e. her 3rd set demolition of Azarenka in the AO), but they're often followed up by uncharacteristic inconsistency (or worse) immediately afterward (i.e. her first match after defeating Vika in Melbourne). On a small scale, it happened again here in front of a partisan Polish crowd as Aga was trying to reach her first tour final in Poland. After winning the 1st set at love against Cornet, who'd never gotten a set off her in three previous meetings, A-Rad immediately fell behind 4-0 in the 2nd. In the 3rd, Aga grabbed a 3-0 advantage, and had a point for a 4-0 lead, only to squander another "sure-thing." After getting the gift of an awful Cornet serve game right after the Pastry had broken Radwanska in game #7, bringing things even at 4-4, Aga was broken again en route to falling to 1-3 in 2014 semifinals. It's as if she's been sentenced to re-live -- at least in her mind -- that SW19 semi over and over and over again. As for Cornet, she's now knocked off a pair of #1-seeds in 2014: #3-ranked Radwanska here, and world #1 Serena Williams two months ago in Paris.


=============================


2. Kato 1st Rd. - Agnieszka Radwanska d. Kristyna Pliskova
...6-3/6-2. Earlier in the week, Aga ruled over a sister.


=============================


3. Kuala Lumpur Q1 - Erika Sema d. Chang Hao-Ching
...6-1/6-3. Malaysia is playing host to a slew of sisters in the qualifying and main draws: two Pliskovas, two Semas, two Hsiehs, two Chans, a Kichenok and a Rodionova.


=============================






...the line between "nerdy" (as she described herself in this pic) and "smarty" gets blurred when Vika is involved. "Smerdy?"







**2014 WTA FIRST-TIME CHAMPIONS**


Sydney - Tsvetana Pironkova, BUL (26, #107) - d. Kerber
Hobart - Garbine Muguruza, ESP (20, #58) - d. Zakopalova
Rio - Kurumi Nara, JPN (22, #62) - d. Zakopalova
Bogota - CAROLINE GARCIA, FRA (20, #74)- d. Jankovic



**2014 WTA FIRST-TIME FINALISTS**


Sydney - Tsvetana Pironkova, BUL (W)
Hobart - Garbine Muguruza, ESP (W)
Rio - Kurumi Nara, JPN (W)
Acapulco - Christina McHale, USA (L)
Charleston - Jana Cepelova, SVK (L)
Monterrey - Jovana Jaksic, SRB (L)
Bogota - CAROLINE GARCIA, FRA (W)
Katowice - CAMILA GIORGI, ITA (L)



**2014 SINGLES/DOUBLES FINAL IN EVENT**


Klara Zakopalova, CZE - Hobart (L - W)
CAROLINE GARCIA, FRA - Bogota (W - W)



**DEFEATED TOP SEED & DEFENDING CHAMP**


Sydney - Bethanie Mattek-Sands/USA (2nd Rd.-A.Radwanska, lost QF)
Bogota - CAROLINE GARICA, FRA (in Final - Jankovic)



**2014 LOW-RANKED CHAMPIONS**


#107 - Tsvetana Pironkova, BUL (Sydney)
#74 - CAROLINE GARCIA, FRA (Bogota)
#62 - Kurumi Nara, JPN (Rio)
#58 - Garbine Muguruza, ESP (Hobart)
#44 - Venus Williams, USA (Dubai)
#40 - Andrea Petkovic, GER (Charleston)



**2013 CHAMPS, REACHED 2014 FINAL**




[singles]


Brisbane - Serena Williams (def. Azarenka)
Shenzhen - Li Na (def. Peng)
Miami - Serena Williams (def. Li)
Bogota - JELENA JANKOVIC (lost to Garcia)


[doubles]


Brisbane - Anastasia Rodionova (def. Mladenovic/Voskoboeva)
Australian - Errani/Vinci (def. Makarova/Vesnina)
Florianopolis - Garrigues/Shvedova (def. Schiavone/Soler-Espinosa)
Monterrey - Timea Babos (lost to Jurak/Moulton-Levy)



**NATIONS w/ MULTIPLE CHAMPIONS in 2014**


2 FRANCE - Cornet, Garcia
2 Russia - Makarova, Pavlyuchenkova
2 United States - S.Williams, V.Williams







KUALA LUMPUR, MALAYSIA (Int'l $250K/hard outdoor)


13 Final: Ka.Pliskova d. Mattek-Sands
13 Doubles Final: Aoyama/Chang d. Husarova/Sh.Zhang (Chang 2012-13)
14 Top Seeds: Cibulkova/Sh.Zhang
=============================


=SF=


#1 Cibulkova d. #5 Date-Krumm
#7 Vekic d. #2 Zhang Shuai


=FINAL=


#1 Cibulkova d. #7 Vekic

...Venus' strep throat is keeping her out competition here, so top-seeded Cibulkova, making sure she doesn't blow another big FC match by avoiding the Slovak team's tie like the plague in favor of a small event in Malaysia instead, is the favorite, though she has a tougher path to the final than one might expect, with DC Karolina Pliskova and Kimiko Date-Krumm on her side of the draw. Of some weird note, as well, Zhang Shuai will face off with Zheng Saisai in the 1st Round, with the winner quite possibly facing Zhang Ling in the next round. Oh, if the expected Chinese influx really happens over the next few years, things could get very confusing for more than a few people.

Pop!

Oh, no... I think Pam Shriver's head just exploded in anticipation.




FED CUP SEMIFINALS & PLAYOFFS




...I'll be back soon with a preview of 2014's Fed Cup semifinal weekend, as recent FC champs Italy and the Czech Republic face off for a customary spot in the final, while wake-up-the-echos teams Australia and Germany battle it out Down Under for the chance to try to take down even bigger prey come November.

In the FC playoffs, Romania and Poland are trying to reach new national heights, Serbia (AnaIvo to the rescue?) is still attempting to put the breaks on the nation's post-2012 final berth slide and the Hordettes (for the first time in a while) won't be fielding a full-on "pre-school 'C'-team."

Oh, yeah. And we'll get to see Current Sloane "lead" the Bannerettes, too. Now that could be interesting.


All for now.