Wk.9- The Waterdancers
Sure, Dominika Cibulkova and Klara Zakopalova may have "walked on water" while having the best time on the court in Week 9, but Genie Bouchard had arguably the most fun.


For one, she's no longer a teenager. Yep, she celebrated the big 2-oh in Acapulco. Oh, they grow up so fast, don't they?




And she even got to play some floating court tennis with Grigor Dimitrov. Cool, eh?




True, she lost in the quarterfinals and is still looking for a fitful follow-up to her semifinal run in Melbourne. But I think she'd probably take the two-for-one trade if it was offered to her yet again, don't you think?



*WEEK 9 CHAMPIONS*
ACAPULCO, MEXICO (Int'l $250K/HCO)
S:

Dominika Cibulkova/SVK def. Christina McHale/USA 7-6(3)/4-6/6-4


D:

Mladenovic/Voskoboeva (FRA/KAZ) d. Cetkovska/Melzer (CZE/CZE)
FLORIANOPOLIS, BRAZIL (Int'l $250K/HCO)
S:

Klara Zakopalova/CZE def. Garbine Muguruza/ESP 4-6/7-5/6-0


D:

Medina-Garrigues/Shvedova (ESP/KAZ) d. Schiavone/Soler-Espinosa (ITA/ESP)

PLAYER OF THE WEEK:
Dominika Cibulkova/SVK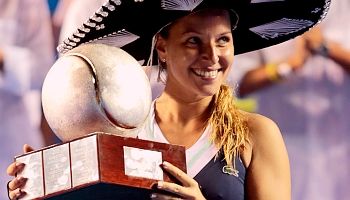 ...Cibulkova got her "long-awaited" (hey, it's been a whole month) Australian Open final follow-up in Acapulco that DIDN'T come in the Slovak Republic's 1st Round Fed Cup tie a few weeks ago. After taking out Urszula Radwanska in her return to tour action to begin the week, the top-seeded Cibulkova got additional victories over Yanina Wickmayer, Marina Erakovic, Zhang Shuai (ret.) and Christina McHale in a 2:54 three-set final to lock away career win #4, giving her a title in each of the last four seasons after she'd taken a while before finally putting away her maiden crown in 2011. After having climbed as high as #12 in the rankings, doing so for the first time in '09, Cibulkova has now shoved Caroline Wozniacki down still one more slot in the rankings and set a new career-high as the #11-ranked player in the world as of today. By the way, the last Slovak to debut in the Top 10 was Daniela Hantuchova, who made her first appearance there back in 2002.


=============================




RISERS:

Kristina Mladenovic/Galina Voskoboeva (FRA/KAZ) & Caroline Garcia/FRA


...finally, Mladenovic gets a '14 tour doubles title after losing in two finals (Brisbane & Paris) earlier this season. The lucky partner turned out to be Voskoboeva, the Pastry's most-utilized doubles #2 over the last few seasons, even if their rate of success hasn't quite been as good as the Pastry's averages with more rarely-used partners. Mladenovic and Voskoboeva's eighth and fifth career titles, respectively, came with a win in the Acapulco final over Petra Cetkovska & Iveta Melzer in a match tie-break. While Mladenovic has won multiple titles with four other players, including the ATP's Daniel Nestor, Voskoboeva is the first to be able to say she's won two tour level crowns with Kiki by her side. But, have no fear, she'll only be the first on what will eventually be a long list. Kiki's fellow Pastry Garcia has never quite lived up to the promise she seemed to show when she pushed Maria Sharapova in the 2nd Round of Roland Garros in 2011 (losing after leading 6-3/4-1, and causing Andy Murray to live Tweet that she'd be ranked #1 one day), but she did clear a significant career hurdle last week in Acapulco, reaching both her first career WTA QF and SF with wins over Lourdes Dominguez-Lino, Sharon Fichman and Eugenie Bouchard (winning from a set and a break down). Of course, before last week, Garcia had lost ten straight matches. So, we'll have to wait and see if this is really a game-changer, or simply an anomaly.


=============================




SURPRISE:

Demi Schuurs/NED


...for once, the Dutch gets mentioned for her singles success rather than doubles prowess. Remember (or not), Schuurs, now 20, reached the finals of all four junior doubles slams in 2011, winning two. Heading into last week, she'd reached twelve ITF doubles finals in the career, winning nine titles, but only once had reached a singles final (in 2012). That changed in the $10K in Sharm El Sheikh, as Schuurs reached the final and defeated Brit Emily Webley-Smith to claim her first career professional singles crown. Congrats, Demi.


=============================




VETERANS:

Klara Zakopalova/CZE & Anabel Medina-Garrigues/Yaroslava Shvedova (ESP/KAZ)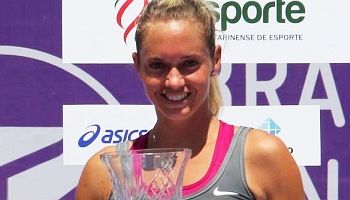 ...a week after dropping her sixth straight singles final in Rio, all since winning her last title in 2005, Zakopalova transformed the week she turned 32 into a true celebration in Florianopolis. Reaching her third '14 final, the Czech notched wins over Donna Vekic, Alize Lim, Alexandra Dulgheru and top-seeded Carla Suarez-Navarro to reach the championship match, then climbed out of a set and 5-2 down hole against Garbine Muguruza (who'd beaten her in the Hobart final in January), winning eleven straight games to finally grab career title #3. The nearly eight and a half year gap between this win and her Portoroz title in September '05 is the fourth-longest between titles in WTA history. In the Florianopolis doubles, AMG and Shvedova teamed up to defend their '13 crown, as the Spaniard won her 22nd career title and the Kazak (one of two doubles champs from Kazakhstan in Week 9) took home her ninth. Shvedova also reached the singles semifinals.


=============================




COMEBACKS:

Christina McHale/USA & Iveta Melzer/CZE


...maybe there's hope for McHale yet. Her Acapulco wins over Kristina Mladenovic, Kimiko Date-Krumm, Kaia Kanepi and Caroline Garcia put the 21-year old Bannerette into her first career tour singles final. Her ranking now jumps from the #70 to #55 in the new computer standings. A good start, but still a far cry from her career-best #24 of less than two years ago. In the doubles in Mexico, Iveta Melzer (formerly Benesova before her marriage to ATP player Jurgen Melzer, with whom the Czech won the '11 Wimbledon Mixed doubles) returned after an 18-month absence following shoulder surgery. She lost in the 1st Round in singles to Vicky Duval, but reached the doubles final with Petra Cetkovska. It's her first final since winning the Stuttgart doubles with Barbora Zahlavova-Strycova in 2012.


=============================




FRESH FACES:

Garbine Muguruza/ESP, Belinda Bencic/SUI and Vicky Duval/USA


...Muguruza's trip to Brazil didn't end the way she (nor a certain Backspinner, who came THIS close to going two-for-two in picks after a frustrating month-and-a-half drought after opening with two wins in Week 1) would have liked, but it says something about how well she was playing earlier this season when reaching just her second career final just eight weeks after making her first can be considered a disappointment. After struggling past Vania King in the 1st Round, the 20-year old Spaniard made her way through Chanelle Scheepers, Alison Van Uytvanck and Yaroslava Shvedova to reach the final, where she met Klara Zakopalova, the Czech that Muguruza had beaten to win her maiden title in Hobart in Week 2. She led 6-4/5-2 this time, but ultimately left Brazil with some regret, and (hopefully) a mind to find a way to clean up her service game. In Acapulco, neither Bencic nor Duval advanced past the 2nd Round, but they still surely deserve some attention. Bencic, already having made so many waves this season, was at it again in qualifying. Battling for 7:33 over the course of three matches, including a comeback from match point down vs. Olivia Rogowska in the second Q-round, the 16-year old Swiss had two match points of her own in the Q3 against Duval, only to see the American advance to the main draw. The 18-year old, who advanced through an earlier qualifying round when Heather Watson retired, then got a MD win over vet Iveta Melzer before falling to Ajla Tomljanovic in the 2nd Round.


=============================




DOWN:

Eugenie Bouchard/CAN


...Bouchard's recent results ticked up a bit in Acapulco, as she notched wins in her QF run over Shahar Peer and Lara Arruabarrena. They're her first non-slam main draw tour victories since reaching the Osaka final last October. But, still, the birthday girl lost in the final eight to Caroline Garcia, who'd never advanced that far in a WTA event before last week.. so consider that a step forward, and then a step back, as #19 Bouchard continues to look up in the rankings at #18 Sloane Stephens. Still, again, it's hard to beat playing tennis on the waves with a beachside view, you know?




=============================




ITF PLAYER:

Anastasia Grymalska/ITA


...the 23-year old Italian claimed the title at the $25K event in Beinasco, Italy with victories over Eva Birnerova, Renata Voracova, Reka-Luca Jani and Anastasiya Vasylyeva in the final. With the second ITF title of the season, Grymalska is now 13-7 in career challenger finals.


=============================




JUNIOR STAR:

Veronika Kudermetova/RUS


...a member of last year's Russian Junior Fed Cup championship team, and the player who opened up Team Russia's ill-fated 1st Round FC match-up vs. Australia by putting up a nice effort in her maiden Fed Cup match against Sam Stosur, 16-year old Kudermetova reached the final of the $10K challenger in Astana, Kazakhstan this weekend. She lost to a fellow Hordette, 19-year old Olga Doroshina, in a tight 6-7(5)/6-4/7-6(6) match.


=============================






1. Florianopolis Final - Zakopalova d. Muguruza
...4-6/7-5/6-0. Recalling her gradual collapse against A-Rad in Melbourne, not her win over Zakopalova in the Hobart final, Muguruza fails to put away the Czech after going up a double-break in the 2nd set, and leading 6-4/5-2. Losing five consecutive games to lose the 2nd, then eleven in a row to end the match, the Spaniard had her serve broken by Zakopalova in six of her last seven service games.


=============================


2. Acapulco Final - Cibulkova d. McHale
...7-6(3)/4-6/6-4. McHale, rarely ever at her best in big matches when in the lead or even, was good while scrambling from behind here. She trailed 5-2 in the 3rd, and saved three match points before having a point to even things at 5-5. Of course, then things went the other way in what became a 2:54 match.


=============================


3. Acapulco QF - Garcia d. Bouchard
...3-6/6-4/6-1. In very "Sloany" fashion, Bouchard was up a set and a break here. She dropped her last two serve games to lose the 2nd, then fell behind 5-0 in the 3rd. Ah, but at least she had fun on the water.




=============================


4. Acapulca Q3 - Duval d. Bencic
...6-7(8)/6-0/7-6(5). Bencic's long weekend ended last Monday when she failed to convert two match points at 6-5 in the 3rd in this 2:58 match. Ah, but at least she had a nice 7:33, three-day workout.


=============================


5. Florianopolis 1st Rd. - Muguruza d. King
...6-2/3-6/7-5. Muguruza won this tight one to begin the week, but the final set included seven consecutive breaks of serve between the two before she finally raised her arms in victory. In a way, it sort of foreshadowed what would happen to the Spaniard in the final when she once more couldn't hold serve in a pressure situation.


=============================


6. Acapulco 2nd Rd. - Kanepi d. Goerges
...6-7(4)/6-4/7-6(6). Kanepi overcomes a 4-1 Goerges lead in the 3rd, saving a MP at 6-5 in the deciding tie-break.


=============================


7. Florianopolis 1st Rd. - Zahlavova-Strycova d. Schiavone
...6-4/1-6/7-5. Schiavone is 0-7 in 2014, and has lost nine straight. On the bright side, she went on to reach the doubles final.


=============================


8. Florianopolis QF - Suarez-Navarro d. Niculescu
....4-6/6-0/4-1 ret. Niculescu was the defending champion in Florianopolis, and her loss was one of three in this year's QF by Romanians, two of which came via retirements. Swarmettes are 1-9 in 2014 WTA singles quarterfinals. Take a wild guess who has the single victory.


=============================






1. Acapulco 1st Rd. - Jovanovski d. Tornado Black
...6-4/7-5. The Bannerette makes her tour debut, but it's only a Tornado Alert in advance of possible future danger.


=============================


2. Acapulco 1st Rd. - Cibulkova d. Urszula Radwanska
...6-3/6-4. Cibulkova pulls off another win over a Radwanska, as Ula plays her first main draw tour match since October.


=============================


3. $10K Nonthaburi Doubles Final - N.Wannasuk/Varunya Wongteanchai d. Kato/Tanaka
...6-2/6-2. Varunya wins her fourth career ITF doubles crown, and her second without sister Varatchaya.


=============================






...shhhhhhhh.







**LONGEST TIME BETWEEN WTA TITLES**


13y,1m - Kimiko Date-Krumm (1996 San Diego/2009 Seoul)
8y,8m,3w - Barbara Rittner (1992 Schenectady/2001 Antwerp)
8y,8m,2w - Jelena Dokic (2002 Birmingham/2011 Kuala Lumpur)
8y,5m,1w - KLARA ZAKOPALOVA (2005 Portoroz/2014 Florianopolis)
7y,7m - Elena Likhovtseva (1997 Gold Goast/2004 Forest Hills)



**2014 WTA FINALS**


3...KLARA ZAKOPALOVA, CZE (1-2)
2...Li Na, CHN (2-0)
2...DOMINIKA CIBULKOVA, SVK (1-1)
2...Angelique Kerber, GER (1-1)
2...GARBINE MUGURUZA, ESP (1-1)
2...Venus Williams, USA (1-1)



**2014 OLDEST CHAMPIONS**


33 - Venus Williams
32 - Serena Williams
32 - KLARA ZAKOPALOVA
31 - Li Na (2)



**2012-14 WTA FINALS MATCH-UPS**


7 - Serena Williams/Victoria Azarenka
5 - Serena Williams/Maria Sharapova
4 - Victoria Azarenka/Maria Sharapova
2 - Maria Sharapova/Li Na
2 - Dominika Cibulkova/Agnieszka Radwanska
2 - Victoria Azarenka/Samantha Stosur
2 - Serena Williams/Jelena Jankovic
2 - Simona Halep/Samantha Stosur
2 - KLARA ZAKOPALOVA/GARBINE MUGURUZA



**MLADENOVIC - MOST DOUBLES TITLES w/ PARTNERS**


2...Naomi Broady (2 ITF)
2...Chan Hao-Ching (1 WTA + 1 WTA 125)
2...Daniel Nestor (2 slam mixed)
2...Katarzyna Piter (1 WTA + 1 ITF)
2...GALINA VOSKOBOEVA (2 WTA)
--
TOTAL: 18 overal titles w/ 13 partners



**2014 FIRST-TIME FINALISTS**


Sydney - Tsvetana Pironkova, BUL (def. Kerber)
Hobart - Garbine Muguruza, ESP (def. Zakopalova)
Rio - Kurumi Nara, JPN (def. Zakopalova)
Acapulco - CHRISTINA McHALE, USA (lost to Cibulkova)



**FOUR CAREER WTA TITLES - active**




[most recent title]


Dominika Cibulkova, SVK (2014)
Kaia Kanepi, EST (2013)
Lisa Raymond, USA (2003)
Aravane Rezai, FRA (2010)
Magdalena Rybarikova, SVK (2013)
Katarina Srebotnik, SLO (2005)
Tamarine Tanasugarn, THA (2010)
Zheng Jie, CHN (2012)



**2014 WTA SF - NORTH AMERICANS**


2...Serena Williams, USA (1-1)
2...Venus Williams, USA (1-0 +W)
1...CHRISTINA McHALE, USA (1-0)
1...Vania King, USA (0-0 +L)
1...Jamie Hampton, USA (0-0 +L)
1...Madison Keys, USA (0-1)
1...Eugenie Bouchard, CAN (0-1)


Speaking of Serena, did you hear the latest theory on Serena's lack of dominating results so far in 2014? The rumor that she's split with Patrick Mouratoglou. Now, that sort of thing would generally lead to some eye-rolling. Or at least it would have had she not mysteriously Tweeted "Me. Mine. Alone. Myself. I. One. Solo. Unaccompanied." last week. Hmmm. If there's fire behind that smoke, I'm sure it'll get be sniffed out by someone soon.

Oh, and now back to Genie for a moment. As noted, even in an ultimately unsuccessful week, she had fun in Acapulco... though not as much as water court playing partner Dimitrov, who won the men's singles title. Of course, getting out to that floating court meant she and the Bulgarian had to share a boat trip, producing a photo that sort of has an old "Hollywood tabloid scandal" feel to it. Well, it would if you didn't know the circumstances of the "boat trip."




Then again, a case of Wandering Genie eyes on the same day...




...might STILL get the attention of a certain Russian.




I'm just sayin'.

Meanwhile, the two-week Indian Wells event starts later this week, so I'll be back soon with my picks, as well as the second monthly BSA's of 2014.

All for now.