Backspin Special: The Very Best of Li
Li Na, the greatest tennis player ever produced by the most populous nation in the world, and a winner of two grand slam singles titles, has retired. She will be missed, but she will never be forgotten.
Ever.


Quick with a joke and a smile, but with a backstory that highlights her strong will, as she stood up and broke away from the powerful Chinese tennis establishment and found her greatest success in the final years of her career, Li will forever be the "founding mother" of Chinese tennis. She was the first player from her nation to win a WTA title, to reach the Top 20, Top 10 and Top 5 (climbing to #2 earlier this season), to reach a grand slam final and two win a major singles crown. Winning at Roland Garros in 2011, she set off an explosion of tennis popularity in Asia, the results of which will be felt across the WTA (and ATP) landscape for generations. Quite literally the "most popular athlete on earth," Li may ultimately influence more future sports champions -- starting with the little Chinese girls who witnessed her triumphs and dreamed of being just like her -- than any person, well, ever.

Said WTA chief executive Stacey Allaster, "It's hard to be a household name in a nation with 1.4 billion people, but that's what Li Na is."

In announcing her retirement today, Li said in an open letter posted online, "Most people in the tennis world know that my career has been marked by my troubled right knee. After four knee surgeries and hundreds of shots injected into my knee weekly to alleviate swelling and pain, my body is begging me to stop the pounding." She added, "As hard as I tried to get back to being 100%, my body kept telling me that, at 32, I will not be able to compete at the top level ever again. The sport is just too competitive, too good, to not be 100%."

Her work has only begun, though. The future will include a tennis academy, as well as possibly having a child with her longtime husband/sometime coach/always-the-good-sport-butt-of-so-many-of-her-jokes Jiang Shan.

"I've succeeded on the global stage in a sport that a few years ago was in its infancy in China," Li said. "What I've accomplished for myself is beyond my wildest dreams. What I accomplished for my country is one of my most proud achievements."

Li's second major win at the Australian Open earlier this season seemed to point to one final late-career rebirth under the tutelage of coach Carlos Rodriguez. But, unfortunately, it turned out to be a wonderful farewell performance that brought a smile to everyone's face. Both at the time and for as long as humans breathe air and tennis fans have any sense of history and/or heart.

Li was an original. And weren't we lucky to have experienced her in real time?

Here she is at her very, very best...






Saturday, June 04, 2011

-

"The Woman with the Rose Tattoo"



Apparently, life begins at 29... at least when it comes to women's tennis players in Paris.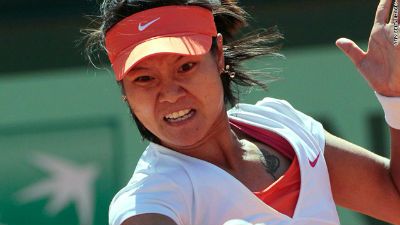 A year ago, a nearly-30 year old Francesca Schiavone threw herself mind, body and spirit into winning Roland Garros just weeks before her thirtieth birthday, thereby reinvigorating the notion that anything was possible in the sport as long as a player is willing to work long enough, hard enough and with as much passion as necessary to achieve the task at hand.

"It like fine wine," Schiavone said this week as she returned to France for the defense of her one and only slam title and fashioned an even more improbable run to a second consecutive final, "Stay in the bottle more is much, much better." Thing is, the same sentiments equally applied to the Italian's opponent in Saturday's women's final, 29-year old Chinese vet Li Na. "When I come here, I feel something special," Schiavone remarked of Roland Garros in recent days. She always will. But, now, so will Li. Because Paris is where she today not only claimed the first slam title of her career, but did so for the entire sporting nation of China, as well as for the budding tennis revolution filled with "wannabe Na's" that her accomplishment will undoubtably help to further spur to bigger and greater heights.




In the women's slam final with the oldest combined age of its two participants ranking the fifth-highest ever, and the highest on tour since the 1998 Wimbledon championship (Jana Novotna vs. Nathalie Tauziat), Schiavone's artistic endeavor to write yet another favorable ending to a springtime trip to the City of Lights proved to be no match for "the Henny Youngman of women's tennis" -- "take my husband, please!" -- with a few billion far away souls on her side. After her semifinal victory over the favored Maria Sharapova, Li had openly discussed the effect that her success might have on the future of many girls and boys back home. "Maybe children, they saw the match, and they think that maybe one day they can do the same or even better," she theorized, accompanied by her always-ready-to-light-up-the-immediate-surroundings smile.

Four months wiser after her losing experience in the Australian Open final against Kim Clijsters, Li didn't show up at Chatrier Court wondering how she was going to once again use her hitting partner/deposed coach Jiang Shan in another comedic punchline, which she'd done with great humor in Melbourne as well as after her come-from-behind 4th Round win over Petra Kvitova in Paris. She came to win. With Jiang, for whom Li has a rose tattoo over her heart lest there be any questions about the strength of their relationship, in the stands sitting along-side new coach Michael Mortensen, Li went about the business of becoming a groundbreaking soon-to-be-legendary figure in the minds of many of the players who'll one day make their own dreams come true in professional tennis.

As the final began, something that would become a match trend was immediately noticeable. Like the three other Top 10 players that the Chinese vet had vanquished along the way in Paris, Schiavone had a hard time breaking through Li's mix of offense and defense, two styles which she liberally intermingled in her game throughout the afternoon as the situation warranted. After having so often played defense against the big hitters from previous rounds, Li better utilized the offensive weapons that they couldn't against HER in her own tactical plan of attack against Schiavone's variety-filled game of creative angles, slices and volleys. The 1st set was decided but by a few spare points, but it was Li who was in control of them.

Li's forehand winner got her a break point chance in the opening game of the match, though the Italian managed to hold. But, later, after racing to cover a Schiavone drop shot and putting away a volley following Schiavone's scrambling retrieval, Li was gifted with two more chances to break. She only needed one. Schiavone couldn't effectively respond to another big Li forehand, and her errant shot sailed out to give Li a break and a 3-2 lead. Serving at 5-4, 30/30 Li took a Schiavone return and smacked a winner from the baseline. When the Italian's forehand sailed on set point, Li claimed the opening stanza 6-4 on the strength of a 15-3 edge in winners.

"Be that self which one truly is," said dead Danish philosopher Søren Kierkegaard. And that was what a desperate Schiavone was in search of as the 2nd set began -- her true self. Try as she might, though, she had a hard time successfully discovering her free "Francesca flow" against Li, who was having none of it.

In game #1 of the set, Li reached triple beak point after her deep, driving groundstrokes pinned Schiavone on the baseline, keeping her off-balance and unable to utilize all her shots as well as the entire breadth of the court, as is her desire. To this point in the match, Li had actually approached the net as often as the volley-seeking Italian. Schiavone saved two break points, but Li finally grabbed a 1-0 lead on the third. From there until the end of the match, Schiavone would often briefly resemble her "old" self for a few shots in a rally, as she did in game #2, during which she abruptly ended her own potential surge by pushing a shot just beyond the lined boundaries of the court. In that same game, Schiavone DID finally get her first break point of the match after a rally in which she managed two volleys, but Li threw in an ace and held for 2-0.

With time running short, Schiavone spent most of the 2nd set simply holding on, possibly hoping that things would eventually break her way as they did in the QF match against Anastasia Pavlyuchenkova in which she escaped a 6-1/4-1 deficit against the 19-year old Russian. Twice the Italian was threatened with going down a second break of serve, as Li continued to come out on top in rallies by ending them with winners that weren't the risky sorts of shots like those of Sharapova, but were simply solid and effective strokes often set up by the same crosscourt forehand that tends to pull opponents wide of the court that has proved to be her bread-and-butter shot throughout this Roland Garros. The Chinese woman held break points in both the 3-1 and 4-2 service games of Schiavone, but Schiavone held for 3-2 and 4-3.

After that second hold, though, the moment arrived when Schiavone found a way to get back into the match. Showing signs of slight tentativeness as her formerly deep groundstrokes began to fall a few feet short, Li blinked in the face of the occasion. Just a little. But it was enough to spur Schiavone on as the defending champion made an attempt at pulling off yet another Parisian passion play. The t-shirt donning Francesca supporters of '10 -- this time sporting clothing emblazoned with "Schiavo Another Show" -- had something tangible to cheer about for the first time. Finally with enough room to operate on her side of the net, Schiavone began to use the entire court again and force errors from Li. She got a break to knot things at 4-4, then held twice for 5-4 and 6-5 leads, the latter service game being won at love in another two-volley game played in the style that had helped her string together thirteen straight RG wins.

But right when it looked as if a classic Roland Garros final might be about to break into the clear on Chatrier, producing the first three-set women's final in Paris since the Capriati/Clijsters 12-10 3rd set thriller in '01, one point sent things in a direction that could never be reversed. With Li serving at deuce, down 6-5, a Li shot on the right sideline of Schiavone's court was called wide. The Italian celebrated being just one point away from knotting the match a one set each. But then the chair umpire raced across the court to examine the mark in the terre battue, quickly ruling that Li's shot had hit the edge of the line. Rather than having set point, an upset Schiavone found herself down game point. After she netted a backhand to end a short rally after initially thinking that Li's previous shot wasn't going to make it over the net, causing her to relax for a moment and then have to lunge at the last instant at a ball that she wasn't properly prepared to hit, the defending champ found herself in a life-or-death tie-break. Out of sorts, Schiavone wouldn't win another point in the match. Whether the Italian's concentration was broken and she was unable to get it back, or if it was Li's continued calm under pressure after her earlier wobble, that caused the clean-sweep of the remainder of the match, it's a shame that what looked to have been budding as the 2nd set wore on wasn't allowed to fully blossom due to the natural flow of the match. But the umpire made the call that she felt was correct (and it seemed to be so), so there's no unfair blame to place in this situation.

In the tie-break, Li grabbed a first-point mini-break by winning a very Francesca-like point in which she both volleyed and lobbed over Schiavone to lock away a 1-0 lead. Later, she expertly moved Schiavone from side to side on the baseline and took a 4-0 lead. The Italian, unable to stem the Chinese's woman momentum, missed an easy volley and it was 5-0. Schiavone was three mini-breaks down and the course of history seemed assured. And it was. Schiavone's long backhand ended the tie-break with a 7-0 score, giving Li eight consecutive points following the changed line call. With her 6-4/7-6 victory in hand, ironically the same scoreline as in Schiavone's win in the final over Samantha Stosur last year, Li dropped her racket and slid onto her back in celebration behind the baseline.




"If at first you don't succeed... so much for skydiving," Henny Youngman famously joked. Well, luckily for Li, her inability to become the first Chinese grand slam singles champion didn't prevent her from taking the opportunity to succeed in her SECOND attempt to do do. As she celebrated her win with the terre battue caked on the back of her shirt being carried with her as she ventured to the net to shake Schiavone's hand, the rest of Chinese tennis history will now carry the memory of HER with it.




As Schiavone talked this past week of falling in love with Roland Garros when, as a junior, she watched the 1999 Steffi Graf/Monica Seles semifinal from the stands and said that she wanted "to be like them," the same is likely the case tonight back in China. Last year, it was Schiavone giving rise to future "little Francescas" by becoming the first Italian slam champ, "little Na's" by the thousands (millions?) will soon be running around the court with rackets as big as they are trying to emulate their new heroine.

Interestingly, at the '99 RG that Schiavone mentioned, Graf was 29 years of age when she pulled off what was a surprise title run to claim the final slam crown of her fabled 22-slam win career. Of course, that's the same age at which both Schiavone and Li have now gone down as FIRST-time slam titlists.




Sometimes things just seem to work out that way, I guess. It's just a matter of time... and life beginning whenever you desire it to do so.






January 25, 2014

-

"Li Na: One Night Only"



As her career has shaped itself and will ultimately be remembered, Li Na is a pied piper. Not just for all the "first Chinese to..." accomplishments she's posted though the years, nor for the stand she made against her nation's tennis establishment in an attempt take her life into her own hands by keeping her prize money, picking her own coach and making her own schedule, but for also serving as the guiding light for all the upcoming tennis generations that will likely emerge on the WTA shores in waves hailing from Beijing to Wuhan and all points in between and beyond




But in her third appearance in an Australian Open final, all of that was background noise. For one night only, the story of Li was about securing her individual tennis legacy by claiming a second grand slam title to go along with the one she won in Paris three years ago. Even if by the end of the night it ended up being viewed as something of a prelude to a typically-entertaining post-match victory speech.

Standing in the way of the 31-year old Li's next date with tennis history was surprise finalist Dominika Cibulkova, 24, the first Slovak woman to reach a slam final. Seeded #20 but ranked outside the Top 20, the tour's shortest player (5-foot-3) had chopped down four Top 20 players (Li had to face none) in Melbourne, including two (Sharapova & A.Radwanska) ranked in the Top 5. Playing with a new larger racket, but with the same hard-working mindset that she's always possessed, Cibulkova's confidence looked to have reached an all-time high over the past two weeks as she'd taken out personal adversaries while dominating the final sets of nearly every match after having developed a career-long reputation as a talented player with a problem when it comes to closing out big wins.

Li's confidence has been a work in progress throughout her entire career. When Carlos Rodriguez, longtime mentor of seven-time slam champ Justine Henin, came aboard as her coach in the late summer of '12, bolstering Li's belief in herself was the biggest hurdle to overcome while reworking the veteran's game for the latter chapter of her career. When Li won a title in Cincinnati just days after hiring Rodriguez, there was hope that it was a sign that Li's mindset and, accordingly, results might eventually greatly improve at an age when players (not named Serena) have started to go in the opposite direction. But heading into this AO, the two had only teamed to win a pair of small titles in Shenzhen, though Li had played in and put up a great fight in the Aussie final last year against Victoria Azarenka. Before last year's Wimbledon, with pressure coming from the Chinese press and her results hitting a dry spell, Li had to be talked out of retiring by Rodriguez to give herself one final chance to be as good a player as she could be.

It was a close call. But Li's decision to stick around has proven to be a well-timed stroke of genius.

Her quarterfinal run at SW19 bolstered her confidence, and then the advantages of a mid-season "boot camp" to make sure Li was fit for success a the end of '13 began to be seen. She ended the year with a run to the Tour Championships final and entered this AO championship match on an eleven-match winning streak in 2014. After escaping a 3rd Round match against Lucie Safarova in Melbourne in which the Czech held a match point, going for but missing on a chance for a down-the-line winner, Li has often played like a woman on a mission, deftly utilizing her additional topspin on her groundstrokes (to make her shots more reliable in the clutch), improved serve and added aggressiveness, calmly assuming the role of "favorite" for the tournament title after all the other expected contenders fell by the wayside before Li had an opportunity to face them.

With these two players still possibly susceptible to feeling the tension of a slam final no matter their recent level-headedness, it was clear that the 1st set might prove to be vital. Early on, it was apparent that things weren't going to be quite as easy for Cibulkova as they'd been against Radwanska. Li went up 30/love on the Slovak's serve in the opening game, winning rallies and breaking her courtesy of a double-fault for 1-0. After seeing winners coming seemingly at will two days earlier, Cibulkova had a hard time finding them here. In game #3, Li held two break points, though Cibulkova -- saving the first with a forehand passing shot, her first winner of the match -- held and managed to avoid sliding so far behind that the set was a lost cause. With shades of Li's fall-heavy final of a season ago, the Slovak stumbled and nearly fell in the next game, then shot a forehand long to slip further behind at 3-1.

From there, Cibulkova started to slowly but surely pick of her level of play, while Li's began to waver.

Li's errors allowed the Slovak to go up 40/love and, despite two errors of her own, Cibulkova held for 3-2. It was an interesting point in the set, as Cibulkova was arguably fortunate to not be a double-break down, but that fact also meant that she wasn't letting Li off the hook and was instead forcing her to make the shots to stay ahead and win the set. And, suddenly, she wasn't hitting them.. On the first point in game #6, Cibulkova took to the net and put away a backhand crosscourt winner, then saw Li double-fault on back-to-back points to break herself and knot the set at 3-3.

While Li stared at her racket and then called for her husband to take a pair of rackets to be re-strung, Cibulkova began to get the better of the Chinese in rallies. A crosscourt forehand put the Slovak up 40/love, giving her eight points in the last nine, and a wide service winner gave her a hold to take the lead in the set for the first time at 4-3. Meanwhile, Li's first serve percent was ebbing below 30%. Still, she managed to hold on, winning a rally that featured several defensive saves from Cibulkova and holding for 4-4 then, after failing to convert a break point in game #9, firing an ace to hold for 5-5.

A Li return winner and Cibulkova double-fault put Li up 30/15, then she got a break point on the strength of her favorite shot sequence this entire Australian Open -- a rally that saw her move Cibulkova back and forth across the baseline, then quickly end the point with a backhand crosscourt winner. A deep return was netted by Cibulkova and Li had the chance to serve for the set at 6-5. She appeared to blink when, at 30/30, she dumped an easy open court volley into the net that would have given her a set point. Two points later, she got a SP, but missed a backhand down the line and saw Cibulkova go on to break with her very own crosscourt backhand to force a tie-break.

In the breaker, four of the first five points were won by the returner, and Li found herself with a quick 4-1 lead. At 5-1, Li stopped play to challenge a Cibulkova ball that had been called in on the baseline. If she'd gotten the call, Li would have had five set points, but when the call was proven correct it was 5-2 and Cibulkova was seemingly back in the game. But Li didn't allow the slip to become a total slide. She got to set point at 6-3, then put it away with a deep crosscourt backhand that the Slovak failed to get over the net. Although she hadn't played her best, Li had grabbed the opening set with a 7-3 TB win.

At that point, she could finally breathe.

With the 1st set in her back pocket, it was noteworthy to know that twenty-seven of the last twenty-nine grand slams had been won by the woman who claimed the 1st set in the final. That was good news for Li. But the two times that that wasn't the case was when Li won the opening game in both her previous AO finals in 2011 and 2013. That wasn't so good.

But the latter stat wouldn't matter in the least.

After playing an up-and-down 1st set, searching for consistency on both her first serve and forehand, and having to scratch out and scrounge up winners wherever she could find them in order to take a set in which she didn't play nearly as well as she had since she stared down that match point against Safarova in the 3rd Round, Li played like the world had been lifted from her shoulders in the 2nd. And it had. Having found a way to live up to her role as "favorite" by taking the lead, Li ran away with the title.

After falling down love/30 on serve in the opening game, she reeled off four straight points to hold. In game #2, Li smacked a second serve forehand return for a down-the-line winner to get a break point. A Cibulkova forehand error made it 2-0. With her confidence growing with every shot, Li held and then looked to grab the match by the throat and choke the life out of it. She took a backhand and ripped it into the corner to reach break point in game #4, then hit a crosscourt backhand laser off Cibulkova's racket to go up 4-0. With her game flowing, Li's first serve percentage rose, while she played well within itself, and seemingly without tension.

A put-away at the net secured game #5, as by this point Cibulkova was essentially just serving in the role of "opponent" on Li's march to match point. As the inevitable got closer and closer, it was as if Li was waving to the crowd along the way. She shot off a backhand winner down the line, then another backhand crosscourt into the corner past the Slovak. A ball off the net cord was sent long by Cibulkova to get to double match point at 40/15. Li didn't get the first, then a Cibulkova forehand went long to hand her the second. Locking away the final nine games of the match, and losing just six points on serve in the final set, Li won 7-6(3)/6-0 to become the eighth woman to win a slam after her 30th birthday, and the first Asian woman to win the "grand slam of Asia/Pacific."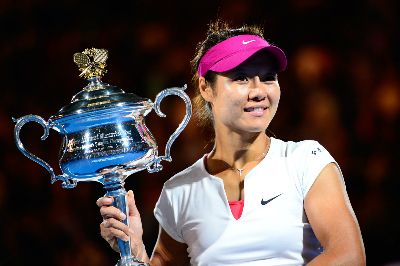 Of course, even as the newly-crowned multiple grand slam winner, and the oldest to woman to win the Australian Open, received her trophy during the post-match ceremony, the best was still yet to come. Somehow, with Li, that always seems to be the case. As tennis' best one woman comedy act took to the microphone, you had to know that something great might be coming. And Li didn't disappoint. In fact, she let the natural one-liners flow from her mind just as smoothly as her shots had in the final set.



To her agent Max Eisenbud, she said simply, "Max, agent.. make me rich. Thanks a lot." With that, she had the crowd at "Thanks." After telling her physio Alex Stober that her stumbles and falls in last year's AO final were her fault and not his, and thanking Rodriguez for believing in her, she turned to her husband Jiang Shan, "Dennis," the long-time focus of so many of her jokes, telling him, "My husband, you are famous in China.". She said thanks to him for "just traveling with me to be my hitting partner, fix the drink, and fix the rackets. So, he do a lot of jobs. So, thanks a lot... you're a nice guy." After everyone was laughing along with both of them, she added, "And also you are so lucky... found me," she said with big grin. By the end, she was even talking about coming back to Melbourne to play again, and saying that she knows everyone thinks she talks too much.




Li can talk all she wants. We won't get tired of listening.


(Li Na in Chinese)

And we never did, either. All for now.