US.12 - The Thrill of Vic... no, just the agony of defeat
Well, that was...
something.
Times two, actually.


With the women's singles semifinals taking center stage on Day 12 of this U.S. Open, the action didn't exactly produce the sort of headlines that the WTA will be touting in any sort of "look at us" fashion.

Oh, well... I guess there's always the final.

In the first semi of the day, '09 finalist Caroline Wozniacki was looking to add another step-up to her marvelous comeback summer, with only Peng Shuai standing between the Dane and a second career appearance in a slam (and U.S. Open) final. But the 28-year old Peng came in after the best week and a half of her singles career (she's had great weeks in doubles, but most with her now-former doubles partner, Hsieh Su-Wei), having not lost a set all tournament and holding serve thirty-seven straight times. Playing out of the shadow of the absent Li Na, and pointing toward her improved fitness as the reason for her new slam success, Peng was determined to give it her all.

Maybe TOO determined.

In the 1st set, Peng took an early break lead, only to see her 40-game service hold streak come to an end a game later as she was barely avoiding slipping below 50% on her 1st serves while the players alternated between serving with the wind and against it. In game #9, Wozniacki's fifth double-fault of the set put her a break down while serving at 4-4, but she managed to hold to prevent the Chinese woman from serving for the set. Although, Peng got the chance to do just that after she broke again for 6-5. Naturally, Wozniacki broke right back, as well, to force a tie-break. Peng took a 1-0 lead, as the first three points were won by the returner, only to see the Dane reel off seven straight to take the TB at 7-1.

Peng opened the 2nd with a hold of serve and a break to go up 2-0, only to immediately give the advantage back a game later. Then, moments after Wozniacki had been given medication to treat a viral illness, the Dane again faced a break point. She held, then broke Peng for a 3-2 lead. At 4-2, Peng began to noticeably have physical difficulty. Having bent over at the waist following previous shots, it seemed as if she might be suffering from a back injury. It was soon obvious that it wasn't her back that was the issue, though. Ironically for a player who last round had highlighted her improved fitness, it was the onset of servere cramping in the sweltering heat.


DRAMA! Peng suffers from cramps - she can hardly stand up and play has stopped temporarily... #usopen pic.twitter.com/JXYDFXWRU3

— Eurosport (@Eurosport) September 5, 2014


With Wozniacki serving up 4-3, she double-faulted after Peng first began stretching her legs and having true difficulty. Down a break point at 30/40, Wozniacki's service game was then totally interrupted as the Chinese woman walked to the back of Ashe court and held herself up against the wall. Soon, she wasn't even able to do that. Trainers and tourament officials huddled around her a minute later, and eventually had to carry her off the court for treatment.

As Wozniacki stood around, occasionally practicing serves, Peng returned to the court after approximately fifteen or so minutes had passed since the Dane's last serve. The Chinese woman simply was not in any condition to play, though, and shouldn't have been allowed back on the court with a racket in her hand. After a few points, during which she actually again reached break point, Peng crumpled to her knees and it quickly became apparent that she wasn't going to be able to get up. As she became more and more pained while a motionless mass in the right hand corner of the deuce court, Peng was quickly surrounded.


A distressing sight. Shuai #Peng in tears, has to be carried off in a wheelchair to a standing ovation. pic.twitter.com/oiP0CXl4ba

— Sky Sports Tennis (@SkySportsTennis) September 5, 2014


Peng quite obviously didn't want to quit, or else she would have earlier. After Wozniacki crossed the net offer support, Peng continued to look worse. Finally, the inevitable occurred and she retired, marking the first time that has happened in a U.S. Open semifinal in the Open era, as the Dane won 7-6(1)/4-3 ret. A wheelchair was brought on court and a rather distressed-looking Peng was wheeled off, hardly ending her great two-week run on a good note. Meanwhile, it wasn't a nice scene for the WTA, either, nor the tournament and USTA, which looked quite worse for allowing the scenario to play out and be dragged along for as along as it did.


"It was horribly badly bungled...a serious black eye for our sport." -John McEnroe on CBS blasting how the Peng situation was handled.

— Ben Rothenberg (@BenRothenberg) September 5, 2014


With something of a pall hovering over the proceedings, two-time defending champ Serena Williams still had to face Russia's Ekaterina Makarova n the second semifinal, as the world #1 was looking to advance to the final and have a chance to become the first woman to three-peat in New York in thirty-seven years. As it turned out, the only interesting thing in this match was the "familiar faces, familiar faces" unofficial "reunion" that took place between Serena and her favorite linesperson.


Look! It's a #USOpen semifinal five-year reunion! pic.twitter.com/0OyPWW7S8C

— Ben Rothenberg (@BenRothenberg) September 5, 2014


We do remember the 2009 semifinal, right?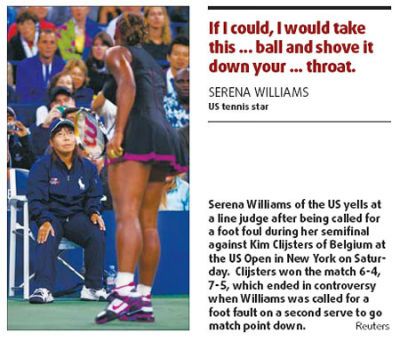 Well, no one will really remember this semifinal, as Williams dominated Makarova like she hasn't anyone in a big slam match for well over a year. Makarova held for 1-1, but then didn't do so again until Serena was up 6-1/4-0. In all, the match lasted just an hour, with Williams out-hitting the Hordette 24-6 in winners, and out-pointing her 58-33 in a 6-1/6-3 victory that puts her in her first slam final since winning the Open last year. It was sort of like the semifinals we'd see when so many wanted to whisper about the "too wide" gulp between Williams and the rest of the tour, or about a "lack of depth." Really, though, it was just Serena being Serena... for truly the first time in a while. She can't help it that, really, no one can handle her when she's in a her "zone."


With a 6-1, 6-3 win over #Makarova, @serenawilliams advances to her eighth #usopen final! pic.twitter.com/25s3g5gkrS

— US Open Tennis (@usopen) September 5, 2014


So Williams and Wozniacki, whose longtime friendship publicly blossomed in Miami after their crash-out exits from Paris (and Caro's tabloidy off-court changes), face off to see who REALLY had the best summer in North America. Williams leads their career head-to-head 8-1, but the Dane has a win over her on hard court (Miami '12), and has gone three sets against Serena twice this summer, losing in Cincinnati and Montreal.

The "feel-good" redemption story of the winner will be a good one at the conclusion of this weekend, no matter who prevails. And after what happened today, that's wonderful news for everyone involved.



=DAY 12 NOTES=


...the first champions of this U.S. Open were crowned today as Sania Mirza rebounded from her dreadful performance yesterday in the women's doubles semifinal, winning her third career Mixed slam title along with Brazil's Bruno Soares, defeating Abigail Spears & Santiago Gonzalez in an 11-9 match tie-break.


.@MirzaSania & @BrunoSoares82, the 2014 Mixed Doubles Champions! #usopen pic.twitter.com/qXiJgYBMOo

— US Open Tennis (@usopen) September 5, 2014


Mirza is now three-quarters of the way to a Career Mixed Slam, having already won titles at the Australian Open and Roland Garros. The WTA players who have achieved a Career Mixed Slam:

[AO-RG-WI-US]
Margaret Court (2-4-5-8)
Doris Hart (2-3-5-5)
Billie Jean King (1-2-4-4)
Martina Navratilova (1-2-4-3)
Cara Black (1-1-2-1) *
Daniela Hantuchova (1-1-1-1)*
-
*-active

...as it's turned out, two Bannerettes have advanced to the girls singles semifinals. But, surprisingly, neither of them is named Tornado Black, the '13 runner-up. The #4-seed this year, Black lost today to a fellow American, qualifier Caroline Dolehide, who was also celebrating her 16th birthday. She'll face unseeded Czech Maiden Maria Bouzkova. Meanwhile, #9 Anhelina Kalinina's final four opponent will be wild card Katerina Stewart of the U.S..

In girls doubles, Ipek Soylu & Jil Belen Teichmann will meet Vera Lapko & Tereza Mihalikova in the final.


Ipek and Jil are moving on here in New York. #SupportTheSwiss @swiss_tennis @soyluofficial pic.twitter.com/XLnhS9aV6e

— Christopher Levy (@tennis_shots) September 5, 2014


...tomorrow, Martina Hingis & Flavia Pennetta will face Makarova & Elena Vesnina for the doubles crown. Hingis, 33, is looking for her first slam doubles title since 2002 (AO w/ Kournikova), and her first slam win since 2006 (AO Mixed w/ Bhupathi). Her last U.S. Open title was the doubles (w/ Novotna) in 1998.

...in the Billie Jean King American Collegiate Invitational, the University of North Carolina's Jamie Loeb, the #1 seed, knocked off Virginia's Danielle Collins to advance to the final, where she'll face off with fellow ACC player (and another U-Va. team member) Julia Elbaba, who defeated Stanford's Kristie Ahn today.

...top-seeded Yui Kamiji dropped the 1st set of her Wheelchair singles SF against Jiske Griffioen, but lost just four total games in the final two sets as she advanced to her third of the three slam WC singles final this season. Actually, with her and Jordanne Whiley's doubles semifinal walkover, she's now reached all seven singles and doubles finals at the majors this season. So far, the 20-year old has gone 4-1 in the five she's played, losing only the Australian Open singles to Sabine Ellerbrock. Kamiji and Whiley are going for A Doubles Grand Slam for 2014, and will face the Dutch team of Griffioen & Aniek Van Koot for the title.

Van Koot also reached the WC singles final today, defeating Dutch countrywoman Marjolein Buis in the SF. Van Koot won two singles slams last year in the wake of countrywoman's Esther Vergeer's retirement. Returning from the injury that knocked her out of Melbourne, Van Koot lost the Roland Garros final to Kamiji. With the 20-year old now meeting the 20-year old Kamiji in not just one, but two, finals in NYC, are we maybe looking at the beginning of a decade-long wheelchair version of Martina vs. Chrissie? How fun would that be?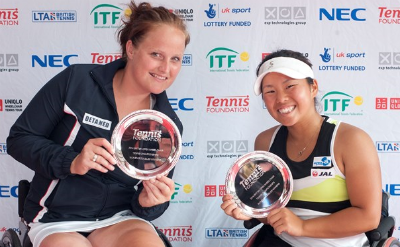 ...elsewhere, quite literally elsewhere, there's a WTA $125K Challenger being held in Suzhou, China this week. Talk about hiding something on the schedule. I knew it was going to happen, but I still forgot to do a Backspin Picks segment on it. Either way, Germany's Anna-Lena Friedsam (world #100) advanced to the final today, where she'll meet Duan Yingying (#163), who qualified for the U.S. Open for the second straight year two weeks ago. Friedsam defeated #1-seeded Jana Cepelova in the SF, while Duan won out over Japan's Misa Eguchi.
"My best face expression today."





...LIKE FROM DAY 12:

Sania!


Top seeds #Mirza/#Soares are the 2014 Mixed Doubles champions! d. #Spears/#Gonzalez 6-1, 2-6 [11-9] #usopen pic.twitter.com/bVenZ0LNPp

— US Open Tennis (@usopen) September 5, 2014




...WE'LL SEE FROM DAY 12:

Monfils, getting over those blown match points and that bad 5th set from last night.


Thx @usopen I will keep working harder to maybe have one day my picture next to my idol. A big thx to all my fans pic.twitter.com/np9w7Ujfrf

— Gael Monfils (@Gael_Monfils) September 5, 2014


It wasn't a great ending for him. But, really, if how he's played the last few weeks is how the previously-questionably-competitive Frenchman is when he goes WITHOUT a coach, maybe he should have gone the solo route ages ago. Of course, it's going to take a really GOOD coach to turn him from a talented player who chokes far too often to one who truly CAN win a grand slam. One has to wonder if that coach exists on this plane of existence, though.



...LIKE FROM DAY 12:

From Miami to New York... who knew?


Your 2014 #USOpen finalists. pic.twitter.com/mZctNM3hDC

— Ben Rothenberg (@BenRothenberg) September 5, 2014




...LIKE FROM DAY 12:

From the Mind of Petko...


I just wanna be Kristen Wiig's friend. In a very creepy, clingy way.

— Andrea Petkovic (@andreapetkovic) September 5, 2014




...LIKE FROM DAY 12:

Oh, Petra... or maybe, "Awwl, Petra?"


Time with my nieces and nephew makes me happy :) / Jsem stastna,kdyz muzu travit cas se svymi neteremi a synovcem :) pic.twitter.com/7l0mFlgeom

— Petra Kvitova (@Petra_Kvitova) September 5, 2014
...and, finally, again, the women's final will be held on Sunday, with the men's final on Monday, a set-up that began last season, and one that I still despise. For me, it's a close second behind the Sunday start at Roland Garros.





=WOMEN'S SINGLES FINAL=


#1 Serena Williams/USA vs. #10 Caroline Wozniacki/DEN



=MEN'S SINGLES SF=


#1 Novak Djokovic/SRB vs. #10 Kei Nishikori/JPN
#14 Marin Cilin/CRO vs. #2 Roger Federer/SUI



=WOMEN'S DOUBLES FINAL=


Hingis/Pennetta (SUI/ITA) vs. #4 Makarova/Vesnina (RUS/RUS)



=MEN'S DOUBLES FINAL=


#1 B.Bryan/M.Bryan (USA/USA) vs. #11 Granollers-Pujols/M.Lopez (ESP/ESP)



=MIXED DOUBLES FINAL=




#1 Mirza/Soares (IND/BRA) def. Spears/S.Gonzalez (USA/MEX) 6-1/2-6 [11-9]





=GIRLS SINGLES SF=


(WC) Katerina Stewart/USA vs. #9 Anhelina Kalinina/UKR
(Q) Caroline Dolehide/USA vs. Marie Bouzkova/CZE



=BOYS SINGLES SF=


#6 Francis Tiafoe/USA vs. #5 Quentin Halys/FRA
Omar Jasika/AUS vs. Jan Choinski/GER



=GIRLS DOUBLES FINAL=


#6 Soylu/Teichmann (TUR/SUI) vs. Lapko/Mihalikova (BLR/SVK)



=BOYS DOUBLES FINAL=


Matos/Menezes (BRA/BRA) vs. #6 Jasika/Nakagawa (AUS/JPN)



=WC WOMEN'S SINGLES FINAL=


#1 Yui Kamiji/JPN vs. #2 Aniek Van Koot/NED



=WC MEN'S SINGLES FINAL=


#1 Shingo Kunieda/JPN vs. #2 Stephane Houdet/FRA



=WC WOMEN'S DOUBLES FINAL=


#1 Kamiji/Whiley (JPN/GBR) vs. #2 Griffioen/Van Koot (NED/NED)



=WC MEN'S DOUBLES SF=


#1 Houdet/Kunieda (FRA/JPN) vs. Fernandez/Gerard (ARG/BEL)
Jeremiasz/Peifer (FRA/FRA) vs. #2 Reid/Scheffers (GBR/NED)



=WOMEN'S BJK AMERICAN COLLEGIATE SINGLES FINAL=


#1 Jamie Loeb (Univ. of North Carolina) vs. Julia Elbaba (Univ. of Va.)



=MEN'S BJK AMERICAN COLLEGIATE SINGLES SF=


#1 Marcos Giron/USA vs. Peter Kobelt/USA







**2014 WTA FINALS**


6...SERENA WILLIAMS (5-0)
5...Ana Ivanovic (3-2)
4...Simona Halep (2-2)
4...Angelique Kerber (0-4)
3...Maria Sharapova (3-0)
3...Li Na (2-1)
3...Dominika Cibulkova (1-2)
3...Venus Williams (1-2)
3...Klara Zakopalova (1-2)



**CAREER SLAM FINALS - active**


22...SERENA WILLIAMS (17-4)
14...Venus Williams (7-7)
9...Maria Sharapova (5-4)
4...Victoria Azarenka (2-2)
4...Svetlana Kuznetsova (2-2)
4...Li Na (2-2)
3...Ana Ivanovic (1-2)
2...Petra Kvitova (2-0)
2...Francesca Schiavone (1-1)
2...Samantha Stosur (1-1)
2...CAROLINE WOZNIACKI (0-1)
2...Vera Zvonareva (0-2)


[U.S. Open - active]


8...SERENA WILLIAMS (5-2)
4...Venus Williams (2-2)
2...Victoria Azarenka (0-2)
2...Svetlana Kuznetsova (1-1)
2...CAROLINE WOZNIACKI (0-1)
1...Maria Sharapova (1-0)
1...Samantha Stosur (1-0)
1...Jelena Jankovic (0-1)
1...Vera Zvonareva (0-1)


[all-time]


34...Chris Evert (18-16)
32...Martina Navratilova (18-14)
31...Steffi Graf (22-9)
29...Margaret Court (24-5)
22...Helen Wills-Moody (19-3)
22...SERENA WILLIAMS (17-4)
21...Doris Hart (6-15)



**ALL-TIME WTA SINGLES FINALS**


239...Martina Navratilova
226...Chris Evert
138...Steffi Graf
93...Lindsay Davenport
85...Monica Seles
80...SERENA WILLIAMS
77...Aratnxa Sanchez Vicario
74...Venus Williams
68...Martina Hingis
61...Justine Henin


[active]


80...SERENA WILLIAMS
74...Venus Williams
54...Maria Sharapova
36...CAROLINE WOZNIACKI
34...Svetlana Kuznetsova
32...Ana Ivanovic
32...Jelena Jankovic



**2014 GIRLS SLAM SEMIFINALISTS**


AO: Elizaveta Kulichkova (W), Jana Fett (RU), K.Birrell/Z.Sun
RG: Darya Kasatkina (W), Ivana Jorovic (RU), F.Abanda/M.Vondrousova
WI: Jelena Ostapenko (W), Kristina Schmiedlova (RU), M.Vondrousova/E.Ruse
US: Marie Bouzkova, Caroline Dolehide, Anhelina Kalinina, Katerina Stewart



**MIXED DOUBLES CHAMPIONS**




[recent U.S. Opens]


1998 Serena Williams/Max Mirnyi, USA/BLR
1999 Ai Sugiyama/Mahesh Bhupathi, JPN/IND
2000 Arantxa Sanchez-Vicario/Jared Palmer, ESP/USA
2001 Rennae Stubbs/Todd Woodbridge, AUS/AUS
2002 Lisa Raymond/Mike Bryan, USA/USA
2003 Katarina Srebotnik/Bob Bryan, SLO/USA
2004 Vera Zvonareva/Bob Bryan, RUS/USA
2005 Daniela Hantuchova/Mahesh Bhupathi, SVK/IND
2006 Martina Navratilova/Bob Bryan, USA/USA
2007 Victoria Azarenka/Max Mirnyi, BLR/BLR
2008 Cara Black/Leander Paes, ZIM/IND
2009 Carly Gullickson/Travis Parrott, USA/USA
2010 Liezel Huber/Bob Bryan, USA/USA
2011 Melanie Oudin/Jack Sock, USA/USA
2012 Ekaterina Makarova/Bruno Soares, RUS/BRA
2013 Andrea Hlavackova/Max Mirnyi, CZE/BLR
2014 Sania Mirza/Bruno Soares, IND/BRA


[2014]


AO: Kristina Mladenovic & Daniel Nestor, FRA/CAN
RG: Anna-Lena Groenefeld & Jean-Julien Rojer, GER/NED
WI: Samantha Stosur & Nenad Zimonjic, AUS/SRB
US: Sania Mirza & Bruno Soarez, IND/BRA



**CAREER MIXED SLAM TITLES - active**


5...Cara Black, ZIM
5...Lisa Raymond, USA
5...Katarina Srebotnik, SLO
4...Daniela Hantuchova, SVK
3...SANIA MIRZA, IND
3...Samantha Stosur, AUS



**MOST SLAMS BEFORE FIRST TITLE**


47 - Marion Bartoli (2013 Wimbledon)
45 - Jana Novotna (1998 Wimbledon)
39 - Francesca Schiavone (2010 Roland Garros)
34 - Samantha Stosur (2011 US Open)
31 - Amelie Mauresmo (2006 Australian Open)
29 - Jennifer Capriati (2001 Australian Open)
28 - Kerry Melville-Reid (1978 Australian Open)
26 - Lindsay Davenport (1998 U.S. Open)
25 - Victoria Azarenka (2012 Australian Open)
==


Wozniacki: 31st slam









TOP QUALIFIER:

#32q Aleksandra Krunic/SRB




TOP EARLY-ROUND (1r-2r):

#1 Serena Williams/USA




TOP MIDDLE-ROUND (3r-QF):

#17 Ekaterina Makarova/RUS




TOP LATE-ROUND (SF-F):

xx


TOP QUALIFYING MATCH:

Q3: Duan Yingying/CHN d. Irena Pavlovic/FRA 6-3/1-6/7-6(5) [Pavlovic up 5-1 3rd, held MP]




TOP EARLY-RD. MATCH (1r-2r):

1st Rd. - (WC) CiCi Bellis/USA d. #12 Dominika Cibulkova/SVK 6-1/4-6/6-4 (Bellis world #1208)




TOP MIDDLE-RD. MATCH (3r-QF):

4th Rd. - #16 Victoria Azarenka/BLR d. (Q) Aleksandra Krunic/SRB 4-6/6-4/6-4




TOP LATE-RD. MATCH (SF-F/Jr.):

xx


TOP ASHE NIGHT SESSION MATCH:

Nominee: 4th Rd. - #16 V.Azarenka d. (Q) A.Krunic 4-6/6-4/6-4


=============================




FIRST WINNER:

#4 Aga Radwanska/POL (def. S.Fichman/CAN)




FIRST SEED OUT:

#25 Garbine Muguruza/ESP (lost to M.Lucic-Baroni/CRO)




UPSET QUEENS:

United States




REVELATION LADIES:

United States (12 Bannerettes 2nd Rd.)




NATION OF POOR SOULS:

France (1-5 in 1st Rd.; only win in Pastry-vs.-Pastry match-up)




CRASH & BURN:

#12 Dominika Cibulkova/SVK (AO runner-up; lost 1st Rd. to Bellis/USA, 15-year old in slam debut)




ZOMBIE QUEEN:

Mirjana Lucic-Baroni/CRO (in Round of 16 for first time in 15 years, after family's abusive background)




LAST QUALIFIER STANDING:

Aleksandra Krunic/SRB & Mirjana Lucic-Baroni/CRO (both 4th Rd.)




LAST WILD CARD STANDING:

Nicole Gibbs/USA (3rd Rd.)




LAST BANNERETTE STANDING:

Serena Williams/USA (in SF)




IT ("Girl"):

CiCi Bellis/USA (15-year old Wild Card; youngest MD win since 1996 - Anna Kournikova)




Ms.OPPORTUNITY:

Peng Shuai/CHN




COMEBACK PLAYER:

Caroline Wozniacki/DEN




BROADWAY-BOUND:

Belinda Bencic/SUI




LADY OF THE EVENING:

Victoria Azarenka/BLR




DOUBLES STAR:

Nominees: S.Mirza/IND, Hingis/Pennetta, Kamiji/Whiley


JUNIOR BREAKOUT:

Nominees: C.Dolehide/USA, K.Stewart/USA, M.Bouzkova/CZE, A.Kalinina/UKR





All for now. More tomorrow.