Wk.37- Once Upon a Time...
Move over, Kimiko Date-Krumm. Apparently, you've got nothing on Mirjana Lucic-Baroni.


When you're able to wipe out the soon-to-be 44-year old Japanese veteran's name from atop one of the many "longest time between..." lists that she heads, and replace it with your own, you know you've done something exceedingly remarkable. And that's just what the 32-year Croat, obviously still hot and confident off her U.S. Open Round of 16 run -- her best slam result in fifteen years -- did this weekend in Quebec City.

When Date-Krumm returned to the tour after an over-a-decade retirement and won her first WTA singles title in thirteen years in 2009, it seemed as if it might be a record that would never be broken. After all, she'd beaten the previous record for the most years between titles by a good five years. But who knew that Lucic-Baroni would be right around the corner? Surely not her, though she never TOTALLY went away over her decade and a half of wandering the tennis landscape.




Like a fractured fairly tale undertaking a quite wonderful final act, Lucic-Baroni's story has played out over the last few weeks as if it was a plot in a cliched movie: former child prodigy returns to form half a lifetime after recovering from being abused by her father and leading her family on a daring escape. But there's no script-doctoring necessary here, as the disturbing and courageous story is all true.

In 1996, Lucic won the U.S. Open junior title at 14. A season later, at age 15, she won the very first WTA tournament she ever played, taking the title in Bol in Croatia. She was just the third player in tour history to pull off such a thing (only three more have followed in her footsteps since, including Justine Henin, and none since 2001). In her second career event in Strasbourg that year, she reached the final, losing to Steffi Graf. Lucic also won the doubles title in the first tournament she ever played, becoming the only player to ever accomplish both first-time-winner feats in her career. The title came at some little event in Melbourne called the Australian Open, with world #1 Martina Hingis as her partner.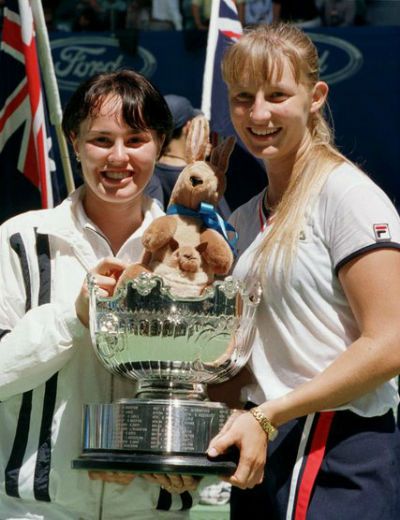 In 1998, a 16-year old Lucic won again in Bol, becoming the youngest player ever to successfully defend a title. Later that season at Wimbledon, she played in the Mixed Doubles final, then returned home and escaped Croatia for the United States, running from her abusive father along with her mother and family in the middle of the night. A year later in 1999, she defeated Monica Seles and reached the Wimbledon semifinals. Anything and everything seemed possible for her career.

But then it started to go away.

Her tennis career went into a tailspin over the next few years. She played regularly for a few more seasons, then lacking money she essentially spent years away from the sport. She played just two events from 2004-06 before slowly beginning a comeback in 2007, winning a main draw match here or there but still residing in the "do you remember her?" tennis file that has unfortunately grown quite full over the years. She played no grand slam main draw matches for seven and a half years, getting her first MD win since the '02 Roland Garros at the U.S. Open in '10. A year later, Lucic married a Sarasota, Florida restaurant owner. In 2012, when she reached the 3rd Round at Wimbledon as a qualifier, getting a win over Marion Bartoli (who'd win the SW19 title a year later), it seemed as if it was one last brief moment in the sun that simply recalled a time in her career when things seemed destined to be different.

This summer, still languishing outside the Top 100, Lucic-Baroni, who'd qualified for the Open in '13, came to Flushing Meadows to try to do it again, though she was on an eight-match losing streak at the time. Somehow, she woke up the echoes of her great past. She won three matches to qualify, then ran off three more -- including one over #2-seed Simona Halep, after which MLB called it "the best day of my life" -- to reach the Round of 16 at a major for the first time since her semifinal at the All-England Club fifteen years earlier.

If that had been the end of the story, it'd already be quite the tale. But she's already written another chapter.

Last week in Quebec City, the story continued as Lucic, up to #80, advanced to her first final since 1998. when she defeated Venus Williams in the final to claim her third career single title she set a new WTA standard by ending a tour-record 16-year title drought, topping Date-Krumm's "unbreakable" feat by more than three full years.

In just the last few weeks, Lucic-Baroni has picked up a few of the spare pieces that she left behind in her early career, literally half a lifetime ago. At 32, one wouldn't think she'd be able to pick up too many more.

But with a twisty, fractured fairly tale like her own, who's to assume ANYTHING?



*WEEK 37 CHAMPIONS*
QUEBEC CITY, QUEBEC CANADA (Int'l $250K/Carpet Indoor)
S:

Mirjana Lucic-Baroni/CRO def. Venus Williams 6-4/6-3


D:

Hradecka/Lucic-Baroni (CZE/CRO) d. Goerges/Hlavackova (GER/CZE)
TASHKENT, UZBEKISTAN (Int'l $250K/Hard Court Ourdoor)
S:

Karin Knapp/ITA def. Bojana Jovanovski/SRB 6-2/7-6(4)


D:

Krunic/Siniakova (SRB/CZE) d. Gasparyan/Panova (RUS/RUS)
HONG KONG, CHINA (Int'l $250K/Hard Court Outdoor)
S:

Sabine Lisicki/GER def. Karolina Pliskova/CZE 7-5/6-3


D:

Ka.Pliskova/Kr.Pliskova (CZE/CZE) d. Mayr-Achleitner/An.Rodionova (AUT/AUS)

PLAYER OF THE WEEK:
Mirjana Lucic-Baroni/CRO

...Lucic-Baroni's title run in Quebec City didn't end with a singles win. While her victories over Timea Babos, Sesil Karatantcheva (oh, the stories those two could share about a tennis life), Julia Goerges and Venus got her into the big winner's circle for the first time since Bol in May '98, she also claimed her third career doubles title, taking that with Lucie Hradecka. She hadn't won one of those since taking the Australian Open and Tokyo crowns with Hingis in February '98. Back at her Bol title defense tournament in '98, Lucic also reached both the singles and doubles finals. Of course, she won the singles (defeating Corina Morariu), but never got to play the doubles, handing the title over via a walkover. Her doubles partner that week was Joannette Kruger. The South African hasn't played a match on tour in eleven years. Meanwhile, Lucic-Baroni in up to #56 in the new rankings.


=============================




RISERS:

Sabine Lisicki/GER & Karolina Pliskova/Kristyna Pliskova (CZE/CZE)



YYYEEESSSSSSS!!!! ???????????? #title @HKTennisOpen pic.twitter.com/cYdhMfaXhf

— Sabine Lisicki (@sabinelisicki) September 14, 2014

...Sabine is smiling, and she's not even playing on grass. You know what I meeeeeean. The German won her fourth tour title in Hong Kong, but her first since taking a small pre-U.S. Open tournament in Dallas in 2011. Wins over Monica Niculescu, Grace Min, Zheng Saisai and Francesca Schiavone got Lisicki into a final with big-serving Czech Karolina Pliskova, who's behind only Serena when it comes to dishing out aces in '14. After falling behind 5-1 in the 1st set, Lisicki won twelve of the next fifteen games to claim the title. While Karolina, who reached her fourth singles final in 2013-14 (tied for the most of any Czech, along with Kvitova and Koukalova), and Kristyna, who fell in the 1st Round, couldn't walk off with the singles glory, they DID combine to win their second tour doubles title of '14. It's the third title for the 22-year old twins, meaning that the only all-sister team with more tour doubles titles shares the names of "Williams." Hey, if you're going to finish second to someone...


=============================




SURPRISES:

Nigina Abduraimova/UZB & Zhang Kai-Lin/CHN


...Abduraimova, 20, has won a pair of ITF singles titles over the past year, and as a wild card in the only WTA event in her native Uzbekistan the world #189 put on quite a show last week, far surpassing her previous best tour-level result with a semifinal run after wins over Lara Arruabarrena, Alexandra Panova and Akgul Amanmuradova. Naturally, as the tour heads to Asia, we're bound to see some unfamiliar names of rarely-heard-from Chinese players putting up notable results. Zhang is the one I'll highlight here. Ranked #316, the 24-year old qualified last week in Hong Kong with wins over Sofia Shapatava, Tamira Paszek and Misa Eguchi, then got a main draw victory over Pauline Parmentier before falling to countrywoman Zheng Jie a round later. This weekend in Guangzhou, Zhang had another successful qualifying run, notching victories over Andreja Klepac and (again, the poor thing) Shapatava. Zhang has already won a pair of ITF singles titles in '14, as well as seven doubles challenger crowns.


=============================




VETERANS:

Venus Williams/USA & Francesca Schiavone/ITA


...Venus has been loving Canada this season, up to a point. After reaching and losing the Montreal final this summer, Williams returned to Quebec and followed a similar pattern in the much smaller Quebec City event (minus the win over Serena, of course). Venus reached her fourth final of '14 (matching her total in her last Top 5 season in 2010) while dropping just one set, taking out Francoise Abanda, Olga Savchuk, Lucie Hradecka and Shelby Rogers. But, in her 75th career final, she went down in straights to Mirjana Lucic-Baroni. Meanwhile, another 34-year old continues to put up occasionally encouraging results even while her grand slam campaigns have been positively dreadful the last two seasons. In Hong Kong, Schiavone reached her second '14 semifinal (Baku in July) after advancing past Christina McHale, Kimiko Date-Krumm and Jana Cepelova. The result raised her ranking to #69 and gives her an outside shot at her fourteenth consecutive Top 50 season.

NOTE:

so, quite literally, she last finished outside the Top 50 when CiCi Bellis was an infant filling poopy-diapers.


=============================




COMEBACKS:

Karin Knapp/ITA & Julia Goerges/GER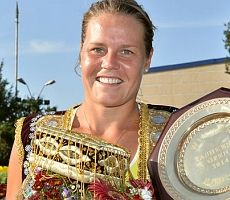 ...Knapp, 28, has been battling back for years, so it's no surprise that her long climb out of the immediate slump that followed her 1st Round Fed Cup exploits from earlier this year has finally pushed her back on top. Back in '08, the Italian reached her first tour final in Antwerp, reaching a career-high of #35 that season. Soon, though, she was having surgery for a heart condition and struggling with an ongoing knee injury. It was no Lucic-like break, but Knapp finally returned to a WTA singles final following a six-year absence this weekend in Tashkent. Wins over Aliaksandra Sasnovich, Olga Govortsova and Lesia Tsurenko got Knapp into the final, where she became just the second player this season to notch a win over a tournament's top seed and defending champ (Bojana Jovanovski) to claim the title. "I can't say how happy I am right now," Knapp said. "I've had five surgeries, so many months of layoffs in the last six years, in and out of tennis the last two years due to bad knee problems. But I knew it was possible for me to win a WTA event one day, and I'm so happy I could do it here in Tashkent." Meanwhile, two-time WTA titlist Goerges has had some pretty lean times the last two seasons. She was in and out of the Top 20 in 2011-12, and had her first season-ending Top 20 ranking the latter year. But the German dropped to #73 at the end of '13 and heading into Quebec City she was all the way down at #93 after barely being able to keep her ranking solidy in the Top 100 for most of the season. In January, Goerges had her first SF result in over a year in Pattaya but, though she stretched Flavia Pennetta to three sets in the 1st Round at the U.S. Open, she wasn't able to match it with another final four finish until this weekend. After putting up wins over Stephanie Dubois, Melanie Oudin and Andrea Hlavackova to reach the semifinals, Goerges' ranking jumps to #81 this week. She also reached the doubles final with Hlavackova.


=============================




FRESH FACES:

Shelby Rogers/USA & Aleksandra Krunic/SRB


...like Venus, Rogers has had a nice time in Canada in recent weeks. While her best result this season was a final in Bad Gastein, Austria, her victory in Montreal over Genie Bouchard was her most memorable moment. In Quebec City, she reached the semifinals after putting up victories over Asia Muhammad and Tatjana Maria. The 21-year old is up to a new career-high ranking of #70. Meanwhile, the 21-year old Serbian Good Luck Charm barely the size of a charm bracelet was at it again in Tashkent. Krunic lost her opening post-U.S. Open singles match to Lesia Tsurenko, but she rebounded quite nicely, thank you very much. Reaching her second career WTA doubles final, she followed up her Flushing Meadows run by winning her first-ever doubles title with fellow maiden champ Katerina Siniakova. Said the diminutive Serb, ""A lot of people know me and think I should win all the time, but personally I'm still the same person and don't have pressure. I'm trying to keep myself on the ground and keep my distance from the hype! It's been a great year for me and I'm just trying to stay calm and focused." Go Bracelet!


=============================




DOWN:

Hsieh Su-Wei/TPE


...earlier this season, Hsieh reached #1 in the doubles rankings, and she shared a Roland Garros title with Peng Shuai. Since then, the announcement of the end of the regular partnership with her longtime friend Peng has come and gone, though the two have qualified for the WTA Finals in Singapore and plan to attempt to defend their title there. Still, while U.S. Open singles semifinalist Peng's solo game has improved, Hsieh's has sagged badly. A two-time title winner in 2012, she's just 5-12 in 2014 and is currently ranked #171. Last week in Hong Kong, Su-Wei and her younger sister Shu-Ying were knocked out in the doubles semifinals in Hong Kong... in one of the two matches that counted seven tennis-playing sisters in the group of eight players. Hsieh and Peng are the reigning '13 champs of this week's event in Guangzhou, but they won't be around to attempt to defend their title.


=============================




ITF PLAYER:

Andreea Mitu/ROU


...the 22-year old Swarmette, a Wimbledon qualifier, is a perfect 5-0 in ITF singles finals this season. Her latest victory run came this weekend in a $25K event in Sofia, Bulgaria when she claimed her twelfth career circuit crown with wins over Beatriz Haddad Maia, Reka-Luca Jani (Reka-Luca Jani! Reka-Luca Jani!) and Hordette Victoria Kan in the final.


=============================




JUNIOR STARS:

Destanee Aiava/AUS & Jelena Ostapenko/LAT




...the appropriately -- or unintentionally cruelly -- named Aussie, at just age 14, took the title at the Grade 2 Canadian World Ranking event in Montreal. The #7 seed, Aiava defeated top seed Iryna Shymanovich in the semifinals before downing fellow Australian Kimberly Birrell, the #3 seed (and AO girls semifinalist), in the final. Ostapenko, who won the Wimbledon junior crown this summer, made her WTA tour debut in Tashkent. Granted a wild card into the main draw, she opened her career with a 1st Round upset of '09 tournament champ Shahar Peer before losing in the 2nd Round to Ksenia Pervak.


=============================






1. Tashkent Final - Knapp d. Jovanovski
...6-2/7-6(4). This was BoJo's fourth career final. Two have come in Baku, and two in Tashkent. She's just the second '13 singles champ to reach the final in her '14 title defense attempt, only to come up short the second time around. The other? Why, her fellow Serb JJ in Bogota, of course.


=============================


2. Tashkent 1st Rd. - Tsurenko d. Krunic
...6-2/3-6/6-2. Krunic took down two-time Wimbledon champ Kvitova in three sets in NYC, and nearly did the same to two-time slam winner Azarenka. #124-ranked qualifier Tsurenko proved to be too tough a Ukrainian nut to crack in Uzbekistan, though.


=============================


3. Hong Kong 2nd Rd. - Schiavone d. Date-Krumm
...6-3/4-0 ret. If they'd met in the final it'd surpassed Venus/Lucic with a combined 67 years of age. Alas...


=============================


4. Hong Kong SF - Ka.Pliskova d. Van Uytvanck
...6-1/4-6/6-4. The Belgian, who won a WTA $125K Challenger title in '13, was playing in her first career tour-level singles semifinal.


=============================


5. $50K Saint-Melo FRA Final - Carina Witthoeft d. Alberta Brianti
...6-0/6-1. The 19-year old German wins her second ITF title in two weeks. Before her victory over the Italian, Witthoeft put down a series of Spaniards (Pous-Tio, Dominguez-Lino & Sorribes-Tormo) on her way to the final.


=============================


6. Quebec Doubles Final - Hradecka/Lucic-Baroni d. Goerges/Hlavackova
...6-3/7-6(8). Andrea to Lucie: "Hey, aren't you somebody that I used to know?"


=============================


7. $25K Redding CA SF - Lauren Embree d. Alexandra Stevenson
...6-0/6-2. Stevenson, now 33, was the other surprise semifinalist at Wimbledon in 1999.


=============================


8. Guangzhou 1st Rd. - Zhu Lin d. Vinci
...6-3/7-6(7). Zhu is another of those Chinese players that are bound to pop at this time of year. Last week, while ranked #207, she qualified in Hong Kong and got a MD win over Kristyna Pliskova. The 20-year old has already started off this week by knocking out Vinci in Guangzhou.


=============================






1. Quebec Final - Lucic-Baroni d. Venus Williams
...6-4/6-3. At 32 and 34, respectively, MLB and Venus combined for the oldest final pairing of 2014.


=============================


2. Hong Kong Final - Lisicki d. Karolina Pliskova 7-5/6-3
Hong Kong 1st Rd. - Zhu d. Kristyna Pliskova 1-6/6-4/6-3
...the week both began and ended with Pliskova sisters losing singles matches.


=============================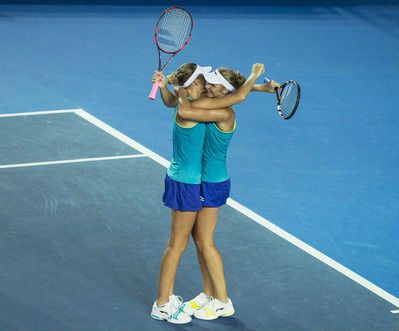 3. Hong Kong Doubles Final - Pliskova/Pliskova d. Mayr-Achleitner/Anastasia Rodionova
...6-2/2-6 [10-6]. But two sisters still beat one in doubles.


=============================


4. Hong Kong Doubles SF - Pliskova/Pliskova d. Chan/Chan 6-4/4-6 [10-6]
Hong Kong Doubles SF - Mayr-Achleitner/An.Rodionova d. Hsieh/Hsieh 4-6/7-6(3) [10-3]
...more semifinalist sisters than you can shake a stick at.


=============================


5. Tashkent 2nd Rd. - Urszula Radwanska d. Vekic
...6-3/6-3. Still on a comeback trail following her offseason shoulder surgery, U-Rad reached her first tour-level QF of the season and lifted her ranking back into the Top 200. It could have been an even better week, as Ula won the opening set in the QF vs. Jovanovski, and was up a break on three different occasions in the 2nd (and a fourth time in the 3rd) before losing in three sets.


=============================


HM- $25K Batumi GEO Final - Mestach d. Olga Ianchuk
...6-2/6-0. Olga is 1-2 in ITF finals this season, while her sister Elizaveta is 3-3.


=============================





vichka35: "That moment when u try to turn on the bath and shower thing is on instead #watereverywhere #notAfavoritewaytogetwet"




**WTA ALL-TIME - MOST TIME BETWEEN TITLES**


16y,4m,2.5w - MIRJANA LUCIC-B. (98 Bol => 14 Que.City)
13y,1m - Kimiko Date-Krumm (96 San Diego => 09 Seoul)
8y,8m,3w - Barbara Rittner (92 Schenectady => 01 Antwerp)
8y,8m,2w - Jelena Dokic (02 Birmingham => 11 Kuala Lumpur)
8y,5m,1w - Klara Koukalova (05 Portoroz => 14 Florianopolis)


[2014]


16y,4m,2.5w - MIRJANA LUCIC-BARONI (1998 Bol => Que.City)
8y,5m,1w - Klara Koukalova (2005 Portoroz => Florianopolis)
4 yr - Svetlana Kuznetsova (2010 San Diego => Wash.DC)
3y,11m - Flavia Pennetta (2010 Marbella => Indian Wells)
3y,7m,2w - Ekaterina Makarova (2010 Eastbourne => Paris)



**2014 MOST DIFF. CHAMPIONS - NATIONS**


4 USA - Keys,Vandeweghe,S.Williams,V.Williams
4 RUS - Kuznetsova,Makarova,Pavlyuchenkova,Sharapova
3 ESP - Muguruza,Suarez-Navarro,Torro-Flor
3 GER - Barthel,Lisicki,Petkovic



**2014 ITF TITLES**


7...Denisa Allertova, CZE
6...Laura Pous-Tio, ESP
6...Patricia Maria Tig, ROU
5...Quirine Lemoine, NED
5...ANDREEA MITU, ROU



**2014 OLDEST FIRST-TIME CHAMPIONS**


28 - KARIN KNAPP, ITA (Tashkent)
26 - Tsvetana Pironkova, BUL (Sydney)
25 - Carla Suarez-Navarro, SP (Oeiras)
22 - Kurumi Nara, JPN (Rio)
22 - Coco Vandweghe, USA ('s-Hertobenbosch)



**2014 WTA FINALS**


6...Serena Williams, USA (6-0)
5...Ana Ivanovic, SRB (3-2)
4...Simona Halep, ROU (2-2)
4...VENUS WILLIAMS, USA (1-3)
4...Angelique Kerber, GER (0-4)



**ALL-TIME WTA DOUBLES TITLES - SISTER DUOS**


21...Serena & Venus Williams, USA
3...Alona & Kateryna Bondarenko, UKR
3...KAROLINA & KRISTYNA PLISKOVA, CZE
2...Chan Hao-Ching & Yung-Jan, TPE



**2014 REACHED SINGLES/DOUBLES FINAL IN EVENT**


Hobert - Klara Koukalova (won doubles)
Bogota - Caroline Garcia (won both)
Marrakech - Romina Oprandi (won doubles)
Rome - Sara Errani (lost both)
Nurnberg - Karolina Pliskova (won doubles)
Washington, D.C. - Kurumi Nara (lost both)
Quebec City - MIRJANA LUCIC-BARONI (won both)
Hong Kong - KAROLINA PLISKOVA (won doubles)



**THIRTYSOMETHING CHAMPIONS IN 2014**




[singles]


6 - Serena Williams
2 - Li Na
1 - Koukalova, LUCIC-BARONI, Pennetta, V.Williams


[doubles]


2 - Kveta Peschke, Abigail Spears
1 - C.Black, Hingis, LUCIC-BARONI, Srebotnik



**2014 OLDEST SINGLES FINALS**


66 years - Mirjana Lucic-Baroni (32) d. Venus Williams (34)
64 years - Serena Williams (32) d. Li Na (32)



**DEFEATED TOP SEED & DEFENDING CHAMP, WON TITLE**


Bogota - Caroline Garcia, FRA (def. Jankovic in Final)
Tashkent - KARIN KNAPP, ITA (def. Jovanovski in Final)



**2014 TITLE DEFENSES - REACHED FINAL**


Brisbane - Serena Williams (def. Azarenka)
Shenzhen - Li Na (def. Peng)
Miami - Serena Williams (def. Li)
Bogota - Jelena Jankovic (lost to Garcia)
Stuttgart - Maria Sharapova (def. Ivanovic)
Baku - Elina Svitolina (def. Jovanovski)
U.S. Open - Serena Williams (def. Wozniacki)
Tashkent - BOJANA JOVANOVSKI (lost to Knapp)


Elsewhere... Oh, no! I guess Robson didn't know she had it GOOD with that wrist brace.






TOKYO, JAPAN (Premier $1m/HCO)


13 Final: Kvitova d. Kerber
13 Doubles Final: Black/Mirza d. H-C.Chan/Huber
14 Top Seeds: Kerber/Wozniacki
=============================


=SF=


Azarenka d. #1 Kerber
#2 Wozniacki d. #4 Jankovic


=FINAL=


Azarenka d. #2 Wozniacki

...while one point of interest in this tournament will be the all-Swiss Miss doubles pairing of Hingis & Bencic (the younger of which has already opened the singles action with an upset of Svetlana Kuznetsova, 6-3/6-0), our first look at a post-U.S. Open Azarenka -- with over a week of additional seasoning -- is sort of an intriguing notion, as well. I guess you can consider this pick a case of "drinking the Vika Kool-Aid."



vichka35: "I guess I was thirsty after practice! #hydrateYourselfWithABigAssBottle ??????"






SEOUL, SOUTH KOREA (Int'l $500K/HCO)


13 Final: A.Radwanska d. Pavlyuchenkova
13 Doubles Final: C-W.Chan/Y-F.Xu d. Kops-Jones/Spears
14 Top Seeds: A.Radwanska/Ka.Pliskova
=============================


=SF=


#1 A.Radwanska d. McHale
(WC) Kirilenko d. #2 Ka.Pliskova


=FINAL=


#1 A.Radwanska d. (WC) Kirilenko

...something of a huge flier being taken on Kirilenko here, though she has always played well in Asia over the years. Of course, she could probably-more-easily lose her 1st rounder against Koukalova. Aga has never successfully defended a singles title, though, so there's that, too.





GUANGZHOU, CHINA (Int'l $500K/HCO)


13 Final: Shu.Zhang d. King
13 Doubles Final: Hsieh/Peng d. King/Voskoboeva
14 Top Seeds: Stosur/Cornet
=============================


=SF=


#4 Jovanovski d. #7 Cepelova
#2 Cornet d. Torro-Flor


=FINAL=


#4 Jovanovski d. #2 Cornet

...one could be tempted, what with the spotty nature of the Guangzhou draw, to pick a certain Current Bannerette to reach her first semifinal since January 2013, and maybe even more, in this tournament. But THIS one won't take that bait.


And, meanwhile, while so many are toiling on the tour's Asian swing...



serenawilliams: "Beach. Body. The first."


Such is the life of an eighteen-slam winner, I guess.


All for now.