2014 BSA's: Top Performances List
The WTA season is over, but there are still things that remain to be quantified...
such as the best performances of the year.
How do they measure up?
"This means everything to me. I mean, it's Wimbledon. Tennis here is tennis history. I just had the tears in my eyes. I was so, so happy." -

Petra Kvitova, after winning her second Wimbledon title
*PERFORMANCES OF THE YEAR*
[Individuals]



1.

Petra Kvitova puts to rest a box-full of the lingering troubles and doubts that have weighed on her career since winning at the All-England Club in '11, overcoming a stern first week challenge from Venus Williams before ultimately blasting Eugenie Bouchard 6-3/6-0 in a devastating performance in the final to become the eighth woman in the Open era to win multiple Wimbledon titles. With just three games lost in the 55-minute contest, the Czech's victory in the championship match is the most lopsided Ladies final in twenty-two years. Kvitova is a combined 26-3 in her last twenty-nine SW19 matches.


=============================




2.

Although she had a (mostly) "typically Serena" '14 season during the regular part of the WTA year, finishing #1 and leading the tour in titles, Williams was having a very uncharacteristically unspectacular run (for her) at the slams heading into the U.S. Open, having failed to advance to a QF in any of the year's first three majors. Tasked with "saving" her season in New York, she makes her way through the draw without dropping a set, never losing more than three games in the fourteen sets she played over the two weeks, en route to becoming the first woman in thirty-seven years to three-peat as singles champion. Her season-righting moment highlights the very-much-more Serena-esque 26-4 post-Wimbledon record she put together to close out her season.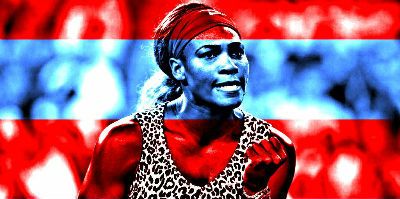 =============================




3.

Maria Sharapova once again proves to be the best clay court player on the WTA tour, reaching her third straight Roland Garros final and raising her second Coupe Suzanne Lenglen in Paris, closing out her run by winning four straight three-set matches (the first three after dropping the opening set) and taking the "instant classic" final against Simona Halep. The Russian has now won twenty straight three-setters on clay.

=============================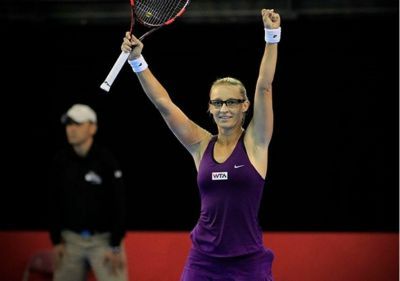 4.

Once-troubled-but-now-secure Mirjana Lucic-Baroni wins Quebec City, following up her U.S. Open qualifying run and Round of 16 (her best since reaching the Wimbledon semifinals in 1999) with a win over Venus Williams in the final. The 32-year old's feat breaks the WTA record for most years between titles with a 16-year gulf since her last championship run in May '98. Having last won at age 16, the Croat's most recent title literally came when she was half her current age. Putting figurative icing on the cake, Lucic also grabbed the doubles title, her first on tour since January '98.


"It's been so long. I'm finally playing the great tennis I always knew I could play, but it had been so long that I kind of lost a little bit of the belief in myself." -

Mirjana Lucic
=============================




5.

Still persevering after all these years, 32-year old Italian Flavia Pennetta took another huge step in her comeback from career-threatening wrist surgery, defeating four Top 20 players and two in the Top 5 (#2 Li & #3 Radwanska) en route to the biggest title of her career in Indian Wells. The win ended her 76-tournament title drought (since 2010) and raised her ranking to its highest standing since she became the first Italian to ever reach the Top 10 five years ago.


"After so many years, so much work and everything, this is the moment I've always waited for. And it's coming when you don't expect it."

-

Flavia Pennetta
=============================



6.

Tsvetana Pironkova, "The Weeping Bulgarian Angel" who has traditionally been lethal in slams but barely-ordinary everywhere else, qualifies, reaches her first WTA final and claims her maiden career tour singles title in Sydney, winning eight matches in eight days and notching victories over Top 10ers Errani, Kvitova & Kerber. The 26-year old had come into the week ranked outside the Top 100 and with a winless (0-7) career mark in WTA semis.


=============================




7.

In South Carolina, the U.S. state where her father once played college tennis, Andrea Petkovic wins the biggest title of her career in Charleston. The German defeats three seeds -- Lisicki, Safarova & Bouchard -- on her way to winning her first title since 2011, and the first Premier event of her career. Unfortunately, Petko didn't dance the ACTUAL Charleston in celebration. Oh, well... maybe next year?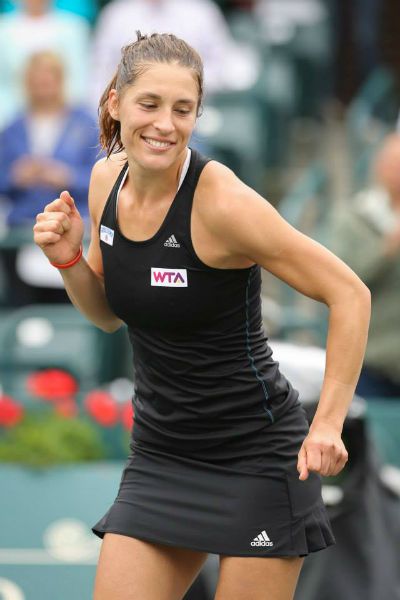 =============================




8.

Maria Sharapova wins Madrid, defeating three Top 5 players (Li, Radwanska & Halep). The Russian stages comebacks from 4-1 down in the 3rd against Christina McHale, a set and break down to Li Na and from a set back against Simona Halep in the final. Not only would the final be a preview of the Roland Garros championship match against the Romanian, Sharapova's comeback-heavy path to victory would also be replicated in Paris.


=============================






9.

Li Na finally wins the Australian Open in her third appearance in the final, battling her way to a career-best #2 in the rankings. The Chinese vet dropped just one set in Melbourne (saving a match point vs. Lucie Safarova in the 3rd Round), though she never had to face a player ranked in the Top 20 during the two weeks. After being forced to fight to take the 1st set of the final in a tie-break against Dominika Cibulkova, Li's confidence soared in the 2nd, which she won at love. Afterward, Li shined still brighter in an astounding (even by her already-high standards) post-match ceremony performance. But by the end of the summer, thanks to a chronic knee injury, Li had announced her retirement.


=============================




10.

Simona Halep, The Pride of Romania, notches three Top 10 wins -- over Errani, A-Rad & Kerber -- in Doha, securing her biggest career title and reaching the Top 10 herself for the very first time.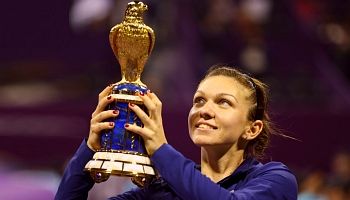 =============================




11.

Caroline Wozniacki's summer redemption tour begins with a title in Istanbul, then ends with an appearance in the U.S. Open final and successful participation in the New York City marathon. The Dane's title run in Turkey, which included a double-bageling of Belinda Bencic and three-set victories over Karin Knapp and Kristina Pliskova, kicked off a summer that saw a more focused Wozniacki up her on-court aggression, while spreading her wings (with a smile) in virtually every other area of her life. She shared headlines the weekend of her Istanbul win with former fiance Rory McIlroy's championship in golf's British Open, but from then on Caro was her own brand, reaching her first slam final in five years, showing up with new BFF Serena Williams, well, virtually everywhere, and inspiring untold fans and otherwise with her gutsy (and quite good) time in the marathon. The stretch fueled a 28-8 post-Wimbledon record that ended with a nearly show-stealing turn in the WTA Finals and year-end #8 ranking, her best since finishing at #1 in 2011.


=============================




12.

Anastasia Pavlyuchenkova, long a talented-but-inconsistent potential force on tour, puts together a pair of bookend performances that once again give hope that the best is still yet to come for the Hordette, as she becomes just the second woman (Mary Pierce '98) to win both of the WTA tour's top in-season indoor events -- in Paris in the springtime, then Moscow in the fall -- in the same calendar year. In Paris, she upends three Top 10ers (including countrywoman Sharapova) and wins five consecutive three-set matches en route to the biggest title of her career. At the Kremlin Cup, Pavlyuchenkova becomes the first Russian singles champion at the event since 2007.


=============================






13.

Despite her #6 ranking, Aga Radwanska didn't have a great '14 campaign. But, aside from her Fed Cup exploits, her win in Montreal was the shining light of her season. A few weeks before the U.S. Open, Aga defeats Sabine Lisicki, Victoria Azarenka, Ekaterina Makarova and Venus Williams in the final, losing just one set all week as she claims her first title since September '13 and her biggest since Miami in 2012.


=============================




14.

Not knowing the trials, tribulations and eventual triumphs that would await her in 2014, Serena Williams opens her season on an extremely high note, defending her Brisbane title in Week 1 to win her fourth straight tournament (and reach her seventh straight final), getting victories over Maria Sharapova and Victoria Azarenka (in the final, notching her 41st career win over a Top 2 player) to run her winning streak to twenty-two matches.


=============================




15.

Garbi was Great. Garbi was Good. Back from summer '13 ankle surgery, Spaniard Garbine Muguruza qualifies and wins her first tour title in Hobart, winning eight matches without dropping a set, losing what would be a '14 tour low for a champion of just fifteen total games in main draw action. She would run her winning streak to eleven matches in Melbourne, putting up her (then) best slam result with a Round of 16 at the Australian Open.

=============================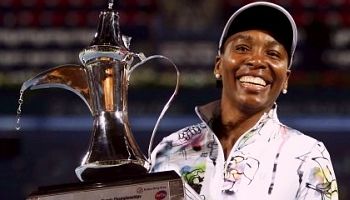 16.

Venus Williams wins Dubai to claim her biggest title since winning the same event in 2010, stringing together wins over Vesnina, Ivanovic, Pennetta, Wozniacki and Cornet to grab career title #44. Venus, getting better and better when it comes to coping with her Sjogren's Syndrome, hadn't won a title since 2012. She'd go on to finish in the Top 20 for the first time since 2010.


"People have been trying to retire me since I was, like 25. For some reason in tennis, we always do that to our players, it's weird. We don't encourage them to stick around. It's like, 'get out of here.'"
"According to (Top 100 44-year old) Kimiko (Date-Krumm), I have another decade." -

Venus Williams, 34
=============================




17.

While she cut things close a few times, Serena Williams loses just lost one set while successfully defending her Miami title, knocking off two Top 10 players -- including #2 Li Na in the final -- on her way to winning her seventh singles title at the event.


=============================




18.

Ana Ivanovic wins the title in Auckland, defeating Venus Williams in the final to take her first singles title since 2011. In the Australian Open, she upsets Serena Williams to run her season-opening winning streak to nine matches and reach her first slam QF since winning Roland Garros in 2008. AnaIvo Would go on to win four titles (her most ever in a season), lead the tour in match wins and finish in the Top 5 for the first time since 2008.


=============================




19.

Despite her early-season slam difficulties, Serena Williams' "regular season" dominance survived her '14 issues. Her tour-leading seven titles included a successful defense of her Rome crown. It was an event which she entered with an injury question hanging over her head, but she played without a leg wrap and ultimately lost just one set in five matches (never allowing more than three games in any of her ten sets). It was event runs like this that enabled her to put together her fourth career year-end #1 campaign.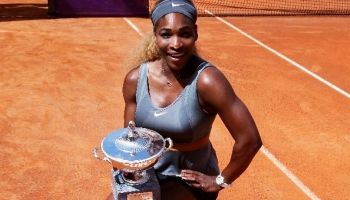 =============================



20.

For one two-week stretch, Caroline Garcia shouts her name and makes her presence known. First, she sweeps the Bogota singles and doubles for her first career WTA titles (becoming the first woman to win both in an event since Serena at the '12 Olympics), taking out defending champ Jelena Jankovic in the final to get her first career Top 10 win (after holding MP in two previous meetings vs. JJ). Then, in her Fed Cup debut, the suddenly-scalding Pastry has a hand in all three points in France's take down of the Bannerettes in Fed Cup play in St.Louis. She destroyed Sloane Stephens to start things off, showing zero signs of nerves in her first FC match, then threw the French team a huge life vest after Alize Cornet's injury and Virginie Razzano's replacement loss, downing Madison Keys in 1:09 and sending things to the doubles. There, teamed with the far-more-veteran, but also-far-more-nervous, Razzano it was Garcia that provided the glue to the effort, constantly turning back any threat provided by Keys/Stephens, even after they'd come back from a double-break down in the 2nd set to pull into the lead. The Pastries won 6-2/7-5, as the French squad stays in the World Group for 2015 and has Garcia and her three wins in the 3-2 victory to thank for it.


=============================




21.

There are few things that Serena Williams hasn't done in her career, but winning the title in Cincinnati was one of them. Well, until 2014. In winning her first crown at the event, Williams locks up her defense of her U.S. Open Series crown and defeats four Top 15 players, including three former #1's (JJ, Caro & AnaIvo) and opponents whose combined careers have produced two slam championships (AnaIvo & Stosur), six runner-up results and twelve major semifinals. Serena, of course, still has more than all of them combined.


=============================






22.

Coco Vandeweghe ('s-Hertogenbosch) and Madison Keys (Eastbourne) win their maiden tour titles on the same weekend, becoming the first U.S.-born women to win titles in the same week since 1999. Keys notched two Top 10 wins, defeated the defending champion and lost just one set all week. Vandeweghe qualified and served 81 total aces (19 vs. Erakovic alone in the 1st Rd.), losing just two sets and winning 27-of-28 1st serve points in the final.


=============================




23.

Ana Ivanovic wins her first career grass court title in Birmingham without dropping a set, completing a "Career Surface Title Slam."




=============================




24.

Alize Cornet defeats Aga Radwanska (she'd failed to win a set off the Pole in three previous meetings) to reach the Katowice final, then saves match point there against Camila Giorgi en route to the title, defeating the Italian in 3:11. After coming into the season with a career 0-17 record against Top 4 players, Cornet won four such matches in '14. The win over Aga was accompanied by three additional victories this season over Serena Williams.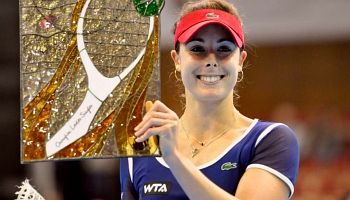 =============================



25.

Eugenie Bouchard defeats Karolina Pliskova in the final and wins her first tour title on the clay in Nurnberg, becoming just the second Canadian woman in the last twenty-six years to claim a tour singles crown, and only the sixth ever. The week began a run of ten straight match wins that carried her into the Roland Garros semifinals.


=============================




26.

Croatia's Donna Vekic wins her first career title in Kuala Lumpur, coming back from a set down three times and getting her first career Top 10 win (def. Cibulkova) in the final. The 17 year-old is the youngest singles champion on tour since 2006 (Vania King). Of course, that didn't prevent Tennis Channel's on-screen graphics from wondering if she was the "next Serbian Star?" Oh, well.


=============================




27.

In her sixth career final, Carla Suarez-Navarro finally wins her first tour singles final in Oeiras. During the week, the 25-year old Spaniard double-bageled Barbora Zahlavova-Strycova and came back from a 4-1 3rd set deficit against Svetlana Kuznetsova in the final. CSN had been the runner-up at the Estoril/Oeiras event the last two years (holding a MP vs. Kanepi in '12) and was 0-5 in career WTA singles finals.


=============================




28.

Monica Puig wins Strasbourg -- defeating Petkovic, Keys and Soler-Espinosa -- to become the first Puerto Rican to win a WTA singles title. Her previous best tour-level result had been a three QF. #PicaPower


"It's amazing to do this coming from such a small island, where tennis isn't necessarily recognized as one of the main sports. But all of the athletes there always represent their country as best they can, and I'm just happy I'm able to be here playing tennis not only for myself, but for my country, too."

-

Monica Puig, after winning Strasbourg
=============================




29.

Monica Niculescu wins Guangzhou, losing just seventeen total games through five matches (second in '14 to Muguruza's 15 in Hobart)


Monica Niculescu wins 2nd career #WTA title in Guangzhou! Storms past Cornet 64 60--> http://t.co/tCnYTkoERn #tennis pic.twitter.com/jU7yLNsFxT

— WTA (@WTA) September 20, 2014



=============================




30.

Klara Koukalova (then Zakopalova) reaches back-to-back Brazilian singles finals in Rio and Florianopolis, winning the latter title to claim her first tour singles title since 2005, ending a six-final drought that included dropping championship matches against a pair of first-time singles winners (Muguruza in Hobart, Nara in Rio) in '14. Her win in Florianopolis includes a victory over #1-seeded Carla Suarez-Navarro and, in a final rematch, Muguruza after the Czech erases a set and 5-2 deficit.


=============================




HM-

20-year old German Annika Beck claims her first WTA title in Luxembourg, leaving little doubt as she fails to drop a set and loses just eight total games from the QF to final.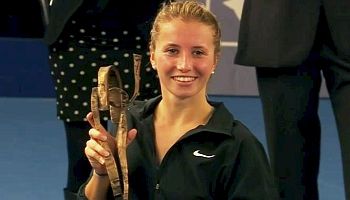 =============================





[LOOPHOLE EDITION]


Serena Williams wins her third straight -- and fifth career -- season-ending WTA Finals, but doesn't exactly cover herself in glory. At least not until the very end. While she went 2-1 in round robin play, Williams was handed her worst-ever loss (tying a '98 defeat, with just two games won) by Simona Halep in a 6-0/6-2 smackdown that ended her 16-match winning streak at the event, and only advanced to the semifinals because Halep took a set off Ana Ivanovic in her final RR match, narrowly giving Serena a tie-break advantage over the eliminated Serb. In the semifinals, Williams saw Wozniacki serve for the match at 5-4 in the 3rd, and lead 4-1 in the deciding tie-break. Serena ultimately came back and won on her fourth MP, but and Dane held a 91-87 points advantage in the match. In the final, Williams faced off with the player who'd thrashed her earlier in the week, then ironically ushered her into the semis -- Halep. Serena rose to the occasion, while the Romanian uncharacteristically did not, and won 6-3/6-0. Going 4-1 for the week against other Top 8 players in Singapore, Williams picked up a tour-leading seventh title and finished the year at #1, holding off Sharapova and Kvitova's late-season challenges for the honor.



[SOCHI OLYMPIC TORCH EDITION]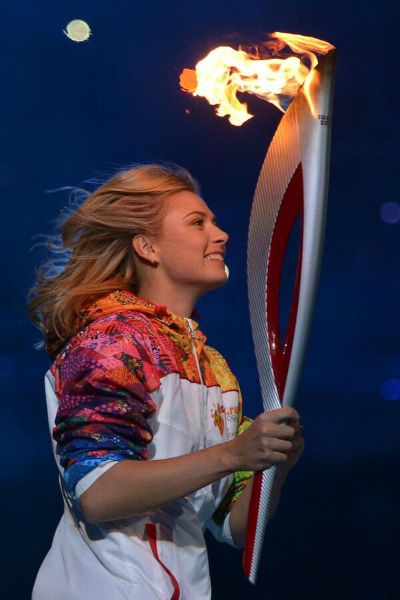 [ALL-NATION]


Li Na successfully defends a singles title for the first time in her career in Shenzhen, winning an all-Chinese final against Peng Shuai


=============================


Ana Ivanovic wins Monterrey in the first-ever all-Serb WTA singles final vs. Jovana Jaksic (not the JJ anyone might have expected in the equation, huh?)


=============================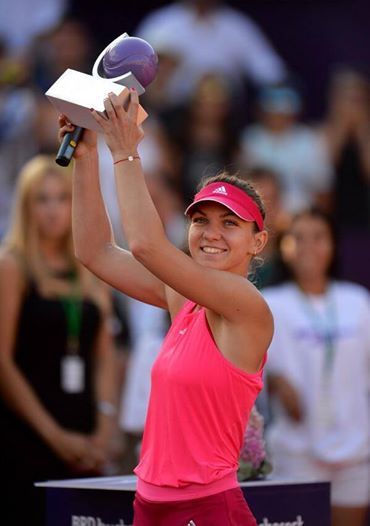 In the inaugural Bucharest Open in Romania, Swarmettes sweep the titles. Simona Halep, in her best hard court result of the summer, takes the singles, while Elena Bogdan & Alexandra Cadantu claim the doubles.


=============================





[DOUBLES]




1.

Sara Errani & Roberta Vinci win their first Wimbledon title, becoming the sixth duo to complete a Career Doubles Slam. The Italians saved six match points in their 3rd Round match against Lyudmyla & Nadiia Kichenok.




=============================




2.

Cara Black wins her third career WTA Championships/WTA Finals crown. She and partner Sania Mirza fought off match points in both their QF and SF matches before destroying defending champs Hsieh Su-Wei & Peng Shuai in the final.


=============================




3.

Sania Mirza wins her first U.S. Open Mixed Doubles title with Bruno Soares, moving her three-quarters of the way to a Career Mixed Slam. She needs only a Wimbledon crown to complete her set of trophies.


=============================




4.

Ekaterina Makarova & Elena Vesnina defeat the Williams Sisters early, then go on to win their first U.S. Open doubles title


=============================




5.

Hsieh Su-Wei & Peng Shuai take the first two high level Premier titles of 2014 in Doha and Indian Wells, as well as Roland Garros. But soon afterward they announce that they are ending their longtime, super-successful (co-#1's, two slams, four high-level Premier titles and a WTA Championships win in 2013-14 alone) partnership.


=============================




6.

Sara Errani & Roberta Vinci open '14 with a successful defense of their Australian Open title. Though they lost their #1 ranking for twenty weeks from February to July, they would finish as year-end #1's for the second straight season (Vinci has been year-end #1 for three consecutive seasons).


=============================




7.

The new veteran doubles duo of Martina Hingis & Flavia Pennetta put on a spirited late-year run, reaching the U.S. Open final and winning titles in Wuhan and Moscow. They finish at #9 in the points race, falling just short of qualifying for the eight-player field at the WTA Finals.


=============================




8.

Miami wild cards Martina Hingis & Sabine Lisicki overcome an illness to the German and three seeded opponents to claim the doubles crown, the Original Swiss Miss' first tour-level title since 2007.


=============================




HM-

Germany's Kristina Barrois, 33, announces in Luxembourg that she will retire following the event. In a fairy tale ending to her tennis career, Barrois joins with Timea Bacsinszky to reach the final and win her very first WTA title.


=============================





[TEAMS]




1.

The Czech Republic, playing without an ill Petra Kvitova and with a limited-by-illness Lucie Safarova, defeats the Spanish on home red clay in Seville on 2014's opening Fed Cup weekend, overcoming an early loss and constant rain that postpones most of the action until Monday. The Czechs come back from 1-0 and 2-1 deficits in the tie, with Safarova feeling well enough on Monday to win a singles match and send things to the deciding doubles. Andrea Hlavackova and Barbora Zahlavova-Strycova win the match, and the Czechs ultimately run their FC match-winning streak to nine matches when they clinch a third Fed Cup title in four years in the final against Germany.


=============================




2.

In arguably the toughest opening-weekend Fed Cup match-up, the Germans take down the Slovaks in Bratislava to reach the semifinals for the first time with members of the post-Graf generation. Andrea Petkovic's come-from-behind Match #1 win over Dominika Cibulkova (she was down MP) set the tone for the entire weekend, simultaneously waking the echoes of Germany's FC past (champs in '87 and '92, but having not won a 1st Round WG tie since 2002) and the Slovaks' recently bad, psyche-stabbing history (blowing a 2-0 lead vs. Russia in the '13 final four). In the semis, Angelique Kerber personally leads the Germans past Australia, demolishing Casey Dellacqua and getting her first career win over Sam Stosur to send Team Germany to the Fed Cup final for the first time since 1992.


What happened next against the Czechs? Ummm.... did you hear the Germans reached the FC final for the first time in twenty-two years?


=============================




3.

The U.S. Junior Fed Cup team wins a second title in three seasons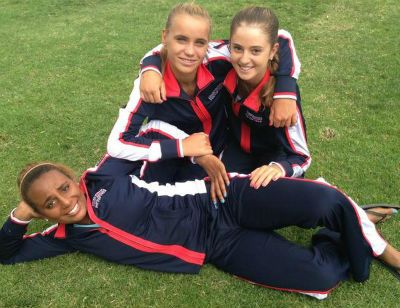 =============================




4.

UCLA wins the women's NCAA team championship




=============================




5.

Team France -- Alize Cornet & Jo-Wilfried Tsonga -- claims the nation's first-ever Hopman Cup title, after runner-up results in 1998 (w/ Mauresmo) and '12 (Bartoli).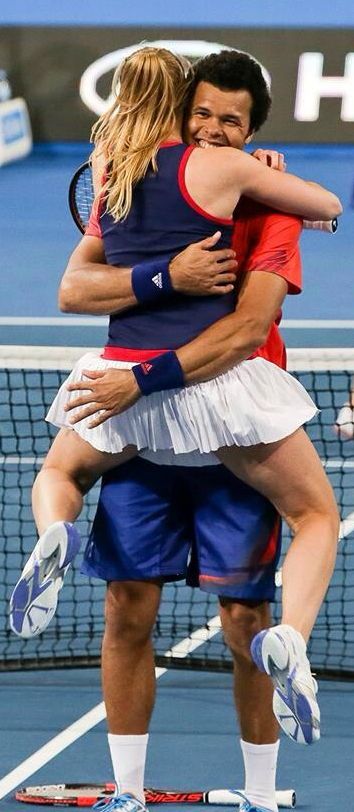 =============================




HM-

The Washington Kastles, led by MVP Martina Hingis, win a fourth straight (and fifth in six years) World Team Tennis championship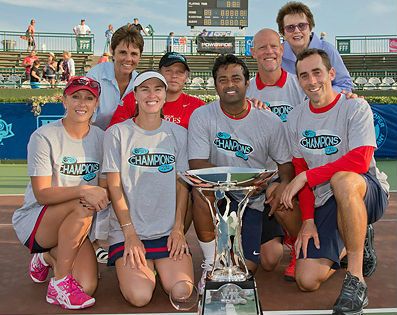 =============================





[JUNIORS]




1t.

Elizaveta Kulichkova, in her final junior event before turning professional, sweeps the girls singles and doubles competitions at the Australian Open. She's the first Hordette junior champ since 2010 (Daria Gavrilova - U.S. Open), and the first in Melbourne in seven years (Anastasia Pavlyuchenkova 2006-07). In the spring, fellow Russian Darya Kasatkina sweeps the Roland Garros girls singles and doubles titles, becoming the first from her country to win the junior title in Paris since Nadia Petrova in 1998.


=============================




2.

Jelena Ostapenko wins the Wimbledon girls singles, becoming the first Latvian to win a slam junior crown




=============================




3.

Marie Bouzkova becomes the first girl representing the Czech Republic to win the U.S. Open junior title


=============================






4.

At the World Youth Olympic Games in Nanjing, Xu Shilin takes home the Gold Medal for the host Chinese, something that didn't happen when Beijing hosted the regular Olympics in 2008.


=============================





[WHEELCHAIR]




World #1 Yui Kamiji wins the U.S. Open singles and doubles titles, adding two more '14 slam titles to her other slam wins (Wimbledon singles, and the doubles at the AO, RG and SW19) this season and coming within one match of a perfect record in the majors for the year. Kamiji & Jordanne Whiley combined to win the Doubles Grand Slam.



[ITF+]


Talk about a good, and long, day. Thanks to weather delays, Taylor Townsend's final Sunday at the $50K challenger in Indian Harbour Beach included two singles and two doubles matches. She saved two match points against Anett Kontaveit in the singles semis to clinch the USTA's wild card berth into the Roland Garros main draw (her slam MD debut), then went on to defeat Yulia Putintseva in the final to win her second career ITF singles crown one week after having grabbed her first. But she wasn't finished. Townsend and Asia Muhammad then combined to notch both semifinal and final match wins to also claim the second of back-to-back doubles titles, giving the Bannerette, in the span of eight days, her first four professional titles and a ticket to play to Paris. Townsend advanced to the 3rd Round at RG, becoming the youngest American to advance so far in the event in eleven years.



[NON-CHAMPIONS DIVISION]






1.

At the WTA Finals in Singapore, Simona Halep nearly stages a coup d'etat in plain sight. Handing world #1 Serena Williams her worst loss in sixteen years (tying her worst ever), the Swarmette also takes down #5 Genie Bouchard and #6 Aga Radwanska in straight sets to become just the eighth woman in the 42-year old event's history to reach the final in her debut appearance. She couldn't win there in a rematch with Williams, though. Of course, NO ONE has ever defeated Serena twice in singles in the SAME event.


=============================




2.

Well, Halep again. And Genie Bouchard. The Romanian and the Canadian put on a dual, step-by-step mastery of grand slam consistency in '14. After Bouchard opened the year with a semifinal at the Australian Open, they both reached the same stage at Roland Garros, with Halep advancing to her first major final. They met in the Wimbledon semifinals, with the Canadian winning to become the first man or woman from her nation to play in a slam singles final. With 19 and 17 wins, respectively, Bouchard and Halep put up the most slam match victories on tour in 2014.


=============================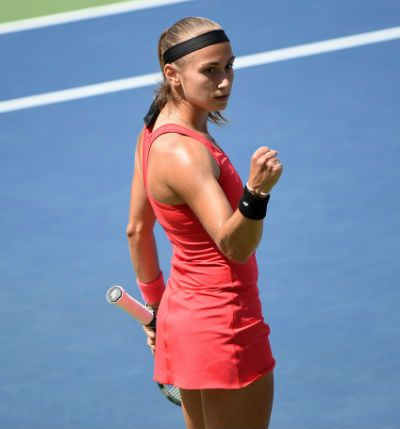 3.

Aleksandra Krunic wins six straight matches at Flushing Meadows, qualifying and then reaching her first slam Round of 16 after upsetting Madison Keys and Petra Kvitova. She pushes back-to-back U.S. Open finalist Victoria Azarenka to three sets in the 4th Round.


=============================




4.

Sara Errani reaches the Rome final, becoming the first Italian woman to do so since Rafaella Reggi won the event in 1985, two years before Errani was born.


=============================




5.

Dominika Cibulkova defeats four Top 20 players, including two in the Top 5 (Sharapova & Radwanska), to reach her first career slam singles final at the Australian Open


=============================






6.

Jana Cepelova, in Charleston without a coach or trainer and nursing shoulder and leg injuries, upsets Serena Williams and rides her fighting spirit all the way to her first career WTA singles final


=============================




7.

Andrea Petkovic (RG), Lucie Sararova (Wimbledon), Ekaterina Makaraova and Peng Shuai (both U.S.) all are first-time slam semifinalists


=============================




8.

Introducing "The New Swiss Miss." Barely out of the juniors (she was the 2013 #1), it didn't take long for Belinda Bencic to make her mark on the WTA tour. Even in the Swiss team's ultimately losing effort in the WG II Playoffs, the 16-year old made her Fed Cup singles debut against France a memorable one, twice leveling the tie with upset victories over Virginie Razzano (Day 1) and Alize Cornet (Day 2) in front of a Parisian crowd. In Acapulco, she spent 7:33 on court trying to qualify, only to come up just short in her final Q-round match. At the U.S. Open, she reached her first slam QF as a 17-year old, and then she reached her maiden tour final in October in Tianjin. She ended the season at #33, the second youngest player in the Top 100, and increased her ranking 179 spots over the course of the season.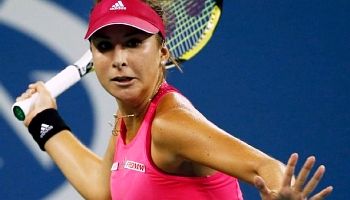 =============================





[FANS]


The Genie Army Takes Melbourne




[TEAM CAPTAIN & ATP COACH]




French Fed Cup captain Amelie Mauresmo ran circles around U.S. coach Mary Joe Fernandez even while having one and a half hands tied behind her back (2013 French #1 Bartoli is retired, Mladenovic was out injured and Cornet was hurt during her match on Day 1) in France's FC match-up with the Americans on U.S. soil, making the correct roster moves and innately understanding the unique psyche of each of her team members, placing them in their best game day positions to win. Later, the two-time slam champ and former #1 took on coaching duties for Andy Murray during the grass court season. After making her way through the initial (expected) anti-woman and/or homophobic backlash, the two settled in and couldn't help but see their working relationship produce good results, which included the Scot's three late-season, post-hip surgery titles (he hadn't won any for fifteen months), QF results at Wimbledon and the U.S. Open and consistent enough results to qualify him for the ATP World Tour Finals.



[THE CHEERFULNESS OF THE LONG DISTANCE RUNNER]



OMG did I really just finish the @nycmarathon in 3 hours, 26 min and 33 sec??? Sooo happy and proud of myself! pic.twitter.com/knPUpJQd4X

— Caroline Wozniacki (@CaroWozniacki) November 2, 2014




[POST-MATCH CEREMONY]


As usual, and for one last time, Li Na




[BEST SET]


Classic Aga. Agnieszka Radwanska dominates two-time defending champ Victoria Azarenka in the 3rd set of their Australian Open quarterfinal, ending the Belarusian's 18-match Melbourne streak by bageling her 6-0 by using her entire arsenal of clever, tricky, did-you-just-see-that?, yes-I-did-but-I-don't-believe-it shots, leaving Vika a frustrated spectator and everyone else in awe. In essence, Azarenka was simply "Radwanska'ed."



"She's a genius!"

-

Pam Shriver, on Aga Radwanska, during her AO QF match vs. Azarenka



[WORST SET]


Entering her 3rd Round meeting in Miami against Caroline Wozniacki, Sloane Stephens sported a winless and set-less history against the Dane. It showed, as Current Sloane made like an infinitive and split... at least mentally. As soon as she fell behind early, she gave up. Oh, but she still had almost two full sets to complete. After dropping the 1st at 6-1, you'd have thought some sort of athletic pride might have crept into Stephens' demeanor and/or performance. Umm, nope. She was even more of a ghastly ghost in the 2nd, getting bageled and winning just five total points. Years ago, Chanda Rubin dubbed a particularly disinterested outing by her opponent, Jelena Dokic, as a "semi-tank." Well, Sloane's tank runneth over in Miami... and things didn't get much better the rest of the season, either, as she fell out of the Top 35 and had just two QF results all season.


"I'm only 20 years old. Who cares? Flavia is like 32 and she's still doing well. If I'm going to play for that long, I have a long ways to go."

-

Sloane Stephens, who has since turned 21, after losing in a Indian Wells QF to 32-year old Flavia Pennetta
[ON ANOTHER LEVEL]

Vicky Duval, after receiving an early diagnosis of Hodgkin's lymphoma after winning in the opening round of Wimbledon qualifying, decided to continue to play the event. She won two more matches to reach the main draw, where she picked up another match victory before losing in the 2nd Round to Belinda Bencic. Having since undergone successful treatment, Duval now has a clean bill of health and is planning a '15 return.

Thank you for the continued support. Recovery is going very well, feels good to be back on court ????

— ????? ????l (@vicky_duval95) November 19, 2014





*TOP PERFORMANCE WINNERS*


2003 Justine Henin-Hardenne = U.S. Open
2004 Maria Sharapova = Wimbledon
2005 Kim Clijsters = North American hardcourt season
2006 Maria Sharapova = U.S. Open
2007 Justine Henin = U.S. Open
2008 Venus Williams = Wimbledon
2009 Serena Williams = Wimbledon
2010 Serena Williams = Wimbledon
2011 Petra Kvitova = Wimbledon
2012 Serena Williams = Olympics
2013 Serena Williams = Roland Garros
2014 Petra Kvitova = Wimbledon


All for now.