BACKSPIN TIME CAPSULE: 2004 WTA Championship & Fed Cup
Yep, it's been a full decade.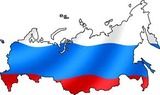 Throughout this season, I've posted a series of "Time Capsules" spotlighting the highs of the breakthrough season of the Russian Tennis Revolution of 2004. From Anastasia Myskina's surprise run at Roland Garros, to the birth of a would-be tennis legend named Sharapova at Wimbledon and an early-career flash of talent from Svetlana Kuznetsova in New York, the Hordettes took control of the grand slams ten years ago, sweeping to three consecutive titles, two of which came after an all-Russian clash in the final.
But the crowning of a trio of first-time major champions wasn't enough. The Russians weren't finished.


As the summer rolled into the fall, the leaves changed. But the level of Hordette success did not.

Maria Sharapova went on to end her season by winning her first and (so far) only Tour Championships title, becoming the only Russian to ever do so when she pulled off a sequel to her Wimbledon triumph by getting a second victory over (an injured) Serena Williams in the final in Los Angeles. Nearly a full decade later, Sharapova is still seeking win #3 over Williams. A week later, in the Fed Cup semifinals and finals competition held in Moscow (naturally), the Hordettes won the first of multiple FC championships claimed by Team Russia during the remainder of the 2000's.

Here's how I recounted it all at the time. First, the WTA Championships held in Los Angeles, and the the final, fitting result on the concluding Fed Cup weekend of the 2004 season..












November 18, 2004 - "OH, TO BE 17...and Backspin's 2004 Player-of-the-Year"
"The closer you sit, the hotter she gets."

Welcome to the ever-expanding world of Maria Sharapova, at a moment in time when she is the poster girl of the WTA Tour's big season-ending tournament in just her first appearance in the event. A moment where she's complimented on her "sexy legs" by the tour's preeminent stylist and former #1 (and, as it turned out, the Supernova's eventual opponent in the final). A moment where the 17-year old born of the cold environs of Siberia somehow manages to exceed all the slogans (such as the one above) and slick Los Angeles marketing campaign tricks that some might have found a little excessive.

Got Sharapova? Got another title. In the end, the Russian's star power outshined even that of Serena Williams, and the Superova picked up a Tour Championship title to place next to that Wimbledon champion's plate she got over the summer.

One of the great things about watching Sharapova this year has been seeing the process of her traversing her tennis learning curve while on the job, and in the spotlight. Again, her education was evident in the Championship final. After failing to convert big points late in the 1st (including tossing in a DF on set point), she fell down a break to Williams at 1-2 in the 2nd. With failure staring her in the face, she won the last five games to take the set, the final one after Williams' "well-timed" abdominal injury break. Then, Williams ran off a 4-0 lead with whipping groundstrokes while Sharapova was overhitting Serena's slow serves and was generally off-kilter against her injured, but still lethal, opponent.



It was easy to question the severity of Williams' injury at that point in the match. Or at least it was until her "painful" (to watch) series of serves after Sharapova, having kept her wits about her, had closed to within 4-3. To put it in tennis '04 terms, Serena's serve was starting make Elena Dementieva's serve look good by comparison. The Supernova's waiting game had paid off, as Serena physically wilted down the stretch and Sharapova fed on her slowing momentum like a starved animal, closing out the match, the tournament and her season by claiming the final six games of the set. Her victory completed the Russian Horde's big-tourney sweep over the last half-year (and the three straight slams, plus the Tour Championship, could soon be joined by Russia's first-ever Fed Cup crown... in Moscow, no less). All that, and Sharapova somehow avoided knocking someone out with that (literally) huge check she received during the post-match trophy presentation, too.

Sharapova's talent and star wattage not only carried the day in L.A., as her triumph further cemented her burgeoning role as possibly the women's game's most recognizable face. In record time. It also earned her Backspin's 2004 "Player of the Year" award. The final standings:

1.Maria Sharapova
2.Lindsay Davenport
3.Anastasia Myskina
4.Amelie Mauresmo
5.Justine Henin-Hardenne
6.Svetlana Kuznetsova
7.Virginia Ruano-Pascual & Paola Suarez
8.Elena Dementieva
9.Serena Williams
10.Vera Zvonareva

In my heart of hearts, I guess I wouldn't have had it any other way this year... even if I did think a week ago that Sharapova was such a longshot for PoY that the court would need to open up and swallow the likes of Davenport and Mauresmo for her to steal away with the honor. Well, as it turned out, that's pretty much what happened as Davenport stumbled in one of the year's biggest events (again), and Mauresmo (again) didn't take advantage of her great opportunity to take year-end #1 (then pulled out of her Fed Cup commitment less than two weeks before the semifinals and final).




Sharapova might be just #4 on the computer (a career-high, which could be obliterated come her re-emergence in January), but her strong 4Q finish (three titles and a RU), a slam crown (Davenport and Mauresmo didn't even reach a slam final), five titles (two of them at the biggest five events on the WTA schedule), a Tier I RU (Zurich) and more intangibles that are great for the game than you could shake a broken Marat Safin racket at (no one person did more for their sport in '04 than the Supernova did for tennis) more than qualify her for "Player of the Year." Just look at the actual crowds in L.A. last week, after so many "fans" came disguised as empty seats a year ago... you'd be a fool not to attribute the new success to the 'Nova's presence. "Person of the Year" was a given. Winning this final title gave the self-described "Renaissance Woman" just one more advantage that couldn't be ignored. With every title, the dream scenario of a player with Kournikova-like crossover appeal AND a Graf-ian sense of the moment, is starting to appear as if it might become a reality in the lithe form of the Supernova.

Maria's annexation of the tour is not yet complete, either. There are still three players ahead of her on the computer... and she's not even the top-ranked Russian yet. But that's what Melbourne is down there for, isn't it?

As for the allocation of some of that million dollars that Sharapova won on Monday night? Well, in her own words, "that's a lot of shoes." So, apparently, there are still boxes-full of new Supernova looks that we've yet to be graced by.

It should be fun.



WTA CHAMPIONSHIPS (L.A.-HCI)


S: Maria Sharapova d. Serena Williams 4-6/6-2/6-4
D: Petrova/Shaughnessy d. Black/Stubbs



==PLAYER AWARDS==




PLAYER OF THE WEEK:

Maria Sharapova


...you were expecting someone else? Oh, in a fitting conclusion, while she isn't ranked #1 (at least not yet) it should be noted that the Supernova ended up at the top of the tour's prize money list for 2004.
------------------------------------


RISERS:

Sharapova & Nadia Petrova/Meghann Shaughnessy


...the Petrova/Shaughnessy team didn't win a grand slam in 2004, but a handful of Tier I's and this WTA Championships title made for a great year anyway for two players whose singles results maybe didn't reach the heights they would have preferred.
------------------------------------


SURPRISE:

Serena Williams


...it's not often that Serena ends up in this category, but who really saw her performance in L.A. coming? She seemed more likely to not even bother to show up than to have a shot to win the title. Of course, it wasn't a surprise that she managed to slight Davenport after losing to her in the Round Robin, sport an "I (heart) Me" t-shirt to a press conference, act (albeit somewhat playfully) as if she didn't actually play and lose that Wimbledon final against Sharapova in July, and raise questions (at least initially) about her latest injury when it occurred just as Sharapova was starting to take control of the 2nd set. But that's why Serena is Serena -- she's a lightning rod for good as well as bad vibes. And now the "Serena vs. Supernova" rivalry has surpassed the non-rivalry that was "Venus vs. Serena."
------------------------------------


VETERAN:

Lindsay Davenport


...sure, she went out with a whimper after not getting out of the Round Robin, but she still finished #1 for the third time in her career ('99,'01).
------------------------------------


FRESH FACES:

Michaella Krajicek & Hana Sromova


...15-year old Krajicek's win in Stockholm was her third ITF title of the year. But that's only half as many as Hana Sromova, #250 and another in the Czech Republic's well-stocked pool of young talent. Her win in Mumbia, India gave her six ITF titles this year, tying her for the season lead with India's own Sania Mirza.
------------------------------------


DOWN:

Amelie Mauresmo


...after Davenport failed to reach the SF, Mauresmo had a shot at year-end #1 if she could have won the Championships. But she blew a set lead on Serena in the SF, then said that #1 wasn't her "main concern." The next day, she pulled out of her Fed Cup SF/F commitment (to the dismay of angry French team coach Guy Forget) in order to get more rest and focus on her training in an attempt to win her elusive first slam title in Melbourne. Mauresmo was 6-1 in Fed Cup play this year, after leading France to the title in 2003. If she wins Oz, then this will be a good move. If not, this is a pretty low way to treat her French team at such a critical juncture.



==MATCHES==


1.F - Sharapova d. S.Williams
...4-6/6-2/6-4. The long-awaited rematch of the sonic boom that sounded back in July was the fitting end to a WTA season that turned out to be subtitled "Maria's World."


===================================
2.SF - Sharapova d. Myskina
...2-6/6-2/6-2. The Supernova had never beaten the Czarina before.
===================================
3.SF - S.Williams d. Mauresmo
...4-6/7-6/6-4. Hey, #1 wasn't Mauresmo's "main concern," anyway. If she doesn't care, why should we?
===================================
4.RR - S.Williams d. Myskina
...4-6/6-3/6-4. Myskina led 6-4/3-0 before Serena ran off eight straight games. She was up 3-2 with a BP in the 3rd, too. If the Czarina had won, Davenport would have advanced to the SF, not Serena.
===================================
5.RR - Myskina d. Davenport
...7-6/6-4. This was Myskina's first match after losing to Williams -- nice to see she didn't have another Athens-like hangover.
===================================
6.RR - Davenport d. S.Williams
...3-6/7-5/6-1. Too little, too late for Davenport. Considering the Williams injury woes, Capriati's struggles and the dearth of top American talent, might Davenport be the last #1-ranked woman from the USA this decade?
===================================
7.RR - Sharapova d. Zvonareva
...6-4/7-5. Vera the Almost. After failing to get a RR win, she finished 60 points out of the year-end Top 10.
===================================
8.RR - Sharapova d. Kuznetsova
...6-1/6-4. Kuznetsova might actually be the more talented of the two at the moment, while Sharapova has more ice in her veins in big moments. The big question for '05 might end up being which of these two teenagers can challenge for #1 first.
===================================














A week after Sharapova won the Tour Championships, Anastasia Myskina led the Russians to their first-ever Fed Cup title with little if any help from the season's other two slam champions. Svetlana Kuznetsova, who'd eventually become a FC legend (twice winning title-clinching singles matches in '07 and '08), performed well in that week's semifinal action vs. Austria, but went 0-2 in the final against France, while Sharapova wasn't even on the team, mostly because Myskina, who had issues with Maria's father Yuri, had essentially forbid it if she was going to devote her own time to the Fed Cup cause. Sharapova wouldn't make her FC debut until 2008.

The '04 FC win for Team Russia would be the first of the Hordette's four FC titles in five years. After having lost in four finals with Soviet/Russian squads prior to '04, the team has since reached additional finals in '11 and '13. Myskina officially became the Russian team's Captain before the 2014 campaign.

Here's how it went...

November 28, 2004 - Fed Cup Final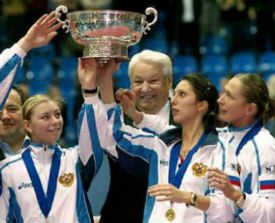 Team Russia & Russian President Boris Yeltsin
FED CUP (Supreme Indoor/Moscow)




==SEMIFINALS==


Russia d. Austria 5-0
France d. Spain 5-0


==FINAL==


Russia d. France 3-2



Match #1- Dechy(FRA) d. Kuznetsova(RUS) 3-6/7-6/8-6
Match #2- Myskina(RUS) d. Golovin(FRA) 6-4/7-6
Match #3- Myskina(RUS) d. Dechy(FRA) 6-3/6-4
Match #4- Golovin(FRA) d. Kuznetsova(RUS) 6-4/6-1
Match #5- Myskina/Zvonareva(RUS) d. Bartoli/Loit 7-6/7-5
==PLAYER AWARDS==
PLAYER OF THE WEEK:

Anastasia Myskina


...the Czarina issued an ultimatum about Maria Sharapova joining the Horde's Fed Cup team in '05 (because of her antipathy for the Supernova's dad, she says she won't be playing if Sharapova is), then proceeded to show her value by spearheading Russia's come-from-behind first-ever Fed Cup title. In the Final versus France, after Svetlana Kuznetsova faltered twice in singles, Myskina first leveled the sinking ship then subbed for Kuznetsova in the title-deciding doubles tie and carried the day in true leading lady style. For the week, she was 4-0 in singles and 1-0 in doubles. With some additional teeth behind her assertions about the team's future makeup, will Myskina go through with her power play and attempt to block the Supernova's participation? Stay tuned.
===================================


RISERS:

Vera Zvonareva & Nathalie Dechy


...a year ago, an unprepared Zvonareva was thrown into her first Fed Cup action in the SF and she came up with nothing but disappointment. A year older and wiser, she teamed with Myskina to clinch Russia's first Fed Cup title in the final's fifth match. Could Vera the Almost have set the stage for her coming of age in 2005? While Dechy ultimately came up short, she took the defending champion French team's lead role (vacated by the "otherwise engaged" Mauresmo and injured Pierce) and ran with it, upsetting Kuznetsova in the final's first match and forcing Myskina into her usual heroics on Russian soil.
===================================


SURPRISE:

Yvonne Meusburger


...the 21-year old, ranked #173, took the only set (off Myskina) the Austrians could muster against the Horde in the SF.
===================================


VETERAN:

Kveta Peschke


...the former Miss Hrdlickova, 29, is serving notice that she might be looking for a career resurgence in '05 as she claimed her 3rd ITF title of the year in just the last few months. She defeated Alona Bondarenko, Kateryna's sister, in the Deauville final.
===================================


FRESH FACE:

Tatiana Golovin


...if Dechy hadn't taken the French lead, the 16-year old Frussian Pastry showed that she was more than capable of doing so herself. Back in her birth city of Moscow, she followed up Dechy's upset of Kuznetsova with one of her own to force the deciding doubles match.
===================================


DOWN:

Svetlana Kuznetsova


...2004 finally caught up with Kuznetsova, as her 0-2 singles record in the final nearly cost the Horde the Fed Cup. On a bright note, though, Kuznetsova is finally getting a long-overdue Backspin nickname. The oft-overshadowed teen isn't the Russian Czarina, and no one would consider her a Supernova... but she deserves a semi-royal title of her own. "The Contessa" has a nice ring to it, made more Russian by converting it to "The Contessova."
===================================



==MATCHES==


1.FC F - #5 - Myskina/Zvonareva d. Bartoli/Loit
...7-6/7-5. The 2004 WTA #8 doubles team replaced the #3 (Kuznetsova/Likhovtseva), and the move worked as the Horde ended 2004 the only way it rightly should have -- as champions once again.
===================================
2t.FC F - #1 - Dechy d. Kuznetsova 3-6/7-6/8-6
FC F - #4 - Golovin d. Kuznetsova 6-4/6-1
...The Contessova's (first nickname usage alert!) troubles will now largely be forgotten in the championship afterglow.


===================================
3.FC F - #2 - Myskina d. Golovin
...6-4/7-6. In a must-win situation, the Czarina was worth her weight (and pointed opinions) in gold.
===================================
4.FC SF - #1 - Golovin d. Medina-Garrigues
...6-3/6-3. The indoor surface wasn't exactly the Spaniards' cup of tea, but their sweep in the SF was still a bit shocking with the French minus both Mauresmo and Pierce.
===================================
5.FC SF - #3 - Myskina d. Meusburger
...3-6/6-3/6-1. The 1st set was the only time all week that the Czarina wasn't on top of her game.
===================================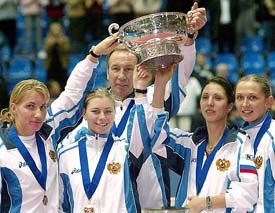 Team Russia & Captain Shamil Tarpischev
==FED CUP 2004 - TEAM RUSSIA==


1st Round - def. Australia 4-1
QF - def. Argentina 4-1
SF - def. Austria 5-0
F - def. France 3-2


On Yuri Sharapov's behavior during her WTA Championship SF match, during which she accused him of illegally coaching his daughter: "I feel his behavior is totally incorrect, simply rude. I don't want to be around people like him."

On the prospect of Sharapova playing Fed Cup for Russia in '05 (she's agreed to do so): "If she joins our team next season, you won't see me there for sure. I do not want to be on a team with people who do not respect me."

...so the problem is Yuri, right? But didn't the Czarina make comments about Sharapova being "more American" than Russian (Dementieva echoed the sentiments), and talked about her "course" accent when speaking Russian? Yeah, Sharapova didn't train with the rest of the Horde's top players at the Spartak Club, but does that make her any "less Russian" than the rest?



==BACKSPIN SOAPBOX==

...a big "boo! hiss!" to all the Supernova detractors who popped up after Sharapova's WTA Championship title.

First, I think we (the Czarina included) can agree that Yuri needs to take a "chill pill" and pull back on his becoming-tiresome post-title actions, lest he start to be grouped in the Damir Dokic/Jim Pierce class of tennis dads. But why all the post-event fuss about Sharapova's "less-than-stellar" actions?

First, she's attacked for forgetting to mention Serena during the post-match ceremony (she corrected the not-uncommon error later), but then... now let me get this straight... for also having the temerity to celebrate after her victory? Apparently, the victory was "hollow" because Williams was injured. So, a teenager wins the second-biggest title of her career (over a player who during the week had tried to lesson the impact of her victory over her at Wimbledon for her BIGGEST title) and she's supposed to walk forlornly to the net with her head down? After her supposedly seriously injured opponent ran up a 4-0 3rd set lead AFTER her injury timeout, and was so "incapacitated" that she played an exhibition against her sister a few days later? Oh, and let's not overlook the notion that Serena should be celebrated because she was "graceful" in defeat (for once). Oh, really? Let's be honest. Serena is a smart lady. She knew her injury timeouts (the first conveniently coming when she'd fallen down 2-5 in the 2nd set, but that's another story, isn't it?) meant that she didn't need to search for an excuse for her loss ("headache," anyone?)... everyone else was obviously prepared to offer one up for her.

I wonder if Serena would have performed the same "woe is my opponent, how can I be happy now?" act if the shoe had been on the other foot and Sharapova had been injured? Anyone familiar with the Williams "body of work" in front of the camera knows she's hardly so good a thespian that she could have pulled that one off with what is apparently necessary to stack up on the "grace meter" these days... unless, of course, those standards only apply to a good-looking teenage champion with more endorsement deals in the last six months than the rest of the tour seemingly combined, who's expertly built to be looked upon with intense jealousy by all but a few of her counterparts.

Is it any wonder that women's tennis tends to eat its young? A 17-year old doesn't comport herself like a member of the royal family at high tea time and the vultures are already circling, looking to pick at the meat on her bones. Talk about lacking grace.
















**RUSSIA IN...*




[Tour Championship Finals]


2004

Maria Sharapova

def. Serena Williams
2007 Justine Henin def.

Maria Sharapova


2008 Venus Williams def.

Vera Zvonareva


2012 Serena Williams def.

Maria Sharapova




[Fed Cup Finals]


1999 USA def.

RUS

4-1
2001 BEL def.

RUS

2-1
2004

RUS

def. FRA 3-2
2005

RUS

def. FRA 3-2
2007

RUS

def. ITA 4-0
2008

RUS

def. ESP 4-0
2011 CZE def.

RUS

3-2
2013 ITA def.

RUS

4-0


And so we come to the end of our season-long, Hordette-themed look back.

In the final '04 rankings, four Russians finished in the Top 6 and, though their numbers at the top of the sport have waned the past few years due to attrition brought on by injury and retirement, Hordettes have been a consistent force in the sport for most of the past decade. Since Anna Kournikova became the first post-Soviet era Russian to find WTA success in 1997, finishing in the Top 10 in 2000, nine additional Russian women have reached the Top 10 since '01, more than any other nation during that span. Two -- Sharapova and Dinara Safina -- reached #1. In all, they've won eight slam crowns, produced thirteen major runner-ups, one singles Gold Medalist (Elena Dementieva), as well as five others who ended up on the Olympic medal stand (including the historic sweep of all three singles spots in Beijing in '08).

Team Russia would go on to win four Fed Cup titles over a five-year stretch, and have since returned to the final in both 2011 and '13.

Kuznetsova won a second slam in Paris in '09, while Sharapova completed a Career Grand Slam at Roland Garros in '13, then defended her crown earlier this year to claim her fifth career major. Heading into the 2014 WTA Finals, Sharapova still had a chance to become the first Russian to end a WTA season ranked #1, while Ekaterina Makarova (currently #11), a slam semifinalist for the first time in '14, looks to be a good bet to soon add her name to the roster of Russian Top 10ers. And, of course, there's always hope that the likes of Anastasia Pavlyuchenkova will finally live up to the great promise she showed during her sterling junior career and, occasionally, during the now 23-year old's time on the WTA tour.

While the lack of impact of the NextGen Hordettes that have followed the slam-winning generation isn't particularly surprising (after all, no German has won a slam crown since the Graf era, nor any Spaniards since the Sanchez/Martinez heyday, either), it doesn't diminish the accomplishments of the first wave of Hordettes. It's unlikely that any single group of players from any other nation -- well, unless that TRUE, post-Li Chinese talent wave one day arrives in full, elite force -- will ever have the impact that the Russians have had over the last decade on the WTA tour. This "Time Capsule" series was meant to provide both a few moments to remember, as well as celebrate, the unlikely nature of what happened a decade ago. Hopefully, the effort succeeded, at least on a small scale.

Needless to say, it was quite a body of work for the Hordettes... and likely one in a single season that won't be replicated anytime soon, if ever. Wow... ten years can go by oh so fast, can't they?


All for now.