Wk.43- Game. Set. Serena.
Now that's what I'm talking about...
The best snaps from Finals day at #WTAFinals--> http://t.co/vlbqu6zZ8c #tennis pic.twitter.com/f7sNzFLjDD

— WTA (@WTA) October 26, 2014


So far, the moving of the WTA Champio-... err, I mean WTA FINALS (all right, so things aren't PERFECT) to Singapore turned out pretty well, didn't it? A quick review:



*THE GOOD*


1.The fans (they actually seemed to WANT to be there, and were HAPPY about it... maybe an Asian slam in SINGAPORE is the answer to those lingering "5th major or no?" questions?)


=============================


2.The matches (well, at least until the final... though even it had its own, seeing-the-best-at-their-best-is-never-a-bad-thing (remember those masterful mercy kills Roger Federer used to preside over in Ashe night matches?) charm




=============================


3.Simona, Caro and AnaIvo


=============================


4.Oh, La Trufflette!


Marion Bartoli's 3-0 record in Legends doubles action, which also featured Martina Navratilova, Tracy Austin and Iva Majoli (above, left), resulted in the '13 Wimbledon champ being named the very first winner of the new additional competition at the event featuring retired WTA stars in Singapore.

Monica Puig won the new "Rising Stars" four-player round robin exhibition.


=============================


5.Best Participation Trophy: Maria Sharapova
...even in a disappointing week, for a pair of three-hour matches that rightly might just be in the Match of the Year conversation


=============================


HM- Serena, after a poor slam season transformed into a U.S. Open & WTA Finals two-fer that gave her a fourth year-end #1 ranking, maybe... just maybe... breaking the Kuznetsova Curse? (Or is it just a case of a "Serena Clause" that makes all curses null and void for no one but Serena?)


=============================





*THE BAD*


1.Petra (even indoors?) and Peng (in the doubles final)


=============================


2.Worst Participation non-Trophy: Genie Bouchard
...following up Aga's win of the "honor" a year ago in Instabul.


=============================


3.Martina Hingis & Flavia Pennetta, watching Errani & Vinci's use up just three games in a QF spot that, in retrospect, rightly probably should have gone to them


=============================





*THE ??????*


1.The WTA talking about putting together a team event of its own. Yeah, why let the Fed Cup hold onto any of what remains of its already-diminished cache? Think they'd try to hold in on a regularly-scheduled FC weekend, too?


=============================


2.Aga... who proved that going 1-3 can still actually be considered a "good week." Hmm, maybe this should be called the "Alize Cornet Hopman Cup Championship Award?"


=============================


3.The doubles final in Singapore featured TWO teams ending their partnership following the match. On the bright side, a player from one duo (Sania Mirza) will be teaming up with one from the other (Hsieh Su-Wei) in 2015. Weird how that worked out, huh?


=============================



Serena wins! Game Set Singapore! #WTAFinals pic.twitter.com/YAMaHpT2Q8

— Billie Jean King (@BillieJeanKing) October 26, 2014

HM- Why doesn't the U.S. Open trophy have a name? Seeing Serena hoist the Billie Jean King Trophy in Singapore (not to mention getting an orchid named in her honor) begs the question of why her own nation's slam hasn't given a past American champ a similar honor when it comes to the shiny cup handed the winner at the end of two weeks of work. In Melbourne, the women lift the Daphne Akhurst Trophy. In Paris, it's the Coupe Suzanne Lenglen. While not named for any single person, the Wimbledon plate still has a lovely name -- the Venus Rosewater Dish. In Flushing Meadows... well, that cup doesn't have an actual name.




Since the BJK Trophy has already been "taken," how about the USTA honoring Althea Gibson, Helen Wills-Moody, Maureen Connolly or even, in a true "American melting pot" commemoration, some combination honoring both Martina & Chris? It's really an overdue, oddly overlooked detail, don't you think? Of course, the Open does have history of taking a while to follow through with doing things the other slams figured out years ago, doesn't it?


=============================



As for the rest...



*WEEK 43 CHAMPIONS*
WTA FINALS (Singapore; Hard Indoor)
S:

Serena Williams/USA def. Simona Halep/ROU 6-3/6-0


D:

Black/Mirza (ZIM/IND) d. Hsieh/Peng (TPE/CHN)


Rising Stars:

Monica Puig/PUR d. Zheng Saisai/CHN 6-4/6-3


Legends Champion:

Marion Bartoli/FRA

PLAYER OF THE WEEK:
Serena Williams/USA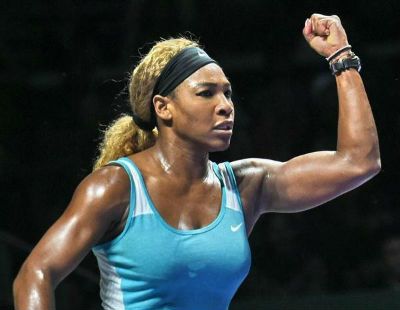 ...in a typically-Serena styled route, Williams suffered her worst loss in sixteen years (6-0/6-2 vs. Simona Halep in round robin play), saw her #1 ranking flash before her eyes, only reached the semifinals because Halep took a set off Ana Ivanovic in their group's final RR match-up, barely escaped Caroline Wozniacki in the SF (the Dane served for the match and led 4-1 in a deciding tie-break)... and then, after a slow start, destroyed Halep in a rematch in the final to claim her fifth WTA Championships/Final title, and third in a row. She's won 19 of her last 20 matches in the event, and her fourth season-ending #1 ranking is topped only by players named Steffi, Martina and Chrissie.


=============================






RISERS:

Simona Halep/ROU & Caroline Wozniacki/DEN


...Halep didn't raise the BJK Trophy in Singapore on Sunday, but that didn't diminish what she accomplished in her WTA Finals debut. She handed Williams the worst loss of her career in round robin play, destroyed fellow '14 slam finalist Genie Bouchard and battled Ana Ivanovic hard enough -- even when she didn't have to, and some said she SHOULDN'T -- to end the Serb's season and cement her own reputation as a player who doesn't sweat the small stuff, and instead just bears down and tries to accomplish the task put in front of her. While The Pride of Romania has sort of been lost in the WTA backwash the last few months, mostly due to niggling injuries, after a season of successfully backing up her '13 breakout performance she'll head to '15 viewed as a legitimate threat not only for a winning slam run, but maybe even the #1 ranking if things fall just right. Wozniacki, too, has done the work necessary to remove many of the doubts that have stuck to her like Irish glue for a few years now. Fact is, Singapore came SO CLOSE to being a remarkable career moment for the Dane. She was the only player to go 3-0 in round robin play, knocking off two Top 5 players (Sharapova & Kvitova) in an event for the first time, and serving for the match against a third (Serena) in the semifinals. Even in a loss, she out-pointed Williams 91-87 for the match. The New York City Marathon is up next for the Dane. After that? Well, maybe total redemption by this time next year? We shall see.




=============================




SURPRISES:

Jil Belen Teichmann/SUI & Paula Badosa Gibert/ESP


...while they didn't pick up ITF titles, ala CiCi Bellis in recent weeks, a pair of juniors still managed to put up good professional results last week. Girls #6 Teichmann, 17, reached her first career challenger final in the $10K in Sharm El Shiekh, pulling off wins over the event's #2 and #6 seeds before losing to Russia's Polina Leykina, who took home her fouth title of the season. Badosa Gibert, the 16-year old junior #11, was the runner-up at a $25K challenger in Victoria, Mexico. Before losing to Latvian Diana Marcinkevica, the Spaniard had upset, in succession, #5-seed Patricia Maria Tig, #3 Alexandra Cadantu and #2 Heidi El Tabakh. PBG won her only challenger crown (so far) in a $10K in Spain in November of last year.


=============================






VETERANS:

Cara Black/Sania Mirza (ZIM/IND) & Ana Ivanovic/SRB


...Black & Mirza made their final tournament together count -- big time -- taking their fifth title as a duo (all since last fall) and third of '14 after saving match points in both the QF and SF at the WTA Finals. In the final, they destroyed defending champs Hsieh Su-Wei & Peng Shuai, also playing their last match together, by taking the final twelve games in a 6-1/6-0 thrashing that featured Black and Mirza trading off being spectacular. It's Black's third win at the event, and Mirza's first. With Black contemplating having a second baby next year, she alerted Mirza to find a new partner for '15. It turned out to be the suddenly-available Hsieh. If you can't beat her, join her, I guess. While Ivanovic's lost 2nd set to Halep in her final round robin match kept her from the semifinals, the Serb ended her season on a high note. She went 2-1, losing only a close match to Serena while running her tour-best win total to 58 for the season. Now, about getting over the grand slam hump in '15...


=============================



The winner in Macon - Kateryna Bondarenko and her daughter, Karin @USTAProCircuit pic.twitter.com/BtqpQlJEzg

— USTA Macon 50K (@USTAMacon50K) October 26, 2014



COMEBACKS:

Kateryna Bondarenko/UKR & Naomi Cavaday/GBR


...the comeback floodgates are officially open and results are flowing as freely as an ongoing river (or maybe a Li Na acceptance speech... take your pick). In the $25K challenger in Macon, Georgia, K-Bond grabbed her second post-baby (daughter Karin, above) title of the season. The 28-year old Ukrainian made it through qualifying, then notched main draw victories over Sachia Vickery, #3 Anna Tatishvili, Julia Boserup, Petra Martic and #4 Grace Min in the final to claim her fifth career ITF singles crown. Also of note, this was the first event of the USTA's late-season Australian Open Wild Card Playoff, with the U.S. player who puts up the best combined effort getting a main draw pass into the first slam of 2015. Aside from runner-up Min, other Bannerette achievers included Irina Falconi (SF) and quarterfinalists Madison Brengle, Sanaz Marand and Ellie Halbauer. The Summer/Autumn of BrengleFly continued in doubles, as well, as she took the title with Alexa Glatch. Meanwhile, 25-year old Brit Naomi Cavaday, who retired in April '11 before returning to tennis earlier this season, won her second ITF singles title of the year at a $10K event in Stockholm. It's her fifth career challenger victory.

Thank you for all the support @JTC_Tennis @Jodurie @paulsgetagrip @VirginActiveUK Winner!!!?? pic.twitter.com/mZ7ib6eH3m

— Naomi Cavaday (@naomicavaday) October 26, 2014
=============================
FRESH FACE:

Monica Puig/PUR


...#PicaPower! In the inaugural Rising Stars competition in Singapore, Puig prevailed over three other fan-voted young stars -- Zheng Saisai, Shelby Rogers & Zarina Diyas -- Puig claimed the title, going 4-0, including a pair of wins over finalist opponent Zheng. Still, even after a breakthrough season that saw the Puerto Rican win her maiden tour title in Strasbourg, she currently sports a worse (#61) ranking than she did a year ago (#55).


=============================




DOWN:

Petra Kvitova/CZE & Eugenie Bouchard/CAR


...oh, there were quite a few to choose from here. Ekaterina Makarova & Elena Vesnina, WTA Championships RU a year ago, went down in their QF match this year, while #1-ranked Sara Errani/Roberta Vinci didn't even make it through half a set. Maria Sharapova had a legit shot at #1, but finished 1-2 in round robin play and couldn't put away a match point that would have ultimately put her in the SF and kept all hopes alive. But I'll go with Kvitova and Bouchard. While the indoor court in Singapore was apparently a little slow, one would think the Czech would have at least BEEN COMPETITIVE in what were instead uninteresting losses to Aga Radwanska and Caroline Wozniacki. On the bright side, she DID finally get past her recent slump against Sharapova. Hopefully she'll bring her "A"-game to the Fed Cup final. Bouchard was unprepared, lacking confidence and maybe still battling injury as she went a sometimes-ugly 0-3 in her WTA Finals debut, winning, in succession, five, four and two games in her trio of losses. The result was a frustrated -- and a little petulant -- Canadian who scripted a forgettable ending to what was a very memorable breakout '14 campaign. Genie was probably right on the loonie when, during a between-set coaching session with Nick Saviano, she wondered aloud, "Why did I even play this tournament?" Hmmm, maybe Bouchard has OTHER problems that explain last week, though...



Don't worry, though... Carol is still alive on "The Walking Dead." Right, Genie? Right!?!


October 27, 2014



=============================




ITF PLAYER:

Timea Babos/HUN


...the 21-year old Hungarian claimed her twelfth career ITF singles crown, and her first $100K challenger in Poitiers, France. A one-time WTA champ (Monterrey '12), Babos defeated Pauline Parmentier, Aliaksandra Sasnovich, Ana Konjuh and Pastry Oceane Dodin by a 6-3/4-6/7-5 score in the final.


=============================




JUNIOR STAR:

Xu Shilin/CHN


...the 16-year old junior #3 who also won the Youth Olympics Gold in August, picked up the title at the Grade A Mayor's Cup event in Osaka. Xu defeated Aussie Kimberly Birrell in straight sets in the final.


Late note:

Xu moved past Bellis into the girls #1 ranking with this result.


=============================



Caro Corner... exasperation vs. patience




Caro Corner II... back to work


Perfect Sunday! Great marathon diet?? #bakingfromscratch #sundayrunning pic.twitter.com/CRmp0LGya8

— Caroline Wozniacki (@CaroWozniacki) October 26, 2014


1. WTA RR - Wozniacki d. Sharapova
...7-6(4)/6-7(5)/6-2. It took 3:13, but Caro gets her second straight win over Sharappova, and her first over a world #2 since 2010 (Zvonareva in Doha). Again, things turned on the Russian's serve. She served at 5-4 in the 1st set, and led 4-2 in the opening tie-break, finally double-faulting on the Dane's set point. It was her ninth DF of the set, as she'd have fifteen for the match.

Yea, yea, yea from @CaroWozniacki! A perfect 3-0 in #WTAFinals White Group! #TwitterMirror #tennis pic.twitter.com/SNSaJR3s1Q

— WTA (@WTA) October 24, 2014



=============================


2. Rising Stars RR - Puig d. Sai.Zheng 7-6(3)/4-6/10-6
Rising Stars Final - Puig d. Sai.Zheng 6-4/6-3
...PicaPractice makes PicaPerfect.


=============================


3. WTA RR - Kvitova d. Sharapova
...6-3/6-2. Petra's only shining moment in Singapore, as she finally found a way to win the big points against Sharapova, converting five of eight BP chances, while the Hordette played the "Kvitova role" this time around by going just 2-of-7.


=============================


4. WTA Doubles QF - Peschke/Srebotnik d. Errani/Vinci
...2-1 ret. Errani's hip injury makes the Italians' cameo in Singapore last just three games. Was that steam coming out of Martina Hingis' ears when she heard the news?


=============================


5. WTA RR - Ivanovic d. Halep
...7-6(7)/3-6/6-3. History turns on one set? In maybe the "most important" match of the week, Halep's 2nd set win sent Serena to the semifinals over AnaIvo. The rest, as they say, was, well... you know.


=============================


6. $100 Poitiers FRA Doubles Final - Hlavackova/Hradecka d. Piter/Zanevska
...6-1/7-5. Hmmm, a Fed Cup pairing preview? The last time the Czechs played together was when they reached the Quebec City final in September of last year, a week after they'd won their second slam crown at the U.S. Open. As it is, they extended their string of consecutive seasons (2007-14) with a title of some kind to eight, as ITF win #8 joins their ten previous WTA victories.


=============================


7. $50K Saguenay CAN Final - Coin d. Jaksic
...7-5/6-3. The 31-year old Pastry, now ranked outside the Top 300, wins her eighth career ITF singles crown with wins over Stefanie Vogt, #1 seed Taylor Townsend and the other Serbian JJ, #2 Jovana Jaksic.


=============================


8. $10 Heraklion GRE Final - Jani d. Haas
...4-6/6-3/7-6(6). Reka-Luca Jani! Reka-Luca Jani! Reka-Luca Jani! Barely. The 23-year old Hungarian led 6-4/3-0 when play was suspended on Sunday, but had to gut out a 3rd set tie-break against the 18-year old on Monday to grab her seventeenth career singles challenger title, but her first since August '13 (she won eight last year). Jani also picked up her 19th ITF doubles crown.


=============================






1. WTA Doubles QF - Cara Black/Mirza d. Kops-Jones/Spears 6-3/2-6/12-10
WTA Doubles SF- Black/Mirza d. Peschke/Srebotnik 4-6/7-5/11-9
...both obviously didn't want their partnership to end just yet, so they extended it the hard way. Black & Mirza blew four match points against the Americans in the QF, then saved one in a match tie-break. A match later, they escaped being triple MP down to Peschke & Srebotnik to advance to the final. They only lost one GAME there.


=============================


2. WTA SF - Serena Williams d. Wozniacki
...2-6/6-3/7-6(6). Win or lose for the Dane, this match was going to be remembered by many for THIS Caro save (a few, actually) on match point.



=============================


3. WTA RR - Sharapova d. Aga Radwanska
...7-5/6-7(4)/6-2. A-Rad might not hold the sort of bedeviling sway she once did over the Russian (in NYC and Miami, at least), but she's still able to frustrate her on occasion. If Sharapova could have converted one of three match points she held in the 2nd set (where she led 5-1), ultimately hitting a DF on Radwanska's SP in a tie-break, all her round robin court time (6+ hours) would have at least put her into the semifinals and kept alive her chances to finish at #1. Instead, she eliminated herself. As things turned out, her 3rd set win proved once again that Sharapova is still the same ultra competitor at heart that she's always been, even if a win just meant she "saved face" and avoided the same 0-3 fate for the week that befell a certain young Canadian.


=============================


4. WTA RR - Aga Radwanska d. Kvitova
...6-2/6-3. Petra has provided an odd-tasting WTA Championships/Finals sandwich for Aga. Her big wins over the Czech in 2012 and 2014 were separated by the Pole's dreadful, barely-there performance in the event last year.


=============================


5. WTA RR - Halep d. Serena Williams
...6-0/6-2. Hmmm, will this result -- Serena's worst in sixteen years -- go down as the rubberband-on-the-wrist moment that Williams will carry with her as a reminder to ALWAYS be on her game when the Romanian is on the other side of the next? You know, sort of like her '04 losses to Sharapova have now preceded what has become a full decade of NOT losing to the Russian. Of course, if Serena is still playing at 43...


=============================



#WTAFinals title No.5 for World No.1 @SerenaWilliams--> http://t.co/kiH988Gx1S #tennis pic.twitter.com/D5R20qxpKj

— WTA (@WTA) October 26, 2014

HM- WTA Final - Serena Williams d. Halep 6-3/6-0
WTA Doubles Final - Cara Black/Mirza d. Hsieh/Peng 6-1/6-0
...hmmm, a bit of a combination anticlimax on Sunday after a week's worth of great, dramatic matches. Still, Serena's bludgeoning of Halep in the 2nd set (the Romanian has zero winners, while Williams was seemingly trying to turn a few tennis balls inside out with some of her thunderous groundstrokes) IS an example of the sort of "car wreck" she sometimes creates that we can't help but crane our neck in the direction of in order to get a closer look. Serena ended up 12-1 vs. Top 10 players in 2014, with her one loss coming to Halep a few days before this match. The win by Black, which very well could be her career swan song if she does indeed become a mother again and then abandons what would be a SECOND post-baby comeback (only this time at about age 37), was the 60th of her (likely) future Hall of Fame career. That WOULD be a nice round number to end on, I guess. Meanwhile, Peng's awful performance in this farewell-to-a-partnership match -- on the heels of the U.S. Open semi when she quite literally collapsed on the court -- doesn't exactly make one think she's put her big match difficulties behind her, now does it?

World Champions ???? ???? #wtafinals #comeon #wedidit #soooohappyyy #thankyou pic.twitter.com/ILn0gyTgjS

— Sania Mirza (@MirzaSania) October 26, 2014
=============================




**2014 WTA TITLES**


7...SERENA WILLIAMS, USA
4...Maria Sharapova, RUS
4...Ana Ivanovic, SRB
3...Petra Kvitova, CZE



**LONG ACTIVE WTA TITLE STREAKS**


Stuttgart - Maria Sharapova 2012-14
Washington, D.C. (d) - Shuko Aoyama 2012-14
U.S. Open - Serena Williams 2012-14
WTA Finals - Serena Williams 2012-14



**2014 WTA FINALS**


7...SERENA WILLIAMS (7-0)
6...Ana Ivanovic (4-2)
5...SIMONA HALEP (2-3)
5...Karolina Pliskova (2-3)
4...Maria Sharapova (4-0)
4...Petra Kvitova (3-1)
4...Venus Williams (1-3)
4...Angelique Kerber (0-4)


[2012-14]


27...SERENA WILLIAMS (25-2)
18...Maria Sharapova (9-9)
16...Victoria Azarenka (9-7)
12...SIMONA HALEP (8-4)
11...Agnieszka Radwanska (7-4)
11...Sara Errani (5-6)
11...Li Na (4-7)
11...Angelique Kerber (3-8)
10...Petra Kvitova (7-3)
9...Caroline Wozniacki (4-5)



**2014 WTA SF**


9...SERENA WILLIAMS (7-2)
9...CAROLINE WOZNIACKI (3-6)
8...Ana Ivanovic (6-2)
8...Maria Sharapova (4-4)
7...SIMONA HALEP (5-2)
7...AGNIESZKA RADWANSKA (2-5)



**MOST SEASON-ENDING WTA #1 RANKINGS**


8 - Steffi Graf
7 - Martina Navratilova
5 - Chris Evert
4 - Lindsay Davenport
4 - SERENA WILLIAMS


[career year-end Top 10 rankings]


19 - Martian Navratilova
14 - Chris Evert
13 - Steffi Graf
13 - Monica Seles
13 - SERENA WILLIAMS
11 - Arantxa Sanchez Vicario
11 - Venus Williams
10 - Lindsay Davenport
10 - Gabriela Sabatini



**ALL-TIME WTA TITLES**


167...Martina Navratilova
154...Chris Evert
107...Steffi Graf
92...Margaret Court
68...Evonne Goolagong
67...Billie Jean King
64...SERENA WILLIAMS



**SERENA WILLIAMS LOST SETS AT LOVE**




[singles]


1997 Indian Wells - lost to Alexia Dechaume-Balleret 4-6/0-6
1999 Roland Garros - lost to Mary Joe Fernandez 3-6/6-1/0-6
2005 Dubai - lost to Jelena Jankovic 0-6/3-4 ret.
2007 Miami - def. Justine Henin 0-6/7-5/6-3
2007 Zurich - lost to Patty Schnyder 0-6/0-3 ret.
2008 WTA Chsp - lost to Venus Williams 7-5/1-6/0-6
2013 Madrid - def. Anabel Medina-Garrigues 6-3/0-6/7-5
2014 WTA Finals - lost to Simona Halep 0-6/2-6


[doubles]


1997 Indian Wells (w/ Venus) - def. Carlsson/Sidot 0-6/6-3/6-3
1997 Indian Wells (w/ Venus) - lost to Davenport/Zvereva 3-6/0-6


[fewest games won/singles - all w/ 2]


1995 Quebec City Q - lost to Anne Miller
1998 Okla.City QF - lost to Joanette Kruger
2014 WTA Finals - lost to Simona Halep 0-6/2-6



**BEST WTA FINALS DEBUTS**


1979 Tracy Austin (RU)
1981 Andrea Jaeger (RU)
1994 Lindsay Davenport (RU)
1996 Martina Hingis (RU)
2001 Serena Williams (W)
2004 Maria Sharapova (W)
2011 Petra Kvitova (W)
2014 Simona Halep (RU)



**ALL-TIME WTA FINALS TITLES**




[singles]


8...Martina Navratilova
5...SERENA WILLIAMS
5...Steffi Graf
4...Chris Evert
3...Kim Clijsters
3...Monica Seles


[doubles]


11...Martina Navratilova
10...Pam Shriver
4...Lisa Raymond
3...CARA BLACK
3...Lindsay Davenport
3...Liezel Huber
3...Natasha Zvereva



**WTA CHAMPIONSHIPS/FINALS**




[singles finals]


1972 Chris Evert d. Kerry Reid
1973 Chris Evert d. Nancy Richey
1974 Evonne Goolagong d. Chris Evert
1975 Chris Evert d. Martina Navratilova
1976 Evonne Goolagong d. Chris Evert
1977 Chris Evert d. Sue Barker
1978 Martina Navratilova d. Evonne Goolagong
1979 Martina Navratilova d. Tracy Austin
1980 Tracy Austin d. Martina Navratilova
1981 Martina Navratilova d. Andrea Jaeger
1982 Sylvia Hanika d. Martina Navratilova
1983 Martina Navratilova d. Chris Evert-Lloyd
1984 Martina Navratilova d. Chris Evert-Lloyd
1985 Martina Navratilova d. Helena Sukova
1986a Martina Navratilova d. Hana Mandlikova
1986b Martina Navratilova d. Steffi Graf
1987 Steffi Graf d. Gabriela Sabatini
1988 Gabriela Sabatini d. Pam Shriver
1989 Steffi Graf d. Martina Navratilova
1990 Monica Seles d. Gabriela Sabatini
1991 Monica Seles d. Martina Navratilova
1992 Monica Seles d. Martina Navratilova
1993 Steffi Graf d. Arantxa Sanchez Vicario
1994 Gabriela Sabatini d. Lindsay Davenport
1995 Steffi Graf d. Anke Huber
1996 Steffi Graf d. Martina Hingis
1997 Jana Novotna d. Mary Pierce
1998 Martina Hingis d. Lindsay Davenport
1999 Lindsay Davenport d. Martina Hingis
2000 Martina Hingis d. Monica Seles
2001 Serena Williams w/o Lindsay Davenport
2002 Kim Clijsters d. Serena Williams
2003 Kim Clijsters d. Amelie Mauresmo
2004 Maria Sharapova d. Serena Williams
2005 Amelie Mauresmo d. Mary Pierce
2006 Justine Henin-Hardenne d. Amelie Mauresmo
2007 Justine Henin d. Maria Sharapova
2008 Venus Williams d. Vera Zvonareva
2009 Serena Williams d. Venus Williams
2010 Kim Clijsters d. Caroline Wozniacki
2011 Petra Kvitova d. Victoria Azarenka
2012 Serena Williams d. Maria Sharapova
2013 Serena Williams d. Li Na
2014 Serena Williams d. Simona Halep


[doubles champions]


1973 Rosie Casals / Margaret Court
1974 Billie Jean King / Rosie Casals
1979 Francoise Durr / Betty Stove
1980 Billie Jean King / Martina Navratilova
1981 Martina Navratilova / Pam Shriver
1982 Martina Navratilova / Pam Shriver
1983 Martina Navratilova / Pam Shriver
1984 Martina Navratilova / Pam Shriver
1985 Martina Navratilova / Pam Shriver
1986a Hana Mandlikova / Wendy Turnbull
1986b Martina Navratilova / Pam Shriver
1987 Martina Navratilova / Pam Shriver
1988 Martina Navratilova / Pam Shriver
1989 Martina Navratilova / Pam Shriver
1990 Kathy Jordan / Liz Smylie
1991 Martina Navratilova / Pam Shriver
1992 Arantxa Sanchez Vicario / Helena Sukova
1993 Gigi Fernandez / Natalia Zvereva
1994 Gigi Fernandez / Natalia Zvereva
1995 Jana Novotna / Arantxa Sanchez Vicario
1996 Lindsay Davenport / Mary Joe Fernandez
1997 Lindsay Davenport / Jana Novotna
1998 Lindsay Davenport / Natasha Zvereva
1999 Martina Hingis / Anna Kournikova
2000 Martina Hingis / Anna Kournikova
2001 Lisa Raymond / Rennae Stubbs
2002 Elena Dementieva / Janette Husarova
2003 Virginia Ruano-Pascual / Paola Suarez
2004 Nadia Petrova / Meghann Shaughnessy
2005 Lisa Raymond / Samantha Stosur
2006 Lisa Raymond / Samantha Stosur
2007 Cara Black / Liezel Huber
2008 Cara Black / Liezel Huber
2009 Nuria Llagostera-Vives / Maria Jose Martinez-Sanchez
2010 Gisela Dulko / Flavia Pennetta
2011 Liezel Huber / Lisa Raymond
2012 Maria Kirilenko / Nadia Petrova
2013 Hsieh Su-Wei / Peng Shuai
2014 Cara Black / Sania Mirza



**2014 ITF $100K CHAMPIONS**


FEB- Midland, USA - Heather Watson/GBR
MAY- Cagnes-sur-Mer, FRA - Sharon Fichman/CAN
MAY- Prague, CZE - Heather Watson/GBR
JUN- Marseille, FRA - Alexandra Dulgheru/ROU
JUL- Contrexeville, FRA - Irina-Camelia Begu/ROU
JUL- Biarritz, FRA - Kaia Kanepi/EST
JUL- Astana, KAZ - Vitalia Diatchenko/RUS
AUG- Vancouver, CAN - Jarmila Gajdosova/AUS
AUG- Bogota, COL - Lara Arruabarrena/ESP
OCT- Poitiers, FRA - Timea Babos/HUN



**"TOURNAMENT OF CHAMPIONS" WINNERS**


2009 Aravane Rezai, FRA
2010 Ana Ivanovic, SRB
2011 Ana Ivanovic, SRB
2012 Nadia Petrova, RUS
2013 Simona Halep, ROU



**BACKSPIN "PLAYER OF THE WEEK" LEADERS**


2002 9 = Serena Williams, Venus Williams
2003 10 = Kim Clijsters
2004 7 = Lindsay Davenport, Amelie Mauresmo
2005 9 = Kim Clijsters
2006 7 = Justine Henin-Hardenne
2007 10 = Justine Henin
2008 4 = Jelena Jankovic, Dinara Safina, Serena Williams
2009 3 = Svetlana Kuznetsova, Dinara Safina, Serena Williams
2010 5 = Kim Clijsters, Caroline Wozniacki
2011 6 = Petra Kvitova
2012 7 = Serena Williams
2013 11 = Serena Williams
2014 7 = Serena Williams


[ITF]


2008 3 = Anastasia Pavlyuchenkova
2009 2 = Maria Elena Camerin, Jelena Dokic, Gabriela Paz, Karolina Sprem, Julia Vakulenko
2010 3 = Jelena Dokic, Mathilde Johansson, Johanna Larsson
2011 2 = Irina-Camelia Begu, Marina Erakovic, Romina Oprandi, Anastasiya Yakimova
2012 4 = Maria-Teresa Torro-Flor
2013 2 = Mariana Duque-Marino, Reka-Luca Jani, Shelby Rogers, Arantxa Rus, Aliaksandra Sasnovich
2014 4 = Denisa Allertova


I may be wrong, but maybe Maria alone on the WTA tour could make an Instagram memorial dedication to Oscar De La Renta a legitimately personal goodbye...







TOURNAMENT OF CHAMPIONS; SOFIA, BULGARIA (HCI)


13 Final: Halep d. Stosur
13 Doubles Final: --
14 Top Seeds: Makarova/Cibulkova
=============================


=GROUP SERDIKA=


(1) Makarova 2-1*
(6) Cornet 2-1*
(7) Muguruza 1-2
(3) Pennetta 1-2


=GROUP SREDETS=


(4) Petkovic 2-1*
(2) Cibulkova 2-1*
(5) Suarez-Navarro 1-2
(8) Pironkova 1-2



=SF=


#1 Makarova d. #2 Cibulkova
#6 Cornet d. #4 Petkovic


=FINAL=


#6 Cornet d. #1 Makarova




...obviously, the TOC is a more casual affair than the WTA finals. For once, though, the "tournament of champions" is actually made up of a FULL field of players who were crowned CHAMPIONS over the previous season. That hasn't always been the case. Even perpetual TOC wild card The Weeping Angel, who actually earned her spot this year.





NINGBO, CHINA (WTA $125K Challenger/HCI)


13 Final: Jovanovski d. Sh.Zhang
13 Doubles Final: YJ.Chan/Sh.Zhang d. Buryachok/Kalashnikova
14 Top Seeds: Kumkhum/Sai.Zheng
=============================


=SF=


Pervak d. #1 Kumkhum
#2 Sai.Zheng d. #5 Diatchenko


=FINAL=


#2 Sai.Zheng d. Pervak

...no #PicaPower outside of Miami, so...


Time to go home! Miami here I come!!! #Murica. ???? pic.twitter.com/6uBGctSbc1

— Monica Puig (@MonicaAce93) October 23, 2014



All for now.