The Master List, version 4.0
Time for some quick mid-offseason value judgments... again.


For the past three seasons, I've looked at the Backspin "Grand Slam Master List" rankings as something of a "viability chart" when it came to the possibility of figuring out which players might have the ability to rise to the highest positions -- at least as far as the Round of 16 or QF -- in the upcoming season's four very biggest events. Well, that and it seemed like a half-decent way of passing the time between WTA seasons.

As it's turned out, of the 176 players included on the 2012-14 Master Lists (54, 53 & 69 entries to start each the last three seasons), eleven of the twelve slam winners were listed in the Top 8 (excluding only Marion Bartoli, #11 before her Wimbledon '13 win), with only one other champ (#8 Kvitova at Wimbledon this past year) listed outside the Top 6. Prior to this past season, fourteen of the sixteen slam finalists were also Top 6 players on the ML, before all four runners-up in the just concluded, and sometimes-oddly unpredictable, '14 campaign that saw three first-time major finalists (Cibulkova, Halep & Bouchard) emerge, as well as another (Wozniacki) who hadn't reached such a level in five years.

Subtract Wimbledon from the mix, and all nine slam champs, and fifteen of eighteen slam finalists were Top 6 players on the preseason Master List from 2012-14.

Eighty-eight of the ninety-six slam quarterfinalists during the three-years were included on the lists prior to the season, including 30-of-32 in each of the past two seasons.




A few ML numbers from 2014:



Slam Winners (4):

##1, #3, #4, #8


Runners-up (4):

#12, #16, #20, #27


Semifinalists (8):

#7, #12, #19, #20, #20, #36, #46, #47


Quarterfinalists (16):

#2, #2, #6, #9, #10, #10, #12, #14, #14, #18, #19, #21, #32, #52, unlisted (Zahlavova-Strycova), unlisted (Bencic)


Unlisted Round of 16 results(11):

Bencic (US), Bertens (RG), Dellacqua (AO/US), Diyas (WI), Krunic (US), Lucic-Baroni (US), Parmentier (RG), Smitkova (WI), Tomljanvoic (RG), Zahlavova-Strycova (WI)

Attempting to do it all again a few weeks before the first ball will be struck in 2015 competition is, as always, an inexact "science." So, this is just an of-the-moment, "most likely to seriously contend (or star)," anything-but-objective ranking, of course. Still, as it has been interesting in the past to try to "crunch the numbers" and put together a list, the additional intrigue in compiling a follow-up is comparing how the perception of some players has changed in twelve months time.

The listing of Genie Bouchard at #20 last year seemed to be a far-from-conservative assessment after she'd been the final player to make the list in 2013. But after the Canadian reached her first slam final and two additional major semis in '14 it seemed like her ML spot was "undershot" a bit. The danger in '15 is wondering if she'll be able to live up the standards she set last season, and risk undershooting her ML standing once again. On the other hand, Garbine Muguruza's #52 listing after missing half the '13 season with an ankle injury worked out well, as the Spaniard reached her first career slam Round of 16 and quarterfinal, upsetting Serena Williams at Roland Garros. On the other hand, ML #2 Victoria Azarenka's season was mostly scuttled due to injury, though she did reach a pair of slam QF. Meanwhile, the confidence in the notion that Sam Stosur, armed with a new coach after a late '13 upswing, would have a slam surge proved to be misguided, as the Aussie was listed at #5 but advanced to just one major Round of 16.

Once again, this year's list is a bit longer (jumping from the low 50's from 2012-13, to 69 in '14 and now 81, all in an attempt to plug any possible holes, but maintain a little discretion and not wanting to list EVERY player imaginable). Still, of course, it's always a raw guess when it comes to possibly including the "lower-ranked" players that will put up surprise 4th Round or QF results in the slams (as much of an admirer of her as I already was a year ago, I still didn't include Aleksandra Krunic on the 2014 list, though, of course, she makes her long-awaited debut in '15). Which "unlisted" names will rise for surprising slam runs in the coming year will first begin to come into focus in just a few weeks in Melbourne. Career-bests surely await... for SOMEONE, and probably a few someones.

Which ML "usual suspects" to leave off, as well, is a roll of the dice. Last year's dropping of Tsvetana Pironkova proved to be a "stroke of brilliance," as she failed to advance past the 2nd Round at any slam in '14, but she DID shine where she hadn't before -- winning her first WTA singles title at the beginning of the season.

You're welcome, Tsvetana. No need to thank me. Haha.

A few traditional inclusions once again drop off this year. We'll soon see what the repercussions for THOSE players will turn out to be.

So, let's begin the 2015 Master List (with last year's # in parenthesis):

1.

Serena Williams (1)


2.

Maria Sharapova (4)


3.

Simona Halep (12)



...once again, green is for "go." But, for 2015, Serena has some company. A year ago, with the prediction of a true Grand Slam season for Williams waiting in the wings, the then-and-still #1-ranked player was all alone in this category because she was the only "sure thing" on the board. Naturally, it took Serena until the U.S. Open to put up her first '14 slam Round of 16 result. Still, she ultimately did so, won the event and closed out another top-ranked year. I guess that's something of a definition of a "sure thing," huh? So far, all four ML's have been topped by Williams, with her eventual retirement probably being the only thing that will extricate her from the position. She's joined by just two players here, though there's no real guarantee to be made that ANY player (Serena included) is a "lock" to WIN at least one major title in '15. But Sharapova (three straight RG finals, with two titles) and Halep (working with a new Romanian coach, and being consulted by the Russian's former advisor) would seem the best bets to produce consistently good, if not one or more great, slam performances in the upcoming season. Both have potential injury traps -- Sharapova's long history of shoulder issues, and Halep nagging back and lower body ailments that play against her good movement-insistent game -- to contend with, but it's easier to believe that these two level-headed and super-competitive woman will find a way to succeed than is the case with any of the other players potentially in the conversation. In fact, they might just meet (again) to decide a major title.

4.

Victoria Azarenka (2)


5.

Petra Kvitova (8)


6.

Caroline Wozniacki (16)



...Azarenka returns with an eye on redemption in '15. Most likely, her best chance to grab a third slam crown will come on the hard courts in either Melbourne or New York. Before her injury-plagued '14 campaign, Vika had reached four straight hard court slam finals, winning the Australian Open in 2012 and '13. Her earlier-than-necessary shutdown of her most recent season has given her a little extra time to get healthy and prepare for another run, and as long as she can stay on the court she's easily the most dependable she'll-put-up-multiple-deep-slam-runs player in '15 aside from Serena. Still, the injury issue, which she'd seemingly put behind her until it came back with a vengeance last season, prevents her from maintaining her "green level" standing. Kvitova would seem to be a lock to at least score big at Wimbledon, but, remember, this is another "year after" season that she has to conquer. Plus, she very nearly went out early at the AELTC last season against Venus Williams, so she still has a few minor "prove it" hurdles to clear before earning "green" status. The Dane was the most upwardly-mobile player on tour over the last third of the season, and will be looking to carry over her success. She only has one career SF result in the AO, but one would think if she can arrive in Melbourne in good form in the only slam where the normal wear-and-tear of the season doesn't apply (and where her superior fitness in the extreme heat can play even more into her favor), then she might have a shot to contend for that maiden slam win that eluded her when she was ranked #1.

She's certainly hard a work trying to make it happen.




7.

Eugenie Bouchard (20)


8.

Aga Radwanska (7)


9.

Ana Ivanovic (32)


10.

Andrea Petkovic (36)


11.

Ekaterina Makarova (19)


12.

Angelique Kerber (9)


13.

Garbine Muguruza (52)



...all the "pinkies" have experienced grand slam "moments," but only one won has won a major (and she hasn't reached a slam semifinal in the twenty-six majors she's played since). Bouchard was well-positioned on the ML a year ago, considering she'd only played in three slam main draws, winning four matches, prior to '14. She probably should be in the blue section for '15, but her late season bouts with dealing with the new level of expectation and pressure (particularly in Montreal), as well as lingering injuries (see Singapore, and her IPTL withdrawal) that cut her practice time, carved away at her confidence and produced a few ugly results, give one at least a slight bit of pause since she has so, so much to defend in '15 following her incredible series of slam breakouts last season. Not that coming in at #7 is low, by any stretch. Just a wee bit conservative. Radwanska wouldn't have ranked so high on this list if not for her recent addition of Martina Navratilova to her coaching team. The somewhat odd combination -- a big-serving and physical lefty with an aggressive net game teaming with a baseliner Pole with a severely wanting second serve and a knack for long points, clever strategy and mindboggling angles and spins? -- might not turn Aga into the slam champ she nearly was two seasons ago, but their dual affinity for the All-England Club might push her deep into the fortnight in London, and that's enough to rate high on this list. As good as AnaIvo's '14 season was, the '08 RG champ didn't have a truly great year at the majors aside from her upset of Serena in Melbourne. But her full, consistent campaign should give her the momentum to rectify that in '15. Petko proved she could stay healthy last season, and even reached her first slam semifinal. The latter might not happen again, but if the former can (shhh... and cross those fingers) then it's not out of the question we see both once again. Remember, she was a three-time slam quarterfinalist in the 2011 season. Makarova reached her first career slam semifinal in New York, but can she string together enough great results to be a constant slam threat in '15? She's nearly climbed into the Top 10 (#11), so her draws should improve and she might not have to take down quite as many big names to have consistent slam success in the new year. Kerber has reached at least the Round of 16 at ten of thirteen slams, starting with her surprise run to the U.S. Open semis in 2011. Muguruza, while dipping in and out at times in '14, showed a propensity to shine on the big stage against big names, and that should serve her well in the coming slam season. She might very well be able to put together the best run at a major by a Spaniard since the Sanchez/Martinez era.

14.

Sara Errani (10)


15.

Belinda Bencic (--)


16.

Sabine Lisicki (6)


17.

Flavia Pennetta (14)


18.

Venus Williams (33)


19.

Karolina Pliskova (--)


20.

Lucie Safarova (47)


21.

Peng Shuai (46)


22.

Carla Suarez-Navarro (18)



...as usual, it's a zesty (as in orange zest... get it?), intriguing mix on this level of the list. Errani's ranking continues to slide a little bit each season since her topping out at a season-ending #6 in '12, but she's a consistent slam performer, having put up QF results last season in Paris and NYC. 17-year old Bencic makes a super-high debut after her U.S. Open quarterfinal, while Lisicki's love affair with Wimbledon always gives her a chance to rise well above the crowd on the grass. Pennetta, at 32, had her first two slam QF season in '14; while Venus proved her continued worth at 33 by giving Kvitova her biggest challenge in the early rounds at Wimbledon. If she'd managed to take down the Czech, well, who knows what might have happened in London. The big-serving Pliskova has yet to advance to her first slam Round of 16 (that'll soon change), and that's the only thing keeping her from climbing a little higher on this list (that'll change soon, too). Safarova held a match point against eventual AO champ Li, and reached her first slam semi at SW19. Peng advanced to the final four in New York, and is now the Chinese #1. Not having to compete against the still-thriving legacy of Li, might Peng feel less pressure in '15, or more? Will her now-defunct doubles partnership with Hsieh Su-Wei, and all the confidence-building success it brought her, work for or against her, as she maybe focuses even more on her singles? Without a doubt, the Chinese vet is one of the most intriguing WTA stories of all heading into the new season. Meanwhile, CSN has set or equaled event career-bests at three slams in the last two seasons, though she's yet to slip into a semifinal and could be passed by doubles partner Muguruza as the highest-ranked Spaniard this season.

23.

Anastasia Pavlyuchenkova (28)


24.

Madison Keys (31)


25.

Jelena Jankovic (13)


26.

Alize Cornet (44)


27.

Dominika Cibulkova (27)


28.

Svetlana Kuznetsova (21)



...now begins the process of filling out this fourth Master List. Any of these "red zone" players could ultimately make deep Final 8 or better runs at slams, but they're just not quite "trustworthy." Most have signifigant strikes against them, too, in the coming season. Creeping age (Jankovic), youth (Keys), inconsistency (Pavlyuchenkova, Kuznetsova & Cibulkova, the latter of which reached the AO final in '14, though it was a little difficult to remember it by season's end) or just plain ol' "French-ness" (Cornet) and all that goes with it. A year ago in this section, I said of a certain Canadian, "Maybe the most intriguing player here is Bouchard, making a huge leap from her (nicely-timed, I think, in her first year as a pro) inclusion on last year's list at #53 by jumping up to the Top 20. The Canadian could very well have one of the sort of slam showcases this year that propelled Sloane Stephens onto the overall sports radar last year." Well, that all worked out pretty well. But is there another would-be-showcase waiting in the red zone for 2015? Hmmm, maybe Keys (working with Lindsay Davenport this season), or possibly a newly slam-consistent Pavlyuchenkova.

29.

Zarina Diyas (--)


30.

Samantha Stosur (5)


31.

Camila Giorgi (26)


32.

Aleksandra Krunic (--)


33.

Kaia Kanepi (24)


34.

Annika Beck (34)


35.

Casey Dellacqua (--)


36.

Sloane Stephens (11)


37.

Tsvetana Pironkova (--)


38.

Caroline Garcia (--)


39.

Katerina Siniakova (--)


40.

Taylor Townsend (--)


41.

Roberta Vinci (15)



...there are a whole lot of interesting second week slam prospects here, from promising youngsters (Beck) to longtime vets (Stosur, still doing enough at the end of the season to warrant a little optimism, just nowhere near as much as last year) and players on the edge of something really good, but maybe not quite there yet (Giorgi & '14 U.S. Open sensation Krunic). Kanepi is always a slam QF waiting to happen, or a quick 1st Round exit. Diyas is someone to keep an eye on, having quietly reached a Round of 16 and squelched a developing story (Bellis in NYC) in her first season of slam activity. Pironkova returns after a one year absence from the ML, while teenagers Siniakova and Townsend make their debuts. Garcia could make a big jump up this list a year from now, but as '15 begins she's coming off three 1st Round slam exits a year ago. Dellacqua is always surprising, and the soon-to-turn 30-year old Aussie is coming off the best slam season (two Round of 16's) of her career. Vinci, at least in singles, feels like she's just holding on, but I'll cut her some slack and keep her here and away from the "catch-all" group that follows. Oh yeah, and "Current" Sloane is here, too, equaling Stosur's fall of twenty-five spots on this list over the course of the past year.

42. Kirsten Flipkens (22)
43. Tereza Smitkova (--)
44. Barbora Zahlavova-Strycova (--)
45. Coco Vandeweghe (--)
46. Kristina Mladenovic (69)
47. Laura Robson (37)
48. Klara Koukalova (--)
49. Monica Niculescu (54)
50. Jana Cepelova (--)
51. Maria-Teresa Torro-Flor (--)
52. Anna Schmiedlova (--)
53. Heather Watson (--)
54. Ana Konjuh (--)
55. Yaroslava Shvedova (42)
56. Vera Zvonareva (35)
57. Mirjana Lucic-Baroni (--)
58. Maria Kirilenko (23)
59. Bethanie Mattek-Sands (--)
60. Anna-Lena Friedsam (--)
61. Kiki Bertens (--)
62. Elena Vesnina (25)
63. Elina Svitolina (49)
64. Donna Vekic (55)
65. Carina Witthoeft (--)
66. Evgeniya Rodina (--)
67. Michelle Larcher de Brito (--)
68. Ajla Tomljanovic (--)
69. Vitalia Diatchenko (--)
70. Denisa Allertova (--)
71. Barbora Krejcikova (--)
72. Alison Riske (43)
73. Shelby Rogers (--)
74. Vicky Duval (62)
75. Luksika Kumkhum (--)
76. Timea Bacsinszky (--)
77. Andreea Mitu (--)
78. Anna Tatishvili (--)
79. CiCi Bellis (--)
80. Francoise Abanda (--)
81. Jelena Ostapenko (--)

...seven layers deep into this Master List, we start to hunt around and try to catch a wave, or roll the dice on a few prospects. I might be a bit optimistic on the returning-from-wrist-surgery Robson (dropping only ten spots from '14), but it's a long slam season. Vandeweghe (who jokingly pointed out the other day that SHE hasn't hired a new coach, so she might have to change her hair color to "remain relevant" this offseason) might have a second week run in her, while Duval is readying to return after successful Hodgkin's treatment. Of course, I have to include a few junior prospects (newly-assured ITF girls #1 Bellis, along with Abanda and junior slam champ Ostapenko). I generally have a player in this range that I take a bit of a slam flier on that has turned out well. In 2013, it was the then-mostly-off-the-radar (despite a Wimbledon 4th Rd.) Camila Giorgi, who came in at #45 in the season in which she caused a ruckus at the U.S. Open and reached the Round of 16. Muguruza was last year's version of Giorgi, placing at #52 after missing time with injury in '13. She reached the 4th Round in Melbourne, then the QF in Paris. This year's version? Hmmm, possibly another #52 -- Schmiedlova, who defeated Venus in Paris last season before ultimately losing to, you guessed it, Muguruza.

As things turned out, as Pironkova was the last player left off the list a year ago, the "honors" this season go to Jarmila Gajdosova (who nearly returned to the list after a two-year absence) and Jamie Hampton (who may just never be healthy enough), dropped out after a high placement of #30 a year ago.

Of course, with the 37 risers to the list, 25 were removed. That list includes a pair of retired slam winners in Li Na and Marion Bartoli (included last year, you know, just in case she staged a comeback), as well as past slam achievers Francesca Schiavone, Daniela Hantuchova and Zheng Jie. Regretfully, I dropped off Monica Puig, despite being a first-time tour title winner in' 14, as well. A pair of Backspin favorites -- Nadia Petrova and Jelena Dokic, both with uncertain/unknown futures -- were also bid adieu... but, you know, there's always a small bit of hope around HQ for a change in fortunes.



PLAYERS RETURNING TO THE LIST AFTER A ONE-YEAR ABSENCE:

Klara Koukalova (#51 in '13), Tsvetana Pironkova (#33 in '13) and Heather Watson (#52 in '13)



PLAYERS RETURNING TO THE LIST AFTER A TWO-YEAR ABSENCE:

Caroline Garcia (#32 in '12) and Casey Dellacqua (#50 in '12)



PLAYERS REMOVED FROM THE LIST SINCE LAST YEAR:

#3 Li Na (retired), #17 Marion Bartoli (still retired), #29 Francesca Schiavone, #30 Jamie Hampton, #38 Alisa Kleybanova, #39 Karin Knapp, #40 Andrea Hlavackova, #41 Nadia Petrova, #45 Sorana Cirstea, #48 Daniela Hantuchova, #50 Julia Goerges, #51 Zheng Jie, #53 Bojana Jovanovski, #56 Petra Cetkovska, #57 Stefanie Voegele, #58 Mandy Minella, #59 Monica Puig, #60 Ayumi Morita, #61 Zhang Shuai, #63 Jelena Dokic, #64 Lauren Davis, #65 Ashleigh Barty, #66 Tamira Paszek, #67 Romina Oprandi, #68 Paula Ormaechea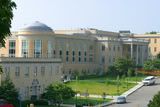 So, the fourth official Grand Slam Master List will now be filed away in a cabinet somewhere deep in the bowels of the Navratilova Library of Records on the grounds of Backspin Academy, along with 2012's now-even-more-rare, already-fading copy of the original list. Naturally, this little "gem" will be pulled out on at least four occasions over the course of the next year, just to see who is exceeding their offseason expectations, or failing to come close to living up to them. Next December, the names will be taken down and reshuffled once more... and, as we stand today, even Citizen Anna doesn't know which players will have suddenly risen close to near the top of the list by then. Well, at least I don't THINK she knows. QC? Hmmm... she probably knows. But good luck trying to figure out from her who they might be.

All for now.