FC I Day 1 Update: Of Vika, Petko and, of course, a Serbian Good Luck Charm
On the first day of the first Fed Cup weekend of 2015, "V" stands for victory.
Well, and "Vika," of course.


Some Fed Cup notes from Day 1 of weekend action:





**WORLD GROUP 1st Round**


...three of the four WG match-ups saw the expected take place on Saturday, while the fourth tie had more on-the-court drama than all the rest combined.

First off, even, ummm, THIS couldn't help Team Canada today.




In Quebec City, the Bouchard-less Canadians were simply overmatched. The "B"-team that remained without Genie might have been good enough to hold it's own in many circumstances (especially in a doubles-take-all showdown, if it came to that), but the Czech talent pool is so deep that even this "B" (or maybe even "C," excluding the nearly "A"-level Karolina Pliskova) team of Maidens is good enough to have mostly smooth sailing. Pliskova needed four match points to do it, but she overcame just-turned-18 Francoise Abanda 6-2/6-4 to give the Czechs a 1-0 lead. That was expected, but we weren't quite sure what we'd see from the rest of the also-debuting Czech squad. Denisa Allertova was an ITF star in '14, while Tereza Smitkova reached the Wimbledon Round of 16 last year in her slam debut. But how they'd handle the pressure of playing for their defending FC champion national team was unknown. Well, Smitkova handled it great, wiping out Gabriela Dabrowski 6-1/6-2 to give the Czechs a seemingly secure 2-0 lead heading into Sunday. Pliskova should take it home now, even if she needs a few extra MP to do it.




In Genoa, the Italians look to be holding up their end in setting up what could be fourth consecutive meeting with the Czechs in the semifinals, and the fifth in six years (the winner has gone on to win the FC title each time). This tie was expected to be an "intriguing," though quite possibly futile, attempt by the Pastries to take down the Italians on red clay in front of their home crowd. Needless to say, things didn't go so well for Amelie Mauresmo's squad. Caroline Garcia put up a good fight in the first match against Sara Errani, losing close 7-6(2)/7-5 after never being able to gain another advantage after winning the first two games of the match. Camila Giorgi then came in and took out Alize Cornet 4 & 2. The French surely have the verve and vitality to put together a comeback on Day 2, but the mountain really seems too steep to climb. If it was against any group other than the veteran Italians, anywhere other than on Italian clay, it could happen. But even Amelie can't perfectly pull enough strings to work this one out.

In Krakow, Aga Radwanska needed to go undefeated in singles this weekend for the Poles to have any realistic shot against the Russian Revolution Reunion, as Captain Anastasia Myskina went into battle with FC stalwart Svetlana Kuznetsova and she-usually-drops-by-before-the-Olympics Maria Sharapova. The three became the only Russian women to win slam singles crowns back in 2004, of course. Kuznetsova drew the Radwanska card on Day 1 and did her job, knocking off A-Rad to give the Hordettes a 1-0 advantage. Of course, Sveta being Sveta, she dropped the 2nd set before finally finishing off a 6-4/2-6/6-2 victory. As expected, Sharapova destroyed Ula Radwanska, taking the first eight games of the match and winning 6-0/6-3. The Polish (one-woman) team's run to the World Group has been great, but all good things must eventually come to an end. Officially, this one will tomorrow. But, really, it's already over. And, yes, a hug DID happen. Here's the shocking proof: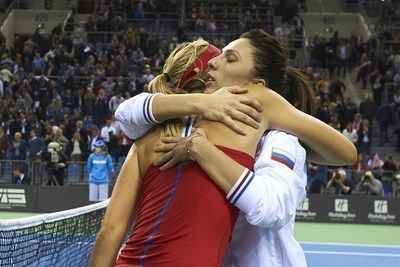 Hey, at least Aga had the Shot of the Day:



So there's that.

Meanwhile, even Kenny Kangaroo couldn't help the Aussies.




In Stuttgart, things were c-r-a-z-y. In a rematch of a 2014 semifinal won by Germany, the Aussies nearly crushed the hopes of the home crowd... then they crushed the hopes of the Aussies back home. Maybe. Jarmila Gajdosova stunned Angelique Kerber in the opening match, winning 4-6/6-2/6-4. But then, as she did last season during the German squad's run to the final, Andrea Petkovic put on her inspiration shoes. Now, granted, it took her 3:16 and saving a match point to do it, but her classic 6-4/3-6/12-10 victory over Samantha Stosur probably just saved the German FC team's season. A 0-2 deficit, even against a sometimes-shaky Australian team, might have been a bridge too far (but probably not), but now it'll just be a one day showdown on Sunday. Looking at the stats, it's almost hard to tell how Petkovic won the match. Stosur led in aces (14-5) and winners (61-56), and had fewer unforced errors (35-43), but Petkovic won 147 points to the Aussie's 137. Ah, but then you see the forced errors stat and it becomes clear: Petko 33, Stosur 56. There's the difference. The German took the match away, with her racket... and likely her heart. But that's just the Petko way. This is probably the only World Group match-up worth paying attention to on Sunday.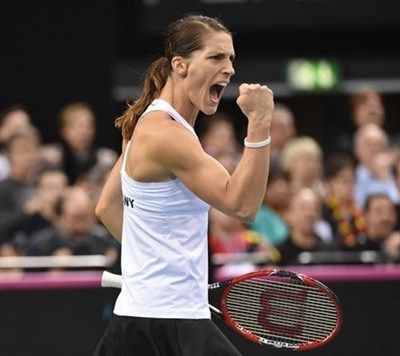 **WORLD GROUP II**


...while the World Group doesn't seem to offer a slew of things to look forward to on Day 2, quite the opposite is the case with World Group II.




In Apeldoorn, one might have expected Dutch team leader Kiki Bertens or Slovak tour vet Magdalena Rybarikova to shine, but both lost their matches on Day 1. Bertens, 8-0 in FC singles play, lost to Anna Schmiedlova in straight sets, but Dutch #2 Arantxa Rus picked up the slack and brought the squad back to even by upsetting Rybarikova, who was making her first FC appearance since 2010 (and playing her first singles match since '08). This one, just as it was viewed on Friday, could really go either way tomorrow.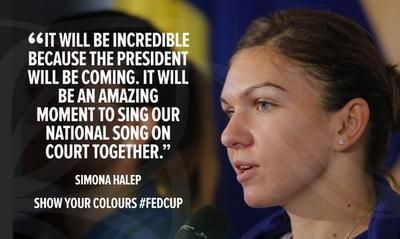 In Galati, Simona Halep made sure she didn't embarrass herself in front of the President of Romania, or in the town just two hours away from where she grew up. In her first match since her Australian Open QF debacle, The Pride defeated Silvia Soler-Espinosa 2 & 1, then saw Garbine Muguruza make a smashing FC debut by knotting the tie by crushing Irina-Camelia Begu 6-3/6-2. Of course, the big match on Sunday will be the Halep/Muguruza face off. To the naked eye, it would seem like the Spaniard would be the favorite, but size doesn't always mean so much in such circumstances. And certainly not since Halep is involved. Although, if Halep can't pull off the win, not having Sorana Cirstea on this team could prove very costly for the Swarmettes. 2017 hangs in the balance.




In Helsingborg, the swirling Swiss swooped in on the Swedes and shot down their spirits on Saturday. First, veteran Timea Bacsinszky went after the youth aspect of the Swedish team, defeating Rebecca Peterson 7-6(4)/6-0, then teenager Belinda Bencic showed little regard for Johanna Larsson's great FC past, winning 1 & 2 to give Switzerland a commanding 2-0 advantage. Larsson might be able to rise up and get a win over Bacsinszky on Sunday in front of the home crowd, but if that did happen then Bencic would simply counter the move by clinching the win with a victory over Peterson. This one's over.

In Buenos Aires, this one was over before it even began. Well, at least they got to sell refreshments. Venus and Serena Williams returned to FC action on the clay, just a week after their Melbourne runs, and swept through four sets to give the U.S. a 2-0 bulge on the scoreboard. Venus opened with a 6-3/6-2 win over Paula Ormaechea, then Serena, after (wait for it) a slow start, took down Maria Irigoyen 7-5/6-0 to run her career FC record to 11-0. Venus is 16-2. See, even Mary Joe Fernandez can't screw this one up.






**Zone Play**




=EUROPE/AFRICA I at Budapest, HUN=


...two teams were promoted out of this zone to spring's WG II Playoffs, and it came down to two Backspin favorites pulling the victorious strings.




In her second singles match of the week, but her first since the news of her coach Sam Sumyk leaving to oversee Bouchard's game went public, Victoria Azarenka provided the clinching victory in Belarus' promotion, defeating Heather Watson 6-4/6-1 to seal a sweep of Great Britain. Olga Govortsova got the first win in the playoff, running her singles mark to 4-0 this week. She was also a very dutiful social media photo poster.




Meanwhile, after losing five straight ties since reaching the 2012 Fed Cup final, pretty much all occurring as the Serbian Tennis Powers That Be either left Aleksandra Krunic off the squad entirely or relegated her to mop-up duty after the rest of the team has failed miserably, The Bracelet's U.S. Open run helped her to earn the #1 singles slot on the team this week. Naturally, with their old charm bracelet back in their pocket, the Serbs ended their slide, advancing on the back of Krunic's 3-0 singles mark for the week, which saw her clinch the team's Pool win by coming back from 3-0 down in the 3rd against Hungary's Timea Babos the other day, and then destroying Croatia's Donna Vekic 6-1/6-1 today to wrap up the promotional playoff sweep. That's why she's the Serbian Good Luck Charm, people.




After the match, Krunic embraced Vekic at the net, then shook the hand of each and every member of the vanquished Croat squad, as well as Captain Iva Majoli. Ah, Bracelet... I knew I was right about you a few years ago.

Of note, Serbian Bad Luck Charm, Vesna Dolonc was busy barely getting a win over Lourdes Dominguez Lino in Antwerp qualifying today, while Krunic's fellow team member Ivana Jorovic, 17, joined The Bracelet in going undefeated in Budapest for the week, including a big win today over Ana Konjuh. Speaking of the rest of the team, I wish I'd come up with this nickname:


Krunic and the Krunicettes, formerly known as Serbia, ahead of Fed Cup this weekend. pic.twitter.com/a4c6kcgMKR

— Victoria Chiesa (@vrcsports) February 3, 2015


The Krunicettes... now that's inspired!



=AMERICAS I at San Luis Patosi, MEX=


...in the Americas zone, it all came down to a pair of women from Paraguay playing side by side on the doubles court. Twice.

Paraguay escaped Pool play by edging past the host Mexican team when Montserrat Gonzalez & Veronica Cepede Royg joined to defeat Victoria Rodriguez & Marcela Zacarius in a tie-deciding doubles match in Paraguay's 2-1 victory. In the promotional playoff, the same scenario came about against Brazil, with the same result. Gonzalez & Cepede Royg defeated Brazil's Paula Cristina Goncalves & Teliana Periera in the deciding doubles in another 2-1 Paraguay win.



=ASIA/OCEANIA I at Guangzhou, CHN=


...Japan lived up advance billing here. But no one else did.

In the promotional playoff, Japan took out Kazakhstan, as the Kazakhs -- well, Yaroslava Shvedova -- once again came up short in a big Fed Cup match. Meanwhile, top Kazakh singles player Zarina Diyas didn't actually play singles on Saturday. Japan's Misaki Doi went undefeated for the week, but it was Kurumi Nara's win over Shvedova that sealed the 2-0 sweep in the playoff. Shvedova held match points in Nara's 2-6/7-6(4)/6-2 victory, but went down in flames just like she did the last two years in similar matches against Thailand's Luksika Kumkhum in FC action. On Friday, she barely edged out another unheralded Thai player, Peangtarn Plipuech, after saving two match points in a 6-7(3)/7-5/6-2 win.

Also of note, host China actually finished fourth with a loss today against Korea in the 3rd/4th match-up. And that was WITH a team of Peng Shuai, Zhang Shuai, Zheng Saisai and Wang Qiang. (Shaking head.)



=ASIA/OCEANIA II at Tallinn, EST=


...for such a small number of teams in this zone, there were quite a few good squads, including South Africa, Slovenia and the host Estonians. All three couldn't advance, though.

South Africa, the winner of Pool A, got the benefit of playing in the promotional playoff against a team from Finland that did well to finish 2nd in Pool B. Chanelle Scheepers (4-0 in singles this week) and Chanel Simmonds (3-1) both got wins today to push RSA forward. In the other playoff, Estonia and Slovenia met in the too-bad-for-the-loser match-up of the weekend in Tallinn. As it turned out, after Polona Hercog retired from her singles match on Friday, she didn't play singles today. Thus, the absence of Slovenia's best player (#76, and the only one in the Top 200) had to somewhat help Anett Kontaveit and Kaia Kanepi in the singles sweep that gave the host Estonians the win.

Estonia is the only host nation (of four) to manage to survive this week's zone action, and Tallinn very well could end up being the only site other than Genoa, Italy to NOT see the local team go down in flames in this opening FC week of 2015.


I'll have the complete weekly wrap-up after the weekend.

All for now.