AO 8 - A Day Fit for Four Queens

On Australia Day, the women came to play!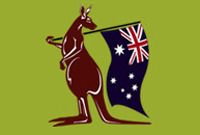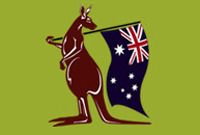 =DAY 8 NOTES=
...in the day's first Round of 16 match on the Aussie national holiday, 2012-13 AO champion Victoria Azarenka and '14 runner-up Dominika Cibulkova battled it out to determine which would move forward another round in the slam that has become the oasis for both of their careers. Played entirely under the Rod Laver Arena roof after morning showers in Melbourne, the match didn't follow exactly along on the path of so many of the meetings between the two, many of which have been highlighted by intensely dramatic comebacks and near-misses, punctuated by the sort of emotional moments that used to always accompany matches involving Azarenka. It WAS a drama-filled match, only this time the big moments were driven only by sheer athletic competition, as the result was determined by each player's success, not their failures. Game and sets were won with aggression and winners, not ill-timed errors or emotional crators.

Fittingly, after four of their last five matches since 2008 had gone three sets, this one did, too. By the time Cibulkova had punched her ticket to another AO quarterfinal, she'd cemented her reputation as a player with as much fire as anyone out there, and one with enough firepower behind a forehand that it can be a lethal weapon if she's given the opportunity to get it grooved and build her momentum, allowing successive winners to fly off her racket as if she's being fed balls on a practice court, working on honing her biggest shot. And she was given those opportunities by Azarenka. Too many, actually. In both the 1st and 3rd sets, both not coincidentally won by the Slovak, Azarenka too often fired back shots right into Cibulkova's preferred power zone while not moving forward enough herself. In those sets, Cibulkova was the aggressor, stepping inside the baseline and popping winners whenever she saw an opening in Azarenka's defenses.

The 1st set began with Azarenka opening up in full flight. She broke Cibulkova to start the match, then easily held for a 2-0 lead. But from that point on, Cibulkova was on fire. Ending baseline rallies with aggressive winners, she ran off six straight games to take the set, hitting three times as many forehands as backhands as Azarenka, conducting a 35-minute session of forehand practice for her opponent, continually set her up with chances to use her big shot to pummel and dominate her. Azarenka double-faulted on set point and Cibulkova won 6-2, holding a 21-7 edge in winners. Something had to change soon or this one was going to be over very quickly.

In the 2nd set, right on cue, Azarenka changed up tactics. Suddenly, she was the more aggressive of the two, consistently moving forward with deadly intent just as she did while winning this title in back-to-back attempts. Seemingly knocking off a bit more of the match rust associated with her injury layoffs in '14, Azarenka seized control of the set and turned the momentum in her favor, pressuring Cibulkova, hitting away from her forehand and keeping her off balance behind the baseline, forcing errors whenever she wasn't able to pick off volleys (she was 12/15 on net approaches, after being just 0/1 in the 1st) or swat winners of her own (she led 16-9 there). Just like in the 1st, she took an early break lead at 2-0, then went up another when Cibulkova double-faulted on break point to fall behind 4-1. Serving at 5-2, and holding three set points, Azarenka was broken, but regained her footing to serve out the set two games later at 6-3.

In the 3rd set, though, their rolls switched again. For the third straight set, Azarenka jumped out to a 2-0 lead, but Cibulkova was able to turn the match's momentum one more time. In game #3, with her own aggression spiked and Azarenka only hurting her own cause by once again hitting too often to the Slovak's forehand, Cibulkova saved a game point and broke Vika on her third break point of the game, then saved a break point on serve (using her speed to chase down a drop shot from behind the baseline and put away a winner) and held for 2-2.

That was where the match got away from Azarenka, as Cibulkova wrested it away from her. And this time she didn't give it back.

Pounding her forehand from everywhere once again, the Slovak consistently was the player who took the initiative in the final set, moving in and going for winners after her defense was able to fend off shots from Azarenka that would have likely been winners against many other less speedy opponents. Perfectly employing a drop shot when Azarenka was trapped well behind the baseline (Vika raced to the ball, but wasn't able to get it back as Cibulkova had in an earlier similar situation), Cibulkova got a break point and converted it to go up 4-3. A game later, in what turned out to be Vika's last stand, the Belarusian saved a game point on Cibulkova's serve, then went to her backhand and produced an error. But she then immediately went right back to feeding forehand opportunities until Cibulkova would hit a winner. A stunning crosscourt forehand passing shot held serve for 5-3 and forced Azarenka to serve to stay in the match.

Azarenka led 30/15 in game #9, but a handful of errors brought her quick demise. Cibulkova reached match point, and it all ended when Vika netted a forehand as the Slovak won 6-2/3-6/6-3, ending with a +15 winners to unforced errors ratio, while Azarenka herself sported good +3 numbers. But this match, won with a slim 89-86 edge in total points by Cibulkova, was determined by which player was aggressive first and most often, because whichever of the two that "went for it" with the most conviction almost always "got it" as a reward for their efforts.


#Cibulkova: "I just walked on the court & great memories came back to me. I just have to believe in myself" #ausopen pic.twitter.com/OiGBbcftq7

— Australian Open (@AustralianOpen) January 26, 2015


After having a hard go of things since reaching the final in Melbourne last year, Cibulkova has rediscovered the powerful-things-come-in-small-and-fiery-packages part of her game that drove her to a 24-7 start in '14 before her 9-14 finish. She showed that she was capable of slipping in through the slam final back door last January, and she's looking like it's not impossible for it to happen again. Meanwhile, Azarenka's issues with shot selection in this match notwithstanding (one would think that's due to a lack of match play, and something Sam Sumyk will surely focus on in practice), she has to leave Melbourne feeling pretty good. Ulimately, her run ended with her and her backers wanting a little more. But the fact is that there wasn't any real reason to believe that we'd see as many good things from her as we did at this Australian Open after a '14 season which she now pretty much counts as a "lost" one.

Her confidence can only grow after what she pulled off the last eight days.


#Azarenka: "I need to be realistic, keep working hard and try to sharpen my game. But overall, I can be pretty happy" pic.twitter.com/1fjjoHejRc

— Australian Open (@AustralianOpen) January 26, 2015
V ???? #AustralianOpen2015 #melbourne pic.twitter.com/xFTfMtNHyU

— victoria azarenka (@vika7) January 26, 2015


...in Day 8's second Round of 16 match, we weren't quite sure what to expect. Last year at Roland Garros, Garbine Muguruza handed Serena Williams her worst-ever slam loss. So, while the 21-year old Spaniard is one of the few players with both the power to stay with Serena Williams AND the on-court evidence of a past victory to back it up, it was easy to think that the world #1's memory of that loss would mean she'd come on court focused and in form right from the jump on this day.

But that wasn't how it played out.

As has been common over the last year, Serena once again looked like she needed to mainline some espresso in order to get into the match. With Muguruza firing hard forehands deep up the middle of the court, Williams often found herself tied up. And since she was unwilling to take a step back on the court in order to attempt to alleviate the problem, Muguruza consistently got the better of her throughout the 1st set. She broke Williams with a forehand down the line for 3-2, then saved three break points on her own serve in the next game. Continuing to pressure Williams with her power shots, she went up a double break at 5-2 as Serena had won just one of twelve 2nd serve points. With Muguruza serving for the set, Williams took a 40/love lead, only to see the Spaniard serve her way out of the hole, firing an ace to get to deuce, using another big serve to force a Williams error and reach set point, then doing it again to close out the stanza at 6-2. Williams ended the set 0-for-6 on break points attempts.

Still looking flat (you know the look, we see it so often), Williams still managed an early break and led 2-0 in the 2nd set. A game later, Muguruza went up 40/love on Williams' serve when she pounded a 102-mph Serena second serve and put away a forehand winner. An error from Williams got the set back on serve, and Muguruza knotted it after saving a break point with a big serve and holding for 2-2. Muguruza was a good 3-5 minutes from having a shot to take the match in straight sets, but Williams raised her game just in time. Assisted by the Spaniard's double-fault that put her down love/30 in game #8, Serena got a break to lead 5-3 then, as new balls were inserted into the match, opened game #9 with back-to-back-to-back aces, then added a service winner to take the 2nd set 6-3.

In the first two games of the 3rd, both players combined to save a total of nine break points. Continuing her practice of delivering hard body serves, Muguruza saved three BP in game #1 (dropping Williams to 2-of-14 on BP attempts), then in the 13-minute long game #2 it was Williams saving six BP of her own in what turned out to be the key game of the match. A game later, Muguruza missed a backhand down the line and Williams got the break for 2-1, then held for 3-1 to finally edge ahead in the match. Muguruza's game didn't really fall off much in the final set, but the tiny bit that it did, combined with Serena raising her own level of play, allowed the #1 seed to pull away. In game #7, Muguruza saved a break point with ace, but an error on Williams third BP of the game gave Serena a 5-2 lead. An easy hold pushed Williams into her ninth career AO quarterfinal.


World No.1 @SerenaWilliams into #AusOpen QFs with comeback 26 63 62 win over Muguruza--> http://t.co/dXas0y0nMn pic.twitter.com/RRfLAQhafZ

— WTA (@WTA) January 26, 2015


So, once again Williams raised her game and put away a dangerous opponent, looking very good at times, but very average and low energy at others. Most players couldn't get away with such form, let alone harbor thoughts of winning the title in the middle of such a run. But Serena isn't your average player. We aren't being treated to anything really resembling the "Serenativity" of seasons past, but the closer she gets to the final the more positive the outlook gets for slam #19.

...in the third women's Round of 16 match, the only of the four played on MCA rather than Laver, the Battle of the Madisons didn't turn out to be much of a battle at all. Sort of what was expected, actually. The two Americans took far different routes to their first career slam 4th Rounds -- 19-year old Keys is a quick riser, while 25-year old Brengle (the AO girls RU in '07) has been trying to climb up the ranks for most of the last decade -- and it was apparent in this match why one has gotten here so quickly and looks to be climbing still higher, perhaps at an exponential rate.

In just one hour, Keys overpowered Brengle by a 6-2/6-4 score, and the result was never really in doubt as Keys started quickly (breaking serve in the opening game, and having 27 winners through the first nine games of the match) and only having one brief bad spell when her nerves and her big game's inconsistencies flaired up to allow Brengle (for a few minutes) back in the set. Brengle got a break and held to take a 3-2 lead in the 2nd, as Keys had fourteen errors in the first five games of the set. But Keys' lapse was short, and after getting a break for 5-4 she served out the match, converting her third match point to advance to her first career slam QF. Keys had thirty-eight winners in the match to her countrywoman's three.


And she's through! @Madison_Keys will play winner b/w #Venus Williams & #Radwanska after a 6-2 6-4 win over #Brengle pic.twitter.com/U8uBJ1j5WB

— Australian Open (@AustralianOpen) January 26, 2015


...as Australia Day crept into Australia Night, Venus Williams and Aga Radwanska arrived on Laver for an all-tennis sister, contrasting styles clash to determine the final quarterfinalist of this Australian Open.

The 1st set saw the two players hold serve through the first six games, but Williams was having the easiest time of it, by far. For the set, Williams ultimately lost just three points on serve, and twice forced Radwanska to struggle on serve in multiple-deuce games which highlighted the fitness, movement and energy that Venus has shown during her so-far-undefeated '15 season. Long rallies were Venus' friend, and her forehand her weapon of choice. In game #7, Aga's 15-minute, 12-deuce, 30-point game in which she saved five break points came to an end when Venus finally converted attempt #6. After Williams' quick hold for a 5-3 lead, in her next service game the Pole was made to work again. This time it was a five-deuce affair in which Venus put away set point #4 with a deep forehand into the corner that Radwanska could only barely put a racket on. Taking the 1st set at 6-3, Williams and her game were noticeably energetic. She was the anti-Serena.

In the 2nd, things were a bit different.

In the first game, Williams lost more points on her serve than she did the entire 1st set, as her errors (particularly on the forehand wing) began to mount. After the third long game in the last four, Venus won her fifth game in a row. But as Williams quite possibly was beginning to tire, Radwanska gained the advantage. At break point in game #3, Venus missed a swing volley forehand well wide and was broken for 2-1. Two games later, with Venus serving up 40/30, a Williams shot near the baseline was called out. Although the umpire told Venus it was "close" (replays showed that it was actually in), she didn't choose to challenge. In the stands, a frustrated Serena was exasperated by her sister not challenging the call. As it turned out, Serena was right to feel that way. Venus netted a short forehand soon afterward and was broken for 4-1. It effectively ended her chances of winning the set, as Radwanska's fabled/feared variety was in play, and she just wasn't missing shots. She served out the 6-2 set, getting in 20 of 24 1st serves (three of the misses came in the final service game) and committing just four errors, as all three of the third women's Round of 16 matches played on Laver on Day 8 turned out to be three-setters.

Williams entered the final set looking for a second wind. And the 34-year old found it.

Going, as she would later call it, "into a trance" in the 3rd set because she wanted to win so badly, Williams turned back the clock to 2000-01. Or at least 2010, the last time she reached a slam quarterfinal. The forehand was back, and so was the net skill (7/9 on approaches). The passing shots and big serve, too. Radwanska broke Williams' serve to start the set, but it was a game that proved to be the exception to the rule. A game later, Venus strung together a backhand winner and two volleys to break back for 1-1. Venus was now, officially, "all in."

As the pressure of Williams' 3rd set game brought a few more errors out in Radwanska, the spring returned to Venus' step. She went up 40/love on Aga's serve with a forehand winner, then an A-Rad error gave Williams a 3-1 lead. Three straight errors from Venus with the wind inside Laver at her back put her at break point down in game #5, but she saved it with a forehand winner and won the four-deuce game, holding for 4-1, then broke for 5-1 to get the chance to serve for the match. A 109-mph serve got her to match point, then she aced Radwanska up the "T" to finish off the 6-3/2-6/6-1 win. Radwanska won just two points on her own serve in the set (1/10 on her 1st serves), and Williams out-pointed her 30-16.


"What's that @BillieJeanKing always says, pressure is a privilege" - #Venus winds back the clock with a vintage win pic.twitter.com/gIAkNpk5oC

— Australian Open (@AustralianOpen) January 26, 2015


Venus and Serena are in the QF of a slam for the first time in four and a half years, and three of the four remaining players in the top half of the women's draw hail from the U.S.. Williams will next face Keys, who was inspired to play tennis when she saw Venus playing on television. Keys was four years old at the time ("in diapers," as Venus noted after the match)... and might have liked Williams' dress as much as her serve. Either way, they'll go head to head in two days.

Ah, only in tennis.


#Venus Williams explains the trance-like state that propelled her to win: http://t.co/iWmdUfmp8m #ausopen

— Australian Open (@AustralianOpen) January 26, 2015


...as of the start of the QF, there's still a chance for the results to give us an historic spreading-the-wealth stretch over the last five slams. Last year, eight different women filled the eight slam finalist slots, just the second time in the Open era in which we saw no woman appear in multiple major singles final during a season. The only other year it happened was in 1977, when the Australian Open was held in both January and December and there were actually ten different women who played in the five finals that season.



1977 AO(J):

K.Reid d. D.Fromholtz


1977 RG:

Jauvosec d. Mihai


1977 WI:

Wade d. Stove


1977 US:

Evert d. Turnbull


1977 AO(D):

Goolagong d. Gourlay



There has never been another five-slam stretch in tour history, but the chance remains that ten different women could pull off the same feat for the 2014-15 period that began last January:





2014 AO:

Li d. Cibulkova


2014 RG:

Sharapova d. Halep


2014 WI:

Kvitova d. Bouchard


2014 US:

S.Williams d. Wozniacki

If Makarova reaches the final out of the bottom half of the draw, while the winner of the Venus/Keys match emerges from the top, we'll have another 10-for-10 run. Not an incredibly likely scenario that BOTH sides of the draw will produce another different finalist (one is far more likely), but that the possibility is still alive this deep into the tournament is saying something about the current depth, as well as Serena's slip in slam results over the past twelve months.

...BIG upsets in the doubles, as both #1 seeds were ousted on Day 8. The Bryans lost to Inglot/Mergea, while two-time defending champs Sara Errani & Roberta Vinci were taken down by Germans Julia Goerges & Anna-Lena Groenefeld. Chan Yung-Jan & Zheng Jie put out Martina Hingis & Flavia Pennetta, too.


An upset in women's doubles … #Goerges & #Groenefeld upset top seeds & defending champs #Errani & #Vinci 6-3 4-6 7-5 pic.twitter.com/cx5SxOQtSv

— Australian Open (@AustralianOpen) January 26, 2015


The only player still alive in both the women's singles and doubles is Ekaterina Makarova. She and fellow Hordette Elena Vesnina still have a shot at claiming back-to-back slams after winning the U.S. Open last September.

In mixed doubles, Cara Black & Juan Sebastian Cabal saved two match points and defeated Lisa Raymond & Robert Lindstedt 6-4/5-7 [14-12] to reach the QF.

...meanwhile, did Kyrgios' comeback last night drain all the life out of the other Aussies left in the draw? Home favorite girls Naiktha Bains (#7-seed) and Olivia Tjandramulia both lost 2nd Round matches today. My pre-tournament pick, Aussie Kimberly Birrell, is still alive, though. As of this minute, at least.

...the "ITF Player of the Week" goes to 17-year old Hordette Darya Kasatkina, the girls champion at last year's Roland Garros. She won the $25K challenger in Daytona Beach, Florida with a 6-2/4-6/6-0 win over 19-year old Waffle Elise Mertens. It's Kasatkina's third career ITF crown.

At the $10K St. Martin, Guadeloupe event in France, 16-year old Bannerette Usue Arconada earned the "Junior Star" honor after claiming her first career challenger title with a win in the final over Argentina's Victoria Bosio (like Bosio, Arconada was born in Argentina, by the way). Arconada, #1026 on the WTA computer and the #21-ranked girl in the world, reached the final at the junior Coffee Bowl event just the other week.
...DAY 8 LIKE #1: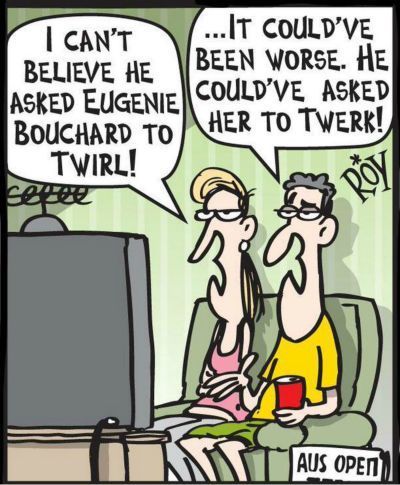 ...DAY 8 LIKE #2:

The Aussies bring out the big guns: Laver, Goolagong, Rosewall and Court. In the flesh.


#aoselfie of legendary proportions. #ausopen pic.twitter.com/L6O67DhzPF

— Australian Open (@AustralianOpen) January 26, 2015


Interesting, by the way, the many negative comments about Court attached to that Tweet. But while there is more than ample reason to disagree with many of the things she has said over the years, there is no disputing the 24-time slam winner's place in the discussion of the great players in tennis history.



...DAY 8 LIKE #3:

When in Melbourne...


Happy Australia Day mates !

— Kristina Mladenovic (@KikiMladenovic) January 26, 2015




...DAY 8 "I'M NOT SURE WHAT TO FEEL ABOUT THIS":

Bethanie Mattek-Sands is looking, well... for lack of a better word, "normal." By that, of course, I mean her hair is only two colors instead of four, and she's not wearing tennis balls on her clothes, an animal print dress on court or anything else that makes you pause and curiously cock your head to the side for a moment. Like I said, I'm not sure what to feel about this development.


Thanks for visiting the Social Shack @BMATTEK Great questions - great answers. #askbms #ausopen pic.twitter.com/WtroFy65dD

— Australian Open (@AustralianOpen) January 26, 2015




...DAY 8 "SHE WANTS WHAT SHE WANTS":

After a year and a half engagement, Kirilenko's future wedding to hockey star Alex Ovechkin was called off last July. But she just got married anyway to a "mystery man" in Moscow this week.




As far as more details on Russian businessman "Alexei," as Maria Sharapova said, "What happens in Russia, stays in Russia."



...DAY 8 LIKE #4:

Makarova is everywhere!


10th seed @katemakarova1 in full swing on The Carsten Holler Golden Mirror Carousel at @NGVMelbourne #ausopen #jpgngv pic.twitter.com/SsCv5TUXnF

— Australian Open (@AustralianOpen) January 26, 2015
...and, finally, start the countdown clock...


Sharapova & Bouchard to square off in #AusOpen QFs, 1st match since 2014 @RolandGarros SFs--> http://t.co/Jf7hqE1UbI pic.twitter.com/TszT2KYiQN

— WTA (@WTA) January 25, 2015






No one can deny that @vika7 is one of a kind! #AusOpen #ESPNTennis - http://t.co/PSaAmUx57i

— ESPNTennis (@ESPNTennis) January 26, 2015









=WOMEN'S SINGLES QF=


#1 Serena Williams/USA vs. #11 Dominika Cibulkova/SVK
Madison Keys/USA vs. #18 Venus Williams/USA
#10 Ekaterina Makarova/RUS vs. #3 Simona Halep/ROU
#7 Genie Bouchard/CAN vs. #2 Maria Sharapova/RUS



=MEN'S SINGLES ROUND of 16=


#1 Novak Djokovic/SRB vs. Gilles Muller/LUX
#12 Feliciano Lopez/ESP vs. #8 Milos Raonic/CAN
#4 Stan Wawrinka/SUI def. Guillermo Garcia-Lopez/ESP
#5 Kei Nishikori/JPN def. #9 David Ferrer/ESP
#7 Tomas Berdych/CZE def. Bernard Tomic/AUS
#3 Rafael Nadal/ESP def. #14 Kevin Anderson/RSA
#6 Andy Murray/GBR def. #10 Grigor Dimitrov/BUL
Nick Kyrgios/AUS def. Andreas Seppi/ITA



=WOMEN'S DOUBLES QF=


#16 Goerges/Groenefeld (GER/GER) vs. Bertens/Larsson (NED/SWE)
#3 Makarova/Vesnina (RUS/RUS) vs. Mattek-Sands/Safarova (USA/CZE)
Jans-Ignacik/Klepac (POL/SLO) vs. #14 YJ.Chan/J.Zheng (TPE/CHN)
#5 Kops-Jones/Spears (USA/USA) vs. Krajicek/Zahlavova-Strycova (NED/CZE)



=MEN'S DOUBLES QF=


#14 Inglot/Mergea (GBR/ROU) vs. #6 Rojer/Tecau (NED/ROU)
Cuevas/Marrero (URU/ESP) vs. Bolelli/Fognini (ITA/ITA)
F.Lopez/Mirnyi (ESP/BLR) vs. #4 Dodig/M.Melo (CRO/BRA)
Herbert/Mahut (FRA/FRA) vs. Benneteau/Roger-Vasselin (FRA/FRA)



=MEN'S DOUBLES ROUND of 16=


#1 Mirza/Soares (IND/BRA) def. Spears/S.Gonzalez (USA/MEX)
Klepac/Guccione (POL/SLO) vs.(WC) Dellacqua/Peers (AUS/AUS)
#3 Mladenovic/Nestor (FRA/CAN) vs. Krajicek/Mergea (NED/ROU)
#5 C.Black/Cabal (ZIM/COL) def. Raymond/Lindstedt (USA/SWE)
#7 Hingis/Paes (SUI/IND) def. Medina-Garrigues/Andujar-Alba (ESP/ESP)
HC.Chan/J.Murray (TPE/GBR) vs. #4 Hlavackova/Peya (CZE/AUT)
SW.Hsieh/Cuevas (TPE/URU) def. KC.Chang/Zhang (TPE/CHN)
(WC) Gavrilova/Saville (AUS/AUS) vs. #2 Srebotnik/M.Melo (SLO/BRA)






*UNSEEDED/WC/Q in SLAM QF SINCE 32-SEED DRAW*




[began w/ 2001 Wimbledon]


01 US - Bedanova
02 AO - Ad.Serra-Zanetti
02 RG - Pierce,C.Fernandez,Suarez
02 WI - Likhovtseva
02 US - Bovina
03 AO - Shaughnessy,Ruano-Pascual
03 RG - Pierce
04 WI - Sprem
04 US - Asagoe
05 RG - Karatantcheva
06 AO - Hingis(wc)
06 WI - Bremond(q)
07 AO - S.Williams

[W]

,Safarova
07 US - Szavay
08 RG - Kanepi,Suarez-Navarro(q)
08 WI - Zheng(wc),Tanasugarn
09 AO - Dokic(wc),Suarez-Navarro
09 RG - Sharapova,Cirstea
09 WI - Lisicki,Schiavone
09 US - Wickmayer,K.Bondarenko,Oudin,Clijsters(wc)

[W]


10 AO - Henin(wc)

[RU]


10 RG - Shvedova
10 WI - Kvitova,Kanepi(q),Pironkova
10 US - Cibulkova
11 WI - Lisicki(wc),Paszek
11 US - Kerber
12 AO - Makarova,Errani
12 RG - Shvedova(q)
12 WI - Paszek
13 AO - Kuznetsova
13 RG - Kuznetsova
13 WI - Kanepi
13 US - Hantuchova
13 US - Pennetta
14 RG - Muguruza
14 WI - Zahlavova-Strycova
14 US - Bencic
14 US - Peng
15 AO - Keys



**WTA CAREER SLAM QF - active**


39...SERENA WILLIAMS, USA
34...VENUS WILLIAMS, USA
22...MARIA SHARAPOVA, RUS
15...Svetlana Kuznetsova, RUS
13...Victoria Azarenka, BLR
10...Agnieszka Radwanska, POL



**WTA SLAM QF - 2010-15**


11...Victoria Azarenka, BLR
11...SERENA WILLIAMS, USA
9...MARIA SHARAPOVA, RUS
8...Petra Kvitova, CZE
8...Li Na, CHN (ret.)
7...Agnieszka Radwanska, POL
6...Sara Errani, ITA
6...EKATERINA MAKAROVA, RUS
6...Caroline Wozniacki, DEN
5...DOMINIKA CIBULKOVA, SVK
5...Samantha Stosur, AUS



**ALL-TIME WTA SLAM QF**


54 - Chris Evert
53 - Martina Navratilova
42 - Steffi Graf
40 - Serena Williams #
34 - Arantxa Sanchez Vicario
34 - Venus Williams #
31 - Lindsay Davenport
31 - Monica Seles
29 - Billie Jean King
--
#-active



**WTA "CAREER QF SLAM" - active**




[with slam at which completed]


Azarenka - 2012 US (28th)
Cibulkova - 2014 AO (26th)
Date-Krumm - 1995 WI (23rd)
Ivanovic - 2012 US (32nd)
Kuznetsova - 2006 RG (16th)
Petrova - 2006 AO (24th)
Schiavone - 2011 AO (42nd)
Sharapova - 2005 US (12th)
S.Williams - 2001 RG (12th)
V.Williams - 1998 WI (6th)
Zvonareva - 2010 US (31st)



*LOWEST-SEEDED WOMEN IN AO SF, since 2000*


Unseeded - 2000 Jennifer Capriati, USA
Unseeded - 2007 Serena Williams, USA (W)
Unseeded - 2010 Zheng Jie, CHN
[

Unseeded - Keys???

] *
Wild Card - 2010 Justine Henin, BEL (RU)
#32 - 2004 Fabiola Zuluaga, COL
#30 - 2014 Eugenie Bouchard, CAN
#29 - 2013 Sloane Stephens, USA
#22 - 2004 Patty Schnyder, SUI
#20 - 2014 Dominika Cibulkova, SVK (RU)
#19 - 2005 Nathalie Dechy, FRA
[

#18 - V.Williams???

] *
#16 - 2010 Li Na, CHN
#12 - 2001 Jennifer Capriati, USA (W)
[

#11 - Cibulkova???

] *
#11 - 2012 Kim Clijsters, BEL
#10 - 2000 Conchita Martinez, ESP
#10 - 2007 Nicole Vaidisova, CZE
[

#10 - Makarova???

] *
--
* - in QF



*MOST 2015 AO WOMEN'S MATCH WINS - BY NATION*


26 - United States (Keys,S.Williams & V.Williams in QF)
12 - Czech Republic
10 - Russia (Makarova & Sharapova in QF)
7 - Romania (Halep in QF)
7 - Slovak Republic (Cibulkova in QF)
6 - France
6 - Germany
5 - Italy
5 - Spain
4 - Australia
4 - Canada (Bouchard in QF)
4 - Kazakhstan



*AO "COMEBACK PLAYER" WINNERS*


2007 Serena Williams, USA
2008 Zi Yan & Zheng Jie, CHN
2009 Jelena Dokic, AUS
2010 Justine Henin, BEL
2011 Agnieszka Radwanska, POL
2012 Maria Sharapova, RUS
2013 Svetlana Kuznetsova, RUS
2014 Ana Ivanovic, SRB
2015 Victoria Azarenka, BLR






TOP QUALIFIER:

Renata Voracova/CZE




TOP EARLY ROUND (1r-2r):

#7 Genie Bouchard/CAN




TOP MIDDLE-ROUND (3r-QF):

xx


TOP LATE ROUND (SF-F):

xx


TOP QUALIFYING MATCH:

Q1 - Renata Voracova/CZE def. #17 Zhu Lin/CHN 5-7/7-6(5)/6-2 (saved MP in 2nd set)




TOP EARLY RD. MATCH (1r-2r):

2nd Rd. - #2 Maria Sharapova/RUS d. (Q) Alexandra Panova/RUS 6-1/4-6/7-5 (saved 2 MP)




TOP MIDDLE-RD. MATCH (3r-QF):

Nominee: 4th Rd. - Keys/USA d. #4 Kvitova/CZE 6-4/7-5


TOP LATE RD. MATCH (SF-F/Jr./Doub.):

xx


TOP LAVER/MCA NIGHT MATCH:

Nominee: 4th Rd. - Keys/USA d. #4 Kvitova/CZE 6-4/7-5


=============================




FIRST VICTORY:

Julia Goerges/GER (def. #32 Bencic/SUI)




FIRST SEED OUT:

#32 Belinda Bencic/SUI (lost 1st Rd. to Goerges/GER)




UPSET QUEENS:

Germans




REVELATION LADIES:

French




NATION OF POOR SOULS:

China (year after Li wins title, 1-5 in 1st Round)




LAST QUALIFIER STANDING:

Lucie Hradecka/CZE(3rd Rd.)




LAST WILD CARD STANDING:

Chang Kai-Chen/TPE, Oceane Dodin/FRA & Irina Falconi/USA (all 2nd Rd.)




LAST AUSSIE STANDING:

Casey Dellacqua, Jarmila Gajdosova, Samantha Stosur & Alja Tomljanovic (all 2nd Rd.)




Ms. OPPORTUNITY:

Nominees: E.Makarova/RUS; V.Williams/USA; S.Halep/ROU; D.Cibulkova/SVK
IT (??):

[Madisons] Madison Keys/USA & Madison Brengle/USA




COMEBACK PLAYER:

Victoria Azarenka/BLR




CRASH & BURN:

#5 Ana Ivanovic/SRB (lost 1st Rd. vs. qualifier Hradecka/CZE; one of eight seeds to lose on Day 1)




ZOMBIE QUEEN:

#2 Maria Sharapova/RUS (2nd Rd.: saved 2 MP vs. Panova/RUS)




KIMIKO DATE-KRUMM VETERAN CUP (KDK CUP):

Nominee: V.Williams/USA; M.Hingis/SUI


LADY OF THE EVENING:

Nominees: E.Bouchard/CAN (2-0 in night sessions); M.Keys/USA (def.Kvitova); V.Williams/USA


DOUBLES STAR:

xx


JUNIOR BREAKOUT:

xx






All for Day 8. More tomorrow.