FC I Preview: Come One, Come All (well, almost all...Genie, I'm talking to you)
Well, it's time for our first taste of Fed Cup action in 2015.


And, thanks to the new rules that have upped the FC participation quotas for '16 Olympic eligibility, pretty much everyone who needs to be here will be (or already has been) on the court. Well, save for a certain Canadian, that is. And at least one former Fed Cup teammate isn't very happy about the snub, either.

With good reason, too. The Bouchard-free roster will probably be THE deciding factor for Team Canada. But more on who's not here later.

Look who IS around for the weekend...


#gettingready #FedCup pic.twitter.com/hI3FT9bfmB

— Maria Sharapova (@MariaSharapova) February 4, 2015


And she's not alone. And, historically... THIS is a pretty big deal, Russian Revolution-wise:


Russia's team to face Poland in the #FedCup World Group is: @MariaSharapova, @NastiaPav, @SvetlanaK27 + @VDiatchenko pic.twitter.com/1mFtqaNy39

— Fed Cup (@FedCup) January 28, 2015


The Aussies are ready...


#FedCup selfie @bambamsam30 @tennis_jarkag @oliviarogowska & selfie queen @caseydellacqua front and centre! #GoAussie pic.twitter.com/TL9U3nG5r4

— TennisAustralia (@TennisAustralia) February 4, 2015


And so are the Germans. Ummmmmmmmmmmmmm. Ummmmmmmmmmmmmm.


Germeditation? RT @sabinelisicki: Caption this pic!?? #FedCup #innerpeace #meditationduringpractice #connecting ???? pic.twitter.com/glHJBoBGht

— Fed Cup (@FedCup) February 2, 2015


Hey, if it floats your boat... float it!






*WORLD GROUP I 1st Round*




Czech Republic at Canada (Quebec City - HCI)


CZE: Ka.Pliskova, Smitkova, Allertova, Hradecka
CAN: Fichman, Dabrowski, Abanda, Robillard-Millette
...well, the Canadian team hasn't lost a tie the last two years, and finds itself hosting the Fed Cup champion Czechs in the 1st Round this year. Even with the festivities back in Quebec, though, Genie Bouchard -- the force that got the Canadian team to this level -- is absent, as is an injured Aleksandra Wozniak (shoulder surgery). If just one of those two were around, the Canadians might have a real shot to knock off a Czech team without its big guns. Karolina Pliskova, Denisa Allertova and Tereza Smitkova have never played a FC match, while Lucie Hradecka (hot off her AO run) has been more of a doubles (4-2) commodity in the past than singles (1-3). Still, home crowd or no home crowd, it's hard to see the Czech "B"-team failing to advance past the Canadian "B"-team. At least surprise Melbourne junior star Charlotte Robillard-Millette will be there...

Charlotte est arrivée! Bienvenue dans l'équipe! / She's here! Welcome to the team Charlotte! #GoCanada #FedCup pic.twitter.com/5rzqGXY114

— Tennis Canada (@Tennis_Canada) February 5, 2015

But she's no Genie. And that will make a HUGE difference.


PICK:

Czech Republic def. Canada 3-1 (with the one win maybe coming in a "dead rubber" doubles match)



France at Italy (Genoa - RCI)


FRA: Cornet, Garcia, Mladenovic, Parmentier
ITA: Errani, Giorgi, Vinci, Knapp


...well, French Captain Amelie Mauresmo has her work cut out for her here, bringing her Pastries into Italy to face a veteran Italian team (plus mighty mite Camila Giorgi, who defeated Madison Keys in FC play in '14) on red clay. France has a 6-3 edge in FC head-to-head match-ups with Italy, but the last was a 5-0 whitewash by the Italians in 2009. If France was hosting, and/or playing this on hard court, the Pastries would be the favorite, but not under these circumstances. Even if things get to the doubles with Kristina Mladenovic, Errani/Vinci would surely be in their element in Genoa. Yep, I'm not sure that Amelie's "Fed Cup team dinner" in Melbourne is going to be enough to get them through this one.

Semaine en équipe ???? avec les filles #FedCup @ppauline86 @alizecornet @CaroGarcia pic.twitter.com/FxrIrwIpp6

— Kristina Mladenovic (@KikiMladenovic) February 4, 2015

Said Cornet of Mauresmo, "So far she has been a great captain. She has a lot of experience and she always gives us very good advice. She knows how it feels to be on court. She knows exactly what kind of emotion we're passing through during a match so she has always the right words. She knows how to take the decisions, how to explain them to us. I have nothing to complain about –- I hope she is going to stay in this sport for a long time." Arrrgh! I hate picking against Mauresmo, because if there's a way out of this one she'll find it. But, barring an act of the Tennis Gods, I just don't see the avenue to victory.


PICK:

Italy def. France 3-2





Russia at Poland (Krakow - HCI)


RUS: Sharapova, Kuznetsova, Pavlyuchenkova, Diatchenko
POL: A.Radwanska, U.Radwanska, Rosolska, Jans-Ignacik

The Russian team were in a jovial mood during their pre-draw press conference in Poland #POLRUS pic.twitter.com/RIWLzrhRhh

— Fed Cup (@FedCup) February 4, 2015

...wow, what a tie this could be. Well, maybe not. We'll see. Of course, the neat little factoid here is that all the 2004 Hordette slam winners are back together... whether they like it or not. Maria Sharapova and Svetlana Kuznetsova are on a roster Captained by Anastasia Myskina, who must be having interesting conversations with her pillow considering during her playing days she said she would never PLAY Fed Cup if Sharapova was on the roster. Whoops... I guess you have to make allowances as Captain, especially considering the Hordette FC fortunes in recent years, as they've competed with "C"-level teams and taken quite a pounding. So what if the leading reason Maria is in Krakow is because she has to be if she wants to play in Rio in '16. For once, a Sharapova victory is good for the Czarina, too. Oh, how I wish the Russians had had a Pastry-style "Fed Cup dinner" in Melbourne... oh, to be a fly on THAT wall! Meanwhile, Aga Radwanska has pretty much carried the Poles to this spot all by herself the last two years. She's 41-7 in overall FC play for her career, with a combined singles/doubles 14-match winning streak. A-Rad has won fourteen straight singles matches under the Polish red-and-white, last losing in 2011 in the Europe/Africa Promotional Playoff to someone named Vika. If Poland is to have a chance here, she'll have to extend that singles streak to sixteen, with a win over Sharapova, and then hope for some doubles magic (which could come, with no Makarova/Vesnina here... and Aga possibly playing with Ula in FC play for the first time since '13). Oh, this could be a great one... or it could be a dastardly disappointment for Aga and the Polish fans. Buckle in. We'll either see Anastasia and Maria hug... or we won't. Either way, it's something to put you on the edge of your seat.

Anastasia Myskina y Maria Sharapova, antes enfrentadas, hoy unidas para la #FedCup. pic.twitter.com/GjlMboQ6N2

— WTA En Español (@wtaenespanol) February 4, 2015
PICK:
Russia def. Poland 3-1
Australia at Germany (Stuttgart - HCI)
AUS: Stosur, Dellacqua, Gajdosova, Rogowski
GER: Kerber, Petkovic, Lisicki, Goerges
My favorite picture from the first photo shooting @Porsche. #911 #PorscheMuseum pic.twitter.com/of17nMsd5G

— Angelique Kerber (@AngeliqueKerber) February 3, 2015

...well, that didn't take long, as we already have a rematch of the 2014 FC semifinal that saw Germany take out Australia in a match-up of former FC powers trying to reach a final for the first time in a generation. Looking at the rosters, it's hard to not see a similar result for the Germans here. Although, with Anna-Lena Groenefeld (she and Goerges upset #1 Errani/Vinci in the AO) absent from the roster, the Germans might have quite a fight with a team of Stosur/Dellacqua if things come down to the deciding doubles. Maybe this tie will get Andrea Petkovic's awful '15 pointed back in the right direction, as her '14 comeback campaign was bolstered by her early work for the German FC team. Kerber was a true force in Fed Cup play in '14, and likely will be again. In other words, it's a bit of a streeeetch to see the Aussies pulling this one out.

Streeeeeetch ... @Oliviarogowska post practice routine resembles ballet class #FedCup #AusvGer #GoAussies pic.twitter.com/4S9QUHfUWm

— TennisAustralia (@TennisAustralia) February 5, 2015



PICK:

Germany def. Australia 3-1





*WORLD GROUP II*




Slovak Republic at Netherlands (Apeldoorn - RCI)


SVK: Rybarikova, A.Schmiedlova, K.Kucova, K.Schmiedlova
NED: Bertens, Hogenkamp, Rus, Krajicek
...well, what an interesting tie this is. If Dominika Cibulkova hadn't been removed from the roster, the Slovaks would seem to be the favorites. Although, SVK teams led by Domi and Daniela Hantuchova have choked more times than Sam Stosur on Australian soil in recent outings. Still, the Dutch are an interesting lot. They may have been the surprise "second tier" FC power of 2014, with Bertens, upping her career FC record to 14-1 (8-0 in singles), leading the charge. With Rus (12-5) and Hogenkamp (6-2) rounding out the other top singles slots on the roster, Slovak Magdalena Rybarikova (7-5) is going to have the brunt of the pressure on her shoulders on the other side, as her teammates have a single combined FC win to their credit (with the Schmiedlova sisters bringing a pair of zeroes to the mix). Rybarikova is one of the more undervalued players (do you remember that she's won four WTA singles titles?) on tour, though, and she may just pull this off. But...


PICK:

Netherlands def. Slovak Republic 3-2 (and it might come down to the doubles)





Spain at Romania (Galati - HCI)


ESP: Muguruza, Soler-Espinosa, Arruabarrena, Medina-Garrigues
ROU: Halep, Begu, Niculescu, Dulgheru
...well, the Swarmettes quest to be in contention for a Fed Cup title in 2017 begins right here. At home. Simona Halep will be called upon to erase her memory of that awful AO quarterfinal and lead the charge here, but she won't have the experienced Sorana Cirstea as a good back-up plan. Cirstea did the really heavy lifting against Serbia in the tie that got Romania here last spring. If Halep doesn't rise to the occasion, FC-debuting Garbine Muguruza could be the star of the weekend. Remember, the Spaniards nearly took out the eventual FC champion Czechs in last year's rain-soaked 1st Round tie (3-2, with most play pushed back to Monday). Not having Carla Suarez-Navarro around as a greater #2 could be the key to defeat for the Spaniards.


PICK:

Romania def. Spain 3-2





Switzerland at Sweden (Helsingborg - HCI)


SUI: Bacsinszky, Bencic, Golubic, Knoll
SWE: Larsson, Peterson, Celik, Arvidsson
...Larsson and Arvidsson are the two greatest FC players in Swedish history, but that may not be enough to hold off the Swiss. So much of this tie will come down to how well 17-year old Belinda Bencic plays. She had an amazing FC debut in '14, notching wins in France over Cornet and Razzano, but then flagged a bit later against Brazil in the spring, and hasn't started 2015 in good form. Timea Bacsinszky picked up the slack against Brazil, though, and got the Swiss here, and she's in the #1 singles slot for this tie for good reason. Her January win over Petra Kvitova should be a good sign that she'll be fine, but never underestimate Larrson (40 total wins) and Arvidsson (50), especially if it comes down to the deciding doubles.


PICK:

Switzerland def. Sweden 3-1





United States at Argentina (Buenos Aires - RCO)


USA: S.Williams, V.Williams, Vandeweghe, Townsend
ARG: Ormaechea, Irigoyen, Podoroska, Bua
...well, even Mary Joe Fernandez can't screw this one up. Right? Well... nahhhh, it's MJF-proof! The U.S. is finally going to win a FC tie, it's just a matter of calling the score. Madison Keys isn't here, but her presence isn't going to be necessary. It'll be a transition to go from hard to clay courts so quickly, but the first FC appearance by the Sisters since 2013 will be a victorious one. Serena enters with a 13-0 (10-0 singles) career FC mark, while Venus is 19-4 (15-2). They'll add to their numbers.


PICK:

United States def. Argentina 5-0 (Townsend & Coco get in on the rout)







Zone play has been going on at various sites the last few days, so I can't really preview anything there. But I can still make picks! I can ALWAYS make picks.



*ZONE PLAY*




Group I - Europe/Africa (Host: Budapest, Hungary)


Two will be promoted into this spring's World Group Playoffs from Pools A & D (AUT-HUN-SRB; BEL-CRO-LAT) and B & C (GBR-LIE-TUR-UKR; BLR-BUL-GEO-POR).

(SPOILER ALERT! SPOILER ALERT! SPOILER ALERT!)


No caption needed.... I don't know what I'm doing here! #UseYourImagination #fedcup #belarus pic.twitter.com/VbiIyS187h

— victoria azarenka (@vika7) February 5, 2015


Yep, there's Vika showing her butt again.

The big news here is that Victoria Azarenka is back in FC play for the first time since 2011 (thanks, Olympic qualifying rules) for Belarus, and wearing the red & green for the first time since the London Olympics in '12. Well, she almost wasn't, though, as her luggage was delayed and since she was without all her equipment she missed the first day of play.


The only reason I'm not playing is that my luggage has been lost for last 3 days. No racquets or anything! Hopefully will arrive today

— victoria azarenka (@vika7) February 4, 2015
. @vika7 may not be playing for Belarus today, but she is courtside to cheer on her teammates! pic.twitter.com/SehT4GlROR

— Fed Cup (@FedCup) February 4, 2015
Finally #airfrance you had me worried! Don't ever do this to me! I have too much love for France! Okay? pic.twitter.com/6tnfpv7nhA

— victoria azarenka (@vika7) February 4, 2015



She got them back just in time to emerge and take down Bulgaria's Tsvetana Pironkova 6-3/2-6/7-5, erasing a 3-0 3rd set deficit and taking advantage of the Weeping Angel's volley errors at crucial moments in the back-half of the final set.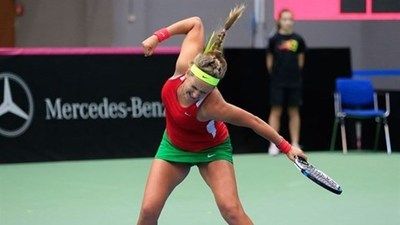 Belarus seems a good bet to reach the promotional playoff from Pool C, while Pool B has been highlighted by Turkey's surprising (though likely futile) flashes.


Bugünden birkaç kare. Yarinki rakibimiz Ingiltere #FedCup pic.twitter.com/7aleSlDuCA

— Cagla Buyukakcay (@CaglaBuyukakcay) February 4, 2015


Turkish world #117 Cagla Buyukakcay has pulled off two Top 40 wins in two days, including her career-best victory over #26 Elina Svitolina (she also defeated #38 Heather Watson), while teammate Ipek Soylu upset Brit Johanna Konta in Turkey's 2-1 win over Judy Murray's team. Still, Ukraine is likely to advance to the playoff from the Pool (on the strength of Lesia Tsurenko's personal 3-0 week so far), though Britain still has a chance. But the Brits will have to sweep their three-rubber tie with the Ukrainians to do it, so it'd be a tight fit.




On the Pool A/D side, Serbian Good Luck Charm Aleksandra Krunic is not only back on the team after her U.S. Open run and late '14 surge, but she's PLAYING NUMBER ONE SINGLES! Naturally, the Serbian team has been pretty unassailable so far. Hey, all it took was about two years of losing ties to get the little one back in their there. Better late than never, I guess. It surely paid off today with her thrilling 7-6(6)/0-6/7-6(5) win over Timea Babos. You go, Bracelet!






PROMOTION PICKS (2):

Serbia & Belarus





Group I - Americas (Host: San Luis Potosi, Mexico)


Quietly, Mexico has put together a deep collection of players that can compete with the South American countries here. Plus, the host city is San Luis Potosi. Ana Sofia Sanchez, Marcela Zacarius, Victoria Rodriguez and Renata Zarazua will get much competition from Paraquay in Pool play, then the likes of Colombia or (especially) Brazil should they advance to the Promotional Playoff but I'm like going with the host... hmmm, Sombreros? The Mexicans simply MUST have a nickname, and I guess that'll do for now.


PROMOTION PICK (1):

Mexico





Group I - Asia/Oceania (Host: Guangzhou, China)


China is playing host at what has turned out to be a cold weather site this week, and (thankfully) the team is a bit higher-level than has been the case the last couple of years as a few players have lifted their games over the season or so. Zhang Shuai, Zheng Saisai and Wang Qiang have so far been the singles competitors, while highest-ranking singles player Peng Shuai has only played doubles (hey, who knows?). One would think the Chinese might have a better chance to end their long FC skid if Peng played some singles, especially against a Pool of nations that includes tough squads from Kazakhstan, Thailand and Taiwan.

The Kazakhs, as usual, are the favorites in Pool B, but that's been the case before, only to see Thailand upend them on the strength of Luksika Kumkhum's heroics in singles and doubles (w/ now 37-year old Tammy Tanasugarn). Both are still alive for advancement to the Promotional Playoff, with the important THA vs. KAZ tie still to come. Kumkhum has knocked off Yaroslava Shvedova two years running in FC play, but whether they'll play again on Friday is to be seen. Kumkhum, in a slump on late, lost her only singles match so far (winning just three games), and has yet to even be teamed with Tanasugarn in doubles this week.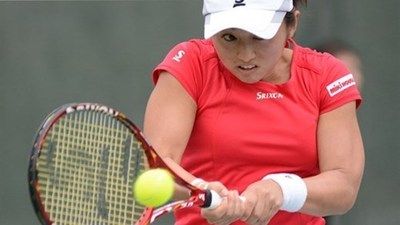 Pool A would seem to be top-seeded Japan's to take. Led by Misaki Doi (2-0), they're 2-0 and have swept all six sets.


PROMOTION PICK (1):

Kazakhstan





Group II - Europe/Africa (Host: Tallinn, Estonia)


Two teams advance from Group II, with Estonia (led by Kaia Kanepi & Anett Kontaveit), South Africa (Chanelle Scheepers & Chanel Simmonds) and Slovenia (Polona Hercog) the leading contenders. Finland, though, got off to a very good start on the strength of Piia Suomalainen's play in Pool B. The Fins will likely finish second in their Pool and end up playing either EST or RSA in one of the two promotional playoffs, but the result of that one could probably be forecast a few days out.


PROMOTION PICKS (2):

Estonia & Slovenia



For a second opinion on all the Fed Cup ties, check out Will Corby's picks at Secret Tennis Junkie.




So, will an extra Radwanska make all the difference?

Check back on Saturday, as I'll be doing an update on Day 1 of World Group play before the regular weekly wrap-up following this first Fed Cup weekend of the year.

All for now.