FC II Day 1 Update, Part 1: Ding-Dong, Aussies No Home
After (most of) Day 1 of the second weekend of Fed Cup action in 2014, some national dreams are still alive. As for others... well, they're looking like a half-eaten chocolate egg on an Easter holiday weekend.


A quick update on the activity so far, with Part 2 covering the remaining action in North and South America arriving a little later on...





**Semifinals**


...the semifinal match-ups were a study in contrasts, as recent FC powerhouses Italy and the Czech Republic met for one berth in the final, while Australia and Germany faced off with the winner set to reach the Fed Cup final for the first time in twenty years. As it turned out, the Day 1 matches were studies in contrast, too. And that wasn't a good thing for the defending champion Italians and hosting Aussies.

In Brisbane, just as she did against the Slovak Republic in February, Charleston champ Andrea Petkovic, while not the highest-ranked German, led things off against the opponent's #1-ranked player. Two months ago, she saved a match point against Dominika Cibulkova and set the table -- and tone -- for a German victory. She did the same against Samantha Stosur on Saturday, though she didn't find herself pushed into a desperate corner like she did against the Slovak. Instead it was Petkovic who came out on top of Stosur from the start, dominating a 6-1 1st set. Stosur rebounded in the 2nd, pulling her game together and taking a 5-3 lead. She served for the set at 5-4, but then Stosur blinked (a DF at 30/15) and Petkovic's forehand once again began to dominate the match. She got the break and pushed things to a tie-break, taking a 3-1 lead before Stosur got back to 3-3. Petkovic reached triple match point at 6-3, only to see Stosur save four match points, making Petkovic play more shots and hoping that nerves would take hold. In the end, they didn't, and then Stosur flew a forehand long on MP #5 and Petkovic won 6-1/7-6(7).

Once again, Petkovic had set the German tone. Meanwhile, Stosur had put Casey Dellacqua into a tremendously pressure-packed situation with a win in match #2 now a necessity. It was a situation she didn't didn't handle well, either. Or maybe it'd be just as accurate to say that Angelique Kerber, as she did against the Slovak Republic, took the baton from Petkovic and shoved it down her opponent's throat. Kerber raced to a 4-0 lead and won 6-1/6-0 in less thanan hour. Still, her winner counter hit 31 for the quick match.

Ding-dong, the Aussies look dead.

Although Australian captain Alicia Molik says, in a worst case scenario, she thought her team would be knotted at 1-1 (it's nice to have confidence, but I'm not really sure where it came from), the Aussies are down 2-0 and their remaining chances to advance to the final would appear to be as solid as a melted Fed Cup chocolate egg. Petkovic got her own "Easter egg" in the match, as it turned out, when she whacked her left shin with her racket during a serve. The result was a throbbing lump and a slight cut. Said Petkorazzi, "It is hurting lots. I think I like broke my leg, but what can you do? It's Easter and this is my Easter Egg."

Things weren't much better for the Italians in Ostrava, minus any actual blood loss.




Smarting from a loss in the last year's FC semis on clay against a hosting Italian squad, the Czechs were all about confidence on the indoor hard court in the Czech Republic. Before a ball was struck in the tie, it was apparent that the Italians were worried. I'm not sure whether it says more about the Czech squad, Italian team captain Corrado Barazzutti, slumping Roberta Vinci (who openly talked of the Czech advantage on the CEZ Arena court surface this week) or spark plug Camila Giorgi, but that Vinci was left off the Day 1 playing schedule said quite a bit about a lot of things. Remember, this is the same Vinci who led Team Italia to the FC title last year, and who notched a win over Kvitova on indoor hard court in Katowice last spring... but she's also the player who's gone a nightmarish 2-9 this season since starring in last year's FC final. If confidence is as confidence does, then there was very little where Vinci was concerned.

Errani, to be honest, hasn't been a great deal better in '14, losing her Top 10 ranking. Still, as the highest-ranked Italian, she was placed in the lead role for this tie. Thing is, she opened with a 6-4/6-1 loss to Lucie Safarova. Then Giorgi, in the lineup in place of Vinci, was run over by a 6-2/6-2 score by Petra Kvitova, reverting to her usual great FC form even in the middle of another trying WTA season. On Sunday, Kvitova can clinch the Czechs' third trip to the FC final in four years with a win in the opening match against Errani.

A Czech advancement seems nearly a fait accompli, but there might be a smidgen of a shot for the Aussies. Stosur opens Day 2 against Kerber, against whom she's 2-0, including a win in FC play in 2012. If Petkovic had been pushed to a 3rd set by Stosur, nerves might have become a factor there for the German, and with the final on the line against Dellacqua in match #4, they could become the third player on the court. The Barty/Dellacqua doubles combo would give Australia a shot in the deciding doubles to pull off the same sort of comeback from 2-0 that the Slovaks accomplished against Russia in last year's semifinals. It's getting to that final match that is going to be an egg of a challenge.



**WORLD GROUP PLAYOFFS**


...while the semifinals are a bit lopsided, the playoffs for a spot in the 2015 World Group are a bit more competitive. Well, some of them.

In Sochi, Elena Vesnina returned to her hometown and got the Hordette team off to a good start, defeating Argentina's Paula Ormaechea on the red clay 6-3/6-3. Ekaterina Makarova followed up with a 7-5/6-1 victory over Maria Irigoyen to give Russia a solid 2-0 lead. The story of this tie is the Anastasia Myskina's team is actually sporting proven WTA talent this time around, and Saturday's results show why the Russians have been a dominant FC force for a decade. Vesnina and Makarova are the 2nd and 5th-ranked women from their nation, but they were more than enough to grab a big advantage over an Argentine team playing on its favorite surface. The regular, slam-winning doubles pair won't likely even have to team up for the doubles.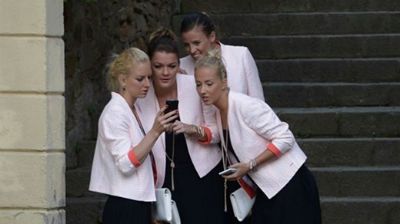 In Barcelona, once again, the Polish Fed Cup effort will center around Aga Radwanska, as the entire tie looks as if it will rest on her shoulders . No big surprise, really. Poland's best-ever player opened with a 6-2/6-2 win over Spain's Silvia Soler-Espinosa, but when her little sister Ula lost 4-6/6-0/6-1 to Maria-Teresa Torro-Flor in match #2 it put the pressure squarely on A-Rad for Sunday. If Poland is going to advance, Aga will likely have to play a part in all three of the points needed to win. A win over the big-hitting MTTF isn't a given for her, either. If the Spaniard end's Aga's now 13-match FC singles winning streak, Ula will have to rise up against SSE to push things to the doubles. This one could get dicey. Aga might need some additional "help," if you know what I mean... but she seems to have been "going it alone" since last year's Wimbledon semifinal.

The USA/FRA and CAN/SVK ties in North America will be played later this afternoon. I'll post an update on those later.



**WORLD GROUP II PLAYOFFS**


...with spots in the 2015 World Group II at stake, the cream is rising.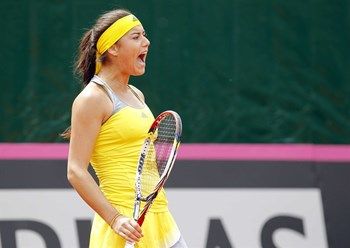 The majority of the Romania/Serbia tie in Bucharest will have to wait until Sunday, as rain stopped played with Simona Halep up 3-1 over Bojana Jovanovski in match #2 on Saturday. But what's already happened is quite noteworthy, as Sorana Cirstea opened play with a stunning 3-6/6-1/6-2 win over her friend Ana Ivanovic, whose 2014 1Q resurgence was hoped to be set to prevent the Serbian squad from dropping a fifth straight tie since reaching the 2012 FC final. This one has the potential to be a great contest, but if AnaIvo isn't going to hold up her end of the deal it might be a whitewash as long as the rain doesn't wash away the entire weekend. The chances for this to be a case of a team on the rise going by a one-time power like two ships passing in the night were always great, but that's even more the case now.

In 's-Hertogenbosch, with the Dutch hosting a tie for the first time in fifteen years, it was Japan that struck the first blow as Kurumi Nara took out Arantxa Rus in three sets 7-5/2-6/6-1 on the indoor red clay. Kiki Bertens knotted things with a 6-0/7-6(3) win over Misaki Doi. This one has the distinct smell of a tie that's going to get to the deciding doubles contest.

In Lidkoping, the host Swedes put the tie on the shoulders of the team's veterans and, unlike Serbia, no one was disappointed in the least. Johanna Larsson opened with a 6-1/6-3 win over Thailand's Noppawan Lertcheewakarn, then 50-tie participant Sofia Arvidsson ended Luksika Kumkhum's undefeated FC run (8-0) with a 6-4/6-2 win that puts Sweden in a commanding position. At the very least, it'd be nice to see the doubles match played here -- even as a dead rubber -- just so that Tammy Tanasugarn can maybe get onto the court. The 36-year old is in her 53rd career tie, with the first having come twenty-one years ago when she was just 15.

In Catanduva, the host Brazilians are trying to finally climb out of zone play for the first time ever, and they began by poking the bear before the first match was played. "The bear," of course, is young Belinda Bencic, who starred in Switzerland's February loss to France. Brazilian captain Carla Tiene noted the expected enthusiasm of the Brazilian crowd in Catanduva the other day, and she questioned whether the teenager's temper and nerves might get the better of her in such an atmosphere. Well, after Brazil's best player, Teliana Pereira (pulling some "boxing/MMA press conference" moves on Bencic the other day) opened the tie by losing to Timea Bacsinszky by a 6-3/6-3 score, the Brazilians are now going to need Bencic to falter if they're going to have any sort of chance (she's playing Paula Cristina Goncalves, having come back from an early break to win the 1st set, as I post this update). Either way, Sunday's Bencic/Pereira match is going to be key.






**Zone Play**




=EUROPE/AFRICA II at Siauliai, Lithuania=


...the two team that earned promotion from Zone II are Liechtenstein and Georgia.

Liechenstein reached a new all-time FC stage today with a 2-0 win in the promotional playoff over Bosnia & Herzegovina. After Kathinka von Deichmann's opening match victory, Stephanie Vogt clinched the advancement with a 6-3/6-1 win over zone group revelation-of-the-week Jasmina Tinjic. Meanwhile, Georgia had to win a deciding doubles match over Finland in a 2-1 victory. Oksana Kalashnikova and Sofia Shapatava defeated playing captain Emma Laine and Piia Suomalainen 6-4/6-1 to advance, as Shapatava pushed her singles/doubles mark for the week to 7-0.


Following Part II later tonight, I'll have the complete weekly wrap-up of FC play posted for Monday.


All for now.