Wk.15 (Part 2)- We've Got to Fight for Our Right to Par-tee
Well, now THAT was SOMETHING! The Paint-a-Mustache-on-Mary-Joe party at Backspin HQ last night was incredible!
E.P.I.C.
In case any of you missed it (
you know who you are... for shame!
), here's all that was left in the ballroom that wasn't unrecognizable once we picked through the ruins this morning:


I'm thinking someone is going to have to put this effort in a frame and hang it on the wall. Knowing MJF, it won't take long before there's enough artwork to fill an entire gallery.

Welcome to the Captain Obvious Fed Cup Hall of Shame.



*WEEK 15*



=Semifinals=


CZE (H) d. FRA 3-1
RUS (H) d. GER 3-2


=World Group Playoffs=


ITA (H) d. USA 3-2
NED (H) d. AUS 4-1
SUI d. POL (H) 3-2
ROU d. CAN (H) 3-2


=World Group II Playoffs=


SRB (H) d. PAR 4-1
SVK (H) d. SWE 4-0
BLR d. JPN (H) 3-2
ESP d. ARG (H) 4-0


=Asia/Oceania II Promotion Finals (at Hyderabad, India)=


India d. Philippines 2-1


=Europe/Africa III Promotion Finals (at Ulcinj, Montenegro)=


Denmark d. Greece 2-0
Lithuania d. Moldova 2-1



[Semifinals]



Czech Republic def. France 3-1 [Ostrava, CZE]


...sometimes, even Amelie Mauresmo can't save you. The thought that the Pastries, for all their charms, had bitten off than they could realistically chew with the Czechs ultimately proved to be dead-on. French Captain Mauresmo, with an ailing Alize Cornet a question mark, had few "razzle-dazzle 'em" options at her disposal, so she simply went back to the same well that had worked against the Italians in February -- turn everything over the Caroline Garcia and Kristina Mladenovic and hope that her trust in their skills would prove to be enough to tear down the seemingly indestructible Great Wall of Czechs. Garcia gave it a good effort, holding five MP against Lucie Safarova in the opening match, but once the veteran turned around the contest it was just a matter of the Czech's calling the final score. The chance for a fourth title in five years -- in the same W-W-x-W-W sequence as the Russians from 2004-08 -- is no longer just a notion for the Maidens.



[MVP]




Petra Kvitova/CZE


...make no mistake about it, as long as she's "right" (and with just one rare exception, when she rose from her sick bed and was "only" able to provide one win in the Czech effort a few years ago, she always has been when playing for her country), Kvitova is the unquestioned leader of what is one title away from being an official Fed Cup dynasty. Kvitova allowed just seven games to Mladenovic on Saturday, then clinched the return to the final by giving up just five to Garcia a day later. Her back-to-back victories give the Czech team an astounding fifteen consecutive live rubber match wins over the last three seasons.


=============================




[VETERAN]




Lucie Safarova/CZE


...Czech Captain Petr Pala's Mauresmo-esque decision to play the FC vet over Karolina Pliskova against Garcia very nearly backfired. Garcia led 6-4/5-4 and held five match points, but Safarova battled back to win a 7-1 tie-break and then took the 3rd set at 6-1. Safarova, who's taken a turn in the Lead Czech position whenever Kvitova has been absent and/or ill in recent years, didn't need to play again all weekend.


=============================





Match #1 - Safarova/CZE d. Garcia/FRA
...4-6/7-6(1)/6-1. Had Garcia converted one of her five match points in the 2nd set would it have made a difference in the tie? Well, it might have meant that Pala would would have gone with Pliskova on Sunday. If she hadn't been able to get a win, things would have gone to the doubles with Garcia/Mladenovic striving for a second straight epic Pastry upset. But that "What If?" is nothing compared to what happened to the Germans.


=============================





Russia def. Germany 3-2 [Sochi, RUS]


...they'll just never really know. And the Germans will have to live with that unsettling knowledge until 2016. But, make no mistake, this was a tie tailor-made for Germany to steal away with a victory to reach a second consecutive FC final. With Maria Sharapova pulling out mid-week, the talent edge shifted to the visiting team. Or so it seemed. Captain Barbara Rittner left both Andrea Petkovic and Angelique Kerber, the top two ranked players in the tie, off the Day 1 singles slate, meaning that Julia Goerges and Sabine Lisicki had the effort resting solely on their shoulders. Gulp, indeed. Thing is, Rittner nearly got away with it, no matter how the decision came about (Petkovic spoke of being exhausted in Charleston, while Kerber won the title there) or who did or did not decide or ask to be left off the schedule. Had Lisicki converted MP against Anastasia Pavlyuchenkova on Saturday, Germany would have left Day 1 knotted at 1-1, and Petkovic and Kerber's to-the-rescue, blink-and-you-missed-the-entire-match heroics on Sunday would not have gone to waste. In fact, they'd have been carried out of Sochi on the shoulders of their teammates and we'd be asking just how different the Petko dance looked when laced with vodka and borsch. As it turned out, though, Pavlyuchenkova & Elena Vesnina swept out Petkovic/Lisicki in the deciding doubles match, forever leaving the Germans wondering what might have been. What we do know is that it's the Russians -- the last group to win four FC titles in five years -- that now stand as the last remaining obstacle that could prevent the Czechs from matching the Original Hordettes' feat of dominance. Just last year, the Hordettes lost in the 1st Round for the first time since 2006. Things can change fast.

We did it!??????Our team!?? ??????? ? ?? ??? ???????,???????? ??? ????? ?????????????????? ???????? ?? ???????????@FedCup pic.twitter.com/FKYiElUZOV

— Elena Vesnina (@EVesnina001) April 19, 2015
[MVP]



Captain Anastasia Myskina/RUS

[Overall FC Weekend MVP]
...back when she was forced to play high-level FC ties with "C"-team Hordettes yet still often managed to get competitive losses out of literal neophytes, Myskina showed more than a few Mauresmoistic tendencies as the Russian Captain. She only grew in stature this week. Consider, she lost her #1 player mid-week when Sharapova pulled out. She then added the versatile Vera Zvonareva to the team as an emergency option on a roster that already had built-in flexibility with Elena Vesnina sitting on the far end of the bench. Meanwhile, her singles players were the will-she-or-won't-she (show up, that is) tandem of Svetlana Kuznetsova and Pavlyuchenkova, who lived up/down to their reputations by only producing one good singles performance each out of their combined four individual matches. But Myskina stuck with Pavlyuchenkova for doubles, as the youngest member of the squad HAD played a vital role in Russia's comeback from 0-2 down vs. France in 2011, and teamed her with smart roster pick Vesnina, a Sochi native and one of the best doubles players on tour. Myskina led the Russian team to Fed Cup glory as an Original Hordette, and now she's got the opportunity to do the same as Hordette Captain. After the deciding doubles victory, Vesnina said of the Czarina, "It was an unbelievable victory and we are so excited and I am so proud of my team. The whole team worked so hard and I just want to thank my Captain as she was amazing and helped us so much." Hmmm, sounds a little like the comments Pastries often make about another Captain with the initials A.M., doesn't it?


=============================




[RISER]




Anastasia Pavlyuchenkova/RUS


...this weekend was Pavlyuchenkova's career results in a nutshell. In the 2:30 match #2 vs. Lisicki, the Russian served for the 2nd set at 5-4, only to see the German hold a MP two games later. Pavlyuchenkova led 4-0 and 5-1 in the 3rd, but failed to serve out the match in her first attempt. On her second try, she finally downed Lisicki on MP #3 to win 4-6/7-6(4)/6-3 to give the Russians a 2-0 advantage. On Day 2, in a possible tie-clinching match, she was almost double-bageled in a 6-1/6-0 loss to Kerber in just fifty-two minutes. But, the enigma that she is, Pavlyuchenkova was right back on the court (hey, she barely broke a sweat in her singles match, after all) for the deciding doubles. Righting her wrong, she and Vesnina sent the Russians back to the FC final for the seventh time in twelve years (and 8th in 15) with a 6-2/6-3 win.


=============================




[VETERAN]




Svetlana Kuznetsova/RUS


...Kuznetsova took out Goerges 6-4/6-4 in match #1 to record her 27th career FC win, more than any other Russian. She only registered three games on Day 2 vs. Petkovic, but if she'd opened the weekend with a loss who knows what chaos might have occurred in Sochi where the Hordettes were concerned.


=============================




[DOUBLES]




Elena Vesnina/RUS


...Vesnina sat around all weekend watching Kuznetsova and Pavlyuchenkova rise and fall, not knowing if she'd ever hit the court in a live match. Then when it mattered the most, she stepped into the role of "doubles specialist" (though she's versatile enough to play singles, too... gee, you mean Captains can pick players like THAT???) and filled it quite well, thank you very much. She even pulled off the shot of the day.

.@EVesnina001's inch-perfect lob to bring up match point in the deciding doubles rubber earlier is Shot of the Day http://t.co/HKn3FCMdlc

— Fed Cup (@FedCup) April 19, 2015
=============================
Petkovic wins! Her 62 61 victory over Kuznetsova keeps Germany's #FedCup Final hopes alive! #RUSGER pic.twitter.com/njMiDZ1LWY

— Fed Cup (@FedCup) April 19, 2015



[DOWN]


Team Germany, Captain Barbara Rittner, Sabine Lisicki, Andrea Petkovic & Angelique Kerber... or not
...if there's any blame to be placed, there is surely enough of it to go around. Did Petko beg off playing on Saturday? What about Kerber? Did Rittner go "on feel" and give the German squad a very narrow margin of error, and then place the whole thing on the shifting shoulders of Sabine Lisicki? And what of Lisicki, who failed to convert MP in singles on Saturday and then couldn't hold serve when it mattered in doubles on Sunday in the tie-deciding final contest? The way Petko and Kerber blew past their opponents on Sunday, it's easy to think they'd have gotten at least one victory on Saturday, which could have flipped this result the other way and sent Germay to another final. The German squad, when intact and healthy, is the best FC group around this side of the Czechs. It'd have been interesting to see what might have happened if they'd met in the final. But... well, maybe they'll get that opportunity in '16. Unless the Swarmettes have something to say about it, of course.


=============================





Match #2 - Pavlyuchenkova/RUS d. Lisicki/GER
...4-6/7-6(4)/6-3. History turns here?


=============================






[WORLD GROUP PLAYOFFS]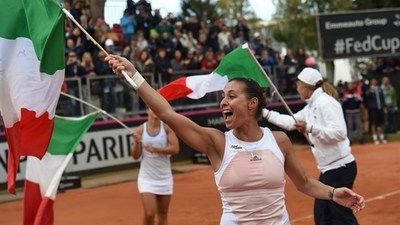 Italy def. United States 3-2 [Brindisi, ITA]


...without her Williams life vest providing full support and then some, over-her-head U.S. Captain Mary Joe Fernandez once again drowned in Fed Cup waters. This time, at least, she had the decency to do it somewhere other than an American soil. So there's that.

The multifaceted problems with Captain Obvious' tenure as the leader of the American Fed Cup efforts has become a twice-annual tradition in these parts in recent seasons, and Fernandez didn't fail to "bring the goods" this weekend, either.

If Venus Williams hadn't pulled out due to personal reasons, MJF might very well have escaped without much scrutiny. First, no one pays much attention to Fed Cup in the U.S. and, after all, who CAN'T make up a roster and put the Sisters on it and just lean back and watch the victories roll in. But it's "all the rest" that matters for a FC Captain (see Mauresmo, Myskina, et al.), and that's precisely where Fernandez falls woefully short. Madison Keys could be the key to U.S. Fed Cup success in the next generation, and she seemed to learn a valuable lesson about never giving up last April in the U.S. tie vs. France. But, unlike with the young Pastries and Mauresmo, she hasn't been compelled to show loyalty to MJF and sign up for any tie since then. Hard to blame her for not wanting to jump onto the U.S.S. Mary Joe as it scrapes the side of the iceberg known as the "end of the Williams era," which WILL eventually become a reality no matter how hard Captain Obvious fight against it.

Also, you'd think that after losing previous ties due to not including on her rosters a doubles specialist (Kops-Jones, Spears, etc.) or versatile singles/doubles player with good clay court experiences to draw upon (Townsend, Mattek-Sands) that MJF wouldn't paint herself into such a corner yet again. But, then again, you'd think Captain Obvious' woeful decisions in the past would have meant she'd been replaced by a capable male or female former American player by now, as well. But this is the USTA, remember... only about a decade and a half behind in getting a roof on a stadium in NYC, and having just skipped a generation when it came to developing a slam-winning star on either tour in the wake of a super-successful American era (Andy Roddick's one win came within a year of titles from both Sampras and Agassi, so he was well on his way there before that epic ATP/WTA U.S. stretch). I mean, it's not as if there aren't a ton of names on the list to choose from (including Jr. FC coach Kathy Rinaldi, who's actually won team titles with NextGen stars like CiCi Bellis, Tornado Black and Sonya Kenin).

Lauren Davis wasn't a horrible replacement for Venus, as her fiery nature on the court is much appreciated, though she wasn't likely to come through against the mostly-veteran Italian squad in hostile territory. Alison Riske played the "Coco Vandeweghe role" as the "good" player woefully miscast in a clay court tie, while Christina McHale -- probably the best non-Williams selection -- didn't play until the fourth singles rubber. Meanwhile, as things went to the deciding doubles against FC all-stars Sara Errani & Flavia Pennetta, the U.S. team had no doubles specialist to fill a vital need, and a tired Serena Williams (taken to three sets by Errani just before McHale's quick defeat at the hands of Pennetta) was sent out on the court with Riske, who she'd never even met prior to last week. In others words, in Mary Joe's fantasy world, the PERFECT doubles duo to carry the U.S. to victory.

Geez, MJF can't even get "Captain Obvious" right.



[MVP]



Errani/Pennetta prove too good for Williams/Riske, a 60 63 victory sees Italy retain their #FedCup WG place #ITAUSA pic.twitter.com/fFOXqqxojC

— Fed Cup (@FedCup) April 19, 2015



Sara Errani/ITA

[Overall FC Weekend P.O.W.]
...sure, Pennetta could have won this with her late heroics. But consider this: Errani HAD to get her Day 1 win over Lauren Davis to avoid "pulling a Lisicki" and selling her Captain down the river and ITA falling down 0-2. In Match #3, she became just the second player in FC history (after Anastasiya Yakimova in 2012, of all people) to take a set off Serena. She even served for the match at 6-4/5-4, and forced Williams to battle back to get the win, tiring her out for the deciding doubles that arrived soon after due to Pennetta's quick victory. In the doubles, she and Pennetta destroyed Williams and Riske, handing Serena her first career Fed Cup loss and sending Captain Obvious scrambling to decide what to do next February when another loss would mean the U.S. would be one tie away from falling into zone play come next April.


=============================




[VETERAN]




Flavia Pennetta/ITA


...playing in Pennetta's hometown of Brindisi, Italian Captain Corrado Barazzutti's decision (at least for Day 1) to hold back the veteran FC workhorse from singles play set the stage for Mary Joe Fernandez to possibly be trumped for the "Worst Fed Cup Decision" award for the first time in ages. But the Tennis Gods are so sadistic that they'd allow MJF to benefit from such a thing. So, in true FC hero fashion, Pennetta was called upon in match #4 to down McHale 6-1/6-1 and send things to the doubles. She then teamed with Errani to defeat Serena and Riske easily, winning 6-0/6-3 as the Americans played as if they'd never met before they walked onto the court (which wasn't THAT far off). Pennetta has won twelve straight FC singles matches, having not lost since 2009.


=============================




[COMEBACK]




Team Italia


...after Italy's meltdown against the French in February, it looked like the team's era of relevance might just be over. Team Italia may never win another FC title with this group of (mostly) veterans, but what happened in Brindisi shows that Pennetta, Errani and the current generation of stars would NOT allow their legacy to be tainted by what happened two months ago. This could be their last great Fed Cup victory as essentially a single-souled group, but if it is it'll surely leave a wonderful aftertaste.


=============================




[DOWN]




Captain Mary Joe Fernandez/USA

[Overall FC Weekend anti-MVP]
...she's already hijacked this post enough, I think. (But if the U.S. pulls a fully-rostered Spain in the draw for next February, what are the odds that MJF will have her own Paint-a-Mustache-on-Herself party?)


=============================





Match #3 - S.Williams/USA d. Errani/ITA
...4-6/7-6(3)/6-3. Serena is now 16-1 in her Fed Cup career. Hey, sometimes almost winning turns out to be good enough.


=============================



. @serenawilliams loses her first ever #FedCup match. Her record is now W16 L1 #ITAUSA pic.twitter.com/rQQ9Vticzg

— Fed Cup (@FedCup) April 19, 2015

Match #5 - Errani/Pennetta (ITA) d. S.Williams/Riske (USA)
...6-0/6-3. The Italians were up 5-0 just seventeen minutes into the match, and never looked back. Williams' serve was broken at love TWICE in the 2nd, as she lost for the first time in seventeen career Fed Cup matches. After the match, Serena shook the hands of the Italians, though she knows both of them far better than Alison.


=============================




DUTCH DELIGHT - Netherlands are into the World Group for the first time in 17 years after a 7th straight #FedCup win pic.twitter.com/vOztJ0lY5G

— Fed Cup (@FedCup) April 19, 2015



Netherlands def. Australia 4-1 ['s-Hertogenbosch, NED]


...no team has snaked their way through the Fed Cup draw the last few years more quietly than the Dutch. This was set up to be a close tie, but Sam Stosur's removal from playing consideration (back injury) on Saturday turned the odds in the favor of the Netherlands against the 2014 FC semifinalist Aussies. Once again, Kiki Bertens and Arantxa Rus, both of whom play their very best tennis in Fed Cup, starred in 's-Hertogenbosch, though Rus was tested the most in the clinching singles position. The win is the seventh straight victorious tie for the Dutch squad, which reaches the World Group for the first time since 1998.



[MVP]




Arantxa Rus/NED


...Rus lost to Casey Dellacqua when the Aussie replaced Sam Stosur, but I'll go with her as the MVP over the undefeated Kiki Bertens because the 24-year old has proven to be such a Fed Cup "specialist" during the current run of the Dutch team. She's 6-2 in her last eight FC singles matches, and clinched her third consecutive tie in singles with a Match #4 win over Jarmila Gajdosova that saw her surge back from dropping the opening set at love by changing up her game and forcing more errors, fail to convert two match points (losing one w/ a DF, then breaking herself with another DF) after wrestling control of the match away from the Aussie, but then feast on Gajdosova's own pressure-related mistakes down the stretch.

Netherlands reach the World Group for the first time since 1998. Rus beats Gajdosova 06 75 75 to see off Australia pic.twitter.com/XksFYoAvN6

— Fed Cup (@FedCup) April 19, 2015



=============================




[RISER]




Kiki Bertens/NED


...with Aga Radwanska's now-straining reliability, Bertens is in the running for the "most consistent" Fed Cup play out there at the moment. She went 2-0 this weekend, allowing just nine games to Jarmila Gajdosova and Casey Dellacqua, running her career FC singles mark to 11-1, and her overall record to 17-2. Many of those numbers have come against "lesser" foes, but that's now starting to change. We'll see in February if she can carry such sterling numbers up to the next level on competition.


=============================



I worked I tried I fought and I am shattered right now.

— Jarmila Gajdosova (@tennis_jarkag) April 19, 2015



[DOWN]




Team Australia


...my, what a swift fall it has been. A year ago, the Aussies were celebrating a rare trip to the Fed Cup semifinals. Next February, they'll be playing in World Group II after dropping third consecutive high (I hope they say hello to Serbia as their respective ships pass in the FC night). Of course, much if this goes with the territory when Stosur can't play, especially in a road tie. Still, Gajdosova had a chance to send things to the double, where's Dellacqua's skills and leadership ability have allowed Australia to escape with a victory. Gajdosova probably should be singled out as a "winner" here, but the fight she showed in her loss to Rus -- even with her own rollercoaster play -- makes her a narrow miss. Still, she also lost a big FC match vs. Petkovic (8-6 in the 3rd) in February in which she battled, but lost. So I guess I'd better move on before I change my mind.


=============================





Match #4 - Rus/NED d. Gajdosova/AUS
...0-6/7-5/7-5. Rus led 5-2 in the 3rd, holding two MP at 5-3. She double-faulted on one, then broke herself with a second DF in the game. Gajdosova held for 5-5 with three aces, but a game later two consecutive DF brought an end to the 2:23 match on Rus' fourth MP.


=============================




Switzerland are back in the #FedCup World Group for the first time since 2004 #POLSUI pic.twitter.com/YAGDcdJtde

— Fed Cup (@FedCup) April 19, 2015



Switzerland def. Poland 3-2 [Zielona Gora, POL]


...the Poles were "put in their place" by the Sharapova-led Russians in February, and they were knocked down still another notch by the Swiss this weekend. Martina Hingis, in her first FC tie since 1998 and playing her first competitive singles matches since 2007 due to the absence of Belinda Bencic, failed to nail down a win in two attempts and injured her thigh (covering so much court on back-to-back days probably made that a given, and hopefully it won't hurt the prospects of the Dream Team with Sania Mirza over the coming weeks). But that didn't matter with Timea Bacsinszky around. The Queen of Mexico -- The People's Timea -- expanded her kingdom to Poland, taking part in all three points as the Swiss now head to the World Group for the first time since 2004.



[MVP]




Timea Bacsinszky/SUI


...Errani narrowly edged out Bacsinszky as the overall PLAYING MVP of the weekend, destroying both Radwanska sisters -- Ula 2 & 1, Aga 1 & 1 -- in singles, then teamed with Viktorija Golubic to deny Aga and Alicja Rosolska a win in a three-set deciding doubles match. This tie was always going to turn one way or the other on the Day 2 clash between Timea and Aga. That it turned out to not even be a contest, no matter that Hingis failed to put away the tie a match later, seemed to signal that all signs pointed to an eventual Swiss victory. And so it turned out to be so.


Advantage Switzerland! @TimiBacs drops 2 games in defeating Aga Radwanska to put the visitors 2-1 up #POLSUI #FedCup pic.twitter.com/1X4z8Bkh5L

— Fed Cup (@FedCup) April 19, 2015



=============================




[DOUBLES]




Viktorija Golubic/SUI


...the 22-year old stepped in for Hingis in the deciding doubles, and acting as if she aspires to be the "Swiss Good Luck Charm" she joined with Bacsinszky to win a 9-7 3rd set to take the tie. It's Golubic's second career Fed Cup match victory.


=============================




[DOWN]




Aga Radwanska/POL


...there was some hope that Radwanska's WTA skid might be able to be "smoothed over" with an heroic Fed Cup performance. But Aga's fourteen match FC singles winning streak is now a thing of the past. She's lost three of four in '15, as well as a deciding doubles match on home soil. Worse yet, she was destroyed 1 & 1 by Bacsinszky on Day 2 in the most important singles match of the tie.


=============================





Match #1 - A.Radwanska/POL d. Hingis/SUI
...6-4/6-0. Aga proved adept at handling the game of the player whose style her own is most compared to. Better yet, we finally got to see what it looks like when the "cheeky smile" meets the stoic "face of Radwanska." Aga hasn't had a good year, but at least she didn't lose to a player who hadn't played a full singles match in eight years. So there's that.




=============================


Match #4 - U.Radwanska/POL d. Hingis/SUI
...4-6/7-5/6-1. Hingis served for the match at 5-3 in the 2nd, but her injury put an end to her hopes in the 3rd, as well as her long-expected doubles participation. This tie would have been so much easier -- and fun -- had Bencic been around to prevent the 34-year old doubles specialist from being run into the ground before she was actually able to play doubles. Another example of a reason why the ITF should move the FC doubles up to the Match #3, ala the Davis Cup.


=============================


Match #5 - Bacsinszky/Golubic (SUI) d. A.Radwanska/Rosolska (POL)
...2-6/6-4/9-7. The Swiss nearly let this one slip away, failing to serve out the match at 5-4 in the 3rd. But Timea is not one to let anything realistically attainable slip away in 2015.

Switzerland win! Bacsinszky/Golubic beat Radwanska/Rosolska 26 64 97 to seal a 3-2 victory in Poland #POLSUI pic.twitter.com/aBwps6ivjd

— Fed Cup (@FedCup) April 19, 2015
=============================
Romania wins! @AlexDulgheru defeats Abanda 36 75 62 to send Romania to the #FedCup World Group for the 1st time! pic.twitter.com/AiW6K4Mqs9

— Fed Cup (@FedCup) April 19, 2015



Romania def. Canada 3-2 [Montreal, CAN]


...the Swarmette roll continues, while Genie Bouchard's tennis comeuppance is very nearly complete. The story at the start of this tie wasn't that Simona Halep (nor Monica Niculescu or Sorana Cirstea) wasn't joining her fellow Romanians in Montreal, it was that Quebec native Bouchard changed her mind at the last moment and decided to come home and play. After what happened to her when she played in Montreal last summer, and then her even figuratively harder fall this weekend, she may never pick up a racket in the city again.

As it turned out, the Montreal native who played best was 18-year old Francoise Abanda. While Bouchard made herself the focus of Romanian competitive aggression by refusing to shake hands when the teams met before the tie (repeating her move from last year's FC tie vs. SVK), then failed to back up her passive aggressive actions on the court (going 0-2), Abanda opened the tie with a huge victory over Irina-Camelia Begu to notch her first career FC win and almost sent things to the deciding doubles a day later when she led Alexandra Dulgheru by a set and a break in Match #4. In a "dead" doubles match, Gabriela Dabrowski and Sharon Fichman notched a victory to "gussie up" (ah, Southern JJ) the final scoreline, but the lingering image of this tie will be Dulgheru's fake handshakes with her teammates in a very public shot at Bouchard, who has staked out an in-your-face "we're not friends" (or maybe, "you don't exist to me?") position that she has so far shown an inability to consistently back up or justify on the court.



Michael Jordan may have been able, in his mind, to cast his opponents as villains that he would soon smite, but Bouchard is not Air Jordan, quite possibly the greatest athlete to play North American team sports in the last half-century, who was simply creating something on which to place a target at which his greatness could be aimed. She's a 20-year old who has shown more than a few of the same mental/emotional/game cracks that so many of her other similarly-aged counterparts have shown in recent years after achieving great success, but rarely have we seen opponents delight in shoving words and actions back in such a player's face as Dulgheru did. A year ago, Bouchard seemed smarter than to allow her outsized opinion of what a champion is SUPPOSED to be to get in the way of her actually BECOMING one. But, as she said the other week, sometimes winning covers up other problems.

Bouchard is currently the WTA's version of Walter White, and she has a decision to make. Does she want to talk big about "breaking bad," or actually rise above the din of something resembling "trash talk" and become the representative of the sport that everyone, from the top of the WTA on down to her fans and fellow Canadians, WANTS her to be?

I think we know how things turned out for "Heisenberg." Watch and learn, Genie. You don't want to be the WTA's "Felina," but you're sure looking like you may become that if you don't pull the rip cord on some of the actions that will only make things more difficult as time goes by.



(And thus I believe a new Backspin nickname is born... make some room, "Current Sloane.")

Quick, somebody better call Saul!



[MVP]




Alexandra Dulgheru/ROU




...Simona Halep might be the Romanian standard bearer, but Dulgheru sure resembled the Swarmette emotional leader in Montreal. Her win over Bouchard could prove to be THE key win in a possible charge to a first-ever Fed Cup title for Romania in the next few seasons, while the come-from-behind victory over Abanda on Sunday creates the template for a group of young players who will fight on the court with as much vigor as their fans will cheer for them in the stands. This weekend, we got some idea of what we missed as Dulgheru was slowed as she dealt with injuries after having been one of the first (in 2009) of the current Swarmette generation to grab a tour singles title. She hadn't played Fed Cup since 2011, but she should be called into action as often as possible from here on out. At 26, if Halep doesn't wish to shoulder the full pressure of having to win ALL the big matches in the ROU run, maybe Dulgheru will prove to be to her what the more veteran Safarova has been for the younger Kvitova during the Czechs' current great stretch.


=============================




[RISING]




The Swarmette Fed Cup Threat


...forget The Radwanska. Maybe we should all fear the Swarm. Serena sure was spooked by the whole notion of a Romanian threat a few weeks ago in Miami, and now the Canadians can confirm that the Swarmettes -- collectively -- are a single-minded force to be reckoned with in North America and beyond. I first started calling this surging generation of Romanians "The Swarm" all the way back in 2008, so it's nice to finally see things coming together. I've been touting a possible FC title run for 2016-17 for over a year, as well, and the last two ties have sure made it look like the process might be moving along right on schedule. In February, even with a Halep loss, a fully-stocked Romanian roster advanced past Spain. Here, on the road without two of their top three ranked players, the Romanians still had enough talent to spare. Only the Czechs have been able to pass through multiple Fed Cup rounds (the Russians at least always had Sveta) even while occasionally going without the unquestioned #1 singles star in recent years, but even the sting of the Romanian "B" players have proven lethal in 2015. Sure, it might take a good 1st Round draw (i.e. one where they don't play the Czechs, and maybe where the Maidens are finally tripped up while playing without Kvitova or Safarova, something which no team could pull off the last two Februarys) for the Swarmettes to stake a claim to a possible FC title as early as next year. But don't be surprised if that's just what we'll be talking about at this time next year.


=============================




[FRESH FACE]




Andreea Mitu/ROU


...the 23-year old made her Fed Cup debut as a substitute for an injured Begu in match #3 against Bouchard. Rather than fall by the wayside, she stunned the Canadian in three sets to complete Genie's "lost weekend" and allow the Romanian 2016-17 plan to continue to breathe life. Begu had pulled the Swarmettes back from the edge of defeat in February after Halep lost her Day 2 singles match, so I suppose it's fitting that the baton was essentially passed by her to Mitu this time around. Hmmm, does this weekend now allow me to put a check mark beside Mitu's name for validating my pre-season pick of her as one of 2015's "Surprise" players?


A win on her #FedCup debut? Oh, hi Andreea... pic.twitter.com/A4FfQTdjbO

— Fed Cup (@FedCup) April 19, 2015




Francoise Abanda/CAN


...for all that Bouchard did wrong, Abanda did a whole lot right. The win over Begu was a total shocker under the circumstances, but her near-win over Dulgheru trumped that one, even if she didn't ultimately win. Talent often comes in waves for tennis nations, and Abanda's clear rise through the ranks is proving that new growth is spurring even more growth on the Canadian tennis landscape. Oh, and junior Charlotte Robillard-Millette had a nice weekend, too... only further proving the point.


=============================




[DOWN]




Genie Bouchard/CAN


...when your opponent openly mocks your actions during their post-match celebration, your either course correct to make sure that sort of thing NEVER happens again, or you sink still further into the WTA tar pits. Bouchard's loss to Mitu a day later isn't a sure sign of things going in the right direction. Since going 0-3 in Singapore to end '14, and then losing to Sharapova in Melbourne, #7 Bouchard has lost matches, in order, to players ranked #42, #85, #113, #66, #69 and #104.


=============================





Match #1 - Abanda/CAN d. Begu/ROU 4-6/7-5/6-4
Match #4 - Dulgheru/ROU d. Abanda/CAN 3-6/7-5/6-2
...in 2:39, Abanda thrilled the home crowd by winning a match that ended in a dead heat (107-107) in total points on Saturday. A day later, she led Dulgheru 6-4/4-2 before the Swarmette firebrand was able to turn her back.


=============================


Match #2 - Dulgheru/ROU d. Bouchard/CAN
...6-4/6-4. The last game, a hold by Dulgheru, included three break points and four match points. But the final result was still the same, no matter the too-little-too-late fight that Bouchard put forth.


=============================



#CANROU Andreea Mitu gives Romania a 2-1 lead in the tie after defeating Bouchard 46 64 61! Can Canada fight back? pic.twitter.com/7rCeu2jT2e

— Fed Cup (@FedCup) April 19, 2015

Match #3 - Mitu/ROU d. Bouchard/CAN
...4-6/6-4/6-1. The loss to the fired-up Dulgheru was one thing, but falling to late replacement Mitu in her FC debut sealed Bouchard's current "Felina" status as a player breaking a little too bad for her own good at the moment.


=============================






[WORLD GROUP II PLAYOFFS]




Serbia def. Paraguay 4-1 [Novi Sad, SRB]


...the Serbs played with their Good Luck Charm is her full glory. 'Nuff said, really. But I'll say a LITLE more.



[MVP]






Aleksandra Krunic/SRB


...the "bright side" of Jelena Jankovic's injury was that Krunic got to once again take on the majority load of a FC tie for Serbia, one more step in righting a wrong that took far to long for the Serbian Tennis Powers That Be to recognize. This time, she did it with Ana Ivanovic on the roster (going 1-0) and JJ watching. She even played a "meaningless" doubles match, guiding the younger Ivana Jorovic just as JJ and AnaIvo had her during Serbia's run to the 2012 final. On the court to clinch yet another tie in her second singles match, Krunic lost a total of nine games in her three matches. She is simply a Fed Cup demon. (The good kind.)


=============================





Match #1 - Krunic/SRB d. Cepede Royg/PAR 6-1/6-3
Match #4 - Krunic/SRB d. Gonzalez 6-0/6-2
Match #5 - Krunic/Jorovic (SRB) d. Cepede Royg/Gonzalez (PAR) 6-1/6-4
...stand up. The Bracelet's passing.




=============================





Slovak Republic def. Sweden 4-0 [Bratislava, SVK]


...without all-time FC leaders Johanna Larsson and Sofia Arvidsson, the Swedes hardly resembled their Fed Cup selves. The Slovaks find themselves in a transition stage as one generation of stars gradually gives way to the next. After a series of FC flops in recent seasons, it's probably a wise move. So far, so good.



[MVP]




Anna Schmiedlova/SVK


...Katowice champ Schmiedlova continued her good run, assuming the #1 singles spot and going 2-0 against young Swedes Rebecca Peterson and Ellen Allgurin. This was SUPPOSED to happen, but Schmiedlova will surely be called upon to take down bigger game down the line. In February, in SVK's 4-1 loss to NED, Schmiedlova put up the sole point won by the team by doing what no one else has ever done in FC competition -- defeat Kiki Bertens (11-1 after this weekend) in singles. If that win played any part in Captain Matej Liptak decision to hand the reigns over to the Slovak-of-a-million-ball-striking-faces, then good on him.

Slovakia retain their World Group II place! Schmiedlova ends Sweden's hopes with a 61 64 win over Allgurin #SVKSWE pic.twitter.com/I8NxZte6Wm

— Fed Cup (@FedCup) April 19, 2015



=============================




[VETERAN]




Daniela Hantuchova/SVK


...the former Wonder Girl, Hantuchova is the all-time Fed Cup win and match leader for the Slovaks, and led the 2002 title run by notching a pair of wins in the final vs. Spain. She only played one match this weekend, allowing two games to Susanne Celik, but the role of "chaperon" suited her well enough as the Schmiedlova sisters ushered in the next era of SVK FC tennis. One wonders if Hantuchova might one day find herself in the Captain role overseeing a group of young Slovaks under these very same circumstances. It's not THAT many years away.


=============================




[JUNIOR]




Kristina Schmiedlova/SVK


...Anna's little sister, the #11-ranked junior, was a late addition to the team as a replacement for Magdalena Rybarikova. Thanks to her sister's work, Kristina got on the court at the end of the weekend and posted her first career FC win in the doubles with Jana Cepelova.


=============================





Belarus def. Japan 3-2 [Tokyo, JPN]


...Vika was back for another go in the red-and-green. Naturally, she was at the center of nearly all the action.

Proud #Belarus #worldgroup pic.twitter.com/PLj7oJNjyu

— victoria azarenka (@vika7) April 19, 2015




[MVP]




Victoria Azarenka/BLR


...after her teammates failed to notch a singles win, Vika ultimately had to work overtime in Tokyo, adding a doubles victory to her own wins over Misaki Doi and Kurumi Nara to ensure Belarus' 3-2 triumph. The pair of victories give her fourteen career FC singles wins, and she's now 10-0 in all Fed Cup competition since 2011.


=============================




[DOUBLES]




Olga Govortsova/BLR


...the Belarusians needed Govortsova to find a way to notch one victory this weekend to provide support for Vika's expected 2-0 run in singles. She lost in three sets on Saturday to Kurumi Nara, but was held out of singles on Sunday as Aliaksandra Sasnovich lost a three-setter to Ayumi Morita (Sasnovich held set point in the 1st, which she ultimately lost) and things went to the doubles. There, Olga got that needed win, with Vika by her side. Unlike with the Bannerettes, this doubles team actually knows each other. In fact, Govortsova and Azarenka won the U.S. Open girls doubles in 2004. In the deciding doubles vs. Japan, they put away the not-to-be-overlooked team of Shuko Aoyama & Morita in straight sets.

Olga & Vika THEN: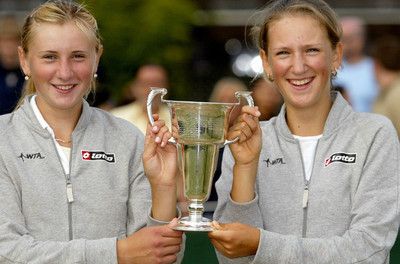 Olga & Vika NOW:

Azarenka/Govortsova take first set 6-3 from Aoyama/Morita. Belarus are now just one set away from promotion! #JPNBLR pic.twitter.com/s1qjkYdd9u

— Fed Cup (@FedCup) April 19, 2015



=============================





Spain def. Argentina 4-0 [Buenos Aires, ARG]


...this appeared to be a competitive tie. And it was, on the court, even if the final shutout score doesn't show it.



[MVP]




Lara Arruabarrena/ESP


...while her higher-ranked countrywoman sat out, the Fed Cup-debuting Arruabarrena enjoyed her moment in the spotlight. Destroying Maria Irigoyen love & 1, then outlasting Paula Ormaechea in a 9-7 3rd set (not allowing the Argentine to grab the momentum after saving a MP in game #14 of the 3rd after battling back from a 1-4 deficit.

.@laraarrua's celebrations after clinching the tie for Spain are the #FedCup Photo of the Weekend! pic.twitter.com/qJjPhumiUz

— Fed Cup (@FedCup) April 19, 2015



=============================




[RISING]




The Spanish Fed Cup Team


...although this win prevented Spain from falling into Europe/Africa zone play for the first time ever, look out for this squad. With Garbine Muguruza on the roster (but not Carla Suarez-Navarro, which proved to be the missing piece), the Spaniards nearly took out Romania in February. Here, they won on the road with a "B" or "C" team against a team that had put up good FC outings in the past (including vs. the U.S. earlier this year). Throw in a slew of good young players like Sara Sorribes, Paula Badosa and Aliona Bolsova and you've got team that could be formidable in a year or two, and bear to face should both Muguruza and CSN play in the WG II 1st Round next February, then in the WG Playoffs next spring. The Spanish team won four FC titles in five years, and five in eight, during the Sanchez/Martinez heyday. That sort of thing won't be repeated, but they might be able to contend for the first title since 1998 with two years if Muguruza continues her rise, and commits to following the the FC footsteps of her Hall of Fame Spanish footstep-makers. This group won't have to look far for motivation, either. Conchita is the ESP Captain.


=============================




[FRESH FACE]




Sara Sorribes Tormo/ESP


...Sorribes kicked off things in style in Match #1, making her FC debut and downing Paula Ormaechea in three sets after dropping the 1st (and being down a break twice in the 2nd).


=============================




[JUNIOR]




Aliona Bolsova Zadoinov/ESP


...Bolsova was added to the roster as a replacement for Maria-Teresa Torro-Flor and notched her first career FC win with Anabel Medina-Garrigues in the doubles to keep Argentina's "O" on the board.


=============================




[DOWN]




Paula Ormaechea/ARG


...the last few years, Ormaechea has usually traded off the honor for "highest-ranked South American" with Brazil's Teliana Pereira. But on the same weekend when Pereira became the first woman from her nation in 27 years to win a tour singles title, Ormaechea went 0-2 on home soil in a tie against the Spanish "B" team that should have, at the very least, gone to Match #4 in live mode, of not the deciding doubles. In the past, Ormaechea has put up FC wins over the likes of Laura Robson, Johanna Larsson, Aleksandra Wozniak, Kurumi Nara, Misaki Doi and Coco Vandeweghe, but she wasn't able to hold her lead against a debuting Sorribes Tormo in Match #1. The loss set the tone for the tie, as Maria Irigoyen was nearly double-bageled and then Ormaechea lost out in a 9-7 3rd set against Arruabarrena to confirm Spain's victory. Sigh. Not a good weekend.


=============================





Match #1 - Sorribes Tormo/ESP d. Ormaechea/ARG 4-7/7-6(2)/6-1
Match #3 - Arruabarrena/ESP d. Ormaechea/ARG 6-1/4-6/9-7
...Ormaechea had to win these matches against players who made this FC debut this weekend. She led Sorribes by a set and a break (twice) in the teenager's FC debut, then battled Arruabarrena deep into the 3rd in an attempt to extend the tie. She wins one of those matches and things might have turned out differently. She lost both and it was a Spanish sweep.

Spain wrap up victory in Argentina, Lara Arruabuena winning an epic against Paula Ormaechea 61 46 97 #ARGESP pic.twitter.com/kwa4UOr2xD

— Fed Cup (@FedCup) April 19, 2015



=============================






[ASIA/OCEANIA II ZONE - Hyderabad, India]




India def. Philippines 2-1




[MVP]




Prarthana Thombare/IND


...with Captain Sania Mirza remaining in the playing background until the very last match of the week, it was 20-year old Thombare who put up the most wins in India's three ties last week in Asia/Oceania II zone play. The #2-ranked Indian woman in singles (behind #248 Ankita Raina), #481 Thombare went 3-0 in singles and 3-0 in doubles (running her career combined FC mark to 12-1), including key wins in the Promotional Playoff vs. the Philippines over Anna Clarice Patrimonio and in the deciding doubles (alongside Mirza) over Patrimonio and Katharina Lehnert.

Star Tennis player @MirzaSania with Prarthana Thombare during the 4th day of the Fed Cup by BNP Paribas at Hyderabad pic.twitter.com/fnwonlg7oV

— Harsh Kumar (@harshkumarsays) April 17, 2015



=============================




[DOUBLES]




Sania Mirza/IND


...as a playing Captain, it was possible that new world doubles #1 Mirza wouldn't need to take the court in order for India to advance out of Asia/Oceania II zone play. But in the Promotional Playoff against the Philippines, Ankita Raina's loss to Katharina Lehnert meant Mirza would be called into action in the deciding doubles. Teaming with Prarthana Thombare, Mirza won her fifteenth straight doubles match in 2015 with a 6-3/6-3 victory over Lehnert and Anna Clarice Patrimonio to secure the tie.

Woe..Played in Hyderabad after 9 years,where it all started and played my first tournament As #1 ?? was an emotional night playing Fed cup -

— Sania Mirza (@MirzaSania) April 18, 2015



=============================





[EUROPE/AFRICA III ZONE - ]


...two teams were be promoted out of this zone, and it was a teenager and a veteran that made the difference.



Lithuania def. Moldova 2-1




[MVP]




Akvile Parasinskaite/LTU


...the 18-year old powered Lithuania's advancement, going undefeated for the week, including winning both her singles and doubles (with vet Lina Stanciute) matches on Saturday to key a 2-1 victory over Moldova in the Europe/Africa III Promotional Playoff. Parazinskaite, a Bronze medalist in both singles and doubles at last year's Youth Olympic Games, notched three of her four career FC singles wins this week and went a combined 6-0 in her nation's three ties.

Be brave. Take risks. Nothing can substitute experience. pic.twitter.com/fXcPWZYDEd

— Akvile Parazinskaite (@akvile_para) March 8, 2015
=============================
Denmark def. Greece 2-0
[MVP]
.@CaroWozniacki seals Denmark's promotion to Europe/Africa Group II, beating Greece's Sakkari 63 60 in Montenegro pic.twitter.com/woUbFWHte0

— Fed Cup (@FedCup) April 18, 2015



Caroline Wozniacki/DEN


...Denmark's promotion from the Europe/Africa III zone was wrapped up by Wozniacki with a 6-3/6-0 win over Greek Maria Sakkari in the Promotional Playoff. Caro went 3-0 for the week, extending her FC winning streak to ten matches. Her last loss came to Patty Schnyder back in 2008 when she was just 17.

Until next year! #fedcup #winning #team #fun #montenegro #teambox #selfies #girlpower #AnyOtherHashtagsIHaveMissed? pic.twitter.com/rzAwJdlK5q

— Caroline Wozniacki (@CaroWozniacki) April 19, 2015



=============================




[SURPRISE]




Karen Barbat/DEN


...while another Dane naturally garnered the headlines, Denmark needed a consistent "#2" to maneuver through the Europe/Africa III zone without a potential trip-up. In two of Denmark's three ties this past week, 22-year old Barbat provided a singles victory in match #1, setting the stage for Wozniacki to close out the win. The only tie in which that didn't happen came vs. Norway, when Mai Grage replaced her (and lost) in the lead-off spot, leaving it to Barbat and Grage to return to win the deciding doubles to secure the Group C round robin competition. In the Promotional Playoff, Barbat led off the tie with a hard-fought 7-5/3-6/7-6(4) win in the opener over Greece's Despina Papamichail, the world #356 ranked nearly three-hundred spots above #632 Barbat. "I've had close matches with better-ranked players, so I knew I could do it," Barbat said.


=============================








**2016 FED CUP**




=World Group=


Czech Republic
France
Germany
Italy
Netherlands
Romania
Russia
Switzerland


=World Group II=


Australia
Belarus
Canada
Poland
Serbia
Slovak Republic
Spain
United States



**RECENT FED CUP FINALS**


2004 RUS d. FRA 3-2
2005 RUS d. FRA 3-2
2006 ITA d. BEL 3-2
2007 RUS d. ITA 4-0
2008 RUS d. ESP 4-0
2009 ITA d. USA 4-0
2010 ITA d. USA 3-1
2011 CZE d. RUS 3-2
2012 CZE d. SRB 3-1
2013 ITA d. RUS 4-0
2014 CZE d. GER 3-1
2015 CZE vs. RUS


All in a week's work. Out.


All for now.