1Q BSA's: A Funny Thing Happened on the Way to a Season
"There is always nerves in the beginning."
Ana Ivanovic
The 1st Quarter of 2015 is over. So far, we've seen superheroes...


And a Bieber.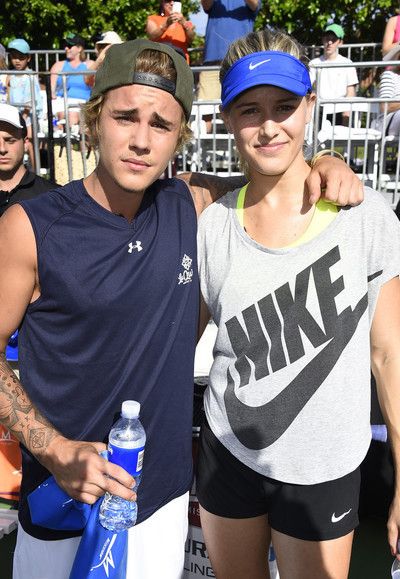 We've had a return...



And an exit....


#Serena Williams addresses the #BNPPO15 crowd after her withdrawal from the tournament. #tennis http://t.co/YWYJI3tweP

— TennisTV (@TennisTV) March 21, 2015


A drink order...


"Can I get an espresso?"

-

Serena Williams at the Hopman Cup in Perth, DURING her match with Flavia Pennetta, which opened with a lethargic Williams dropping the 1st set at love


And a decade-in-the-making embrace we rightfully thought we'd NEVER live to see.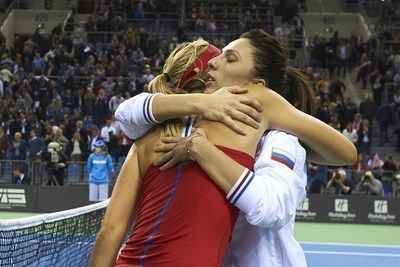 But what about all the rest, you ask? Well, proceed...



"I'd like to believe the older I get, the better I get."

-

Serena Williams
*1Q Awards - Weeks 1-13*
**PLAYERS-OF-THE-QUARTER**

1.

Serena Williams, USA


...sure, every moment hasn't been time capsule worthy, but it's pretty difficult to find much to argue about when it comes Serena's 2015 season to date. That tends to happen when a player goes through the first three months of the year without actually losing a match, I guess. Oh, and winning all eighteen that she's played (the ones that counted, anyway). After being the best non-slam player for most of 2014, Williams quickly set things on a more typical course in '15 by winning her 19th slam title in Australia. She wasn't unassailable during the run, but she was as good as she had to be whenever it was necessary. In Fed Cup, she was only able to play one match. But she won it, too. She returned to Indian Wells for the first time since 2001, and played some of her best tennis in reaching the semifinals. A knee injury ultimately forced Williams to award a walkover in a match-up there with Simona Halep, but one event later in Miami the high-level WTA meeting became a reality. Again, while drifting in and out of form, Williams found a way to win a tight 3rd set and then easily took her eighth title at her backyard tournament. In much of life, it's said that "it's about the journey, not the destination," but Serena's career -- surely from here on out, though maybe it's always been that way -- is fairly well the antithesis of that outlook. If she can just hack her way through the weeds at the beginning (of a season, of an event...) she'll rise to the occasion once she sees the promised land in the final. For 2015, Melbourne may have been the early obstacle cleared that will allow Serenativity to bloom like nothing we've seen since, well, around 1988.


=============================



A ?? from our #BNPPO15 women's singles champion, Simona #Halep!??????#IndianWells http://t.co/rLWapYkVe2 pic.twitter.com/SYiZF7Yl36

— BNP Paribas Open (@BNPPARIBASOPEN) March 22, 2015

2.

Simona Halep, ROU


...for all she'd done over the year and a half before the start of the '15 season, during which the Romanian rose from outside the Top 60 to the Top 3, Halep may have grown even more as a player in the last three months. While Halep won nearly every match she played over the first two months of the season, she was noticeably questioning herself on the court, fretting about the pressure of duplicating (or besting) her previous success and raising questions about her career potential where before there had only been great optimism. She uncharacteristically ducked out of her frustrating Australian Open QF loss to Ekaterina Makarova. But she admitted as much. She was bounced -- hard -- by Garbine Muguruza in an important Fed Cup match, as well. But she acknowledged the failure, and her opponent's abilities. From there, Halep's on-court ability to problem solve has taken over both off it, and between her ears. Wins in Shenzhen, Dubai and Indian Wells included a 14-match win streak, but the Romanian's post-Makarova refusal to give up -- even in a tight semifinal in Miami vs. Serena, in which she showed the confidence that will be necessary to take down the world #1 in subsequent big match-ups -- is the highlight of The Pride's season so far. Already leading the tour in titles (3) and wins (24), Halep's head may have now cleared whatever mental hurdle remained that might preclude her from attaining the ultimate grand success that has thus far eluded her. A history-seeking Serena, though, might be another matter... but Halep may just find her way around that obstacle, too.


=============================


3.

Timea Bacsinszky, SUI


...25-year old Bacsinszky is the tour's secret weapon, though she's not nearly as much of a "secret" as she used to be. Since nearly giving up the game due to injuries in 2013, the Swiss has been a slowly building force of good will, defense and competitiveness since she recommitted herself to the job she now loves. After opening the season with a final in Shenzhen (def. Kvitova en route), Bacsinszky has been the anchor of the growing-ever-deeper Swiss Fed Cup team and was crowned the unofficial "Queen of Mexico" after sweeping tour titles in Acapulco and Monterrey. Her career-best winning streak was eventually extended to fifteen matches, and she didn't cower in the corner whenever Serena Williams showed up and ended the run, either. And, of course, who can forget the sombrero?




=============================


4.

Martina Hingis, SUI


...at 34, and in her third go-around on tour, the Original Swiss Miss has officially carved out a new career as a lethal doubles specialist. She opened the season by winning Brisbane (w/ Sabine Lisicki) for the fourth title of her comeback, then claimed her first slam title (16th overall) since 2006 when she and Leander Paes walked away with the AO Mixed Doubles. Since then, she's teamed up with Sania Mirza to form a Doubles Dream Team that swept Indian Wells and Miami and threatens to claim the top two spots in the doubles rankings before the spring flowers begin to bloom. Hingis, already a World Team Tennis MVP, had to be persuaded (thank you, Daniela Hantuchova) to return to the tour after her Hall of Fame induction, but since she's now more than found her footing, she might just be around adding lines to her Newport bio for a good while longer. Anyone for some Swiss Mixed Doubles with a certain 17-time slam champ next year in Rio?


=============================


5.

Andrea Petkovic, GER


...while Andrea's January was bleak (0-3), February was the Month of Petkovic. It's a pity it only had twenty-eight days, but it DID allow her to concentrate her Petko power for additional punch. As she did in '14, when she provided the spark in the Germans' first trip to the Fed Cup final in the post-Graf era, Petko was an FC star. Needing a win to avoid a 0-2 hole vs. Australia, she saved a match point and won a 12-10 3rd set against Sam Stosur in a three hour-plus match, then clinched a return to the semifinals by winning an 8-6 3rd stanza against Jarmila Gajdosova. A week later, she saved eight more match points en route to a title in Antwerp, lifting her into the Top 10 for the first time since injuries brought her down in '12 after her only year-end Top 10 finish in 2011. A semifinal run in Miami has provided the momentum for not just another potentially historic Fed Cup performance on the road against the Russians, but the first step in what could be a second straight "career year" for Petko.


=============================


6.

French Fed Cup Team


...where would the Pastries be without Amelie Mauresmo as their Captain? Not in the Fed Cup semifinals next week, it can probably safely be said. Down 0-2 on the road against Italy, Mauresmo worked her tactical and motivational magic and cooked up an historic comeback that led to a home team's first-ever World Group loss after holding such a Day 1 advantage. Kristina Mladenovic replaced Alize Cornet on Day 2, winning her FC singles debut against Sara Errani. Caroline Garcia then came back from a set down to overtake Camila Giorgi. Then the two Pastries combined to hand Errani & Roberta Vinci their first-ever FC doubles defeat to complete a comeback that, while it might not foreshadow a surprise French title run, could very well be the "unofficial end" of Italy's recently great Fed Cup era.


=============================


7.

Martina Hingis/Sania Mirza, SUI/IND


...sure, they've only played TWO events together. Ever. But they went 10-0 in the 1Q, winning all twenty sets they played, and twice took out the tour's top-ranked (for now) active team (Makarova/Vesnina) in back-to-back finals in Premier Mandatory events in Indian Wells and Miami. Mirza looks to be destined to soon become the first Indian woman to hold the #1 doubles ranking, with former singles & doubles #1 Hingis likely slotting in right behind her at #2. What might it take to finally hand this pair a loss? Hmmm, maybe a sisterly bond?


=============================


8.

Maria Sharapova, RUS


...finally with a healthy offseason to utilize, the improvements in Sharapova's game were evident in the opening weeks of 2015. Her enhanced defensive skills were apparent -- and on hard court, not the slower clay -- and her variety was greater. She even threw in enough drops for the shot to be declared an obvious, thought-out tactic. She crushed the competition in Brisbane, grabbing the first Week 1 title of her career and extending her consecutive seasons with a title string to thirteen years (one behind Steffi Graf for third on the all-time WTA list). She came to Melbourne with a game that was purring so loudly she looked like she might win her first Australian Open in seven years. She survived an unexpected upset bid from Alexandra Panova in the 2nd Round, saving two match points, then regained her dominant form and carried it through to the final without dropping another set. Sporting a 10-match winning streak, and having dropped just two of twenty-two sets (holding opponents to three games or less in eighteen), Sharapova reached her fourth AO final... and found Serena Williams waiting for her there. Sigh. While she wasn't destroyed as she so often has been in the past by Williams, Sharapova still lost in straight sets and has now dropped twenty-five of the last twenty-six sets against Serena over the past decade. She returned to Fed Cup action, leading the Russians out of their recent self-imposed FC darkness and back to the semifinals. Since then, though, things have been "iffy." Sharapova withdrew from the Acapulco semis with a viral illess, uncharacteristically squandered a match vs. Flavia Pennetta in Indian Wells, then was bounced in her opening match in Miami by Daria Gavrilova. While she's still ranked #2, most (including Miami finalist CSN) now currently view Serena Williams and Simona Halep as the "two best players" on tour. But, in recent years, the clay season has been Sharapova's Shangri-la. Well, Maria... here we go again?


=============================




9.

German Fed Cup Team


...after reaching their first Fed Cup final since 1992 a year ago, the Germans are one round away from reaching two in a row. After putting away the Aussies for the second straight year (they met in the '14 semis), Germany next hits the road to face Russia, the very team that the nation seems to have replaced as the second-deepest squad (behind CZE, matching the Maidens' with three Top 20 players) of all the squads contending for consistent FC dominance. With emotional spark plug and big-match ace Petkovic leading the way and bull-headed Angelique Kerber serving as a solid #2, the roster is further filled out by the likes of Sabine Lisicki, Julia Goerges and Mona Barthel. Goerges and Anna-Lena Groenefeld can provide a solid (regular) doubles combo, while youngsters like Carina Witthoeft and Annika Beck wait in the wings. The Graf era looks to have finally given way to "the Petko era" when it comes to German Fed Cup possibility.


=============================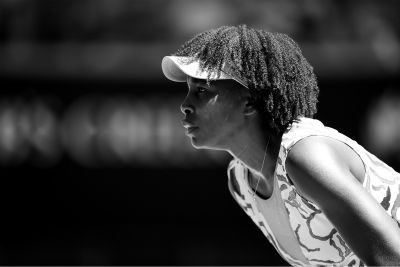 10.

Venus Williams, USA


...at 34, Venus has found the fountain of youth. In 2015, she's often looked better than she has this entire decade, and seems to be enjoying it all even more than she ever did before. Williams won her first nine matches of the season, taking the Auckland title with a win over Caroline Wozniacki, then went to Melbourne and put together a comeback victory (def. Giorgi) and a brilliant 3rd set (def. Radwanska), then battled a teenager for three sets for the right to reach a slam semifinal. As it was, her Melbourne QF run was still her best at a major since 2010, and she's climbed as high as #11 in the rankings. She saved Captain Mary Joe Fernandez's bacon in Fed Cup, clinching a win over Argentina after an ailing Serena and woeful roster management threatened to bring into the conversation the possibility of one of the biggest FC upsets, well, ever. Williams didn't quite extend her early 1Q success to the latter stages, but neither a SF in Doha nor a QF in Miami is anything to feel bad about. She's 18-4 on the season (8-3 in three-setters) and has already recorded four Top 10 wins. The clay season is generally a slow time for Venus, so we might not get our FULL Venus fix until later this summer on grass and hard courts. Can't wait.


=============================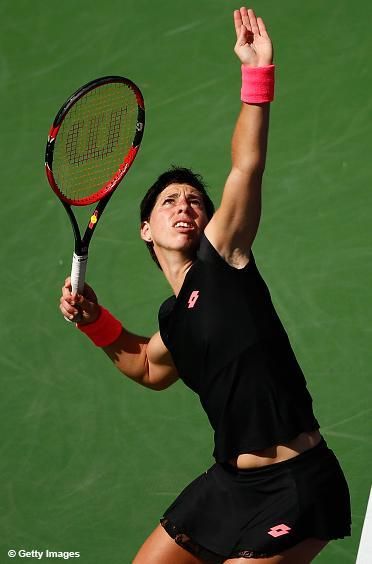 11.

Carla Suarez-Navarro, ESP


...armed with a bigger forehand that she can use to put away the winners that were formerly rare in her game, after being a she-can-beat-anyone-on-any-given-day-or-lose-to-anyone-just-as-easily sort of player for years, Suarez-Navarro has started to become a more consistent threat. While she still has yet to learn how to collect herself in finals (1-6 for her career, with an additional walkover defeat), she's getting to them more often these days. Twice already in 2015, in fact, including in the Premier Mandatory Miami event, her best-ever big tournament result, and Antwerp, her only other Premier level final. CSN has reached at least the QF in all but one (AO 1st Rd. - ouch) of her eight events this season, notching five Top 10 wins (including two over Petra Kvitova in back-to-back weeks). While her absence from the roster was deeply felt in Spain's Fed Cup loss to Romania in February, CSN ended the 1Q by debuting in the Top 10, becoming the first Spaniard to do so since 1989.


=============================




12.

Sania Mirza, IND


...the #1-ranked doubles pla-... well, check that. Not yet. But it's coming. Mirza (just like her forehand) is rightly considered one of the most lethal doubles forces on the planet, rivaled only by the will of her personality and unwillingness to be relegated by anything or anyone. Mirza has won a title in Sydney with Bethanie Mattek-Sands and reached a final with Hsieh Su-Wei this season, but it's her recent teaming with Martina Hingis that has tongues wagging over the possibilities for the rest of her season. The duo won both Indian Wells and Miami in their first two outings. As noted, she's also THIS CLOSE to becoming the first Indian woman to be ranked #1 and, oh yeah, she's just a Wimbledon Mixed title away from achieving a Career Mixed Slam, too. And now, with Hingis by her side, maybe a first career women's doubles slam title (hard to believe, but she's yet to win one) -- or maybe more -- could be within her grasp before the end of the season, as well.


=============================


13.

Karolina Pliskova, CZE


...for all the great game and promise that Pliskova has shown in 2015, Pliskova hasn't actually WON anything. She's been EVERYWHERE, though. Literally. She played on four different continents in four weeks during one stretch, and was successful on all of them. In January, she pushed Petra Kvitova in the Sydney final, then matched her best slam result (3r) in Melbourne. In February, she took her turn in the Czech #1 singles slot and lifted the Maidens to a seventh straight FC semifinal. With her clean, flat groundstrokes and big serve rarely letting up, she continued her run with a Dubai runner-up result. But just as she's still waiting to make her Top 10 debut (#12 in the latest rankings), she's not quite THERE yet. Pliskova has twenty-three wins on the season, with eight Top 25 victories. But seven of her eight defeats in '15 have come against players currently ranked in the Top 11. 18-2 against players ranked below her, Pliskova is 5-6 against players ranked above her. If she can find a way to turn that 5-6 into a 7-4 over the next few months she'll surely assume her rightful place as the latest Czech in the Top 10.


=============================


14.

Ekaterina Makarova, RUS


...the Hordette proved once again to be a big event player by backing up her U.S. Open singles semifinal with another at the Australian Open, frustrating the likes of Simona Halep in the QF and essentially getting her to "quit." The Russian was quickly frustrated and her own hopes dashed early in the SF match against Maria Sharapova, though, after things initially didn't go her way. That's the question of confidence that has prevented her from climbing as high as she might have in the past. It's carried over beyond Melbourne, too. Despite rising to a career-best #8, Makarova has gone a mediocre 5-4 since the AO, and is 6-5 outside of her slam SF run, including losing a rematch against Halep in Dubai. Makarova and doubles partner Elena Vesnina currently top the Race to Singapore, but have lost back-to-back finals in Indian Wells and Miami to new duo Hingis/Mirza (already #3 in the race) and now the Russians no longer seem destined to inherit the co-#1 ranking that will soon slip from the hands of "recently extinct" pair Errani/Vinci.


=============================


15.

Madison Keys, USA


...the 20-year has already racked up five Top 30 wins, victories over Petra Kvitova and Venus Williams, an Australian Open semifinal run, a game in which she saved seven match points against Serena Williams and a brand new Top 20 ranking during the 2015 season. And that was all in the first month. With Lindsay Davenport installed as coach, Keys' game has been picked up by a stiff wind this season and all the promise her thunderous groundstrokes and big serve (already second only to Serena's?) seemed to show for her future during her big learning experience moments in '14 is coming to fruition. Showing no nerves and cooly going about her business, Keys looked like an experienced veteran in Melbourne rather than a teenager taking her first trip into the second week of a slam. Serena was impressed, saying she's capable of winning slams and reaching #1. After a long break, Keys returned in March, though, and often looked like so many other frustrated young players who have a huge breakthrough result and then have a difficult time maintaining the same level of play under the focus of greater expectations in the immediate aftermath. Which Keys will win out for the remainder of the '15 season should prove to be one of the most interesting stories on tour until she returns to Melbourne next January.


=============================


HM-

Russian & Czech Fed Cup Teams


...both teams are back in the 2015 semifinals after dominating 1st Round wins, and could face off in the final later this season as the nations look to add to their sterling Fed Cup history. Russia won four titles in the 2000's, but none since 2008. Meanwhile, the Czechs are seeking a fourth title in five years. The semis -- RUS vs. GER, CZE vs. FRA -- will be star-studded, as four Top 11 players, three former slam winners and a slam runner-up are all slated to participate in next weekend's Final Four. And that's not even counting the Captains.


=============================





SPECIAL MENTION:

Lucie Safarova, CZE


...ever the late bloomer, Safarova seems to be coming into her own as she nears her 30th birthday. After taking her place in the Czech Fed Cup hierarchy in recent seasons, 28-year old Safarova looked THIS CLOSE to something bigger last season. She held MP against eventual AO champ Li Na, then reached the the Wimbledon semis. In January, she won her first career slam doubles title in Melbourne in her first event with Bethanie Mattek-Sands, and was 9-2 in February with four Top 15 wins. Three of them came in Doha, where she won the first Premier level event of her career and then moved to a career-best #11 in the rankings. At the start of the season, I included Safarova as one of my "Top 10+1" picks for 2015. I thought her selection was my biggest "gut feeling" pick of the bunch, and surely not a sure thing. It seemed a suddenly "safe" bet that Safarova would reach the Top 10 a few weeks ago. But, now? Weeeellll. She's gone 1-2 since Doha, and hasn't even won another doubles match since claiming the AO crown. With her withdrawal from Charleston, it could be that a nagging injury has slowed the Czech's progress. If so, she'd be wise to rest up. She still has a possible "career year" ahead of her.



"Maybe I'm like a good wine -- with time, I'm better!"

-

Timea Bacsinszky, after winning the Acapulco title




**RISERS**


1. Simona Halep, ROU


2. Timea Bacsinszky, SUI




3. Andrea Petkovic, GER
4. FRA Fed Cup Team
5. GER Fed Cup Team
6. Carla Suarez-Navarro, ESP
7. Karolina Pliskova, CZE
8. Ekaterina Makarova, RUS
9. Madison Keys, USA
10. Lucie Safarova, CZE
11. Caroline Wozniacki, DEN
12. Garbine Muguruza, ESP
13. Caroline Garcia, FRA
14. ROU Fed Cup Team
15. Kristina Mladenovic, FRA
16. Sabine Lisicki, GER
17. Irina-Camelia Begu, ROU
18. Monica Niculescu, ROU
19. Heather Watson, GBR
20. Camila Giorgi, ITA
21. Sloane Stephens, USA
22. Ajla Tomljanovic, CRO/AUS
23. Lesia Tsurenko, UKR
24. Aleksandra Krunic, SRB
25. SUI Fed Cup Team
26. Julia Goerges, GER
27. Alize Cornet, FRA
28. Coco Vandweghe, USA
29. Kurumi Nara, JPN
30. NED Fed Cup Team
31. Zarina Diyas, KAZ
32. Polona Hercog, SLO
33. Mona Barthel, GER
34. GBR Fed Cup Team
35. Anna Tatishvili, USA
36. Alison Van Uytvanck, BEL
37. Wang Qiang, CHN
38. Monica Puig, PUR
39. Misaki Doi, JPN
40. Stefanie Voegele, SUI
HM- Johanna Larsson, SWE



**FRESH FACES**


1. Belinda Bencic, SUI
2. Elina Svitolina, UKR
3. Daria Gavrilova, RUS/AUS
4. Anna Schmiedlova, SVK
5. Ana Konjuh, CRO
6. Katerina Siniakova, CZE
7. Annika Beck, GER
8. Oceane Dodin, FRA
9. CiCi Bellis, USA
10. Lauren Davis, USA
11. Elizaveta Kulichkova, RUS
12. Carina Witthoeft, GER
13. Wang Yafan, CHN
14. Denisa Allertova, CZE
15. Taylor Townsend, USA
16. Jelena Ostapenko, LAT
17. Indy De Vroome, NED
18. Beatriz Haddad Maia, BRA
19. Richel Hogenkamp, NED
20. Zheng Saisai, CHN
21. Ons Jabeur, TUN
22. Sachia Vickery, USA
23. Louisa Chirico, USA
24. Tereza Smitkova, CZE
25. Barbora Krejcikova, CZE
26. Claire Liu, USA
27. Yulia Putintseva, KAZ
28. Anett Kontaveit, EST
29. Montserrat Gonzalez, PAR
30. Ipek Soylu, TUR
31. Chanel Simmonds, RSA
32. Robin Anderson, USA
33. Rebecca Peterson, SWE
34. Nicole Gibbs, USA
35. Marcela Zacarius, MEX
HM- Antonia Lottner, AUT



**JUNIOR STARS**




1. Tereza Mihalikova, SVK




2. Dalma Galfi, HUN
3. Soyna Kenin, USA
4. Katie Swan, GBR
5. Usue Arconada, USA
6. Xu Shilin, CHN
7. Ingrid Neel, USA
8. Fanni Stoller, HUN
9. Paula Badosa Gibert, ESP
10. Michaela Gordon, USA
11. Kristina Schmiedlova, SVK
12. Priscilla Hon, AUS
13. Marketa Vondrousova, CZE
14. Aliona Bolsova Zadoinov, ESP
15. Mariam Kolodziejova/Marketa Vondrousova, CZE/CZE
16. Kimberly Birrell, AUS
17. Anna Bondar/Dalma Galfi, HUN/HUN
18. Jil Teichmann, SUI
19. Iryna Shymanovich, BLR
20. Gabriela Elena Ruse, ROU
21. Greet Minnen, BEL
22. Olga Fridman, UKR
23. Olivia Tjandramulia, AUS
24. Julieta Lara Estable, ARG
25. Vera Lapko, BLR
26. Manca Pislak, SLO
27. Bianca Andreescu, CAN
28. Charlotte Robillard-Millette, CAN
29. Reveena Kingsley, USA
30. Anna Blinkova, RUS
HM- Katherine Sebov, CAN



**SURPRISES**


1. Madison Brengle, USA
2. Liang Chen/Wang Yafan, CHN/CHN
3. Tatjana Maria, GER


4. Alexandra Panova, RUS




5. Cagla Buyukakcay, TUR
6. Zhu Lin, CHN
7. Wang Yafan, CHN
8. Danka Kovinic, MNE
9. Kateryna Kozlova, UKR
10. Olga Govortsova, BLR
11. PAR Fed Cup Team
12. TUR Fed Cup Team


13. Cristina Sanchez-Quintanar, ESP




13. Veronica Cepede Royg, PAR
14. Peangtarn Plipuech, THA
15. Pauline Parmentier, FRA
16. Yuliya Beygelzimer, UKR
17. Tadeja Majeric, SLO
18. Paula Cristina Goncalves, BRA
19. Gabriela Ce, BRA
20. Xu Yifan, CHN
HM- Yang Zhaoxuan, CHN



"Sometimes life deals you cards that you aren't expecting, but all you've gotta do is keep playing them and see what happens."

-

Venus Williams




**VETERANS**


1. Serena Williams, USA
2. Martina Hingis, SUI
3. Andrea Petkovic, GER


4. Maria Sharapova, RUS




5. Venus Williams, USA
6. Carla Suarez-Navarro, ESP
7. Sania Mirza, IND
8. Lucie Safarova, CZE
9. Jelena Jankovic, SRB
10. Sara Errani, ITA
11. Bethanie Mattek-Sands, USA
12. Ana Ivanovic, SRB
13. Barbora Zahlavova-Strycova, CZE
14. Daniela Hantuchova, SVK
15. Flavia Pennetta, ITA
16. Svetlana Kuznetsova, RUS
17. Jarmila Gajdosova, AUS
18. Chanelle Scheepers, RSA
19. Lucie Hradecka, CZE
20. Tsvetana Pironkova, BUL
HM- Stephanie Foretz, FRA



**COMEBACKS**




1. Victoria Azarenka, BLR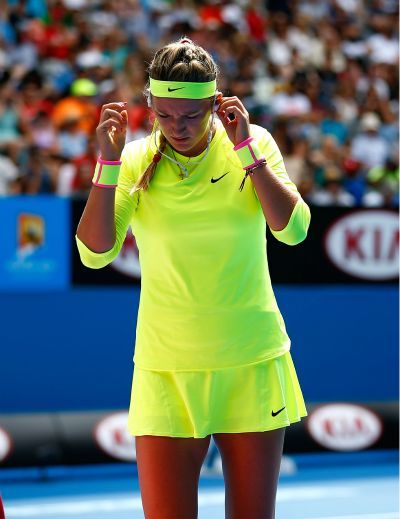 2. RUS Fed Cup Team
3. SRB Fed Cup Team
4. Sesil Karatantcheva, BUL
5. Heather Watson, GBR
6. Bethanie Mattek-Sands, USA
7. Jelena Jankovic, SRB
8. Daniela Hantuchova, SVK
9. Jarmila Gajdosova, AUS
10. Alexa Glatch, USA
11. Alexandra Dulgheru, ROU
12. Sloane Stephens, USA
13. Vera Zvonareva, RUS
14. Anastasija Sevastova, LAT
15. Urszula Radwanska, POL
16. Yanina Wickmayer, BEL
17. Nicole Vaidisova, CZE
18. Petra Martic, CRO
19. Evgeniya Rodina, RUS
20. Irina Falconi, USA
HM- Maria Jose Martinez-Sanchez, ESP



**DOWN**


1. ITA Fed Cup Team
2. Sara Errani/Roberta Vinci, ITA/ITA
3. Peng Shuai, CHN


4. Aga Radwanska, POL




5. Petra Kvitova, CZE
6. Angelique Kerber, GER
7. Donna Vekic, CRO
8. Martina Hingis/Flavia Pennetta, SUI/ITA
9. Casey Dellacqua, AUS
10. Anastasia Pavlyuchenkova, RUS
11. SVK Fed Cup Team
12. Dominika Cibulkova, SVK
13. Genie Bouchard, CAN
14. Hsieh Su-Wei/Sania Mirza, TPE/IND
15. Roberta Vinci, ITA
16. Samantha Stosur, AUS
17. Hsieh Su-Wei/Flavia Pennetta, TPE/ITA
18. Francesca Schiavone, ITA
19. CHN Fed Cup Team
20. Kirsten Flipkens, BEL
HM- Luksika Kumkhum, THA



**DOUBLES**


1. Martina Hingis, SUI


2. Martina Hingis/Sania Mirza, SUI/IND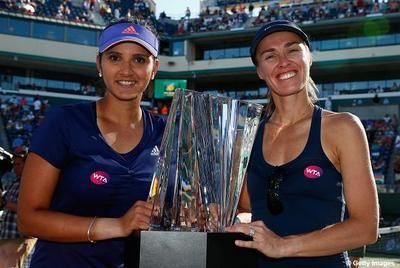 3. Sania Mirza, IND
4. Caroline Garcia/Kristina Mladenovic, FRA/FRA
5. Bethanie Mattek-Sands, USA
6. Yui Kamiji/Jordanne Whiley, JPN/GBR (WC)
7. Bethanie Mattek-Sands/Lucie Safarova, USA/CZE
8. Ekaterina Makarova/Elena Vesnina, RUS/RUS
9. Bethanie Mattek-Sands/Sania Mirza, USA/IND
10. Kristina Mladenovic, FRA
11. Chan Yung-Jan/Zheng Jie, TPE/CHN
12. Veronica Cepede Royg/Montserrat Gonzalez, PAR/PAR
13. Raquel Kops-Jones/Abigail Spears, USA/USA
14. Timea Babos/Kristina Mladenovic, HUN/FRA
15. Caroline Garcia/Katarina Srebotnik, FRA/SLO
16. Anna-Lena Groenefeld/Julia Goerges, GER/GER
17. Jocelyn Rae/Anna Smith, GBR/GBR
18. Sara Errani/Roberta Vinci, ITA/ITA
19. Kiki Bertens/Johanna Larsson, NED/SWE
20. Lara Arruabarrena/Maria-Teresa Torro-Flor, ESP/ESP
21. Gabriela Dabrowski/Alicja Rosolska, CAN/POL
22. Ysaline Bonaventure/Rebecca Peterson, BEL/SWE
23. Shuko Aoyama, JPN
24. Liang Chen/Wang Yafan, CHN/CHN
25. Chan Hao-Ching/Chan Yung-Jan, TPE/TPE
26. Anabel Medina-Garrigues, ESP
27. Lyudmyla Kichenok/Nadiia Kichenok, UKR/UKR
28. Victoria Rodriguez/Marcela Zacarius, MEX/MEX
29. Yuliya Beygelzimer/Olga Savchuk, UKR/UKR
30. Anabel Medina-Garrigues/Arantxa Parra-Santonja, ESP/ESP
HM- Klaudia Jans-Ignacik/Andreja Klepac, POL/SLO



**ITF PLAYERS**


1. Magarita Gasparyan, RUS


2. Davia Gavrilova, RUS/AUS




3. Sachia Vickery, USA
4. Katerina Stewart, USA
5. Alexa Glatch, USA
6. Tatjana Maria, GER
7. Olga Govortsova, BLR
8. Isabella Shinikova, BUL
9. CiCi Bellis, USA
10. Elizaveta Kulichkova, RUS
11. Olga Ianchuk, UKR
12. Jelena Ostapenko, LAT
13. Anne Schaefer, GER
14. Julia Terziyska, BUL
15. Marcela Zacarius, MEX
16. Alyona Sotnikova, UKR
17. Chanel Simmonds, RSA
18. Sofia Kvatsabaia, GEO
19. Darya Kasatkina, RUS
20. Hsu Ching-wen, TPE
21. Jang Su-Jeong, KOR
22. Myrtille Georges, FRA
23. Victoria Kan, RUS
24. Clothilde de Bernardi, FRA
25. Magda Linette, POL
26. Nudnida Luangnam, THA
27. Amanda Carreras, GBR
28. Maria Sakkari, GRE
29. Laura Pous-Tio, ESP
30. Lourdes Dominguez-Lino, ESP
HM- Lou Brouleau, FRA



**FED CUP**


1. Andrea Petkovic, GEr


2. Caroline Garcia/Kristina Mladenovic, FRA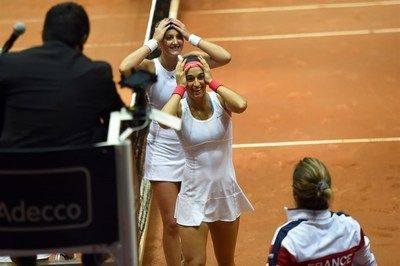 3. Irina-Camelia Begu, ROU
4. Aleksandra Krunic, SRB
5. Maria Sharapova, RUS
6. Venus Williams, USA
7. Karolina Pliskova, CZE
8. Veronica Cepede Royg/Montserrat Gonzalez, PAR
9. Olga Govortsova, BLR
10. Arantxa Rus, NED
11. Victoria Azarenka, BLR
12. Misaki Doi, JPN
13. Timea Bacsinszky, SUI
14. Chanelle Scheepers, RSA
15. Anett Kontaveit, EST
HM- Cagla Buyukakcay, TUR & Garbine Muguruza, ESP



"I felt the expectation that everyone was waiting for me to win. I didn't play my best but she was very good. She has a beautiful future."

-

Simona Halep, after losing a Fed Cup match to Garbine Muguruza in front of a partisan Romanian crowd
**TOP 1Q PERFORMANCES**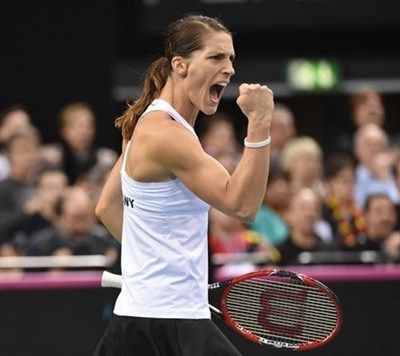 #1 -

Andrea Petkovic leads Germany past Australia and back to the Fed Cup semifinals, saving a match point and winning a 12-10 3rd set vs. Samantha Stosur, then clinching the tie by taking an 8-6 3rd set vs. Jarmila Gajdosova


=============================




#2 -

Amelie & Co. evict Team Italia. The French overcome a 0-2 deficit against the Italians in the 1st Round of Fed Cup. On clay. In Italy. With Kristina Mladenovic and Caroline Garcia (both 1-0 in singles on Day 2, with Kiki making her FC singles debut) winning the deciding match against the previously-undefeated-in-FC-action world's #1 doubles team of Sara Errani & Roberta Vinci. That's all, folks. Literally, in the case of Errani/Vinci, who ended their long-time partnership a few weeks later without teaming for another match, and maybe for the super-successful FC era for Team Italia, as well.


=============================




#3 -

Martina Hingis & Sania Mirza end their current partnerships and team up for the first time in Indian Wells and Miami, going 10-0 without dropping a set, sweeping through Ekaterina Makarova & Elena Vesnina in both finals.




=============================




#4 -

Serena Williams wins career slam #19 at the Australian Open, taking the final with her 16th consecutive win over Maria Sharapova


=============================




#5 -

Timea Bacsinszky becomes the unofficial "Queen of Mexico," winning back-to-back titles in Acapulco and Monterrey to claim her first tour title since 2009, after nearly giving up the game due to injuries two years ago. The Swiss' winning streak ultimately reaches a career-best fifteen matches and she ends the 1Q at a new career-high ranking of #21.


=============================




#6 -

Lucie Safarova wins her biggest career title in Doha, taking down three current Top 20 players (Makarova, Petkovic & CSN, all of whom soon after climbed into the Top 10), an ex-world #1 (Azarenka) and another former slam champ (Stosur)


=============================




#7 -

Days after her Fed Cup heroics, Petkovic saves eight MP vs. Alison Van Uytvanck in her opening match in Antwerp, then goes on to take the title via a Carla Suarez-Navarro walkover in the final and returns to the Top 10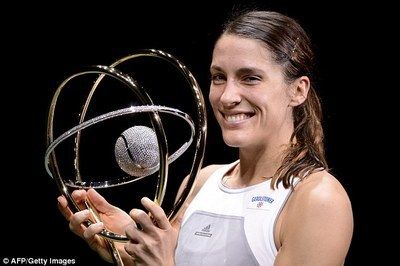 =============================




#8 -

Simona Halep becomes the fourth woman in WTA history to claim the first two Tier I/$2m+ Premier events of the season, winning in Dubai and Indian Wells. She then loses a tight three-set semifinal (7-5 3rd) to Serena Williams in Miami, narrowing missing out on a chance to become the first woman to sweep the first three biggest non-slam events in a season.


=============================




#9 -

Maria Sharapova drops just one set en route to winning Brisbane, the first Week 1 title of her career


=============================




#10 -

34-year old Venus Williams wins Auckland to become the fourth-oldest singles champion in tour history


=============================




#11 -

Petra Kvitova easily takes Sydney, defeating Karolina Pliskova in the first all-Czech tour singles final in six years


=============================




#12 -

Serbian Good Luck Charm Aleksandra Krunic, holding down the #1 singles slot after being ridiculously relegated to mop-up (or no) duty in recent FC outings, leads Serbia out of Europe/Africa Zone play as the team ends a Fed Cup losing streak that began after Serbia's win in the 2012 semifinals




=============================




#13 -

Serena Williams wins her eighth career title (in ten finals) in Miami, surpassing 700 career wins and remaining undefeated in her last twenty-one matches since dropping a round robin match to Simona Halep in last season's WTA Finals




=============================




#14 -

Sara Errani saves three match points in the QF round, then goes on to win career title #8 in Rio


=============================




#15 -

Daniela Hantuchova saves two match points in a semifinal, then goes on to win career title #7 in Pattaya City, her first with new coach Carlos Rodriguez


=============================




HM-

Heather Watson wins Hobart grabbing her first title since missing time with glandular fever in 2013. She's the first British woman to win her second career title since 1985.


=============================





[Wheelchair]




#1 -

Yui Kamiji & Jordanne Whiley win the Australian Open Wheelchair doubles title, claiming their fifth consecutive slam title. The duo combined to win a true Grand Slam in 2014.


=============================




#2 -

Jiske Griffioen wins the Australian Open Wheelchair singles crown, defeating world #1 Yui Kamiji in the final and preventing her from being the reigning champ in all seven grand slam WC disciplines. Kamiji defeated Griffioen in the semifinals of all three slam singles competitions in '14.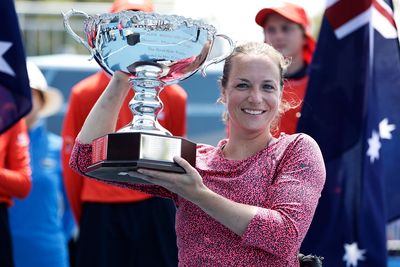 =============================





[Best Non-title winning Performances]


Carla Suarez-Navarro reaches her first career Premier Mandatory final in Miami, notching two Top 10 victories and upsets over a pair of former tournament champs (Aga Radwanska & Venus Williams). Two days later, she becomes the first Spanish woman to debut in the Top 10 in twenty-six years.


=============================


Madison Brengle makes it through qualifying and reaches her first tour final in Hobart, then defeats #13-seeded Andrea Petkovic at the Australian Open en route to her first career slam Round of 16. After completing her decade-long quest to notch her first main draw slam win at the U.S. Open last August, Brengle won more tour-level main draw matches in the first month of 2015 than she had during her entire career (she's been a Top 250 player since 2007) before this season. Brengle is now ranked at a career-best #43.


=============================


In Indian Wells, Jelena Jankovic recaptures her former title-winning (2010) form in the desert. Her run to the final included her first Top 20 victory (M.Keys) since last summer, as well as wins over Belinda Bencic and Sabine Lisicki, as she lifted her ranking back into the Top 20.


=============================


Venus Williams reaches the Australian Open quarterfinals, her best slam result since 2010, and climbs to #11 in the rankings.




=============================





[Doubles]




#1 -

Bethanie Mattek-Sands' makes a successful comeback from '14 hip surgery, winning back-to-back doubles titles in Sydney (w/ Sania Mirza) and the Australian Open (w/ Lucie Safarova), capturing her first career women's doubles slam crown in her first-ever pairing with the Czech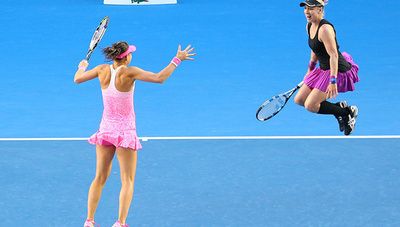 =============================




#2 -

Martina Hingis wins the AO Mixed Doubles with Leander Paes, picking up her sixteenth career slam crown and her first since 2006


=============================




#3 -

Sania Mirza puts up her best result with new partner Hsieh Su-Wei by reaching the Doha final, but nevertheless ends the pairing in order to team with Martina Hingis in Indian Wells and Miami. The new superstar (superhero?) duo sweeps both titles and Mirza rises to #3, less than 150 points behind co-#1's (and now ex-partners) Errani & Vinci and THIS CLOSE to registering yet another "first-ever" accomplishment for her career resume... becoming the first Indian woman to be ranked #1. I guess we've been officially reminded that Sania usually knows best.




=============================





[Team]


Aga Radwanska (w/ Jerzy Janowicz) leads Poland to its first Hopman Cup crown, as A-Rad defeats Serena Williams (w/ John Isner) in both singles and the deciding doubles in the final





[Racket]


In her 2nd Round match at the Australian Open, Oceane Dodin's racket seemed to have a mind of its own. And Karolina Pliskova took advantage of it.




[Junior]


Unseeded Slovak Tereza Mihalikova defeats Brit Katie Swan to win the Australian Open girls title, becoming the first from her nation to win the AO, and the first Slovak junior to take a slam since 2007.



[Game]


Australian Open SF - Serena Williams d. Madison Keys
...7-6(5)/6-2. Down 7-6/5-1, Keys might have just gone quietly in her semifinal match-up with #1 Williams. But instead the 19-year old saved seven match points on serve with a series of aces, thudding shots and a lack of nerves or dejection. It was a wonderful thing to watch, and maybe a glimpse of the near future on the WTA tour. She'd save an eighth MP on Serena's serve before making her first slam SF appearance as memorable in defeat as it was in accomplishment.



[Shot]


Francesca!





[Best Fed Cup Save]


Venus Williams going 2-0 in Fed Cup play vs. Argentina, bailing out U.S. Captain Mary Joe Fernandez from making another decision-making blunder -- including non-claycourter Coco Vandeweghe on the roster for a road tie on clay, then not having a legit back-up plan when Serena Williams' illness prevented her from playing her match on Sunday -- that could have cost another FC tie win for the Americans after questionable roster moves and game day changes by MJF led to two defeats on U.S. soil in 2014 and a 1-3 skid since '13. If Williams had lost her match, the tie would have gone to the deciding doubles, where Venus would have likely had to play with little rest. Even if it had turned out all right for the Bannerettes, if it had come down to a one-match showdown before a partisan crowd in Argentina it would have been more than a little embarrassing considering the comparative "historic weight" of the roster of the two teams, and the suddenly-very-deep pool of U.S. talent from which Fernandez can now conceivably pull together a roster.



[Best Fed Cup Coach]


Amelie Mauresmo. Really, any questions about who should win this one EVERY time should probably be put to rest about now.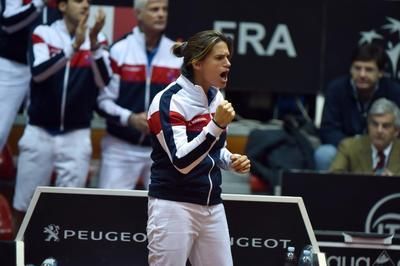 [Best Russian Revolution Reunion]


All together for the first time since they claimed three grand slams in 2004, Russian FC Captain Anastasia Myskina, Maria Sharapova and Svetlana Kuznetsova showed that the old Russian magic isn't yet a thing of the past as the Hordettes righted their recently-flagging FC ship and advanced to the semifinals.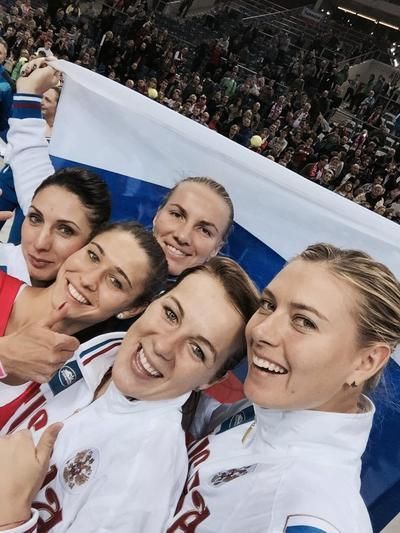 [Set]


Australian Open 4th Rd. - Venus Williams d. Aga Radwanska
...6-3/2-6/6-1. Turning back the clock to the prime of her career, Venus plays as if "in a trance" (her words) in the 3rd set against Radwanska, allowing the Pole just two points on her own serve in the set and using a big serve, excellent court coverage and Wimbledonesque volleys to out-point A-Rad 30-16 in the set, converting on 7-of-9 net approaches as she burst into her first slam Final Eight in four and a half years.

#Venus Williams explains the trance-like state that propelled her to win: http://t.co/iWmdUfmp8m #ausopen

— Australian Open (@AustralianOpen) January 26, 2015




[A Preview of Things to Come...or just a Caro thing?]


Australian Open 2nd Rd. - Victoria Azarenka d. Caroline Wozniacki
...6-4/6-2. In an early-round match-up of former #1's (the earliest in a slam since 2005), Azarenka was as bold as her DayGlo yellow outfit. Her defense was all-encompassing, and her volleys crisp, as Vika controlled rallies with her consistency and aggression (21/26 at the net, a necessary tactic with Wozniacki being 16/18). Fittingly, Azarenka ended the match with a perfect volley on MP to secure her first Top 10 win in over a year, then danced for an Aussie crowd that, for the first time in years, wasn't against the new "underdog" Belarusian. Of course, it was all just a mouthwatering flash of her past abilities, or maybe a preview of her future, as Azarenka's run ended in the Round of 16. But Vika showed signs of being fully back -- soon -- in Melbourne, and that's a development that could prove to be a major storyline over the course of 2015.


"This is vintage Azarenka right now."

-

ESPN's Pam Shriver, during the Azarenka/Wozniacki match

Doha QF - Victoria Azarenka d. Caroline Wozniacki
...6-3/6-1. The progress continued a few weeks later, again at Caro's expense. The Dane hasn't taken a set off Vika since 2010.



[Post-Match Ceremony]


A very chatty Venus in Auckland





"That's my rapper name."

-

Venus Williams, on her "Queen Vee" nickname



[Best Post-Match Q&A]


Venus Williams converts match point. Barbora Zahlavova-Strycova winces as she walks to the net, obviously with all sorts of choice words streaming through her mind, then gives a rather transparent "look of disapproval" to Venus.

Venus: "Was that look for something?"
BZS: "No."
Venus: "All right, good."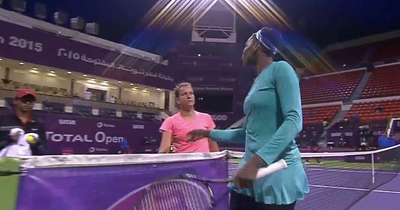 [Best Performance - Most "Sesil-like"]


Sesil Karatantcheva, representing her native Bulgaria again after a five-year stint as a Kazakh, reaches her second career WTA singles semifinal in Acapulco... and she does so as a lucky loser. Naturally.



[Best Performance - Most "Pironkova-like"]


A year after winning her first career title there after qualifying and winning eight matches in eight days, Tsvetana Pironkova returns to Sydney (again as a qualifier) and nearly repeats the process. Again, she makes it through qualifying, extending her winning streak in the event to fourteen matches before finally losing in the semifinals.



[Best Tantrum]


Petko in Dubai




[Best Court-side Magic Trick]


Timea Bacsinszky changes her dress without leaving the court, or exposing any underthings




[Best Racket Abuse: Flashback Edition]


Vika Azarenka in Miami, recalling memories of her "crazy kid" years


Victoria Azarenka Breaks Racket ~ WTA Miami 2015 https://t.co/bEnu79AqHp

— FansV1kaAzarenka (@FansV1ka) March 29, 2015
The ultimate Azarenka smashing racket collection https://t.co/EL4WVrqUNg

— Giulio Fedele (@fedele_giulio) March 29, 2015




[Best Resurgence: Future Sloane Edition]


For the first time in ages, in Indian Wells and Miami, Sloane Stephens reminded everyone why they got so excited about her potential two seasons ago. With her best results in a year, Stephens put up back-to-back Round of 16 and QF results, had her first three-win events since last year's Roland Garros and her first Top 20 victories (Kerber & Keys, as well as an impressive non-Top 20 win over Bencic) a year ago in the I.W. desert.



[Best Performance - Belgian Barbie-Out-of-the-Blue Edition]



@Clijsterskim looking good out there today Kimmy! #comeback? Ah JK but we miss you! Congrats @andreapetkovic what a couple of weeks 4 U kid!

— rennae stubbs (@rennaestubbs) February 15, 2015




Antwerp tournament director Kim Clijsters, after Carla Suarez-Navarro's neck injury prevented her from playing the final, squared off in a one set exhibition against new champion Andrea Petkovic. Looking much like her old self, she defeated Petkovic 5-3... and then went about literally tearing down the tournament before shutting out the lights.

Tournament Director @Clijsterskim helps in the break down after the @WTAdiamondgames #WTA #Antwerp pic.twitter.com/R0x8LTOQ7I

— dannykendall (@dannykendall) February 15, 2015

Naturally, this all meant that La Petit Taureau had to do SOMETHING...

[Best LPT That's-Your-Bet?, Okay-I'll-Raise-You-With-This Performance]
A few weeks after Clijsters' all-consuming performance in Antwerp, Justine Henin make some news of her own by getting married to longtime boyfriend Benoit Bertuzzo, father of her daughter Lalie



Your move, Kim.



*1Q MATCHES ON THE MIND*


Fed Cup 1st Rd. - Andrea Petkovic/GER d. Samantha Stosur/AUS
...6-4/2-6/12-10. Fed Cup is Petko Time. With Germany down 1-0 to the Aussies, Petko pulled the tie back from the brink in a 3:16 match in which she saved a match point at 5-4 in what turned out to be a 22-game 3rd set. Stosur led 14-5 in aces, 61-56 in winners and had fewer (35/43) unforced errors than Petkovic. But the German led 147-137 in points, taking the match on the back of forcing 23 more errors from Stosur.




=============================


Miami SF - Serena Williams d. Simona Halep
...6-2/4-6/7-5. An instant early-season classic that made the Miami Open more final more than a little anticlimactic. Unlike in Singapore, where she was taken off-guard by her round robin result against Williams, Halep truly believed she could win this time around. And she very nearly did, too. Serena's forehand went in and out all match, and she was often bothered by the (overly?) boisterous Romanian crowd in what she sees as her "backyard tournament," but her serve (as usual) often bailed her out of trouble and Halep's defense (and guts) made Williams reach for something more in the clutch. As she generally does, she found it just in the nick of time... but not until after Halep broke her to take the 2nd set, then when Serena was serving for the match at 5-3 in the 3rd. Bring on the (next) rematch!




=============================


Monterrey Final - Timea Bacsinszky d. Caroline Garcia
...4-6/6-2/6-4. A week after playing for the Acapulco title, Bacsinszky and Garcia became the first players to face off in finals in back-to-back tour stops since Kim Clijsters and Li Na split Sydney and Australian Open titles in 2011. After Garcia claimed the 1st set, with Bacsinszky up 3-1 in the 2nd, a four-hour rain delay pushed the conclusion of the match until nearly 1 a.m. local time. After at first looking like the Swiss player was going to outclass the Pastry in the aftermath of the delay, a physio break for Garcia with Bacsinszky next to serve up 4-3 in the 3rd set led directly into a great finish. In that eighth game, which lasted fifteen minutes, Bacsinszky was forced to save five BP -- usually with the help of big, well-placed serves -- and, after a missed swing volley down the line by Garcia on BP #5, the Swiss hit a big second serve to hold for 5-3. Great defense and timely serving eventually helped her serve things out two games later, as well, but only after she celebrated a converted match point that was challenged by Garcia and overturned. No matter, the match ended one point later when Garcia netted a groundstroke.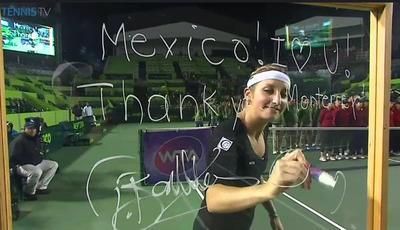 =============================


Indian Wells QF - Sabine Lisicki d. Flavia Pennetta
...6-4/6-7(3)/7-6(4). If this had been a final, it'd been considered a classic. It was still a dramatic quarterfinal, though. Lisicki held a match point in the 2nd set, only to see defending champ Flavia! battle back and hold three of her own in the 3rd. But the Italian's tentative play down the stretch doomed her chances, as the German sealed the win with an ace on her second MP.


=============================




"I was tired. I was sweaty. I was dead."

-

Alize Cornet, after defeating Kirsten Flipkens in Dubai

Dubai 1st Rd. - Alize Cornet d. Kirsten Flipkens
...6-0/6-7(6)/6-3. Alize was, well, even more Alize than usual. Cornet won the first six games of the match, as well as the last six. In between in the 3:11 match, the Pastry limped, fell, yelled, argued and made a few bad decisions (including not challenging a bad line call that gave Flipkens a set point in the 2nd). But she erased her bad Fed Cup Day 1 memories with a win the only way she knows how -- by putting on a "death-defying" show.


=============================


Europe/Africa I Zone RR - Jocelyn Rae/Anna Smith (GBR) d. Olga Savchuk/Elina Svitolina (UKR)
...6-7(6)/7-5/6-4. With the final E/A round robin tie wrapped up with back-to-back singles win, Rae & Smith needed to just win one set in order to distance the Brits from Turkey and advance to the promotional playoff. But after getting to within two points of doing so at 5-5 in the 1st set tie-break they dropped the set and soon found themselves down match point at 7-6/5-4, 40/30. They saved things on a crazy match point that included great defense from Smith and a stretching overhead backhand volley, then went on to edge out the Ukrainian pair.




=============================


Antwerp 2nd Rd. - Andrea Petkovic d. Alison Van Uytvanck
...6-7(7)/7-6(5)/6-2. On the heels of her FC triumph, Petko led 5-2 and held two set points in the 1st against the Waffle, only to lose it. The German won a 19-point game at 5-6 in the 2nd to force a tie-break, then saved eight match points there before winning the TB and forcing a 3rd. After going up 4-0, Petkovic finally put the match away on her own fourth MP and went on to take the title.



=============================



Your 2015 @SydneyTennis champion @Petra_Kvitova & finalist Karolina Pliskova--> http://t.co/QlIw1bDOOB #WTA #tennis pic.twitter.com/QhB44Xa9Ix

— WTA (@WTA) January 16, 2015

Sydney Final - Petra Kvitova d. Karolina Pliskova
...7-6(5)/7-6(6). Surely a contender for the best two-set match of the season, the first all-Czech tour final since 2009 proved to be a high-quality, entertaining affair. Pliskova served for the set in the 1st, but Kvitova was too good. The younger Maiden then came back from an early break down in the 2nd to force a second tie-break, which got to 6-6 before Kvitova prevailed. Days before the start of play in Melbourne, Kvitova seemed like a legit threat to win the Australian Open after this. But, well, you know what happened next.


=============================


Brisbane 1st Rd. - Karolina Pliskova d. Victoria Azarenka
...4-6/7-6(7)/6-4. We didn't know what to assume that this match meant at the time. But, in retrospect, that Azarenka made her return to action after an injury-disturbed and shortened '14 and held two match points in the 2nd set tie-break against the soon-to-break-into-the-Top-20 Czech told everything we needed to know about her ability to string together a 4th Round run at the Australian Open and not-long-after run to the Doha final, but also that she wasn't yet quite match-tough or back in form enough to expect the sort of results that she was capable of as recently as just a year ago. Pliskova would push Petra Kvitova in the Sydney final a week later, and reached her second straight slam 3rd Round at the AO.


=============================


Australian Open 1st Rd. - Christina McHale d. Stephanie Foretz
...6-4/1-6/12-10. McHale injured her shoulder, threw up twice and saved a match point at 7-6 in the 3rd before holding serve four straight games and breaking the Pastry to win in the twenty-second game of the set.


=============================


Brisbane Final - Maria Sharapova d. Ana Ivanovic
...6-7(4)/6-3/6-3. Sharapova's peerless run in Brisbane was briefly interrupted when Ivanovic battled back from 4-1 down and saved two set points before taking the first stanza as her own. Sharapova pulled away in the final two sets, foreshadowing a similar result for AnaIvo once she reached Melbourne.


=============================


Australian Open 2nd Rd. - Angelique Kerber d. Daria Gavrilova
...6-7(6)/7-6(2)/6-3. In a two and a half hour match that played past 3:00 in the morning, Kerber survived the threat from the newly-Aussified former Hordette after failing to convert a set point in the 1st. Two months later, Gavrilova would get her "signature win" over Maria Sharapova in Miami.


=============================


Australian Open 4th Rd. - Dominika Cibulkova d. Victoria Azarenka
...6-2/3-6/6-3. In a battle in which the more aggressive player ALWAYS won, '14 AO runner-up Cibulkova poured it on with a lethal forehand in the 1st and 3rd sets, overcoming early 2-0 deficits in both in another nice match in the compelling -- though under-the-radar -- head-to-head series between these two. Six of their last seven match-ups have gone three sets.


=============================


Fed Cup 1st Rd. - Andrea Petkovic/GER d. Jarmila Gajdosova/AUS
...6-3/6-3/8-6. Petko's win over Stosur got the headlines, but this win clinched Germany's return to the FC semifinals and Petkovic had to come back from a break down to win another extended 3rd set to do it.


=============================


Australian Open 4th Rd. - Serena Williams d. Garbine Muguruza
...2-6/6-3/6-2. In a rematch of Williams' career worst-ever slam loss to the Spaniard at Roland Garros last year, she was forced to three sets as Muguruza's tactic of firing balls hard and deep in the court proved effective. Muguruza, who'd closed out her three previous AO opponents with a love set, saved three break points in the opening game of the 3rd, only to see Williams save six break points of her own one game later. The momentum shifted in Serena's favor after the hold... and she didn't lose another set in the tournament.


=============================


Fed Cup II 1st Rd. - Irina-Camelia Begu/Monica Niculescu (ROU) d. Garbine Muguruza/Anabel Medina-Garrigues (ESP)
...5-7/6-3/6-2. Playing without regular doubles partner Carla Suarez-Navarro, Muguruza wasn't able to win a third match on the weekend and lead the Spaniards to a thrilling, Romanian tennis nation-deflating win over the Swarmettes in Galati. So, Romania's trip down the path to FC semifinal/final contention in 2016-17 continues without a detour... barely.


=============================


Fed Cup Europe/Africa I Zone RR - Aleksandra Krunic/SRB d. Timea Babos/HUN
...7-6(6)/0-6/7-6(5). The Serbian Good Luck Charm lives up to her nickname. Again. The smallest player on the court always has the biggest heart when Krunic is around. She came back from a break down in the 3rd to defeat Hungary's Babos in Budapest to lock away advancement to the promotional playoff, which the Serbs swept as Krunic again provided the clinching point. Shame on the Serbian Federation if Krunic doesn't have a role in every FC tie for as long as she desires to take part for at least the next five years.


=============================


Monterrey 2nd Rd. - Magdalena Rybarikova d. Polona Hercog
...7-5/3-6/7-6(11). The Slovak wins a wild one. She held a MP at 5-4 in the 3rd set, but was forced to a tie-break. She led 4-0, only to see Hercog surge back and hold four MP of her own. But Hercog lost back-to-back serve points to give Rybarikova a second MP.


=============================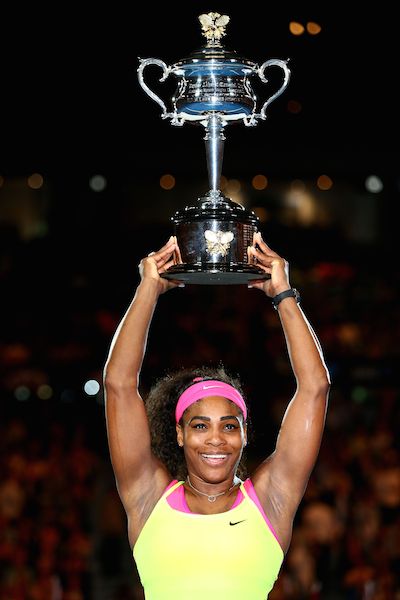 Australian Open Final - Serena Williams d. Maria Sharapova
...6-3/7-6(5). Playing for (more) history, Serena was happy to see Sharapova on the other side of the net, for Williams is never prone to "one of those days" when Maria is around. Maintaining her ten years (and now working on a second decade) of mastery over the Russian, Serena claimed her twenty-fourth and twenty-fifth set in the last twenty-six against the Russian, firing eighteen aces (15 in the 2nd set alone) to claim slam #19. Williams' now sixteen-match winning streak against Sharapova began in the Australian Open semifinals in 2005, when Serena saved three MP and went on to claim her second of now six AO crowns.


=============================


Fed Cup Americas Zone I RR - Veronica Cepede Royg/Montserrat Gonzalez (PAR) d. Victoria Rodriguez/Marcela Zacarius (MEX) 6-3/3-6/6-3
Fed Cup Americas Zone I Promotional Playoff - Veronica Cepede Royg/Montserrat Gonzalez (PAR) d. Paula Cristina Goncalves/Teliana Pereira (BRA) 6-3/6-3
...Paraguay's fate rested in the hands of doubles duo Cepede Royg & Gonzalez, who took down the Mexicans on their home soil in the deciding doubles match of the tie that determined the Pool winner. Then, against Brazil in the promotional playoff, they teamed to do it again and send Paraguay to the World Group II playoffs.


=============================



[Imperfect Perfection... would you expect anything less from Queen Chaos?]
Indian Wells Final - Simona Halep d. Jelena Jankovic
...2-6/7-5/6-4. For the fifth time in five meetings, Simona and JJ went three sets, with Halep winning for a fourth time. Things weren't as great as the scoreline might make them appear, though. Although the Romanian showed a better ability to hold on and wait out her opponent than she did in Melbourne, especially in turning around the 2nd set just as most hope seemed lost, this one was mostly about which player would string together enough untimely errors to lose. As it turned out, that player turned out to be JJ, who was up a break on five different occasions in the 2nd and 3rd sets but failed to hold onto any of her advantages, including when she served for the match at 5-4 in the 2nd after arguing with coach Chip Brooks about how his advice wasn't really helping her because he made it seem far easier than it actually was... oh, brother! No, not you, Marko. For once.

[The "Beauty" in Imperfection... minus the presence of JJ]
Hobart 1st Rd. - Camila Giorgi d. Summer Sanders
...5-7/6-1/7-6(6). Giorgi and Sanders broke serve in four of seven games in the 1st, then ten consecutive times in the 3rd. The server lost seven of the fourteen points in the deciding tie-break, and the Italian had twenty-three doubles-faults in the match. And SHE was the winner.



[Futures]


Australian Open 2nd Rd. - Karolina Pliskova d. Oceane Dodin
...7-5/5-7/6-4. In as hard-hitting (and sometimes unpredictably so) a match up as you'll likely find, the 22-year old Czech and 18-year old Pastry engaged in what turned out to be one of the more intriguing contests between young stars in recent years. No, it wasn't a sequel to that Seles vs. Capriati teenage slugfest at the '91 U.S. Open, but it surely was something.

After missing seven months last season with dental surgery and issues with vertigo, Dodin played as if she was trying to make up for lost time on every point. No, every swing. Every often "wow"-inducing swing, actually... that is, when they didn't produce a thunderous error that would cause you to cringe and go, "Wow!," for an entirely different, though still awe-struck, reason. Meanwhile, Pliskova often hit the ball just as hard, but much more cleanly and with greater consistent accuracy. Dodin led 40-37 in winners, while Pliskova had a 14-10 edge in aces. Dodin's average shot speed was faster on both her 1st and 2nd serves. Pliskova threw in a four-ace love game in the 2nd set, while Dodin saved three match points down 5-3, 40/love in the 3rd. There were many big moments from young players at this year's AO, but while this one was one of the least-watched, it might have been the most intriguing on both sides of the net.


"I like to be seen as a phenom; I like not being like everybody else."

-

Oceane Dodin
"I'm just trying to win points as quick as possible, that's my game and I love it. Sure, I make a lot of errors and it's tough to lose points on silly mistakes, but I take lots of pleasure playing like this. That's just who I am. So I don't especially like getting looking at the stats after my matches because it's not always pretty and it can upset me!"

-

Dodin



[The Battle of the Madisons]


Australian Open 4th Rd. - Madison Keys d. Madison Brengle
...6-2/6-4. The result was an expected one, as Keys burst out of the gate with twenty-seven winners in the first nine games of the match. But with both Madisons being first-timers in a slam Round of 16, no match highlighted the upturn of U.S. fortunes -- twelve 1st Round wins in Melbourne, seven women into the Final 32, four in the Round of 16, three in the QF and the first all-American slam semi since 2002 -- better than this one.



[The More Things Change...]


Australian Open 1st Rd. - Victoria Azarenka d. Sloane Stephens
...6-3/6-2. For the third straight year, only five rounds earlier than in '13 and three earlier than in '14, Azarenka met Stephens in Melbourne. And for the third straight year, save for the controversial ten-minute stretch two years ago, Vika dominated. For various reasons, both were unseeded in this match-up. Eventual AO Round of 16er Azarenka won't likely be that at the next slam. As for Sloane? Well... Indian Wells and Miami at least provided a little optimism that she might be seeded at at least one of the majors in '15.



"I was either going to be a genius or a nonsense Captain! I took the decision to play Kristina because I knew she had the game to beat Errani. We knew the tactics and she was able to deliver on the court, which is always the toughest thing to do."

-

French Fed Cup Captain Amelie Mauresmo, whose Day 2 shake-up of the Pastry roster pecking order sparked an historic comeback from a 0-2 Day 1 deficit against Italy
*COMEBACKS-R-US... vs. Them*

Fed Cup 1st Rd. - Kristina Mladenovic/FRA d. Sara Errani/ITA 6-4/6-3
Fed Cup 1st Rd. - Caroline Garcia/FRA d. Camila Giorgi 4-6/6-0/6-2
Fed Cup 1st Rd. - Garcia/Mladenovic (FRA) d. Errani/Vinci 6-1/6-2
...the Pastries' historic comeback in FC 1st Round play, which handed Team Italia the first-ever World Group loss by a home team that held a 2-0 lead after Day 1. Captain Amelie Mauresmo replaced Alize Cornet (0-1 on Day 1) with Mladenovic, who made her FC singles debut a successful one, then Garcia staged a sterling comeback against Giorgi in a match interrupted by attempts to repair a shoddy clay court that was SUPPOSED to be an advantage for the Italians. Perhaps unnerved by the whole deal, Errani/Vinci were quickly run out of the deciding doubles in their first career FC doubles loss as the French team pulled off what had seemed an impossible task just a few hours earlier. Of course, as we should know by now, nothing is "impossible" if master motivator/roster manipulator Mauresmo is pulling the strings. Next up in the semis for France: the champion Czech team in front of a partisan crowd in Ostrava, with Petra Kvitova on hand. It seems like a tough ask for Amelie & Co. So I guess that means they'll be handing out baguettes in the final?


=============================




Australian Open 2nd Rd. - Maria Sharapova d. Alexandra Panova
...6-1/4-6/7-5. Sharapova's escape didn't ultimately open the door for a playing-with-house-money slam title run, but her recovery from being two match points down to Panova -- Sharapova broke for 5-5 in a five-winner game -- will go down in the lore of the Russian's career, as she once again showed the heart of a (near) champion. Had she lost to her countrywoman, who's never beaten a Top 30 player, Sharapova would have become the first #2 seed to lose in the 2nd Round of the AO since 1980.


=============================


Monterrey 2nd Rd. - Timea Bacsinszky d. Lesia Tsurenko
...4-6/6-4/6-4. To battle was in Bacsinszky's blood in Mexico. Early in the week, Tsurenko led 6-4/4-2, but the Swiss turned things around with a break for 5-4 in the 2nd on her sixth BP of game #9.

Monterrey SF - Timea Bacsinszky d. Sara Errani
...6-0/4-6/7-6(3). The scrappin' Swiss takes out the fightin' Italian. Errani saved six break points at 5-4 in the 2nd to hold and force a 3rd set. There, she served for the match at 5-4 and 6-5, only to see Bacsinszky break her both times. In the deciding tie-break, up 5-3, the Swiss woman stopped play and challenged an Errani shot at the baseline. It was called out, giving Bacsinszky MP at 6-3. She won to advance to her second straight final a point later, winning the 2:40 battle. One round later, she'd swept to a title in her second 2015 tournament in Mexico.

Indian Wells 3rd Rd. - Timea Bacsinszky d. Ekaterina Makarova
...3-6/7-5/6-4. Raising her '15 record to 9-1 in three-set matches, Bacsinszky came back from 0-3 and 2-4 deficits in the 3rd to lock away her fourteenth straight match. She won her fifteenth straight a round later, again in three sets after dropping the 1st, before finally seeing her great run brought to a close by none other than Serena Williams.


=============================


Rio QF - Sara Errani d. Beatriz Haddad Maia
...3-6/7-6(2)/3-0 ret. Errani rebounded from her FC crash-out by overcoming a 6-3/5-3 deficit and saving three 2nd set match points against the Sao Paulo-born teenager, ultimately outlasting her when she was forced to retire due to the cramping brought on by the length of the match in the South American heat. Haddad had been trying to become just the second Brazilian in twenty-five years to reach a WTA singles semi. Errani went on to win the title.


=============================


Acapulco QF - Sesil Karatantcheva d. Monica Puig
...2-6/7-6(7)/6-4. Lucky loser Sesil lost a 4-0 2nd set lead and saw Puig hold a match point at 6-5. Up 6-3 in the tie-breaker, Karatantcheva was forced to save a third MP before finally forcing a deciding set and going on to reach her second career tour singles semi.


=============================


Doha 2nd Rd. - Venus Williams d. Barbora Zahlavova-Strycova
...7-5/3-6/7-6(5). Venus served for the match at 5-4 in the 3rd, but had to save a match point at 6-5. With the help of some questionable calls, Venus prevailed... then shut down a perturbed BZS when she half-heartedly (for a Czech as feisty as she) attempted to challenge Williams' "good fortune" at the net following the match.


=============================


Doha 2nd Rd. - Andrea Petkovic d. Zarina Diyas
...5-7/6-2/6-4. After losing to Diyas in a match that contained a Petko tantrum and "gummy legs" syndrome after her big weeks in Stuttgart (Fed Cup) and Antwerp, Petko comes back from a break down three times in the 3rd set to take out the Kazakh.


=============================


Fed Cup Europe/Africa I RR - Victoria Azarenka/BLR d. Tsvetana Pironkova/BUL
...6-3/2-6/7-5. In her first FC action since 2011, and after being without her equipment all week when her luggage went missing just as the news went public about coach Sam Sumyk leaving her for a paid position in Genie's Army, Vika overcomes Pironkova's 3-0 3rd set advantage thanks to the Bulgarian's missed volleys up 4-3/deuce and 5-6/15-15. Days later, Azarenka clinched Belarus' win in the promotional playoff with her second win in the green-and-red since winning two medals at the '12 Olympics.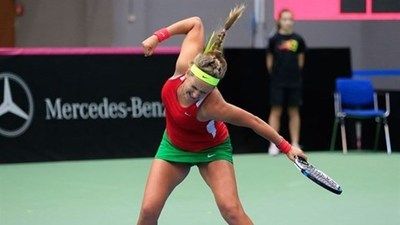 =============================


Pattaya QF - Marina Erakovic d. Vera Zvonareva
...2-6/7-6(6)/7-5. The Russian held a MP at 6-5 in the 2nd set TB, then two more at 5-4 in the 3rd.


=============================


Pattaya SF - Daniela Hantuchova d. Marina Erakovic
...4-6/6-3/7-6(3). What the Tennis Gods giveth the Kiwi, they took a way a round later. Erakovic was the one holding match points (2 at 5-4 in the 3rd set) this time around, as Hantuchova survived the eight-break deciding set and won the title a day later.


=============================


Monterrey 1st Rd. - Daniela Hantuchova d. Monica Puig
...7-6(1)/3-6/7-5 Hantuchova came back from MP down to win a title in Pattaya, and she was up to her new tricks again the following week. Puig had four MP in the 3rd set, while the Slovak ultimately won on #5 of her own. She didn't go on to win the title this time, though.


=============================


Kuala Lumpur SF - Alexandra Dulgheru d. Jarmila Gajdosova
...5-7/7-5/7-6(4). The Aussie led 7-5/4-2, but the Swarmette won the star-crossed battle to break serve in the final set. In the 3rd, the two went 0-for-17 in BP attempts through the first twelve games, with Dulgheru alone saving fourteen chances on her own serve. The Romanian went on to carry over the trend into the tie-break, as well, holding all her services points. That was enough to allow her to produce her best tour result in five years


=============================


Hobart QF - Madison Brengle d. Karin Knapp
...6-7(3)/6-4/6-4. Brengle led 5-3 in the 1st set, but lost it. Knapp had a 3-1 advantage in the 2nd, and led 2-0 in the 3rd, but lost both sets. BrengleFly went on to reach her first career tour final, then the Round of 16 in Melbourne. Knapp went on to lose her 1st Round match at the Australian Open.


=============================





[The Return]


In Monterrey, Czech Vaidisova qualified (def. Lucie Hradecka & Arina Rodionova) to reach her first WTA singles main draw since her return to the sport late last season. In her first WTA match since Memphis in 2010, she lost to Ana Ivanovic 6-1/7-6(4). A few weeks later, she got her first main draw WTA victory of her comeback in Miami in a 1st Rounder against Timea Babos by the same score -- 6-1/7-6(4) -- by which she'd lost to AnaIvo. A round later, Vaidisova took a set off world #3 Simona Halep. Once ranked as high as #7 (2007), at 17, the Czech came within two points of the Roland Garros final (2006) after having beaten Amelie Mauresmo and Venus Williams in back-to-back matches. She reached a pair of slam semis over a seven-month stretch in 2006-07, but left the sport (though she never officially "retired") in '10 and was briefly married to Radek Stepanek before returning to action in '14. Her recent results have lifted her into the Top 300 as the 1Q came to a close.

Of course, this just allows me to pull out of one of my all-time favorite tennis quotes...


"People who never care that they lose have never won so much."

-

Vaidisova, in 2005



[ITF]


Latvia's Anastasiya Sevastova, who retired in April '13 due to a number of injuries, returned to action in late January when she got a wild card entry into a $10K challenger in Sharm El-Sheikh, Egypt. In her first action in over a year and a half, she swept both the singles and doubles titles. A former Top 40 player, the now 24-year old Sevastova's previously most recent win came in '13 in Bogota qualifying over Aleksandra Krunic. She swept the titles in another $10K in February, and is a combined 20-1 in singles/doubles in 2015.


=============================


$25K Surprise 2nd Rd. - CiCi Bellis d. Susanne Celik
...1-6/7-6(6)/2-2 default. Bellis pulled herself out of 6-1/5-1 hole against the Swede, saving multiple match points and forcing a 3rd set. It was a good move, considering a frustrated Celik was ultimately defaulted mid-way through the final set when she slammed a ball that then bounced into the next court and hit the umpire in the face. Oops.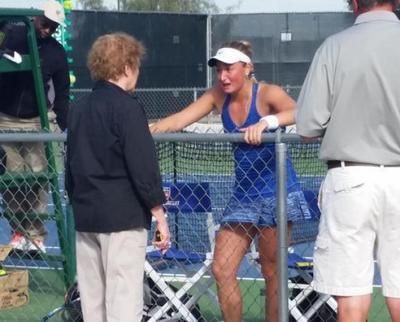 =============================
"This old cat has a few tricks left."

-

Venus Williams




*COUGH, COUGH... COUGH, COUGH*


Australian Open 3rd Rd. - Venus Williams d. Camila Giorgi
...4-6/7-6(3)/6-1. Giorgi had 16 double-faults in the match, though she led Williams 6-4/4-2, 40/love at one point before succumbing to the pressure of the moment. Of course, the spunky, hard-hitting Italian has a history of this... last year she reached two finals, holding match point in both, but winning neither.


=============================


Brisbane 1st Rd. - Varvara Lepchenko d. Samantha Stosur
...4-6/6-4/7-5. And the first "Choke of the Year" nominee came in Week 1... Stosur's loss after leading 5-1 in the 3rd set, and holding a match point at 5-2. Of course, we're talking about Sam Down Under, though, so it'd sort of be a "disappointment" if she didn't, you know, disappoint.


=============================


Shenzhen Doubles 1st Rd. - L.Chen/Y.Wang d. Peng/Y.Xu 3-6/6-2 [14-12]
Australian Open 1st Rd. - Date-Krumm/Dellacqua d. Peng/Y.Xu 4-6/7-5/7-6(5)
...without longtime partner Hsieh Su-Wei by her side, world doubles #3 Peng has crashed -- hard -- in 2015. She and Xu Yifan blew matches in which they held match point in both their outings this season. In Shenzhen, they held three MP vs. Chen/Wang, and in Melbourne against KDK/Dellacqua, the pair were up 6-4/5-1 and ultimately failed to convert on five MP attempts. In her only other doubles match this season, with Kveta Peschke in Dubai, Peng lost a pair of tie-break sets. The former doubles #1 has now dropped out of the Top 5, and despite reaching last year's U.S. Open singles semis she's also outside the singles Top 20.


=============================


Brisbane Doubles SF - Garcia/Srebotnik d. Hsieh/Mirza
...4-6/7-6(1) [10-8]. Hsieh hasn't had it easy without Peng, either. In her first event with Mirza, they led the deciding match tie-break 6-0 before losing it and the match 10-8. Sania could apparently see the writing on the wall. After losing early in Melbourne, and despite reaching the Doha final, Mirza ended her partnership with the former #1-ranked Taiwanese vet and has yet to lose with new partner Martina Hingis.


=============================


Fed Cup Asia/Oceania I RR - Yaroslava Shvedova/KAZ d. Peangtarn Plipuech/THA 6-7(3)/7-5/6-2
Fed Cup Asia/Oceania I Promotional Playoff - Kurumi Nara/JPN d. Yaroslava Shvedova/KAZ 2-6/7-6(4)/6-2
...Shvedova, a Top 25 player a little over two years ago, is always a dangerous carnival ride come Fed Cup time, and things usually end in disaster. After upset losses to Luksika Kumkhum the last two years, the Kazakh avoided another defeat at the hands of an unheralded Thai player in round robin action, saving two MP vs. world #493 Plipuech. But in the promotional playoff, Shvedova's demons came home to roost once again, as she failed to convert her own MP against Nara and dropped a three-setter to add another disappointing chapter in Kazakhstan's FC history.


=============================





*IF AT FIRST YOU DON'T "SUCCEED"... well, just give up*


Asia/Oceania I Zone #3/#4 Playoff - Korea d. China
...2-1. Maybe the Chinese should just send a few table tennis stars to play Fed Cup, because the tennis federation doesn't seem to care much about it. Rarely do top Chinese players play when FC weeks roll around, though the squad was as good as it's been in years for this season's February zone play. Wang Qiang held up her end, but top singles and doubles player Peng Shuai, on the roster, never played singles and only took to the court in one (meaningless, as the tie had already been decided) doubles match in round robin play. But nothing "topped" what happened in the placement playoff match with Korea. After Wang opened things with a victory, Zheng Saisai retired four games into the second match. Rather than play Peng or Zhang Shuai in the deciding doubles match with Wang, China offered up a walkover and lost the tie 2-1 despite winning fourteen of the twenty games played. After reaching the 2008 semifinals in the year of the Beijing Olympics, China is now barely in the Top 30 in the FC nation rankings and hasn't advanced at any level of FC play since 2012.



Everything's better with a little Vika in the mix.



On Caro Corner...



Wozniacki displayed a cool new Twitter profile... well, profile.
went sandboarding in the desert...
was a Sports Illustrated swimsuit issue model...
and, oh yeah, won a title in Kuala Lumpur, too.



*PUTTING THE "UP" in UPSET, and taking home the "set" for good measure*
Australian Open 3rd Rd. - Madison Keys d. Petra Kvitova
...6-4/7-5. The 19-year Bannerette arrives on the slam stage as she out-hits the #4-seeded Wimbledon champ, breaking her five times and serving out both sets in a calm, cool, collected and routine fashion. She'd go on to become the latest North American teen -- after Sloane Stephens and Genie Bouchard -- to have a breakthrough slam semifinal result in Melbourne.

.@Madison_Keys gets biggest win of her career, defeating World No.4 Petra Kvitova 64 75 for a spot in #AusOpen R16. pic.twitter.com/6nshjPdhra

— ESPNTennis (@ESPNTennis) January 24, 2015
=============================

Miami 2nd Rd. - Daria Gavrilova d. Maria Sharapova
...7-6(4)/6-3. Already 0-5 in Miami finals, Sharapova didn't come close to such a result this time around. Instead, the world #2 was expertly ousted by a wild card ranked #97 in the world as former girls #1 and U.S. Open junior champ Gavrilova, 21, notched her first career Top 10 win. The Aussie, Moscow-born and formerly a full-fledged Hordette, outshined her idol (at 12, she watched then-countrywoman Sharapova play at Wimbledon) at nearly every turn just two weeks after having forced eventual Indian Wells champ Simona Halep to go three sets in their 2nd Round encounter.


"I'm just so excited, I'm so happy, I can't explain it. I always believed and that's probably why I won."

-

Daria Gavrilova



=============================


Hopman Cup RR - Genie Bouchard d. Serena Williams 6-2/6-1
Hopman Cup Final - Aga Radwanska d. Serena Williams 6-4/6-7(3)/6-1
...sure, the win in Perth's team exhibition competition didn't actually "count." Neither Bouchard nor Radwanska have ever defeated Williams in their combined ten official tour match-ups, as both have taken just one set each off the world #1. While Serena didn't win a share of the HC title, she did win titles in Melbourne and Miami. In fact, these are still the only matches that Serena has lost since last November.


=============================


Australian Open Wheelchair Final - Jiske Griffioen d. Yui Kamiji
...6-3/7-5. The Dutch 29-year old wins her first WC slam singles crown, taking out the world #1 who was seeking her third straight singles slam title to go along with five straight slam doubles titles.


=============================


Australian Open 1st Rd. - Lucie Hradecka d. Ana Ivanovic
...1-6/6-3/6-2. After her most consistent year, and coming off a nice run to the Brisbane final, AnaIvo was a Top 5 seed at the slam where she upset Serena Williams in '14. In other words, she had expectations... so maybe getting knocked off by the qualifier Czech on Day 1 in Melbourne wasn't that big of an upset, after all. Her late-match meltdown is something we've seen before, too.




=============================


Australian Open 1st Rd. - Madison Brengle d. Andrea Petkovic
...5-7/76-(4)/6-3. The #13-seeded German had thirty-one career slam match wins vs. Brengle's one, but that didn't prevent Brengle from following up her "Summer of Brengle" in North America with a "Summer of Brengle: Down Under Edition" run in Melbourne by overcoming Petkovic, who served at 7-6/5-3, and then going on to reach her first career slam 4th Round.


=============================


Europe/Africa I Zone - Cagla Buyukakcay/TUR d. Elina Svitolina/UKR 6-3/4-6/6-0
Europe/Africa I Zone - Cagla Buyukakcay/TUR d. Heather Watson 6-3/3-6/7-5
...the Turkish Fed Cup team failed to pull a shocker and advance to the E/A I promotional playoff, but an upset round robin win over Great Britain was nearly the tipping point feat that did the deed. Still, Buyukakcay was a star, upsetting off #36 Svitolina and #38 Watson on back-to-back days for the two biggest wins of her career.


=============================


Antwerp 2nd Rd. - Mona Barthel d. Genie Bouchard
...4-6/6-1/6-2. No, not a tremendous upset, especially since the German has often been at her best at indoor events. But Bouchard was the #1 seed here and playing her first match with new coach Sam Sumyk. But it DID begin a trend...


=============================


Indian Wells 4th Rd. - Lesia Tsurenko d. Genie Bouchard 6-7(5)/7-5/6-4
Miami 2nd Rd. - Tatjana Maria d. Genie Bouchard 6-0/7-6(4)
...the first loss in I.W. turned multiple times. Bouchard led 3-0 and 4-1 in the opening set, breaking Tsurenko three straight times to begin the match, but was pushed to a tie-break. She served for the match at 5-4 in the 2nd, but an abdominal injury made serving difficult and Tsurenko pushed things to a 3rd set. Bouchard took a two-break lead there, but became less and less effective as Tsurenko, injured ankle and all, found a way to wait out the storm and prevail. That defeat begat the Canadian's Miami exit, as Bouchard was again hampered by injury while losing to the German qualifier, who notched her first Top 10 win since 2010. Bouchard's four losses this season, in order, have come against players ranked #2, #42, #85 and #113. Needless to say, her results aren't exactly trending upward. Bouchard has already started the 2Q with an opening match, straight sets loss to world #66 Lauren Davis, as well.




=============================


Indian Wells 4th Rd. - Flavia Pennetta d. Maria Sharapova
...3-6/6-3/6-1. Yeah, this was the Italian vet's SECOND win over Sharapova, but when thrown into a mix that includes Maria struggling to put away Vika Azarenka (needing six MP) in her match prior to this one, and her upset loss to #97 Gavrilova in her next outing in Miami, the world #2 squandering a lead and letting this one slip away in the desert would seem to mean SOMETHING.


=============================


Australian Open 1st Rd. - Julia Goerges d. Belinda Bencic
...6-2/6-1. After reaching the quarterfinals in her last slam appearance at the U.S. Open, 17-year old Bencic, the #32 seed, wasn't just the "First Seed Out" in Melbourne on Day 1, she was the first player in the entire tournament to suffer a 1st Round loss.


=============================


Australian Open Doubles 3rd Rd. - Goerges/Groenefeld d. Errani/Vinci
...6-3/4-6/7-5. The Germans end the #1-ranked, two-time defending AO doubles champions' dreams for a three-peat. No women's doubles team has won three consecutive titles at a slam since Virginia Ruano Pascual & Paola Suarez won the U.S. Open from 2002-04. As it turned out, this loss was the "canary in the coal mine" for the future of the Italian pair. About a month, and an horrific Fed Cup loss, later their Career Grand Slam winning partnership was kaput. They won a total of five slam crowns during a stretch of just over two years.


=============================


Indian Wells 3rd Rd. - Jelena Jankovic d. Madison Keys
...5-7/6-4/6-3. JJ can still boast a far-more-noteworthy career than the 20-year old Keys. But this win, which fueled her surprise run to the I.W. final, was the Serb's first over a Top 20 player since knocking off Sloane Stephens last August in Montreal.


=============================


Australian Open Q1 - Wang Yafan d. Luksika Kumkhum
...2-6/7-6(5)/6-2. In 2014, Kumkhum upset Petra Kvitova in the 1st Round of the Australian Open. A year later, she, as the #7 seed, was the one getting upset in the opening round of qualifying in Melbourne.


=============================


Indian Wells 3rd Rd. - Belinda Bencic d. Caroline Wozniacki
...6-4/6-4. We'll see just how much of an "upset" this turns out to be but, as of 2015, this was the New Swiss Miss' best career win and her first over a Top 5 player.


=============================



Meanwhile...


"Dennis is doing good job -- he just makes one ace."

-

Li Na, announcing her pregnancy as only Li possibly could
Congratulations!!!! #LiNa makes a very special #ausopen announcement about a new arrival... http://t.co/rJfd9OEkq5

— Australian Open (@AustralianOpen) January 19, 2015


Also, are two Na's better than one? Come now, that's a ridiculous question, isn't it? Of course they are! And THREE would be amaaaaazing! Not the mention REALLY bringing another element of surprise to the "crazy women's tennis tour!"




So, there, I made it all the way through with ever once mentioning "Twirlgate." Oh... arrrrggghhhh!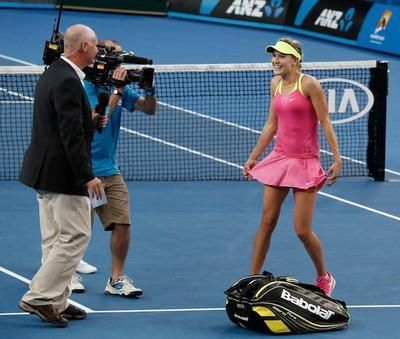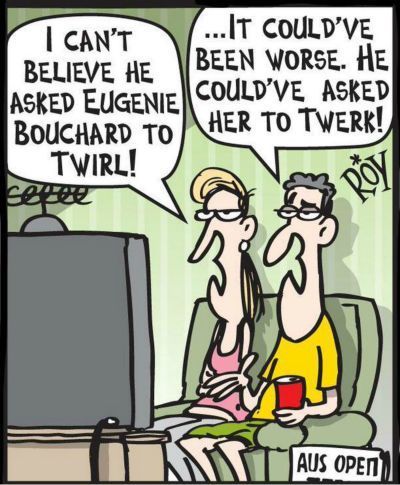 Yikes! I think I need to wash that word out of my mouth. So... a little dittie (and I don't mean Julie): "Ana & Jose, sittin' in a tree...




K-I-S-S-I-N-G."




Hmmm. Daniela? Ummm, nope... I'm not goin' there. Quick, Maria... give us something sweet to end on! Please!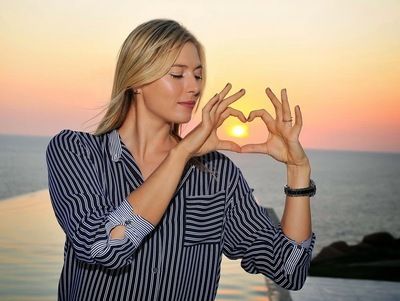 Ah, there you go. All better now. Still, it remains true...


"On the tennis tour you need good mental health."

-

Casey Dellacqua


All for now.