RG.Q- The Week Before Paris...in Paris
Main draw play begins in Paris on Sunday, but work has already been done on the
terre battue.
It's been an exciting final day of #QualifRG for the women. View the photo gallery: http://t.co/lNP4203Bgz #RG15 pic.twitter.com/O3PDUdTuqs

— Roland Garros (@rolandgarros) May 22, 2015
Here's a quick recap of the qualifying rounds...
Q-PLAYER OF THE WEEK:
Veronica Cepede Royg/PAR (#174)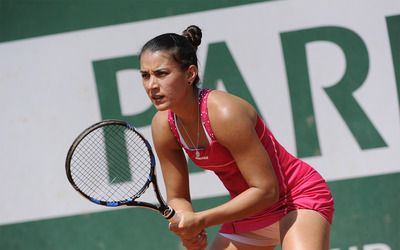 ...the 23-year old from Paraguay, already a Fed Cup star earlier this year, has just missed out on making her slam MD debut four times in the past, losing in the final round of qualifying each time (including in Paris three years ago). She burst out in the opening round this week with a win over CiCi Bellis then didn't look back, taking out #23 Laura Siegemund before downing Sorana Cirstea in the final round. Grand slam main draw... meet Veronica.
=========================================================


RISERS:

Teliana Pereira/BRA (#77) & Paula Kania/POL (#162)


...in recent weeks the Brazilian, in the Q-rounds despite her Top 100, has experienced the thrill of winning a WTA singles title, as well as the sting of being defaulted in an ITF match for angrily throwing her racket into the stands after losing a tie-break. On Friday, she finished off a successful qualifying run as the #1-seeded woman in the draw. The 26-year old posted victories over Stephanie Foretz, Renata Voracova and Laura Pous Tio. Her only career slam MD win came in the 1st Round in Paris year ago. Kania, 22, doesn't have a slam MD win to her credit, but her Q-run will allow her to make her RG debut. Now the question is whether or not she'll be the Last Pole Standing in Paris. Hey, don't laugh. If she can get past her 1st Round vs. Mona Barthel (who went out in the 1st Round this past week in Strasbourg) her 2nd Round opponent would likely be... Aga Radwanska. There's something to be said for having your fate in your own hands. I'm just sayin'.
=========================================================


SURPRISES:

Dinah Pfizenmaier/GER (#142) & Johanna Konta/GBR (#144)


...Pfizenmaier, 23, reached the 3rd Round at Roland Garros in 2013 (where she defeated U-Rad, but lost to A-Rad). The German posted wins over Akgul Amanmuradova, #22 Anna Tatishvili and Vera Dushevina this week. Australia-born Brit Konta, 24, has one MD slam win to her credit (US '12). Her week included wins over Jovana Jaksic (ret.), #7 Elizaveta Kulichkova and wild card Pastry Clothilde de Bernardi.
=========================================================


VETERANS:

Lourdes Dominguez-Lino/ESP (#113) & Andrea Hlavackova/CZE (#191)


...at 34, LDL is the oldest '15 slam qualifier so far. Her route to the main draw included wins over teenager Barbora Krejcikova and veteran #13 seed Shahar Peer. The Spaniard has a pair of slam 3rd Round results on her resume: at RG in '09 and the U.S. Open in '10. Hlavackova, 28, took out #10 Julia Glushko, Naomi Broady and Anastasia Rodionova to reach her third main draw in Paris. So far, she's 0-2... and next gets Serena Williams in the 1st Round.
=========================================================


COMEBACKS:

Sesil Karatantcheva/BUL (#104), Alexa Glatch/USA (#184) & Petra Martic/CRO (#155)


...welcome back, Sesil. The Bulgarian-turned-Kazakh-turned-Bulgarian reached the QF in Paris as a personality-plus 15-year old a decade ago. Much has happened since then, but the (still only) 25-year old's successful Q-run became a reality with her Q3 win over Tamira Paszek on Friday. Her 1st Round match will be just her second main draw outing in Paris since that QF run ten years ago. And, get this. As if trying to make up for all that lost time (and potential craziness), the Draw Gods have put her up against JJ in the 1st Round. Hopefully the Serb will be physically able to make it as fun as it could be.

(25) Jelena JANKOVIC (SRB) vs. (Q) Sesil KARATANTCHEVA (BUL), French for, "One ticket to Paris, please."

— David Kane (@DKTNNS) May 22, 2015

Glatch, 25, has won a pair of ITF titles this season. She returns to the RG main draw after competitive wins over Olga Govortsova (8-6 in the 3rd), Ekaterina Bychkova (winning in straights after saving 5 SP in the 1st) and Kateryna Bondarenko (in three sets). The American reached the RG 2nd Round in '09 and '12. Martic, another 25-year old, has qualified for her second 2015 slam. The Croat is looking to recapture a bit of the magic that saw her put up a Round of 16 result at Roland Garros three years ago.
=========================================================


FRESH FACES:

Margarita Gasparyan/RUS (#117) & Olivia Rogowska/AUS (#196)



Anyone for a one-handed BH? Here's qualifier from Moscow 20 y.o. Margarita Gasparyan pic.twitter.com/VgpB49qYvi

— Tatiana (@_Tatinka_) May 22, 2015

...hmmm, one-handed backhands have traditionally looked pretty good in Paris, and Gasparyan (an habitual winner, she's 9-0 in ITF singles finals, including three wins this season) used hers to become the youngest (20) qualifier in the RG '15 batch. The Hordette came back from 4-2 down in the 3rd set in the Q3 vs. Maryna Zanevska to ensure her slam MD debut. Meanwhile, the "Wild Card Queen" actually won her way into a slam this time around. Rogowska has appeared in ten slam main draws, but nine of those times she's gotten there via a wild card (7 consecutive times at the AO). This Paris run was her first successful qualifying attempt. The 23-year old defeated #18-seed Aliaksandra Sasnovich in the first round of qualifying, then staged a comeback to defeat Beatriz Haddad Maia in the third round after the Brazilian served for the match in the 2nd set. Rogowska had a MD win in Paris in '09 as a 17-year old.
=========================================================


DOWN:

Katerina Stewart/USA


...the teenager was robbed of the USTA's wild card into the RG main draw despite putting up by far the best three-event stretch during the assigned "playoff," but her consolation prize was a wild card berth in the qualifying rounds where she'd have to win three MORE matches in order to be able to made her slam MD debut. Stewart wasn't able to get through one on the terre battue, losing to Anett Kontaveit 6-3/7-6(3) in her first match. I guess that debut will have to wait a little while long... but with a surging ranking now into the Top 170, Stewart's big day should come soon (at worst, it's hard to believe she won't at least get a WC into the U.S. Open draw).

Meanwhile...

Thanks @babolat for all the stuff! Love the new bag!!:) getting my new rackets ready to go ?? #RG2015 @PatGouilloud pic.twitter.com/aN1Qjkf0Cm

— Louisa Chirico (@Louisa_Chirico) May 21, 2015

=========================================================



=QUALIFYING MATCHES=




Q1:

Wang Yafan d. #15 Richel Hogenkamp
...2-6/7-6(7)/8-6 Hogenkamp served for the match at 5-4 in the 2nd, and held quadruple MP (take that, Vika!) at 6-2 in the tie-break. Wang ultimately won 8-6 in the 3rd.


=============================




Q1:

Veronica Cepede Royg d. CiCi Bellis
...6-4/6-0. Paris isn't Flushing Meadows.


=============================




Q1:

Tereza Mrdeza d. Kimiko Date-Krumm
...6-4/6-3 2015 isn't 1995, either. That the year KDK was a Roland Garros semifinalist.


=============================




Q1:

Julie Coin d. Aravane Rezai
...7-5/6-3. Hey, at least Rezai is finally back on the court.





=============================




Q2:

Sorana Cirstea d. #2 Mariana Duque
...7-5/2-6/6-3. Top seeds should beware the Swarmettes. A good sign for Simona, or a reverse hoo-doo jinx or something?


=============================




Q2:

Maryna Zanevska d. Wang Yafan
...0-6/6-4/9-7. Wang led this one 6-0/3-1. In the 3rd, it was a race to see who wanted the win least (or most, depending on how you look at it, I guess) as thirteen of the sixteen service games ended with breaks of serves.


=============================




Q2:

Olivia Rogowska d. Tessah Andrianjafitrimo
...3-6/6-3/6-4. The 16-year old Pastry didn't make it through qualifying, but she did put up a Q1 win over Patricia Mayr-Achleitner and took Rogowska to three sets here. She's surely a name to watch, though. Not to mention one to vex commentators the world over. [Evil laugh.]

Retenez bien ce nom : #Tessah #Andrianjafitrimo ! La France tient là sa pépite! #RG2015 @TennisMagazine1 @FFTennis pic.twitter.com/v7lDk3Yh1Q

— Laurent Prunier (@laurentprunier) May 20, 2015



=============================




Q3:

#1 Teliana Pereira d. Laura Pous Tio
...3-6/6-0/7-5. The 12-game 3rd set had nine breaks of serve, including eight in a row.


=============================




Q3:

Olivia Rogowska d. Beatriz Haddad Maia
...3-6/7-6(5)/6-3. Haddad lead 6-3/4-2 and served for the match at 6-5.


=============================




Q3:

#11 Margarita Gasparyan d. Maryna Zanevska
...6-3/6-7(5)/6-4. Zanevska led 4-2 in the 3rd, but the Hordette swept the last four games to reach her first slam MD.


=============================








=Sisters Who Will Try to Forget Paris...=


Q1 - Chan Yung-Jan d. #5 Urszula Radwanska 6-4/6-4
Q1 - Gabriela Dabrowski d. #8 Kristyna Pliskova 6-4/6-4
Q1 - Tamira Paszek d. #21 Hsieh Su-Wei 6-4/6-4
Q1 - Andrea Hlavackova d. #14 Kristina Kucova 6-3/6-0



=A Sister Who'll Try to Forget SOME of What Happened in Paris...=




Q2 - Petra Martic d. Chan Yung-Jan 6-4/6-2





=...and Two More Who'd Rather Forget Paris, as well=


Q3 - Alexa Glatch d. Kateryna Bondarenko 6-2/3-6/6-3
Q3 - Andrea Hlavackova d. Anastasia Rodionova 6-2/6-7(5)/6-3




*ROLAND GARROS "Q-PLAYER OF THE WEEK" WINNERS*


2006 Julia Vakulenko/UKR
2007 Timea Bacsinszky/SUI & Raluca Olaru/ROU
2008 Maria Jose Martinez-Sanchez/ESP & Yanina Wickmayer/BEL
2009 Yaroslava Shvedova/KAZ
2010 Kaia Kanepi/EST
2011 Sloane Stephens/USA
2012 Kiki Bertens/NED
2013 Anna Schmiedlova/SVK
2014 Grace Min/USA
2015 Veronica Cepede Royg/PAR


[2015 slams]


AO: Renata Voracova, CZE
RG: Veronica Cepede Royg, PAR



*WILD CARDS*




Manon Arcangioli/FRA

= the 20-year old got the final WC and will make her slam debut
Katerina Stewart/USA Louisa Chirico/USA = the "winner" of the USTA's "three-event playoff," Chirico has reached three ITF finals (winning one) this season and is making her slam MD debut


Oceane Dodin/FRA

= the Pastry won her debut slam MD match as a WC in Melbourne, and lost a spirited three-set 2nd Rounder to Karolina Pliskova


Fiona Ferro/FRA

= the youngest of three 18 year-old RG WC's (Dodin & Chirico), Ferro gets her second straight WC into Paris


Amandine Hesse/FRA

= playing in just her third career slam MD, she's searching for her first win


Mathilde Johansson/FRA

= the 30-year old had her career-best slam result (3rd Rd.) in Paris in '12


Alize Lim/FRA

= Lim has lost six straight ITF singles finals since winning two in 2010, and is playing in just her second slam MD (as a WC, she lost to Serena Williams in Paris in '14)


Virginie Razzano/FRA

= the 32-year old pulled off a huge upset of Serena Williams in the 1st Rd. at RG in '12. She's 14-15 in Paris since her MD debut there in 1999, reaching the Round of 16 in '09.



*LUCKY LOSER*


none so far



=YOUNGEST 2015 SLAM...=


WC: 18-Fiona Ferro(RG), 18-Oceane Dodin(AO), 18-Oceane Dodin(RG), 18-Louisa Chirico(RG)
Q: 20-Ons Jabeur(AO), 20-Margarita Gasparyan(RG), 21-Denisa Allertova(AO)


=OLDEST 2015 SLAM...=


WC: 32-Virginie Razzano(RG), 30-Mathilde Johansson(RG)
Q: 34-Lourdes Dominguez-Lino(RG), 33-Stephanie Foretz(AO), 31-Renata Voracova(AO)







All for now. Roland Garros Preview and Week 20 recap coming soon.