2Q Clay Court BSA's: In Sickness and in Health
When it comes to the clay court season, things are rarely clean or easy on the red dirt. But once they happen, there's nothing that can be done to change them.
Every ball leaves a clear mark, after all.
So, over the last few months, we KNOW this happened...


But did you know that Flipper also got a new personal logo?


Hi folks, let me know your thoughts about my personal logo on my practice gear! #logo @RodaniaWatches @Koddaert pic.twitter.com/zklpyq0vp3

— Kirsten Flipkens (@FlipperKF) April 8, 2015


Or that Kiki got a newbie "fitness coach?"


I have a new fitness coach. She is serious & makes me work very hard! I better listen ???? #noteven2yearsold #socute pic.twitter.com/Fzgs5NFl3g

— Kristina Mladenovic (@KikiMladenovic) April 9, 2015


How about that AnaIvo got a new coach?


In third coaching change in as many years, Ana Ivanovic is no longer working w/Dejan Petrovic: http://t.co/G766URz5ij pic.twitter.com/YDdymwjzZh

— TENNIS.com (@Tennis) May 7, 2015


Well, of course, we ALL know that. We just never remember which "new coach" we're talking about. I mean, Ana gets a new coach EVERY few months.

Elsewhere, some players choose to adhere to a more stable path.


"I never tried to be brilliant, I always tried to be efficient."

-

Timea Bacsinszky


Both Ana and Timea ended up reaching the semifinals in Paris, though. So, I guess to each their own.



"I'd like to believe the older I get, the better I get."

-

Serena Williams
All right, all right. That quote was actually from the FIRST Quarter of the season. But it ALWAYS applies with Serena, right?
*2Q Clay Court Awards - Weeks 14-22*
**TOP PLAYERS**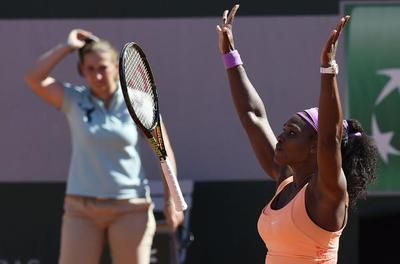 1.

Serena Williams, USA


...Well, Serena was proven to be fallible during the clay court season. She lost a match in Madrid (her only singles defeat on tour in '15), nearly dropped her first Fed Cup singles match, then DID lose her first career FC match ever in the deciding doubles vs. Italy. In Paris, she was forced to go three sets in five of her seven matches, having to come back from a set down four times, including in three consecutive outings... something which hasn't been necessary since 1999. Okaaaaaaaaayyyyy. I've buried the lead long enough. Look, Williams may not have won any regular tour events heading into Paris, but what she did while winning slam #20 at Roland Garros literally makes that a footnote to actual history. Her "flu match" win over Timea Bacsinszky in the RG semis may go down as the most remarkably memorable win of her career, and she's now set herself up to add several more layers to her legacy by the end of 2015. She's won three straight slams (the last person to do that was herself in 2002-03 -- she's a Wimbledon win away from "Serena Slam II"), opened the season by winning both the AO and RG (last time: 2001 Jennifer Capriati), completed her THIRD Career Slam (only Steffi Graf), is half-way to a Grand Slam (Graf in '88) and if she manages to pull off the latter feat she'd tie Graf's Open era record of 22 slam singles titles and head into '16 with her sights set on Margaret Court's all-time mark of 24. Whew! What can Serena do next? Psssshhhh. What CAN'T she do?

Serena "Who gon stop me?" Williams pic.twitter.com/LxB4fqji8S

— Gugulethu Mhlungu (@GugsM) June 6, 2015



=============================


2.

Bethanie Mattek-Sands & Lucie Safarova, USA/CZE


...the Dynamic Duo of Mattek-Sands & Safarova teamed for the first time in January in Melbourne. All they did was win the Australian Open. It sort of set the bar a bit high. The duo failed to live up to their own standards in Indian Wells, losing in their opening match. But in the 2Q they teamed up for a third time in Stuttgart and went about setting things right, winning the title there and then defeating Hingis/Mirza in the Madrid QF, only to lose to Dellacqua/Shvedova in the SF. In Paris, they completed the second leg of a possible Grand Slam (no duo has swept all four slams since 1984) by adding a RG title to the one they won in Melbourne, knocking off Hingis/Mirza a second time (the only team to do so thus far) and got revenge on Dellacqua/Shvedova in the final to complete a 15-1 spring on the dirt. Fast friends, BMS and Safarova leave a trail of more smiles than can be counted in their wake. But how many more titles they can steal away with is the number to really watch for the rest of 2015.


=============================


3.

Czech Fed Cup Team


...sometimes, even Amelie Mauresmo can't save you. The thought that the Pastries, for all their charms, had bitten off more than they could realistically chew with the defending champion Czechs in the FC semifinals ultimately proved to be dead-on. French Captain Mauresmo, with an ailing Alize Cornet a question mark, had few "razzle-dazzle 'em" options at her disposal, so she simply went back to the same well that had worked against the Italians in February -- turn everything over the Caroline Garcia and Kristina Mladenovic and hope that her trust in their skills would prove to be enough to tear down the seemingly indestructible Great Wall of Czechs. Garcia gave it a good effort, holding five MP against Lucie Safarova in the opening match, but once the veteran turned around the contest it was just a matter of the Czechs calling the final score. At that point, Petra Kvitova took control... as usual. Kvitova is the unquestioned leader of what is one title away from being an OFFICIAL historic Fed Cup dynasty. She allowed just seven games to Mladenovic on Saturday, then clinched the return to the final by giving up just five to Garcia a day later. Her back-to-back victories give the Czech team an astounding fifteen consecutive live rubber match wins over the last three seasons. The chance for a fourth title in five years -- in the same W-W-x-W-W sequence as the Russians from 2004-08 -- is no longer just a notion for the Maidens. Of course, now the Hordette FC squad is the only thing that stands in the way of the accomplishment. Well, it'll be a selfie moment for SOMEONE come season's end.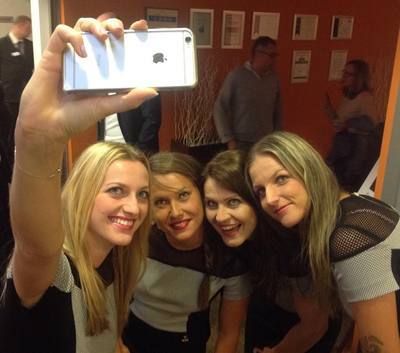 =============================


4.

Lucie Safarova, CZE



Lucie Safarova has become the first Czech woman to reach the French Open final in 34 years http://t.co/oyz97hqmR4 pic.twitter.com/7VcITkJx0l

— BBC Sport (@BBCSport) June 4, 2015

...yes, Safarova is actually part of three of the top four entries on this list. She opened the 2Q with an important hard court win in Fed Cup over Caroline Garcia in which she saved five MP, but she hadn't yet hit her stride when she arrived in Paris. She lost two of her first three clay matches, failed to convert two MP vs. Svetlana Kuznetsova in Madrid and began play at Roland Garros having participated in four consecutive three-setters, losing two of them. But on the terre battue, everything came together. With efficient serving, tremendous defense and the confidence to be aggressive offensively when the opportunity arose, Safarova swept through six matches without dropping a set -- defeating four Top 20 players, including former champs Maria Sharapova and Ana Ivanovic -- to become the first Czech woman to reach the RG final since 1981. After a fast Serena Williams start, Safarova recovered to force a 3rd set, and even found herself up an early break. As is often the case for Serena's opponents in slam finals, though, things didn't work out for Safarova. But she'll have another chance at Wimbledon. Remember, she reached the semifinals at SW19 last summer, as well.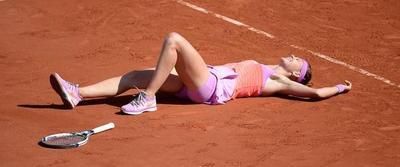 =============================
Can you feel the love? Congratulations to our #FCC2015 Champion, @AngeliqueKerber! ?????? pic.twitter.com/34EyUQVamu

— Family Circle Cup (@FamilyCircleCup) April 12, 2015

5.

Angelique Kerber, GER


...sure, Kerber may have gotten more attention for a Fed Cup match she DIDN'T play this 2Q than for the 11-0 record she compiled from Week 14-17, but the German was 2015's first "Queen of Clay"... and she's got a brand new Porsche to prove it. After a slow start (8-9) to her season, with just three wins in her last ten 1Q matches, the clay -- be it the green or red variety -- soon became very, very good to her. After an early quarter-defining title-run in Charleston (she notched two Top 20 wins), Kerber backed up her resurgent form with another win in Stuttgart, where she defeated three Top 10 players, including #2 Maria Sharapova and #5 Caroline Wozniacki in a seesaw final that included a comeback after the Dane served for the match at 5-3 in the 3rd set. The run gave Kerber back-to-back wins in finals for the first time since she won the Paris Indoors and Copenhagen to grab the first two titles of her career in 2012. She'd lost eight of her next nine championship matches before ruling the courts in April. But she wasn't able to carry out her momentum all the way to Paris. She lost two of three matches after the streak, then reached the SF in Nurnberg (she withdrew w/ injury) before losing to Garbine Muguruze in the 3rd Round at Roland Garros.


=============================


6.

Martina Hingis & Sania Mirza, SUI/IND


...through three Premier tournaments, it was three titles for Hingis/Mirza. A 14-0 run. Although, they DID slip a little in Charleston, as they opened with a tight three-set match against the Rodionova sisters, then dropped a set each against defending champs Medina-Garrigues/Shvedova and Hordettes Kudryavtseva/Pavlyuchenkova before taking out their anger about all that extra work in the final by blitzing Dellacqua/Jurak 6-0/6-4 to claim the title. Of course, the result of all this was that Mirza became the #1-ranked doubles player in the world, the first Indian woman to ever hold the top spot on the WTA computer. After Hingis was worn down by a two-singles-match Fed Cup weekend, the Dream Team's results slipped. They lost two of three matches, then dropped the Rome final (vs. Babos/Mladenovic) and lost in the RG QF to Mattek-Sands/Safarova, the two-time '15 slam winners who look to be a serious threat to Hingis/Mirza when it comes to top team honors. The footnote that goes with Mirza's accomplishment is this: while she's the 33rd woman to be ranked #1 in doubles, and has three Mixed slam crowns, she's the only one without a women's doubles slam title on her resume. She's not going to be hounded like a certain Dane about that little fact, but it's surely a glaring -- and surprising -- omission that needs to be rectified. Going into the Charleston final, Hingis stated that her goal was to get Mirza the #1 ranking. Well, that mission was accomplished. The next challenge won't be so easy, though... especially with the Dynamic Duo around.


=============================



And the winner of #ibi15 is.. @MariaSharapova! Let's celebrate with a RT! #tennis #wta #Sharapova #TwitterMirror pic.twitter.com/maKQxUZguC

— Internazionali Bnl (@InteBNLdItalia) May 17, 2015

7.

Maria Sharapova, RUS


...Sharapova carried over a lingering injury question from her early 1Q loss in Miami into the early clay season that she's dominated in recent seasons. She dropped her first match in Stuttgart, failing to defend her title there (Angie Kerber got the Porsche this time!). In Madrid, where she was also the DC, Maria's form improved but she lost to Svetlana Kuznetsova for the first time in seven years in the SF. She reached her peak in Rome, winning there for the third time in four years and rising to #2 in the rankings. But an illness slowed her down in Paris and, unlike Serena Williams, she wasn't able to overcome it (or her Czech opponent). After a promising start she dropped a straight-setter to Lucie Safarova in the Round of 16. Sharapova's inability to defend her RG title dropped her down to #4 in the rankings. She now heads to the summer grass and hard court seasons, where she hasn't won a title since 2011, nor reached the QF at Wimbledon since that same season or lasted that long at the U.S. Open since 2012.


=============================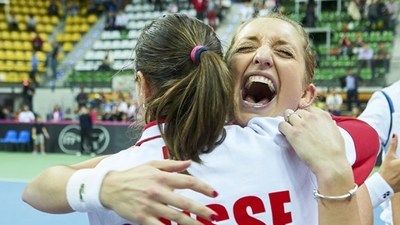 8.

Timea Bacsinszky, SUI


...Following a 1Q that saw her reach three finals, win back-to-back events to become the "Queen of Mexico" and reach the Indian Wells QF to finish the season's first quarter at 21-3, Bacsinszky needed some rest. She got it early on in the 2Q, but still led the Swiss Fed Cup team to victory on the road in Poland (winning two singles matches to go 4-0 in FC play for the season, and then winning in the deciding doubles, as well). She failed to put up deep runs in three other tour-level events, but then caught fire again with her crafty, high-in-variety-and-fight game in Paris. Wins over Madison Keys and Petra Kvitova preceded her first career trip to a grand slam semifinal, where she had a chance at a career-altering win over an ill Serena Williams. The Swiss led by a set and a break before Williams flipped the "Serenativity" switch and won out, with the help of some ill-timed Bacsinszky errors, and left Timea in the red dust. She still finished this second stage of the '15 season with a good 11-4 mark. Now armed with a Top 15 ranking, Bacsinszky and her tennis career are suddenly something worth talking about two years after she'd effectively decided to give up the game for a future in hotel management. She may just love her job even MORE now.

#RolandGarros2015 #TimeaBacsinszky pic.twitter.com/mxgD7N0qa7

— MiniPeople.ch (@SwissMinipeople) June 4, 2015



=============================


9.

Carla Suarez-Navarro, ESP


...the clay season didn't end as well as would have been hoped for CSN, but she put in quite a bit of work before her short trip to Paris. Following up on her three-Top 20 win run to the Miami final, Suarez-Navarro knocked off four Top 10 players on the clay. She reached QF in Stuttgart and Madrid, then reached the biggest final of her career in Rome after wins over #6 Genie Bouchard, #4 Petra Kvitova and #2 Simona Halep in consecutive matches. She lost a three-setter there to #2 Maria Sharapova. She reached the Top 10 herself during the spring, becoming the first Spanish woman to do so since the Sanchez/Martinez era. A pre-event dark horse title contender, CSN's RG experience ended with a 3rd Round loss to Flavia Pennetta.


=============================



.@MutuaMadridOpen=#WTA title No.16 for @Petra_Kvitova! 2nd title of 2015--> http://t.co/yVb1lzQJ5a #MMOPEN15 #tennis pic.twitter.com/DM2mT3RZrD

— WTA (@WTA) May 9, 2015

10.

Petra Kvitova, CZE


...Kvitova opened the 2Q with her customary 2-0 record on Fed Cup weekend on hard court, but it didn't take long for her career-long nemesis -- "Bad Petra" -- to show up. Kvitova lost her opening match in Stuttgart to Madison Brengle, but "Good Petra" returned in Madrid as the Czech won her second career title there, handing Serena Williams her only singles loss in a match that counts in 2015. Even with her third consecutive 2015 loss to Carla Suarez-Navarro in Rome, Kvitova went to Paris as an en vogue pick to reach the final, if not win the title. After escaping a pair of tight early matches, the hope was that she'd settle in for a deep run. But in the Round of 16 against Timea Bacsinszky, Kvitova handily won the 1st set... and then went down in a hail of errors, winning just three games in the final two sets. Of course, with Good Petra scheduled to take her turn in the lead role, and with the grass season on tap, now we might be soon treated to another of those moments where everyone lavishes praise on the Czech and talks about how great she can be. Which she will be again soon. Until no longer is. Which will only last until Petra is great once again. Sigh... if this is how things are ALWAYS going to be, I suppose it's good to go ahead and get used to it.


=============================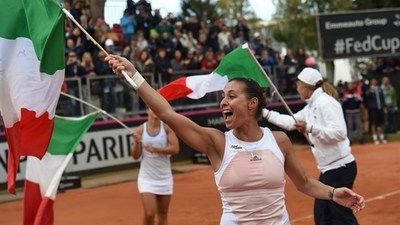 11.

Italian Fed Cup Team


...oh, ye -- well, me -- of little faith. After Italy's meltdown against the French in February, it looked like the team's era of relevance might just be over. Some -- cough, cough -- even suggested that it was LIKELY the case. Team Italia may never win another FC title with this group of (mostly) veterans, but the win over the Serena Williams-led (and MJF-sandbagged) U.S. squad in Brindisi shows that Flavia Pennetta, Sara Errani and the current generation of stars would NOT allow their legacy to be tainted by what happened two months earlier. This could be their last great Fed Cup victory as essentially a single-souled group, but if it is it'll surely leave a wonderful aftertaste. Viva Italia!


=============================




12.

Timea Babos & Kristina Mladenovic, HUN/FRA


...after partnering loads of other players in doubles the last few seasons, longtime best friends Babos and Mladenovic have mostly settled on being a regular duo in 2015 (teaming 10 times through Week 22, more than they did in all of '14). The results are coming, too. They had their most successful run on the clay, winning in Marrakech and Rome (where they defeated Hingis/Mirza in the final) and reaching the semis in Madrid (def. Makarova/Vesnina). An early loss in Paris was disappointing, but the BFF duo are the 4th-ranked team in the 2015 Points Race and both are positioned in the doubles Top 10.


=============================




HM-

Anastasia Myskina & the Russian Fed Cup Team


...back when she was forced to play high-level FC ties with "C"-team Hordettes yet still often managed to get competitive losses out of literal neophytes, Russian Fed Cup Captain Anastasia Myskina showed more than a few Mauresmoistic tendencies as the Hordette leader of women. She only grew in stature in April. Consider, she lost her #1 player mid-week when Maria Sharapova pulled out. In a very un-Fernandez-like move, she then added the versatile Vera Zvonareva to the team as an emergency option on a roster that already had built-in flexibility with Elena Vesnina sitting on the far end of the bench. Meanwhile, her singles players were the will-she-or-won't-she (show up, that is) tandem of Svetlana Kuznetsova and Anastasia Pavlyuchenkova, who lived up/down to their reputations by only producing one good singles performance each out of their combined four individual matches. But Myskina stuck with Pavlyuchenkova for doubles, as the youngest member of the squad HAD played a vital role in Russia's comeback from 0-2 down vs. France in 2011, and teamed her with smart roster pick Vesnina, a Sochi native (the site of the tie) and one of the best doubles players on tour. The pair rewarded her with a clinching win over the team of Petkovic/Lisicki in the deciding doubles match, sending the Hordettes to their ninth FC final since 1999. Myskina led the Russian team to Fed Cup glory on the court as an Original Hordette, and now she's got the opportunity to do the same as their Captain. After the deciding doubles victory, Vesnina said of the Czarina, "It was an unbelievable victory and we are so excited and I am so proud of my team. The whole team worked so hard and I just want to thank my Captain as she was amazing and helped us so much." Hmmm, sounds a little like the comments Pastries often make about another Captain with the initials A.M., doesn't it?


=============================




"I think she's always known she's had the potential. She's just maturing. We all do. As she matures and starts to grow, she realizes what she hasn't done and what she has done and she kind of puts it together in a nice package now where she's able to accept and take control."

-

coach Rob Steckley, on Lucie Safarova




**RISERS**


1. Lucie Safarova, CZE
2. Timea Bacsinszky, SUI
3. Carla Suarez-Navarro, ESP
4. ROU Fed Cup Team
5. Angelique Kerber, GER
6. Karolina Pliskova, CZE
7. Kristina Mladenovic, FRA
8. Anna Schmiedlova, SVK
9. Garbine Muguruza, ESP
10. Jiske Griffioen, NED (WC)
11. Caroline Wozniacki, DEN


12. Alize Cornet, FRA



As only Alize Cornet can, celebrate a 3rd Round win like it was the final. pic.twitter.com/posvALVua8

— Andrew Jerell Jones (@sluggahjells) May 29, 2015

13. Irina-Camelia Begu, ROU
14. Ekaterina Makarova, RUS
15. Julia Goerges, GER
16. Madison Keys, USA
17. Camila Giorgi, ITA


18. NED Fed Cup Team



DUTCH DELIGHT - Netherlands are into the World Group for the first time in 17 years after a 7th straight #FedCup win pic.twitter.com/vOztJ0lY5G

— Fed Cup (@FedCup) April 19, 2015

19. SUI Fed Cup Team
20. Monica Niculescu, ROU
21. Timea Babos, HUN
22. Caroline Garcia, FRA
23. Alexandra Dulgheru, ROU
24. Sloane Stephens, USA
25. Karin Knapp, ITA
26. Lucie Hradecka, CZE
27. Denisa Allertova, CZE
28. Kurumi Nara, JPN
29. Sabine Lisicki, GER
30. Teliana Pereira, BRA
31. Madison Brengle, USA
32. Zarina Diyas, KAZ


33. Tereza Smitkova, CZE



Tereza Smitkova records 1st career Top 20 win with a 63 26 64 upset win over Safarova--> http://t.co/yZ9L88uqnv #WTA pic.twitter.com/UjpAu4YW0Q

— WTA (@WTA) April 29, 2015

34. Mariana Duque, COL
35. Christina McHale, USA
HM- Heather Watson, GBR



**FRESH FACES**


1. Elina Svitolina, UKR
2. Daria Gavrilova, AUS/RUS
3. Alison Van Uytvanck, BEL
4. Belinda Bencic, SUI
5. Katerina Siniakova, CZE
6. Ana Konjuh, CRO
7. Annika Beck, GER
8. Danka Kovinic, MNE
9. Beatriz Haddad Maia, BRA
10. Katerina Stewart, USA
11. CiCi Bellis, USA
12. Louisa Chirico, USA
13. Yulia Putintseva, KAZ


14. Jamie Loeb, USA (NCAA)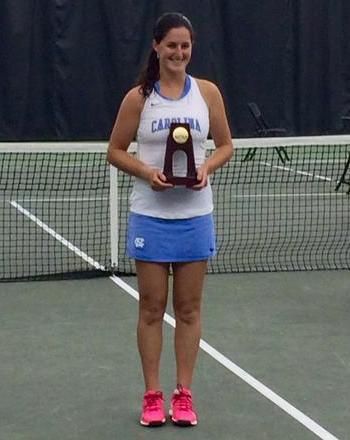 15. Donna Vekic, CRO
16. Carina Witthoeft, GER
17. Lauren Davis, USA
18. Margarita Gasparyan, RUS
19. Elizaveta Kulichkova, RUS
20. Sara Sorribes Tormo, ESP
21. Jelena Ostapenko, LAT
22. Anna Kalinina, UKR
23. Allie Kiick, USA
24. Zheng Saisai, CHN
25. Darya Kasatkina, RUS
26. Olivia Rogowska, AUS
27. Ajla Tomljanovic, AUS/CRO


28. Francoise Abanda, CAN



Here's what @franckie12345 had to say about her first-ever #FedCup win! pic.twitter.com/leT2QTuwXV

— Fed Cup (@FedCup) April 18, 2015

29. Jana Fett, CRO
30. Gabriela Dabrowski, CAN
31. Silvia Njiric, CRO
32. Danielle Lao, USA
33. Gabriela Pantuckova, CZE
34. Marie Bouzkova, CZE
35. Ipek Soylu, TUR
36. Michelle Larcher de Brito, POR
37. Clothilde de Bernardi, FRA
38. Maryna Zanevska, UKR
39. Jessica Pegula, USA
40. Carol Zhao, CAN (NCAA)
HM- Astra Sharma, AUS (NCAA)



**JUNIOR STARS**


1. Marketa Vondrousova, CZE
2. Charlotte Robillard-Millette, CAN


3. Paula Badosa Gibert, ESP



Spain's Paula Badosa (17) wins Roland Garros Junior Girls Title. #IMGTennis pic.twitter.com/gc3ORrzL0L

— IMG Tennis (@IMGTennis) June 6, 2015

4. Anna Kalinskaya, RUS
5. Bianca Andreescu, CAN


6. U.S. Jr. Fed Cup Teams




7. Fanni Stollar, HUN
8. Jil Teichmann, SUI
9. Margot Yerolymos, FRA
10. Caroline Dolehide, USA
11. Fiona Ferro, FRA
12. Claire Liu, USA
13. Hurricane Black, USA
14. Priscilla Hon, AUS
15. Aliona Bolsova Zadoinov, ESP
16. Anna Blinkova, RUS
17. Michaela Gordon, USA
18. Katharina Hobgarski, GER
19. Kristina Schmiedlova, SVK
20. Katie Swan, GBR
21. Tereza Mihalikova, SVK
22. Julieta Estable, ARG
23. Karin Kennel, SUI
24. Emily Arbuthnutt, GBR
25. Olesya Perunshina, RUS
26. Tamara Zidansek, SLO
27. Tessah Andrianjafitrimo, FRA
28. Miriam Kolodziejova, CZE
29. Sofya Zhuk, RUS
30. Eve Guerrero Alvarez, ESP
HM- Rebeka Masarova, SUI



**SURPRISES**


1. Alison Van Uytvanck, BEL


2. Andreea Mitu, ROU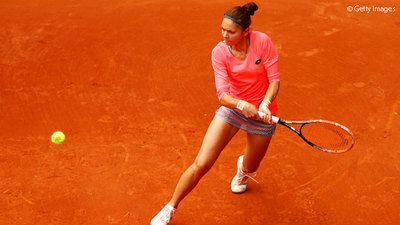 3. Lara Arruabarrena, ESP
4. ESP Fed Cup "B" Team
5. Teliana Pereira, BRA
6. Paula Kania, POL
7. Denisa Allertova, CZE
8. Virginie Razzano, FRA


9. Veronica Cepede Royg, PAR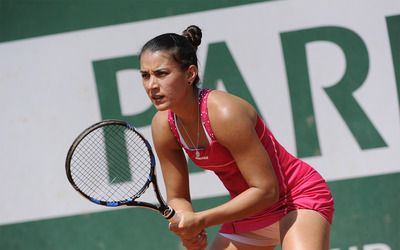 10. Vanderbilt Women's Tennis Team
11. Anna-Lena Friedsam, GER
12. Vitalia Diatchenko, RUS
13. Amandine Hesse, FRA
14. Marina Melnikova, RUS
15. Dinah Pfizenmaier, GER
16. Silvia Soler Espinosa, ESP
17. Johanna Konta, GBR
18. Tatjana Maria, GER
19. Laura Siegemund, GER
20. Olga Govortsova, UKR
21. LTU Fed Cup Team
22. Tereza Mrdeza, CRO
23. Alexandra Panova, RUS
24. Kathinka von Deichmann, LIE
25. Ankita Raina, IND
26. Danielle Lao, USA
27. Kajsa Rinaldo Persson, SWE
28. Jenny Claffey, IRE
29. Erica Oosterhout, USA (NCAA)
30. Nadja Gilchrist, USA
HM- Naomi Osaka, JPN



**VETERANS**


1. Serena Williams, USA
2. Lucie Safarova, CZE
3. Bethanie Mattek-Sands, USA
4. Sania Mirza, IND
5. Maria Sharapova, RUS
6. Carla Suarez-Navarro, ESP
7. Martina Hingis, SUI
8. Svetlana Kuznetsova, RUS
9. Ana Ivanovic, SRB


10. Samantha Stosur, AUS



.@BamBamSam30 captures 1st title of 2015! Edges Mladenovic 36 62 63 @WTA_Strasbourg--> http://t.co/dSobEjeCl8 #WTA pic.twitter.com/tEADHmSmCe

— WTA (@WTA) May 23, 2015

11. Sara Errani, ITA
12. Flavia Pennetta, ITA
13. Lourdes Dominguez-Lino, ESP
14. Yaroslava Shvedova, KAZ
15. Roberta Vinci, ITA
16. Anabel Medina Garrigues, ESP
17. Jelena Jankovic, SRB
18. Mirjana Lucic-Baroni, CRO
19. Francesca Schiavone, ITA
20. Tsvetana Pironkova, BUL
21. Barbora Strycova, CZE
22. Andrea Petkovic, GER
23. Virginie Razzano, FRA
24. Klara Koukalova, CZE
25. Kateryna Bondarenko, UKR
26. Katarina Srebotnik, SLO
27. Maria Fernanda Alvarez-Teran, BOL
28. Tamira Paszek, AUT
29. Shahar Peer, ISR
30. Hsieh Su-Wei, TPE
HM- Alexandra Stevenson, USA



**COMEBACKS**


1. ITA Fed Cup Team
2. Ana Ivanovic, SRB
3. Victoria Azarenka, BLR
4. Sesil Karatantcheva, BUL


5. Sloane Stephens, USA



you've been brilliant as always @rolandgarros !! until next year .... ???? pic.twitter.com/WqL3GettFB

— Sloane Stephens (@sloanetweets) June 2, 2015

6. Anastasija Sevastova, LAT
7. Alexandra Dulgheru, ROU
8. SVK Fed Cup Team
9. SRB Fed Cup Team
10. Petra Martic, CRO
11. Irina Falconi, USA
12. Yanina Wickmayer, BEL
13. Evgeniya Rodina, RUS
14. Mihaela Buzarnescu, ROU
15. Nastassja Burnett, ITA
16. Madalina Gojnea, ROU
17. Urszula Radwanska, POL
18. Jessica Pieri, ITA
19. Shahar Peer, ISR
20. Alexa Glatch, USA
HM- Alexandra Steveson, USA



**DOWN**


1. Simona Halep, ROU
2. Aga Radwanska, POL


3. Genie Bouchard, CAN




4. Yui Kamiji, JPN (WC)
5. Peng Shuai, CHN
6. Garbine Muguruza/Carla Suarez-Navarro, ESP/ESP
7. GER Fed Cup Team
8. USA Fed Cup Team
9. POL Fed Cup Team
10. ARG Fed Cup Team
11. Garbine Muguruza, ESP (non-slam results)
12. Andrea Petkovic, GER
13. Jelena Jankovic, SRB
14. Alexandra Krunic, SRB (non-FC results)
15. Paula Ormaechea, ARG
HM- Venus Williams, USA


#WTA & #ATP stars past & present congratulate @MirzaSania on becoming doubles World No.1--> http://t.co/gf39zT0yU6 pic.twitter.com/wiczEPqA3l

— WTA (@WTA) April 14, 2015




**DOUBLES**


1. Bethanie Mattek-Sands/Lucie Safarova, USA/CZE
2. Martina Hingis/Sania Mirza, SUI/IND
3. Bethanie Mattek-Sands, USA
4. Timea Babos/Kristina Mladenovic, HUN/FRA
5. Sania Mirza, IND


6. Casey Dellacqua/Yaroslava Shvedova, AUS/KAZ



1st-time pair @CaseyDellacqua & @SlavaSays win @MutuaMadridOpen dubs title--> http://t.co/kDHQOjlfMq #WTA #MMOPEN15 pic.twitter.com/HMvP2qOPgi

— WTA (@WTA) May 9, 2015

7. Jiske Griffioen/Aniek Van Koot, NED/NED (WC)
8. Miriam Kolodjiekova/Marketa Vondrousova, CZE/CZE (jr.)
9. Lucie Hradecka, CZE
10. Chan Hao-Ching/Anabel Medina Garrigues, TPE/ESP
11. Chuang Chia-Jung/Liang Chen, CHN/CHN
12. Ysaline Bonaventure/Demi Schuurs, BEL/NED
13. Ekaterina Makarova/Elena Vesnina, RUS/RUS
14. Paula Cristina Goncalves/Beatriz Haddad Maia, BRA/BRA
15. Belinda Bencic/Katerina Siniakova, SUI/CZE
16. Katarina Srebotnik, SLO
17. Petra Martic/Stephanie Vogt, CRO/LIE
18. Lyudmyla Kichenok/Nadiia Kichenok, UKR/UKR
19. Cristina Sanchez-Quintanar, ESP
20. Alla Kudryavtseva/Anastasia Pavlyuchenkova, RUS/RUS
21. Victoria Rodriguez/Marcela Zacarias, MEX/MEX
22. Caroline Garcia/Katarina Srebotnik, FRA/SLO
23. Hsieh Su-Wei/Flavia Pennetta, TPE/ITA
24. Caroline Dolehide/Katerina Stewart, USA/USA (jr.)
25. Maya Jansen/Erin Routliffe, USA/CAN (NCAA)
HM- Kimiko Date-Krumm/Francesca Schiavone, JPN/ITA



**ITF PLAYERS**


1. Anastasija Sevastova, LAT
2. Carina Witthoeft, GER
3. Danka Kovinic, MNE
4. Monica Niculescu, ROU
5. Katerina Stewart, USA
6. Maria Teresa Torro-Flor, ESP
7. Julia Terziyska, BEL
8. Diana Buzean, ROU
9. Lou Brouleau, FRA
10. Darya Kasatkina, RUS
11. Louisa Chirico, USA
12. Zheng Saisai, CHN
13. Marcela Zacarias, MEX
14. Kristyna Pliskova, CZE
15. Allie Kiick, USA
16. Anstasiya Komardina, RUS
17. Fernanda Brito, CHI
18. Hsieh Su-Wei, TPE
19. Stephanie Vogt, LIE
20. Deniz Khazaniuk, ISR
21. Kajsa Rinaldo Persson, SWE
22. Ksenia Palkina, KGZ
23. Iva Mekovec, CRO
24. Luksiak Kumkhum, THA
25. Fatma Al Nabhani, OMA
26. Anne Schaefer, GER
27. Maria Sakkari, GRE
28. Pauline Parmentier, FRA
29. Anna Kalinina, UKR
30. Clothilde de Bernardi, FRA
31. Nicoleta-Catalina Dascalu, ROU
32. Raluca Georgiana Serban, ROU
33. Katarzyna Kawa, POL
34. Cristina Sanchez-Quintanar, ESP
35. Reka-Luca Jani, HUN
36. Sabina Sharipova,
37. Julie Coin, FRA
38. Hsu Ching-wen, TPE
39. Tena Lukas, CRO
40. Jacqueline Cabaj Awad, SWE
HM- Irina Maria Bara, ROU



**FED CUP**


1. Sara Errani, ITA
2. Petra Kvitova, CZE
3. Timea Bacsinszky, SUI
4. Alexandra Dulgheru, ROU
5. Sara Errani/Flavia Pennetta, ITA
6. Flavia Pennetta, ITA
7. Arantxa Rus, NED
8. Anastasia Pavlyuchenkova/Elena Vesnina, RUS
9. Timea Bacsinszky/Viktorija Golubic, SUI
10. Lara Arruabarrena, ESP
11. Victoria Azarenka, BLR
12. Anastasia Pavlyuchenkova, RUS
13. Aleksandra Krunic, SRB
14. Anna Schmiedlova, SVK
15. Kiki Bertens, NED
16. Lucie Safarova, CZE


17. Svetlana Kuznetsova, RUS



.@SvetlanaK27 is now Russia's most successful #FedCup player: Ties - 17 Wins - 27 Losses - 10 Titles - 3 pic.twitter.com/2GuhqtRyD0

— Fed Cup (@FedCup) April 18, 2015

18. Andreea Mitu, ROU
19. Victoria Azarenka/Olga Govortsova, BLR
20. Akvile Parazinskaite, LTU
21. Caroline Wozniacki, DEN
22. Prarthana Thombare, IND
23. Sania Mirza, IND
24. Karen Barbat, DEN
25. Francoise Abanda, CAN
HM- Sara Sorribes Tormo, ESP







**TOP PERFORMANCES**




#1 -

Serena Williams claims slam #20 at Roland Garros, taking the long way around nearly every match over the two-week event. She played five three-setters, coming back from 0-1 down four times, including in three straight matches for the first time since her very first slam title run in NYC in 1999. Anna-Lena Friedsam pushed her to three sets, Vika Azarenka held a set and 4-2 lead on her in the 3rd Round, and Sloane Stephens was three points from a straights sets victory in the Round of 16. In the semis, Timea Bacsinszky led by a set and a break as a flu-ridden Williams seemed about to collapse. In the final, leading by a set and 4-1 (one point from 5-1), Williams hit a bad stretch as Lucie Safarova turned her game around and Serena had to stage one final comeback (2-0 down in the 3rd) before she could confirm what we all already knew: she's STILL the best. Now, definitely... and with arguments for all-time status set to officially commence once her career is complete.

#WTA stars & global athletes congratulate @SerenaWilliams? after @RolandGarros? win--> http://t.co/mXXhGQNGv8 #RG15 pic.twitter.com/oPCpTDc13C

— WTA (@WTA) June 6, 2015



=============================




#2 -

The Dynamic Duo take Paris. Well, NEARLY all of it, anyway, as they had a hand in all three women's championship matches at Roland Garros (coming within a Serena of sweeping them all). Lucie Safarova came into RG sporting just a 5-4 clay court record in the spring, but she timed the peaking of her game perfectly. Thrilling her fans (around the world and in the stands, as well as the lockerroom), Safarova became the first Czech woman to reach the final in Paris since 1981, not dropping a set on her way to the championship match. In the final, she took advantage of Serena Williams' 2nd set slip to force a 3rd and take a break lead there before Serena turned things around. The result made Safarova the seventh Czech woman to reach the singles Top 10 (#7), while she also climbed into the doubles Top 5 after she and Bethanie Mattek-Sands won their second straight slam title (in just their sixth tournament as a duo), defeating world #1's Hingis/Mirza for the second time in '15 en route to the final. Not only that, but BMS cleaned up in the Mixed, as well, taking the title with Mike Bryan to become the first woman to sweep both doubles competitions in Paris since 2001. After RG, Mattek-Sands jumped to a new career-high doubles ranking of #6.

And yes... There is champagne in there! @rolandgarros @luciesafarova #RG2015 #CorkAlmostKilledUs #LightWeights pic.twitter.com/anqlkZLecn

— Bethanie MattekSands (@BMATTEK) June 7, 2015



=============================




#3 -

Angelique Kerber becomes 2015's first "Queen of Clay," winning back-to-back titles in Charleston (her first since '13) and Stuttgart, putting up three Top 10 victories (def. Sharapova, Makarova & Wozniacki) while becoming just the third German (Anke Huber '91/'94, Julia Goerges '11) to be crowned champion in the 37-year history of the tournament. Kerber's winning streak of eleven matches was the tour's longest on clay by any woman during the 2Q.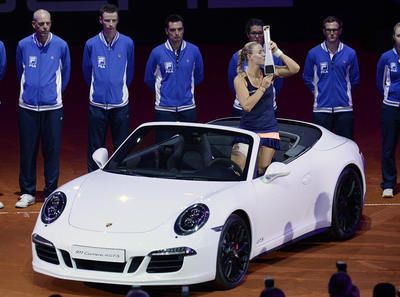 =============================




#4 -

Maria Sharapova's high point during a clay season in which she battled a lingering leg injury, and then illness, was her third title run in Rome in the last four years. The Russian lost just one set while defeating the likes of Vika Azarenka, Daria Gavrilova (avenging her Miami defeat) and Carla Suarez Navarro in the final. Sharapova's eleventh career clay title (behind only Serena among active WTA players) earned her the #2 seed for Paris which, you know, seemed like a good thing at the time.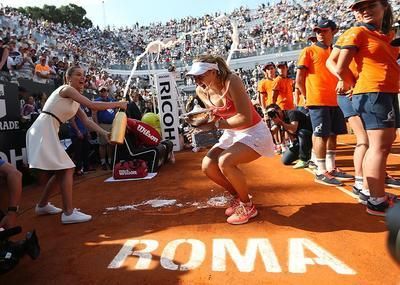 =============================




#5 -

Petra Kvitova once again proves that she's not a one-surface wonder. After two early three-setters, Kvitova swept her final four matches in straight sets to take the title, including getting her first career win over Serena Williams (ending her 27-match streak dating back to last season) in the semis and then a dominant 1 & 2 victory over an exhausted Svetalana Kuznetsova in the final. It's the Czech's second career title in Madrid, having also claimed the crown in 2011.


=============================




#6 -

In Charleston, in their third event as a duo, Martina Hingis & Sania Mirza win their third straight title. The win lifts Sania Mirza into the #1 doubles ranking, making her the first Indian woman to ever top the WTA rankings.

?3 Tournaments ?3 Titles! @MHingis & @MirzaSania win @FamilyCircleCup--> http://t.co/P7bZ8rSDB4 #WTA #tennis pic.twitter.com/Gy8llWkYKK

— WTA (@WTA) April 12, 2015



=============================




#7 -

Teliana Pereira wins in Bogota, becoming the first Brazilian woman to claim a tour singles title since 1988. Combined with a $50K challenger title, a WTA-level qualifying run and main draw victory, Pereira's overall winning streak hit fourteen matches.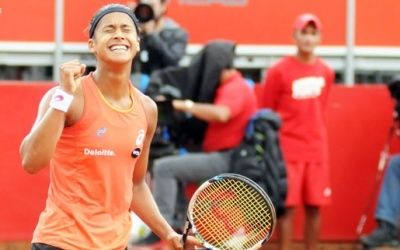 "This has been the best week of my life."

-

Teliana Pereira, after winning the Bogota title to become the first Brazilian singles champ on tour since 1988



=============================




#8 -

With Belinda Bencic absent and Martina Hingis' singles comeback producing no wins (0-2), Timea Bacsinszky puts the Swiss Fed Cup team on her back in the World Group Playoffs. Bacsinszky has a hand in all three points for the Swiss, defeating both Radwanska sisters in singles and Aga a second time in the deciding doubles while partnering Viktoriya Golubic, as the "Queen of Mexico " -- The People's Timea -- expands her kingdom to Poland, sending the Swiss into next season's World Group for the first time since 2004.




=============================




#9 -

Not long after reuniting with former coach David Taylor, Samantha Stosur turns around her previously disappointing '15 season (a 6-10 start, w/ no QF results) in Strasbourg. After opening with a love & 3 win over defending champ Monica Puig, the Aussie won three straight three-set matches (defeating Kristina Mladenovic in the Pastry's first career tour final) to win the seventh singles title of her career.


=============================




#10 -

Karolina Pliskova, already leading the tour in too many categories to count -- other than titles, that is -- finally gets her first '15 singles title in front of a home crowd in Prague, winning a trio of three-set matches, including her second all-Czech final (vs. Kvitova in Sydney) this season against Lucie Hradecka.

So special to win a tittle at home! I had amazing week here in prague and thanks everyone for support:) #madridsoon pic.twitter.com/hqLHkaIhEG

— Karolina Pliskova (@KaPliskova) May 2, 2015



=============================





[Best Imperfect-but-Redemptive Performance]


Sara Errani was at the heart of Italy's collapse on home court red clay in February vs. the Pastries. But she and her countrywoman made good use of their second chance. After handling Lauren Davis on Day 1 of Italy's World Group tie vs. the U.S., Errani took a set off Serena Williams (just the second in the world #1's FC career) on Day 2 and even served for the match. She didn't hand Williams her first-ever FC loss there, but she wore her down enough to make her easy prey (w/ Alison Riske, who'd only met Williams for the first time earlier in the week) in the deciding doubles, which became necessary after Flavia Pennetta made her long-awaited appearance in her hometown and added another singles win to her heroic FC history. Errani and Pennetta then destroyed the American duo 6-0/6-3, erasing what had been a 2-1 deficit mid-way through Sunday's play, regaining a large chunk of the current veteran Italian generation's Fed Cup reputation, which had been dented a bit courtesy of Amelie & Co. earlier this season. The Italians have won three titles in four FC finals since 2007, but their era of success looked close to ending when that 2-0 lead over France was lost in a Fed Cup collapse of epic proportions. Of course, it could be that this was indeed this generation's last big FC win. If so, they left us with one more wonderful memory. Grazie.



[A post-Vergeer Wheelchair Grand Slam?]


There hasn't been a women's wheelchair singles Grand Slam since the astounding career of Esther Vergeer ended following the 2012 season (she won all three singles slams in 2007, '09 and '11, while also winning all four doubles majors in the latter two seasons). But Vergeer's Dutch countrywoman, Jiske Griffioen is now one win away at the U.S. Open from her own singles Grand Slam. Griffioen defeated another Dutch woman, Aniek Van Koot, in the singles final at Roland Garros to win her second major of '15. A doubles team, Griffioen & Van Koot -- they completed a four-event Doubles Grand Slam in '13 -- also won the their sixth career slam doubles crown in Paris, ending Yui Kamiji & Jordanne Whiley's attempt to win a sixth straight major. Griffioen won four additional slam doubles titles with Vergeer from 2007-08.






[Best Non-Championship Feats]


In Madrid, Svetlana Kuznetsova reminds everyone why she's a likely future Hall of Famer... even while coming up short of another large result. The Russian defeated Top 10er Ekaterina Makarova, Top 20er Garbine Muguruza, survived a long match against Samantha Stosur, saved 2 MP vs. Lucie Safarova and got her first win over Maria Sharapova in seven years to reach her first final in nine months. Her eleven hours on court caught up with in the final, as leg and stomach injuries prevented her from being competitive against Petra Kvitova.


=============================


Daria Gavrilova spends thirteen hours on the court in Rome, making her way through qualifying, notching wins over Belinda Bencic, Ana Ivanovic and Timea Bacsinszky to reach her first tour semifinal before she was ultimately slowed by an abdominal injury that likely resulted from her marathon week of play. Unfortunately, the injury lingered, eventually leading to her retirement from her 2nd Round match at Roland Garros.


=============================


Carla Suarez-Navarro records three Top 10 wins (Bouchard, #4 Kvitova and #2 Halep) before losing in three sets in the final to #2 Maria Sharapova.

Carla Suarez Navarro came from a set down to beat second seed Simona Halep at the Italian Open http://t.co/f32bGFKlUv pic.twitter.com/UFyIjLyu1e

— BBC Sport (@BBCSport) May 16, 2015
=============================
#SAPStatOfTheDay: @TimiBacs=1st Swiss to reach a Grand Slam SF since 2004! @SAPSports #tennis pic.twitter.com/UXCKX30v88

— WTA (@WTA) June 3, 2015

Already one of the most encouraging stories of the season, Timea Bacsinszky put some big event teeth into her '15 season with a slam SF run at Roland Garros. She defeated AO semifinalist Madison Keys, got her second '15 win over Wimbledon champ Petra Kvitova and reached her first career slam semi, the first Swiss woman to do so since 2004. Once there, she led an ill Serena Williams by a set and a break at 3-2 before Serena did what she does... win the final ten games of the match.


=============================


Caroline Wozniacki didn't win in Stuttgart (though she served for the title and came within two points of claiming it... twice), but she notched two Top 10 victories (CSN & Halep) to reach her first clay court final since 2011, and her first at a Premier event since 2012.


=============================


Less than a year after deciding to retire from the sport after last summer's grass court season, Andreea Mitu reaches the Round of 16 at Roland Garros after having come to Paris without a main draw slam victory in her career. She defeated #12 seed Karolina Pliskova and former RG champ Francesca Schiavone.


=============================


Belgian Alison Van Uytvanck, the world #93, came to Paris with just one main draw slam match win in her career. She ended up becoming the first Waffle to reach the Roland Garros QF since Justine Henin in 2007.

.@AlisonVanUytvan advances to 1st Grand Slam QF! Cruises past Mitu 61 63 at @RolandGarros--> http://t.co/d2b62ufeuB pic.twitter.com/tmcb7pOntn

— WTA (@WTA) June 1, 2015



=============================


Alize Cornet reached her first Round of 16 at Roland Garros... and answered the question, "What would it look like if Cornet actually won Roland Garros?"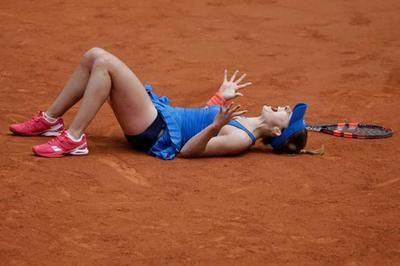 =============================


Lucie Hradecka was a clay court workhorse in April. Twice she qualified for events in Charleston and Prague, advancing to the semifinals and final, respectively, in the two events. She's still 0-7 in career tour singles finals... but why quibble with near-success?

Upset complete! Qualifier Hradecka def. No. 4 seed Errani 6-2, 6-4 to move into #FCC2015 SFs. Will face Keys pic.twitter.com/3T3IAt2bCj

— Family Circle Cup (@FamilyCircleCup) April 10, 2015



=============================


Virginie Razzano accepts a wild card into Strasbourg as the world #251 and reaches the semifinals.


=============================





[Best NextGen Moments]



1st WTA title! ?? @WTA @KatowiceOpen_ pic.twitter.com/cNLFwBMgp5

— AK Schmiedlová (@akschmiedlova) April 12, 2015

In Katowice, Anna Schmiedlova won her first career tour singles title and put together a ten-match winning streak (which included her second Fed Cup anchor stint for the Slovak squad this season) that was snapped in the Marrakech semis by Elina Svitolina, the 20-year old Ukrainian who upped her record in WTA finals to 3-0. Last year, Svitolina defended her maiden career title (Baku) and became the first teen with multiple career singles crowns since 2010. She's now swept all six sets in her three career finals, each of which included her defeating a player who'd previously won a tour singles title in the championship match. She ended her 2Q by reaching her first slam quarterfinal at Roland Garros and reached the Top 20, becoming the highest-ranked woman from Ukraine in WTA history.





[Juniors]


At Roland Garros, Paula Badosa became just the second Spanish girl to claim a junior slam singles crown, joining Lourdes Dominguez-Lino (1999) as female champions in Paris


=============================


Just like with tour-level women's singles and doubles, as well as wheelchair women's singles, the hopes are alive for girls Doubles Grand Slam, as well, after Czech Maidens Miriam Kolodjiekova & Marketa Vondrousova grabbed a Roland Garros title to go along with the one they won in Australia. In 2013, Czech Barbora Krejcikova & Katerina Siniakova won three-quarters of a Grand Slam. No duo has won all four in a single season.



[Best Team]


The Vanderbilt Commodores, led by Freshman Astra Sharma (AUS), claimed the school's first NCAA Women's Team championship

Some great photos from last night's big win! #NationalChamps #FightDores https://t.co/1do4bwv0R6 pic.twitter.com/6OtoPXd4QI

— VanderbiltUniversity (@VanderbiltU) May 20, 2015




[ITF History]


Playing in her first ITF event since 2012, Maria Teresa Torro-Flor picked up where she left off on the circuit three seasons ago. The Spaniard claimed the Saint-Gaudens $50K event in May, extending her winning streak in challenger events to 35 matches. The run breaks Casey Dellacqua's record of 31 straight wins, which was set at around the last time MTTF was a regular player on the ITF level.



[Most Expected Result]




Serbia downed Paraguay 4-1 in the World Group II Playoffs, winning back-to-back Fed Cup ties for the first time in three years. With The Bracelet around, what else would you expect? The one "bright side" of Jelena Jankovic's Charleston injury was that Serbian Good Luck Charm Aleksandra Krunic got to once again take on the majority load of a FC tie for Serbia, going one more step toward righting a wrong that took far to long for the Serbian Tennis Powers That Be to recognize. After having ably held down the #1 singles position in February as the Serbs claimed a tie in FC for the first time since winning in the 2012 semifinals, Krunic led the way again with Ana Ivanovic on the roster (going 1-0) and JJ watching. She even played a "meaningless" doubles match, guiding the younger Ivana Jorovic just as JJ and AnaIvo had her during Serbia's run to the 2012 final. On the court to clinch yet another tie in her second singles match, Krunic lost a total of nine games in her three matches. She is simply a Fed Cup demon. (The good kind.)



[Best New Threat to Civilization?]


Forget The Radwanska. Maybe we should all fear the Swarm. Serena Williams sure was spooked by the whole notion of a Romanian threat a few months ago in Miami, and now the Canadians can confirm that the Swarmettes -- collectively -- are a single-minded force to be reckoned with in North America and beyond. I first started calling this surging generation of Romanians "The Swarm" all the way back in 2008, so it's nice to finally see things coming together. I've been touting a possible FC title run for 2016-17 for over a year, as well, and the last two ties have sure made it look like the process might be moving along right on schedule. In February, even with a Simona Halep loss, a fully-stocked Romanian roster (led by Irina-Camelia Begu) advanced past Spain. In April, on the road without two of their top three ranked players, the Romanians still had enough talent to spare, advancing past Canada with the likes of Alexandra Dulgheru (who hadn't played FC in four years) and Andreea Mitu (subbing for an injured Begu and making her own debut) leading the charge. Only the Czechs have been able to pass through multiple Fed Cup rounds (the Russians at least always had Sveta) even while occasionally going without the unquestioned #1 singles star in recent years, but even the sting of the Romanian "B" players have proven lethal in 2015. The paths of these two teams are now set to cross in 2016, as the Maidens have been drawn to meet the Swarmettes in World Group 1st Round play next February. Game on.

[Best Stare]
.@KikiMladenovic giving the death stare ?? https://t.co/j10SYFeP9T

— Kikitard (@Kikitard) May 29, 2015




[Best New/Old Expression]


Camila Giorgi... still winless in tour singles finals

Ödülü zor tuttu ama kazananin mutlulugu : Schmiedlova (Ve Kaybeden Camilla Giorgi) #WTAKatowice pic.twitter.com/E0dJhENUGo

— ozgur ozan (@ozgurozan) April 12, 2015
[Worst Match Point]
http://t.co/vsCqBvpLHy MT @cbfowler: Underhand serve on match point. Long for double fault. We nominate Razzano for @SportsCenter #NotTop10

— ESPNTennis (@ESPNTennis) May 25, 2015


...can you imagine how the fans in Paris would have reacted had Razzano not been French?



[Worst "Playoff"]



Current USTAHTWCC (French Open WC) Standings: 17 yo Katerina Stewart: 96 18 yo Louisa Chirico: 81 19 yo Allie Kiick: 81 One tournament left!

— Parsa (@Smith_J1989) May 3, 2015

In Indian Harbour Beach, the third $50K leg of the USTA's playoff for the reciprocal wild card into the Roland Garros main draw, had a very familiar look. Two weeks earlier, Louisa Chirico defeated Katerina Stewart in the Dothan final. A week later, Stewart defeated Chirico en route to the Charlottesville final, which she lost to Allie Kiick. Going into the final event, Stewart led the race 96-81 over Chirico and Kiick, who were in two-way tie for second. In IHB, Stewart defeated Kiick en route to her third straight final, where she met and defeated Chirico for a second time during the stretch. Not that it mattered, as Chirico ended up winning the wild card berth in an inane tie-break system that gave it to her because she was ranked higher than Stewart after they "tied" in the playoff standings because only the best two results from the three-event stretch are counted. Their overall results:

Stewart: RU-RU-W (2-1 vs. Chirico)
Chirico: W-1st-RU (1-2 vs. Stewart)

Ummm, wasn't the point of having the playoff to reward the player who earned the WC through better results over the assigned three-event period? So, it's not really a true "playoff," considering pretty much all of the contending players played in all three events. Apparently, no one thought about a tie-breaker that included the "best points average" over the playoff stretch, which would have given the WC to Stewart, or some head-to-head component (ditto).

One has to figure that this loop hole will be fixed like most things associated with the USTA -- after the point which it shouldn't have been something that needed to be corrected in the first place. Not to slight the 18-year old Chirico, who rose through qualifying to reach her second final in three weeks, but 17-year old Stewart, whose win gave her three challenger tittles this season, should have been assured of making her slam debut at RG. It seems fairly elementary. But, remember, this is the USTA that still employs Mary Joe Fernandez as its Fed Cup captain and Patrick McEnroe as whatever his title happens to be at the moment. I suppose we should expect unexplainable, head-shaking craziness.




Stewart ended up getting a wild card into RG qualifying. She lost in the opening Round. Meanwhile, Chirico dropped her slam MD debut match. Stewart, 17, at least also got to play the juniors, reaching the QF in singles and the final in doubles (w/ Caroline Dolehide).



[Tweener vs. Tweener]



My "tweener" trick shot from todays practice.. #practicemakesperfect pic.twitter.com/ZCPwBWm8ps

— Caroline Wozniacki (@CaroWozniacki) April 9, 2015
[Best Dress]
Reactions on Radwanska's new #Lotto dress: disco ball, OMG sunglasses please. What you say? http://t.co/0MwtXZ3BAp pic.twitter.com/oMbStymg19

— Women's Tennis Blog (@womenstennis) May 20, 2015


It's a pity Aga only got to wear it for one match in Paris.



[Most Unsurprisingly Short Coash/Player Relationship]



Martina Navratilova and Agnieszka Radwanska end coaching relationship after five months. http://t.co/sSrq01YaHf pic.twitter.com/hAlJ1m5N9F

— SI Tennis (@SI_Tennis) April 24, 2015


Well, unless you count...


Caroline #Wozniacki and Arantxa #Sanchez Vicario halt their Professional Partnership! http://t.co/w8varGhCCt pic.twitter.com/Dqm1S9rn9T

— Tennis World English (@TennisWorlden) May 13, 2015


And, really, can we REALLY count that one? And not because Arantxa "says" she's still open to coaching Caro in the future, either. Ummm, I wouldn't hold my breath on that one.



[Best Comedy Duo]



Meet @andreapetkovic and @jelena_jankovic, tennis' best comedic duo: https://t.co/xYVzSu7tPO. This is a must-watch, we promise. #FCC2015

— Family Circle Cup (@FamilyCircleCup) April 9, 2015
Learning 'Southern' with @Jelena_Jankovic? on #WTALive Fan Access by @XeroxCorp! Get ready to laugh ya'll ;) http://t.co/m1l3DebYc2 #WTA

— WTA (@WTA) April 11, 2015
"The fans help tremendously, especially when you're an emotional wreck."

-

Andrea Petkovic




*MATCHES ON THE MIND*


Roland Garros 2nd Rd. - Francesca Schiavone d. Svetlana Kuznetsova
...6-7(11)/7-5/10-8. As expected, Francesca and Sveta teamed up for another memorable slam "instant classic." At the 2011 Australian Open, they faced off in a slam record 4:44 marathon, while this "short" 3:50 affair was "only" the third-longest women's match in RG history. But that just condensed the drama into a shorter window. Schiavone held a set point in the 1st, but Kuznetsova took the lead on the fourth SP of her own. The Italian won the 2nd after being down an early break. In the 3rd, the Russian led 4-2 and served for the match four times, holding a match point, but the '10 RG champ refused to give in, outlasting the '09 winner as the match ended with ten breaks of serve in the final eleven games.

So many emotions from 2010 champion @Schiavone_Fra after grinding out a 2R victory over #Kuznetsova. #RG15 https://t.co/e7Q9ECzvum

— Roland Garros (@rolandgarros) May 28, 2015
Vi siete divertiti? Did you enjoy it? @rolandgarros pic.twitter.com/mQBfFPBVib

— Francesca Schiavone (@Schiavone_Fra) May 28, 2015
This classic French Open moment is brought to you by Francesca Schiavone. pic.twitter.com/a4j6CBuL0w

— Chris Oddo (@TheFanChild) May 28, 2015



=============================


Rome 1st Rd. - Jarmila Gajdosova d. Elena Vesnina
...1-6/6-2/7-6(14). Both players have a history of dramatic losses, so what do you get when you put them together on opposite sides of the court? Well, this match. In the 3rd set, Gajdosova led 3-0, but Vesnina surged to hold two MP at 5-4. Things then went to a deciding tie-break, where both players held five more MP each over the final nineteen points of a 30-point breaker. For the record, Vesnina was a point away at 6-5, 7-6, 10-9, 12-11, and 14-13; while Gajdsova matched her at 8-7, 9-8, 11-10, 13-12 and, finally, 15-14.


=============================


Rome 2nd Rd. - Daria Gavrilova d. Ana Ivanovic
...5-7/7-6(2)/7-6(7). The Russian-Aussie qualifier's relentless attitude was put to the test by AnaIvo. The Serb took the 1st and erased a 4-0 2nd set deficit, then broke Gavrilova when she served for the set at 5-4. Gavrilova dominated the tie-break to send things to the 3rd, where Ivanovic again battled back from a 4-2 deficit, saving three MP at 6-5 and forcing yet another tie-break. Again, Gavrilova took the lead at 4-0, and 6-3, only to see AnaIvo save four more MP before finally putting the Serb away on her eighth MP.

What a win for @Daria_Gav! 8th match point is the lucky one after a grueling 3hrs! #WTA #IBI15 #tennis https://t.co/hk2OQZe9Bb

— WTA (@WTA) May 13, 2015



=============================


Charleston Final - Angelique Kerber d. Madison Keys
...6-2/4-6/7-5. Things got off to an error-heavy start for both, but as the match went on it transformed into both an offensive (Keys) and defensive (Kerber) clash full of momentum swings, ultimately becoming a pretty tense and dramatic contest down the stretch. Keys' errors ultimately did her in, though, as she failed to hold in three of her first four and two of her last three service games in the match, losing a 4-1 3rd set lead. Serving at 5-5, Keys led 40/love, but Kerber edged back and the American double-faulted to give the German a break point. An unforced error gave Kerber a 6-5 lead, and she then served out the match at love. In the end, both players had to pick themselves up off the ground.

Congrats @AngeliqueKerber Great finale @FamilyCircleCup pic.twitter.com/ED7PC7msf6

— Marine Dupomont (@MarineDupomont) April 12, 2015



=============================


Prague 1st Rd. - Ana Konjuh d. Belinda Bencic
...7-5/6-7(6)/7-6(3). In a battle of two-time 2013 junior slam champs, Konjuh got to match point with a 6-0 lead in the 2nd set tie-break. Bencic saved those six consecutive MP, then three more at 5-4 in the 3rd set as the Croat double-faulted to break herself. Up 6-5 in the 3rd, Bencic actually held three MP of her own, but Konjuh proved that turnabout is more than fair play by saving all three, then finally winning on her own 10th MP.

Sweet mother of tennis gods...muahahahahahaha (that's Bencic on the left, Konjuh on the right of that scoreline) pic.twitter.com/zqHhYtH2bT

— AR (@andyrobuk) April 28, 2015



=============================


Roland Garros 4th Rd. - Serena Williams d. Sloane Stephens
...1-6/7-5/6-3. In what we later learned was her first match after contracting the flu following her 3rd Round win, Williams played an horrific opening set vs. Stephens, and then found herself serving at 2-3, 15/30 in the 2nd. After winning a rally, Serena let loose with one of her patented roars, then ran off five straight points, firing an ace to hold, then breaking Stephens on her fifth BP of the game for a 4-3 lead. Stephens didn't fold, though, and got within three points of the win in game #10. Williams grabbed control of the set and went on to take the match (her third straight after dropping the 1st set -- something she hadn't done in sixteen years), and the title, while Stephens competed well down the stretch and exited with her head held high and something close to a bounce in her step. Williams, of course, would never do such a thing after a loss, and maybe a Future Sloane won't, either. But for Stephens it was a step in the direction toward a better future.


=============================



Serena Williams wins battle against Victoria Azarenka, 3-6, 6-4, 6-2 to reach 4th round of the French Open. pic.twitter.com/cj1WDesepu

— SportsCenter (@SportsCenter) May 30, 2015

Roland Garros 3rd Rd. - Serena Williams d. Victoria Azarenka
...3-6/6-4/6-2. In their second face-off of the 2Q (the other one comes up later in another list), Azarenka again put herself in position for a win over Williams only to be unable to finish off the upset. Looking as close as she has to her "old self" since her return, a shorts-wearing Vika was aggressive and confident as she took a 6-3/4-2 lead. After Williams edged back, with Vika serving down BP/SP at 4-5, the two got into a disagreement over a late call that Serena argued had affected her wayward shot (replays showed that the call had been made AFTER Williams' swing). Azarenka was forced to re-play the point, which she lost to drop the 2nd set. Her cursing in the changeover area earned her a code violation. She channeled her anger to take a 2-0 lead in the 3rd, but then seemed to allow the blown call to aggravate her again anytime anything went against her. With her opponent's frustration mounting, Williams grabbed control and won the final six games of the match. Afterward, Azarenka said, "That call was bull****, everyone knows it," and called for an expansion of replay that would address such a situation.




=============================


Rome 3rd Rd. - Carla Suarez-Navarro d. Genie Bouchard
...6-7(2)/7-5/7-6(7). No matter how close she got, Bouchard was still unable to get the sort of big win that might turn around the 2015 slide that is close to becoming out of control as she heads toward her defense of her '14 Wimbledon final result. The Canadian served for the match at 5-4 in 2nd here, then again at 5-4 and 6-5 in the 3rd. In the deciding TB, CSN took a 6-2 lead, only to see Bouchard save four match points and hold one of her own at 7-6. CSN finally took the match on MP #5, and Bouchard has yet to post a win since.


=============================


Madrid 3rd Rd. - Svetlana Kuznetsova d. Samantha Stosur
...5-7/6-2/7-6(5). Sveta, as if often the case, had to overcome herself more than anything to win this one. The Hordette held two MP at 5-4 in the 3rd, then two more at 6-5. After double-faulting on multiple MP attempts, Kuznetsova finally won on her sixth.


=============================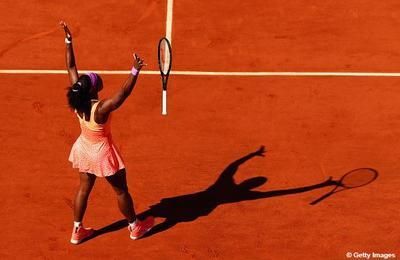 Roland Garros Final - Serena Williams d. Lucie Safarova
...6-3/6-7(3)/6-2. Two days after her "flu match" win, Williams looked as if she was going to make quick work of Safarova in the final. She served up 6-3/4-1, 40/15 only to "choke" (her words, later) with a series of double-faults and errors that allowed the Czech back into the match. Safarova picked up where she'd left off before reaching the final without dropping a set, extending rallies and picking her spots to deliver winners. She took the 2nd set and grabbed a 2-0 lead in the 3rd before Williams righted her game and reeled off the final six games of the match to claim slam #20.


=============================



After 3hrs @ElinaSvitolina battles past Putintseva 16 75 97! Makes 1st @RolandGarros 3R--> http://t.co/OMo0HN1rUV pic.twitter.com/mu0qh7KCyS

— WTA (@WTA) May 27, 2015

Roland Garros 2nd Rd. - Elina Svitolina d. Yulia Putintseva
...1-6/7-5/9-7. Against the fiery, fist-pumping, racket bouncing and pounding, medical timeout-calling, angrily ball mark-circling, demonstrative Russian-turned-Kazakh against whom she had a junior rivalry, Svitolina notched her second '15 slam win over Putintseva, climbing out of a 6-1/3-0 hole and erasing a 4-1 3rd set deficit before letting let loose with a victory howl when it was all over. There was no warm embrace at the net between these two. Instead it was quick hand slap, no eye contact and... to be cont'd.

I see Putintseva is acting against Svitolina pretty much the same way Putin acts against Ukraine And Kjendlie being as inept as EU.

— Oleg S. (@AnnaK_4ever) May 27, 2015
Svitolina takes it and erupts, and they slap hands instead of Shake. Amazing scenes pic.twitter.com/BeDw8R5zkd

— Andrew Jerell Jones (@sluggahjells) May 27, 2015



=============================


Fed Cup World Group Playoffs - Serena Williams/USA d. Sara Errani/ITA
...4-6/7-6(3)/6-3. Going into the match, Williams had lost just one set in fifteen career matches in FC competition. Errani made it two by taking the 1st, then served for the match at 5-4 in the 2nd. Williams ultimately claimed the win (and point), but the Italian won the war as Errani and Flavia Pennetta returned shortly afterward and handed a tired Serena (w/ Alison Riske) her first-ever FC loss (6-0/6-3) to win the tie in front of on the home crowd in Brindisi.


=============================


Stuttgart SF - Caroline Wozniacki d. Simona Halep
...7-5/5-7/6-2. In this one, Halep was the one who couldn't win the big points. The Romanian was 0-for-5 on break point chances in the 1st set, and very nearly blew a two-break lead in the 2nd (the Dane closed to 5-5). After being frustrated by Wozniacki's defense, which dragged out rallies and forced her to hit extra shots, Halep showed the fight that she'd said earlier in '15 that she'd always have. Wozniacki got to within two points of a straight sets win before Halep forced a 3rd. In the final set, she saved three MP at 5-1 before Wozniacki finally converted on #4.


=============================


Stuttgart Final - Angelique Kerber d. Caroline Wozniacki
...3-6/6-1/7-5. Kerber spoiled the day for Caro's home fans in the Copenhagen final in 2012, but the Dane couldn't do the same in front of a German crowd on Sunday. She came close... but this ain't horseshoes. The Dane opened up the final in aggressive form, taking the 1st before having Kerber turn the tables on her in the 2nd. The 3rd played right into Carol's hands. Well, until it didn't. She served for the title at 5-3, coming within two points of the win before being broken. She was two points from the title a game later, as well. But as has been the case on more than one occasion against top players in '15, Wozniacki failed to win the big points down the stretch.


=============================


Fed Cup World Group Playoffs - Francoise Abanda/CAN d. Irina-Camelia Begu/ROU
...4-6/7-5/6-4. The 18-year old from Montreal opened the CAN/ROU tie in her hometown with a bang, winning a tight match (107-107 in points) in 2:39 to notch her first career FC win. Now, if only teammate -- and fellow Quebec native -- Genie Bouchard had shown similar verve.

#CANROU What a performance from @franckie12345! The young Canadian earns her 1st #FedCup win defeating Begu 46 75 64! pic.twitter.com/Pw4ppThBVz

— Fed Cup (@FedCup) April 18, 2015



=============================


Fed Cup World Group Playoff - Timea Bacsinszky/Viktorija Golubic (SUI) d. Aga Radwanska/Alicja Rosolska (POL)
...2-6/6-4/9-7. In the deciding doubles, the Swiss battle back from a set down and don't fold against the Poles after failing to serve out the match at 5-4 in the 3rd. The win allows the Swiss to reach the World Group round for the first time since 2004.


=============================


Madrid 1st Rd. - Mariana Duque d. Heather Watson
...0-6/6-3/7-6(11). After dropping the opening set at love, Duque pushed Watson to a 3rd. The Colombian saved three MP at 6-5 in the final set, then two more in the deciding tie-break. On her own sixth MP in the tie-break, Duque finally prevailed.


=============================


Roland Garros 1st Rd. - Petra Kvitova d. Marina Erakovic
...6-4/3-6/6-4. The eternal conflict between Good Petra and Bad Petra was on full display in the opening round in Paris, foreshadowing the losing battle that the Czech would endure later in the tournament. She won here, but it wasn't easy. Erakovic led 4-2 in the 1st, and had a point for 5-2, before Kvitova took the set. In the 3rd, Kvitova twice went up a break only to give back her advantage. Finally, she fired two winners to break for a third straight time, them held at love. She committed 47 errors on the day, but a few well-timed winners (38) saved her despite the Kiwi holding a 109-106 edge in total points for the match. But even Good Petra couldn't keep Bad Petra at bay for long at Roland Garros.


=============================


Fed Cup World Group Playoff - Arantxa Rus/NED d. Jarmila Gajdosova/AUS
...0-6/7-6/7-5. Gajdosova has a history in Fed Cup play of playing long, drawn-out matches and ultimately losing them. It happened again here. In a seesaw final set, Rus led 5-2 and held two MP at 5-3. She double-faulted on the first, then another DF broke herself. Gajdosova held for 5-5 in a three-ace game, but back-to-back DF from the Aussie two games later, the last on Rus' fourth MP, sealed the fate of herself and the Aussie team as the 2:23 match -- and the "live" nature of the tie -- came to an end. This is the third straight tie in which Rus has provided the clinching point for the Dutch.


=============================



.@laraarrua's celebrations after clinching the tie for Spain are the #FedCup Photo of the Weekend! pic.twitter.com/qJjPhumiUz

— Fed Cup (@FedCup) April 19, 2015

Fed Cup World Group II Playoff - Lara Arruabarrena/ESP d. Paula Ormaechea/ARG
...6-1/4-6/9-7. The Spaniard nearly blew a 4-1 lead in the 3rd, and Ormaechea saved a MP in game #14 of the set. But Arruabarrena converted on her second attempt to keep Spain from dropping down into zone play for the first time in the nation's Fed Cup history.


=============================


Fed Cup World Group Playoff - Aga Radwanska/POL d. Martina Hingis/SUI
...6-4/6-0. Aga proved adept at handling the game of the player whose style her own is most often compared to. Better yet, we finally got to see what it looks like when the "cheeky smile" meets the stoic "face of Radwanska." Of course, Hingis hadn't played a full singles match that counted since 2007, and while the solo return of the Swiss Miss was nice, Martina's 0-2 singles mark for the weekend ultimately left her limping, exhausted an unable to take part in what was rightly considered the main benefit of having her on the team in the first place -- the ability to call upon her doubles skills in a deciding concluding match. As it turned out, the Swiss won the deciding doubles without her. So it's all right be be nostalgic about Martina the Singles Player without feeling guilty about it, I suppose.




=============================





[The Turning of the Tide]


Madrid Doubles QF - Mattek-Sands/Safarova d. Hingis/Mirza
...6-7(5)/6-3/11-9. The notion of the Dream Team being the unquestioned best doubles team in the world was blown apart by the Dynamic Duo. First in Madrid, then again in Paris when BMS/Safarova became the first team to defeat Hingis/Mirza twice... and then go on to take their second straight '15 slam.



[The Battle for the Post-Vergeerian World]


Roland Garros WC SF - Aniek Van Koot d. Yui Kamiji 6-4/4-6/7-6(4)
Roland Garros WC Final - Jiske Griffioen d. Aniek Van Koot 6-0/6-2
...one Dutch woman (Van Koot) ended world #1 Kamiji's consecutive slam final singles streak at four, then she faced off with her countrywoman (and doubles partner) in. Griffioen claimed the title to grab her second WC singles slam of the season.



[Tie-Break]


Roland Garros 1st Rd. - Denisa Allertova d. Johanna Konta
...7-6(17)/4-6/6-2. After no breaks of serve in the 1st, Allertova and Konta engaged in a 36-point tie-break that included fifteen set points. After saving eight, Allertova finally won on her own seventh. It's the longest women's singles tie-break in slam history.



[Press Conference Moment]



A spider briefly interrupted Alison Van Uytvanck's news conference pic.twitter.com/Pbw3IBDNck

— Mark Masters (@markhmasters) May 30, 2015




[Worst Ending]


HM- $50K Saint-Gaudens QF - Jana Cepelova d. Teliana Pereira
...7-6(5), default. A few weeks after Pereira experienced the high of winning a tour title she' got the boot end of the results equation, as well. After losing the 1st set to Cepelova, she was defaulted from this QF match for throwing her racket into the stands in frustration.





*COMEBACKS-R-US... vs. Them*



Serena. In pictures... pic.twitter.com/FeoM7a5Du2

— BBC Tennis (@bbctennis) June 4, 2015
And here is Serena Williams being sick and half-throwing up, tho it goes into the towel pic.twitter.com/pKgq9jiamW

— Andrew Jerell Jones (@sluggahjells) June 4, 2015

Roland Garros SF - Serena Williams d. Timea Bacsinszky
...4-6/6-3/6-0. Forever to be known as Serena's "flu match," this one was the "bizarro" side of Williams' all-time career in a nutshell. She'll go down as one of the greatest players of all time, capable of laying waste to the field en route to edging close to two dozen major titles. But unless you've witnessed certain aspects of "the Williams oeuvre," future tennis generations will have a hard time truly understanding the part of Serena's career that makes matches like this possible on what seems like a regular basis. But even in a career full of "flipped switches" signaled by a well-placed roar or a thundering shot, Williams' win over the Swiss stands alone. Battling a severe flu, coughing and often lumbering around the court in deliberate fashion for a set and a half, Williams seemed ready to be sent packing. Trailing 6-4, and break down at 3-2 in the 2nd, Williams hacked up something into a towel during the changeover... and then came off her chair and never lost another game. As Williams charged toward her fourth win of the tournament after dropping the 1st set, Bacsinszky couldn't help but be chewed up by the gears of "Serenativity" in full production mode. Near the end, Serena chased down a wide ball, sliding across the backcourt and firing a forehand passing shot winner from behind the baseline. While still stretched out on the terre battue, she clenched her fist and stared into the face of the invisible enemy that once again had failed to get the best of her. A classic image to cement a classic win into the memory bank of history.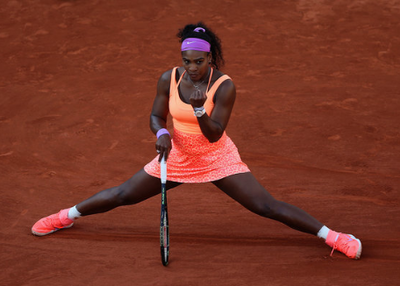 =============================


Stuttgart 1st Rd. - Belinda Bencic d. Julia Goerges
...3-6/6-3/7-5. Sparking memories of her breakout Fed Cup debut in '14, the New Swiss Miss spoils the day for a player in front of a partisan crowd. Down 4-5, love/40 in the 3rd set, Bencic survives her triple match point moment and goes on to take out the German just days after Goerges was part of Germany's lost Fed Cup moment vs. the Russians.

Incredible escape act! #Bencic back from 4-5 0-40 in 3rd to bt #Goerges 3-6 6-3 7-5. http://t.co/kRsZ9udpkC #WTA pic.twitter.com/FNELWvDo7V

— TennisTV (@TennisTV) April 22, 2015



=============================


Fed Cup Semifinals - Lucie Safarova/CZE d. Caroline Garcia/FRA
...4-6/7-6(1)/6-1. Had Garcia converted one of her five match points in the 2nd set against Safarova, picked by Czech Captain Petr Pala to play over Karolina Pliskova, would it have made a difference in the tie? Well, it might have meant that Pala would would have gone with Pliskova on Sunday, and if she hadn't been able to get a win, things would have gone to the doubles with Garcia/Mladenovic striving for a second straight epic Pastry FC upset (after overcoming a 0-2 deficit vs. Italy in February). But after Safarova won, the rest of the tie proved to be rather elementary, as the the Maidens advanced to their fourth final in five years.


=============================


Stuttgart 2nd Rd. - Simona Halep d. Garbine Muguruza
...3-6/6-1/6-3. 0-2 lifetime against the Spaniard, and with the memory of her February Fed Cup beat down still fresh in her mind, Halep found herself down a break in the 3rd set. She saved two break points to avoid a double-break disadvantage, and then the promising Muguruza did what unfortunately still occurs far too often -- she let a victory slip through her fingers.


=============================


Fed Cup World Group Playoff - Alexandra Dulgheru/ROU d. Francoise Abanda/CAN
...3-6/7-5/6-2. Abanda very nearly made up for teammate Genie Bouchard's FC weekend misfires against the Romanians. The teenager opened the tie with a victory, then was tasked with evening the score in match #4 after Bouchard went 0-2 in singles. She led Dulgheru, the emotional leader of the Swarmettes and the player who'd shown up a defeated Bouchard a day earlier, 6-3/4-2 before the Swarmette seized the moment once again by surging back and clinching the tie.


=============================


Fed Cup Semifinals - Anastasia Pavlyuchenkova/RUS d. Sabine Lisicki/GER
...4-6/7-6(4)/6-3. Things could have been so very different for Germany had Lisicki been able to put away Pavlyuchenkova when she had the chance. Captain Barbara Rittner may not have been criticized for not playing Petkovic and Kerber (both of whom had asked out of play due to tiredness) on Day 1, and the Germans' furious comeback attempt on Day 2 (Petko and Kerber notched fiery wins to send things to the doubles) wouldn't have needed to be absolutely flawless. Instead, Lisicki failed to convert a MP at 6-5 in the 2nd set, then quickly fell behind 5-1 in the deciding 3rd as the Hordettes took a 2-0 lead that proved to be too large to overcome.


=============================


Prague 2nd Rd. - Lucie Hradecka d. Tereza Smitkova
...6-3/4-6/7-6(11). Hours after notching a career-best win over countrywoman Lucie Safarova, Smitkova was asked to face yet another fellow Czech. Up 5-1 in the 3rd, and with a MP at 5-4 and three more in the deciding tie-break, Smitkova looked like she was going to celebrate for a second time. But Hradecka battled back to win on her own fourth MP and went on to reach the final, where she lost to yet another Czech, Karolina Pliskova.


=============================



.@SvetlanaK27 saves 2 mps to edge Safarova 57 76(5) 76(3) for @MutuaMadridOpen SF spot--> http://t.co/n4c9BPYX5y #WTA pic.twitter.com/0gJTP1sXqX

— WTA (@WTA) May 7, 2015

Madrid QF - Svetlana Kuznetsova d. Lucie Safarova 5-7/7-6(5)/7-6(3)
Rome 1st Rd. - Lucie Safarova d. Anna Schmiedlova 76(6)/6-7(3)/6-4
...the Czech hadn't quite perfected things heading into her run to the RG final, but her forward motion was evident. She won the 1st set, but failed to close the match after leading the 2nd set TB 5-2, nor when she held two MP at 5-4 in the 3rd. A week later in Rome, Safarova overcame a 4-1 3rd set deficit to take down Schmiedlova. In Paris, she didn't lose a set until the final.


=============================


Fed Cup World Group Playoffs - Urszula Radwanska d. Martina Hingis
...4-6/6-7(5)/7-6(4). Hingis was looking to clinch the tie for Switzerland in her second singles match of the weekend. She served for the match at 5-3 in the 2nd, but after failing to put away the tie she literally limped to the finish with a leg injury as U-Rad forced things to a deciding doubles contest. Ailing and exhausted, Hingis skipped the doubles, but she still cheered on/helped coach Timea Bacsinszky & Viktoriya Golubic to a win to send the Swiss into the World Group in 2016.


=============================


Madrid 2nd Rd. - Anastasia Pavlyuchenkova d. Sara Errani
...3-6/7-6(7)/6-4. Errani held three match points in the 2nd set: two serving at 5-4 and 6-5, then another in the TB. Naturally, Pavlyuchenkova didn't take advantage of her good fortune, losing her next match.


=============================


Rome 2nd Rd. - Petra Kvitova d. Karin Knapp
...6-3/4-6/7-6(1). For once, Kvitova was the one turning things around to win rather being the one seeing HER fortunes get turned on their head. Knapp served up 5-2 in the 3rd set, and was two points from victory at deuce on Kvitova's serve a game later. The Czech strung together nine straight points with the match in the balance and pushed the Italian out of her path on the way to victory.


=============================


Charleston 1st Rd. - Jana Cepelova d. Elena Vesnina
...6-2/6-7(5)/7-6(4). For one match, Charleston was home for Cepelova all over again. Vesnina served for the match at 5-4 in the final set, but surprise '14 Charleston finalist Cepelova re-lived her glory of a year ago (she def. Serena, remember) and found a way to advance. A sequel wasn't meant to be, though, as the Slovak dropped her next match.


=============================


Marrakech QF - Anna Schmiedlova d. Timea Bacsinszky
...6-3/3-6/7-5. What was more impressive: Schmiedlova's title run in Katowice, or that she maintained her roll through a Fed Cup weekend (2-0) and then extended her winning streak to ten matches with this win over Bacsinszky? The Swiss was up a break in the 3rd and served at 4-3. Ultimately, she was broken by Schmiedlova to end the match a few games later, ending her eight-match winning streak in three-setters following the Australian Open.


=============================


Roland Garros 1st Rd. - Alison Van Uytvanck d. Anna Schmiedlova
...7-6(4)/7-6(7). Naturally, the unseeded Waffle's career-best slam run to the QF in Paris became possible only because of a storm she weathered right at the start of the tournament. The Belgian erased a 4-0 2nd set deficit against Schmiedlova, saving eleven set points in all (eight in one service game) before winning the match in straight sets.


=============================





[ITF]


$15K Leon Final - Danielle Lao d. Aleksandrina Naydenova
...3-6/6-3/7-5. "The Little Giant," a two-time NCAA All-American at USC, wins her first ITF singles title by knocking off three seeded players. In the QF vs. #1-seeded Mayo Hibi, Lao saved six match points, then in the final against Naydenova she overcame a 4-1 3rd set deficit and finally served out the match on her second attempt despite trailing her opponent (95-94) in total points won during the match.




=============================





[Juniors]


Roland Garros Girls 2nd Rd. - CiCi Bellis d. Sofya Zhuk
...4-6/6-1/8-6. The Bannerette saved a match point and rode the momentum all the way to the semifinals.

"@MertovsTDesk: What you call a "relief celebration".. #Bellis after winning the match point. pic.twitter.com/n2K66LY0Jg" @cicibellis99

— ???? (@Vamos_feli) June 2, 2015
=============================
"She almost hit an ace. She missed it by not even three centimeters. I thought, 'Wow.' This is definitely an escape. I've had some other escapes, but I don't think I've been down love/40 on someone's serve before."

-

Serena Williams, on being down triple MP vs. Azarenka in Madrid




*COUGH, COUGH... COUGH, COUGH*


Madrid 3rd Rd. - Serena Williams d. Victoria Azarenka
...7-6(5)/3-6/7-6(1). A missed opportunity for Azarenka. Several of them, in fact. Vika led 5-1 in the 1st set TB, only to lose it. After extending things to a 3rd set with Williams' game going in and out, Azarenka saved a MP at 5-4 down, then broke for a 6-5 lead and soon found herself at triple MP serving at 40/love. On her third MP, she thought she'd won the match on an ace, but the shot had barely missed the line. After double-faulting on her second serve, she had two more DF on consecutive points as Williams was handed the break and things went to a tie-break. Rattled by her lost chance, Azarenka was blown out in a 7-1 TB as Serena won twelve of the last thirteen points of the match. Said Serena, "It was an intense match; I actually thought I had lost. Vika is definitely on her way back."


=============================



#Keys survives. Back from set & 0-5 to bt Lucic-Baroni 46 76 76. Into @WTA_Strasbourg QF. http://t.co/kRsZ9udpkC pic.twitter.com/wHKZ9Coh3t

— TennisTV (@TennisTV) May 20, 2015

Strasbourg 2nd Rd. - Madison Keys d. Mirjana Lucic-Baroni
...4-6/7-6(3)/7-6(0). Hmmm, is this match a candidate for "Comeback of the Year," "Choke of the Year" or maybe both? Lucic-Baroni led Keys 6-4/5-0 in windy conditions, but was sent packing as Keys' Fed Cup '14 lesson about NO match EVER really being over until, you know, it actually IS once again came to the forefront. Even more spectacular than the blown lead, Lucic never managed to even hold a MP after taking that lead. She served for the match twice in the 2nd set, but the closest she got was within two points of victory on Keys' serve in game #6. At one point, Keys won 16 straight points and took the 2nd set TB 7-3. In the 3rd, Lucic served for the match for a third time at 5-4 (again coming within two points of the win), but failed to put it away there, as well. Ultimately, she lost the deciding TB 7-0. The Croat rebounded well, upsetting Simona Halep a week later in Paris... and managing to close things out rather routinely after leading that one by a set and 5-0, too.


=============================


Roland Garros 1st Rd. - Donna Vekic d. Caroline Garcia
...3-6/6-3/6-2. Garcia was the first seed ousted in Paris. Vekic, on a slide for most of the last year, fired thirteen aces. The Croat converted five of eight BP chances, while the French woman was successful on just three of twelve. The match ended with five Garcia errors and the last of those Vekic aces. Worse for the home favorite -- and why this isn't in the "upset" list -- was Garcia's talk afterward about not being equipped to handle the pressure of playing on Chatrier Court and how she'd begged the organizers to not schedule her there and instead put her in a quiet place where no one would be paying much attention. Sounds like THE great French women's slam hope to me, how 'bout you? One might think she'd ask FC coach Amelie Mauresmo (never great at it herself, but a Pastry Whisperer if there's ever been one) about handling the pressure of playing in Paris, right? I mean, Garcia often talks about her wisdom and how much she's learned from her. Umm, nope. Garcia said she's never thought to even ask her about it. Oy vey.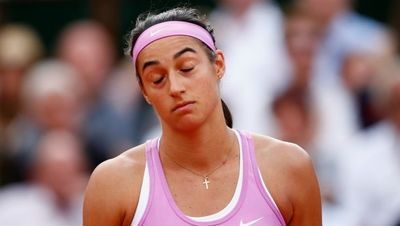 =============================
"I wanted to play on a smaller court. But that's the way it is."

-

Caroline Garcia, after her 1st Round loss at Roland Garros




"I can't make it here, it doesn't depend on the opponent, it depends on myself and I can't play here at the French Open and I hope it can change in the future."

-

Garcia




"For me, it's too much to play on this (Chatrier) court and next year I will ask to play on court number nine. A sort of hidden court where there's nobody there."

-

Garcia
I need decorations for my house??Me and @BigSascha stealing stuff from museum?????? #wecouldnteventhowetried#tooheavy pic.twitter.com/cD5zzg8jb6

— victoria azarenka (@vika7) April 23, 2015

Enjoyed my match today, thank you Mr President! @BarackObama @whitehouse #EasterEggRoll pic.twitter.com/J9zQKkNYxe

— Caroline Wozniacki (@CaroWozniacki) April 6, 2015

So I thought "Pisa" was a boring caption and an obvious caption.... No one gets my humour... ever.. ?? pic.twitter.com/mD1wY9iBL0

— Daria Gavrilova (@Daria_gav) April 29, 2015
*WHO DOESN'T LIKE AN UPSET? (well, other than the obvious)*
Madrid 1st Rd. - Alize Cornet d. Simona Halep 7-6(6)/6-3
Roland Garros 2nd Rd. - Mirjana Lucic-Baroni d. Simona Halep 7-5/6-1

WATCH: #LucicBaroni celebrates after logging her 2nd win vs #Halep; the Croat made her RG debut 17 years ago! #RG15 https://t.co/aycjH4wRkl

— Roland Garros (@rolandgarros) May 27, 2015

...Halep came into the clay season off a very good, though not perfect, 1Q. On the surface that is generally considered her best, and where she put up great results the last two springs, the Swarmette Queen went a combined (and mediocre) 6-4 in '15, with these two early round straight sets losses the giant elephants wearing polka dot socks in the middle of her 2Q results. The first match was Cornet's fourth Top 2 victory since last February, but Halep was the runner-up in Paris just last year. After losing the #2 ranking (and #2 seed) before heading to Roland Garros, Halep was bounced by Lucic, the same player who knocked her out of last year's U.S. Open. Falling behind 5-0 in the 2nd set, Halep was out-hit 29-5 in winners for the match, and the loss gave her her worst slam result in nearly two years.


=============================



Fed Cup World Group Playoff - Alexandra Dulgheru/ROU d. Genie Bouchard/CAN 6-4/6-4
Fed Cup World Group Playoff - Andreea Mitu/ROU d. Genie Bouchard/CAN 4-6/6-4/6-1
...after at first deciding against it, Bouchard's late anouncement that she would indeed join the Canadian team back home in Montreal was initially greeted with enthusiasm. Little did everyone know that it would simply be the first act of Genie's "lost weekend." Playing against a Romanian team without Simona Halep, Bouchard was expected to carry the team on her shoulders. Instead she caused it to bite the dust, losing on Day 1 to Alexandra Dulgheru in the injury-plagued Swarmette's first FC action since 2011. The last game, a hold by the Romanian, included three break points and four match points. But the final result was still the same, no matter the too-little-too-late fight that Bouchard put forth. Afterward, Dulgheru openly mocked Bouchard's refusal to shake hands with her opponents during the ceremony attended by both teams earlier in the week. Day 2 proved to be even worse for the (what-does-it-take-for-her-to-be-chagrined?) Canadian, as she was taken down by Irina-Camelia Begu's late replacement, Andreea Mitu, who clinched the tie in her FC debut.


"I don't want to comment on the gesture, it depends on the person's education. I would never do that but it's maybe just how she was raised and we have to accept this attitude. Alex played really well and I'm very happy she beat Bouchard. (The Celebration) was very well thought of and actually funny."

-

Simona Halep, on Genie Bouchard and Alexandra Dulgheru



=============================


Charleston 1st Rd. - Lauren Davis d. Genie Bouchard
...6-3/6-1. Not to pile on, but Felina makes it so easy. In this case, Davis grabbed her first career Top 10 win as Bouchard suffered her third consecutive loss, all to players ranked #65+. Numbers four and five in a row would come a week later in Fed Cup play vs. Romania.


=============================



Madison Brengle earns 1st career Top 10 win! Shocks Kvitova 63 76(2) at @PorscheTennis--> http://t.co/FSLxWjNFS7 #WTA pic.twitter.com/bixxs6VDcf

— WTA (@WTA) April 23, 2015

Stuttgart 2nd Rd. - Madison Brengle d. Petra Kvitova
...6-3/7-6(2). BrengleFly's hard-earned upward mobility continued, as she skipped over one milestone in favor of an even greater one. The Bannerette had never defeated a Top 10 player in her career, but that didn't stop her from taking out Top 5er Kvitova in the wake of the Czech's undefeated Fed Cup weekend.


=============================



Errani/Pennetta prove too good for Williams/Riske, a 60 63 victory sees Italy retain their #FedCup WG place #ITAUSA pic.twitter.com/fFOXqqxojC

— Fed Cup (@FedCup) April 19, 2015

Fed Cup World Group Playoff - Sara Errani/Flavia Pennetta (ITA) d. Serena Williams/Alison Riske (USA)
...6-0/6-3. On her first weekend of play on red clay this season, the poor roster makeup of the U.S. team and absence of sister Venus proved to simply be too much for even Serena to overcome. Of course, a resurgent Italian team still smarting from a February FC collapse had something to do with it, as well. After being forced to a tie-break in a straight sets win on Saturday, then having to battle for three sets to defeat Errani (the Italian took just the second ever set lost by Serena in FC competition and even served for a straight sets win) earlier in the day, Williams was forced into action yet again for Mary Joe Fernandez's why-would-we-ever-need-a-doubles-player? squad and simply wasn't able to bring anything to the table. Serena hadn't played FC doubles in a dozen years. Playing with Riske for the first time (they hadn't even met until earlier in the week) in the deciding doubles match, the Americans fell behind 5-0 in just seventeen minutes as the Italian duo thrilled the crowd -- Pennetta was playing in her hometown -- and proved that the fabled veteran squad had at least one more heroic weekend left for which history would be able to judge them. Williams was broken at love twice in the 2nd set, as she suffered her first loss in seventeen career Fed Cup matches.


=============================


Roland Garros 1st Rd. - Annika Beck d. Aga Radwanska
...6-2/3-6/6-1. Aga's troubles continue. The last time she met the German in Indian Wells last year, A-Rad won 6-0/6-0. This loss was the Pole's worst slam result since the '09 Australian, and only her third career 1st Round exit at a major.

.@BeckAnnika upsets Radwanska 62 36 61 in 1R of @RolandGarros! 1st Top 20 win of 2015--> http://t.co/ck8Yq4Onn1 #RG15 pic.twitter.com/OnsXJwy4vM

— WTA (@WTA) May 25, 2015



=============================


Roland Garros 2nd Rd. - Andreea Mitu d. Karolina Pliskova 2-6/7-6(5)/6-4
Roland Garros 3rd Rd. - Andreea Mitu d. Francesca Schiavone 7-5/6-3
...a year ago, Mitu was ready to quit the sport, then she made it through Wimbledon qualifying and won four ITF titles late in the season. Fastforward to 2015, and the Romanian has reached the Top 100, recorded her first tour main draw win, made her Fed Cup debut and notched her first Top 10 victory (def. Bouchard), then reached the Round of 16 in Paris after taking out Pliskova after the Czech led 6-2/4-3 with a break before ending the run of former RG champ Schiavone in straights after the Italian vet led 4-1 in the 1st and served at 5-3. As it turned out, despite being the lowest-ranked of the five Romanians in the RG draw, Mitu was the Last Swarmette Standing.

WATCH: An emotional @andreea_mitu celebrates after her upset of 2010 champion #Schiavone to reach the R16. #RG15 https://t.co/NQOdgajHu5

— Roland Garros (@rolandgarros) May 30, 2015



=============================


Stuttgart 1st Rd. - Petra Martic/Stephanie Vogt d. Martina Hingis/Sania Mirza
...6-3/6-3. Martic & Vogt, playing in their first match as a duo, become charter members of the We Beat the Dream Team Club, ending the undefeated run of Hingis/Mirza after fourteen straight wins. Of course, it likely helped that Hingis wasn't exactly 100% after a weekend of Fed Cup singles action, and both she and Mirza had to fly into Germany (Sania all the way from Hyderabad) after both had participated in FC action just a few days earlier.


=============================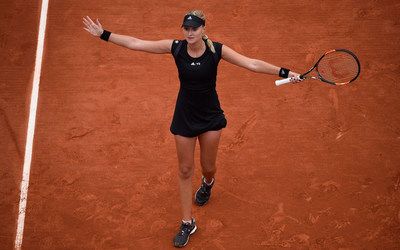 Roland Garros 1st Rd. - Kristina Mladenovic d. Genie Bouchard
...6-4/6-4. For all her "regular season" problems, Bouchard could at least stand by her consistent slam success. Well, that notion came to an end in Paris. The #6 seed suffered her worst loss in nine career slams appearances, dropping out of the Top 10 as a result (and that's BEFORE her Wimbledon '14 runner-up points come off), though Kiki's inability to close things out after leading 5-0 in the 2nd made things "interesting." A year ago, Mladenovic -- the anti-Garcia at RG -- upset Li Na at Roland Garros.


=============================


Fed Cup World Group II Playoffs - Sara Sorribes Tormo/ESP d. Paula Ormaechea/ARG
...4-6/7-6(2)/6-1. Ormaechea has been Argentina's best FC player the last few years, but the Spanish teenager made her debut for Team Espana a memorable one, setting the tone for a disappointing performance for the host nation. Sorribes dropped the 1st set, then staged a successful comeback despite twice being down a break in the 2nd. After having nearly pushed the Williams-stacked U.S. squad to the doubles in February, Argentina went on be shut out by the Spanish "B"-team, with Ormaechea dropping a second match against Lara Arruabarrena, who was also playing in her first career FC tie.


=============================


Roland Garros 4th Rd. - Timea Bacsinszky d. Petra Kvitova 2-6/6-0/6-3
Roland Garros 4th Rd. - Lucie Safarova d. Maria Sharapova 7-6(3)/6-4
...not "tremendous" upsets, considering many factors. The Swiss reached the semifinals, while Safarova would go on to play in her first slam singles final. Also, Bacsinszky had already beaten Kvitova earlier in the season, and Bad Petra was most definitely present after the Czech won the opening set. Safarova had battled defending champ Sharapova (23-2 at RG since '12) in close losses in recent match-ups, as well. But Sharapova was the #2 seed and Kvitova #4 -- and they BOTH went out on Day 9 in Paris, the same day that #1 Serena Williams was close to being upset by Sloane Stephens, too. Shocking, huh, that Williams survived the carnage and went on to win the title? Yeah, right.


=============================


Roland Garros 1st Rd. - Sloane Stephens d. Venus Williams
...7-5(5)/6-1. Sloane gets her second career slam win over a Williams, joining Ekaterina Makarova as the only players to defeat both Serena and Venus in a major who have never themselves been ranked #1. Stephens came within three points of an additional RG win over Serena in the Round of 16.


=============================




"People shouldn't judge her if they don't know her. I believe that people don't have a right to judge her without knowing her. I will tell you even more that I don't think I know her that well. She's really famous and has lots of fame around her, and I think it's the right thing how she takes it. She separates it away and only has close people. Otherwise it's very difficult to be in her situation and to play such a great level of tennis and have so much commercial and to be so popular. It's really hard to combine these two things. The real Maria, only the real people around her know that. Other people, if she doesn't let them go in her life, doesn't mean that they can tell her that she's bad. I don't believe that."

-

Svetlana Kuznetsova, on Fed Cup teammate Maria Sharapova





*2015 Weeks in Top 10*


23 weeks...Serena Williams *
23 weeks...Petra Kvitova *
23 weeks...Simona Halep *
23 weeks...Maria Sharapova *
23 weeks...Caroline Wozniacki *
23 weeks...Ana Ivanovic *
22 weeks...Genie Bouchard
21 weeks...Ekaterina Makarova *
18 weeks...Aga Radwanska
12 weeks...Andrea Petkovic
9 weeks...Carla Suarez-Navarro *
7 weeks...Angelique Kerber *
2 weeks...Dominika Cibulkova
1 week...Lucie Safarova *
--
* - current Top 10



*Active Top 10 Streaks*


219 weeks...Maria Sharapova
165 weeks...Serena Williams
89 weeks...Petra Kvitova
72 weeks...Simona Halep
43 weeks...Ana Ivanovic
40 weeks...Caroline Wozniacki
19 weeks...Ekaterina Makarova
5 weeks...Carla Suarez-Navarro
1 week...Angelique Kerber
1 week...Lucie Safarova






=UP-TO-DATE RANKINGS=




[w/ post-1Q standing]


1.

Serena Williams, USA (1)

...one major away from Serena Slam II. Two from a Grand Slam season and a tie with Graf.
2.

Bethanie Mattek-Sands/Lucie Safarova, USA/CZE (-)

...the Dynamic Duo is half-way to a Grand Slam, and Safarova is thriving even more in singles with the emotional backing of Team Mattek-Sands.
3.

Czech Fed Cup Team (16t)

...Maiden domination
4.

Martina Hingis/Sania Mirza, SUI/IND (7)

...the Dream Team got punked by the Dynamic Duo. Sania needs a slam women's doubles title.
5.

Timea Bacsinszky, SUI (3)

...a slight slip in the overall order, but the second highest-ranked singles player for '15.
6.

Simona Halep, ROU (2)

...the clay season was supposed to be the part of the year where she had her BEST results, right?
7.

Lucie Safarova, CZE (HM)

...late bloomers always appreciate their experiences more. (See Timea above.)
8.

Maria Sharapova, RUS (8)

...holding on in an up-and-down year. She could still top off her season with a role on a Fed Cup winning Russian team.
9.

Petra Kvitova, CZE (-)

...Good Petra. Bad Petra. Wimbledon Petra. That HAS to be good, right? Fed Cup Petra. We KNOW that's great.
10.

Carla Suarez-Navarro, ESP (11)

...if she'd had a better RG, she'd be higher
11.

Timea Babos/Kristina Mladenovic, HUN/FRA (-)

...the BFF's are a force to be reckoned with
12.

Karolina Pliskova, CZE (13)

...she really needs a breakout slam performance



=Other Nominees=


Caroline Garcia/FRA (-), Jiske Griffioen/NED (-), Ana Ivanovic/SRB (-), Angelique Kerber/GER (-), Madison Keys/USA (15), Ekaterina Makarova/RUS (14), Andrea Petkovic/GER (5), Russian Fed Cup Team (16t), Anna Schmiedlova/SVK (-), Elina Svitolina/UKR (-), Venus Williams/USA (10), Caroline Wozniacki/DEN (-)





A few final things to remember...

1) Flavia fans will not be denied


.@Flavia_Pennetta autograph session on the go! Gotta love the @InteBNLdItalia fans ?????? #WTA pic.twitter.com/B1pE5ZDz9x

— WTA (@WTA) May 11, 2015


2) When in doubt, hug a tree


Everyday is #EarthDay #HugATree pic.twitter.com/SS2svT2AmA

— Maria Sharapova (@MariaSharapova) April 25, 2015


and, 3) Never fall asleep on a plane with a mischievous Belarusian by your side


Should I draw on his face? ?????? #imsooooobad#butitssotempting#comeonyouallwoulddoit #dontjudgeme pic.twitter.com/7JCV2RPXTV

— victoria azarenka (@vika7) April 28, 2015



Meanwhile, a big Backspin welcome to the world to...



A crazy little (Li) thing called Alisa.



Congrats Li Na & Dennis! Baby Alisa looks adorable ???? http://t.co/37Fpokuvje #LiNaBaby #WTA pic.twitter.com/IP8cMI2XZQ

— WTA (@WTA) June 2, 2015
As well as the Mauresmo-to-be...
Bébé arrivera en août ! #enceinte Baby will be here in august ! #pregnant So happy ?? pic.twitter.com/t6lEkYGSKQ

— AmelieMauresmo (@AmeMauresmo) April 9, 2015


I bet the little one will make a good Fed Cup Captain one day. I mean, not to stereotype or anything.

Hmmm, so, are we finished?




All right then.


All for now.