RG.9- Queen Justine's Jubilee *
With the power vested by the spirit of
La Petit Taureau
, on June 1st, 2014 it was thus decreed that "Justine Henin Day" would be annually celebrated in this space, on this date. As it was on this very day in 1982 that a girl was born in Liege, Belgium.
Eventually, it would be understood why the Tennis Gods were said to be in a particularly good mood that day.
Backspin thanks Them for Their singular gift, and fondly remembers.


Here's last year's puzzle version of the Justine Henin Day collage, as well.

Of course, there's a (slightly altered to fit the occasion) Twain quote that fits rather nicely into any tribute to the diminutive former champ...


"It's not the size of the (Waffle) in the fight, it's the size of the fight in the (Waffle)."

-

Mark Twain


One additional JH Day honor comes up later.



=DAY 9 NOTES=
...Monday began with the two women's Round of 16 matches cancelled on Sunday being first up on the show courts. What immediately occurred wasn't the only exit of a big name on this day, but it was the biggest.
"If it's your job to eat a frog, it's best to do it first thing in the morning. And If it's your job to eat two frogs, it's best to eat the biggest one first."

-

Mark Twain
In that opening match, 2014 Roland Garros defending champion Maria Sharapova finally fell prey to the lingering injury and battle with a cold that hampered her tune-up for and health during this event. Still, the #2 seed might have managed to find a way to advance, as she did after dropping the 1st set so many times en route to the title a year ago, had she played a player who wasn't in quite the fine form that #13 Lucie Safarova was today. But the Czech was having none of that, as she continued her late-blooming slam success that has now garnered her a second slam QF (w/ Wimbledon semi) in the past year, after having reached just one from 2005-13.


.@LucieSafarova upsets defending champ Sharapova 76(3) 64! Makes 1st @RolandGarros QF--> http://t.co/BPTuiXwZql #RG15 pic.twitter.com/tCA8NCdney

— WTA (@WTA) June 1, 2015


Safarova hadn't beaten Sharapova since 2010 (their first meeting), but she never betrayed any lack of confidence against the Russian. That their last three match-ups had gone to three sets and were battles all the way to the final moments probably had something to do with that. After losing an early break lead in the 1st set, the Czech dominated Sharapova in the eventual tie-break. She took a 6-1 lead and won it 7-3, handing the Russian her first loss of a set at this tournament. In the 2nd, a Sharapova double-fault gave Safarova a 2-0 lead. Sharapova broke to get back on serve in game #5, and the stage seemed to be set for another of her patented comeback wins.

If Sharapova could get to a 3rd set, she'd likely have been the favorite to pull away, as that's generally how things go. But it didn't happen. Sharapova was never really able to penetrate Safarova's game to get any sort of advantage, and with the Czech's forehand forever blasting and her heart and mind not bending in the face of the moment the final moments of the 2nd were key. Right at the moment when Sharapova had to take charge, Safarova easily held at love to take a 5-4 lead. A game later, Sharapova held a game point on serve, but Safarova got things to deuce.

After missing on an up-the-T ace attempt while Safarova was camped out to receive serve in the doubles alley, Sharapova double-faulted to hand the Czech a match point. The Russian's scrambling defense helped win a rally that saved it, but Safarova got another chance after taking a point with one final shot after Sharapova had seemingly been in control the entire rally. On her second MP, Safarova cracked a clean forehand winner to take the match 7-6(3)/6-4. With the victory, Safarova will now climb into the Top 10, becoming the seventh Czech in WTA history to do so.


"I was pumped & really ready, I was excited to be there...I was just believing I could do it" Safarova on her win pic.twitter.com/imtPoS1Tzq

— Roland Garros (@rolandgarros) June 1, 2015


Meanwhile, Sharapova's RG record falls to 23-2 since 2012 (28-3 since '11), while her ranking will slip from #2 to #4. Petra Kvitova will move up to #2, while Simona Halep remains sandwiched between them at #3.


"A tough day. ..it was a bad day at the office" #Sharapova #RG15 pic.twitter.com/V9BfiAv6tN

— Roland Garros (@rolandgarros) June 1, 2015


...Safarova will next face #21 Garbine Muguruza in the QF, as the big-hitting Spaniard has once again flashed on the Roland Garros stage. A year ago, she upset Serena Williams and also reached the final eight.


Can she believe it?? Watch as @GarbiMuguruza celebrates her straight-sets R16 victory over #Pennetta. #RG15 https://t.co/M3gWk36AKF

— Roland Garros (@rolandgarros) June 1, 2015


Muguruza staged comebacks against #28 Flavia Pennetta in both sets of her 6-3/6-4 victory. The Italian vet led 2-0 in the 1st before the Spaniard turned things around and overpowered her en route to winning the set, then she overcame 3-0 and 4-1 deficits in the 2nd. She outpaced Pennetta 30-15 in winners over the match's nineteen games.


"You have to believe that you can...otherwise there's no point" #Muguruza on Grand Slam success #RG15 pic.twitter.com/TPxqJGEhTB

— Roland Garros (@rolandgarros) June 1, 2015


...after Sharapova's exit, #1 Serena Williams nearly followed her out the door at the hands of Sloane Stephens, still the only American younger than Williams to ever defeat her.

It took Williams more than a set to finally show up for the match. Playing one of her worst sets in memory in the 1st, she was broken to start the match, then again (via a DF) in game #5 as Stephens took at 4-1 lead. She was broken again two games later, wrapping up the set in twenty-five minutes as Stephens won it 6-1.

Serving down 2-3, 15/30 in the 2nd, Williams claimed a point after Stephens had scurried to all corners of the court to keep the rally alive. Serena let out a yell... and she was different after that. She held with an ace for 3-3, won five straight points and took a 30/love lead on the Stephens serve with a series of stinging groundstrokes. Stephens battled her well, using some big serves to her advantage, but Williams finally got the break on her fifth try to grab a 4-3 advantage.

Many players would have crumbled right there. Including, quite honestly, Stephens at times over the past two years. But the 22-year old Bannerette didn't do that here. She broke back, then held for 5-4. She got to within three points of the win in game #10, but then Williams had effectively had enough of this you-know-what. She held for 5-5, went up 40/love on Stephens' serve, broke her, then went up 40/love on her own serve as she served to even the match. She did, sending things to a 3rd, where Williams was 9-0 in 2015 and 49-20 in slams during her career.

Again, though, Stephens didn't just go away. She held to open the set, then had two BP chances on the Williams serve in game #2. Serena broke in game #5 to finally take her first lead in the match at 3-2, She held with an ace for a 4-2 lead, then had to fight off another BP opportunity for Stephens in a three-deuce game #8 to go up 5-3. A game later, Serena put the finishing touches on another display of her "Serenativity," breaking Stephens to win 1-6/7-5/6-3.

It's Williams' third straight match win in this event after dropping the 1st set. It's just the second time she's done that in her career, with the last time coming at the 1999 U.S. Open when, as a 17-year old, she defeated eventual Hall of Famers Kim Clijsters, Conchita Martinez and Monica Seles in back-to-back-to-back matches. And, umm, we know how that one ended. Hint: she'd only have 18 slam titles without it.


GSM Top seed, 2-time RG champion and current world No. 1 Serena Williams beats Sloane Stephens 1-5 7-5 6-3 pic.twitter.com/xAHuH2ufEr

— rena | rafa (@serenadal_) June 1, 2015


By the way, Serena followed up those wins in New York with two more victories over Lindsay Davenport and Martina Hingis en route to the title. That's five straight HOFers. To win her maiden slam. Yep, I guess we should have known what her career was going to be like even way back then.

Meanwhile, unlike with many of her losses, Stephens didn't leave the court with her head down. She had the slight trace of a skip in her step as she exited, as she knew she'd played well. In fact, her entire RG run was truly encouraging, as Nick Saviano has seemed to have found a way to foster progress in her game (she's trying to be more aggressive) and mindset this spring. Progress seems to be being made. Maybe the Future IS still possible.

Insisting that her inner "fire" never left her over the recent seasons, afterward Stephens spread her arms wide and said, "The flame is like this big."

...in the other 4th Round matches from Day 9, #17 Sara Errani defeated Julia Goerges 6-2/6-2 to advance to her fourth straight Roland Garros QF.


Sara Errani is into the RG quarterfinals for the 4th consecutive year. pic.twitter.com/cCP5H3x9Yr

— Jason (@Hurleytennis) June 1, 2015


She'll next face Serena Williams. It COULD be ugly. But, remember, she took Serena to the limit in Fed Cup on clay in April, serving for a straight sets win before (shocking, I know) Williams staged a comeback and won. Later in the day, Errani was part of the doubles team that destroyed Serena & Alison Riske, handing her her only career FC loss as Italy knocked off the U.S. squad in another of Captain Mary Joe Fernandez's poorly-planned weekends. Of course, Williams likely remembers that day, as well.

...in a battle of two players ranked outside the Top 90 who had a combined one career slam MD victory before this Roland Garros, #93 Alison Van Uytvanck quickly jumped on #100 Andreea Mitu, leading 5-0 sixteen minutes into the match. The Swarmette eventually settled down a bit, but the Waffle won 6-1/6-3.


.@AlisonVanUytvan advances to 1st Grand Slam QF! Cruises past Mitu 61 63 at @RolandGarros--> http://t.co/d2b62ufeuB pic.twitter.com/tmcb7pOntn

— WTA (@WTA) June 1, 2015


Van Uytvanck, who'll rise into the Top 50 with this result, is the first Belgian to reach the QF in Paris since, well, you know.

In the day's final Round of 16, we had another of those "Oh, Petra" moments we've come to know and not particularly love.

#4 (and now #2-ranked) Kvitova's match with #23 Timea Bacsinszky surely wasn't a fait accompli win for the Czech, but if she managed to avoid one or more of her unforced error-strewn stretches the thought was that she's probably win and maintain at least a small part of "form" for the non-Serena corners of what's left of the RG draw. It worked out that way for about a set. But that was about all.

Playing clean tennis, Kvitova took the 1st set at 6-2 while keeping her errors to a minimum, as they might prove to be a very difficult and sharp thorn to remove from her day should she allow the scrambling, inventive and dogged Swiss woman to find her groove and force the Czech into playing longer points.

That all changed in the 2nd set. After having just nine unforced errors in the 1st, Kvitova had fifteen and seventeen, respectively, in the 2nd and 3rd sets. Shocking no one who is used to watching Kvitova's career, the Czech won ZERO games in the 2nd set. As one shook one's head at her sudden slide, one also figured that she might still clean things up in the final set and move forward, though. But who is this "one" I'm talking about, anyway? It surely wasn't Petra.


"Are you watching the SciFi channel again?" "Nope, it's Petra" pic.twitter.com/53jR4iKOyB

— Diane Elayne Dees (@WomenWhoServe) June 1, 2015


In the 3rd, as Bacsinzky remained steady, the battle between Good Petra and Bad Petra carried on on the other side of the net. Kvitova fell behind 15/40 in game #1, but held. She saved five break points in her first three service games in the set, but the Swiss woman converted the sixth. Kvitova got the break back a game later, then gave it away again the game after that. Serving up 4-3, Bacsinszky held at love and it was all over but the I-can't-believe-I-get-to-do-this-for-a-living tears of joy welling up in the "Queen of Mexico's" eyes.


Welcome to the club! @TimiBacs takes down No.4 #Kvitova 2-6 6-0 6-3 to reach her first QF at a major #RG15 pic.twitter.com/ksws2OEmmk

— Roland Garros (@rolandgarros) June 1, 2015


Bacsinszky served out the match, winning 2-6/6-0/6-3 to reach her first career slam QF just two years after she'd essentially decided to give up the sport. Now, she's a Top 20 player who'll next play the world #93 for a shot in a grand slam semifinal.
"Why shouldn't truth be stranger than fiction? Fiction, after all, has to make sense."

-

Mark Twain
...in doubles, the win by Australian Open champs Bethanie Mattek-Sands & Safarova sets up a QF clash with the world's #1-ranked Dream Team, Martina Hingis & Sania Mirza.


Apparently @luciesafarova wants to take all the @rolandgarros_fr prize money ?????? #Quarters… https://t.co/BAp3k8Cgue

— Bethanie MattekSands (@BMATTEK) June 1, 2015


With 4th Round losses by Pennetta, Ekatarina Makarova and Jack Sock, Safarova is the only player -- male or female -- alive in Paris in both singles & doubles. Pennetta & Hsieh Su-Wei won today and will face Hlavackova/Hradecka, while Makarova (w/ Elena Vesnina) also advanced with a win over the Rodionovas. Sock is alive in the men's doubles with Vacek Pospisil, as the North Americans -- unless the American's burgeoning singles career limits his participation -- look primed to inherit the Bryan twins' throne as the best (and maybe dominant) doubles team in the world.

In mixed, Zheng Jie (w/ Henri Kontinen) defeated doubles partner Chan Yung-Jan (w/ John Peers) in the QF.

...in junior action, #1-seeded Marketa Vondrousova used the overnight break from her Sunday match with Raveena Kingsley to totally collect herself. After dropping the 1st set yesterday, the Czech Maiden led 4-1 in the 2nd before the match called late in the evening. She came back today and won eight of eleven games to advance with a 5-7/6-3/6-1 victory.

So I didn't "Kuznetsova Curse" Vondrousova by picking her to win the title. Well, unless I just did, of course.

Elsewhere, Pastry Fiona Ferro knocked off AO girls champ Tereza Mihalikova (the Slovak was the #10 seed), while Bannerette CiCi Bellis defeated Waffle Greet Minnen (AO girls semifinalist), Junior Swiss Miss Jil Teichmann defeated #9-seeded Swarmette Gabriela Ruse, while Tamara Zidansek (SLO) took out #11 Sonya Kenin of the U.S..

In 2nd Round action, American Caroline Dolehide defeated Margot Yerolymos of France. The Pastry had saved MP and defeated #2 seed Xu Shilin on Sunday. Also, #8 Brit Katie Swann (the AO Jr. RU) eliminated Canadian Katherine Sebov.




...LIKE FROM DAY 9:

See!


'Joyeux Anniversaire' to four-time RG champion @Justine_Henin, who turns 33 today! #RG15 pic.twitter.com/cXYMsLDEzw

— Roland Garros (@rolandgarros) June 1, 2015
...(CLEARS THROAT) FROM DAY 9:
W/R16 exit #Sharapova fails to defend her RG title. Last player to successfully defend here: @Justine_Henin ('05-'07) pic.twitter.com/2eCynN7xtm

— Roland Garros (@rolandgarros) June 1, 2015
...TOO-MUCH-TIME-ON-THEIR-HANDS? FROM DAY 9:
Our lines persons, chair umpires and staff in the shape of a croc #rg15 pic.twitter.com/8NHTDtMQsP

— Lacoste Tennis (@LacosteTennis) June 1, 2015




...LIKE FROM DAY 9:

Timi being Timi.


During the changeover, @TimiBacs just joined in on the crowd doing the wave in #Lenglen. #RG15

— Roland Garros (@rolandgarros) June 1, 2015
..."HMMMM..." FROM DAY 9:
Kiss of death?
Mary Joe Fernandez on @serenawilliams: "This tournament is hers to lose." #RGLegendsPerrier pic.twitter.com/i6fh2BAGhp

— Roland Garros (@rolandgarros) June 1, 2015


"I know it'll be you, Serena. Psst... please promise me you'll play Fed Cup next year."




And, anyway, isn't EVERY tournament that Serena enters "hers to lose?" I mean, you know, until she actually loses. If she's anything close to the version of herself that we've know for upwards of most of the last sixteen years, she generally wins.



...FOOTNOTE* FROM DAY 9:




.@clijsterskim to rising stars w/ sophomore slumps: "don't worry too much & focus on yourself" #RGLegendsPerrier pic.twitter.com/UHRVPzx2t3

— Roland Garros (@rolandgarros) June 1, 2015


* - and then get married, retire, have a baby and then stage a comeback without all the pressure and have the best stretch of your career. ;)



...JANA NOVOTNA SIGHTING FROM DAY 9:

And Martina & Arantxa, too, of course.


Fun practice with the girls, @Martina made some amazing shots again, biggest talent ever!! ???? #fun #tennis #friend pic.twitter.com/d1LjWwYd1G

— Selima Sfar (@SelimaSfar) May 31, 2015
..."GARBI ♥ RG" FROM DAY 9:
Happy @GarbiMuguruza ... :) pic.twitter.com/s9vLJ83pI5

— Garbi Muguruza world (@Muguruza_world) June 1, 2015




...NOTE FROM DAY 9:

Rafa knows Jack.


.@RafaelNadal - the 'King of Clay' - is into the QFs here for the 10th time w/6-3 6-1 5-7 6-2 win over #Sock. #RG15 pic.twitter.com/adj0BPtJ1W

— Roland Garros (@rolandgarros) June 1, 2015




...LA TRUFFLETTE RETURNS!!! FROM DAY 9:

Well, sort of.


So many #Legends ?? for #RG2015 so happy to play again @rolandgarros with Iva @Martina @Clijsterskim @LDavenport76... pic.twitter.com/lklK94YgoG

— Marion bartoli (@bartoli_marion) June 1, 2015





...and, finally...



[with honor and amends to Charles M. Schulz]



=Linus Speech on The True Meaning of Justine Henin Day=





Charlie Brown:

Isn't there anyone, who knows what Justine Henin Day is all about?!


Linus:

Sure Charlie Brown, I can tell you what Justine Henin Day is all about. Lights please?

And there were on the Roland Garros grounds ball kids, abiding in the corners of the court, keeping watch over their stock by night. And, lo, the Tennis Gods came upon them, and Their glory shone round about them! And they were sore afraid. And the Tennis Gods said unto them, "Fear not! For, behold, We bring you tidings o great joy, which shall be to all the people. For unto you is born this day in the city of Liege a Savior, which is Justine, La Petit Taureau. And this shall be a sign unto you: Ye shall find the Belgian babe wrapped in swaddling clothes, lying in an empty racket bag." And suddenly, there was with the Tennis Gods a multitude of the Heavenly Host praising Justine, and saying, "Glory to LPT in the Highest, and on Earth peace, and good will toward Kim.

That's what Justine Henin Day is all about, Charlie Brown.



Happy 33rd birthday, Justine. From Backspin and beyond.







=WOMEN'S SINGLES QF=


#1 Serena Williams/USA vs. #17 Sara Errani/ITA
#23 Timea Bacsinszky/SUI vs. Alison Van Uytvanck/BEL
#7 Ana Ivanovic/SRB vs. #19 Elina Svitolina/UKR
#21 Garbine Muguruza/ESP vs. #13 Lucie Safarova/CZE



=MEN'S SINGLES QF=


#1 Novak Djokovic/SRB vs. #6 Rafael Nadal/ESP
#3 Andy Murray/GBR vs. #7 David Ferrer/ESP
#5 Kei Nishikori/JPN vs. #14 Jo-Wilfried Tsonga/FRA
#8 Stan Wawrinka/SUI vs. #2 Roger Federer/SUI



=WOMEN'S DOUBLES QF=


#1 Hingis/Mirza (SUI/IND) vs. #7 Mattek-Sands/Safarova (USA/CZE)
#4 S-W.Hsieh/Pennetta (TPE/ITA) vs. #9 Hlavackova/Hradecka (CZE/CZE)
#12 Dellacqua/Shvedova (AUS/KAZ) vs. #13 Krajicek/Strycova (NED/CZE)
Soler-Espinosa/Torro-Flor (ESP/ESP) vs. #2 Makarova/Vesnina (RUS/RUS)



=MEN'S DOUBLES QF=


#1 Bryan/Bryan (USA/USA) vs. #7 Matkowski/Zimonjic (POL/SRB)
#6 Bolelli/Fognini (ITA/ITA) def. Albot/Rosol (MDA/CZE)
#3 Dodig/Melo (CRO/BRA) def. #8 Peya/Soares (AUT/BRA)
#5 Rojer/Tecau (NED/ROU vs. #2 Pospisil/Sock (CAN/USA)



=MIXED DOUBLES QF=


J.Zheng/Kontinen (CHN/FIN) def. YJ.Chan/Peers (TPE/AUS)
Hradecka/Matkowski (CZE/POL) vs. #7 Babos/Peya (HUN/AUT)
Srebotnik/Tecau (SLO/ROU) def. Martinez-Sanchez/Lindstedt (ESP/SWE)
An.Rodionova/Qureshi (AUS/PAK) vs. #2 Mattek-Sands/M.Bryan (USA/USA)




John McEnroe agrees with Victoria Azarenka about using instant replay in tennis. Do you? http://t.co/a6X0nPbPpm pic.twitter.com/u3na7fJaqQ

— Sportsnet (@Sportsnet) May 31, 2015






*2015 ROLAND GARROS WOMEN'S FINAL 8*




[by career slam QF]


40...Serena Williams, USA
8...Ana Ivanovic, SRB
7...Sara Errani, ITA
3...Lucie Safarova, CZE
2...Garbine Muguruza, ESP
1...Timea Bacsinszky, SUI
1...Elina Svitolina, UKR
1...Alison Van Uytvanck, BEL


[by career RG QF]


9...Serena Williams
4...Sara Errani
4...Ana Ivanovic
2...Garbine Muguruza
1...Timea Bacsinszky
1...Lucie Safarova
1...Elina Svitolina
1...Alison Van Van Uytvanck


[w/ consecutive slam QF]


3...Serena Williams


[w/ consecutive RG QF]


4...Sara Errani
2...Garbine Muguruza


[2015 slam QF - unseeded]


AO - Madison Keys, USA
RG - Timea Bacsinszky, SUI
RG - Alison Van Uytvanck, BEL


[2015 1st-time GS QF]


AO - Madison Keys, USA
RG - Timea Bacsinszky, SUI
RG - Elina Svitolina, UKR
RG - Alison Van Uytvanck, BEL


[2015 slam QF]


2 - Serena Williams, USA


[2015 slam QF - by nation]


4...USA
2...RUS
1...BEL,CAN,CZE,ESP,ITA,ROU,SRB,SUI,SVK,UKR


[WTA career slam QF - active]


40...SERENA WILLIAMS, USA
34...Venus Williams, USA
22...Maria Sharapova, RUS
15...Svetlana Kuznetsova, RUS
13...Victoria Azarenka, BLR
10...Agnieszka Radwanska, POL
9...Nadia Petrova, RUS
8...ANA IVANOVIC, SRB
8...Jelena Jankovc, SRB
8...Petra Kvitova, CZE


[WTA slam QF - 2010-15]


12...SERENA WILLIAMS, USA
11...Victoria Azarenka, BLR
9...Maria Sharapova, RUS
8...Petra Kvitova, CZE
8...Li Na, CHN (ret.)
7...Agnieszka Radwanska, POL
6...Sara Errani, ITA
6...Ekaterina Makarova, RUS
6...Caroline Wozniacki, DEN
5...Dominika Cibulkova, SVK
5...Samantha Stosur, AUS



*LOWEST-SEEDED WOMAN IN RG SF, since 2000*


Unseeded - 2002 Clarisa Fernandez, ARG
Unseeded - 2003 Nadia Petrova, RUS
[

Unseeded - Van Uytvanck???

] *
#30 2009 Samantha Stosur, AUS
#28 2014 Andrea Petkovic, GER
[

#23 - Bacsinszky???

] *
[

#21 - Muguruza???

] *
#21 2005 Mary Pierce, FRA (RU)
#21 2012 Sara Errani, ITA (RU)
#20 2009 Dominika Cibulkova, SVK
[

#19 - Svitolina???

] *
#18 2014 Genie Bouchard, CAN
#17 2010 Francesca Schiavone, ITA (W)
[

#17 - Errani???

] *
#16 2005 Elena Likhovtseva, RUS
#16 2006 Nicole Vaidisova, CZE
==
* - in 2015 RG QF



**WTA "CAREER QF SLAM" - active**




[with slam at which completed]


Azarenka - 2012 US (28th)
Cibulkova - 2014 AO (26th)
Date-Krumm - 1995 WI (23rd)
Ivanovic - 2012 US (32nd)
Kuznetsova - 2006 RG (16th)
Petrova - 2006 AO (24th)
Schiavone - 2011 AO (42nd)
Sharapova - 2005 US (12th)
S.Williams - 2001 RG (12th)
V.Williams - 1998 WI (6th)
Zvonareva - 2010 US (31st)



**ALL-TIME WTA SLAM QF**


54 - Chris Evert
53 - Martina Navratilova
42 - Steffi Graf
40 - Serena Williams #
34 - Arantxa Sanchez
34 - Venus Williams #
31 - Lindsay Davenport
31 - Monica Seles
29 - Billie Jean King
--
#-active



*ACTIVE PLAYERS WITH ONE CAREER SLAM QF*


Timea Bacsinszky, SUI (2015 RG)
Belinda Bencic, SUI
Sorana Cirstea, ROU
Kirsten Flipkens, BEL
Anna-Lena Groenefeld, GER
Madison Keys, USA (2015 AO)
Michaella Krajicek, NED
Mirjana Lucic-Baroni, CRO
Melanie Oudin, USA
Peng Shuai, CHN
Alexandra Stevenson, USA
Barbora Strycova, CZE
Elina Svitolina, UKR (2015 RG)
Tamarine Tanasugarn, THA
Alison Van Uytvanck, BEL (2015 RG)
Yanina Wickmayer, BEL



*UNSEEDED/WC/Q in SLAM QF SINCE 32-SEED DRAW*




[began w/ 2001 Wimbledon]


01 US - Bedanova
02 AO - Ad.Serra-Zanetti
02 RG - Pierce,C.Fernandez,Suarez
02 WI - Likhovtseva
02 US - Bovina
03 AO - Shaughnessy,Ruano-Pascual
03 RG - Pierce
04 WI - Sprem
04 US - Asagoe
05 RG - Karatantcheva
06 AO - Hingis(wc)
06 WI - Bremond(q)
07 AO - S.Williams

[W]

,Safarova
07 US - Szavay
08 RG - Kanepi,Suarez-Navarro(q)
08 WI - Zheng(wc),Tanasugarn
09 AO - Dokic(wc),Suarez-Navarro
09 RG - Sharapova,Cirstea
09 WI - Lisicki,Schiavone
09 US - Wickmayer,K.Bondarenko,Oudin,Clijsters(wc)

[W]


10 AO - Henin(wc)

[RU]


10 RG - Shvedova
10 WI - Kvitova,Kanepi(q),Pironkova
10 US - Cibulkova
11 WI - Lisicki(wc),Paszek
11 US - Kerber
12 AO - Makarova,Errani
12 RG - Shvedova(q)
12 WI - Paszek
13 AO - Kuznetsova
13 RG - Kuznetsova
13 WI - Kanepi
13 US - Hantuchova
13 US - Pennetta
14 RG - Muguruza
14 WI - Zahlavova-Strycova
14 US - Bencic
14 US - Peng
15 AO - Keys
15 RG - Van Uytvanck



*RG "MADEMOISELLE OPPORTUNITY" WINNERS*


2004 Anastasia Myskina, RUS & Elena Dementieva, RUS
2005 Mary Pierce, FRA
2006 Svetlana Kuznetsova, RUS
2007 Maria Sharapova, RUS
2008 Ana Ivanovic, SRB
2009 Samantha Stosur, AUS
2010 Francesca Schiavone, ITA
2011 Francesca Schiavone, ITA & Li Na, CHN
2012 Samantha Stosur, AUS
2013 Victoria Azarenka, BLR
2014 Simona Halep, ROU
2015 Timea Bacsinszky, SUI & Alison Van Uytvanck, BEL



*CZECHS IN WTA TOP 10*




[by year first reached Top 10]


1975 - Martina Navratilova
1980 - Hana Mandlikova
1984 - Helena Sukova
1989 - Jana Novotna
2006 - Nicole Vaidisova
2011 - Petra Kvitova
2015 - Lucie Safarova







TOP QUALIFIER:

Veronica Cepede Royg/PAR




TOP EARLY-ROUND (1r-2r):

#11 Angelique Kerber/GER




TOP MIDDLE-ROUND (3r-QF):

xx


TOP LATE-ROUND (SF-F):

xx


TOP QUALIFYING MATCH:

Q1: Wang Yafan/CHN d. #15 Richel Hogenkamp/NED 2-6/7-6(7)/8-6 (saved 4 MP)




TOP EARLY-RD. MATCH (1r-2r):

2nd Rd. - Francesca Schiavone/ITA d. #18 Svetlana Kuznetsova/RUS 6-7(11)/7-5/10-8 (3:49; saved MP; third-longest RG match)




TOP MIDDLE-RD. MATCH (3r-QF):

xx


TOP LATE-RD. MATCH (SF-F/Jr.):

xx


=============================




FIRST VICTORY:

(Q) Teliana Pereira/BRA (def. WC Ferro/FRA)




FIRST SEED OUT:

#31 Caroline Garcia/FRA (lost 1st Rd. to Vekic/CRO)




UPSET QUEENS:

The Croats




REVELATION LADIES:

The New Australians




NATION OF POOR SOULS:

United States (most players in draw w/ 17, but tied for 4th w/ just 4 1st Round winners)




LAST QUALIFIER STANDING:

Lourdes Dominguez-Lino/ESP, Paula Kania/POL, Sesil Karatantcheva/BUL, Teliana Pereira/BRA (2nd Rd.)




LAST WILD CARD STANDING:

Virginie Razzano/FRA & Amandine Hesse/FRA (2nd Rd.)




LAST PASTRY STANDING:

Alize Cornet (4th Rd.)


MADEMOISELLE/MADAM OPPORTUNITY:

Timea Bacsinszky/SUI & Alison Van Uytvanck/BEL (play for spot in first slam SF)


IT "??":

(Swarmette) Andreea Mitu/ROU (last Romanian standing)




COMEBACK PLAYER:

#7 Ana Ivanovic/SRB (1st RG QF since '08 title)




CRASH & BURN:

#2 Simona Halep/ROU (lost 2r to Lucic-Baroni/CRO)




ZOMBIE QUEEN:

#19 Elina Svitolina/UKR (2nd Rd. vs. Putintseva - down 6-1/3-0, then 4-1 in 3rd; won 9-7 deciding set)


JOIE DE VIVRE:

Francesca Schiavone/ITA




DOUBLES STAR:

Nominees: Hingis/Mirza (SUI/IND), Mattek-Sands/USA, Hradecka/CZE, Srebotnik/SLO


KIMIKO DATE-KRUMM VETERAN CUP (KDK CUP):

Nominees: Date-Krumm/Schiavone (78-year old doubles duo), S.Williams/USA, Pennetta/ITA, Safarova/CZE


RUSSIAN REVOLUTION SLAM UPDATE:

Hordettes have reached the Round of 16 at 58 of 59 slams




JUNIOR BREAKOUT:

xx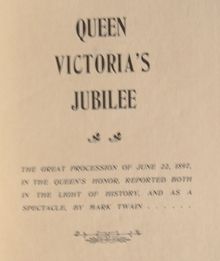 *

- a nod to Mark Twain's reporting for the San Francisco Examiner on Queen Victoria's Jubilee (1897)

...born Samuel Langhorne Clemens (November 30, 1835 – April 21, 1910). American author, lecturer and humorist. Writer of The Adventures of Tom Sawyer (1876) and its sequel, Adventures of Huckleberry Finn (1885). Twain's writing and large personality made him a public figure and, ultimately, an American icon. A renowned traveler, Twain entertained fans around the world with his opinionated wit.




All for Day 9. More tomorrow.