RG.8- The Mysterious Serbian Stranger *
The rain in France falls mainly on
le
pants.
And that was even after a two-and-a-half-hour rain delay early in the day was followed by Alize Cornet failing to get another opportunity to roll around on the terre battue, and Ana Ivanovic once again avoiding the wrong end of the ticking time bomb that just HAS to hit 00:00 SOMETIME once she realizes how close she is to reclaiming what was once hers. Right?


Either way, the rain delayed things long enough that the fourth-up matches on the show courts -- the final two women's Round of 16 matches scheduled for the day -- were pushed back until Monday.

But history was STILL able to be made. Or re-made, as it were.


First quarterfinals for Ivanovic at RG since she won it in 2008 (AFP) pic.twitter.com/uDdhfyYG8M

— Joe Fleming (@ByJoeFleming) May 31, 2015


So far, AnaIvo's return to the scene of the crime -- Paris, circa 2008, when the Serb claimed her only grand slam title -- has been good to her. But her history, and her career, really, make you wonder just how much longer it will last. The now 27-year old Ivanovic's 7-5/3-6/6-1 win today over Ekaterina Makarova, her third three-set victory through the first four rounds of this Roland Garros, puts her into the quarterfinals of the season's second slam for the first time since she won it seven springs ago.

It's a great comeback story. But the problem is, other than her fame, nothing ever really seems to last very long when it comes to AnaIvo.

Maybe we should blame Justine Henin. If not for the four-time RG champion from Belgium's sudden retirement two weeks before play began in Paris in 2008, the then 20-year old Ivanovic would have never been in line to surge into the #1 ranking likely a year or two before she might have been naturally prepared for it and everything that came with it. Prior to that two week run in France, AnaIvo had been on a consistent climb up the WTA ladder. She'd already been a finalist in Paris as a teenager, and had played for another slam title in Melbourne earlier in '08. Henin's sudden removal from the landscape thrust the Serb into the harsh spotlight. Early on, she thrived. Winning a major and assuming the role of "the next face" of the tour.

But it was too much too soon. The small story that spring run in Paris that noted that when she faced off with countrywoman Jelena Jankovic in the RG semifinals, with the winner assured of taking over the #1 ranking no matter what might happen in the final two days later, her inner circle avoided telling Ivanovic about the stakes heading into the match proved to be a key insight into what would happen next. AnaIvo won the match, then defeated Dinara Safina in the final (now that's another story about not handling pressure well, isn't it?), winning all but one set (vs. JJ) during the two-week event. But while she never fell off the face of the WTA earth in following seasons (her talent never fully let her down, and she actually became leaner and faster on the court... so it had to be something else), it was still years before she seemed anything close to resembling the player with the lethal forehand and multiple slam-winning talents that she had been in 2007-08.

She ended up losing the '08 year-end #1 ranking to, ironically, Jankovic. Once her points from the RG win fell off her totals, Ivanovic fell out of the Top 10 a year later. From 2009-13 she spun her ranking wheels with finishes between #13-22, even while never suffering any major injuries that sidelined her for extended periods of time (she's never missed a major since her debut 42 slams ago in 2005).

After going over two years without winning a title, and going through a series of coaches as if they were facial tissues during flu season, 2014 saw an AnaIvo reawakening of sorts. With her forehand in full flight, she knocked off Serena Williams in the Australian Open and reached just her second slam QF ('12 U.S.) since winning in Paris. She'd go on to win four titles (her most consistent season ever), end her five-year Top 10 drought and finished in the Top 5 for the first time since '08. Finally, AnaIvo was said to have gotten her groove back.

And then she changed coaches again mid-stream. And then did it again, adding to her "Who's Who" list of former employees. I mean, take a look (from Wikipedia) at the updated former and current roster:

Nikola Cetnik (1994–2001)
Dejan Vranes (2002–2004)
Eric van Harpen (2004–2005)
Zoltan Kuharszky (2005–2006)
David Taylor (2006–2007)
Sven Groeneveld (?–2009)
Craig Kardon (2009)
Heinz Günthardt (2010)
António van Grichen (2010–2011)
Nigel Sears (2011–2013)
Nemanja Kontic (2013–2014)
Dejan Petrovic (2014–2015)
Mats Merkel (2015-current... what time is it NOW?)

All right, so I added that last part myself. But you get the idea. When it comes to Ivanovic, pretty much everything is temporary, and nothing ever builds to something greater. It comes, then it goes. Then it returns again, only to be misplaced. Well, until the next time. For all the talk about which player on tour is the most talented WITHOUT a slam title to her credit, it goes without saying which active former slam champ should have more shiny trophies resting in a cabinet back home than she actually does.

AnaIvo was a slam "lady-in-waiting" before she grabbed her first title. Ever since then, well, we've all been lounging around in the Ivanovic Waiting Room for nearly a decade.

Before her QF run in Paris this week, Ivanovic had failed to back up her recently-resurgent regular tour success with anything similar on the slam stage. She'd gone out, in order, in the 3rd, 3rd, 2nd and 1st Rounds of her last four majors. And, naturally, while she's now won four matches in Paris, she still sports an 11-9 non-slam record in tour-level events in 2015. One hands never seems to work in tandem with the other. And it says a great deal about how much the Serb is capable of when you consider she's still had a pretty good career even while operating at something far below capacity.

Ivanovic has never seemed too troubled by her inconsistency and/or underachievement, though. After all, it was her great success that made things so uncomfortable in the first place, so there's always been some reason to wonder if some small part of her doesn't want to go back "there." It didn't fit her personality well, and she's managed to continue to be an off-court moneymaker even while her on-court results haven't ever lived up to her early accomplishments. So, at that point, it goes back to the question of how much she really wants to reach her potential on a tennis court. Many times over the past few seasons, slam draws have seemingly presented her with a huge opportunity, only to see AnaIvo fall by the wayside immediately after a big win rather than rise to the occasion in the second week of a major and, in the time-honored sports cliche, "take it home." Deep down, is some internal battle about whether or not she really wants that sort of success again at the heart of her oddly mysterious career?


"All generalizations are false, including this one."


-

Mark Twain


Well, either way, another of those opportunities has landed in her lap in Paris. Right where it all began. So maybe we'll soon find out. The mysterious Serb wasn't being talked about in any corners as a possible winner of this year's Roland Garros title a week ago, but no one would have questioned her ABILITY to win it. There's a disconnect there that begs to be explained... and it's existed for full seven years. But maybe it never really will.


"Amazing really. To be honest coming in to the tournament I didn't expect it at all." #Ivanovic on being back in QF pic.twitter.com/BoRDukwhWG

— Roland Garros (@rolandgarros) May 31, 2015


But, still, it's intriguing to wonder if maybe it'll all work out this time. Maybe this time Ivanovic really IS in a place where her desire to reclaim her place in the mix at the top of the women's game, after so many years of seasoning, finally outweighs whatever else it's been that has intermittently inspired her, only to soon after become something that no longer interests her.


"A (wo)man cannot be comfortable without (her) own approval."

-

Mark Twain


What exactly does Ana want? Who knows. The bigger question might be whether or not she does.

Maybe Paris, eventually, will provide a little clarity.









=DAY 8 NOTES=
...seven years after a 20-year old AnaIvo went on to win Roland Garros and become the first woman representing Serbia to reach #1, today 20-year old Elina Svitolina overcame herself, her dramatic (and a little pugnacious) French opponent and the prospect of the Chatrier court crowd becoming a major factor in a possible 3rd set to advance to her first slam QF and surpass countrywoman Alona Bondarenko's career-best mark to become the highest-ranked Ukrainian woman in tour history. She's assured of at least being #16 when this tournament is complete. But she could still climb higher... no matter if she IS 0-6 in her career against Final 8 opponent Ivanovic.


French Open Day 8 #RG15: Svitolina beats Cornet on sixth match point for first Slam QF http://t.co/TkAiK6DLjt pic.twitter.com/kTHGCms4YV

— TENNIS.com (@Tennis) May 31, 2015


As Svitolina faced off with Alize Cornet, who was looking to be the first Pastry to reach the QF in Paris since Marion Bartoli in 2011 (and for the first time in her own slam career), it looked as if Svitolina was going to have a short day's work. But, remember, she was playing Cornet... so it was never going to be THAT easy.

The #19-seeded Ukrainian won the first five games of the match and led the #29-seeded Frenchwoman 6-2/4-2. She got her first opportunity to serve out the match at 5-4. But even with an animated Cornet pausing between points to gasp for air in the back of the court, she couldn't do it. Stopping a rally during a break point on Cornet's serve and asking for chair umpire Allison Hughes (formerly Lang) to check the mark on the baseline, Svitolina got another chance to serve for the match at 6-5 when the ball was ruled out.

During the changeover, Cornet walked all the way across court and looked at the mark (which replays, though not 100% accurate on clay -- showed to indeed be out, missing by a distance outside the supposed margin of error of the technology), then assailed Hughes about the ruling. Svitolina quickly went up 30/love in game #12 as a desperate Cornet seemed to be spinning all over the court, parts of her ready to fly off, cartoon-like, in all directions at any moment. But, again, she couldn't put the match away, as the fifth straight break of serve in the set sent things to a tie-break, giving Cornet a chance to add a third win this week in which she came back from dropping the opening set.

If she could just push things to that deciding set, the Chatrier crowd and the atmosphere would surely heavily favor Cornet.

But, again, Svitolina pulled ahead 6-3, serving two at triple match point. Cornet saved the first with a crosscourt backhand winner, then the Ukrainian committed an error on a low forehand attempt at the net on the second before firing a backhand long on the third. She got a fourth MP after a forehand put-away, but then followed up by sailing another shot long. When Cornet's drop shot came up short of the net, Svitolina had her fifth chance. Cornet fired a return off a 74-mph 1st serve from Svitolina. It barely caught the baseline, but Cornet was able to follow it up with a put-away winner to stay alive once again.

But it wasn't meant to be. Maybe for all our sanity? Well, maybe not. But, still.

Svitolina followed a backhand into the net to set up a backhand volley winner to reach her sixth MP. Moments later, Cornet finally ended a long rally by sending a ball beyond the baseline. Svitolina won 6-2/7-6(9), with the 2nd set alone taking 1:19 to complete.

So, a Cinderella-on-Acid run by Cornet to the Roland Garros title is not going to happen over the next week. I mean... could you imagine?

The story here now becomes Svitolina, who looked THIS CLOSE to something big coming into Paris and has managed to live up to those possibilities to this point. And, really, she should get extra credit ranking points for having to do it against the dual force of personality that comes along with facing BOTH Yulia Putintseva (2nd Rd.) and Cornet along the way.
"A (wo)man who carries a cat by the tail learns something (s)he can learn in no other way."

-

Mark Twain
But can she go even deeper into the draw? Sure, she's 0-6 vs. Ivanovic, including a 6-3/6-4 loss in Madrid a few weeks ago. But, make no mistake, AnaIvo is going to know those numbers, as well. So she'll be EXPECTED to win.

Uh-oh.

...as we've moved along in this slam, the original "RG15 Contenders" club has been pared down by two-thirds. There are a few familiar faces still standing, as three of the eventual four semifinalists might still be clearly visible on the 12-woman lineup card with which we began this Roland Garros (though AnaIvo and Svitolina aren't among them). But, of course, that could still all change tomorrow.




...the junior action began on Day 8. Wild card Pastry Margot Yerolymos knocked off girls #2 seed Xu Shilin (CHN) 4-6/6-2/7-5, coming back from a 5-2 3rd set deficit and saving a match point.

Other winners included #8 Brit Katie Swan (def. Michaela Gordon), Aliona Bolsova (who double-bageled Sara Tomic), #16 Anna Kalinskaya (def. Canadian qualifier Bianca Andreescu), #3 Katerina Stewart (unless the USTA successfully lobbies the tournament to only count one of the sets she won, of course) and Canada's Katherine Sebov.

There was also a big near-upset...


#Vondrousova top seed, good serve giving her free points. Good game overall but expected + impressive #RG15 #Junior pic.twitter.com/eb00mEQbCa

— bibi (@greg_aka_bibi) May 31, 2015
Raveena Kingsley takes 1st set from top seed Marketa Vondrousova(CZE) 7-5. Can she finish off the upset before dark? #RG15

— Colette Lewis (@zootennis) May 31, 2015


And there still could be tomorrow. Bannerette Raveena Kingsley took the 1st set off #1-seeded Czech Marketa Vondrousova but couldn't close out the match before things were shut down due to darkness with the Maiden leading 4-1 in the 2nd. The top-ranked 15-year old lefty came into Paris having just swept the singles and doubles at a $10K pro challenger, as well as at a Grade A junior tournament in Milan.


French Open- Top seed @mhingis & @MirzaSania beats K. Knapp & R. Vinci in 3rd Rd of women's doubles: 6-1 6-4 pic.twitter.com/IJGYvOJPad

— India@Sports (@IndiaInSports) May 31, 2015


...in doubles, Martina Hingis & Sania Mirza advanced to the QF, taking out the makeshift (or so it still feels) team of Knapp/Vinci, as the world's #1 Indian tennis star continues to hunt her first career slam women's doubles crown. Dellacqua/Shvedova handled Garcia/Srebotnik 1 & 1, while Hlavackova/Hradecka and Soler-Espinosa/Torro-Flor also advanced.

In mixed, An.Rodionova/Qureshi took out Mladenovic/Nestor, while Kiki's doubles parter -- Timea Babos -- is still alive in the draw with Alexander Peya. With all the mixed QF set (and half the women's doubles Final 8 duos), Rodionova joins Lucie Hradecka and Bethanie Mattek-Sands as the only women still alive for a potential sweep of both titles.

...in Week 21 action away from Paris, 21-year old Thai Luksika Kumkhum won the $50K Xuzhou challenger, defeating Taiwan's Chang Kai-Chen in the final. Kumkhum made quite the most of last year, opening 2014 by upsetting Petra Kvitova at the U.S. Open and finishing in the Top 100. But she came into last week sporting a 5-10 record for '15, including a loss in the opening round of AO qualifying in her return trip to Melbourne. Her title is the twelfth of her career, but her first since 2013.

Meanwhile, 17-year old German Katharina Hobgarski, the #8 seed, won the junior Grade A Astrid Bowl in Belgium, defeating Hordette Elena Rybakina in the final.

Also of note, the biggest story in the RG junior qualifying rounds was probably Aussie Priscilla Hon making it through to the main draw after coming back from a set down twice to pull off three-set upsets of the #10 and #1 (Rebeka Masarova/SUI) seeds. Today she won her 1st Round match, as well.



...LIKE FROM DAY 8:

The devil's in the details.


Can we just take a moment and recognize Svitolina's DY-esque visor bend? It's badass.

— Courtney Nguyen (@FortyDeuceTwits) May 31, 2015




...Never-be-TOO-overconfident-about-an-opinion FROM DAY 8:

Umm, actually, by all accounts, it looked like it didn't, Alize.


"The ball is touching the back line and you know it! YOU LOOKING IN MY EYES AND YOU KNOW IT!" - CORNET, Alize.

— Tumaini Carayol (@tumcarayol) May 31, 2015


But, then again...


"The rule is perfect: in all matters of opinion our adversaries are insane."

-

Mark Twain


[ Ha! I didn't think I'd find a spot to use that one during this tournament. But, viola! ]



...DAY 8 TIME CAPSULE:

Elina Svitolina, the 2010 Roland Garros girls champ (singles and doubles)






...LIKE FROM DAY 8:

Dinara still being Dinara.


The best thing ever, is when a women full of silicon and Botox is trying to tell me what is healthy and unhealthy to eat, to look younger

— Dinara Safina (@Dinarik27) May 31, 2015




...LIKE FROM DAY 8:

Tessah Andrianjafitrimo lives to fight another day in the junior singles! The fitfully-named (because she'll give commentators fits) defeated China's Ma Shuyue today, and will next face Charlotte Robillard-Millette. Well, it was likely only good while it lasted.


Juniors : les dix noms à suivre. http://t.co/OF8AdjKp3s #RG15 pic.twitter.com/w3R9R0bHvV

— Roland Garros (@rolandgarros) May 31, 2015
...and, finally, light a candle overnight.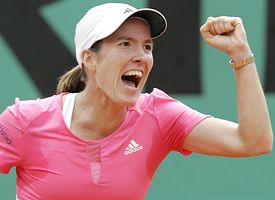 Monday is "Justine Henin Day."











=WOMEN'S SINGLES ROUND OF 16=


#1 Serena Williams/USA vs. Sloane Stephens/USA
#17 Sara Errani/ITA vs. Julia Goerges/GER
#4 Petra Kvitova/CZE vs. #23 Timea Bacsinszky/SUI
Andreea Mitu/ROU vs. Alison Van Uytvanck/BEL
#7 Ana Ivanovic/SRB def. #9 Ekaterina Makarova/RUS
#19 Elina Svitolina/UKR def. #29 Alize Cornet/FRA
#28 Flavia Pennetta/ITA vs. #21 Garbine Muguruza/ESP
#13 Lucie Safarova/CZE vs. #2 Maria Sharapova/RUS



=MEN'S SINGLES ROUND OF 16=


#1 Novak Djokovic/SRB vs. #20 Richard Gasquet/FRA
Jack Sock/USA vs. #6 Rafael Nadal/ESP
#3 Andy Murray/GBR vs. Jeremy Chardy/FRA
#9 Marin Cilic/CRO vs. #7 David Ferrer/ESP
#5 Kei Nishikori/JPN def. Teymuraz Gabashvili/RUS
#14 Jo-Wilfried Tsonga/FRA def. #4 Tomas Berdych/CZE
#8 Stan Wawrinka/SUI def. #12 Gilles Simon/FRA
#13 Gael Monfils/FRA vs. #2 Roger Federer/SUI



=WOMEN'S DOUBLES ROUND OF 16=


#1 Hingis/Mirza (SUI/IND) def. #14 Knapp/Vinci (ITA/ITA)
Bencic/Siniakova (SUI/CZE) vs. #7 Mattek-Sands/Safarova (USA/CZE)
#4 S-W.Hsieh/Pennetta (TPE/ITA) vs. Husarova/Kania (SVK/POL)
#9 Hlavackova/Hradecka (CZE/CZE) def. HC.Chan/Medina-Garrigues (TPE/ESP)
#12 Dellacqua/Shvedova (AUS/KAZ) def. #8 Garcia/Srebotnik (FRA/SLO)
#13 Krajicek/Strycova (NED/CZE) vs. Hantuchova/Stosur (SVK/AUS)
Soler-Espinosa/Torro-Flor (ESP/ESP) def. #11 YJ.Chan/J.Zheng (TPE/CHN)
#15 Rodionova/Rodionova (AUS/AUS) vs. #2 Makarova/Vesnina (RUS/RUS)



=MEN'S DOUBLES QF=


#1 Bryan/Bryan (USA/USA) vs. #7 Matkowski/Zimonjic (POL/SRB)
Albot/Rosol (MDA/CZE) vs. #6 Bolelli/Fognini (ITA/ITA)
#8 Peya/Soares (AUT/BRA) vs. #3 Dodig/Melo (CRO/BRA)
#5 Rojer/Tecau (NED/ROU vs. #2 Pospisil/Sock (CAN/USA)



=MIXED DOUBLES QF=


YJ.Chan/Peers (TPE/AUS) vs. J.Zheng/Kontinen (CHN/FIN)
Hradecka/Matkowski (CZE/POL) vs. #7 Babos/Peya (HUN/AUT)
Srebotnik/Tecau (SLO/ROU) vs. Martinez-Sanchez/Lindstedt (ESP/SWE)
An.Rodionova/Qureshi (AUS/PAK) vs. #2 Mattek-Sands/M.Bryan (USA/USA)











Vika's candid thoughts on "The Call". pic.twitter.com/lVJmHdB6D3

— Courtney Nguyen (@FortyDeuceTwits) May 30, 2015

Someone has been digging into the old home videos again.
Nobody ever talks about the hard work it takes to get where you wanna be. Success is never an accident. #age7 pic.twitter.com/iX0JLkr0aF

— Caroline Wozniacki (@CaroWozniacki) May 31, 2015





*RG "COMEBACK PLAYER" WINNERS*


2007 Patty Schnyder, SUI
2008 Elena Dementieva, RUS
2009 Maria Sharapova, RUS
2010 Kimiko Date-Krumm, JPN
2011 Casey Dellacqua, AUS
2012 Yaroslava Shvedova, KAZ
2013 Jelena Jankovic, SRB
2014 Andrea Petkovic, GER
2015 Ana Ivanovic, SRB



*RECENT BEST AMERICAN WOMEN'S SLAM RESULTS*




=2011=


AO: Venus Williams (3rd)
RG: Vania King & Bethanie Mattek-Sands (3rd)
WI: Serena Williams (4th)
US: Serena Williams (RU)


=2012=


AO: Serena Williams (4th)
RG: Sloane Stephens (4th) & Varvara Lepchenko (4th)
WI: Serena Williams (W)
US: Serena Williams (W)


=2013=


AO: Sloane Stephens (SF)
RG: Serena Williams (W)
WI: Sloane Stephens (QF)
US: Serena Williams (W)


=2014=


AO: Sloane Stephens & Serena Williams (4th)
RG: Sloane Stephens (4th)
WI: L.Davis, M.Keys, A.Riske, S.Williams, V.Williams (3rd)
US: Serena Williams (W)


=2015=


AO: Serena Williams (W)
RG: Serena Williams vs. Sloane Stephens winner



*FIFTY SLAM WINS AT EVERY SLAM - OPEN ERA*




[AO-RG-WI-US]


Roger Federer [75-67-73-72]
Serena Williams [68-50-72-79]


[and in case you were wondering...]


Steffi Graf [47-84-74-73]
Andre Agassi [48-51-46-79]


[and still watching...]


Novak Djokovic [50-45-45-50]
Rafael Nadal [45-69-39-41]
Maria Sharapova [48-53-42-32]
Venus Williams [45-42-73-64]







TOP QUALIFIER:

Veronica Cepede Royg/PAR




TOP EARLY-ROUND (1r-2r):

#11 Angelique Kerber/GER




TOP MIDDLE-ROUND (3r-QF):

xx


TOP LATE-ROUND (SF-F):

xx


TOP QUALIFYING MATCH:

Q1: Wang Yafan/CHN d. #15 Richel Hogenkamp/NED 2-6/7-6(7)/8-6 (saved 4 MP)




TOP EARLY-RD. MATCH (1r-2r):

2nd Rd. - Francesca Schiavone/ITA d. #18 Svetlana Kuznetsova/RUS 6-7(11)/7-5/10-8 (3:49; saved MP; third-longest RG match)




TOP MIDDLE-RD. MATCH (3r-QF):

xx


TOP LATE-RD. MATCH (SF-F/Jr.):

xx


=============================




FIRST VICTORY:

(Q) Teliana Pereira/BRA (def. WC Ferro/FRA)




FIRST SEED OUT:

#31 Caroline Garcia/FRA (lost 1st Rd. to Vekic/CRO)




UPSET QUEENS:

The Croats




REVELATION LADIES:

The New Australians




NATION OF POOR SOULS:

United States (most players in draw w/ 17, but tied for 4th w/ just 4 1st Round winners)




LAST QUALIFIER STANDING:

Lourdes Dominguez-Lino/ESP, Paula Kania/POL, Sesil Karatantcheva/BUL, Teliana Pereira/BRA (2nd Rd.)




LAST WILD CARD STANDING:

Virginie Razzano/FRA & Amandine Hesse/FRA (2nd Rd.)




LAST PASTRY STANDING:

Alize Cornet (4th Rd.)


MADEMOISELLE/MADAM OPPORTUNITY: Nominees: Svitolina/UKR, Muguruza/ESP, Van Uytvanck/BEL, Goerges/GER, Bacsinszky/SUI, Stephens/USA
IT "??":

(Swarmette) Andreea Mitu/ROU (last Romanian standing)




COMEBACK PLAYER:

#7 Ana Ivanovic/SRB (1st RG QF since '08 title)




CRASH & BURN:

#2 Simona Halep/ROU (lost 2r to Lucic-Baroni/CRO)




ZOMBIE QUEEN:

#19 Elina Svitolina/UKR (2nd Rd. vs. Putintseva - down 6-1/3-0, then 4-1 in 3rd; won 9-7 deciding set)


JOIE DE VIVRE:

Francesca Schiavone/ITA




DOUBLES STAR:

Nominees: Hingis/Mirza (SUI/IND), Mattek-Sands/USA, Hradecka/CZE, An.Rodionova/AUS


KIMIKO DATE-KRUMM VETERAN CUP (KDK CUP):

Nominees: Date-Krumm/Schiavone (78-year old doubles duo), S.Williams/USA, Pennetta/ITA


RUSSIAN REVOLUTION SLAM UPDATE:

Hordettes have reached the Round of 16 at 58 of 59 slams




JUNIOR BREAKOUT:

xx






*

- a nod to Mark Twain's The Mysterious Stranger (1916)

...born Samuel Langhorne Clemens (November 30, 1835 – April 21, 1910). American author, lecturer and humorist. Writer of The Adventures of Tom Sawyer (1876) and its sequel, Adventures of Huckleberry Finn (1885). Twain's writing and large personality made him a public figure and, ultimately, an American icon. A renowned traveler, Twain entertained fans around the world with his opinionated wit.




All for Day 8. More tomorrow.