Wk.32- Better Call Bencic
Let's be honest, come the end of the 2015 we'll be hard-pressed to find too many better overall performances than the one 18-year old Belinda Bencic pulled off this past week in Toronto.
18yr old @BelindaBencic captures @RogersCup title! Beats Halep 7-6(5) 6-7(4) 3-0(ret'd)-> http://t.co/xPVrnOvw7s #WTA pic.twitter.com/977iLMDOHT

— WTA (@WTA) August 16, 2015


The results during this summer's stint between Wimbledon and the U.S. Open has produced some "interesting" results that might be difficult to judge considering that many top players have taken the opportunity to have a brief rest before the final big stretch of the season heading into the fall. While Angelique Kerber's career season continued in Stanford a week ago, so far, we've also seen four first-time singles champions, four first-time finalists, a trio of match-ups of unseeded players in singles finals, a Brazilian become the first two-time champ from her nation in nearly thirty years and Top 25 player Jelena Jankovic step down and win a title on the WTA $125K Challenger Series.

All right, so anything "odd" or "different" when JJ's involved doesn't really count. But you get the idea.


For the record, world #20 Bencic was another of the unseeded champions that have dominated the summer. But there is no questioning this one. The New Swiss Miss is the real deal.

While the multiple junior slam titles, Molitor/Hingis coaching stamp of approval, U.S Open QF run and Wimbledon Round of 16 result before her 20th birthday should have already served notice, one need only to look at this week alone to peg the Swiss teen as one of THE faces to watch on tour. Heck, Serena Williams did just that earlier this week... and that was BEFORE she lost to her.


Serena on @BelindaBencic, a possible SF opponent: "She is the next generation. She is the next person that's going to be the greatest."

— WTA Insider (@WTA_insider) August 15, 2015
Here's Belinda Bencic's reaction to Serena's very generous comments from earlier this evening. pic.twitter.com/JWrfde5Bae

— WTA Insider (@WTA_insider) August 15, 2015


Consider, "all" Bencic did in Toronto was win the biggest title of her young career (title #2, following her win on the grass in Eastbourne) by running off a string of victories over players with more highlighted portions of their career resumes than years she's actually been on this earth. Just a few of the honors of the fallen:

* - Four are Top 10 players
* - Three are in the Top 5, and two in the Top 3
* - They've combined for 22 grand slam singles titles
* - Three others have reached slam singles finals
* - Three have been ranked #1

Her opening match three-set victory over Genie Bouchard was, by this point, to be expected, but Bencic only seemed to gain more and more confidence with each passing round. A 7-5/7-5 win over Caroline Wozniacki sent her barreling forward to a 3rd set tie-break victory over Sabine Lisicki (saving a MP) and a straight sets command performance against Ana Ivanovic. Facing off with world #1 Williams in an instant classic in the semis, Bencic became the youngest player to defeat her in a completed match since Maria Sharapova in 2004.

Bencic could barely believe it had happened, but she still had to face Simona Halep in the final. Oh, yeah... that.

One could have forgiven an unfocused performance from her so soon after her biggest career victory, but Bencic was anything but the typically aimless "day after" competitor. Instead, in a physically trying and emotional (not to mention sometimes contentious, though never personally with Halep) contest that might have gone either way with a more potentially-scattered player (you know who some of them are!) involved, Bencic continued to back up the growing notion that the WTA's next generation of slam winners are already beginning to make their mark. While Halep refused to give up, pushing things to a 3rd set despite looking as if she should be anywhere but a tennis court while dealing with injury, exhaustion and illness, Bencic didn't back down and allow her opponent's condition to distract her. After seeing the 2nd set slip away, the teen came out in the 3rd set and quickly established a 3-0 lead, forcing the Romanian to finally do the only sensible thing -- retire and live to fight another day, as Bencic prevailed 7-6(5)/6-7(4)/3-0. The first Swiss woman to win the Rogers Cup since Martina Hingis in 2000, she's now 6-1 vs. the Top 10 in 2015 alone, and will rise to #12 in the new rankings

It was a somewhat anticlimactic ending to the best week of her career, but one gets the notion that Bencic might have some even bigger things on the horizon.

I mean, if Serena says so, then it just HAS to happen, right?



*WEEK 32 CHAMPIONS*
TORONTO, ONTARIO CANADA USA (Premier $2.28m/HCO)
S:

Belinda Bencic/SUI def. Simona Halep/ROU 7-6(5)/6-7(4)/3-0 ret.


D:

Bethanie Mattek-Sands/Lucie Safarova (USA/CZE) d. Caroline Garcia/Katarina Srebotnik (FRA/SLO) 6-1/6-2




PLAYER OF THE WEEK:

Belinda Bencic/SUI


...a week after Sloane Stephens gave us a hint of Future Sloane, Bencic showed that Current Belinda might be even more intriguing heading into New York, where a "lesser" 17-year old New Swiss Miss has already reached the final eight.

Incidentally, I think the best blink-and-you-missed moment of the entire final (and there are generally a few possibilities in a Bencic match, considering the winning sideways glances, smirks and wry smiles that she tends to give when things are going well... or quite the opposite) might have been the look of total bewilderment on her face when it was announced during the trophy presentation ceremony that she'd moved into the #1 slot in the U.S. Open Series and could soon be playing for a million dollars in the Open? She was like, "Whaaaattt???"

Bencic's reaction to the potential US Open Series bonus is spectacular... https://t.co/ZWsDrfuufW (via @fedele_giulio)

— Leigh Walsh (@LeighWalsh87) August 16, 2015

Of course, in a purely evil way, I sort of enjoyed her on-court interview after her semifinal win over Serena, as well, when she was asked about playing for her "first WTA title" in the final. Bencic looked as if she wanted to say a bit more to the woman, but was kind and began her answer with, "I won one in Eastbourne..."



===============================================




RISERS:

Simona Halep/ROU & Lesia Tsurenko/UKR


...during a week in Toronto in which she experienced vocal (and well-traveled) Romanian support in the stands, Halep's return to action following her somewhat troubled 8-6 spring and early summer stint on clay and grass courts (which included 2nd and 1st Round exits in Paris and London) proved to be a case of the Swarmette finally seeming to find a sense of comfort on and off the court once again. Lighthearted, thoughtful and "back in business," she was up to her old problem-solving ways as she knocked off, in order, a not-a-bad-apple-in-the-bunch string of opponents that included Jelena Jankovic (Nanchang champ), Angelique Kerber (Stanford champ), the resurgent Aga Radwanska (for career win #300) and no-slouch Sara Errani to reach her tour-leading fourth hard court final of 2015, and her first of any kind since March. With her horde of "Si-mo-na"-chanting fans in the stands, Halep stubbornly refused to pack things in during the 2nd set of the final against Belinda Bencic, even while she was visibly dragging herself from point to point with a leg injury, exhaustion, illness and the nagging suspicion in her mind that, for her own good, she should probably start thinking about not overdoing things and damaging her chances in Flushing Meadows, Halep gave all that she had, then wisely called it a day three games into the 3rd set. After several instances earlier this year when the pressure to succeed and live up to the expectations of such vocal and nationwide support got the best of her, even with her retirement, Halep's week in Toronto managed to end on a high note. Maybe, just maybe, that will be enough to carry her through the next moment in a big event -- maybe even in just a few weeks -- when her legs get heavy and she is fighting herself and the moment as much as her opponent. Maybe what happened in an ultimately losing effort will give her the additional push to make possible her greatest victory ever. Maybe.

Point of the Tournament! Incredible hustle from @Simona_Halep & @SaraErrani--> http://t.co/AtAqJIndUw #WTA https://t.co/lPkmF5zftX

— WTA (@WTA) August 15, 2015

Meanwhile, Istanbul champ Tsurenko ran her winning streak to ten matches in Toronto before losing to Sara Errani in the QF. A qualifying run that included victories over Nicole Gibbs and Lara Arruabarrena was followed by wins over Yanina Wickmayer, Garbine Muguruza (the Ukrainian's third Top 10 win of '15) and Carina Witthoeft. She'll rise to a career-best #44 in the new rankings.

Lesia Tsurenko stuns Muguruza 7-5, 6-1 in @RogersCup 2R! 3rd Top 10 win of 2015--> http://t.co/kB83QzXLRC #WTA pic.twitter.com/LNVlnT56aw

— WTA (@WTA) August 12, 2015
===============================================
Naomi Broady- 2015 Koser champion pic.twitter.com/TDot1ri0V9

— Earle Cornelius (@EarleCornelius) August 16, 2015



SURPRISES:

Naomi Broady/GBR & Robin Anderson/USA


...in the $25K challenger in Landisville, Pennsylvania that was THE site for comebacks this week, 25-year old Brit Broady grabbed her seventh career ITF crown with a 3rd set tie-break win in the final over Anderson. Broady had knocked off the #2 seed Shelby Rogers earlier in the week, adding to her good summertime results that have already included a semifinal in the Surbiton grasscourt challenger and a WTA level victory over Jarmila Gajdosova. It's summer in North America, so Anderson's success continues the trend of NCAA stars putting up good ITF results on the hard court circuit. 22-year old New Jersey native, UCLA Bruin and former NCAA women's #1 Anderson won the 2011 Landisville singles title before the start of her college career, and she returned there this past week as a pro with Laura Granville as her coach. After making it through qualifying, Anderson put up wins over #6-seed Mayo Hibi and #1 An-Sophie Mestach en route to her runner-up result.

Robin Anderson returning backhands to Naomi Broady at Koser Tournament. @HempfieldRec @ustaprocircuit pic.twitter.com/v86ewEDyIh

— Earle Cornelius (@EarleCornelius) August 16, 2015



===============================================




VETERANS:

Sara Errani/ITA & Roberta Vinci/ITA


...this surely isn't the first time the Italians have shared this award in this space, but in the past they've often been co-winners as a single doubles entity. This time, the honor is based on their own singles accomplishments at the Rogers Cup in Toronto... ironically, one season after they claimed the doubles title at the Montreal version of the event 53 weeks ago. Vinci reached the QF with wins over Karin Knapp, Mirjana Lucic-Baroni and the on-fire Daria Gavrilova before losing to Serena. She DID play doubles, but lost in the 1st Round with Jelena Jankovic to Muguruza/Suarez-Navarro. Meanwhile, the always-underrated-on-hard-courts Errani put up her fifth SF-or-better result of '15 with a string of nice wins over Kristina Mladenovic (allowing just one game), Madison Brengle, Victoria Azarenka and Lesia Tsurenko (ending the Ukrainian's 10-match win streak) before falling in the semis to Halep. Errani reached the doubles QF with Flavia Pennetta, falling to Mattek-Sands/Safarova. Still, one expects Sara will be hearing the Simona-supporting Romanians in her dreams for at least a few additional days.

When your noisy neighbours need to stfu pic.twitter.com/xkGBMafY6X

— WTA Reactions (@WTAreactions) August 15, 2015



===============================================




COMEBACK:

Vicky Duval/USA


...welcome back, Vicky. More than a year after being diagnosed with Hodgkin's lymphoma, then nevertheless going on to qualify at Wimbledon and win a 1st Round match (she lost to Bencic in the 2nd Rd.), the cancer-free 19-year old Duval returned to action in the $25K challenger in Landisville, Pennsylvania. After notching victories over Sophie Chang and Ivana Jorovic (after being down 6-3/4-1 and saving a MP) to reach the QF, she withdrew for precautionary measures from her match with Naomi Broady. It still isn't confirmed that she'll receive a wild card into the U.S. Open, but if she's physically up for it, it's hard to see even the USTA being "out of it" enough to not hand one over to her. After all, Duval has handled the U.S. Open spotlight pretty well in the past, including in a night match with Kim Clijsters in '12 and pulling off a huge upset under the lights against Sam Stosur a year later.

Sadly, my trip ended earlier than planned but, hey, quarterfinals of my first tourney back? I'll take it!!! #TimeToRecover #1StepAtATime ??

— Vicky Duval (@vicky_duval95) August 14, 2015



===============================================




FRESH FACES:

Daria Gavrilova/RUS-AUS & Carina Witthoeft/GER


...21-year old Gavrilova's elevator ride up the WTA rankings continues this week, as she'll lift her ranking to a career-best #36 on Monday after starting the season at #233. The Russian-Aussie reached the 3rd Round in Toronto, but her route there was more impressive than her final result as she took out Sam Stosur in straight sets off the veteran's Bad Gastein title and Washington semifinal runs, then staged a comeback from a set and 5-4 down with Lucie Safarova serving for the match to get an even bigger win over the Roland Garros finalist.

.@Daria_Gav upsets Safarova with a comeback 4-6, 7-5, 7-5 win at @RogersCup--> http://t.co/fB8N39d3xF #WTA https://t.co/YAvCLWAHZC

— WTA (@WTA) August 12, 2015

20-year old German Witthoeft qualified in Toronto with wins over Sesil Karatantcheva and Magda Linette, then notched MD victories over Coco Vandeweghe and Alison Riske. It's the first time Witthoeft has put up multiple Top 50 wins in the same event, and she'll now re-enter the Top 50 after a brief absence at a new career-best rank of #49.


===============================================



The result of three good whacks from Serena. pic.twitter.com/SlH1nerXzj

— WTA Insider (@WTA_insider) August 16, 2015



DOWN:

Venus Williams/USA & Serena Williams/USA


...last year in the Rogers Cup Montreal, the Sisters were front and center on the weekend with just their second meeting in five years in the semifinals. Venus got her first win over Serena since '09 as she claimed a 6-7(2)/6-2/6-3 victory to advance to the final, where she lost to Aga Radwanska. That was Serena's last three-set loss until she was taken out by 18-year old Bencic this weekend in Rogers Cup Toronto, going down in flames in a performance lacking in the "Serenativity" we've seen so often over the years (save for the first three slams in '14, that is). Serena called her performance "crappy" and like that of an amateur, and when you look at stats that show she committed twelve DF, fifty-nine unforced errors, was broken seven times (the last in the match's closing game after seemingly having turned the tide in her favor at the eleventh hour vs. Bencic) and converted just six of twenty break point chances, well, you can sort of see her point. Either this is a sign that the overwhelming pressure -- and maybe that lingering, serve-impacting elbow injury -- is going to be THE biggest Flushing Meadows story in a couple of weeks, or Serena will make her first loss in a completed match to a player 18 years old or younger since Maria Sharapova in 2004 (WTA Championships final) a mere curious (though "classic" Williams) speed bump along her road to history in September. Venus didn't have a good week in Ontario, either. One week after falling out of the Top 20 when her Montreal points fell off the computer (the event is a week later in '15), she was dumped out of the event in the 1st Round by Sabine Lisicki by a 6-0/6-3 score. Venus is 23-10 on the season, but her loss this week gives her three consecutive straight sets defeats since her 3rd Round win at Wimbledon over Aleksandra Krunic.


===============================================



¡CAMPEONA! ¡CAMPEONA! ¡CAMPEONA! @titatorro en lo más alto de Praga. Final: 63 76 vs. Allertova. @Fans_TitaTorro :) pic.twitter.com/ukM03yk6CO

— Wilson Tenis España (@WilsonTenisEsp) August 16, 2015



ITF PLAYER:

Maria-Teresa Torro-Flor/ESP


...in the $75K challenger in Prague, Torro-Flor continued a mastery of the ITF circuit that goes back to 2012, defeating back-to-back-to-back Czechs in the QF (Nicole Vaidisova), SF (Petra Cetkovska) and Final (Denisa Allertova) to grab her thirteenth career title. Earlier this season, after a two and half year absence from the lower circuit, the 23-year old Spaniard took a step down from her WTA schedule to win a $50K event and break the consecutive ITF match win streak record that had been held by Casey Dellacqua for three years. MTTF extended the streak with an additional win to get to thirty-six matches before losing this spring, but her win this week gives her a 41-1 mark on the circuit since the beginning of her record run.


===============================================



16 y.o. Sofia Kenin wins @USTAGirlsNatls 18s title and #USOpen wild card: http://t.co/iJtu6HtL6f (photo: @tennismanu) pic.twitter.com/zvM5Za8F0D

— TENNIS.com (@Tennis) August 9, 2015



JUNIOR STARS:

Sonya Kenin/USA & Jessica Pieri/ITA


...16-year old Bannerette Kenin was the winner of the USTA's 18s National Championship a week ago, defeating Tornado Alicia Black in a 6-2/5-7/7-5 final to claim the title. The #9 junior in the world, Kenin gets a wild card into the U.S. Open women's main draw and will make her slam debut there in two weeks. Last year, 15-year old CiCi Bellis was the national champion (also def. Black in the final), and turned her MD slot into something of a star-making turn with a 1st Round U.S. Open upset victory over Dominika Cibulkova that made her the youngest player to win a women's match there since Anna Kournikova in 1996, and the youngest American to do so since Mary Joe Fernandez in 1986.

In Innsbruck, 18-year old Pieri won her first professional title by qualifying and then taking the singles crown with a three-set victory over Iva Primorac. Ranked #871 on the WTA computer, the Italian has been dealing with a lingering back ligament injury for nearly three years, but has been healthy enough to put up some good results in 2015, including a semifinal in a $10K challenger in January, as well as on the junior circuit. Pieri had a SF at the Grade A event in Milan (the first Italian to get so far since 2010), where she lost to Charlotte Robillard-Millette, and a Grade 1 runner-up result in Santa Croce (losing to Wimbledon girls RU Anna Blinkova).


===============================================



#ChampagneSunday #SundayFunday thanks Toronto!!! @luciesafarova @rogerscup #teamBucie ?? pic.twitter.com/aE48z0i547

— Bethanie MattekSands (@BMATTEK) August 16, 2015



DOUBLES:

Bethanie Mattek-Sands/Lucie Safarova (USA/CZE)


...the Dyamic Duo are at it again. They failed to get their third straight '15 slam win at Wimbledon, but there's nothing that says they can't go three-for-four in New York. Their Toronto title run is surely a good start. The pair put up victories over "makeshift" duos Errani/Pennetta and Mladenovic/Ka.Pliskova, then easily eliminated Garcia/Srebotnik in the final by a 1 & 2 score. Garcia/Srebotnik had ended the eight-match winning streak of Hingis/Mirza in the semis. The title is BMS/Safarova's fourth as a team this year, tying Hingis/Mirza for the tour lead even as they pass them and move into #1 on the Doubles Road to Singapore. Overall, it's Mattek-Sands fifth WD title of the season, tying her with both Hingis and Mirza for the most on tour.

Toronto champs!! #teampic #teambucie @BMATTEK @robsteckley pic.twitter.com/KuOYFjlBU1

— lucie safarova (@luciesafarova) August 16, 2015
===============================================
Serena's on-court winning streak might have ended in Toronto, but she continued her recent string of off-court successes.
World No.1 @SerenaWilliams graces cover of @NYMag's Fall Fashion Issue! More ??--> http://t.co/ggPXnyyrGD #WTA pic.twitter.com/pPFGsl4oSL

— WTA (@WTA) August 10, 2015
Split Warm up exercises... #proceedwithcaution pic.twitter.com/QqJEAaFo5W

— Serena Williams (@serenawilliams) August 10, 2015
Smile to Mean Muggin ???? Meet @SerenaWilliams biggest little fan at @RogersCup! #WTA pic.twitter.com/U8dCuoepoW

— WTA (@WTA) August 10, 2015


1. Toronto Final - Bencic d. Halep
...7-6(5)/6-7(4)/3-0 ret. This one might have gone down as a true classic had it played out differently in the 3rd set, but it still will be remembered for the drama-filled first two sets. After starting with five straight breaks of serve, Halep eventually took a 4-3 lead but the long rallies common to both players' games likely played a part in the leg injury that led to the first of her multiple visits with the WTA trainer. Throw in Bencic's changeover meltdown with her father, then her comeback from 1-4 down in the tie-break to claim the 1:08 1st set and the stage was set. While both players were experiencing physical difficulties at the end of a long week, Halep's issues were far more obvious. The leg, combined with the heat and her flat-out exhaustion following her SF win over Sara Errani led to her plodding around the court between points in the 2nd, bending over due to pain or looking as if she was trying to keep the contents of her stomach right where they belonged. In the late going, Bencic failed to put the set away while Halep refused to stop fighting to keep it alive. She actually seemed to be working against her own desires, as after she'd win points she'd appear to sigh and be disappointed because it meant that the end continued to be anything but near. Bencic's growing frustration led to her tossing her racket, while Halep got a break for a 6-5 lead, then seemed to pick up her game a bit more while winning the tie-break to force a 3rd set. After taking the long walk to leave the court, Halep returned to give things a go, but after falling down 3-0 she finally decided to preserve herself to fight another day and retired, giving Bencic her biggest title yet.

3rd Set! @Simona_Halep battles back to force a decider vs Bencic 6-7(5), 7-6(4)--> http://t.co/xPVrnOvw7s #WTA https://t.co/tco9GH8E5r

— WTA (@WTA) August 16, 2015




===============================================


2. Toronto Doubles Final - Mattek-Sands/Safarova d. Garcia/Srebotnik
...6-1/6-2. It's gotta be the socks!

First time high socks! Team spirit! @BMATTEK @rogerscup #new #style ???? pic.twitter.com/pgKzDWa2PK

— lucie safarova (@luciesafarova) August 16, 2015



===============================================


3. Toronto 2nd Rd. - Azarenka d. Kvitova
...6-2/6-3. Amazingly, this was the first meeting between the two since 2011 (on clay in Madrid, before Petra's first Wimbledon title), and it's Azarenka's first win over the Czech since the '09 Australian Open. But, at least Kvitova has gotten at least the first clue to some of her recent health issues...

.@Petra_Kvitova diagnosed with mononucleosis. Good news, still cleared to play--> http://t.co/HABoqnqtyF #WTA pic.twitter.com/59uoLn0WNa

— WTA (@WTA) August 10, 2015



===============================================


4. Toronto 2nd Rd. - Gavrilova d. Safarova
...4-6/7-5/7-5. In the Czech's first action since Wimbledon, she served for the match at 5-4 in the 2nd. Safarova battled back from 3-1 down in the 3rd to get back on serve, only to see Gavrilova get the match-ending break of serve.


===============================================


5. Toronto 1st Rd. - Riske d. Bacsinszky 3-6/7-6(4)/7-6(3)
Toronton 2nd Rd. - Tsurenko d. Muguruza 7-5/6-1
...a pair of immediately unsuccessful returns to action by two women who faced off in a Wimbledon QF a month ago. Bacsinszky served for the match at 6-5 in the 2nd and held two MP vs. Riske in their 3:04 match, while SW19 RU Muguruza served for the 1st set at 5-4 before dropping serve four consecutive times en route to falling down 5-0 in the 2nd. Of course, none of this prevented Timea from maintaining her ability to dispense sly wisdom in the form of a question...

??Well done @BelindaBencic !!! ?? Is anyone thinking of making a WTA tournament in Switzerland someday? ???? @mhingis #whatareyouwaitingfor

— Timea Bacsinszky (@TimiBacs) August 16, 2015



===============================================


6. Toronto 2nd Rd. - Hercog d. Makarova
...6-2/6-7(2)/7-5. 2014 U.S. Open semifinalist Makarova is still searching for her form of last summer. She trailed 6-2/5-2 vs. Hercog, who twice served for a straight sets win. The Russian forced a 3rd set, but failed to take advantage of Hercog's earlier lost opportunity.


===============================================


7. $25K Landisville 1st Rd. - Duval d. S.Chang 6-4/6-2
$25K Landisville 1st Rd. - V.King d. Coin 6-1/1-6/7-5
...Duval's wasn't the only comeback that took place in Landisville. King returned from her hip injury for her first action since last year's U.S. Open, knocking off veteran Pastry Coin in three sets in her first match. She lost in the 2nd Round to Broady, who then got a walkover from Duval in the QF and went on to win the title.


===============================================


8. Toronto 1st Rd. - Cornet d. Suarez-Navarro
...6-3/6-7(2)/6-4. CSN loses her fourth straight match, and next opens her run in Cincinnati vs. Sloane Stephens.


===============================================


9. Toronto 1st Rd. - Cibulkova d. Stephens
...6-3/6-4. Speaking of the D.C. champ. She didn't follow-up her maiden title run with anything special. Well, unless you count her championship level racket decapitation. And, really, SHOULDN'T we? Even Serena complimented Stephens on her technique.

Super Strength! When a racquet smash goes next level! #WTA https://t.co/FcrlhCsu2i

— WTA (@WTA) August 12, 2015



===============================================


10. Toronto 1st Rd. - Bencic d. Bouchard
...6-0/5-7/6-2. It says something that Bencic's impressive list of victims this week in Toronto included one of those Sesame Street "one of these things is not like the others" entries that sort of sticks out from the rest, and not in a good way. Genie, are you blushing? No, of course not... but I guess she CAN say that the eventual champion still had to go through her, right?

Bouchard on split with Sumyk: "It definitely wasn't working. There were some big problems, and I just felt like I had to make a change."

— WTA Insider (@WTA_insider) August 12, 2015



===============================================


11. Toronto 2nd Rd. - Bencic d. Wozniacki
...7-5/7-5. Forced to show up and lose for a third time this season to Bencic, Caro wasn't happy about it.

Wozniacki felt "forced to play" Toronto, fearing "huge money fines" by WTA. @TennisReporters: http://t.co/5AQesR2Ytk pic.twitter.com/uuWftExSkk

— TENNIS.com (@Tennis) August 14, 2015



===============================================


12. Toronto 3rd Rd. - Halep d. Kerber
...6-3/5-7/6-4. It was actually sort of impressive that Kerber was able to put up this much of a fight coming off her long, title-winning week in Stanford.


===============================================


13. Toronto 3rd Rd. - Errani d. Azarenka
...7-5/6-3. Not the ending Vika was looking for. This was Errani's first win over her since 2008, and she'd dropped fourteen straight sets over a seven-year stretch against the Belarusian.

Thinking out social... pic.twitter.com/Xn41DnyiF0

— victoria azarenka (@vika7) August 13, 2015



===============================================


14. $10K Chiswick Final - Katy Dunne d. Emily Arbuthnutt
...6-3/6-3. The 20-year old Brit picks up her fourth career title, taking out the 17-year old junior #35. Arbuthnutt, playing in just her sixth pro event (her first in '15), reached her first career finals in both singles and doubles (losing there again, with Freya Christie, to Dunne and partner Harriet Dart).


===============================================


15. $10K Gimcheon Final - Lee So-Ra d. Makota Ninomiya
...6-2/6-3. 21-year old Korean Lee picks up her sixth career title and her fourth of 2015, tying her for the circuit lead. She's 27-6 on the season.


===============================================






Swiss Miss(es) reaction break...



When you actually get a challenge right pic.twitter.com/NSLwveWpu8

— WTA Reactions (@WTAreactions) August 12, 2015
.@TennisTV attempting to stream the Wozniacki/Bencic match like pic.twitter.com/P2q0LhxTMP

— WTA Reactions (@WTAreactions) August 12, 2015
Trying to make sense of the mascots in Canada like pic.twitter.com/fHGhkut3Cr

— WTA Reactions (@WTAreactions) August 12, 2015

.@BelindaBencic shocks World No.1 Serena Williams 3-6, 7-5, 6-4! Makes @RogersCup final--> http://t.co/KI8HeZNxms pic.twitter.com/zdgwzzg3CU

— WTA (@WTA) August 16, 2015
1. Toronto SF - Bencic d. Serena Williams
...3-6/7-5/6-4. In a crazy match that played out like "The Three Faces of Serena," 18-year old Bencic becomes the youngest player to defeat Williams in a completed match since a 17-year old Sharapova in 2004. For the day, Serena's serve was as "off" as it's ever been (12 DF vs. her 16 aces) as she was broken seven times and had 59 UE. Still, Bencic's nerves -- and Williams "near-Serenativity" -- nearly got the best of her. She served up 5-3 in the 2nd, but double-faulted on SP and lost 10 of 11 points as Williams knotted things at 5-5. Bencic battled back from love/40 on serve two games later to hold, and then broke Serena to take things to the 3rd. The teenager took a two-break, 4-0 lead in the final set after saving six BP in two serve games (three each), then served for the match at 5-1 and 5-3, missing on a backhand pass up 30/15 in game #9 that would have given her MP. She double-faulted on BP and Williams closed to 5-4, seemingly putting her in position to steal a victory in the manner that she often does. But perhaps Bencic unwittingly heeded Rogers Cup HOF inductee Justine Henin's comments from this week about players not believing they can beat Serena as much as they should, for she bounced right back and broke Williams to take the match for her first career win over a world #1. It was Serena's first defeat in a three-set match in sixteen such instances this season, and her first since she dropped a three-setter to Venus in LAST year's Rogers Cup semifinals.


Believe it @BelindaBencic, Believe it! #WTA pic.twitter.com/zCdMfC5nJn

— WTA (@WTA) August 16, 2015



===============================================


2. Toronto 1st Rd. - Lucic-Baroni d. Karolina Pliskova
...3-6/7-6(5)/6-2. Off her three-set loss in the Stanford final, Pliskova led 6-3/4-0 and served for the match at 5-3 before losing to the Croatian veteran.

Mirjana Lucic-Baroni upsets Pliskova 3-6, 7-6(5), 6-2 at @RogersCup! 2nd Top 10 win of 2015--> http://t.co/pp2bqd0zQI pic.twitter.com/1Hc5w1LPFa

— WTA (@WTA) August 11, 2015



===============================================


3. Toronto QF - Halep d. Aga Radwanska
...0-6/6-3/6-1. After reaching the QF in just two of her first ten events in 2015, Aga had now done so in five consecutive.

Lob-wanska! @ARadwanska with the brilliant lob over Halep--> http://t.co/AtAqJIndUw #WTA https://t.co/olG7ezUYxH

— WTA (@WTA) August 14, 2015



===============================================


4. Toronto 2nd Rd. - Serena Williams d. Pennetta
...2-6/6-3/6-0. Coffee, tea or... oh, never mind. I'm good. Serena needed an espresso to get through her Hopman Cup match vs. Pennetta in January, but she extended her '15 record in three-setters to 15-0 with this win. The streak would end there, though, of course.


===============================================


5. Toronto 1st Rd. - Lisicki d. Venus Williams
...6-0/6-3. Sabine loses to 44-year old Kimiko Date-Krumm, defeats 36-year old Venus, then loses to 18-year old Bencic. As usual, Lisicki is a lick-your-finger-and-stick-it-into-the-air type of player when it comes to results.

Sabine Lisicki defeated Venus Williams 6-0 6-3 in #Toronto pic.twitter.com/2RpEIWJP4b

— Simona Halep|Bencic? (@MANIN17) August 11, 2015



===============================================


6. Cincinnati Q1 - Goerges d. Ula Radwanska
...6-4/4-6/7-5. U-Rad led 4-2 in the 3rd set, but Goerges continued her Toronto "lucky loser" luck (she reached the 2nd Rd.) AND got a measure of revenge (she lost there to Ula's sister Aga). Goerges won't need a late withdrawal in Cincinnati to reach the MD, as she made it through qualifying this time around.


===============================================


7. $10K Sharm El Sheikh Final - Mihalikova d. Sara Tomic
...6-2/6-0. The Slovakian 17-year old Australian Open girls champ knocked off #1-seeded Fatma Al Nabhani, then the younger Tomic sibling to grab her second career title. Tomic still managed to win her first pro doubles title with Ireland's Jenny Claffey.


===============================================


8. Cincinnati Q2 - Anna Schmiedlova d. Govortsova
6-4/6-2. You've got to think that Schmiedlova -- a 2015 two-time tour title winner, ranked #41 and the #2 q-seed -- won't have to go the qualifying route for much longer.


===============================================





Remember when "grunting" was a tennis "controversy?"
Here's Victoria Azarenka's full response re the Kyrgios incident. pic.twitter.com/dzh7XnSk9F

— Courtney Nguyen (@FortyDeuceTwits) August 14, 2015
Vika, MJ and The Purple One.
Random thought from @Vika7 Azarenka. Michael Jackson & Prince are her jams?? #WTA https://t.co/yrZXNsepw2

— WTA (@WTA) August 11, 2015

Serious Caro.
Not to be lost in the Nick the Slick Kyrgios insanity is Wozniacki just ripping the @WTA massively after her match pic.twitter.com/obc9W2i1jw

— Andrew Jerell Jones (@sluggahjells) August 13, 2015
Not-so-serious Caro.
We find ourselves hilarious! ???? @QueenShmink @serenawilliams pic.twitter.com/Hb6xL4vcrP

— Caroline Wozniacki (@CaroWozniacki) August 10, 2015

Old school Gavrilova.
New technologies are cool but looks like Gavrilova thinks that old-school writing notes could still be more useful. pic.twitter.com/U3Esgov07W

— Ognjen Mandic (@SerbOzy) August 12, 2015
DARIA NEWSFLASH! Pass it on.





**2015 WTA PREMIER MANDATORY/PREMIER 5**




[singles finals]


Dubai - #4 Halep/ROU d. #18 Ka.Pliskova/CZE
Indiand Wells - #3 Halep/ROU d. #21 Jankovic/SRB
Miami - #1 S.Williams/USA d. #12 Suarez-Navarro/ESP
Madrid - #4 Kvitova/CZE d. #29 Kuznetsova/RUS
Rome - #3 Sharapova/RUS d. #10 Suarez-Navarro/ESP
Toronto - #20 Bencic/SUI d. #3 Halep/ROU
Cincinnati - x
Wuhan - x
Beijing - x


[doubles champions]


Dubai - Babos/Mladenovic, HUN/FRA
Indian Wells - Hingis/Mirza, SUI/IND
Miami - Hingis/Mirza, SUI/IND
Madrid - Dellacqua/Shvedova, AUS/KAZ
Rome - Babos/Mladenovic, HUN/FRA
Toronto - Mattek-Sands/Safarova, USA/CZE
Cincinnati - x
Wuhan - x
Beijing x



**MOST 2015 WTA TITLES**


4 - Serena Williams, USA
4 - Angelique Kerber, GER
3 - Simona Halep, ROU
2 - Maria Sharapova, RUS
2 - Petra Kvitova, CZE
2 - Timea Bacsinszky, SUI
2 - BELINDA BENCIC, SUI
2 - Samantha Stosur, AUS
2 - Anna Schmiedlova, SVK
2 - Teliana Pereira, BRA



**2015 WTA FINALS**


5 - Karolina Pliskova, CZE (1-4)
4 - Serena Williams, USA (4-0)
4 - Angelique Kerber, GER (4-0)
4 - SIMONA HALEP, ROU (3-1)
3 - Timea Bacsinszky, SUI (2-1)
3 - Maria Sharapova, RUS (2-1)
3 - BELINDA BENCIC, SUI (2-1)
3 - Anna Schmiedlova, SVK (2-1)
3 - Caroline Wozniacki, DEN (1-2)
3 - Carla Suarez-Navarro, ESP (0-2+L)



**WTA FINALS - 2012-15**


31...Serena Williams (29-2)
22...Maria Sharapova (11-11)
17...Victoria Azarenka (9-8)
16...SIMONA HALEP (11-5)
15...Angelique Kerber (7-8)
13...ara Errani (6-7)
12...Petra Kvitova (9-3)
12...Aga Radwanska (7-5)
12...Caroline Wozniacki (5-7)



**2015 HARD COURT FINALS**


4...SIMONA HALEP (3-1)
3...Timea Bacsinszky (2-1)
3...Karolina Pliskova (0-3)
2...Serena Williams (2-0)
2...Maria Sharapova (1-1)
2...Caroline Garcia (0-2)
2...Carla Suarez-Navarro (0-2)



**YOUNGEST 2015 WTA FINALS**


41 years - Marrakech = Svitolina (20) d. Babos (21)
41 years - 's-Hertogenbosch = Giorgi (23) d. Bencic (18)
41 years - Baku = Gasparyan (20) d. Tig (21)
41 years - Toronto = Bencic (18) d. Halep (23)



**2015 TITLES - MOST SURFACES**


4 - Angelique Kerber = Green Clay/Red Clay/Grass/Hard
3 - Serena Williams = Hard/Red Clay/Grass
2 - BELINDA BENCIC = Grass/Hard
2 - Petra Kvitova = Hard/Red Clay
2 - Maria Sharapova = Hard/Red Clay
2 - Anna Schmiedlova = Hard/Red Clay



**2013-15 WINS OVER #1 SERENA - by ranking**


2014 Charleston 2nd - #78 Jana Cepelova
2014 Roland Garros 2nd - #35 Garbine Muguruza
2014 Dubai SF - #26 Alize Cornet
2014 Montreal SF - #26 Venus Williams
2013 Wimbledon 4th - #24 Sabine Lisicki
2014 Wimbledon 3rd - #24 Alize Cornet
2014 Wuhan 2nd - #21 Alize Cornet
2015 Toronto SF - #20 Belinda Bencic
2014 Australian Open 4th - #14 Ana Ivanovic
2014 WTA Finals rr - #4 Simona Halep
2015 Madrid SF - #4 Petra Kvitova
2013 Cincinnati Final - #2 Victoria Azarenka



**MOST 2015 WINS OVER CURRENT/FORMER #1's - # **


6 - Victoria Azarenka, BLR
6 - BELINDA BENCIC, SUI
6 - Serena Williams, USA
4 - Lucie Safarova, CZE
4 - Maria Sharapova RUS
3 - Caroline Garcia, FRA
3 - Simona Halep, ROU
3 - Angelique Kerber, GER
3 - Petra Kvitova, CZE
--
# - Azarenka, Ivanovic, Jankovic, Sharapova, S.Williams, V.Williams or Wozniacki



**2015 WTA DOUBLES TITLES**




[individuals]


5...Martina Hingis, SUI
5...Sania Mirza, IND
5...BETHANIE MATTEK-SANDS, USA
4...Kristina Mladenovic, FRA
4...LUCIE SAFAROVA, CZE
3...Timea Babos, HUN


[doubles]


4 - Hingis/Mirza
4 - MATTEK-SANDS/SAFAROVA
3 - Babos/Mladenovic
2 - Kops-Jones/Spears
2 - Bertens/Larsson



**2015 ITF TITLES**


4...Daria Kasatkina, RUS
4...LEE SO-RA, KOR
4...Anastasiya Sevastova, LAT
4...Julia Terziyska, BUL
4...Marcela Zacarias, MEX
4...TAMARA ZIDANSEK, SLO




Rubbing elbows with the Original Face of Backspin will get you everywhere in these parts...



The Mutual Admiration Society. @Simona_Halep meets her idol @Justine_Henin. pic.twitter.com/g79z9vrVrf

— WTA Insider (@WTA_insider) August 15, 2015





CINCINNATI, OHIO USA (Premier $2.40m/HCO)


14 Final: S.Williams d. Ivanovic
14 Doubles Final: Kops-Jones/Spears d. Dabrowski/Mladenovic
15 Top Seeds: S.Williams/Sharapova
=============================


=QF=


#1 S.Williams d. Stephens
#11 Kerber d. #4 Kvitova
Azarenka d. #15 Petkovic
#8 Ka.Pliskova d. #2 Sharapova


=SF=


#1 S.Williams d. #11 Kerber
Azarenka d. #8 Ka.Pliskova


=FINAL=


#1 S.Williams d. Azarenka

...who knows, really? As usual, Serena HAS to be the pick. If she plays more than one match before resting her elbow, that is. There's still a chance at the Serena-Simona final that we DIDN'T get in Toronto, but after a long week, a knee injury and everything else in Toronto the chances of Halep putting in anything more than a cameo appearance (if even that) seems counterproductive for her Open chances (if they haven't already been compromised). Sharapova hasn't played since Wimbledon, while Kvitova's health is always an issue in the U.S. summer humidity. Bencic could stay on her super high, but she has to be tired -- physically and emotionally -- and she'll face Kerber in the 1st Round (whatta ya say, if they're both in it 100% -- an over/under of 2:45 in that one?). So I'll just go with the intriguing final match-up I WANT rather than the one that will likely actually happen.

Hey, don't even rule out The Force being with someone else...


Aga's like guurrrrrrl… pic.twitter.com/1daO3sy2XA

— Courtney Nguyen (@FortyDeuceTwits) August 12, 2015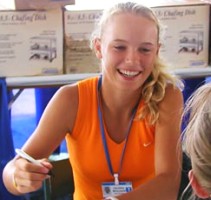 Incidentally, this year's return to Cincinnati marks the tenth anniversary of a certain Dane's WTA debut at the event back in 2005. 15-year old Caroline Wozniacki played her first tour match at this very tournament that year, losing a 1st Round encounter with Patty Schnyder, who'd go on to win the event. Caro, still smarting and piqued about having to play (or else) last week in Toronto, is in the draw once again, and her (bad) luck when it comes to finding Vika Azarenka in her path in the early rounds has struck once again. Vika is already 3-0 with a trio of dominant wins over Wozniacki this season (twice in 2nd Round meetings), and they're once again set up for another likely 2nd Round clash in Cincy. Caro hasn't won a complete set off Azarenka since 2010, having dropped eight straight sets since knocking off Azarenka in the Indian Wells QF when Vika retired three games into their match.


Meanwhile, when in doubt, take out your lucky La Petit Taureau for good luck.


Two-time @rogerscup champion Justine Henin talks to the press before being inducted into the Rogers Cup Hall of Fame. pic.twitter.com/FtGlseVt48

— WTA Insider (@WTA_insider) August 15, 2015


Ah, there, that's better.


All for now.