US 2.5 - Vicky/Victoria
Exactly one year ago
, we were officially introduced to 16-year old wild card Vicky Duval in the American's grand slam debut on Ashe Stadium court against Kim Clijsters at the U.S. Open. It was quite a moment, and she showed some promise on occasion in a straight sets loss...
but surely no one would have guessed that 365 days later we'd see from her what we did tonight at Louis Armstrong Stadium.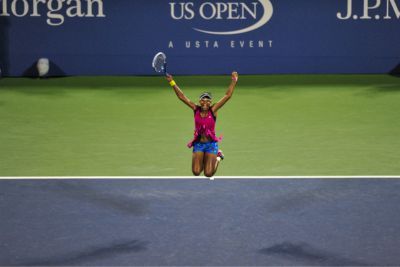 One year later, Duval is 17 and hot off a successful run through Open qualifying. She still carries with her a crazy personal background that includes being held captive by thieves in Haiti as a child and her father being pulled from the rubble of the family home there following an earthquake, and her voice is still disarmingly child-like, as well. But now Duval's game is somewhat more "adult," and she's better at just about everything, especially holding her nerve in a big moment.

Of course, it doesn't hurt to have the likes of #11-seeded Sam Stosur on the other side of the next under such circumstances, either. While the 2011 champion of this event, the Aussie didn't win her first post-slam win title until a few weeks ago in Carlsbad and, despite all her talent, has always battled the demon that is her nerves. Since winning in California, Stosur has parted ways with longtime coach David Taylor, and is being coached in New York by Aussie Fed Cup Captain Alicia Molik.

Well, for Molik's benefit, I guess we should hope that Stosur doesn't have a case of "Sharapova-itis" after her first match in her post-Taylor career.

While the young Bannerette was never "out" of this match, through the first set and a half it was still hard to envision her big moment coming near the end of Day 2. We just rarely see teenagers, especially ones as inexperienced as Duval, jumping up and taking down top players these days. After all, Duval's only other career main draw match was that loss last year against Clijsters. But in this match-up of WTA neophyte and 29-year old former slam champion, up turned out to be down and down turned out to be up.

In the 1st set, a Stosur double-fault and error gave Duval the chance to serve for the set at 5-4. But she couldn't do it, as the Aussie broke and then swept through the next two games to take the set 7-5. Duval opened the 2nd with a break of serve, but immediately gave the advantage back. One would have thought that Stosur would run away with the match from there, but she didn't. Mid-way through the set, Duval flashed a pair of wonderful, sly smiles after she pulled off a very Radwanskian drop shot & lob over Stosur's head for a winner, then successfully challenged the call on a Stosur serve. But, at the time, it felt like it was just going to be a light moment in an early evening match that would soon be over. As Stosur went up 4-2, it seemed a fait accompli.

But it wasn't.

Stosur lost her serve for the fourth time in the match right then and there, cutting her lead to 4-3. Duval broke her again, after Stosur had led 40/love, for 5-4 two games later when the Aussie's forehand flew wildly off her racket when she tried to get back a deep groundstroke from the American. Duval held for 6-4, and we had a whole new match.

Things stayed tight in the 3rd, as well, until Duval got another break to grab a 4-3 lead, then held for 5-3 after being bolstered by Louis Armstrong Stadium chants of "USA! USA! USA!" during the changeover. With Stosur serving to stay in the match, Duval got to match point, only to have the Aussie save it with an inside out forehand and go on to hold serve as the match clock ticked to two hours and thirty minutes. Serving for a third different set in this match, Duval quickly fell down 15/40 and it looked like this was going to be a nail biter, ala Stosur's early-round wins under the lights back during her '11 title run.

But it wasn't. Well, not in a long-distance sort of way, at least.

Duval battled back and reached match point #2 after a Stosur error, but the former champ saved it with another inside out forehand. Stosur got another break point, but it was saved when Duval hit a perfectly-placed wide serve that the Aussie couldn't get back. The two exchanged another match point and break point, but it soon became apparent, as it had all night, that the kid was less nervous on this stage than the vet. Sure, you could chalk that up to Duval being a young player with nothing to lose, especially one with a newly-ingrained notion to "have fun out there" after a month-long World TeamTennis stint with Billie Jean King with the WTT's Philadelphia franchise. But, again, when it's Stosur on the other side of the net, who really knows if such a short-term exposure to the architect of the very history that the WTA's 40-year anniversary celebrates was what made the difference? As we've often come to expect in crash-and-burn Stosur moments over the years, along with her early kick-serve success, as well as the match point-saving inside out forehands, there was also the slew of errors and tentative rallies tonight in which Stosur waited for Duval to make an error rather than simply take the point herself.

It proved to be the difference.

On match point #4, Duval finally avoided another lethal inside out forehand from Stosur, taking a mid-court return of serve from the Aussie and smacking her own forehand winner to put the greatest moment of her career (so far) on ice for all eternity. The teenager won 5-7/6-4/6-4, taking out the #11-seeded 2011 champ.

Suddenly, this Open had its first MOMENT... courtesy of a 17-year old with a pipsqueak voice, but maybe a far bigger future than someone with her personal history ever had any right to expect... even in her wildest dreams. Yet, here she is.

Ah, don't you love it?



=NIGHT 2 NOTES=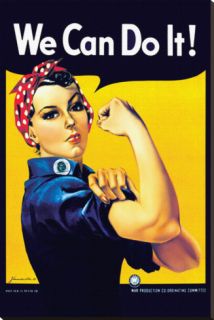 ...later on Ashe, talk turned from Vicky to Victoria, as Victoria Azarenka made her 2013 U.S. Open debut. One night after Serena Williams narrowly failed in her attempt to double-bagel Francesca Schiavone, dropping her only game at 6-0/4-0, Vika completed the task against German Dinah Pfizenmaier, winning 6-0/6-0 to close out play on Tuesday night.

Pfizenmaier put up quite a fight in the first game of the match, taking quite a while before dropping her serve. While Azarenka didn't bludgeon the German the rest of the night in Serena-esque fashion, the outcome was never in doubt, as has come to (far too) often been the case in the scheduled night matches on Ashe (the same was the case with the Djokovic/Berankis match that preceded this one) the last few years. Instead, it was a workwomanlike -- "Rosie the Riveter"-like, maybe, since this is the UNITED STATES Open? -- performance, the third slam double-bagel of Azarenka's career, in which her opponent actually hit more winners (15-14, but had only 34 to Vika's 61 total points) than she did despite the lopsided final scoreline.

...in other late afternoon and evening matches, #17 Dominika Cibulkova continued her post-Stanford title tailspin, losing to Ukraine's Elina Svitolina, while #21 Simona Halep maintained her summertime momentum, but had to go three sets to take out Heather Watson 4-6/6-4/6-2. #4 Sara Errani, a do-you-remember? semifinalist a year ago, destroyed lucky loser Olivia Rogowska, double-bageling the Aussie in fifty-two minutes.

A late afternoon wins by American wild cards Sachia Vickery and Alison Riske means that three wild cards advanced out of the 1st Round, as well as one lucky loser and seven qualifiers.

...with the 1st Round complete, a few national trends can be pointed out:

With so many players in the draw, and with none of them facing off against each other in the 1st Round, it's no surprise that there are more American women in the 2nd Round than any other nationality, as ten of the nineteen women advanced. Second-most, also no surprise, are the Russians with six. The Italians burned up the court in the first two days, going a combined 5-1, while the Romanians (w/ 3 woman alive) are carrying over their regular tour success in '13 to the slams. Also, other highlights in the Final 64 are two Canadians and two Radwanskas, but no Belgians (0-2) in the first TRUE post-LPT/Barbie Open and only one Aussie (the youngest of the lot, wild card Ashleigh Barty).

Oh, and speaking of Aussies, Stosur's crash-out makes her an easy "Crash & Burn" (dis)honoree. It's the second "C&B" award that Stosur has picked up this year (AO), and her fourth over the last four years ('12 AO and sharing the Wimbledon '10 award with Francesca Schiavone, when post RG finalists were dumped out in their first SW19 matches).

...and, finally, as expected, #15 Sloane Stephens is getting the star treatment already at this Open, as she's in the second-up match on Ashe on Night 3 against Urszula Radwanska. Hmmm... this couldn't be the start of something, umm, crazy at yet another slam, could it?





**U.S. OPEN "CRASH & BURN" WINNERS**


2007 Maria Sharapova, RUS (3rd Rd.)
2008 Ana Ivanovic, SRB (2nd Rd.)
2009 Elena Dementieva, RUS (2nd Rd.)
2010 Victoria Azarenka, BLR (2nd Rd.)
2011 Petra Kvitova, CZE & Li Na, CHN (both 1st Rd.)
2012 Caroline Wozniacki, DEN (1st Rd.)
2013 Samantha Stosur, AUS (1st Rd.)


[2013]


AO: Samantha Stosur, AUS
RG: Caroline Wozniacki, DEN
WI: Nadia Petrova, RUS
US: Samantha Stosur, AUS



*WOMEN'S OVERALL WON/LOST - BY NATION*




[through 1st Rd.]




[North America/Atlantic]


10-9...United States
2-1...Canada
0-1...Puerto Rico


[South America]


1-0...Argentina
0-1...Colombia


[Non-Russian Europe/Scandinavia]


5-1...Italy
3-2...France
3-2...Serbia
3-3...Romania
3-4...Germany
2-0...Poland
2-1...Croatia
2-3...Slovak Republic
2-4...Czech Republic
2-5...Spain
1-0...Belarus
1-0...Denmark
1-0...Estonia
1-1...Austria
1-1...Great Britain
1-1...Portugal
1-1...Sweden
1-2...Ukraine
0-1...Bulgaria
0-1...Georgia
0-1...Greece
0-1...Hungary
0-1...Luxembourg
0-1...Netherlands
0-1...Slovenia
0-1...Switzerland
0-2...Belgium


[Asia/Pacific]


3-2...China
2-0...Kazakhstan
1-0...Taiwan
1-2...Japan
1-3...Australia
0-1...New Zealand


[Africa/Middle East]


1-0...Israel
1-1...South Africa


[Russia]


6-3







TOP QUALIFIER:

Michelle Larcher de Brito/POR




TOP EARLY-ROUND (1r-2r):

xx


TOP MIDDLE-ROUND (3r-QF):

xx


TOP LATE-ROUND (SF-F):

xx


TOP QUALIFYING MATCH:

Q3: Chanel Simmonds/RSA d. (WC) Taylor Townsend/USA 2-6/6-2/7-5




TOP EARLY-RD. MATCH (1r-2r):

xx


TOP MIDDLE-RD. MATCH (3r-QF/Doub.):

xx


TOP LATE-RD. MATCH (SF-F/Jr.):

xx


TOP ASHE NIGHT SESSION MATCH:

xx


=============================




FIRST WINNER:

Carla Suarez-Navarro, ESP (def. Davis/USA)




FIRST SEED OUT:

#29 Magdalena Rybarikova/SVK (lost to LL Mayr-Achleitner/AUT)




UPSET QUEENS:

xx


REVELATION LADIES:

xx


NATION OF POOR SOULS:

xx


CRASH & BURN:

#11 Sam Stosur/AUS - '11 champ, lost 1st Rd. to Duval/USA, 17-yr. old qualifier in second career slam match




ZOMBIE QUEEN:

Nominee: #15 Stephens/USA def. Minella/LUX after being down break at 4-2 in 3rd


AMG SLAM FUTILITY UPDATE:

lost 1st Rd. to Mladenovic/FRA, once again failing to reach a slam QF in her career (so Anna Smashnova still has a buddy)


LAST QUALIFIER STANDING:

1st Rd. wins: Duval/USA, Giorgi/ITA, Glushko/ISR, Larcher de Brito/POR, Nara/JPN, Tomljanovic/CRO, Vandeweghe/USA


LAST WILD CARD STANDING:

1st Rd. wins: Barty/AUS, Vickery/USA


LAST BANNERETTE STANDING:

1st Rd. wins: Duval, Hampton, Mattek-Sands, McHale, Stephens, Vandeweghe, Vickery, S.Williams, V.Williams


IT:

Nominee: V.Duval/USA


Ms.OPPORTUNITY:

xx


COMEBACK PLAYER:

Nominees: Kleybanova/RUS - first slam win/appearance since AO '11, prior to Hodgkin's diagnosis; A.Wozniak/CAN


BROADWAY-BOUND:

xx


LADY OF THE EVENING:

Nominee: V.Duval/USA


DOUBLES STAR

xx


JUNIOR BREAKOUT:

xx






All for now. More tomorrow.