Wk.34- Good, Petra
The Open is nearly here, so Week 34's recap was always going to be of the (somewhat) short and sweet variety.
Petra Kvitova defends her title in New Haven after beating Lucie Safarova in final 6-7 6-2 6-2! pic.twitter.com/UPRTbbglLd

— We Are Tennis (@WeAreTennis) August 29, 2015
Luckily, Good Petra decided to show up and take things into her own hands, making it all elementary.

*WEEK 34 CHAMPIONS*
NEW HAVEN, CONNECTICUT USA (Premier $689K/HCO)
S:

Petra Kvitova/CZE def. Lucie Safarova/CZE 6-7(6)/6-2/6-2


D:

Julia Goerges/Lucie Hradecka (GER/CZE) d. Chuang Chia-Jung/Liang Chen (TPE/CHN) 6-3/6-1




PLAYER OF THE WEEK:

Petra Kvitova/CZE


...we'll know soon enough whether or not the form Kvitova showed while defending her New Haven title means anything under the spotlight of the U.S. Open. Remember, while her week included four Top 20 wins over Madison Keys, Aga Radwanska, Caroline Wozniacki and Lucie Safarova, and she'll re-take the #4 ranking from the Dane in the new rankings (she's still seeded #5 at the Open, though), she's won this same title twice before (this was her fourth straight final at Yale) but has yet to last beyond the 4th Round in any of her trips to NYC. Truthfully, the thought is that her long week of work will probably do her more harm at the Open than good. Kvitova's third title of the season gives her seventeen for her career, tying her on the all-time list with Vika Azarenka and Mary Pierce, with Nancy Richey, Manuela Maleeva-Fragniere (both with 19) and Pam Shriver (21) next to be chased down.

Cucumber or banana? @Petra_Kvitova & coach having fun. pic.twitter.com/3Hyp4524Gu

— Demi (@DemiCrayanhan) August 29, 2015



===============================================




RISER:

Caroline Wozniacki/DEN


...with her injury-tinged summer, Wozniacki's Open chances weren't looking good heading into New Haven. But, while she was still troubled by her preexisting knee issue, she put together a semifinal run at a tournament she's won four times (2008-11), defeating Alison Riske, Roberta Vinci (saving 3 MP) and Caroline Garcia before going out to Petra Kvitova. She loses her #4 ranking to Kvitova on Monday, but at least her chances to defend all or part of her '14 Open runner-up points look better now than they did a few weeks ago.


===============================================



A FOURTH Top 10 win of 2015 for Lesia Tsurenko! #WTA https://t.co/ziat22hQYs

— WTA (@WTA) August 27, 2015



SURPRISES:

Lesia Tsurenko/UKR & Victoria Rodriguez/MEX


...Tsurenko is not to be trifled with. A recent tour champion in Baku who put together a ten-match winning streak, the Ukrainian lost in qualifying (Putintseva) in New Haven, but got into the main draw when Cincinnati finalist Simona Halep (the #1 seed) withdraw. So Tsurenko filled her 1st Round bye/2nd Round spot as a "lucky loser" and put together a semifinal run with wins over Czechs Barbora Strycova and Karolina Pliskova (her fourth Top 10 win of '15) before losing to another Maiden, Lucie Safarova. Incredibly, it's Tsurenko's second career semifinal run as a LL, having done the same in Brisbane in 2013. She'll get another shot at Safarova, too, as she's up against her in the U.S. Open 1st Round. Hey, if she wears those shoes, she might have a chance.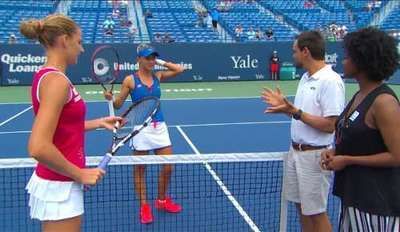 I want Tsurenko's shoes

— Diane Elayne Dees (@WomenWhoServe) August 28, 2015

In the $15K challenger in San Luis Potosi, Mexico, 20-year old Victoria Rodriguez is once again rising into contention with the top of the field. A two-time Silver medalist earlier this summer in the Pan-American Games, Rodriguez will play for her fifth career ITF singles title (but first of '15) on Sunday against Maria-Fernanda Alvarez-Teran.

Update:

Rodriguez defeated Alvarez-Teran 7-6/2-6/6-3 to take the title.


===============================================




VETERAN:

Lucie Safarova/CZE


...the Czech may be timing her slam form just right once again, reaching the New Haven final just days before the start of the Open. Her week included avenging her Toronto loss to Daria Gavrilova, then knocking off Irina-Camelia Begu, Dominika Cibulkova and Lesia Tsurenko to reach her third final of the season. After taking the 1st set tie-break, Safarova was the victim of a mugging, as Good Petra arrived to push her around and take the title. Still, a good week... and now she'll have to defeat Tsurenko AGAIN in the 1st Round of the Open.

The 'Lucie Wiggle' coming to a screen near you! ?? @LucieSafarova @RobSteckley pic.twitter.com/f0IJadL8aV

— WTA (@WTA) August 29, 2015



===============================================




COMEBACK:

Dominika Cibulkova/SVK


...the Slovak is back after being out from early February until late June, during which she had Achilles' heel surgery. Eight tournaments into her season's comeback, things are starting to turn around. In New Haven, she defeated Tsvetana Pironkova, won a 2-6/7-6(1)/7-5 match over Kristina Mladenovic and then pushed eventual finalist Lucie Safarova in another three-setter in the QF. She's still just 7-8 since her return to action, but this was her first QF since the Australian Open in January.


===============================================




FRESH FACE:

Marie Bouzkova/CZE


...the 17-year old 2014 U.S. Open girls champ has reached the final of the $10K challenger in Portschach, Austria against Austrian Julia Grabher to be played Sunday. It's her fifth career ITF final, and she's trying to keep intact her undefeated-in-finals standing.

Finals tomorrow!?? Won semis today 6:0, 7:6(4)???? #happy #finals #10k???? #pojd pic.twitter.com/182L1t8w5c

— Marie Bouzkova (@MarieBouzkova) August 29, 2015




Update:

Bouzkova lost 7-6(5)/6-1 to Grabher.


===============================================




DOWN:

Timea Bacsinszky/SUI & Karolina Pliskova/CZE????


...Bacsinszky hasn't exactly been in good form on hard courts since her Wimbledon QF run, dropping to 0-3 after her 3 & 1 1st Round loss in New Haven to Caroline Garcia. A week ago in Cincinnati, she fell 4 & 3 to Madison Keys a week after losing a two tie-break three-setter to Alison Riske in Toronto.

Congrats to Karolina #Pliskova, who clinches the #USOpenSeries women's title! She'll play for up to $1M at #usopen pic.twitter.com/RsA64yaLIM

— US Open Series (@USOpenSeries) August 28, 2015

Meanwhile, Pliskova gets a mention here solely on principle. After all, she DID "win" the U.S. Open Series title this week off her QF result in New Haven. But, really, after the mess that the USTA's rules made of that "playoff tournament" for a Roland Garros wild card that shut out Katerina Stewart from the MD in Paris despite putting up three finals and a title over the assigned three-tournament stretch (by far the best results of any player during the period, though the "rules" stated that only two tournament results were counted in the standings), it was probably destined that the Series winner would be crowned BECAUSE she played in three events. Pliskova went a mediocre 6-4 in North America this summer, winning no titles (though she did reach the Stanford final) and losing to a "lucky loser" on the day she clinched the title. In all, Pliskova totaled 75 points, well behind Serena Williams' 145 (for 2 events) and Simona Halep's 140 (for her 2 finals), but since the Czech played in at least three events (four, actually, though she got a "zero" for an early loss in Toronto -- among the players in contention for the title, Radwanska was the only other to play in three events) she got her point total DOUBLED to 150, edging out the field for the "win." And I thought the RG Playoff was ridiculous? Oh, if I only knew...

Pliskova wins the U.S. Open series. What a mess.

— favour (@favedd) August 27, 2015

Of course, considering Pliskova's slam history, she has no chance to actually make good on all the bonus prize money she's now eligible to win (Serena and Simona would be real threats to capitalize).


===============================================




ITF PLAYER:

TBD


...well, it'll be a 22-year old Swarmette. It's just a matter of which one. On Sunday, Ana Bogdan and Cristina Dinu will face off in the final of the $25K challenger in Mamaia, Romania. Bogdan is playing in her second consecutive final, and is looking for her eighth career ITF title; while Dinu is going for #14 and her second this season (she's reached four finals in '15).


Update:

Bogdan claimed the crown, defeating Dinu 6-7(5)/6-2/6-3 to win career title #8.


===============================================




JUNIOR STARS:

Jil Teichmann/SUI & Julieta Estable/ARG


...suddenly, Switzerland is full of young stars. 18-year old Teichmann, who was the runner-up in the European Junior Championships last month and reached the Roland Garros girls QF earlier in the spring, has reached the $15K Braunschweig challenger final in Germany, where she'll face off with Hordette Ekaterina Alexandrova in an attempt to win her first pro singles title. They'll play the final on Sunday.


Update:

Teichmann defeated Alexandrova 6-3/6-3 to win her first pro singles title.

Meanwhile, 18-year old Estable swept the singles and and doubles titles at the $10K Koper challenger, defeating Serb Dejana Radanovic in the final. The #15-ranked junior girl, the Argentine now has two ITF singles titles to her credit.

Así festejaba @titaestable su 1er. Women's Circuit en Europa. La palabra de la campeona: http://t.co/Jf1JyvBfKc pic.twitter.com/KHsLJatiYK

— Tenistas Argentinas (@TenistasArg) August 29, 2015
===============================================
Yes!!! Title is at home!!! Thanks @juliagoerges for playing with me!!?? pic.twitter.com/OaqPFKKP53

— Lucie Hradecka (@lucik2105) August 29, 2015



DOUBLES:

Julia Goerges/Lucie Hradecka (GER/CZE)


...in just their second event together (they got one victory in Eastbourne), Goerges & Hradecka get a title for their troubles. It's the German's fifth career crown, while Hradecka now has nineteen (eleven with Andrea Hlavackova). #19 has been a hard get for her, too, as she was 0-3 in 2015 doubles finals (two w/ Hlavackova, one w/ Lara Arruabarrena) finals before finally getting a win over Chuang/Liang.


===============================================






Maria on the potential "cover" of her (in my mind only) SECOND musical album. I'm thinking a collection of cool jazz...





1. New Haven Final - Kvitova d. Safarova
...6-7(6)/6-2/6-2. After there were none since 2009, this was the third all-Czech final of 2015 alone.


===============================================


2. New Haven 2nd Rd. - Wozniacki d. Vinci
...6-4/6-7(6)/7-6(7). The Italian served at 5-3 in the 3rd and had three MP in the tie-break.

.@CaroWozniacki survives @ConnecticutOpen scare! Saves 3 match points to advance--> http://t.co/Kudi41TKW3 #WTA pic.twitter.com/h1vwxC2cVY

— WTA (@WTA) August 27, 2015



===============================================


3. New Haven 2nd Rd. - Kvitova d. Keys
...4-6/6-1/6-2. This was Kvitova's first win on North American soil in 2015, and she got it against the Bannerette who knocked who out of Melbourne back in January. I guess it was an early sign that this was going to be her week.


===============================================


4. New Haven 1st Rd. - Vinci d. Bouchard
...6-1/6-0. Hmmm, you don't think Genie was just trying to get out of town early so that she could be part of THIS just a few hours later in New York, do you? I'm just sayin'.

Who else is ready to #stealtheshow? ???????? @Nikecourt pic.twitter.com/BuoX7rjdNS

— Genie Bouchard (@geniebouchard) August 24, 2015
What an honour to share the court with these legends. @nikecourt #stealtheshow pic.twitter.com/GAfG2cmYiP

— Genie Bouchard (@geniebouchard) August 24, 2015
Lets be honest, only @Nike can make this happen... pic.twitter.com/bNkQHXnSXY

— Maria Sharapova (@MariaSharapova) August 25, 2015

And, of course, the answer to that rhetorical question is a 100% big, fat "YES."


===============================================


5. New Haven 1st Rd. - Safarova d. Gavrilova
...6-3/6-4. The Czech wins the rematch of the three-set Toronto clash won by Gavrilova two weeks ago.


===============================================


HM- New Haven QF - Safarova d. Cibulkova
...6-7(4)/6-4/7-5. A loss that Cibulkova can still likely get some momentum from. She'll need it, as she faces AnaIvo in the 1st Round in Flushing Meadows.


===============================================






And baby makes...



Aaron est arrivé le 16/08/15 et nous sommes enfin à la maison... Totalement renversant ! pic.twitter.com/OgnxlzCrSw

— AmelieMauresmo (@AmeMauresmo) August 24, 2015
And Amelie will always be able to hold over his head that he made her miss her Hall of Fame induction, too.


1. New Haven 1st Rd. - Karolina Pliskova d. Hercog
...2-6/7-6(5)/6-2. Hercog led 6-2/4-2, but failed to secure the victory, enabling Pliskova to go on to win the U.S. Open Series with one more victory in the 2nd Round (over Olga Savchuk). "Credible" title of not, it's enough to make a twin sister smile.

===============================================


2. New Haven QF - (LL) Tsurenko d. Karolina Pliskova
...6-2/6-2. I your U.S. Open Series "champ" also loses to a "lucky loser" (even if it IS Tsurenko) on the day she clinches the title, it's not exactly "good optics" for the USTA. But then who'd expect anything less... or more?


===============================================


3. New Haven 1st Rd. - Aga Radwanska d. Vandeweghe
...6-0/6-2. A truly ass-tastic result!

.@ARadwanska starts her @ConnecticutOpen campaign with 6-0, 6-2 win over Vandeweghe--> http://t.co/Szaiug8K3S #WTA pic.twitter.com/ONC0U53sO6

— WTA (@WTA) August 25, 2015
===============================================
Citizen Vika?
Fika Azarenka?
Vika and friend.
@vika7 dolled up with Minnie #usopen pic.twitter.com/izLt0sFfas

— Douglas Robson (@dougrobson) August 29, 2015
Not Vika... but related.
#Djokovic is ready for @AAKidsDay at the #usopen with his new buddy! @DjokerNole pic.twitter.com/lhFePwoZjQ

— US Open Tennis (@usopen) August 29, 2015

Another cover for Caro.
So excited for my Alexa cover shoot to be out! @nypost pic.twitter.com/H5nFgtkb5S

— Caroline Wozniacki (@CaroWozniacki) August 25, 2015
So this is on the stands today! Have you gotten your copy? ?? @NYPfashion pic.twitter.com/CGfiZ5ipvN

— Caroline Wozniacki (@CaroWozniacki) August 26, 2015
Caro is ready for the Open. Well, at least her nails are.
?? on point for the @usopen!! @vanityprojects #accessories pic.twitter.com/wIkPcypEhZ

— Caroline Wozniacki (@CaroWozniacki) August 29, 2015

Maria awaits.




**2015 WTA FINALS**


5 - Serena Williams, USA (5-0)
5 - Simona Halep, ROU (3-2)
5 - Karolina Pliskova, CZE (1-4)
4 - Angelique Kerber, GER (4-0)
3 - PETRA KVITOVA, CZE (3-0)
3 - Timea Bacsinszky, SUI (2-1)
3 - Maria Sharapova, RUS (2-1)
3 - Belinda Bencic, SUI (2-1)
3 - Anna Schmiedlova, SVK (2-1)
3 - LUCIE SAFAROVA, CZE (1-2)
3 - Caroline Wozniacki, DEN (1-2)
3 - Carla Suarez-Navarro, ESP (0-2+L)



**2015 HARD COURT TITLES**


3...Simona Halep, ROU
3...Serena Williams, USA
2...Timea Bacsinszky, SUI
2...PETRA KVITOVA, CZE



**2015 TITLE DEFENSE ATTEMPTS - IN FINAL**


Auckland - Ana Ivanovic (lost to V.Williams)
Miami - Serena Williams (def. Suarez-Navarro)
Bastad - Mona Barthel (lost to Larsson)
Cincinnati - Serena Williams (def. Halep)
New Haven - Petra Kvitova (def. Safarova)



**2015 ALL-NATION FINALS**


Sydney - (CZE) - Petra Kvitova d. Karolina Pliskova
Prague - (CZE) - Karolina Pliskova d. Lucie Hradecka
Nurnburg - (ITA) - Karin Knapp d. Roberta Vinci
New Haven - (CZE) - Petra Kvitova d. Lucie Safarova



**MOST 2015 SINGLES FINALS - BY NATION**


12 - CZECH REPUBLIC (5 wins)
9 - United States (7)
8 - Romania (3)
7 - Germany (5)
7 - Italy (3)
6 - Switzerland (4)
6 - Russia (3)



**CAREER WTA TITLES - active**


69...Serena Williams
46...Venus Williams
35...Maria Sharapova
23...Caroline Wozniacki
17...Victoria Azarenka
17...PETRA KVITOVA
15...Ana Ivanovic
--
ALSO: Hingis w/ 43 singles titles (1996-07)



**BEST RECENT "LUCKY LOSER" RESULTS**




[SF or better, 2008-15]


2008 Quebec City - Angeles Haynes (SF)
2008 Tokyo - Jarmila Gajdosova (SF)
2012 Fes - Mathilde Johansson (SF)
2012 Stanford - Coco Vandeweghe (RU)
2012 Linz - Irina-Camelia Begu (SF)
2013 Brisbane - Lesia Tsurenko (SF)
2013 Paris - Kiki Bertens (SF)
2015 Acapulco - Sesil Karatantcheva (SF)
2015 New Haven - Lesia Tsurenko (SF)


[2015 - QF+]


Acapulco - Sesil Karatantcheva, BUL (SF)
Brisbane - Alla Kudryavtseva, RUS (QF)
Katowice - Elizaveta Kulichkova, RUS (QF)
Eastbourne - Daria Gavrilova, RUS/AUS (QF)
New Haven - Lesia Tsurenko, UKR (SF)






U.S. OPEN (Grand Slam/HCO)


14 Final: S.Williams d. Wozniacki
14 Doubles Final: Makarova/Vesnina d. Hingis/Pennetta
14 Mixed Final: Mirza/Soarez d. Spears/S.Gonzalez
14 Girls Singles Final: Bouzkova d. Kalinina
14 Girls Doubles Final: Soyly/Teichmann d. Lako/Mihalikova
14 WC Singles Final: Kamiji d. Van Koot
14 WC Doubles Final: Kamiji/Whiley d. Griffioen/Van Koot
14 Billie Jean King Collegiate Final: Loeb (UNC) d. Elbaba (U-Va.)
15 Women's Singles Top Seeds: S.Williams/Halep


Serena is getting the well-deserved and, frankly, overdue attention that has so often been withheld from her over the years.




She's up first on Night 1 on Ashe, leading into a match (Nadal/Coric) with at least a touch of "big upset" potential. So, let's get down to bid-ness.


All for now.