Wk.38- She's a Brick House
Finally, after a two-year hiatus, if can finally be said once again...
Caroline Wozniacki is a brick house.
Ow, she's a brick house
She's mighty-mighty, just lettin' it all hang out
She's a brick house
That lady's stacked and that's a fact
Ain't holding nothing back


Two summers ago, in the summer of both her off-court discontent and public self-discovery, Wozniacki put all her effort into changing the course of her career. After years of being ranked #1 and/or talked about disparagingly as a "pusher" who lacked the "necessary" aggression to truly contend for slam titles, the Dane simultaneously proved some of the part-time detractors correct, while also showing herself that she could indeed play a style of game that was both centered around her defensive skills and fitness, as well as possessing a more aggressive approach that allowed her to end important rallies of her own accord rather than only try to elicit errors from less physically fit and/or inconsistent opponents. The results were striking, as the summer ended with a trip to the U.S. Open final (her first appearance a a major championship match in five years) and a return to the Top 5.

After years of being compared to a straw house, Caro was suddenly a far-more-sturdy, fortified-with-brick structure not only seemingly capable of so much more, but also quite possibly better equipped to claim such honors than she had been before.

But then it all sort of went away. The focus of the back-half of '14 seemed to wane, the improving results weren't maintained on a regular basis, and all the hope for a "second go" at the sport's top prizes gently drifted away as Wozniacki seemed to focus much of her attention on things outside the lines of the court. Through the first eight months of 2016, things looked to be heading in the wrong direction at an ever faster pace. Losses, injuries, the usual coaching in-and-outs and (eventually) even talk from father Piotr about a possible around-the-corner retirement seemed to make Wozniacki bristle as the questions and whispers about her desire and will bubbled to the surface.

Maybe it was all enough to make her angry, and even desirous to prove something. If so, based on the last month, it was the best thing that could have happened.

After an especially woeful performance in New Haven at a tournament she used to dominate and shine her brightest, the suddenly-ranked-#74 (!!!) Wozniacki's ability to last beyond the 1st Round at Flushing Meadows was rightly questioned. Indeed, she struggled mightily to reach the 2nd Round. But once she did, her confidence soared as her game improved with every round all the way to a stunning appearance in the semifinals.

But was it a one-off result? Could she make it last?

Well, based on what happened last wek in Tokyo, at least for the moment, it sure looks like Wozniology-101 (or it is 102 or 103 by now in the course catalog?) is going to be a hot ticket once again come sign-up time for 2017 classes. Three hard-fought three-setters and a come-from-behind win in the final while battling a leg injury and a crowd favorite/star-in-the-making proved just how much Wozniacki wants to get back into the game, leaving behind the almost-but-not-quite period of creeping "irrelevency" of just a month or so ago well behind her.



Ow, she's a brick house
Well put-together, everybody knows
This is how the story goes


Now, hopefully, the Dane won't systematically, brick-by-brick, lessen the effectiveness of the internal structure she's managed to rebuild. If nothing else, Angelique Kerber's 2016 success has shown a whole slew of "almost" champions who have traditionally lacked the "final ingredient" to become something greater that it's never too late, and that if enough will and desire are infused into the effort, well, NO gap can't be closed. The sight of the German's name atop the rankings should act as "North Star" to all the players who have and still find themselves trapped (but not perpetually) in the vast "limbo" between the sport's great and slightly above average stars. Kerber's success screams "Don't give up hope."

Wozniacki has long been -- and has possibly renewed her lease as -- one of those players "trapped between floors." For now. Maybe by this time next year she'll have followed in Kerber's footsteps to the next level of contenders on tour. Or maybe she'll dismantle her brick house yet again.

Wozniacki used to always say that she "had time" to become the sort of champion that everyone wanted her to become. Well, that time has arrived. The moment to shoot for the moon is now.




*WEEK 38 CHAMPIONS*
TOKYO, JAPAN (TPP) (Hard/Outdoor)
S:

Caroline Wozniacki/DEN def. Naomi Osaka/JPN 7-5/6-3


D:

Sania Mirza/Barbora Strycova (IND/CZE) d. Liang Chen/Yang Zhaoxuan (CHN/CHN) 6-1/6-1
GUANGZHOU, CHINA (Hard/Outdoor)
S:

Lesia Tsurenko/UKR def. Jelena Jankovic/SRB 6-4/3-6/6-4


D:

Asia Muhammad/Peng Shuai (USA/CHN) d. Olga Govortsova/Vera Lapko (BLR/BLR) 6-2/7-6(3)
SEOUL, SOUTH KOREA (Hard/Outdoor)
S:

Lara Arruabarrena/ESP def. Monica Niculescu/ROU 6-0/2-6/6-0


D:

Kirsten Flipkens/Johanna Larsson (BEL/SWE) d. Akiko Omae/Peangtarn Plipuech (JPN/THA) 6-2/6-3




PLAYER OF THE WEEK:

Caroline Wozniacki/DEN


...once Wozniacki got past Belinda Bencic ('15 Tokyo RU) in three sets in Tokyo, then followed the win up by doing the same vs. Carla Suarez-Navarro in a three-hour marathon you could sort of see this week's storyline playing out in your mind's eye. A win over a qualifier was followed by another three-setter over '15 Tokyo champ Aga Radwanska to get the Dane into her 40th career final, but her first since Stuttgart in April of last year. After falling behind Naomi Osaka in the 1st set, then being treated for a leg injury that hindered the (likely tentative) Dane for a bit after she returned to the court, it was her experience that proved to be the key in taking the title. While Osaka overreacted to both the moment and Wozniacki's condition, Caro called upon her old calm and consistent game to allow the teenager to hit herself out of a set that she'd seemed destined to win. With Osaka flailing, Wozniacki took a 5-0 lead in the 2nd, then held off a late, no-more-pressure-here revival from the new Japanese star down the stretch.


9 STRAIGHT YEARS!@CaroWozniacki has won at least 1 #WTA title every year since 2008! pic.twitter.com/yAvhcZ2MP3

— WTA (@WTA) September 25, 2016


Career title #24 gives Wozniacki tour-level wins in nine straight seasons, just one behind the current top active streak (the 7th-longest run in tour history) of ten by Serena Williams (Maria Sharapova actually has a 13-season title streak, but she won't be extending it to fourteen in 2016). The Dane's last title came nearly nineteen months ago, in Kuala Lumpur in March '15.

Back up to #22 -- in lightning-quick fashion, too -- in the new rankings, Wozniacki at the very least now stands a good chance of extending her season-ending Top 20 streak to nine straight years, and if she can finish higher than #17 she'll actually manage to improve upon her 2015 finish.

Sometimes it's astounding how much difference a month can make.


===============================================




RISERS:

Lara Arruabarrena/ESP, Lesia Tsurenko/UKR and Elina Svitolina/UKR


...Tsurenko and Arruabarrena were the victors in final match-ups vs. more veteran foes, while Svitolina arguably had the more "impressive" week.

In Guangzhou, Tsurenko, 27, grabbed the second title of her career (w/ Istanbul '15), dropping just a single set en route to the crown with victories over Junri Namigata, Nigina Abduraimova, Alison Riske and, in the final, tournament defending champing Jelena Jankovic in three sets. Her week was a continuation of the head of steam she built up at Flushing Meadows, where Tsurenko knocked out two seeds (#21 Begu & #12 Cibulkova) on her way to the Round of 16. It's a long-awaited uptick in a season which had seen her drop from a year-end #33 in '15 to #80 heading into last week, going out of three events via walkover/retirement after not winning her first tour-level match (she won three in Fed Cup zone play, though) of the season until March after opening '16 with a four-match losing streak. Tsurenko will be up to #53 in the new rankings.


.@LTsurenko captures #GuangzhouOpen title!

Battles past defending champ Jankovic 6-4, 3-6, 6-4--> https://t.co/Z95T1glGR0 pic.twitter.com/UncFq089df

— WTA (@WTA) September 24, 2016


In Seoul, Arruabarrena took down Monica Niculescu in the final, taking the 1st and 3rd sets at love to gain her first tour singles title since winning in Bogota in her only other WTA final in the spring of 2012 (the longest stretch between crowns of any singles winner on tour this season). The 24-year old Spaniard's run included additional wins over Arantxa Rus, Johanna Larsson, Patricia-Maria Tig and, in the 2nd Round, a victory over Louisa Chirico in which Arruabarrena saved two MP. She's the fourth player this season to win a singles title after facing down a match point. Seven did it last year. Arruabarrena, who'd won the Seoul doubles the last two seasons, will jump from #90 to #61 in the new rankings. Her career high is #70 in 2013.


.@LaraArrua wins the #KoreaOpen!

Outlasts Niculescu 6-0, 2-6, 6-0--> https://t.co/eE67flk7UD pic.twitter.com/BLJ5tbVXEK

— WTA (@WTA) September 25, 2016


Svitolina didn't win any titles this weekend, but her time in Tokyo was surely good. After a summer that included a final in New Haven, a win over then-#1 Serena Williams in Rio and a tough three-set loss in Montreal to would-be #1 Angelique Kerber, the Ukrainian added a semifinal result and impressive victories over CoCo Vandeweghe, Anastasia Pavlyuchenkova and Garbine Muguruza, the latter her second Top 5 victory in her last five events.


.@ElinaSvitolina knocks out Top Seed Muguruza 6-2, 4-6, 6-3!

Plays Osaka next in @TorayPPO Semifinal! pic.twitter.com/V9Bd6RGveU

— WTA (@WTA) September 23, 2016



===============================================




SURPRISES:

Jennifer Brady/USA and Asia Muhammad/USA


...in Guangzhou, 21-year old former UCLA Bruin Brady reached her first career tour-level QF with wins over Anastasia Pivovarova and Danka Kovinic. She reached the semis of the WTA 125 tournament in Carlsbad last November. With those two results, as well as a $50K title in Granby in August and $75K win in Indian Harbour Beach in the spring, now all being counted on her points total, Brady will jump to a new career-high of #109 on Monday.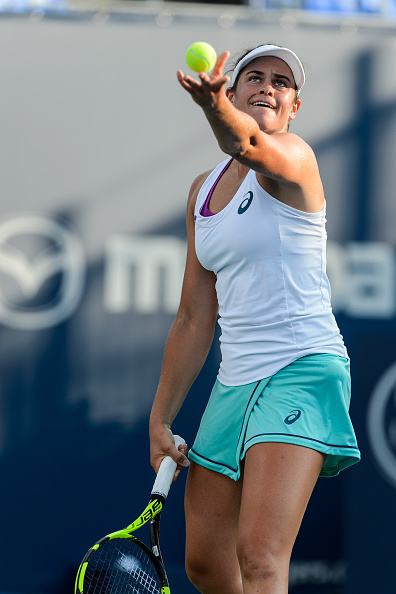 The sister of an NBA player and niece of a former NFL wide receiver, Muhammad obviously comes from some pretty good athletic bloodlines. For the most part, though, until recently, her tennis success has come on the ITF circuit. But she's had a lot of it. Twenty-one doubles titles have come in challenger events dating back to 2010, including a $100K, two $75K events and eleven $50K tournaments. She's won six (four $50K) in 2016 alone, five with fellow Bannerette Taylor Townsend . Last year, the 25-year old won her first tour title with Laura Siegemund on the grass at Rosmalen and finished with her first Top 100 ranking (#89). She'll rise into the Top 50 for the first time after picking up her second WTA title in Guangzhou this weekend, partnering with Chinese vet Peng Shuai to lift the trophy in their very first tournament together. They didn't lose a set all week long.


Congrats to @asiamuhammad for her first @WTA doubles title of 2016 (w/Shuai #Peng) at the #GuangzhouOpen! pic.twitter.com/i74c1T3fDV

— USTA (@usta) September 24, 2016



===============================================




VETERANS:

Jelena Jankovic/SRB and Monica Niculescu/ROU


...it was a weekend of being so close, and yet so far, for this pair of veterans.

Jankovic, seeking to pull off just the second successful defense of a singles title in her career (Rome 2008-09), made it all the way to the Guangzhou final with wins over Rebecca Peterson, Sabine Lisicki and Ana Konjuh without losing a set. But in her 36th career final, Lesia Tsurenko took the title-winning spotlight away from her in three sets. Still, once again, Asia provided JJ with a chance to shine in the latter stages of her career. Her last three tour-level finals (as well as a WTA 125 title run last fall) have all come in Asia, with the most recent before this weekend being in Hong Kong last October, when she defeated Angelique Kerber in three sets.

In Seoul, Niculescu was looking for career title #3, her first since taking the honors in Guangzhou two years ago. The Swarmette reached the final without losing a set, knocking off Eri Hozumi, Jana Cepelova and Zhang Shuai. But when Niculescu DID lose her first sets of the week, vs. Lara Arruabarrena, she did so in "crazy style," falling via the sort of scoreline -- 6-0/2-6/6-0 -- that can't help but cause foreheads to reflexively rest in palms all over the world. Though she came up short in the end, the week's work of the Romanian produced her best singles result on tour since reaching the QF in Guangzhou last season.


===============================================




COMEBACK:

Peng Shuai/CHN


...Peng may never again ascend to the height in singles that saw her rank as high as #14 and reach the U.S. Open semifinals two years ago, but the 30-year old is showing signs of rebounding from offseason back surgery and a match win drought that lasted over a year (ending earlier this season in March).


Wildcard Peng Shuai defeats Zheng Saisai 4-6, 6-2, 6-3!

Meets Lisicki next in #GuangzhouOpen Second round! pic.twitter.com/P88SOE9slo

— WTA (@WTA) September 20, 2016


Given a wild card into the Guangzhou MD, Peng posted a 1st Round victory over #8-seeded Zheng Saisai (#74) for just her second Top 100 win since February '15 (w/ #53 Van Uytvanck in Miami this past spring). She lost in the 2nd Round to Sabine Lisicki. But while Peng entered the week at #244 in singles, she's been inching up the doubles rankings. At #120 heading into Guangzhou, and already with a '16 title under the belt (w/ Hlavackova in Nottingham), Peng teamed with Asia Muhammad to claim a second, the 19th of her career. They did it without losing a set, defeating Govortsova/Lapko in the final.

While Peng has had difficulty picking up singles titles during her career (0-6 in WTA-level finals), she's now 13-1 in her last fourteen doubles finals dating back to 2011, losing only in the championship match at the 2014 WTA Finals vs. Black/Mirza in her final match with childhood friend Hsieh Su-Wei, with whom she won twelve titles from 2008-14.


Petenis senior Peng Shuai melaju ke final tenis ganda putri Guangzhou Open, bersama rekannya yang berasal dari Amerika, Asia Muhammad pic.twitter.com/ugCNtjJqfy

— Xinhua Indonesia (@XHindonesia) September 24, 2016



===============================================




FRESH FACES:

Naomi Osaka/JPN and Anett Kontaveit/EST


...Osaka seems very well on her way to progressively better and bigger things. Her large game and talkative nature, as well as the buzz generated by both, speak to a very bright future on many levels. But she's still only 18, and consistency has yet to become her BFF. Given a wild card into the Tokyo event, Osaka thrilled the home crowds with wins over Misaki Doi, Dominika Cibulkova (3 games lost), Aliaksandra Sasnovich and Elina Svitolina to become the first Japanese player to reach the final in twenty-one years (Kimiko Date, in 1995, of course), as she appeared in her maiden tour singles final just a few weeks after reaching the 3rd Round of a major for the third time in 2016. A match away from her first pro title of any kind, Osaka led Caroline Wozniacki in the 1st set, only to lose her way and concentration after the Dane's medical timeout mid-way through the set, as well as possibly being hindered by a shoulder injury of her own. She dropped the 1st set, then fell behind 5-0 in the 2nd before finally taming her game and getting things to 5-3 before Wozniacki finished off the straight sets win. This loss is added to her WTA 125 Series defeat at Hua Hin last November, as well as a career 0-4 mark in ITF challenger title matches to run her overall final mark to 0-6. Still, with coach David Taylor (formerly w/ Sam Stosur) in her corner and a new Top 50 ranking, things can't help but continue to look up.


#SAPStatOfTheDay: @NaomiOsakaWTA is the FIRST Japanese finalist in 21 years at @TorayPPO! pic.twitter.com/4MIbYxqn3G

— WTA (@WTA) September 24, 2016


Kontaveit, 20, put up her best result since reaching the QF in Nottingham in June. The Estonian, still collecting the rewards from her Round of 16 U.S. Open result from last season, was at a career-best ranking of #73 in March, but had fallen to #129 heading into last week. Her Guangzhou wins over Katerina Siniakova, Zhu Lin and Viktorija Golubic gave her three MD wins for the first time since March.


===============================================




DOWN:

Karolina Pliskova/CZE and Madison Keys/USA


...all right, I guess this makes it "official," as in dotting a final "i" and crossing one last "t." Pliskova winding up in this category in her first outing after her breakthrough appearance in the U.S. Open final is apparently a prerequisite these days for players after reaching new career heights. The sudden change makes the next few weeks a blur that can't help but carry over onto the court until things settle down a bit. It's just a matter of avoiding a protracted slump (so, to be continued in Wuhan). After knocking off a handful of Top 10 (and Top 5) players in the closing weeks of the summer in North America, the Czech went to Tokyo last week and fell in her first match to #107 Aliaksandra Sasnovich. Well, at least it gave Karolina a bit more time to spend with friends and family in China.




Of course, Keys hasn't quite seen the heights that the Czech reached at Flushing Meadows a few weeks ago, falling in the Round of 16 at the Open. She was in Tokyo, too, and she also fell in her first match. Her opponent, Yulia Putintseva, arrived with a bit more of a reputation than the Belarusian who took out Pliskova, but the Czech just wasn't in the right "head space" to compete yet. Keys led her match, was up a break in the 3rd st and eventually held five match points before falling to the Kazakh (who then failed to convert two MP of her own a round later and lost to Magda Linette). So, in a way, on the scales of WTA progress, one might argue that it was actually Keys who took the bigger step back last week.


===============================================




ITF PLAYERS:

Natalia Vikhlyantseva/RUS and Mandy Minella/LUX


...19-year old Hordette Vikhlyantseva claimed the biggest title of her career in the $100K challenger in St.Petersburg, Russia. Her second '16 crown came with wins over Maria Marfutina, Valentini Grammatikopoulou, Irina Khromacheva and Donna Vekic in a 1 & 2 victory in the final. While the result lifts the Russian from #234 well past her previous career high (#225) to #163 in the new rankings, Vekic's movement back up the WTA rankings continues, as well. Weeks after watching courtside while Stan Wawrinka won the U.S. Open, the Croatian will now return to the Top 100, moving past, for one, Maria Sharapova (who is about a week or so away from learning whether or not she'll be back playing somewhere around January 2017, or '18).


Won my 1st 100k title and my 2nd ITF career title, very happy?????? pic.twitter.com/MFssLOLmXo

— Nata Vikhlyantseva (@NVikhlyantseva) September 24, 2016


Meanwhile, 30-year old vet Minella picked up the second-biggest title of her career in the $75K event in Albuquerque, just four months after winning her biggest in the the WTA 125 Series tournament in Bol back in May. The #1 seed in the event this past week, Minella put up wins over Ysaline Bonaventure, Barbora Stefkova, Maria Bouzkova, Aleksandra Wozniak and Veronica Cepede Royg in the final. She dropped just a single set all week, a TB vs. Wozniak in the semis, and will climb back into the Top 100 on Monday. Minella also teamed with Michaella Krajicek to take the doubles.


Winner in Albuquerque NM ?? and back in the top ?? ?? #happyandproud pic.twitter.com/7ck8ExoIQE

— mandy minella (@mandyminella) September 25, 2016



===============================================




JUNIOR STAR:

Vera Lapko/BLR


...the 17-year old '16 AO girls champ, fresh off reaching the QF of the $50K Zhuhai challenger, where she lost to Olga Govortsova, arrived in Guangzhou looking for another big week in her pro career. She got it, only not in singles. She lost in qualifying as a solo act, but teamed with (naturally) countrywoman Govortsova in doubles to reach her first career WTA final. The wild card Belarusians defeated the #2 (Kichenok/Kichenok in an 11-9 3rd set TB) and #3 seeds (Hingis/Jankovic in a 10-8 3rd set TB) before falling to Asia Muhmmad & Peng Shuai. Not celebrating her 18th birthday until this coming Thursday, Lapko is the second-youngest tour finalist in 2016, behind only Aussie Kimberly Birrell, the 17-year old who reached the Hobart WD final with Jarmila Wolfe back in Week 2.


===============================================




DOUBLES:

Sania Mirza/Barbora Strycova (IND/CZE) and Kirsten Flipkens/Johanna Larsson (BEL/SWE)


...well, add another entry in the "Sania" column on the unofficial post-Hingis/Mirza scorecard.


Tokyo ??????? Loveeee it @BaraStrycova ???? #Thankyou #Title40 pic.twitter.com/KAAtn7IGlv

— Sania Mirza (@MirzaSania) September 24, 2016


In Tokyo, Mirza & Strycova picked up their second title in three events together, running their overall record to 12-1 after winning close matches last week over Doi/Nara (10-8 3rd TB) and Dabrowski/Martinez-Sanchez (10-5 3rd TB), then downing Liang Chen & Yang Zhaoxuan 1 & 1 in the final. For Strycova, this was her 20th career title, and third this year. The Czech has played in four doubles finals in '16, after having appeared in none since 2012, and has also reached a pair of singles finals, her first since 2014. As for Mirza, she now has forty career titles, a tour-leading eight this season and, maybe most importantly, three in her four events since the end of the partnership with Hingis, a period of time in which the Indian vet has gone a combined 16-1.

Meanwhile, in Guangzhou, Martina Hingis teamed up with Jelena Jankovic for the first time, losing in the semifinals to wild card duo Govortsova/Lapko. Before last week, the two hadn't appeared on court in a WTA match at the same time since 2007. Hingis has gone 7-3, with no titles, in WTA doubles matches since ending her partnership with Mirza.

One year ago, Hingis & Mirza were winning the Guangzhou title, notching wins #7 through #9 of what would become a 41-match winning streak.


1st WTA doubles title for me :) Thanks partner, JoLa! #doubbletrouble #teamflipson @Koddaert @RodaniaWatches pic.twitter.com/jcj985WOxs

— Kirsten Flipkens (@FlipperKF) September 25, 2016


In Seoul, Flipkens & Larsson took home a title in their second tournament together, but their first since a 1st Round loss in Auckland in 2013. They defeated first-time tour finalists Akiko Omae & Peangtarn Plipuech in straight sets. Somewhat surprisingly, this is Flipkens' maiden tour doubles title, while it's Larsson's sixth, and second in 2016. Of note, it's also the Swede's first WTA final without Kiki Bertens by her side since February '14. The duo went 3-2 in finals over the stretch, including a runner-up result in Seoul last year.


===============================================





It's a milestone day for the @WTA! Congratulations! pic.twitter.com/lowRb5TfRb

— Fed Cup (@FedCup) September 23, 2016


1. Seoul 2nd Rd. - Arruabarrena d. Chirico
...4-6/7-6(4)/7-6(2). Winning in 2:52, the eventual Seoul champion saved two MP down 6-5 in the 3rd.


===============================================



First Top 10 win of 2016!@Yulka1995P edges Keys 6-3, 3-6, 7-6(7) in @TorayPPO first round! pic.twitter.com/8JM7CZENlD

— WTA (@WTA) September 20, 2016


2. Tokyo 1st Rd. - Putintseva d. Keys 6-3/3-6/7-6(7)
Tokyo 2nd Rd. - Linette d. Putintseva 4-6/6-3/7-5
...Keys was up a break in the 3rd set, and held five MP in her loss to Putintseva, who'd go on to fail to convert two MP of her own vs. Linette a round later.


===============================================


3. Guangzhou Final - Tsurenko d. Jankovic
...6-4/3-6/6-4. Further proof of the final days of a recently-important WTA era: this was the first appearance in a tour singles final by a Serb in almost a full calendar year.


===============================================


4. Tokyo 2nd Rd. - Muguruza d. Sevastova 6-3/6-3
Tokyo QF - Svitolina d. Muguruza 6-2/4-6/6-3. Muguruza lost her next match to Svitolina, but at least she was able to complete a quick exorcism of her 2nd Round loss to the Sevastova at the U.S. Open.


===============================================


5. Guangzhou 1st Rd. - Errani d. X.Han
...4-6/7-5/7-6(8). A little of the old Italian fight here, as Errani overcome a 6-2 deficit in the 3rd set TB and won after saving five MP. A round later, she saved 8 SP vs. Viktorija Golubic in the 1st set before going on to lose.


===============================================


6. Tokyo 2nd Rd. - Puig d. Kvitova
...1-6/6-4/6-4. Wim Fissette wasn't with Kvitova in Rio when she lost to Puig, but he joined the Czech in Tokyo and ended up getting a crash course in #PicaPower as Bronze-winning Petra was ousted once again by the Olympic Gold medalist.


===============================================


7. Seoul Final - Arruabarrena d. Niculescu
...6-0/2-6/6-0. Niculescu hadn't lost a set all week. She made up for it here, though.


===============================================


8. Tokyo 1st Rd. - Puig d. Lepchenko
...6-0/6-3. After months of being allowed to publicly twist in a wind filled with whispers and accusations, WADA finally saw fit to clear Lepchenko last week after many months of innuendo about a possible "silent ban" suspension earlier this year.


September 23, 2016


Meanwhile, Puig's eventual loss to A-Rad was her first in six tour-level quarterfinal appearances in 2016.


===============================================


9. Seoul 2nd Rd. - Cepelova d. Begu
...6-3/4-6/6-3. Cepelova, fresh off her semifinal last week, became the sixth player this season to defeat a tournament's #1 seed and defending champ (Begu fit the bill for both) but NOT ultimately win the title. Three have done it AND gone on to be crowned the champ, though.


Jana Cepelova knocks out defending #KoreaOpen champ Begu 6-3, 4-6, 6-3! pic.twitter.com/u7dZ0wUvjW

— WTA (@WTA) September 22, 2016



===============================================


10. Tokyo 1st Rd. - Pavlyuchenkova d. Petkovic
...6-4/2-0 ret. Oh, Petko.


Andrea Petkovic retires early in the second set.@NastiaPav advances to @TorayPPO Second round! pic.twitter.com/AsHYW4Ju50

— WTA (@WTA) September 20, 2016



===============================================


11. Guangzhou 1st Rd. - Golubic d. Allertova
...3-6/6-3/7-6(3). The Swiss trailed 4-0 -- and 5-3 -- in the 3rd set.


===============================================


12. Seoul 1st Rd. - Tig d. Erakovic 2-6/7-5/6-4
Wuhan Q1 - Chirico d. Erakovic 4-6/7-6(6)/6-3
... Tig charged back from 4-2 down in the 2nd, then 4-1 in the 3rd, winning the final five games of the match to get the victory over Erakovic despite twelve DF in the match. The Kiwi went on to also fail to put away Chirico after leading by a set and 4-0 in the 2nd set TB in Wuhan qualifying. Chirico then knocked off Christina McHale to reach the MD, where she got a weekend 1st Round win over Timea Bacsinszky.


===============================================


13. Tokyo 1st Rd. - Wozniacki d. Bencic
...6-2/5-7/6-1. Bencic, after finishing '15 at #14, fell from #26 to #40 with this early exit. Her crushingly disappointing season has already continued in Wuhan, as she fell down in her 1st Round match vs. Svetlana Kuznetsova and was forced to retire after possibly aggravating the tailbone injury that took her off tour earlier this season.


Belinda Bencic takes a rough fall on court vs. Kuznetsova. Tripped over her foot and landed on her backside. Worrisome given past injury.

— WTA Insider (@WTA_insider) September 25, 2016
Belinda Bencic statement after retiring to Svetlana Kuznetsova @wuhanopentennis. May be same injury as in the spring. pic.twitter.com/KrB3JP7TXD

— WTA Insider (@WTA_insider) September 25, 2016
Def one of the thoughest years for me ever. But every single one of your supporting messages are making me feel better. THANK YOU everyone??

— Belinda Bencic (@BelindaBencic) September 25, 2016



===============================================


14. $10K Brno Final - Miriam Kolodziejova d. Diana Sumova
...6–3/3–6/6–4. In a battle of Czechs, 19-year old Kolodziejova finally picked up her first career pro singles title after reaching her fourth final in her last five events. She's 19-4 during the stretch.


===============================================


15. $10K Sharm El-Sheikh Final - Riya Bhatia d. Ana Bianca Mihaila
...3-6/6-4/6-0. A week after she defeated 17-year old Zeel Desai in another challenger final, the Swarmette falls to yet another Indian teen, 19-year old Bhatia, who picks up her first career title.


===============================================


HM- $25K Tweed Heads Final - Lizette Cabrera d. Destanee Aiava
...6-3/5-7/6-2. In a battle of Aussie teens seeking their maiden titles, 18-year old Cabrera defeats 16-year old Aiava.


First $25k win! So happy. Special thanks to everyone who has helped me. ???? pic.twitter.com/aVatgqZVXP

— Lizette Cabrera (@lizzycabrera97) September 25, 2016
===============================================
So much for that great 4Q stretch run "battle for #1," I guess.
Sorry to hear from @SerenaWilliams that she is out of both #Wuhan Open & @ChinaOpen with a right shoulder injury. We wish her all the best

— Wuhan Open (@wuhanopentennis) September 23, 2016
But, hey, at least we finally discovered the tennis "Rosetta Stone."
YOU GUYS.

IT. HAS. HAPPENED.

(ITF $10,000 in Shymkent, KAZ.) pic.twitter.com/SXDPjzdOh4

— Victoria Chiesa (@vrcsports) September 22, 2016
But I'm not even sure if that "answer key" can FULLY explain this...
What????? Konjuh lost 0-6 0-6 to Min in Wuhan?

— Chris Goldsmith (@TheTennisTalker) September 24, 2016
Oh, and Marion is back in the game. And by "the game," I mean the New York City Marathon.
My twittos??, did my 11 miles training today to be ready for the @nycmarathon ???? I'll be running for @TeamforKids
https://t.co/uh0alwOepw

— Marion bartoli (@bartoli_marion) September 22, 2016


1. Tokyo Final - Wozniacki d. NAOMI OSAKA
...7-5/6-3. With a big part of both their games -- Caro's movement, Naomi's serve -- at least partially hindered by injury, Wozniacki battled back from a 4-3 and down a break deficit in the 1st set after receiving a medical timeout to treat a leg injury. The Dane, after a slow start, became more comfortable as things progressed; while Osaka nearly fell apart, losing the 1st set, winning just four points in the first four games of the 2nd and falling behind 5-0. Hitting out, she closed to within 5-3, but it only served to make the final score a bit more palatable.


===============================================



#SAPStatOfTheDay: Aliaksandra Sasnovich records first Top 10 win after impressive victory over Pliskova! pic.twitter.com/aLEtLA7SOT

— WTA (@WTA) September 22, 2016


2. Tokyo 2nd Rd. - Sasnovich d. KAROLINA PLISKOVA
...6-4/6-2. Sasnovich gets her first Top 10 win, while Pliskova loses her second '16 match to a player outside the Top 100 (after Shelby Rogers at RG).


===============================================


3. Seoul 1st Rd. - ANNA KAROLINA SCHMIEDLOVA d. Piter
...6-3/6-2. Shhhhhh. Don't say anything. We wouldn't want to spook her.


Signs of life from Schmiedlova in Seoul.

More: https://t.co/VZFcCNjrkX pic.twitter.com/7IrtAW868g

— TennisNow (@Tennis_Now) September 20, 2016



===============================================


4. Tokyo SF - Wozniacki d. AGA RADWANSKA
...4-6/7-5/6-4. Caro improves to 9-4 against her longtime friend and past holiday partner (who apparently holds no grudge against the Dane for inadvertently letting slip her marriage plans a few weeks ago), winning her fourth straight in the series despite the Pole serving for the set in what turned out to be a match-up of the 2015 AND 2016 tournament champions.


First #WTA Final since April 2015 for @CaroWozniacki! ?? pic.twitter.com/ly9xlGoJAR

— WTA (@WTA) September 24, 2016



===============================================


5. Tokyo 2nd Rd. - AGA RADWANSKA d. Strycova
...6-3/3-6/7-5. Aga improved her head-to-head vs. Strycova to 6-0. But not only did the Czech win a set off her for the second straight meeting, she also was up a break three different times in the 3rd set and served for the match.


===============================================


HM- Seoul 1st Rd. - Flipkens d. KRISTYNA PLISKOVA
...5-7/6-2/6-2. Flipper doing her best Aga...


@FlipperKF Here it is. Enjoy! P.S. How is it possible to not include this shot in the match highlights?! Unbelievable. pic.twitter.com/jNYE6lwvVu

— Court Nine (@court9court9) September 20, 2016
===============================================
Any movies suggestions to watch online? pic.twitter.com/iuetRRakal

— victoria azarenka (@vika7) September 18, 2016
@vika7 my go to is Friends!! You can never go wrong with a classic sitcom!

— Jordan Baker (@jbaker8) September 18, 2016
I honestly can repeat every line with them. That's how I learned English. I know everything about this show https://t.co/QPV6A7zLrM

— victoria azarenka (@vika7) September 18, 2016


Living on the edge ???? pic.twitter.com/mDyNcMXNNG

— Daria Gavrilova (@Daria_gav) September 19, 2016




**2016 FROM MATCH POINT DOWN TO WIN TITLE**


Australian Open - Angelique Kerber, GER (1 MP - 1r/Doi)
Rio - Francesca Schiavone, ITA (1 MP - QF/Burger)
Charleston - Sloane Stephens, USA (1 MP - QF/Kasatkina)
SEOUL - LARA ARRUABARRENA, ESP (2 MP - 2r/Chirico)



**ACTIVE STREAKS - CONSECUTIVE SEASONS w/ WTA TITLE**


[13 yrs - Sharapova 2003-15]
10 years - Serena Williams, 2007-16
9 years - CAROLINE WOZNIACKI, 2008-16
6 years - Agnieszka Radwanska, 2011-16
[5 yrs - Kvitova 2011-15]
4 years - Elina Svitolina, 2013-16
4 years - Simona Halep, 2013-16
4 years - Karolina Pliskova, 2013-16


[all-time]


21...Martina Navratilova, 1974-94
18...Chris Evert, 1971-88
14...Steffi Graf, 1986-99
13...Maria Sharapova, 2003-15
11...Evonne Goolagong, 1970-80
11...Virginia Wade, 1968-78
10...Serena Williams, 2007-16



**2016 FIRST-TIME WTA FINALISTS**


Bogota - Irina Falconi, USA (W)
Stuttgart - Laura Siegemund, GER
Istanbul - Cagla Buyukakcay, TUR (W)
Gstaad - Viktoriya Golubic, SUI (W)
Stanford - Johanna Konta, GBR (W)
Wash.DC - Lauren Davis, USA
Bastad - Katerina Siniakova, CZE
Nanchang - Duan Yingying, CHN (W)
Quebec City - Oceane Dodin, FRA (W)
TOKYO TPP - NAOMI OSAKA, JPN



**2016 YOUNGEST WTA SINGLES FINALISTS**


18 - Jelena Ostapenko, LAT (Doha)
18 - Belinda Bencic, SUI (St.Petersburg)
18 - NAOMI OSAKA, JPN (TOKYO TPP)
19 - Oceane Dodin, FRA (Quebec City) [W]
20 - Katerina Siniakova, CZE (Tokyo)


[doubles]


17 - Kimberly Birrell, AUS (Hobart)
17 - VERA LAPKO, BLR (Guangzhou)
20 - An-Sophie Mestach, BEL (Auckland) [W]
20 - Barbora Krejcikova, CZE (St.Petersburg)
20 - Ipek Soylu, TUR (Istanbul) [W]



**2016 ALL-UNSEEDED WTA FINALS**


Sydney - Kuznetsova/RUS def. (Q) Puig/PUR
Dubai - Errani/ITA def. Strycova/CZE
Rio - Schiavone/ITA def. Rogers/USA
Monterrey - Watson/GBR def. Flipkens/BEL
Nurnberg - (Q) Bertens/NED def. Duque/COL
Quebec City - Dodin/FRA def. (Q) Davis/USA
TOKYO TPP - WOZNIACKI/DEN def. (WC) OSAKA/JPN



**2016 TITLE DEFENSE ATTEMPTS - REACHED FINAL**


Australian Open - Serena Williams (lost to Kerber)
Stuttgart - Angelique Kerber (def. Siegemund)
Roland Garros - Serena Williams (lost to Muguruza)
Wimbledon - Serena Williams (def. Kerber)
GUANGZHOU - JELENA JANKOVIC (lost to Tsurenko)



**2016 DEFEATED DEFENDING CHAMPION, WON TITLE**


Australian Open - Angelique Kerber (def. S.Williams/F)
Charleston - Sloane Stephens (def. Kerber/SF)
Prague - Lucie Safarova (def. Ka.Pliskova/SF)
Roland Garros - Garbine Muguruza (def. S.Williams/F)
New Haven - Aga Radwanska (def. Kvitova/SF)
GUANGZHOU - LESIA TSURENKO (def. Jankovic/F)
TOKYO TPP - CAROLINE WOZNIACKI (def. A.Radwanska/SF)
--
ALSO: C.Garcia (Strasbourg - w/o Stosur/QF)



**2016 DEFEATED #1 SEED & DEFENDING CHAMPION, DIDN'T WIN TITLE**


Daria Kasatkina - Auckland [1st-V.Williams; lost 2nd]
Ana Ivanovic - Dubai [2r-Halep; lost QF]
Svetlana Kuznetsova - Miami [4th-S.Williams; lost F]
Pauline Parmentier - Katowice [1st-AK.Schmiedlova; lost SF]
Elina Svitolina - Rio Olympics [3rd-S.Williams; lost QF]
JANA CEPELOVA - SEOUL [2nd-Begu; lost QF]


[won title]


Australian Open: Angelique Kerber, GER (def.S.Williams/F)
Charleston: Sloane Stephens, USA (def. Kerber/SF)
Roland Garros: Garbine Muguruza, ESP (def. S.Williams/F)



**2016 WTA TITLISTS - BY NATION**


7 USA: Falconi,Keys,McHale,Stephens,Vandeweghe,S.Williams,V.Williams
3 ESP: ARRUABARRENA,Muguruza,Suarez-Navarro
3 FRA: Cornet,Dodin,Garcia
3 ITA: Errani,Schiavone,Vinci
2 CZE: Ka.Pliskova,Safarova
2 GBR: Konta,Watson
2 GER: Kerber,Siegemund
2 ROU: Begu,Halep
2 SUI: Bacsinszky,Golubic
2 UKR: Svitolina,TSURENKO



**MOST WTA FINALS (ACTIVE), 3 seasons: 2014-16**


17 - 7/5/5...Serena Williams (14-3)
16 - 4/5/7...Angelique Kerber (6-10)
15 - 5/6/4...Karolina Pliskova (5-10)
13 - 5/5/3...Simona Halep (8-5)
9 - 4/3/2...Venus Williams (5-4)
8 - 5/3/0...Maria Sharapova (6-2)
8 - 4/4/0...Petra Kvitova (6-2)
8 - 2/4/2...Aga Radwanska (6-2)
7 - 6/1/0...Ana Ivanovic (4-3)
7 - 3/0/4...Dominika Cibulkova (3-4)
7 - 3/3/1...CAROLINE WOZNIACKI (3-4)



**2016 BEST WIN PCT. IN MULTIPLE WD FINALS - DUOS**


1.000 - Medina-Garrigues/Parra-Santonja (3-0)
1.000 - MIRZA/STRYCOVA (2-0)
0.714 - Hingis/Mirza (5-2)
0.667 - Chan/Chan (2-1)
0.667 - Mattek-Sands/Safarova (2-1)
0.571 - Garcia/Mladenovic (4-3)





ATTENTION!! ATTENTION!!
Naomi Osaka has joined Twitter!



If you can sleep without covers, I'm gonna need you in my zombie apocalypse team.

— NaomiOsaka????? (@NaomiOsakaWTA) September 23, 2016
??????????. Lol me at all social events. Me trying to make friends. Me trying to buy something. Me ordering food. #helpme #pls pic.twitter.com/1GNEUU0pOP

— NaomiOsaka????? (@NaomiOsakaWTA) September 21, 2016

My friend turns up everywhere in this city. Hello Li Na! ???? @wuhanopentennis pic.twitter.com/bTgBjMHH4s

— Petra Kvitova (@Petra_Kvitova) September 24, 2016




WUHAN, CHINA (Premier 5/Hard)


15 Final: V.Williams d. Muguruza
15 Doubles Final: Hingis/Mirza d. Begu/Niculescu (Hingis 2014-15)
16 Singles Top Seeds: Kerber/Muguruza
=============================


=SF=


#1 Kerber d. #4 Halep
#2 Muguruza d. #6 V.Williams


=FINAL=


#1 Kerber d. #2 Muguruza

...if everyone can come to China in good form, this could get really interesting. But that's a VERY big if.






TASHKENT, UZBEKISTAN (Int'l/Hard)


15 Final: Hibino d. Vekic
15 Doubles Final: Gasparyan/Panova d. Dushevina/Siniakova
16 Singles Top Seeds: #2 Flipkens/#3 Buyukakcay
=============================


=SF=


#5 Nara d. #3 Buyukakcay
#6 Tsurenko d. A.Bogdan


=FINAL=


#6 Tsurenko d. #5 Nara

...trying to ride the hot horse, but likely failing in horrible fashion.


ALSO:




FED CUP 16s - Budapest, HUN




And, finally... the most recent example of making America "great" again?


High school boys soccer team forfeits rather than risk losing to girls: https://t.co/UJvEAnX6yX pic.twitter.com/27Wd1gkvFh

— Deadspin (@Deadspin) September 24, 2016



All for now.